POV Holder:
Steve
Next POV
July 3rd
POV Used
?
POV Ceremony
?
HOH Winner Team 1:
James
HOH Winner Team 2:
Jason
Nominations 1 :
Steve, Jackie
Nominations 2:
Becky, Johnny mac
Battle of the Block Winner
Becky and Johnny Mac
Next HOH/ Next BOB
July 2nd / ?
Original Nominations:
Becky, Johnny, Steve, Jackie
Current Nominations:
Steve, Jackie
Have Nots
Austin, Da'Vonne, Liz, Vanessa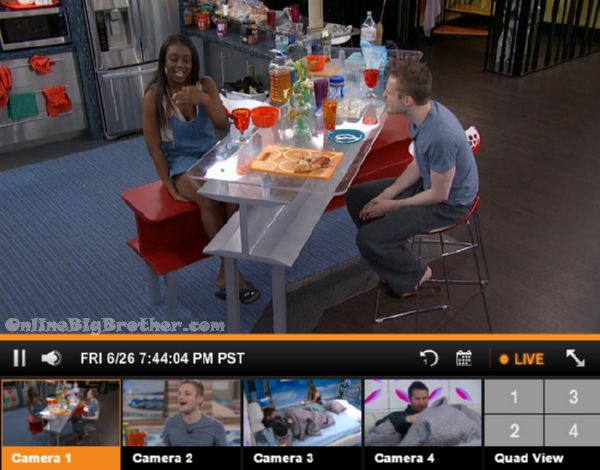 7:20pm DA is asking Johnny mac where he is with the other houseguests.
Johnny Mac is good with Jason. He reminds him if a friends back home.
DA says she's close to Jason and knows Johnny mac doesn't have to worry.
He's worried about Shelli thinks if she wins HOH she'll put him up.
DA says today Austin and Liz were telling her that they don't trust Audrey.
The next thing she knew Liz and Austin went and told Jace that DA is the Mole and told them not to trust Audrey.
Da is saying that dan is more of a legend than Dr Will.
Johnny MAc wonders how Derrick will do in All Stars
DA – I don't think he'll make it to Jury
Johnny Mac – People were on to him but they never had the power.
Johnny Mac complains about how full he is.
DA points out he's eaten 13 pieces.
John says he's slept in a dental chair before so the have nots isn't that bad for him. He brings up Dental school. They go in depth into dental work.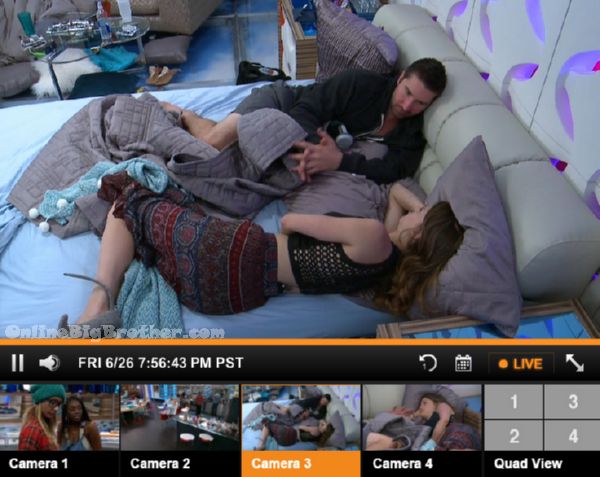 8:01pm Jeff and Becky
Having a one on one non game conversation.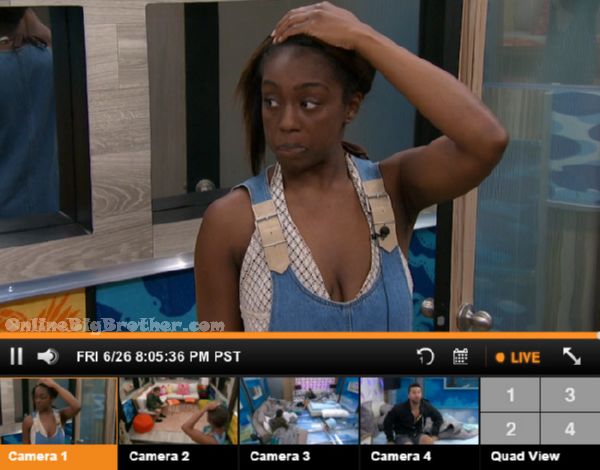 8:06pm Da and Steve
She's asking him if he's said anything about her today.
Steve says he's never said anything negative 'May I ask what you've heard"
Da says they'll talk later.
8:30pm Austin and Audrey are having a conversation we can hear them but the video is of a wrong conversation.
They are talking about James not putting up Jeff. Austin says Jace is with him he willing to work with them.
Austin is pretty sure DA is not a teacher.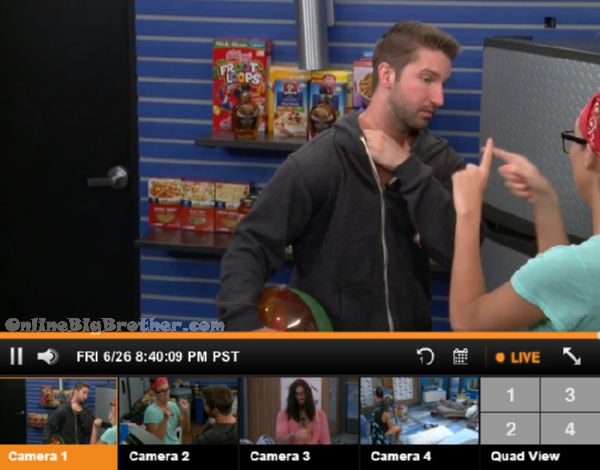 8:40pm Audrey and Jeff Storage room
Tells him AJce and Austin will try and Get out Jason then DA.
Jeff asks if they are still getting Jace out
Audrey – Ya
Jeff- you guys know I have to get rid of Austin.. he hates me.. I feel good about this alliance btu I like Clay.
Audrey – We're not gunning for him.. I feel really close to Clay
Jeff says he can't gun for Clay.
Audrey says next week they need to get Liz out and if that doesn't work Austin.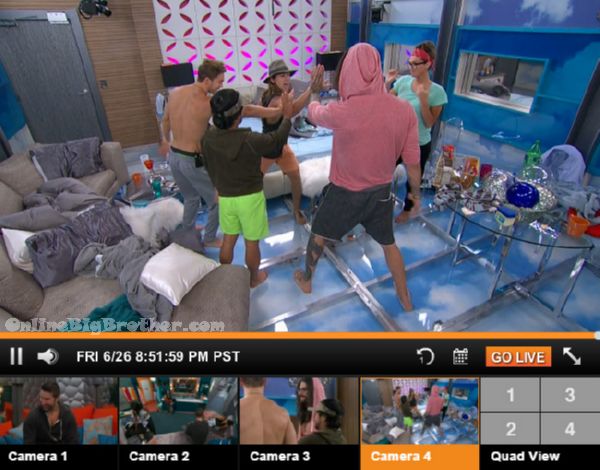 8:42pm HOH Jace, Austin, James, Audrey and Clay (Aka 5 alive crew)
Austin says they are pretty much all gunning for Da. Reminds them they have a group that is trustworthy, "We trust each other 100%"
They wonder about the name for their alliance.
Austin – 5 finger
They come up with "5 alive Crew"
Jace and Austin leave. \
James – Dumbest dumb alliance ever
James – they think i'm stupid they just want to solidify something before Veto ceremony..
James says it's the dumbest alliance ever hell no he's in that alliance.
Audrey tells Clay there's an alliance that includes, James, Meg, Audrey, Jackie, Jeff and Jason.
DA and Jason join them. Clay tells her he is not targeting her he's got nothing against her.
They tell DA JAce, Austin and Liz are targeting her next week.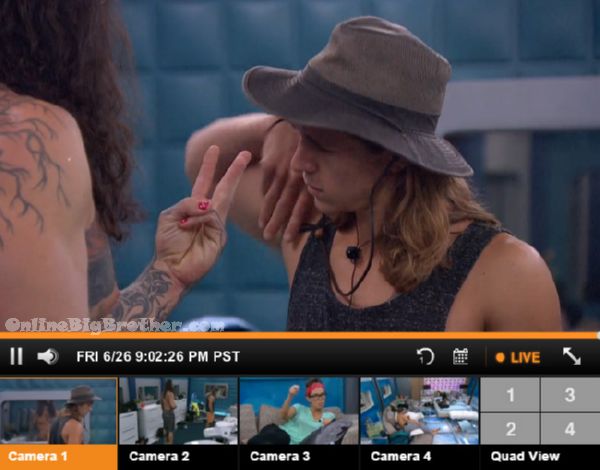 9:00pm Have nots Jace and Austin
Jace wonders if 5 alive is a realy alliance.
Austin thinks it is at the very least it will keep them safe this week.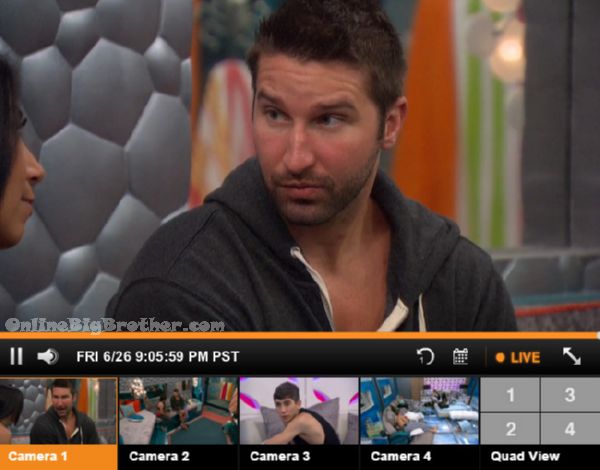 9:06pm Bathroom Jeff and Jackie
Jeff pointing out that Audrey is a really good player. he thinks he's going to start some shit and get kicked out. Jackie noticed she's a good talker. Jeff trust Jackie and Jeff in this game. They got Sheli and Becky on the side. Jeff is really pissed at Becky says she's throwing his name under the bus all day. Doesn't sound like Jeff is serious about the High rollers alliance.
Jeff wants to laugh in Austin's face "Dude nobody is jealous of you"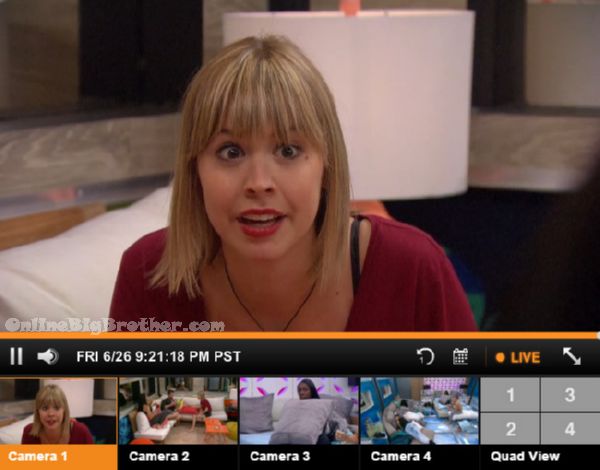 9:19pm Jeff and Meg
Jeff says the cat is out of the bag that she's in an alliance with James. Mentions they called him into the HOH. "Me and Jackie are working with you all now"
Meg – I've been fighting for you with them this whole time.. they didn't trust you guys" They agree Austin and Liz have to go next after Jace leaves on Thursday. They plan on using the High Rollers alliance to get them to Jury after that it's off.
Jackie joins them. Jeff says he needs to build more trust with DA. He doesn't care if she doesn't trust him but they have to keep working together.
The girls tell him to "Play Nice" with DA she's emotional.
Meg wants to keep the Clay and Shelli close. There is worry about Clay wanting to get DA out soon. They are certain if Clay wins the HOH he's putting her up. The plan is to keep it secret from Clay that they are working together.
They laugh about Jace and Austin thinking they won that Steve won the POW they think jason is getting backdoored.
Clay joins them.
Live Feed subscription gives you CBS All Access thousands of archived shows. Live Shows like Big Brother, all the Big Brother Seasons, and 24/7 coverage of what is happening inside the Big Brother House. Plus there's flashback that lets you go back to any second of the feeds and rewatch what happened. Simon and Dawg will index the season just watch the parts worth watching.
All this for $5.99 a month try it out 1 week free. Support our efforts and get your feeds via a link on this site. Live feed subscritpion Sign up