HOH: Tiffany
Secret HOH : Claire
HAVENOTS: None
Nominations: Sb and Ky via HOH, Xavier Via punishment
Coin of Destiny Coup D'etat: Claire won and kept noms the same
Power of Veto Players: SB, Claire, Hannah, Kyland, Xavier, Alyssa
Power of Veto: Hannah
Power of Veto Ceremony: Hannah used the power of veto on Xavier. SB and Kyland remain on the block.
Big Brother 23 Houseguest Rankings – – RANK THE HOUSEGUESTS –
View the previous day ranks on the – Ranking Grid
Big Brother Spoilers – Sb going to be evicted her campaigning means little. Kyland is also doing some one on ones.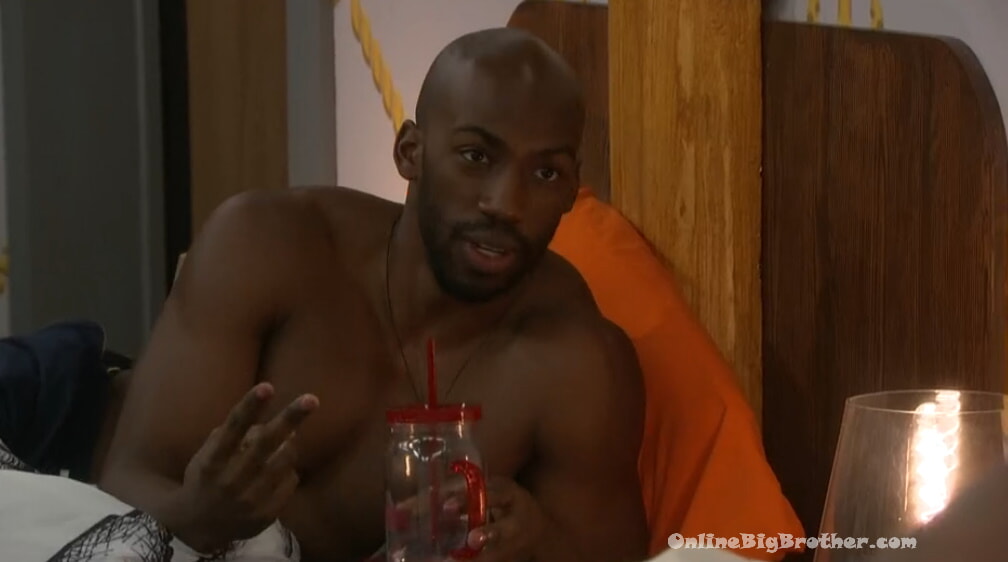 10:46 am BIGD, X, Hannah
X giove his Theory of Shelly
X – one, Shelly does exist and that may not be a good look when she gets back
X – Two, Shelly don't exist and her and Ky were a couple before they came into the house
X – Three, Shelly don't exist and we were lied to by one of them.
BIGD – I need to know.. there's a certain thing we can lie about in this game but I don't like someone that can lie about .. she made this whole story about coming out.. I don't like playing with sh1t like that.. in my community you don't play with stories like that.
Azah – we know they slept in the hOH twice
BIGD – I told you about that one morning
Azah – Tiff say her come down two weeks ago when he was HOH
Hannah doesn't think Shelly exists.
X says if they were really a couple "America would love that sh1t"
BIG – if America wanted her to stay they would have given her enough to stay.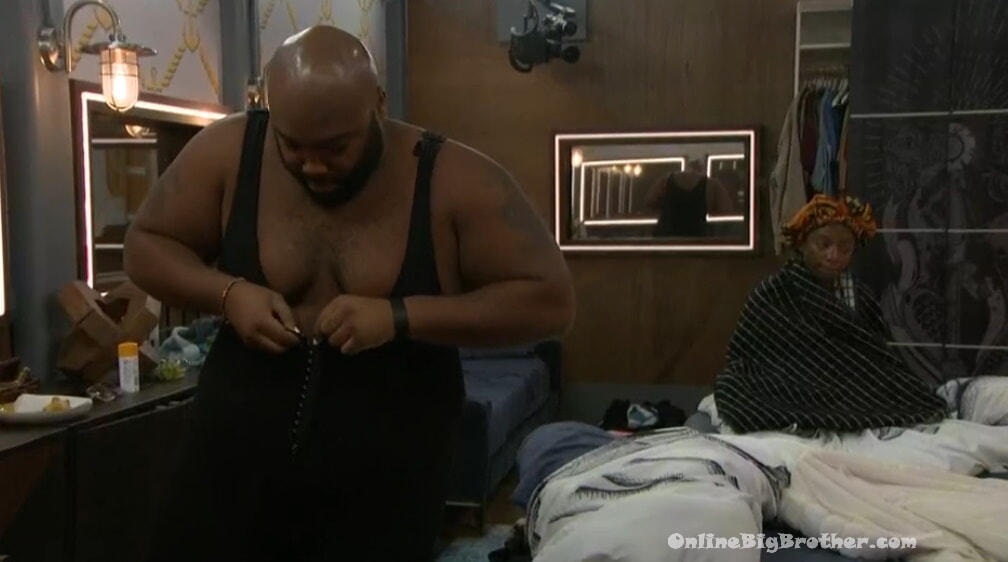 X says he's never seen BIGD put his bodysuit on before.
They go back to the three theories.
Hannah says she's going with the third theory.
Azah says she's never heard the theory so X repeats.
X 1- everything has been truthful and Shelly does exist
X 2- Shelly doesn't exist and it's possible her and Ky might that been a thing before they come into the house.. the picture of the girl could have been SB's roommate and Ky's picture of his friend was there to throw us off the scent.
X 3- Shelly doesn't exist her and Ky didn't know each other before she really digs KY, He really digs her but because she's already lied she doesn't know what to do about it.
Azah – I'm going with number three
X – question is are two people lying or one person lying.
Hanna – Ky knows so two
X – could be two or three.
Hannah brings up asking SB what did Shelly think of her coming on the show and she said "I don't know"
Hannah – we were like how could you not have that conversation with her?
Hannah – so you guys had no conversations about Big brother and what would that mean for you guys?
feeds cut
Azah asks X to give her three theories why she got only 50 bbbucks
hannah – maybe not enough screen time
X – one, not enough screen time.
X says maybe BIGD was such a big character he stole the limelight.
X – two, I don't think there is anything you said or done. … I don't know it's all encapsulated into one
Azah – I think you are being nice.
X – every other theory I have will be encapsulated into one. If you don't have screen time people won't know who you are.
Hannah – you have some of the goofiest weird personalities in this house. if it's not being shown.
X says some of Azah's funniest moments weren't family-friendly "CBs can't show them."
11:00 am Claire, Alyssa and Tiff
Claire – SB conspiracy her name just Sarah
Alyss a- Shelly not real
Claire – I believe that
Tiff – I don't believe anything about her
Tiff – She's lying about everything to me
Claire and Alyssa "just Sarah"
Claire – we all know they slept up in the have nots room. What went down?
Tiff – I think she is in love with Kyland I do believe that. That is why as soon as she's gone I will cuddle with him every day.
Feeds cut.. When we're back
Tiff – what does BIGD do for a living? we don't know..
Claire – he did say he did something with nuclear safety (Wait what the f*** )
Tiff – Ohh nuclear safety
Claire – then he got furlough after working that job for two months. then he's been unemployed I think
Tiff – would you have BIGD do anything about Nuclear safety?
they laugh
Tiff – he did go to military school.. I think BIGD is really smart..
Alyssa – he watches everything..
Tiff – maybe he was a spy or something..
Claire – he's got some big lie.. He really just wants to have a reality show after this maybe he's not in the military.
They mention how he doesn't know anything about Big brother prior to coming on the show.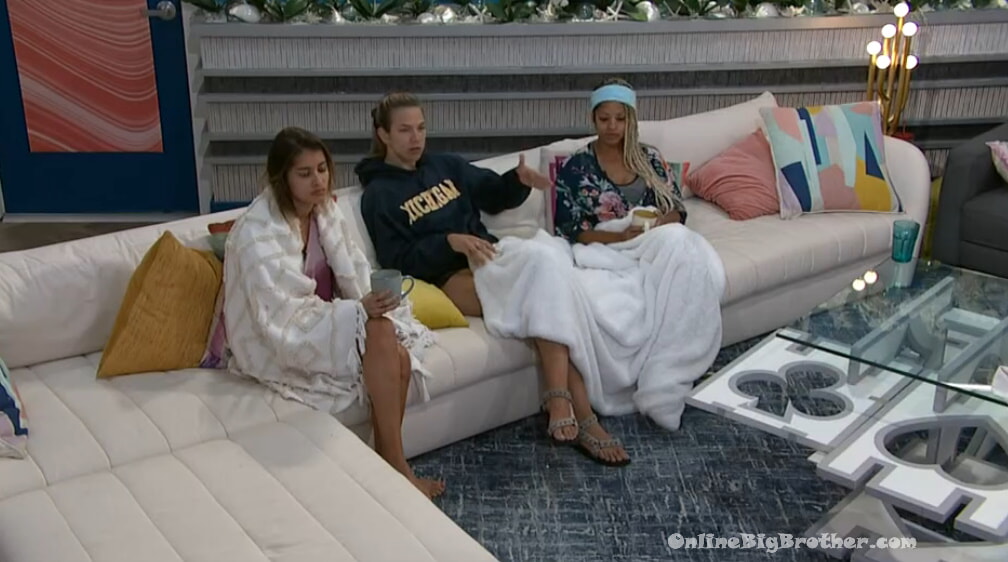 11:20 am Tiffany, Claire and Alyssa
Chatting about the houseguests this season..
Alyssa – I can see Claire secretly married and they have this HUGE penthouse in the city
Tiff – I am so here for DX and Hannah. it warms my heart. Tiff – I thought
They talk about after the season DX will hook up with a lot of different girls "30 seconds max"
Tiff – then he'll be like I had a real connection with Hannah
Alyssa – he'll try things out but realize he really get to know people
Tiff points out that you miss an element of not knowing someone how they are outside of this house.
They think outside of this house Hannah will look at DX as a little boy and DX will look at Hannah as a woman (HUH)
Tiff – she'll still like him but they have to grow together
Claire – give is a couple of years.
Tiff – she'll feel she needs a more mature guy but she'll realize her connection with him and his connection with her was very genuine
They start talking about X.
Alyssa – I think he's a law student .. I think he's a bartender but he's going to school for something
Claire – maybe he's getting his PHd
Tiff says X is the most disciplined organized leveled-headed 27-year-old male she's ever seen in her life. "he has a career that shaped that"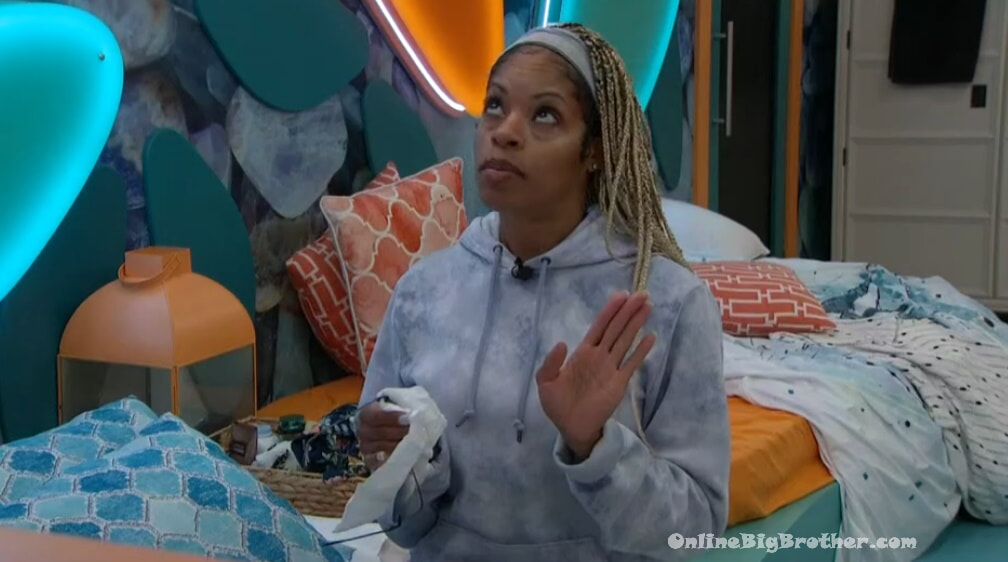 2:28 pm Tiffany to the camera after her one on one
Tiff – I tried to be as honest as I could I think she's playing an amazing game. I do think she is the most threatening girl to my game. I would like to hear what Kyladn has to see. We should see see see…
Tiff – I hope she's not getting to other people because I would really like to see her go on Thursday
Tiff – what sweet revenge for BabyD AKA DX
Tiff says DX will be so happy seeing SB coming into Jury.
Tiff – I'm a little nervous the six views me as a threat
Tiffany says Sb is thinking she is staying she's already anticipating who she will put up if she wins HOH "She's telling me she wouldn't want to make a BOLD move she would want to stay under the radar. but you know and I know she will come for me I promise. that girl is coming for me"
Tiff – If I have anything to do this week it'll be
Tiff – unfortunately it means that Claire and I will be split up next week. Claire is my girl I do not want Claire to go before the 6 and my own personal game it only makes sense so I can't play with my emotion here. I really have to make a decision based on what makes sense for the six.
Tiff – IF I'm on the block with Claire on 7 and Claire wins Power of veto and Claire is off the block they're sending momma home.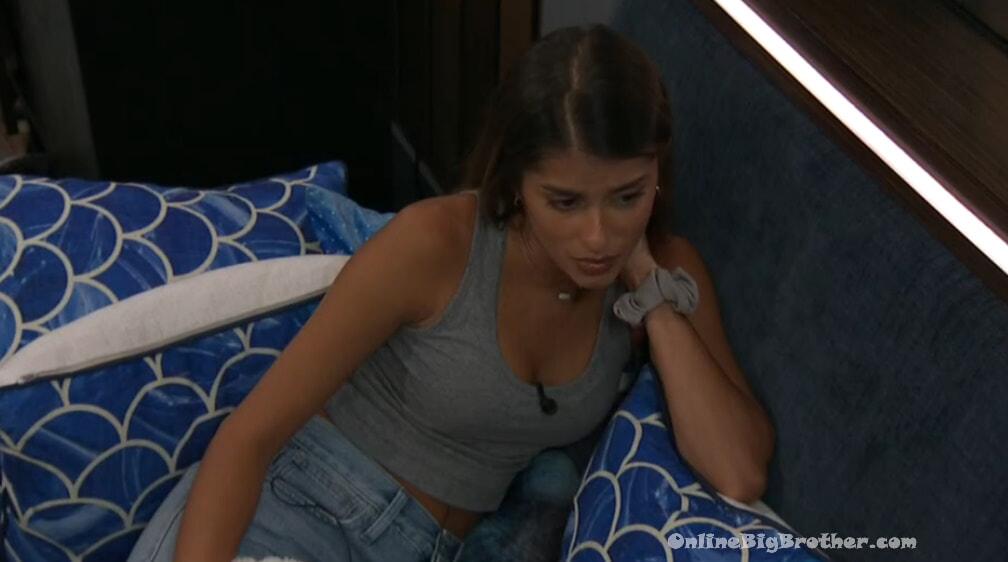 2:36 pm Alyssa and X
Alyssa relays her one on one with Sarah Beth to X.
Alyssa – I came in here wanting to play a very loyal game and I have been.
Alyssa says she wanted Christian here for personal reasons, not game. She wanted him to get to Jury.
Alyssa told Sb that and asked why she stopped trusting Alyssa on week 5. Sb told her if she would stay in this game she would lay low and throw the HOH to them.
Alyssa – She's trying to skate by she thinks Ky will always be a target and he won't be able to integrate with people. She wants to lay low and not be a target. and she wouldn't come after us and if she's in power she's a lot more straightforward than KY
Alyssa – that's it. I said honestly since day one I wanted the kings to 4. I was honest about that. After Christian leaving I wanted us three to make it.
Alyssa – right now I'm very 50/50 I haven't talked to Ky yet (this is what she told SB)
Alyssa – I was completely straight up with her.
X is going to tell SB that the things she said about Alyssa damaged her in the game if she really wanted to kings to make it "did you not suspect saying those things about Alyssa would ruin her relationship with other people in the house. Those relationships we would need as a four to move forward. Us four could have won everything but it's possible we wouldn't so we would need relationship outside"
Alyssa says she wouldn't even bother mentioning that. Sb knew what she meant and she's just being sloppy.
Alyss a- she told me that she told Tiffany I wasn't coming after anybody. she said the only people she brought my name up to was DX and Claire.
X – if she told Claire that will get to Hannah and Tiffany
Alyssa – she said everyone is still up in the air..
Alyssa says SB "laying low" would mean her putting Alyssa up "She would put me and someone else up.. laying low would mean targeting the person you've been running your mouth about."
Alyssa plans to tell Kyland "because of SB people are saying my name and the majority of people were saying his name so us going after each other makes sense."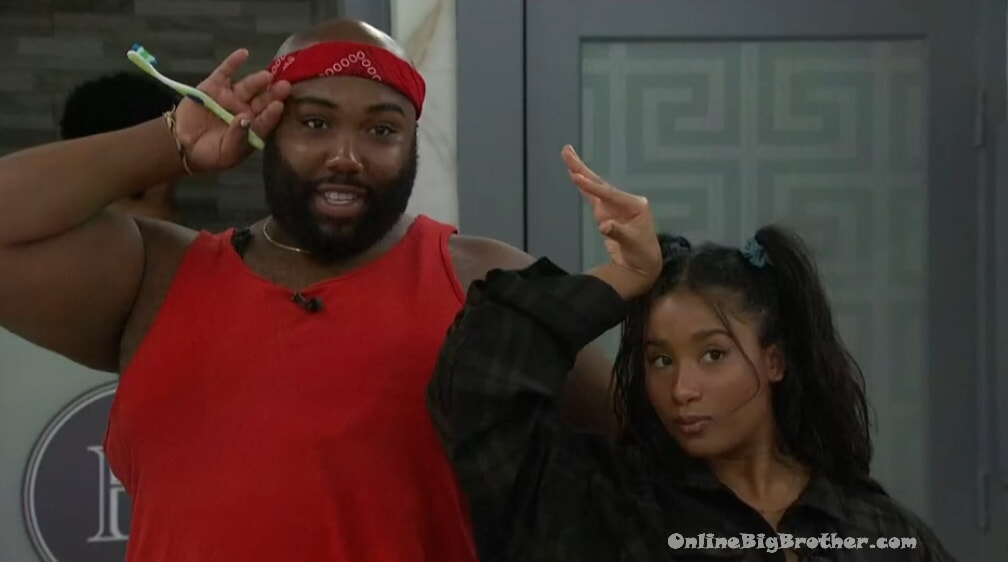 2:40 pm BIGD telling Hannah She's too damn cute
BigD – too beautiful
Hannah – you have the cutest face in the world.. with your little nose and your beautiful almond eyes, Your smile and your full lips..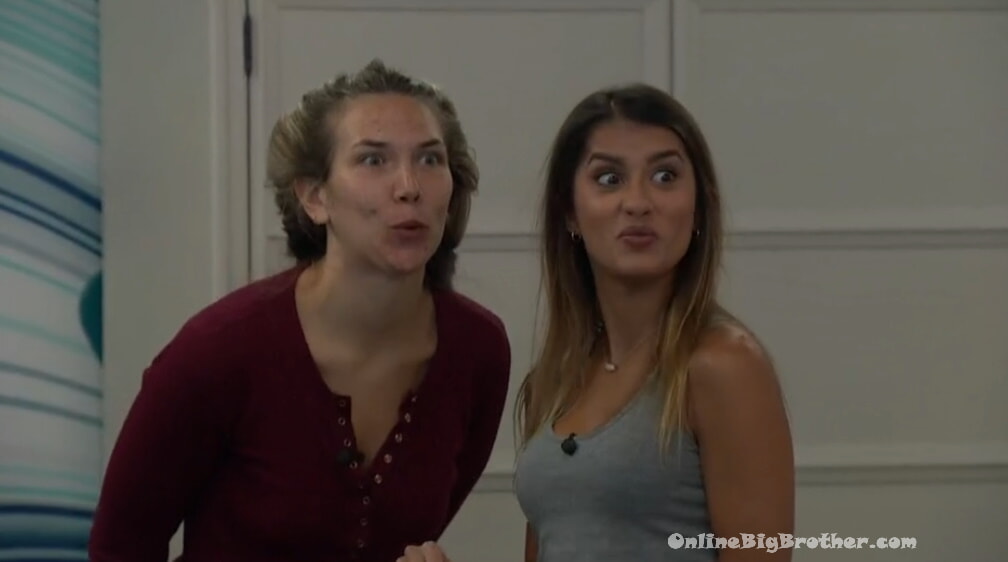 2:56 pm Tiffany, Claire, Alyssa, SB and Hannah (Claire and Alyssa make faces in teh mirror as they pass through)
Tiffany is talking about her personality and relationships.
Tiff – I do like being in control of things. In my everyday life, I am in control of everything. I'm a single mom I work.. I take care of myself. I pay all my own bills essentially I am in control of my household. When I meet someone and we talk about doing things together It's a shift for me to do that.
Tiff – I really do like to date people that take the responsibility of making decisions. I have to date someone that is a great decision-maker.
3:30 pm
Kyland and BIGD
Kyland's side of the bed collapses a bit.
Kyland – that was terrifying
He bends over to look underneath
BIGD – KY
Kyland says one of the boxes came off
BIGD – I'm scared to get up but I am going to tell everyone we definitely broke the bed.. we literally broke the bed.. OKAY.. I'm so scared to get up right now.. Ohh my god.. Okay
Kyland reposition and they get to talking about the vote. he doesn't want too many sympathy votes going to Sb because if Alyssa flips its a tie and Claire breaks it. Tiff was going to vote for SB but recently X has said he will too because of the "Kings".
Kyland mentions their alliance "The trinity"
BIGD – it's called the Holy BB .. Trinity BB I guess we can call it that
Ky – no Holy BB I just couldn't remember
Ky says Hannah was pitching to him that Claire would never come after him when they get to 7.
BIGD – I know I told you what these girls are doing.
Ky – Hannah didn't you tell me yesterday I was top of Claire's list?
BIGD – they're worried about Alyssa taking one of them out. If Alyssa wins hoh … I don't know what to tell you

BigD – it's very stressful working with you. You are not an easy person to work with. Ky, you know you are not easy to work with. I'm not easy to work with a spade is a spade.
BiGd – you are a smart man you have a lot of details and that's good. You actually think 10 steps ahead. that is the reason why I like working with you. Does your mind travel sometimes? YES.
Bigd – that is ok.. it's fine. I can deal with you because you're like Adam to me. Also because you and me talk about stuff at home the emotional connection I have with you. You're my person. no one has seen you snap beside me.. we have a safe spot this is our safe spot. 100% I think Azah .. She will put both of them up she don't care.. (Claire/Alyssa = both of them)
BiGD says if it's him, Azah and Ky left in the HOH just drop and Azah will throw it to him.
Ky asks what SB's pitched was
BIGD – she's like I can't campaign against Ky I won't campaign against Ky do what's best for you game. I did more of the talking.
BIGD – I said yo know I like Ky I have a crush on Ky
Ky – after the veto ceremony she felt like
Feeds cut.. When we're back..
Kyland says he doesn't want to blindside SB. Kyland says tomorrow however people want to do it they can express to Sb that Claire is the secret HOH and push the vote onto Claire and Alyssa. "Push it onto those two"
BIGD – Claire just confronted me and said she did campaign against me which means someone opened their mouth and told her that I knew
Ky – it was DX
BIGD – no.. recently yesterday.
Ky – it was Tiff.. she wants Claire to be saved or something
BIGD – mmhmmm
Feeds flip when they come back.
BIGD – you talk in a different way than other people do. I could be like this bracelet's black and you know what you will do.. this bracelet's not black it's actually a decent of a dark grey-black..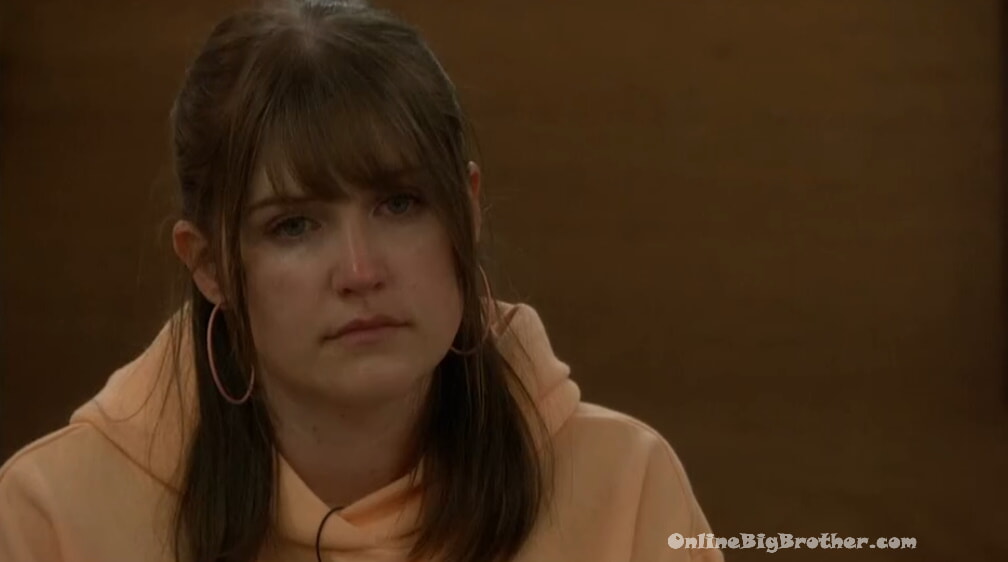 5:17 pm BIGD and Sb
BIGD – I got to sleep on it I don't know.. I want to punch something I'm pissed .. what do I do.. you know.. you never know.. it could be you than me out.. we'll all be in jury together
BIGD – you leave come right back in
SB – if there is a battle back it'll be DX. Ky could be DX but I don't think I can beat DX in anything
BIGD says it could be little brit coming back.
BIGD says he feels like a failure because he didn't win the coin of destiny (Well you did talk about it like you had it for the 3 days prior)
BIGD says the competition was a lot harder than he thought it would be "I feel stupid about that"
BIGD says Ky was out the door week one "Because of Travis and DerekX" (wait didn't DX use the veto on Ky?)
BIGD – this is another week where I'm like damn I'm going to lose someone I really like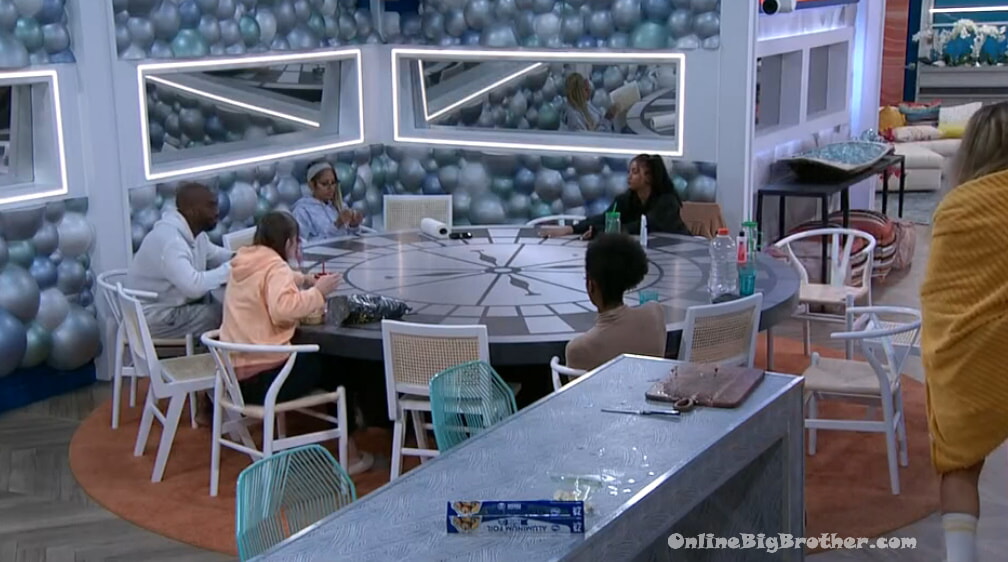 5:56 pm Most of the house milling around the kitchen. In the have nots Kyland is melting Alyssa's brain. (or maybe it's the other way around)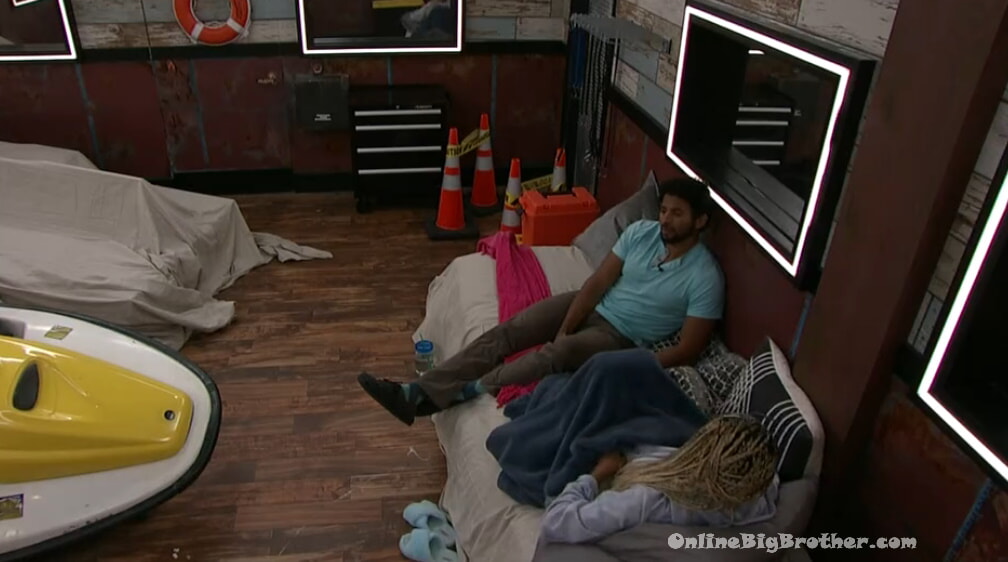 6:20 pm Kyland and Tiffany
Kyland – I've been telling everyone I'm doing BIGD's campaign
Tiffany complements him on his shirt says he looked very good in that colour
6:27 pm
Claire doing some runway
Hannah – New York Fashion week …
BIGD – the London look
6:40 pm BIGD rolling around on the floor pretending to act.
DF – it's my Oscar-nominated performance it's called BIGD
DF – You want something exciting this fall?
DF – you want to live on edge?
DF – you went to CLIMAX?
DF – come see the new movie BIG
Clair e- then they come in and see that performance?
DF – it's a whole show.. it's a whole movie