HOH: Tiffany
Secret HOH : Claire
HAVENOTS: None
Nominations: Sb and Ky via HOH, Xavier Via punishment
Coin of Destiny Coup D'etat: Claire won and kept noms the same
Power of Veto Players: SB, Claire, Hannah, Kyland, Xavier, Alyssa
Power of Veto: Hannah
Power of Veto Ceremony: Hannah used the power of veto on Xavier. SB and Kyland remain on the block.
Big Brother 23 Houseguest Rankings – – RANK THE HOUSEGUESTS –
View the previous day ranks on the – Ranking Grid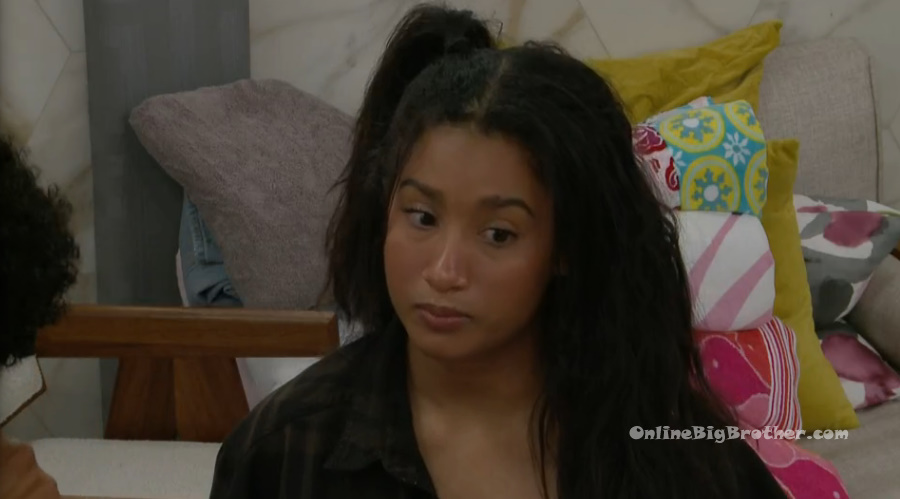 7:45pm Bathroom – Kyland and Hannah.
Kyland – I was talking to Tiffany .. I think you were there. Hannah – yeah. Kyland – but that wouldn't be until … I am wondering if it should be tomorrow or Thursday. I'm thinking tomorrow. Hannah – I think she might figure that it will be a 7 – 1 vote. On Thursday I was kind of thinking of pulling her aside and being like sorry.. like what we did with Britini and DX. Kyland – yeah, exactly. I think it would just be like.. Hannah – because blindsiding her would be bad jury management on our part. Kyland – yeah, so I think it is literally just like on Thursday and or like I could pass the message. I could be like Alyssa has convinced Claire that you're the best target for this week or whatever. Hannah – honestly .. because like SB knows that Claire is the anonymous HOH at this point right? Kyland – assumes .. yeah. Hannah – would it be a bad thing that if tomorrow we start doing that… that way so that Claire is even more weary of Alyssa? And vice versa. Hannah – kind of like throwing them under the bus. Kyland – maybe at the end of the night because what you don't want is her to grab Alyssa and Claire and get them in a group. If she knows she's going out she would ..but Thursday she wouldn't. So on Wednesday night I could be like honestly this is the vibe I'm getting. And if you guys could like leave it uncertain.. like I am leaning towards you.. and if it is uncertain then all of a sudden it is different. And except for Tiff if she still maintains me as her target but she knows people might be shifting. There is no HOH anymore.. Hannah – yeah there is no HOH to defer to.. so people can do whatever they want. It would be really helpful if SB throws Claire under the bus to Alyssa. I think if Alyssa wins she would put up you and Claire. Kyland – yeah and.. Hannah – of Tiff and Claire.. but Alyssa can't win. Kyland – I know. Hannah – I think you're the only other person in this game that is technically unaligned.. you're the only person that would have multiple valid reasons to go after Alyssa. Because the more that I talk to Big D, the more he is hesitant about putting up Alyssa. If we are that concerned about perception but if there is no battle back .. then.. Ky – it doesn't matter anyway. Hannah – they're going to find out anyway.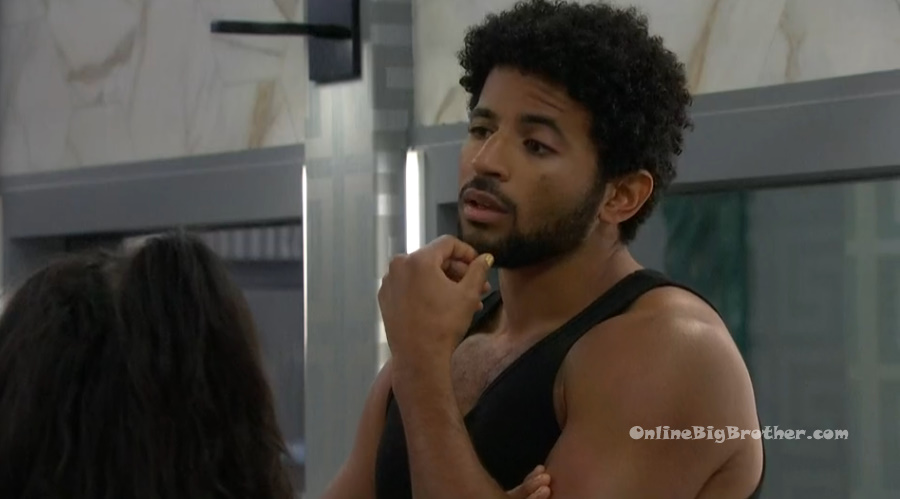 8:05pm – 8:20pm Dinner time..
8:56pm Big Brother blocks the feeds..
9:28pm The feeds return to the house guests still chatting around the kitchen table.. They're playing the "Two Truths" game where you have to guess which one of the three things someone says is a lie. Azah mentions her spirit being broken in the Bahamas. Xavier gets up from the table and says that he is done and walks away. Alyssa goes to talk to him in the bedroom. He says that he hopes what he said (while the feeds were blocked) about breaking a horses spirit when he was younger wouldn't be taken the wrong way. He said he didn't mean it like that and loves horses. He's worried the internet will take it the wrong way. Big Brother blocks the feeds again.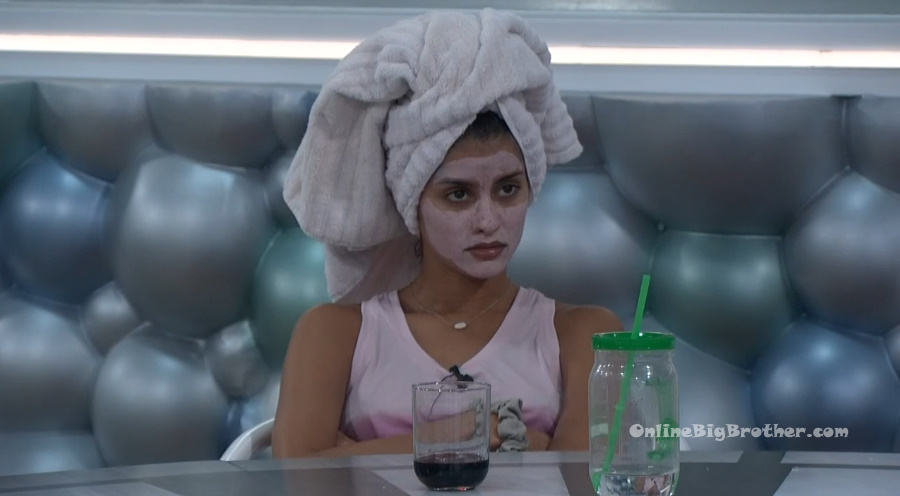 10pm The feeds return again..
Living room – Alyssa and Xavier.
Alyssa whispers to Xavier – after Tiff said to Ky.. You're going home Thursday. SB definitely thinks she's staying now. That is like really f**ked up to say. I didn't like that. I felt bad. Especially when he's not leaving you know and SB is. Big Brother blocks the feeds. Alyssa – I get the cuddling (KY & SB) but Holding hands!?? HOLDING HANDS?!!? Xavier – there was a lot of contact!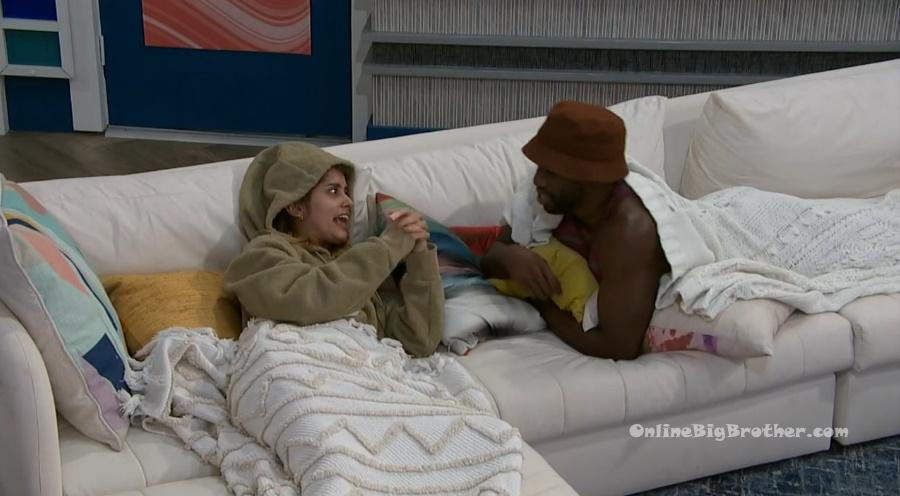 10:40pm – 11:10pm Bedroom – Kyland and Tiffany.
Ky – I don't know if I can personally. Tiff – I think I can work on Azah. Ky – that's what I was thinking. You're going to have to work on Big D. Ky – I can. Okay. Because right now she is open but like I said I don't want Azah to think that I am not a deep player ..like I am greedy.. like if it came down to me and her to want me to. Tiff – its okay I will work on Azah. Tiff – I will see if Azah would be able to.. Big Brother blocks the feeds. Tiff – I think it scares the sh*t out of us to go against X. Ky – not me. Tiff – ah ha ah It doesn't scare me. They both agree they would lose next to X (in the final 2). Tiff – It is actually better for you if he doesn't want to take me because if it comes down to me and you he will sit next to you .. f**k it. Only thing is I don't want to f**king compete against you and X because he would choose you and you would choose him. Ky – I wouldn't choose X. That is fact! Tiff – okay. Tiff – see the issue is we don't want Derek F in the jury house talking to them… Ky – you said we need him gone.. Tiff – we do but we don't need him messing up the jury. Derek has to get first because if he isnt he will be here at this (final 3). And if its me, you and Derek .. I am taking Derek! Ky – well you would lose to Derek. Tiff – f**k! Ky – anyone against Derek loses.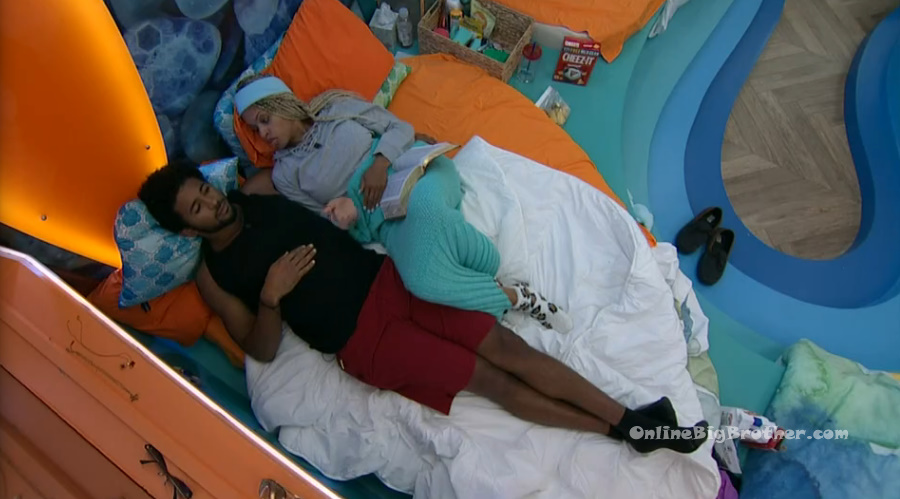 11:20pm – 11:40pm Tiffany talking to the cameras – I have to choose between Chaddha and Ky and that is the worst spot for me to be in at the end ..because I am going to choose Chaddha. And that means that I will have lied to Kyland the whole time.. but this whole time Kyland could be lying to me.. so how do you know?! And Chaddha could too. Best case scenario is I am the one that gets to choose .. and I choose Chaddha. But Kyland is going to be hurt by that.. but this is a game. And you never want to be in the position where somebody got to choose you.. but you do want to be in the position where both of them want to choose you. And is they both want to choose me regardless of who is up there hopefully they will choose me. If I have to choose .. I end up breaking my word to somebody and I do struggle with it because Ky had I have had a final two since week two. Ky and I are older players who might retire .. Chaddha is young who could come again and again and again and again to play this game. So even if she doesn't win she has more opportunities to return and play this game than I think myself or Kyland do. So I think it would be great for Ky and a girl to be up there at the end but I do think if I sit next to Ky at the end it is a battle. I know he believes he would win that is why he doesn't care who he takes but if he loses he would rather it be to me.
12:15am Havenot – Ky and SB
Sarah – who ever stays if they do not win this next HOH.. they are probably going to hit the block and going to have to fight for the veto. Ky – I don't think that's true. SB – why don't you think that is true? Well the only thing I could think is maybe.. is if Tiff and Claire are trying to work with Xavier and Alyssa. But I do kind of think in the back of my head that they are just trying to cover their butts if one of them wins next week in the hopes that Alyssa and X would go after which ever one of us remains or someone else. Ky – I have a theory.. this theory is deadly to know.. Something that X said .. is how noms don't make sense. I see ways that they do and ways that they don't. YOu know how we have the five duos .. I think that there are three people that might be working together, not with their duo partners. And I think DX was the third of forth person. I think Claire was one and that is why they were willing to put up Chaddha.
1:50am – 2am Havenot room. Kyland and Sarah
Sarah – none of these people want to work with me Kyland. None of these people want to work with you either. I am just going to be honest. Chadda does not want to work with us. Tiffany does not want to work with us. Claire does not want to work with us. Alyssa does not want to work with us. Big D maybe. Azah maybe me. Definitely not you. And Xavier maybe. I feel like our only maybe's are Big D and Xavier. Ky – why don't these people want to work with us? Sarah – They don't trust us. They don't need us. Ky – besides Baby D I didn't lie to anybody. Sarah – I don't think they feel that way. Ky – so what else are they looking at so I can justify it. Sarah – I don't know!?! I am not saying they're making rational decisions.
Show your support 🙂 Without your support this site and these spoilers wouldn't be possible.
Please consider a donation to keep the madness going.