Tonight HOH will be endurance on the live feeds
HOH: Tiffany
Secret HOH : Claire
HAVENOTS: None
Nominations: Sb and Ky via HOH, Xavier Via punishment
Power of Veto Players: SB, Claire, Hannah, Kyland, Xavier, Alyssa
Power of Veto: Hannah
Power of Veto Ceremony: Hannah used the power of veto on Xavier. SB and Kyland remain on the block.
Big Brother 23 Houseguest Rankings – – RANK THE HOUSEGUESTS –
View the previous day ranks on the – Ranking Grid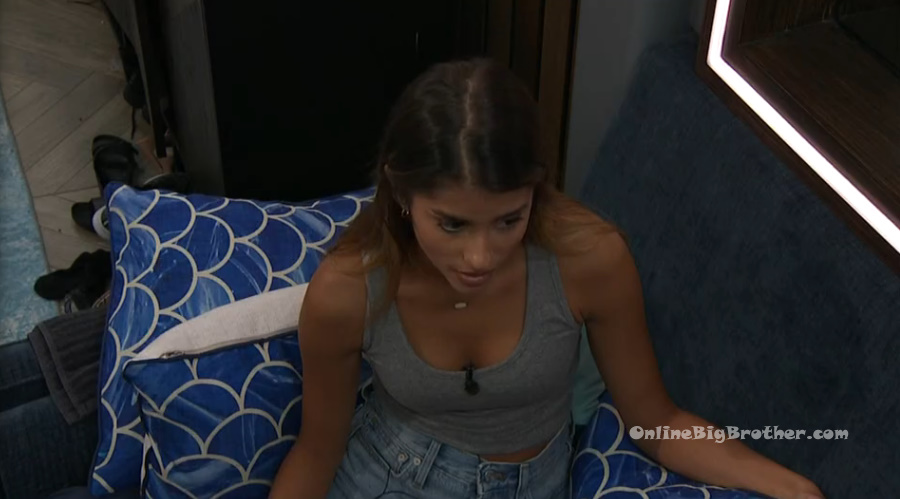 7:10pm Bedroom – Alyssa and Xavier.
Alyssa – KY was saying that people are still putting my name out there to him for next week. Xavier – who the f**k is saying your name? He is saying that if she (Alyssa) is HOH she would probably just take a shot at you (KY). Just coming up with BS as to why Alyssa would take a shot at him. Xavier – did he say who was saying that .. because that sounds like bullsh*t! Alyssa – well he said it without me saying anything. And I feel like people are having one on ones with people and don't think about their game, they try to pin seeds at people before HOH because they know KY is possibly staying and he has potential to win. And they don't know where Ky's head is at so they're using this opportunity to point him in a different direction and they think he is stupid and he is not. He is not buying any of it. Xavier – I don't think anyone thinks Ky is stupid. Alyssa – well clearly they ..well here is the thing. He hasn't talked to you Tiff or Claire yet. SO that only leaves Big D, Azah and Hannah. So I don't know if this was before his one on ones.. people were saying these things.. I don't really know I think people are just trying to find a way to go after you and I. And I think the girls would probably want me out. Xavier – you think the girls would want you out? Alyssa – seems like it! My name is the only one being thrown around. Xavier – I just don't understand why, like we haven't done anything. Alyssa – they don't know where Ky's head is at.. They think that Tiff and Claire are putting them on the block. I'm pretty sure Claire is the anonymous HOH. They don't want them to be the next targets so they're trying to pin whatever they can and they feel like they can outsmart me and not you. And people keep saying that X is such a loyal player but no one is saying that about me. People think that you're holding my hand through this game. Xavier – no. Alyssa – no people think that is what I'm saying. I guess I don't play for myself, you hold my hand through things, and everyone wants to blame things on me and put my name through the mud. Its just the easiest thing for their game. Xavier – that's stupid.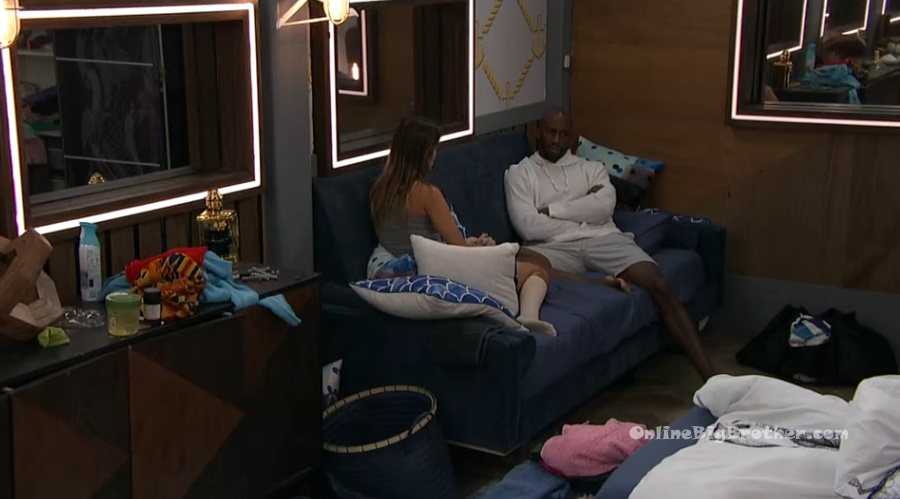 8:15pm Living room. The house guests are speculating on what they think this weeks HOH will be and talking about other random things. They start playing "This or That". Big D – Missionary or Doggie? Tiff – hey now! Azah – Doggie.
8:26pm Bathroom – Alyssa and Tiffany.
Alyssa – so I am talking with her and she like DX told me these things .. you know and I had to try and add them up. And she goes .. she starts babbling on saying well I didn't say these things. And when Tiff was HOH I never said I was coming after you.. and I was like I didn't say that, you said that. Tiff – what did she say? Alyssa – she said no that's what I am saying. I never said you said that. Why would you think I said that. Tiff – why!? Alyssa – because you did say that. Tiff – she talking too much! That is why she doesn't talk. Alyssa – I said I've been very vague about you because I don't know where you stand and where your loyalty lies. I said I know you trust X but for some reason you don't trust me. That is fine, that's a game move but you saying things about me affects my game. She said that she was having very sloppy game play. Tiff – now she trying to back track it. She literally just said that she way lying and being sloppy. She just said that to me.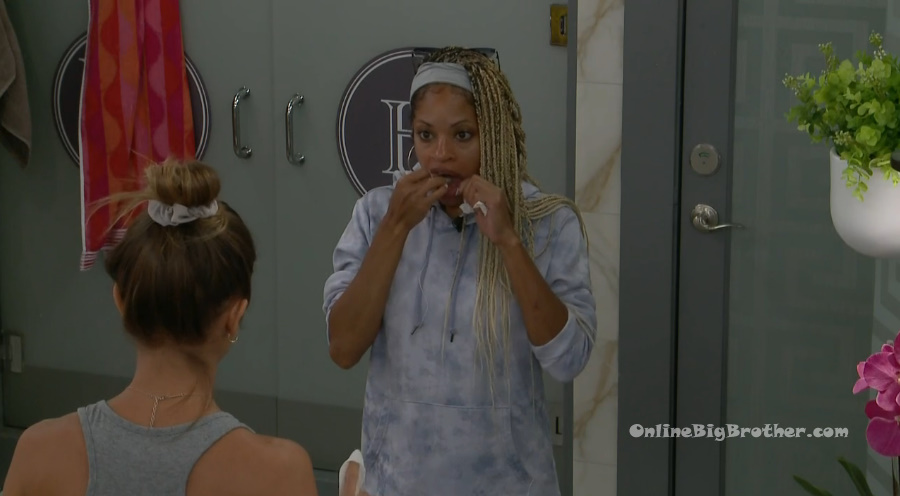 8:30pm – 9:36pm Havenot room – Claire and Kyland. Claire – if you go home, I am f**ked in this game basically. And then Big D is convinced I am coming after him. I am like what are you doing here? I was like Big D you know it wasn't personal campaigning ..like with the Britini stuff. Ky – campaigning for someone isn't the same as campaigning against. Claire – yeah. And then he was like yeah. yeah I get it. If I get you before you get me. It is what it is. I was like NO! Big D that is not how I want to leave this conversation!!! They both laugh. Ky – that is amazing! That is incredible. Claire – I was like that is not what I was saying. So that is where I will be looking next week. I still can't read X's relationship with people. I still don't know Alyssa's relationship with people. I feel like I thought Alyssa's relationship was an island for awhile and now I am like maybe she is not an island. Ky – well my new observation of Alyssa has less to do with her and if she is an island .. more to do with … I've been wondering more and more like with X what a crazy intense liar she is and now I am like what if she is not!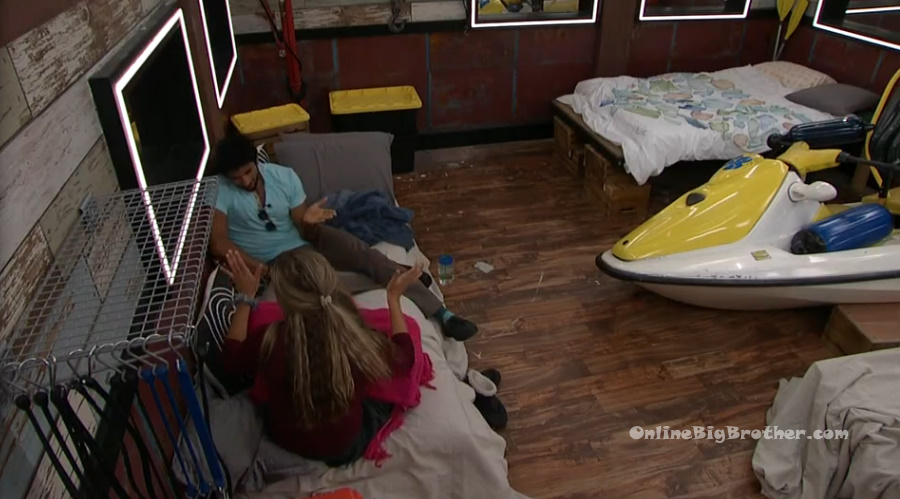 9:38pm – 10:45pm Havenot room. Azah and Kyland.
Ky – if its good for you keep me, its its good for someone else's game then don't. That is my full pitch. Alyssa feels that it is .. that her name or that most of the reasons why her name has been dragged is because of SB. Probably most if not a complete truth there even more than I know. Claire is basically following Tiff who I had expressed SB as her target for awhile. And SB is more aware now I believe. This morning she was leaning more towards likely that I would be more likely to leave. It appears that she is no longer feeling that way based on her overall tone shift. Azah – This is what I told her.. from a personal stand point it would be better for you (SB) to stay. And she said that no one had said that to her today. So I think that people have not been telling her .. you know. Ky – makes sense. Azah – because like I said I don't hate you. On a meta level it would make sense for me to target you and for you to leave.. but I don't hate you. Ky – oh I know. The other thing that I have been trying to reiterate is that there is still nothing happening with me and SB. Hasn't been since… the whole time. Azah – that's cool.. honestly I asked you once in the storage room and you told me no. Its not my business and I don't care. And you tell me that it is no so I believe you. Ky – Everyone can do what they want but I would just prefer if there not be any jokes expressed about it because it does just bring it up more and makes her uncomfortable and probably just has other negative effects. Azah – I make notes not to make jokes about that.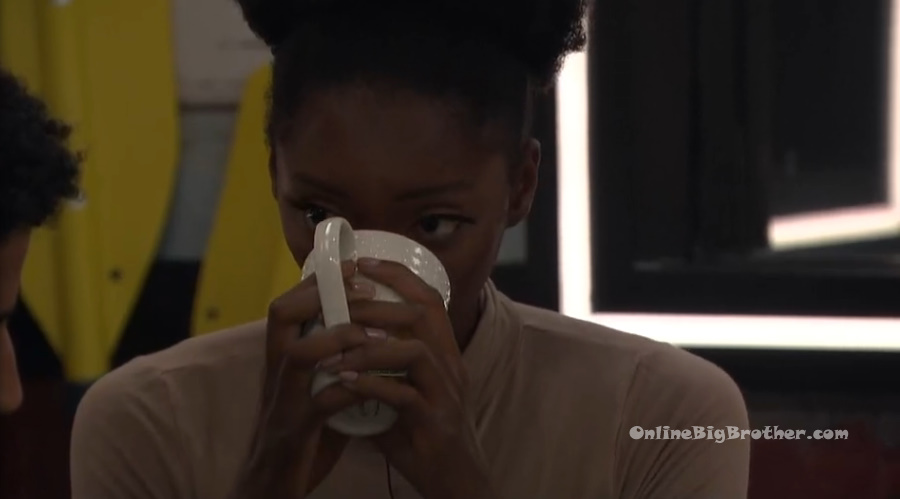 11:30pm Azah and Big D playing chess.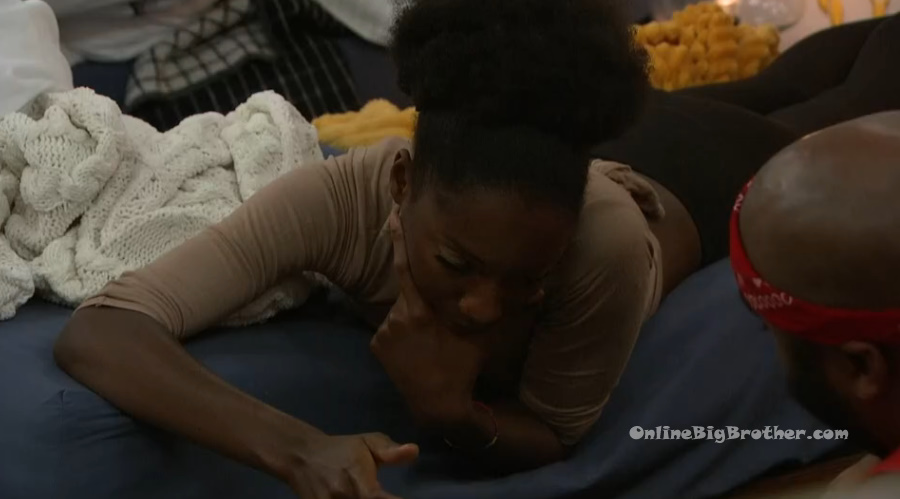 11:35pm Havenot – X and KY.
Ky – Alyssa is downstairs right? I don't need to check under the bed? X – yes she is downstairs. KY – everyone said that they were leaning .. Claire said something similar.. X – leaning to what? Ky – leaning towards keeping me .. I guess. X – yeah ahhh huhh. KY – I don't know if you have talked with Tiff. ..but it was kind of like DX and the SB thing. Like it is her choice if she wants to. But she was leaning towards it being unanimous or her vote. She said she was going to ask everyone. Like if someone wanted to vote over her or if you both want it. X – Tiff wanted to give SB a sympathy vote? KY – apparently because she feels bad but it sounds like she is not going to fight for it. So if you were to ask she would say yes. X – I feel like for the purposes of the story it wouldn't make sense for me. Its just more confusing. It is just going to cause issues that are not needed. Ky – I just think it should be one if anything. X – yeah I will talk to Tiff. It should be one or none. You or Big D should try to win (HOH). Ky – I think Big D would be fine. It would be entertaining.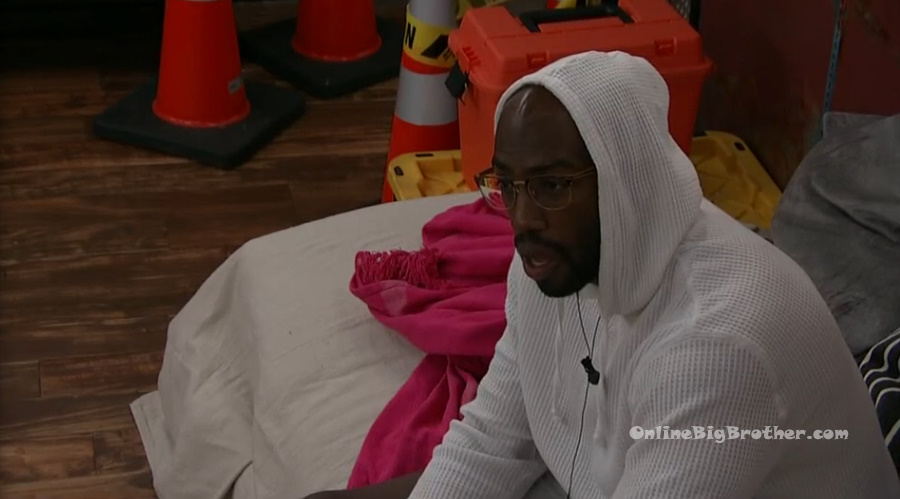 1:20pm X, Hannah, Azha and Big D go to sleep.
12am – 2am Havenot room – KY and SB
SB – how about yours? Ky – indicative of that. SB – so yours were good. Ky – I guess that if yours were also good then they probably wouldn't have been. SB – everyone was just super vague with me. Its like they hadn't made up their mind which is not super helpful. KY – well first off I think everyone was reminded of the rules this morning. SB – yeah but you can still say it looks good for you or I am leaning towards keeping you. Those were not things that were being said to me. Ky – yeah. I'd say that my .. I had more time than I expected. Some of my conversations were long .. but more because of just personal conversations or talking about the game in general. My campaign was basically just if its good for you to keep me, then keep me. If its good for you to keep SB, then keep her. And then it was kind of defending you. SB – because people think I have been dishonest. KY – more or less. SB – can you just be specific!? KY – yeah it wasn't so much in those terms .. it was more or less dishonest or disloyal to people that aren't me. Ky – if you do go .. I just don't want you to be in a situation where you feel sad and angry at me. I don't need you to feel angry at DX for something that he did that makes total sense that was not malicious and just part of the attempts to survive and are now being misconstrued by Alyssa. SB – you don't have to worry about me about taking these things out on people. I get its a game. Yeah I am going to vent and be angry because what he has done has hurt my game and is probably going to send me home. Of course I am angry about it. But when I get to the jury house, what the hell am I going to do about it.. nothing! Then we're just to regular people. We're not playing the game anymore.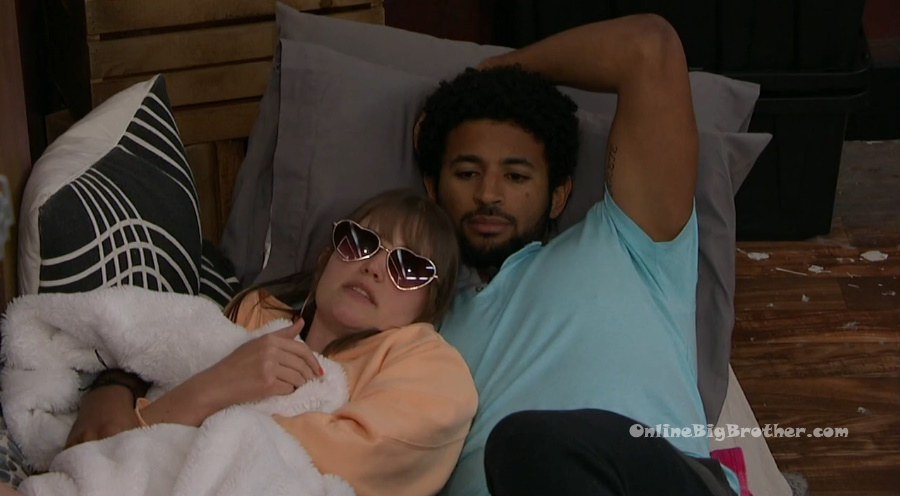 Show your support :) Without your support this site and these spoilers wouldn't be possible.
Please consider a donation to keep the madness going.