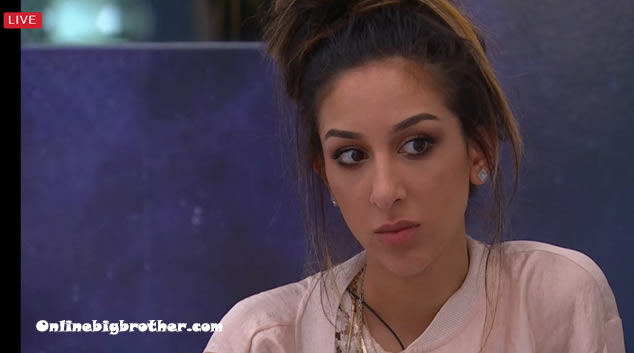 4:00pm Neda, Kevin and Bruno comparing notes about Ika
Bruno says Ika is really pushing for Emily to stay.
Bruno – Emily is gone.. I think we should get her out.. if we don't get her out this week she'll make it to the end.
They agree Dillon will be a mess with Emily gone.
Kevin – What I'm observing is there's a war going on between Ika and Neda.. Neda's Army and Ika's Army
Bruno – Ika wants me over there so bad but I'm not going to do it
Kevin – She's playing on me hard too, you need to make her think you're with her
Bruno – of course
They agree Bruno was going to go up if Kevin used the veto.
Bruno – I knew it, was the perfect shot to take
Bruno – they don't know we are the 5 votes, we decide who goes.. they don't control shit.
Kevin – Burnt the bridge with William and Karen..
Bruno – the line has been drawn for a long time..
Kevin – It's very clear now
Bruno – if Dillon wins he's putting you and me up.. and the thing is THEY put him up twice and their still pissed at us
Neda joins them 'F***G children"
Neda says "they" (Dillon Eemily) did something to the pickles emptied it and poured something else in it.
Neda – I understand hiding food F***G food is another thing
Kevin says Dillon is claiming he pissed in the pool
Neda is going to talk to Production because they can "F***" with food and put it back in people could get sick.
Neda – it's f***d up that Jon's on of his good friends outside the house and he's coming after me
Neda says Ika has been talking shit constantly about Bruno, Kevin and Sindy. Neda brings up her conversation with Sindy where they compared notes and Ika is telling Sindy and Neda the same thing trying to make them against each other.
Neda – Ika's been saying the worst thing like Sindy like Demetres..
Neda says Ika told her Bruno is going around saying "Neda's moods horrible I can't be around that"
Bruno – WHAT .. WOW
Neda says her and sindy hashed everything out and know that Ika is a huge liar.
Neda – you got to jump on this anti Ika bandwagon
Kevin – I'm there
Neda says for them to do whatever they can to pull Sindy in make shit up if they have to
Neda – is is smart to keep Dillon
Bruno – Dillon without her might self destruct
Neda – today's the day to jump on the Sindy bandwagon
Neda says Ika is viscous she doesn't care who she f***s over
Neda says if she wins HOH she's putting up Dre and William if there's a backdoor option Ika
Neda – Ika is scarier than Demetres
Bruno's thinking about throwing both Demetres and Ika up.
Kevin is going to try and repair things with William.
They talk about how Dumb (Gamewise) Dillon and Emily are.
Neda – if we pull Sindy in we can deny the 6 was even a thing
Bruno – that's true
Neda – it would just be Ika and Demetres saying
Kevin – Sindy is key right now..
They agree Ika is good.
Neda – this is why she left early her season Ika is destructive
Neda – how can we turn Sindy against Dre and ika.. he has to be personal stuff and game stuff
It'll be 5 vs 5 in the HOH competition this week
They start to debate who should go first the french connection, Ika/Dre or Ika/Demetres.
Neda says Ika has wanted Kevin out since week 1.
Bruno brings up when Ika was saying how useless Kevin was this week and Demetres was in the background saying the same thing right after Ika.
Neda calls Demetres "the parrot"
Neda – we have to make sure Sindy doesn't trust Ika and Dre
Neda says William was fully throwing Kevin under the bus to Jackie today after the veto Ceremony.
Neda says if they don't win HOH Bruno and Kevin are going to be nominated.
Kevin – Sindy is not incentivized to win the HOH
Neda agrees
Neda says they have to sketch Sindy out enough about Ika having already gone to the other side.
Bruno – Ika leaving would open this game up a lot for us .. she's the quarterback we gotta get rid of it
Kevin – she doesn't throw anyone under the bus to me
Neda – she doesn't trust you
Kevin and Neda agree that Ika is so convincing they have to make sure Sindy is on lock.
Neda about Ika – She makes stuff up..
Bruno – Emily spilt everything.. the alliance to Dre..
Kevin – I love how we turned our back on them
Neda – that makes no sense they're so dumb
Bruno – Ika and Demetres are key to get out.
Kevin – look how confident he is
Bruno – he thinks he's king shit
Neda calls what Iak is doing to Jackie is bullying
Neda says Jackie is 100% with them they just need to lock Sindy
Bruno – I can't believe we lost Dillon and Emily
Neda – there's idiots.. hot heads idiots
Kevin – Maybe we can get Dillon back
Neda – Ika, F**** you
Neda – Jon your buddy Dillon sucks..
Neda and Bruno again saying EMily and Dillon are dumb.
Kevin leaves..
Bruno says Emily has flipped 100%.
Bruno says they aren't going to say shit about their vote so everyone thinks it will be unanimous but they'll vote EMily out.
(They are planning on Bruno, Kevin, Neda, Sindy and Jackie's vote to evict Emily)
Bruno – we can be like look Dillon.. they voted against you and put you up.
Neda – our main job is Sindy
Neda says they have to point out to Sindy "Who is up all night Dre, Demetres, Ika and William"
Neda says Ika was saying that Neda was jealous of Sindy because she was close to mark
Neda also says Ika told her Sindy is Jealous of her because she got Demetres and Sindy didn't.
Bruno is confident they can pull Sindy back he's just not sure how deep Ika's claws are sunk in.
Hot Tub Karen Dillon and Emily Emily – there were a couple people that I had my doubts about but he seemed to have a good relationship with them so I was like alright well.. Dillon – I sh*t the bed on this one. Emily – we both did though. How are we supposed to know. Karen – you don't know because people look you in the face and tell you
brother .. you're like a brother to me. I just want to know have they thought this out? Like if Will and Kevin had that conversation which is what I said yesterday and he said he would put up Jackie .. why wouldn't they want to keep 2 strong people. I makes no sense. Emily – it doesn't make any sense. So they had this scheme all along once they got Jackie back or what? Dillon – I think Sindy might be playing a little better than we think. She's playing both sides of the house. Karen – she's not though. I've watched them with her though. They don't ever talk to her. She's just in that room with them. No one ever talks to her. Dillon – as soon as they got Jackie nailed down.. we were expendable. Karen – Bruno said there are no better people to go home than you two.. there were no other names mentioned out of Bruno's mouth than you two. Dillon – I believe it too.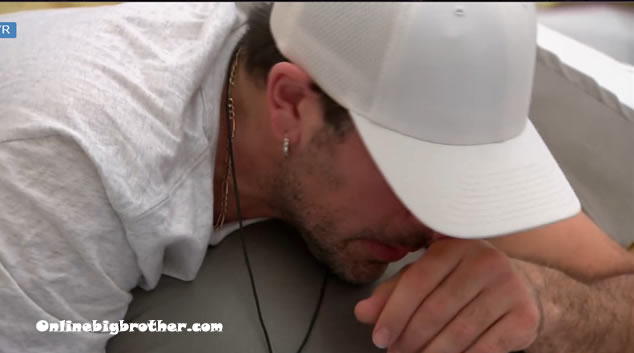 5:23pm Bruno and Dillon
Dillon says Emily doesn't trust anyone on the other side of the house.
Bruno – they are going to give her that false hope
Bruno points out they hang out all the time the only reason that side is putting effort is because they want Dillon to go and Emily to stay.
Bruno points out again that the other side of the house won HOH 5 times and 2 of those times Dillon was on the block.
Adds that the 5 votes against on Dillon came from the other side.
Bruno tells him if he wins the HOH he's not coming after Dillon.
Bruno brings up his sons surgery and starts to cry.. "It's just tough"
Dillon – sorry man
Bruno – no man it's cool .. it's just tough seeing him strapped to all those machines.. 4 year old kid can't play..
Bruno – I have a lot on my mind.. I just got upset.. I didn't mean to get upset with you
Dillon – sorry man
Bruno – I didn't mean to take it out on you..
Dillon – we were fired up it happen..
Bruno – those braces were 5 grand when I heard 5 grand it triggered it.. (The argument after the POV ceremony)
Feeds cut..
5:39pm Ika, Dre and Demetres HOH
Ika says Neda wants Dillon to stay way too f***g hard.
5:42pm Sindy and Neda
Neda apologizes for not coming to Sindy earlier about what Ika was saying she was scared of Ika.
Sindy says she really wanted the six to work.
Sindy says the reason she didn't share what Ika was saying about Kevin, Neda and Bruno is she didn't want distrust to start.
They talk about Drama between Ika and Sindy that happend outside the game. Feeds cut..

Neda and Ika
Ika and Neda getting heated..
Ika and Dre HOH

8:25pm Karen Demetres and Ika
Demetres says Dillon is back with Bruno and Kevin he will put them up if he wins HOH.
Karen – how are these people this f***g stupid
Ika says William should have put Bruno and Kevin up.
Karen asks if Demetres is working with "Those boys"
Ika is certain he's not.
Ika – next week it's you me and Demetres playing HOH against all of them
Ika goes on about how much hate and anger she has inside, "There in a big surpsie when I have power"
Karen thinks Neda is mad at Ika because she can't control Ika.
Karen adds that is why Neda doesn't talk to her.
Ika – I say we put up Neda/Bruno or Neda/Kevin and we get neda the f*** outta here.
Karen proposes they put Neda and Sindy up
Ika about Neda "She is turning people against me so they come after me" (LOL Ika was doing the same thing to neda)
Ika and Demetres
Demetres – we're going to have to keep Dillon we don't have the choice..
Bruno, Kevin, Neda and Dillon
Neda – Dillon we have your f***g back
Bruno – we got you 100
They tell Dillon they're voting to keep him.
Jackie Neda and Bruno
Agreeing if they win HOH they'll put Ika and Demetres up.
Neda reminds them not to say anything about the vote just tell Emily she's staying.
Kevin and Neda
Neda – today took such a turn for the better..
They agree to just focus on studying and staying on top of Sindy. They worry because Ika is so good and working on people.
10:18pm Ika and Neda
Ika – I feel really bad. About like everything.. And what's his name just f**king threw me out. Neda – who? Ika – Demetres. Neda – why? Ika – because of how I spoke to you. Neda – oh right. Ika – I really don't what to do this in this house and I feel like I don't have anybody and I see you with Jackie and… Neda – its because you avoid me all day long. Ika – because I really don't have anyone else in this house but you and I don't want to loose that. I feel like I don't what us to turn on each other. Neda – I know, I don't want that either. Its just when I get spoken to like that.. Ika – I know, I'm so sorry. We get angry and we say things but I swear to god I love you in this game. I love you outside of this house. Neda – its just hard when you come at me like that.
Ika says she swears on her children she's never told Dre, William and Karen about the 6 alliance she's loyal to Neda.
Ika to Dre – the people that we gravitate to speaks volumes. we stuck together, then went together. Kevin & William went together for a bit. Which tells you that Kevin does like you. Sindy is a f**king liar. You want to go by your gut.. Dre – mine too. Ika – you going back to Bruno threw me and Demetres under the but. Bruno already said he wants to keep Dillon. Bruno has not said a word to me, so that conversation should not have happened. Dre gets up and says … Dre – okay I'm going to tell him I'm going to backdoor him. Ika – that doesn't even.. I dont get it. Dre – so that I can be the new target.


[polldaddy poll=9718569]