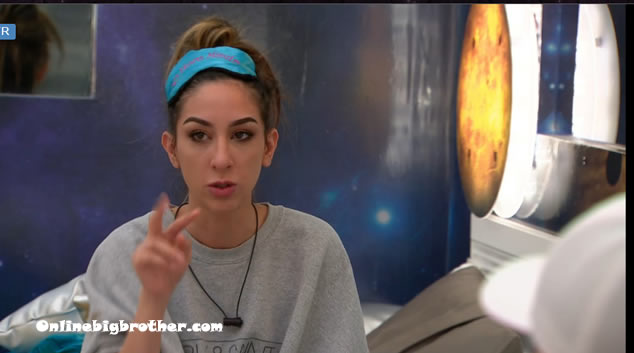 (FYI Videos can take some time anywhere from 10 to 60 minutes to upload)
10:14am Bruno and Neda
Neda fills bruno in on last night's conversation with Ika. Ika is worried if she pulls the same conversation with Sindy than Sindy will believe it.
Bruno says Ika is talking to Sindy right now but once they're done Bruno will talk to Sindy.
Neda – I think she realizes we've put 2 and 2 together we're not idiots and she's scrambling
Neda – she was even crying and stuff..
Neda says she told Ika she thinks she's crying because she realized she f***d up her game.
Neda says Ika has been chipping away at the trust in their group since day 3
Bruno – it's too much
Neda says she doesn't care who goes first Dre or Ika
Bruno says Dre came up to him last night and said I don't want to make an alliance with you I want to make a deal where they don't come after each other
Neda – she's such a sketch bag
Bruno – trust me this is my team that is their team
Bruno says day 31 and Dre decided to talk to game with them.
They agree to keep reminding Dillon they are keeping him but making it look like they are keeping Emily. (Bruno, Kevin, Neda, Jackie, Sindy as of right now are all deploying this strategy)
Bruno says Ika and Demetres stay up for hours talking, "Holy f** what is there to go over"
Neda – they're playing 2 sides..
Bruno – they gotta cover all their lies .. go over all the stories they've been telling all day
Neda about Ika – I'm not Jackie I'm not one of these little girls you can scream at
Neda says Ika employs intimidation tactics.
Bruno – She's definitely not with you I can tell you that right now
Neda and Bruno agree they kinda like Ika just being on the other side.
Kevin comes in.
Neda says Ika is trying to sell to her that she doesn't want Kevin to vote Emily out because then Kevin can rebuild trust with William.
Talking about Ika saying that William trusts Kevin 100% but then telling jackie william doesn't trust Kevin.
Bruno points out how Ika went into panic mode yesterday
Neda mentions to Kevin Ika was crying last night at first neda felt bad she was crying but after she realized Ika was only crying because she realized her game was f***D
Bruno – everyone just compared notes..
Neda warns if Ika wins HO sindy will jump on that side.
Bruno – they're only 3 of them playing (In HOH)
Neda says this season is shaping up just like her season when Heather jumped to her side because she was bullied by Ika just like Jackie is.
Bruno says Ika knows they are onto her you can see on her face.
Neda is worried Ika will deploy some desperate measures. She still worried about Sindy.
Bruno says Sindy realizes that Ika doesn't like her he's going to keep working on her.
Dillon rolls in.. some chit chat. Neda leaves..
Bruno confirms with him that they are not saving Emily people might come to him and say they are but they are not.
Bruno – It's going to go good buddy..
Bruno explains the instant and Double evictions to him. Says he thinks there will be a 9 person Jury.
10:41am Emily and Jackie
Jackie explains to her that they might have said they would have put her up but bruno would have been the person that goes up.
Jackie says things have been different between them asks her what William/Dre/Ika have said about her.
Jackie – I feel like they were trying to take a jab to me through you..
Jackie – they've gone and said so much sh1t about me.
Emily says they didn't say a lot about Jackie it was mostly about Bruno.
Jackie reminds her that the two sides are trying to get everyone to flip "How long has Bruno had your back"
Emily says that Bruno told her and Dillon the exact same thing "You're my ride or die I'm voting to keep you"
Jackie says every single person in the house has said they wanted Emily and Dillon out
Jackie – just like you guys aren't going to stop until Dre/william or Demetres and Ika are split up
Jackie – Emily I want you to stay..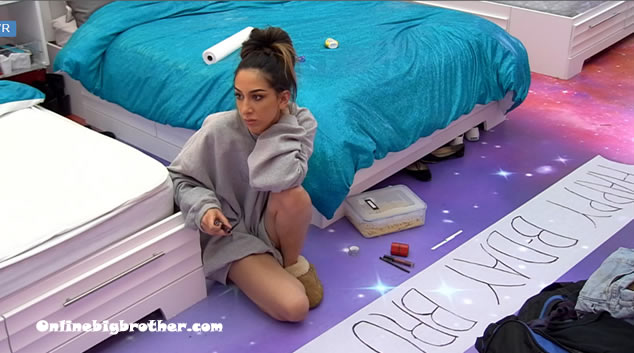 11:08am Neda and Sindy
Sindy going over her conversation with Dre.
Sindy says Dre is telling her Kevin is playing William.
Neda adds that William is playing Kevin
Sindy agrees says Dre will never trust Kevin and will say whatever there is to say about him.
Neda mentions how Iak was saying it was Dre and William's plan to influence Kevin to use the veto so that they could put up Bruno.
Sindy – she told me that William asked Kevin to use the veto so he can backdoor Jackie.
Sindy mentions how Dre is wanting to Call Jackie out
Neda – what the hell has Jackie done these past 2 weeks
Bruno's Birthday party in the hot tub
Dre and Ika
Ika says Neda went around to the whole house and said Ika attacked her.
Dre – she didn't believe you yesterday.. by the way, she's still telling people to watch out for you
Ika – it was a waste of tears.. took all the pride for me to do it.
Dre says Neda and Bruno won't put Ika on the block they will get Jackie or Dillon to do it.
Ika calls Neda, Jackie and Sindy catty girls and they have joined together because they don't like Ika.
Ika – the only way Dillon leaves is if Kevin votes with us
Dre – yo think Kevin will flip
Ika – William has to work on it
Ika says at first Kevin was playing William but then got worried about how he was being viewed so now he's being like "I really like him"
Dre says Kevin voting out Dillon is his way to prove that he's not playing William
Ika – we shouldn't have told Dillon and Emily anything
Sindy Kevin and Bruno
Ika and Dre
Ika – If I win HOH i'm going to turn this house upside down
[polldaddy poll=9718569]