Kevin Didn't use the Power of Veto. Nominations stand, EMily and Dillon
Ika says Emily needs to sit with Jackie and secure that vote.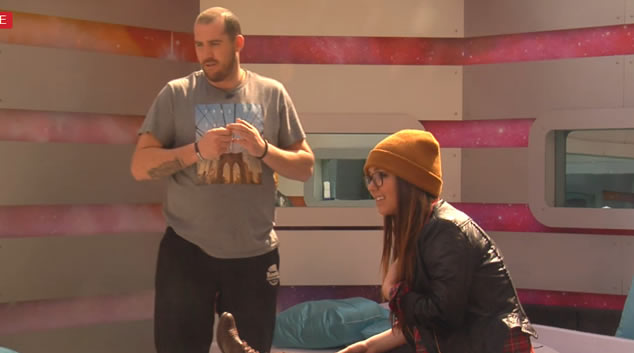 Bruno saying he can't believe they "jumped" on him like that.
Emily asks why was he saying to both of them that he was keeping them safe.
Bruno – I told you this morning you're like a brother you're like a sister to me, I have to go with what they want man..
Emily – Why.. it's breaking my heart
Bruno – you're like a f***g sister to me and you're going to pull that f***g shit on me, I was with you guys since day f***G one
Bruno says they're day 30 and he's been with them the beginning
Emily – why did you tell Kevin not to use the veto
Bruno – Who's saying that I want a name right now.. Whatever the HOH wants I have to go with
Bruno tells them they jumped on him to work with people that were targeting them.
Bruno says if kevin uses the veto he would go up.
Dillon and Emily says that William is putting Jackie up.
Bruno doesn't believe it, "You believe William.. This is Big BRother man.. Why the F*** would he put up Jacke.. He's on the other side of the house guys it's us versus them"
Emily – he was legit going to put Jackie up
Bruno – C'mon guys.. You're smarter than that
Bruno again says whatever the house is going he's got to follow they don't have the numbers
Emily – it's breaking my heart, what's the point of an alliance..
Bruno tells them if they are talking like that they are throwing the game away
Dillon – OK Bruno..
Bruno I'm telling you guys..
Dillon – OK Bruno..
Bruno – I don't have the Veto
Dillon – you probably wouldn't have used it anyway
Bruno – you don't have to be like that.. Be like that.. Trust me you don't don't scare the F*** out of me you don't scare me one bit
Dillon – What the f*** is this scared paranoid .. you sound like a paranoid little punk right now..
Bruno – Don't talk f*** shit right now.. You're not going to talk to me like that..
Dillon – Keep cussing at us like we're some punk on the stree.. you sound like a little punk on the street
Karen joins them.
Dillon – fake like a 3 dollar Bill
11:50am Neda and Jackie
Neda says Emily has jumped onto the other side.
11:51am William and Kevin
Kevin – I'm sorry I chickened out man
William – you lied to me
Kevin – they're was sketchy sh1t this morning.. I wasn't trying to play you last night
12:01pm Kevin, Bruno, Dillon and Emily
Emily – did you tell William you were going to use it.
Kevin – we had a discussion.. I felt like I couldn't use it
Emily – what was your game plan if you told William you were going to use it
Kevin – we discussed it.. William is mad at me
Emily – you're showing home you're a liar.. and not saving you're own alliance I don't know what your game plan is
Dillon – to win 10K from the brick
Dillon and Emily says they would have used the veto on Kevin no matter what the house says.
Bruno keeps telling them that William/Dre is trying to get them to fight
12:10am Hot Tub Dillon, Kevin and Emily
Emily – So one of us goes and the alliance stays
Bruno – we need each other more than ever
Kevin says if he uses the veto he had no idea who the replacement would be.
Bruno points out that other side has put them on the block twice, Bruno would never have put them on the block.
Kevin says his target has been Karen he would never put them up.
Kevin says William is his only friends on that side of the house he couldn't have seen him throw the veto.
Dillon – if I stay and win HOH I don't know what will happen
Bruno and Kevin says they still won't but them up.
Emily says kevin has way more pull on William.
Kevin disagrees says Dre is the one that has all the pull with William.
They say if Veto was played Bruno would have gone up.
Dillon – if I do stay I'm a lone Wolf..
Kevin says he had to go for the veto adds that the cash prize was important for his mom.
Dillon – if I was in your shoes I would have thrown the Comp
Bruno says the money means something for some of them .. they don't have Dillon's kind of money.
Dillon says keeping his word is worth more than money.
Bruno goes on about his son who's getting surgery… Feeds cut.

12:24pm Demetres, Bruno and Kevin
Demetres thanks Kevin for not useing the veto.
Bruno – the six comes first
12:25pm Neda, Sindy and Ika
Talking how Ika should vote with William so she can still play the middle.

Kevin joins them.
Neda – Dre's hit list is Kevin, Bruno, me and you
Neda says EMily just showed how shady she is she doesn't want to keep her.
Ika – I don't think you have the votes.
Ika tells them William and Dre talk about putting Kevin, Bruno and Sindy up.
Kevin says his relationship with Dillon and EMily is now over.
Kevin gets called to the Diary room
Bruno joins them.

They talk about how Dillon/emily are pissed because Kevin wouldn't use the veto. Neda says it's selfish for them to be mad when they had no idea who the replacement nonminee would be.
12:31pm Emily and Dre
Emily says Bruno thought he was the replacement.
12:44pm Bruno and Dillon hug it out

1:07pm Ika and Kevin Storage room

1:14pm Ika and William HOH
1:46pm Demetres and Dillon Pool game
2:37pm Sindy and Neda compare notes about Neda
Neda says "I swear to God" every day Ika is coming to her with something new about Sindy and Neda knows Ika is doing that to Sindy about her. She brings up Ika wanting to keep Dre around to target Bruno and Neda.
Neda says Ika tells her that she told Demetres Neda is her number 1 over Demetres. Neda knows this is a complete lie.
Neda – she doesn't liek that I'm close to Kevin and Bruno
Sindy – she trying top make me not trust you
Neda mentions Ika saying that Sindy is going around saying "Neda can't be trusted"
Jackie joins them.
4:00pm Neda and Sindy Storage room
[polldaddy poll=9718569]