HOH: Derek X
HAVENOTS: Christian, Xavier, Alyssa
Nominations: Britini Christian and Sarah
Power of Veto Players: Sarah Beth, Britini, DX, Claire, KY, Alyssa | HOST: Hannah
Power of Veto: Britini
Power of Veto Ceremony: Britini used the power of Veto. DX nominated Chrisitan in her place
Big Brother 23 Houseguest Rankings – – RANK THE HOUSEGUESTS –
View the previous day ranks on the – Ranking Grid
Big Brother Spoilers – Christian is the target.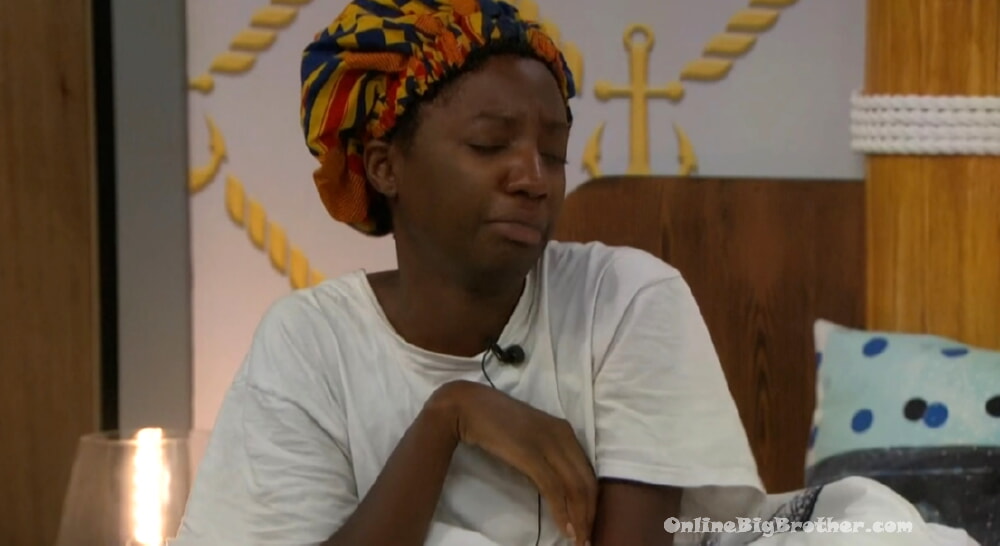 10:20 am Jokers
Brit I've been trying to come up with a plan
Azah – I think we can take out Christian this week and act like we're close to Alyssa and take out SB
DF – Correct
Azah says the votes are going to be 2-7
Brit – she wont have anyone in the house
Azah – except for X
Azah wants to put SB and Ky they go balls to the walls and make sure SB gets out.
Azah says once CHrisitn is out Alyssa has no other option than stick with them.
Azah says no one will care if they take SB, "thinking of a way to dream Ky and Sb what do you think"
Brit – I got my way.. easy .. let me Win HOH
Azah – I don't get it I don't know what happened to SB she's completely gone replaced by this scared little girl
DF – it's an act
Azah – it's getting annoying
Brit – She's scared shitless because Christian is so well-liked in the house
Brit – SB told me yesterday .. I want to ask this to Christian. SB said that Christian told her he was going to try and convince me to use my houseguest choice on him then pull SB off
Azah – didn't he ask you to pick him for houseguest choice
Brit – yes
Azha – Christian is a strategist a terrible strategist at that, his people relations skills are shit.
Azah – they wanted to keep all four kings.. he was either going to keep noms the same or take SB off.
Azah – I can't tell you where I heard this from.. Be careful with SB (LOL I wonder..Tiff)
Azah – she had your name in her mouth
BRit – yesterday
Azah – last week as an option to put up with Hannah
Brit – of course, she did she knows I can kick her a$$
Azah – I foud this out recently apparently she had yours, Christian and mine as an option to put up against Hannah
Brit – you tell DX
Azah – I can't say who told me
Azah – at the end of the day SB has become a Whitney to me.. I don't know where her loyalty lies
Azah – sometimes it feels like it's the kings or with Kylan. Her loyalty is with herself. She gets scared and has insecurities.
10:24:40
DF says SB's crying is all a f**ing act
Brit – here's my idea.. not today tomorrow, I have my one on one with her and I tell her Look I have every intention of keeping you this week.
Azah – nope .. nobody knows this if you tell her she'll know where it came from. You're best currency with information is to keep it to yourself and only share with people you trust
Azah – she does not need to know the good thing is you know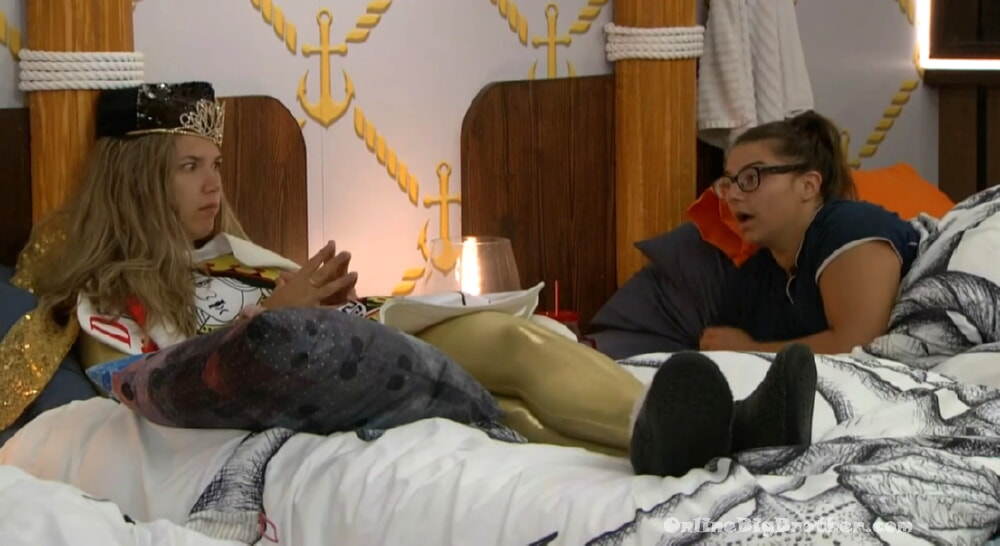 10:28 am Claire joins them.
Azah says Sb reminds her of Moaning Myrtle from Harry Potter
They laugh
Azah – what happened to Sarah B what was she replaced with what is going on
Azah her speech yesterday was her being Anne Hathaway it was scar worthy
Azah – this damsel in distress thing has got to stop
Claire – it's working on one person only I think
Azah – BRAH you have a freaking girlfriend.. what is this?
Feeds cut.. When we're back
Azah – Alyssa is dangerous but at least I know she's Dangerous SB has become a Whitney to me
Claire – I agree with that, During the veto she was being straight-up mean on the bench. I was like I've never seen a side She was being mean like about you [Brit] about Alyssa She was cursing like..
Brit- what did she says about me
Claire – I don't want to repeat it I probably shouldn't have said anything. She was being so F**ing obnoxious that is what she said
Brit – F***ing obnoxious? B1tch I beat your a$$
Azah – you obnoxiously beat her a$4 and she sat there like a b1tch
Claire – she was crying.. it was too much. I was on the bench and she was crying.. I'm like C'mon
(later Azah had a conversation with Kyland where she told him to cool it down with SB and said that she reminds her of Moaning Myrtle)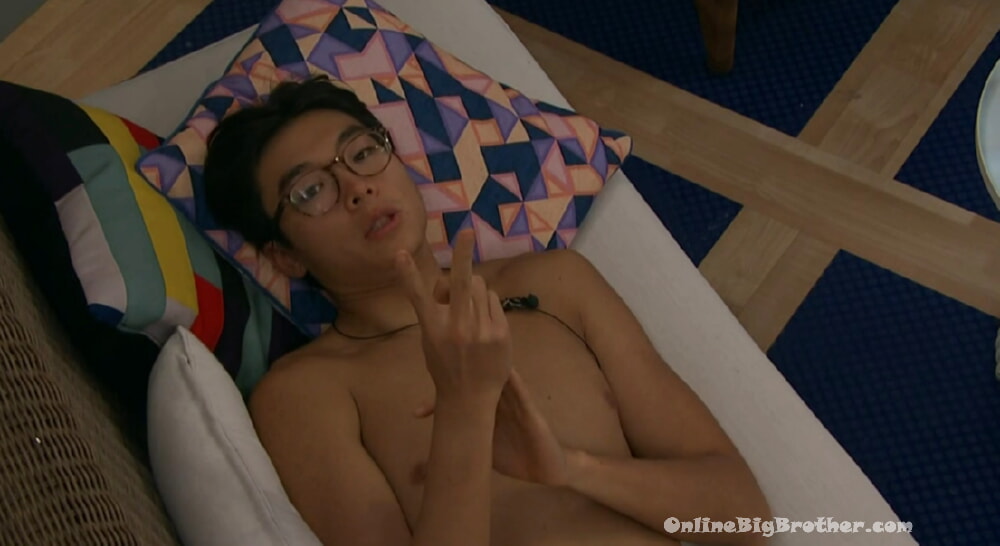 1:00 pm DX and Christian had a long talk in the HOH.
After the talk, DX gives us his thoughts to the camera
DX – OK that actually is interesting so he would be bringing me to 8 houseguests.
DX – if he stays he's taking out KY, Sb and Ky would be gone. I'm on the weaker side and I lose Ky.. this doesn't make any sense to my game it would be him and X vs me in the final 8 that's dumb
DX – the reason I did this was so it wasn't Him and X vs me and Ky in the final 8 and now he's offering him and X vs me in the final 8 it's even worse.
DX – interesting that Ky said I was sneaky.. This week I need to get as much information from Alyssa and Christian about what Kyland has said about me because after this week, I think the next targets I am seeing in this house Alyssa, SB, and Kyland.
DX says he doesn't think Ky will come after him if he wins HOH.
Dx – the only person I am missing is X right now. How do I get X on my side?
DX – I need to talk to X today and see if I can bring him in. If I can bring in X I think we'll be in a good spot. I just won't take a shot at Alyssa it will have to come from the jokers.
DX – my path to the final 4 is Claire Tiodfany, Hannah, and myself. WE can make it that far me and Hannah can take out Claire and Tiffany. The question is how do we get to the final 4.
Feeds cut..