HOH: Derek X
HAVENOTS: Christian, Xavier, Alyssa
Nominations: Britini Christian and Sarah
Power of Veto Players: Sarah Beth, Britini, DX, Claire, KY, Alyssa | HOST: Hannah
Power of Veto: Britini
Power of Veto Ceremony: Britini used the power of Veto. DX nominated Chrisitan in her place
Big Brother 23 Houseguest Rankings – – RANK THE HOUSEGUESTS –
View the previous day ranks on the – Ranking Grid
Big Brother Spoilers – Christian is the target.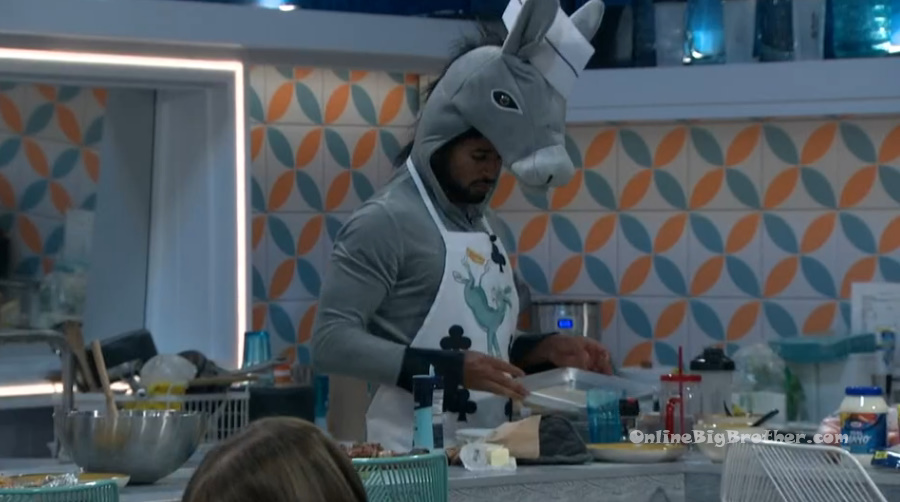 9:57pm Kyland the "jackass" has to make sandwiches. Big D – I can't with this outfit! Look at this f**King outfit! Sarah – that could have been mine!
10:06pm Bathroom Alyssa and Hannah.
Hannah – The HOH is someone that I am aligned with closely so I do not want to disrespect that. Alyssa – that's what I figured. Hannah – If I were to let Christian stay in this game.. where does that leave me. That would leave me in the crosshairs. Alyssa – I don't think so. Christian is in a very desperate state right now. Hannah – would we be able to salvage something? Alyssa – Honestly if you were in Derek's ear more I don't think this would have happened.. so I don't know why Christian wouldn't agree with me. If I win HOH, you're not someone. For him, I don't. He is not going to believe me if I say I do. There is no way I could trust someone who could just flip a switch like that after the conversation us four had with a few of days ago. For him making sure him and you are safe if he falls. And I didn't even have a chance to say Christian's name because I was falling. And I understand taking the shot .. and Christian could have done that last week and he didn't. So I don't see how I could look at him that way but you wouldn't be someone that would be sitting on the block if I was HOH or be a replacement. I have other options. Hannah – if Christian were to leave, and if I were to win HOH you would not be going on the block. Alyssa – I worry that if he leaves I am the next target. Hannah – I don't think so. I don't think you will just follow him out the door. There are other larger targets.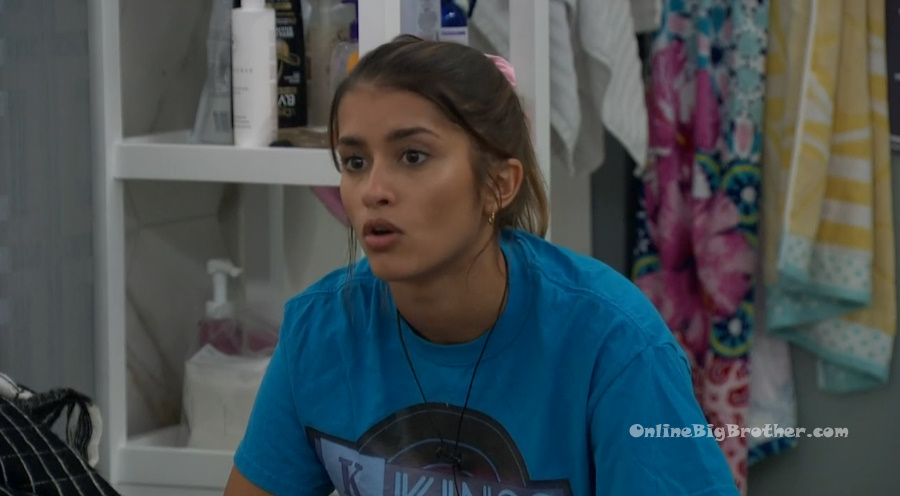 11:30pm Bedroom. Big D, Azah and Britini.
Brit – what are you doing?! What did you just tell Christian in the storage room that he then came straight to me. Big D – oh I didn't tell him nothing. Brit – yes you did. Big D – no I didn't Britini! You said that he is never going to have Azah's vote. Big D – I didn't say that, I said it was going to be difficult. Brit – don't say that. In order for this to work we need to make it as comfortable as possible. Big D – I said is was going to be difficult but he could try. Brit – he came up to me to get both of your votes locked. What we need to do right now is play the YES game. In the deal that you're going to take till Wednesday.. Azah – oh that was my plan, my plan was to tell him I would think about it. Brit – We need to play the I will think about it yes game. On Wednesday, the only person we will not have with us is Alyssa and she is going to have to deal with it. And she will realize very, very quickly that she is alone in this house and she will realize that she will need somebody so I don't think we will lose her for too long. Who we are going to pull in is X. He needs to know that in this deal he was not included. HE said that we could pick any target other than Alyssa, so X wasn't included in that. So on Wednesday we need to bring X in and tell him that plan. .. and be like look not to be that person but your team is making a deal and you're not even in it.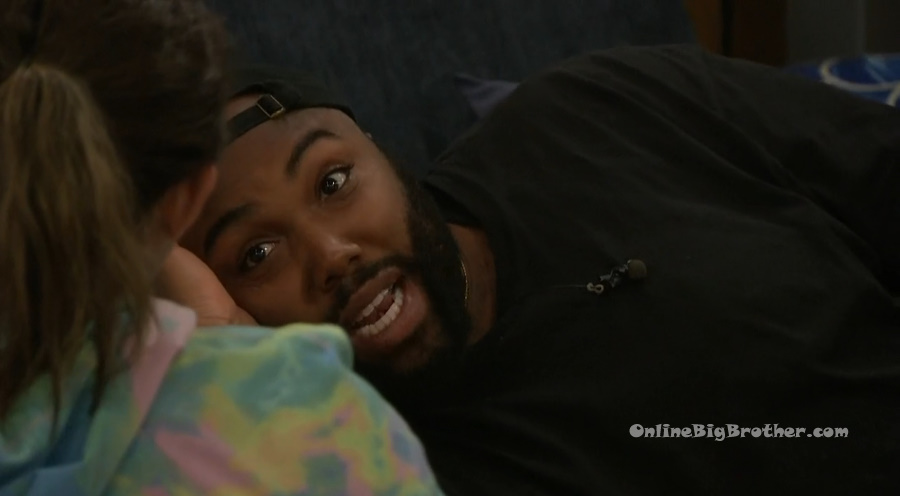 11:38pm Storage room. Azah and Xavier.
Azah – I forgot to tell you one more part in the deal that he mentioned. Xavier – what was the deal that he mentioned? Azah – he said that .. what he told Big D was I will let you be my virtual HOH for the week. You pick whatever you want in the basket and I will tell them in the DR all that stuff. He said we will keep this between me and you. He also said that I can put up anyone that I want but it can't be him and it can't be Alyssa. So I found it interesting because he didn't say you. He said he has the votes and would just need one more. He was hoping Tiff and Cliare would follow suit. Xavier – he said this to you as well? Azah – he said to the jokers that we decide collectively who would go up but not Alyssa or him. Xavier – what do you guys think about it?! Azah – UUMMM..NO! Xavier laughs. Azah – I am going to do what the HOH wants but I am just going to tell him I would think about it. Thursday it is going to be no. Do you want me to keep him? Xavier – I want people to make their own decision based on their own personal game. I am not campaigning for him or Sarah Beth.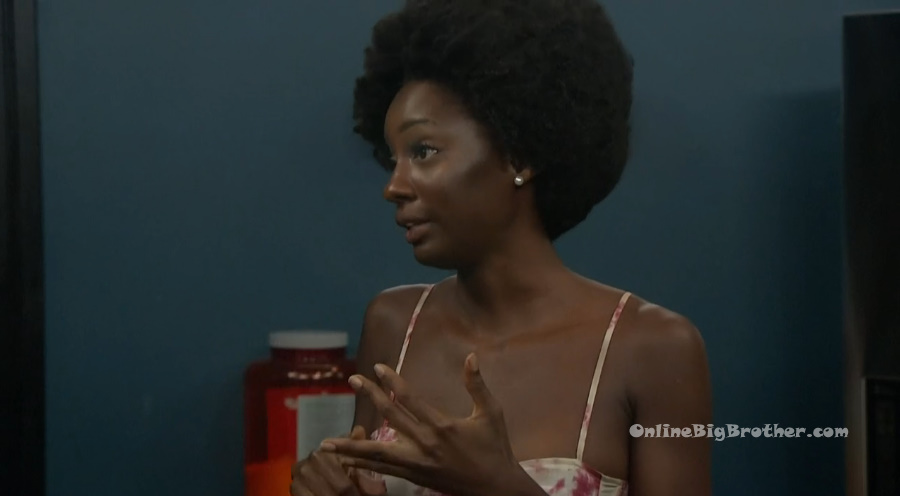 11:48pm Havenot room. Alyssa, Christian and Xavier.
Alyssa – tell him what you offered. Christian – I said in the event that I stay I can offer the jokers all of them.. if I win HOH … If I stay and if I win HOH.. then the Jokers will be honorary HOHs which means I will change my basket. They will get what they want. They will get the music they want. They will get the HOH bedroom. All of the amenities. They get all that, and all the power. Alyssa – other than putting one of us up. Christian – other than putting you two up. I will nominate and target whoever they want besides you two and I would take the blood for it. I will not even mention their names. Or if it is any type of competition where any of the jokers are still up I will outlast everyone else to the best of my ability and hand it to them so that they can just have the HOH themselves. That was what I offered them. And if we have to nominate havenots we will not put up a joker. Xavier – so you offered this to Azah and Britini? Christian – and Big D. I only did it to sway Azah and she was.. Alyssa – she said verbally I am going to say yes, I just can't sign it yet. We said to be honest I don't think the other person (SB) on the block can make an offer like that. Xavier – did they say who they would target? Christian – no. Alyssa – I said for me I can't promise that but if I win none of them are going on the block. Christian – did I do good?! When I said all that Azah's face lit up. Xavier – do we know how close the jokers are to the Queens? Christian – honestly I don't give a f**k who goes home as long as its not us two. The queens don't have my back. Xavier – what I am thinking is if you made this deal to the jokers.. Christian – oh they will tell the queens. Xavier – if they tell the Queens .. then you just lost Tiff and Claire. Alyssa and Christian – I don't think they will tell them. Christian – The whole point of the deal is that I get the blood on my hands without anyone knowing. Truthfully I think it is just going to be a gut thing. I don't think they are going to tell me. Xavier – I have a lot of issues right now .. so I don't trust anyone. Christian – it is a last ditch effort but her face lit up. Now that you're on the same page do you like what I did? Xavier – you did good. Christian – and she (Alyssa) didn't hit me so I just kept talking.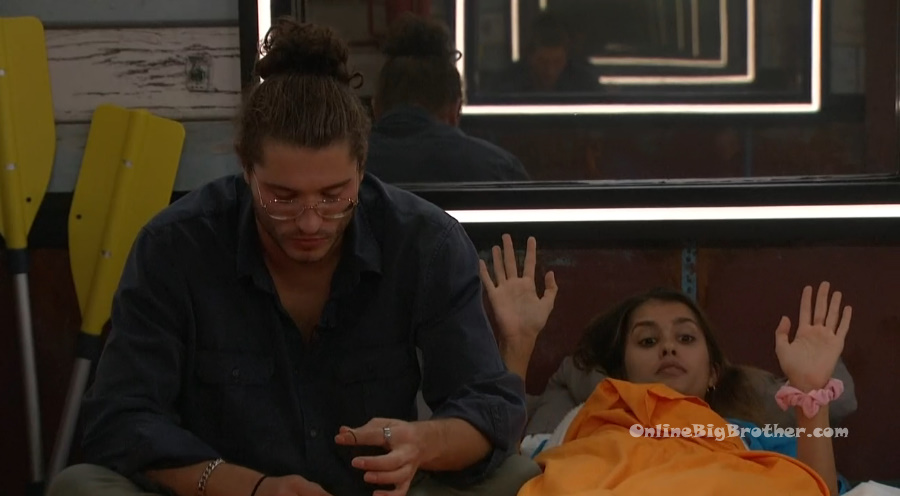 12:17pm HOH room. Hannah, Claire and Tiffany.
Tiffany – if SB stays, she is so f**king scared I don't think SB will even try to win. SB was a turtle. She doesn't want to win. I think SB doesn't like this attention on her. She is uncomfortable with it. She wants to go back to playing that quite little girl that she came in the house playing. I don't think SB is even going to win a comp. She can't. She wants to disappear right now. Hannah – you don't think she would target me next week. Tiffany – I don't think she will even try and win. Hannah – Mmmmhmm that is interesting. Claire – I could see that. Hannah – originally I thought she would put me up next to DX but I don't think that is the case. Claire – if she put you up next to DX that is the coldest f**king thing. Tiff – I don't think that she would. I think Ky realizes that he needs DX and it is just him and Sarah Beth. He would need you and DX. He would not let her go after you. He would probably let her go after me and Claire because if we are on DX's team it would be us against them. I am not buying all the emotion .. but this is the worst week for her. I think she got the sh*t scared out of her. She won't want to win. She wants to go back to being quiet. Tiffany – we have to get Christian out.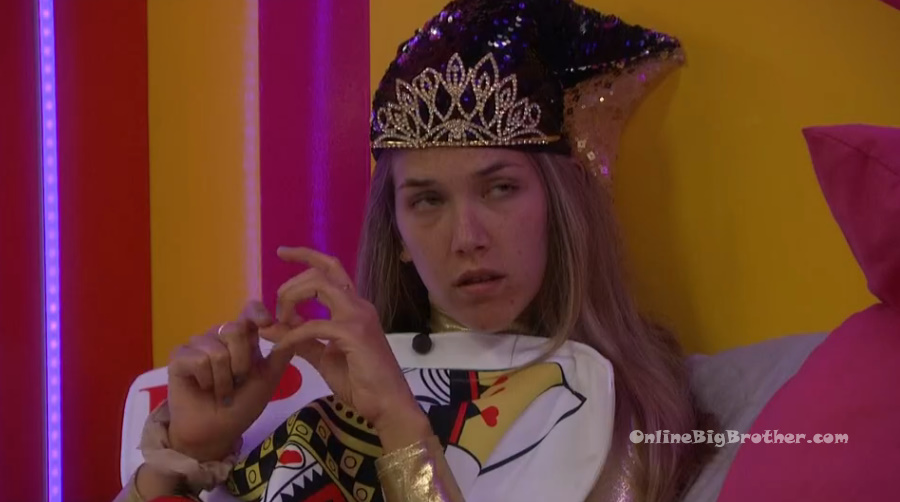 12:45am HOH room. Tiff, Claire, Azah, Derek X and Hannah are chatting and laughing about past moments in the season.
1:03am HOH room. Hannah, Derek X and Azah.
The feeds return from being blocked. Hannah – did Alyssa say the same thing? Azah – no, just Christian but don't say anything please. Hannah – yeah no. Azah – just put your all in for this HOH. Hannah – oh yeah. Derek X – Hannah if you're not at least top five, I am going to self evict. Hannah – yeah if its memory and I am the first one out, just send me home. Derek – that is was I expect of myself. One of my biggest fears coming in here was embarrassing myself on one of those memory comps. Azah – I am going to go to bed.. I just wanted to make sure to tell you guys that. Hannah – thank you. I really appreciate it. Azah – and if you hear anything else otherwise.. just know it is not true. I am just telling them I don't know what I am going to do. Hannah – do they (Alyssa & Christian) think they have you locked in? Azah – no, they think they have the jokers locked in but they feel they need one more vote. To them think think its a yes from Brit and Derek F. (Big D) and that they just need one more. I told them I am thinking about it but I haven't confirmed or denied it.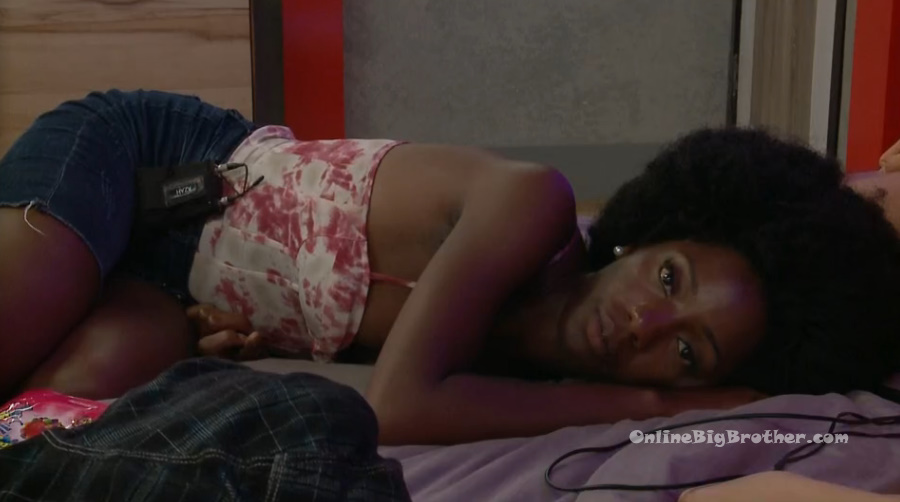 1:13am Bathroom – Tiffany and Claire.
Tiffany – I think what we should probably do is get with the Jokers before Christian tries to get us with the Jokers and see what our stories are and how we plan to move forward since we know they're f**King lying. Claire – I know, I just don't trust Big D not to run and tell.. Tiff – then maybe we talk to Azah and Britini.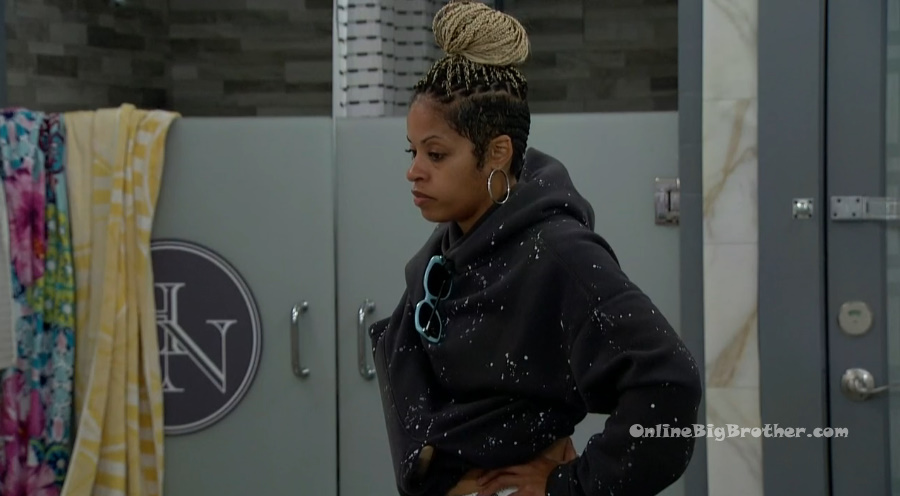 1:20am – 1:35am Kyland has to make sandwiches again.. When he finishes he says that its a waste as he doesn't eat ham or cheese with somethings. He says he wishes he could just make the sandwiches for the havenots so at least it wouldn't go to waste.
1:39am – 1:50am Havenot room – Alyssa, Christian, Xavier
Christian – how possible would it be for me and her sleep up here without.. without.. Xavier – OH MY GOD I am so sick of this PG13 SH*t! How possible is it for y'all to get busy in here without anyone coming in? Christian – no, no, no, no. That was not the question. The question was how possible would it be for when we're no long havenots… Alyssa – for only us to be sleeping in here. Xavier – oh well why was that so hard to say!? Alyssa – because he doesn't have the balls to just say it. Xavier – how possible.. well there are going to be other havenots. Alyssa – not on Wednesday night. Xavier – oh you mean Wednesday night. Wednesday night it would be very possible. So basically why don't you just ask me to not sleep in here on Wednesday night!? Alyssa – because that's what he was going to do but he doesn't have the balls to just say it. Xavier – I will just sleep downstairs on Wednesday. Alyssa – we let you sleep with Whitney. Xavier – when did you let me be with Whitney? When you guys were sleeping in the f**king HOH bed?! That is when you LET me sleep with Whitney. Christian – yes, so this is how you owe us. Xavier – I would love to sleep downstairs so I don't have to listen to your giggling. I really hope America doesn't see us (Me and Whitney) as an item. I hope they don't, ah f**k .. well whatever I made it clear with her and America. She is a wonderful woman, just not doing anything.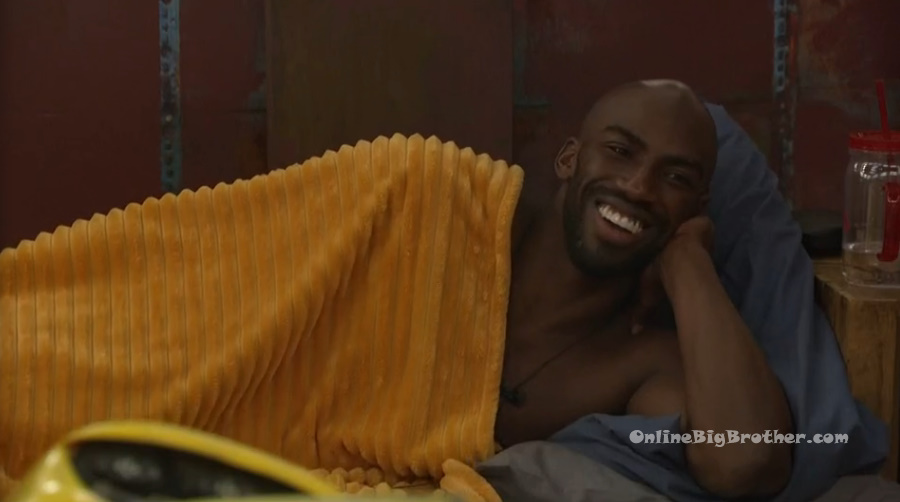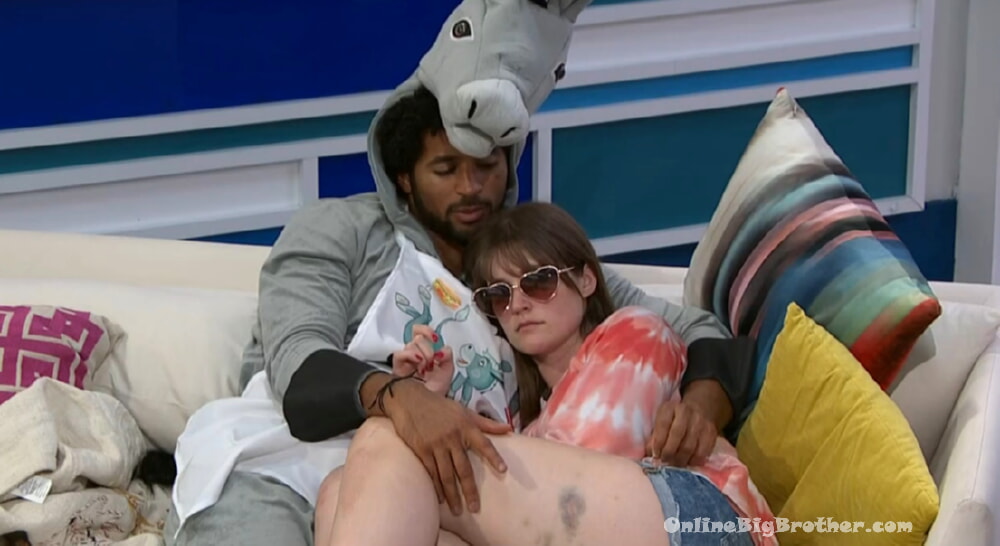 3:00 am SB and Ky
Ky says with all certainty he's voting to keep her, "I am doing my best to get in the loop which is difficult because of our closeness"
SB – Am I stupid I didn't think it was obvious until this week
Ky – I think we were doing good this week added some pressure.
SB – we can worry about it next week I don't have the energy..
SB – oh my god Alyssa could win it and put us both up
Ky – she might backdoor BabyD so that's ok..
SB – maybe she wouldn't ..
They mention how they both think X is trying to help Christian, "At this time"
SB – I think he's just a nice guy, I know for a fact that Alyssa was up there campaigning for Christian
SB says X will do what's best for his game.
Ky – Christian is both a weapon and a shield for him at this moment and you are less than that. especially when your skillset is more an ally to me
SB says Alyssa said to her three times today that it looks like the house is voting out Christian. "I don't know what she's trying to do bait me or make me comfortable"
Ky says Alyssa is trying to cover all her bases.
Sb – some people are literally ignoring that I exist.
Ky – whos ignoring you exist
SB – Christian is.. I don't care about that.
Ky – remember he's only 23 years old
SB – I was dumb when I was 23
Ky – I was dumb at 28
Sb – I feel like I want something to do. My biggest fear is going home and feeling I never did everything I could. I don't know what to do? Like just hang out with people chill and have a good time? Have my One-on-ones on Wednesday and hope it's not too late to change people's minds
Ky – I'm not saying that at all There are other things you can do.
Ky says she can say exactly what she told him "I would hate to go home when there was more I could do"
Ky – Like is there anything right now that makes you feel unsettled about me..
Ky – Say my biggest fear is I don't want to be Brent. Everyone telling me I'm fine and I just believe them. I'm always going to try.. Christian is a bigger threat of course I want to believe it. I'm just wondering if you have any suggestions.
Ky – That's a place where you can start an example. there are various levels in that conversation of how tactical you are.
SB – You know I've been working with Britini after every single veto ceremony where she remaining on the block I would make it a point to go check on her and be like you're good.
SB – Brit told me I'm good, BIGD said it, Azah did. Claire, Tiffany, and babyD have not spoken to me about Game since the veto ceremony.
Ky says he's pretty sure they never went to Brit right after the veto ceremony and said she was good. They probably waited for their one on ones.
SB – Yeah but they're not working together.
SB – it sucks because I am a confrontational person I would have talked to them about it, Hey you hurt my feelings I don't like how you treated me this way and I can't it's sucks.
Ky – 100% it sucks
SB – I just have this feeling I'm going to keep getting put on the block
Ky – If NicoleF can do it you can
SB – she didn't get put on the block that much
Ky – neither are you
4:10 am Everyone sleeping
There won't be any updates on Tuesday until 4pm 🙁
Show your support 🙂 Without your support this site and these spoilers wouldn't be possible.
Please consider a donation to keep the madness going.