POV Holder:
Vanessa
POV Competition
Aug 22nd
POV Used
No
POV Ceremony
Aug 24th
HOH
Austin
Next HOH
Aug 27th
Original Nominations:
Steve and Jmac
After POV Nominations:
Steve and Jmac
Have Nots
No have nots this week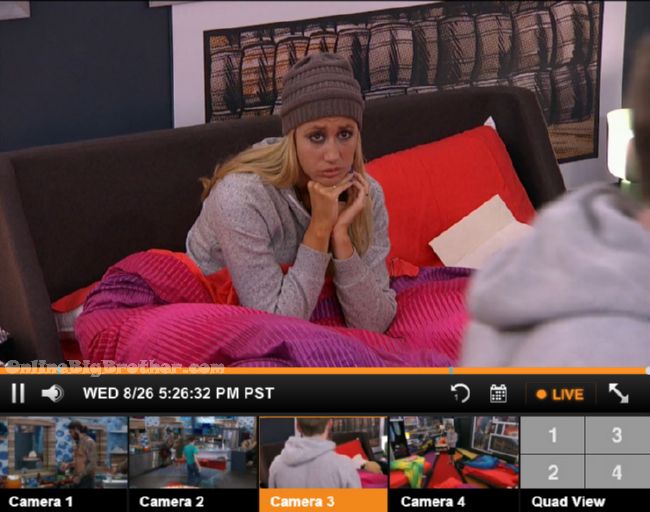 5:28pm John and Vanessa
John says the twins told him they will vote with Vanessa. They are going to tell him tonight.
Vanessa – I hav a bad feeling tomorrow.. I think it's going to be a physical one.
Vanessa says she will tell him when it's a lost cause "I'm going to do whats best for my game"
Jmac says the angle to try with the twins is tell them how it "strategic" to keep Him over Steve
Vanessa- I think Meg and James wants Steve out
Johnny Mac – makes sense he got out Jackie I was closer to Becky
Johnnymac says he's not stressed he ready to leave but that doesn't mean he's not going to fight.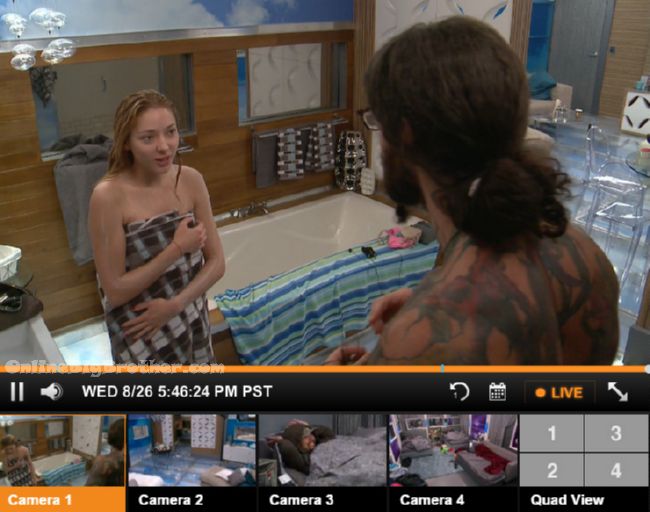 5:46pm HOH Liz and Austin
Liz is saying that they told Johnny mac they won't blindside him. Austin says he wants them to tell Jmac he's safe than tomorrow at the last minute they'll tell him the house flipped. that way it's not their fault when he goes home.
Liz says she wants to keep Steve this week.
Austin – The boy never rat, if he comes back he'll rat
Lilz – Vanessa wants the boy out
Liz – the boy is coming after us than you (Vanessa)
Austin – is he
Liz – just tell her that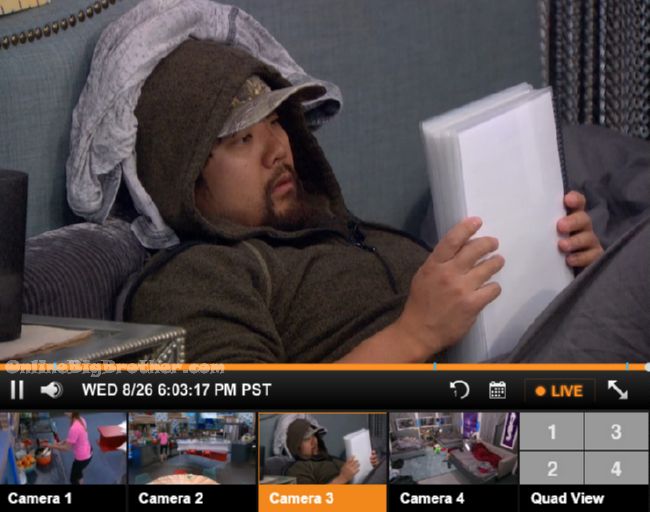 6:01pm Steve, Meg and James
James reading through the rule book. picks the chapter about expulsion. Says physical threats or intimidation are grounds for expulsions.
6:11pm Austin and the twins HOH
Agreeing that Johnnymac has to go this week. Liz says Vanessa is coming up so they can decide. Production has been asking them in the Diary room.
Austin – Julia you need to go fiddle Johnny Mac deets
Liz – just incase he comes back, ya flirt with him
Austin – he said the house makes him feel a-sexual.. he said he has no feelings in the house..
Liz – he has no drive for it
Austin – no drive to have s$x, must be the cameras on him
6:15pm Vanessa joins them in the HOH
Austin – my gut is saying stay with Steve
Austin – is there any way we can get a insurance policy or do we let him fly
Julia – let him fly he won't win
Austin – he's still going to ask you where you are voting
Austin – we still need to talk to Meg and James and give them a real reason to keep Steve.
Austin and the twins all saying they want Jmac out.
Julia – hwy keep a guy that we can't even have a conversation with.
they all ask her what happened between her and Jmac they use to always chat.
Julia – there's only so much you can talk about dentistry and game of thrones.. I've only seen one season.
They decide to say to meg and James that Jmac has more connections in the jury house.
Julia – I'm going to throw in I have a better personal relationship with Steve
Austin – don't say that
Julia – you're right
Vanessa says this has to come out as a group decision
Vanessa tells them jmac told her of the twins won't vote for her his plan B is to go to the goblins.
Liz – let's tell him what he wants to hear
Austin suggests they pull Meg and James up tell them that Jmac isn't going after the Jury member he's going after one of the sides.
The twins tell them that last night jmac was very good with his words last night he never said he was going after anyone.
They agree they're stupid to think Jmac will put up a jury member next week, Becky, Shelli, Steve, jackie he's not putting any of those people up. They agree Steve will stick with them and take out a jury member.
Vanessa – it's better we keep Steve he's a shield
They decide it will be a group decision this week.
Liz – minutes before the decision we'll tell him alright you're leaving
Vanessa says they have to add if he comes back they still want to work with him. The reason the house is voting him out is because it's a strategic decision he's so close to the jury members.
Vanessa then says there's no way Jmac will work with them if he comes back he's going to go rogue
Austin – he's already gone rogue
They start practicing what they will tell Jmac tonight
Austin – make him feel like there's hope
Some points they will cover when talking to Jmac
-Johnny Mac and Steve have made a compelling case
-Meg and James want to talk to them because someone is coming back from Jury
-They want to decide together and make sure it's a house vote so no one's left in the fire
Vanessa Now suggesting they get Meg and JAmes to vote out Steve so that Steve goes after them next week.
Austin thinks that's too risky they'll know they all voted together
Austin – Steve's already with us, he's already gunning for them (Goblins)
Austin adds if the vote is 5-0 and jmac comes back then "everyone has f***d up"
Vanessa says Jmac told he's been "Gunning" for her all season so she has enough reasons to vote him out. Adds that she also has a lot of reasons to get rid of Steve.
Vanessa doesn't understand why Johnnymac had this vendetta against her.
They decide to keep it open ended until tomorrow. Tonight they will tell Jmac the house is voting together.
Vanessa warns them that Jmac is the favorite for her to win the competition to come back. Says the only reason he has been winning out in competitions is because he's been throwing them.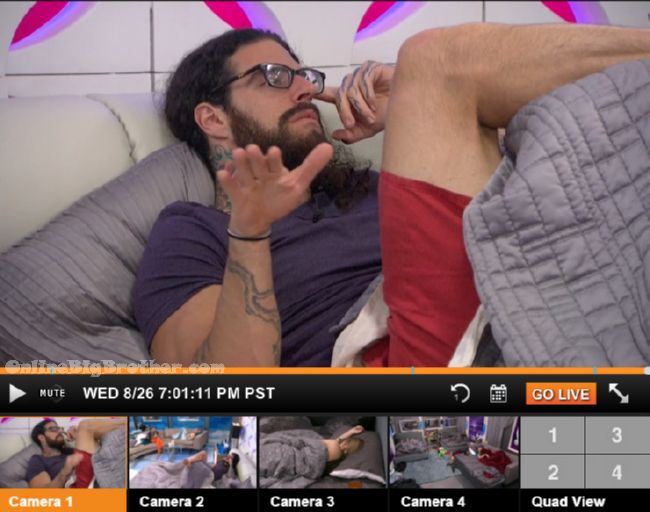 7:00pm HOH
Vanessa – we're not changing our minds any more with this decision
Austin – nope, Steve's staying
[envira-gallery id="130595″]
BOY always the opportunist #BB17 @DawgsBigBrother pic.twitter.com/dVvvzBQFs2

— OnlineBigBrother.com (@bigbspoilers) August 27, 2015
7:20pm JUJU, Steve and Vanessa
Talking about 2.5% of Americans watch Big Brother. Vanessa says they will be noticed in airports. Julia mentions how she thinks older people like the show because she's 23 and everyone she knows doesn't have a clue about it. Vanessa thinks it's a niche fan base that includes a lot of young people.
They bring up there being only 4 weeks left in the game. Steve points out there's 8 players left in the game after this week.
Steve tells them the final week is really sped up there's 4 players.
mentions when Frankie got evicted it was to a CBS employee Audience.
Steve say there was time in past season where people escaped and watch a episode. He doesn't know what season it was thinks it might be season 6.
Steve show them a cut he has. Vanessa tells him to go clean that cut out because there's "Staph" all over the place. brings up Becky's toe.
Julia can't believe Becky wasn't acting up some of the toe. If it happened to Julia and she was on the block she would play that toe injury to the extreme.
7:31pm Bathroom
Boy comes back, Julia heads out to grab some water leaving him with Vanessa.
Vanessa – we're good right
Steve – Ya
Vanessa – we need each other
Steve – I'm aware of this
They start talking about Competitions Steve tells her Face morph and Otev have never been this early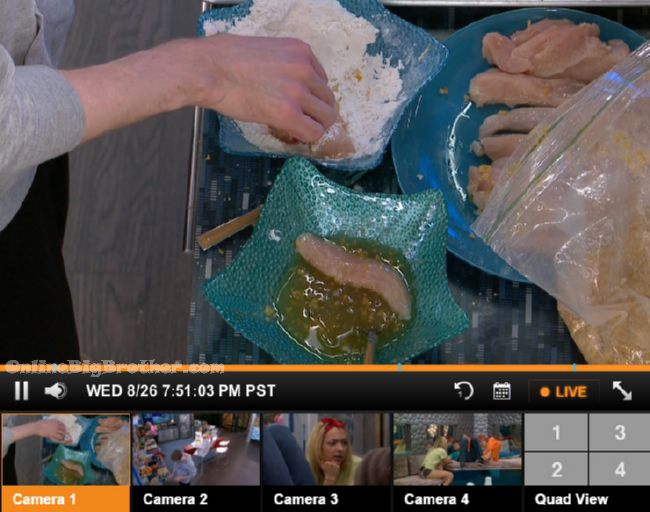 7:54pm Cooking
Meg – James don't eat vegetables
James – I eat green beans
Liz – JAAAAAAAAAAAAAAAAAAAAAAAAAMMMMMMMMMESSSSSSSSSSSSSSSSSUUUUUUUUUUUUUUUUUAAAAAAAAAAAAAHHHHHHHHHHHHHHHHHHH!!!!!!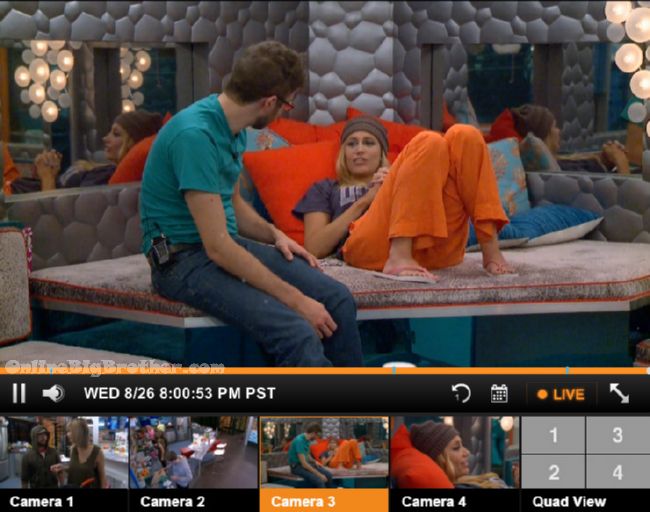 7:58pm Bathroom Steve and Vanessa
Steve is saying there will be 2 short competitions in the backyard one live during the show. Tomorrow there will be a competition for the returning Jury member and later in that night they will have the HOH.
They start talking about Microphones Steve wants a "Akg C414"
Steve explains why it's better to use a XLR cable over RCA.
ALLIANCES:
"Goblins/Gremlins" = James and Meg
"The Generals" = anyone allied with Becky
"SOS" (Students of Sound) = Steve and Vanessa
Rockstars = Steve and Jmac
AUS-Twins = Austin, Julia and Liz
"Austin's Angels" = Austin, Liz, Julia, Vanessa
"Brass Tacks" = Gobins and Austwins
The new "Brass Tacks" = Aus-Twins, Meg, James + Vanessa
"Freaks and Geeks" "The Scamper Squad" = Aus-Twins, Vanessa, Steve
"The new Freaks and Geeks minus Vanessa" = Austin, Liz, Julia, Steve, Johnny Mac
"The Authority" = Austin, Liz, Julia, Steve
[polldaddy poll=9035699]