POV Holder:
Vanessa
POV Competition
Aug 22nd
POV Used
No
POV Ceremony
Aug 24th
HOH
Austin
Next HOH
Aug 27th
Original Nominations:
Steve and Jmac
After POV Nominations:
Steve and Jmac
Have Nots
No have nots this week
8:46pm Kitchen
Everyone getting ready for the 9pm start of sling band. Jmac tells them he never participated in the chocolate battles because he didn't want to have to help clean up, "RWWWhhhaaajaaajaaajajaa"
8:57pm Sling band game begins…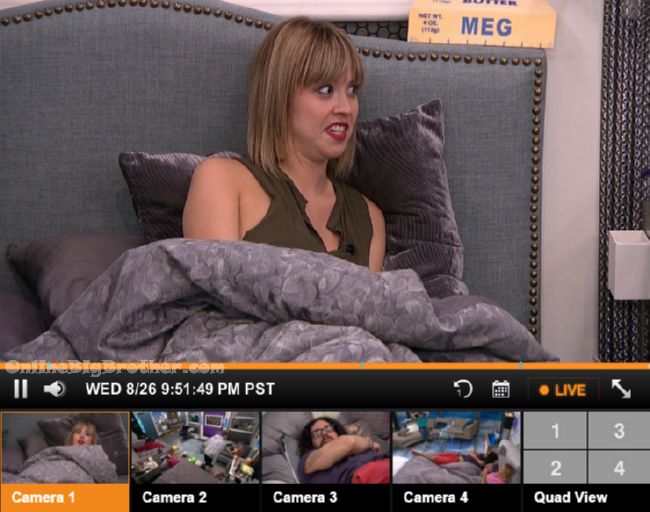 9:51pm Jmac and Meg
Meg – It's 50/50
Jmac – he's better at this game than I am
Meg – I don't know about that
Jmac says for the 5 it's better to get rid of Steve "He wins sh1t"
Jmac leaves to use the washroom.
James walks in. Meg tells him Jmac is starting to campaign.
Meg – he thinks we have a 5 thing
JAmes- a what
Meg – he mentions we had a 5 thing.. if you guys had a 5 thing it was better to keep steve he wins more.
(Meg is confused)
James – Johnny Mac is my threat he's the only one that can compete against me other than Austin
Vanessa comes in
10:00pm HOH Goblins, Austin and Liz
(Julia in the shower)
Goblins say it's a toss up
Austin says he's leaning more towards getting Johnny Mac out.
Austin – He's flipping flopping all around I feel he is the taxi driver
Meg – He's just started talking to me
They tell the goblins Jmac has a better chance to put them and a goblin up.
Austin – ultimately it comes down to the Boy plays games with us and Johnny Mac doesn't play games with us..
Austin says Meg and JAmes are fun that's why he's working with them. that's his strategy.
They talk about the people that were 'Between" them all season. Jeff, Jackie, Jason..
10:02pm Comic Room Vanessa and Jmac
Vanessa tells him the house is voting together.
Vanessa says she preys whatever guy leaves the come right back in and the three of them can make a run for it. She highlights all their competition wins. They've each one 4 competitions, Steve, Jmac, Vanessa.
Vanessa – James' won 5
Jmac – if they're up they're deciding right now then I'm, probably going
VAnessa – you are the big favorite to win that comp, the skill based things, endurance you're good at that.. I would bet on you
Jmac – thank you
Steve joins them.
Vanessa tells them this season the pawn never goes home.
Jmac – I volunteered to go up as a pawn
Stev – you what
Jamc – you were there
Steve – you were there you are right, I was
Vanessa leaves says she hates these stupid conversations.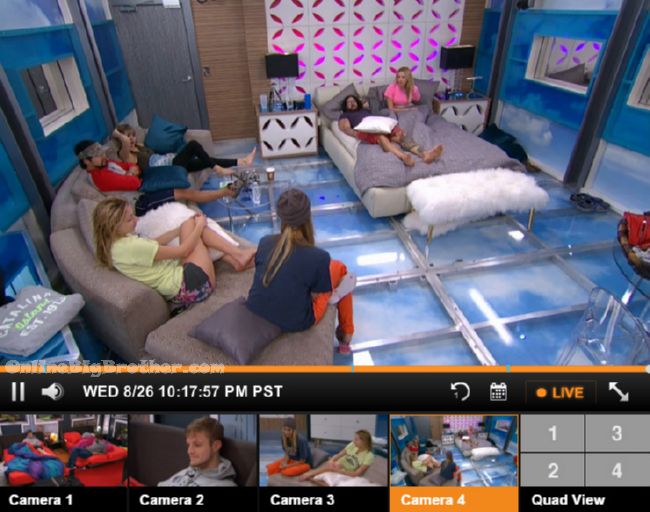 10:17pm Twins, Vanessa, Austin, Goblins
Vanessa asks them if they've come up with a decision.
Austin – Johnny mac, Meg is going to tell him tomorrow
Vanessa – what if Johnny Mac asks me when I go back down
Meg – Tomorrow morning things can change..
The official reason is Jmac is close to everyone in Jury. They won't tell him until tomorrow.
10:31pm HOH Steve, Twins, Vanessa and Austin
They tell him he's staying this week but don't tell Jmac that.
Guessing which jury member comes back
Austin says Johnnymac
Liz – JAckie
Vanessa – Johnnymac
Julia – Shelli
Steve – Shelli
Steve brings up giving Julia a back rub.
Austin – Steve, I'll give you a back rub if you win HOH I'll rub whatever you want me to rub
Steve – what happens if JOhnny comes back
Austin – F*** i don't know that's your guy I feel he's coming straight for me and Liz
Steve- I know
[envira-gallery id="130625″]
11:18pm – 11:58pm Chess..
11:22pm Jmac and Vanessa
Vanessa tells him she really wants him to come back because her him and Steve will make a powerful group.
Jmac – clearly Steve is higher on the totem pole than you or I
Jmac – Think of this Vanessa, Meg and James I can flip them, the four of us going into the HOH tomorrow.
Vanessa – Did you talk to them?
Vanessa says it's the 5 of them (Austin, Twins and Goblins), with her, Steve and Jmac are the outsiders.
Vanessa – you can see we're the outsiders.. Socially and strategically it's lining up
Jmac is going to try and Flip Meg and Jhames tomorrow.
Vanessa – I guarantee you they won't they won't do it
Jmac- Alright I'll leave your name out of it.
ALLIANCES:
"Goblins/Gremlins" = James and Meg
"The Generals" = anyone allied with Becky
"SOS" (Students of Sound) = Steve and Vanessa
Rockstars = Steve and Jmac
AUS-Twins = Austin, Julia and Liz
"Austin's Angels" = Austin, Liz, Julia, Vanessa
"Brass Tacks" = Gobins and Austwins
The new "Brass Tacks" = Aus-Twins, Meg, James + Vanessa
"Freaks and Geeks" "The Scamper Squad" = Aus-Twins, Vanessa, Steve
"The new Freaks and Geeks minus Vanessa" = Austin, Liz, Julia, Steve, Johnny Mac
"The Authority" = Austin, Liz, Julia, Steve
[polldaddy poll=9035699]