POV Holder:
Vanessa
POV Competition
Aug 22nd
POV Used
No
POV Ceremony
Aug 24th
HOH
Austin
Next HOH
Aug 27th
Original Nominations:
Steve and Jmac
After POV Nominations:
Steve and Jmac
Have Nots
No have nots this week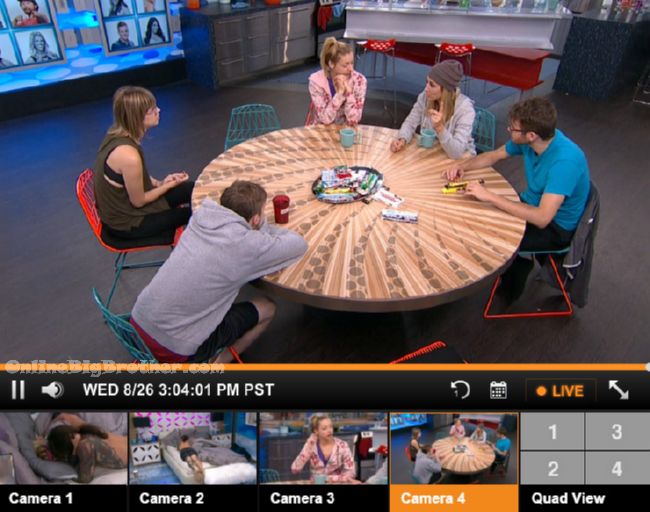 2:58pm Kitchen table Boy, JUJU, Vanessa
Talking about crazy theories about Jeff and Jackie being engaged.
Steve says he saw the season with Jeff and Jackie. Out of the 5 blind dates that season the one couple that would definitely the most complatlaby was Jeff and Jackie.
Julia – did they hook up on the show
Steve doesn't think so "They ended the race on the best terms"
Vanessa says Jeff told Austin that he slept with Jackie.
Julia doesn't understand why Jeff and Jackie were cast.
Steve thinks it was more they agreed to do it.
Meg and Jmac join them and the Jackie Jeff speculation continues
Liz and Austin joins them.. They start talking about Da being a card dealer. Vanessa didn't know that wonders why Da would hide something like that "They just move the cards around"
Steve mentions how Danielle from Season 14 hide her being a nurse.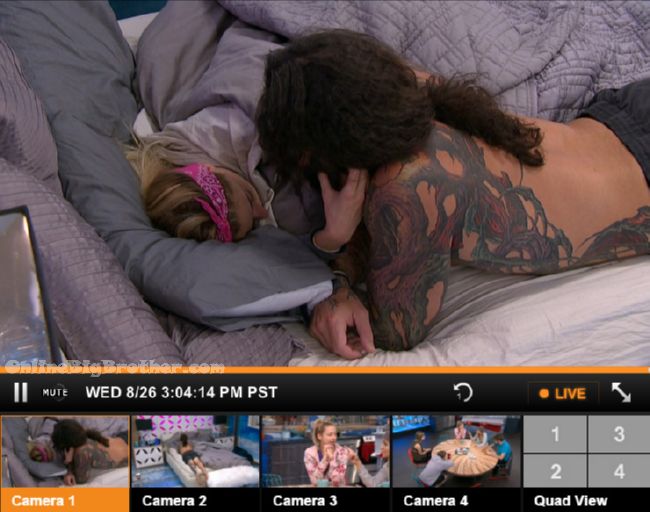 3:06pm Austin and Liz
Talking about if they've had their hearts broken or not
3:34pm Bathroom Meg and Vanessa
Meg says Steve will be harder to get out of the game later on. She points out that Steve always gets himself off the block he fights but Johnnymac remains. Meg wonders if they should maybe take the opportunity to get Steve out this week. vanessa is wanting that to happen.
Meg saying she doesn't have a strong opinion asks if anyone in the house does.
Vanessa says she did have a strong opinion for getting Steve out "LAst week I was all alone.. He took advantage to being a hero in that moment, I'll never forget it but I will forgive"
Vanessa – I heard him out he said he was sorry.. I get it he heard things.. everyone thought the things they heard was true.
3:46pm Bathroom Vanessa and Liz
Liz says the target last week was always Becky
Vanessa asks Liz if Jmac threw the OTEV competition because she remembers Austin telling her. Liz says Jmac was going to throw it but he didn't.
Austin joins them. Vanessa asking them if Steve threw the otev. Austin says he didn't. Adds that the nominations were going to stay the same.
Austin wants them to have a insurance policy in case Jmac comes back. they might be able to tell him something happened at the last minute so they voted him out.
Austin says that jmac squeals everything he has no information left but Steve has a ton of information and if Steve goes and comes back all that is going to be told to the house.
Austin – Steve comes back we're f***, if Johnnymac comes back we're alright
Vanessa – can we just make up our mind and stop changing it
[envira-gallery id="130571″]
4:20pm – 5:01pm Austin's work out plan
4:30pm Steve and Jmac have been playing cheese for the last 30 minutes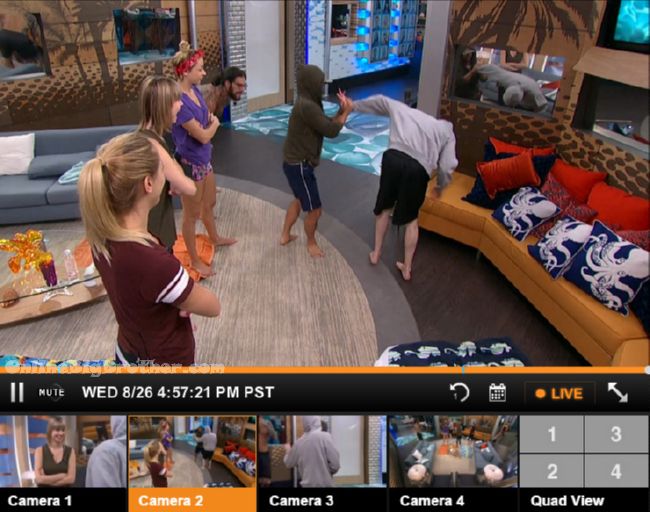 5:10pm James has been showing them pressure points and joint locks.
"Battle tested" #BB17 @DawgsBigBrother pic.twitter.com/bNJrzujJwD

— OnlineBigBrother.com (@bigbspoilers) August 27, 2015
The Zings
James – "Guess what I've heard that Meg is going to take you someplace very very special after the show the friendzone! ZING!"
Julia – "I'm confused. Suddenly, you're less attractive, less intelligent & less charming. Oh wait…that's just Julia! ZING!"
Liz – "Liz, you've become such an important part of Austin's life. Are you more excited to meet his Mom, Dad or Girlfriend? ZING!"
Vanessa – "Vanessa, you have been playing a masterful game… assuming that game is the crying game! ZING!"
Johnny Mac – "John, 5 out of 5 dentists agree the only thing less attractive than your laugh is your back hair! ZING!"
Meg – "Meg, your New York attitude is very Sex in the City. Too bad your game play is more, sucks in the city! ZING!"
Austin – "Will someone please take out the trash. It stinks in here. Oh wait.. It's just Austin! Zing!"
Steve – "Steve, what's less cool than a trombonist who cries for his mommy? Nothing! Zing!"
ALLIANCES:
"Goblins/Gremlins" = James and Meg
"The Generals" = anyone allied with Becky
"SOS" (Students of Sound) = Steve and Vanessa
Rockstars = Steve and Jmac
AUS-Twins = Austin, Julia and Liz
"Austin's Angels" = Austin, Liz, Julia, Vanessa
"Brass Tacks" = Gobins and Austwins
The new "Brass Tacks" = Aus-Twins, Meg, James + Vanessa
"Freaks and Geeks" "The Scamper Squad" = Aus-Twins, Vanessa, Steve
"The new Freaks and Geeks minus Vanessa" = Austin, Liz, Julia, Steve, Johnny Mac
"The Authority" = Austin, Liz, Julia, Steve
[polldaddy poll=9035699]