POV Holder:
Clay
Next POV
July 25th
POV Used
Yes
POV Ceremony
July 27th
HOH Winner Team 1:
Jackie
HOH Winner Team 2:
Vanessa
Nominations 1 :
James & Liz
Nominations 2:
Clay & Becky
Battle of the Block Winner
James and Liz
Next HOH/ Next BOB
July 30th / July 24th
Original Nominations:
Clay and Becky
Current Nominations:
Jason & Becky
Have Nots
Shelli, Clay and Steve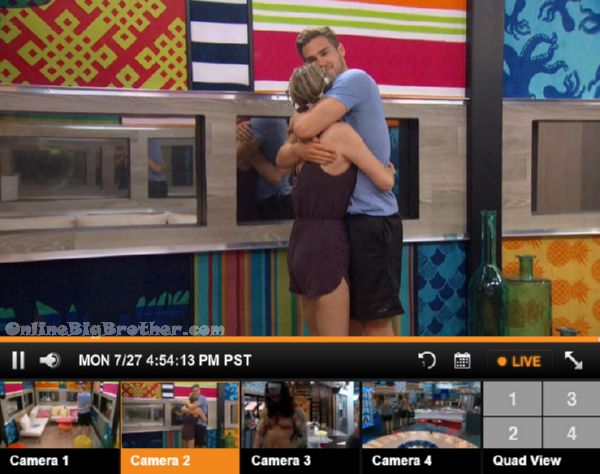 4:10pm Hammock room Clay and Meg
Clay claiming he only knew about Vanessa changing the plan 12 hours before the POV Ceremony
He's not working with Vanessa, Austin or Liz. Vanessa is close to Austin. Shelli and him are loyal people and loyal game players.
They will never cross Meg
Meg – Clay you lied to my face..
Meg says she know Vanessa would never had done this if Clay and Shelli weren't 100% behind it. She heard from Vanessa that they were in on it all along
Clay – this is her decision.. it's not our place to tell people her plan
Meg – it's not your place to say hey meg..
Clay says if Meg's game was ever in jeopardy they wouldn't have been down with it. If she was in danger she would be the first person he came to.
Clay says they were pushing for Jackie to go up not Jason.
Meg tells him Jackie is pissed at them all
Meg – This is the biggest mistake Vanessa has made is the blindside of three people in the house
Clay claims him and Shelli told Vanessa that it will make HUGE waves. He stresses it was last minute decision
Meg – everything looks so shady Clay
Clay – I know we're not HOH.. we trust Vanessa but it's not our job to pull people aside.
Meg – you guys are involved in it it looks shady.. you have to realize that..
Clay keeps saying they weren't' the HOH's, Last minute decision, they have Meg's back.. (He repeats this dozens of times )
Meg – you can't blindside me it freaks my sh1t out
Meg – "my loyalty will be with you..be honest with me about things. even if you are against people i'm with that's fine it's fine that's how we play the game."
SHe doesn't want him to be afraid to tell her things.

Clay says Shelli is so upset that Meg is upset, "Our loyalties are with you the lie very sketchy I'm sorry.. from this point on it's a different game"
Meg – I have small loyalties with me people..
Clay – would you pick me over Jackie
Meg – Ya
Clay says he's trying to protect Meg.
Meg says it looks like what Asurey was saying about the alliance running the house.
Clay explains a 1 night alliance that was made week 1.
Meg wonders why they can't keep any alliances.
Clay says these big 8 person alliances don't last they're too big you need to form small 4 or 5 person alliances..
Clay – there's people in that group that don't trust each other it falters
Clay says he trust Shelli with his whole game and he feels the same with Meg.
Clay says him and Shelli were waiting to team up with Meg and Jason, 'But we can only do so much.. jason leaving is a hit.. but it frees you up.. we saw that.. we want that.. I just hope that you are all upset.. "
Meg – Don't let it happen again.. i'm that type of person I don't hold grudges
Clay says Vanessa is a straight shooter he does like working with her, 'She's ride or die and she's loyal to the people that are loyal to her.. she's got a lot of blood on her hands."
(Meg is probably the worst player this season)
[envira-gallery id="124453″]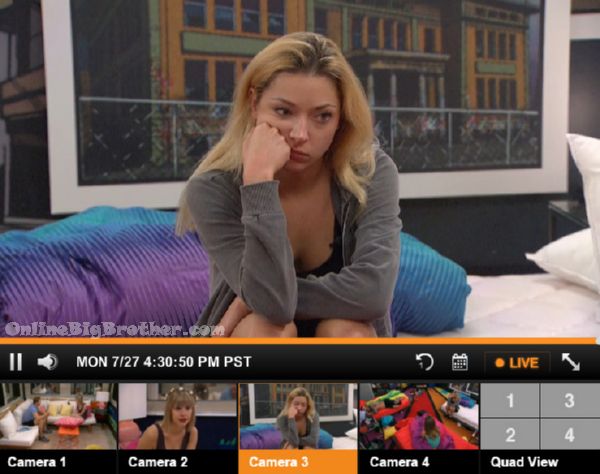 4:27pm Red Room Austin, Liz and Becky
They tell Becky the most votes Jason can get will be Meg, James and Jackie.
Becky – Jackie is the one that came to me and asked if I wanted to go on the block. I knew it was my turn I have not been on the block .. kinda my turn
Austin – I'm sick of this my turn your turn bullsh1t
Liz – me to
Liz says jason is causing such an uproar he has to go home.
Liz mentions she's not switching with Julia today as previously thought.
Becky leaves, Johnnymac comes in . Talking about Jackie 'Showing her hands" right now by not talking to Becky. Johnnymac didn't know Jackie and Jason/Meg were so tight.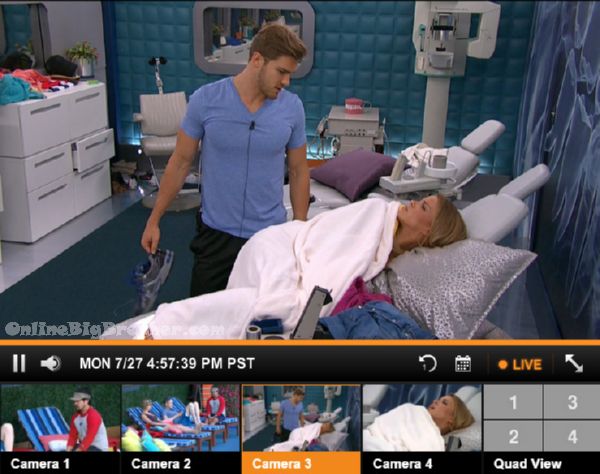 4:57pm Clay and Shelli
Clay reporting about his conversation with Meg
Shelli says she was in the bathroom with Jason and it felt really awkward.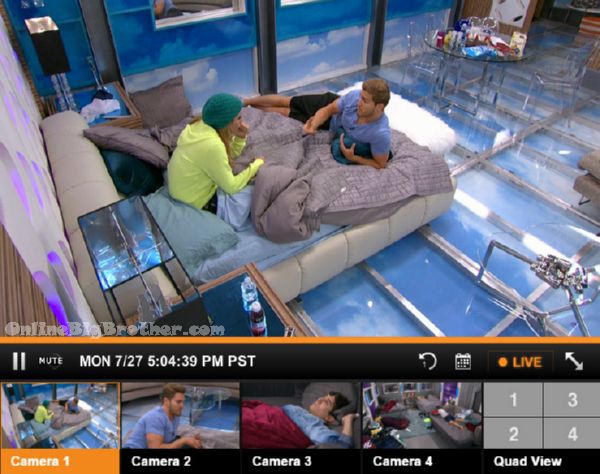 5:03pm HOH Clay and Vanessa
Clay reporting back to Vanessa
Vanessa says James is the easiest to work with out of the other side. The one the most upset was Meg and Jackie they felt personally slighted by being out of the loop. Vanessa understands that they are mad for being out of the loop nobody likes being out of the loop. Vanessa says it's time for them all to start playing the game.
Vanessa could have told Meg, JAckie and James but that's giving them a difficult choice either stick with the numbers and betray their close allie or go against the numbers.
Vanessa says she was ready to send Austin home this week.
Clay says it's a done deal Jason won't get the votes.
Vanessa says one plus is Austin is legit grateful for them keeping him. He owes them one.
Vanessa – do you think the other side will target the twins first
Clay – pretty sure Meg won't target us
Vanessa – I feel good about jackie.. I could have looked in a final 4
Vanessa says Jackie is going to stay up in the HOH all week.
Clay – we need to make sure those people don't target us three.. Shelli is worried during Double eviction they'll target us
Vanessa – the only one with that thought is Jason.. once he's gone and they don't have a strategist on their side they won't figure it out.
Clay says what if they get rid of Austin before the twins. Vanessa thinks they should keep Austin around he'll throw competitions She calls him a idiot in love.
Vanessa asks about Johnnymac, Steve and becky, "we can't let the floaters float to the end"
They agree it's fine to make James the target next week.
the Plan is Vanessa to do damage control with JAckie for Clay/Shelli and they'll do damage control with meg for Vanessa.
Vanessa says that was the hardest thing they had to do this season.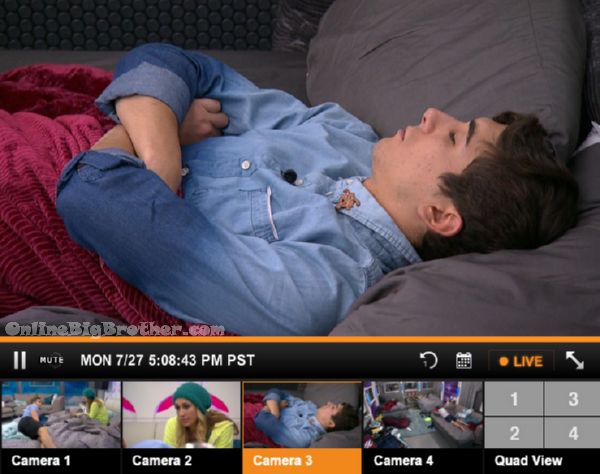 5:03pm Bedroom Meg, Jason and James
Jason and james saying Clay and SHelli won't look at them in the eye right now
Jason is looking forward to seeing what he did to make all these people so scared of him.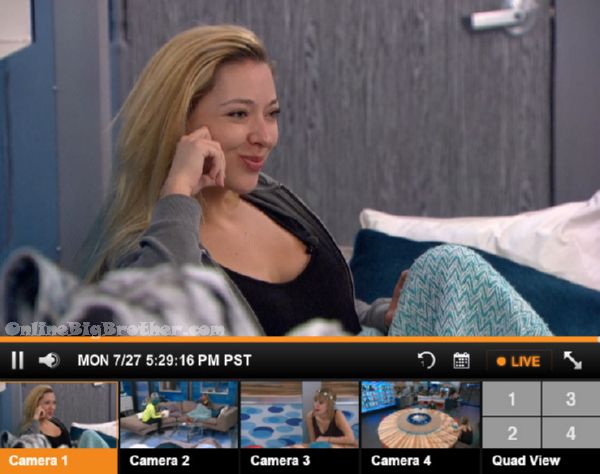 5:29pm HOH Liz and Vanessa
Vanessa says everyone is concerned they were left out of the loop. She surprised that is what they are mad about.
Adds that jackie and Meg were the most pissed.
Vanessa – they all think they're next it's hard to dance around that..
Vanessa – if you see you're on a ship and there's a hole and it's sinking find another ship with different people
Liz – jackie is down there being a little Diva.. she's pissed.. She's so pissed..It written on her face, I'm staying clear of her.
Vanessa – really
Vanessa says their best game move was picking the team that would win the HOH's every week early on.
Liz points out how vindictive and b1tchy JAckie was when it was them and Shelli int eh HOH earlier today.
Liz adds Jackie won't even talked to her.
Vanessa – they better watch out who pisses you off you have two people
Liz – two people
Vanessa – you feel like we made the right move
Liz – absolutely.. it was the right move he's got to go.
Vanessa says Clay is find with what is happening, him and SHelli were trying to hid they knew Jason was going up. After the POV ceremony they were 'attacked" by everyone so they denied knowing. Vanessa was hiding in the HOH when she had her conversations she told everyone they knew the plan to get Jason up. Shelli and Clay are doing damage control right now but it's all good. Vanessa understands why they reacted that way it was all of a sudden.
Austin joins them.
They are agreeing Jason shouldn't have been so open about how much he knew about the game. Austin mentions how James made it so obvious here's there to win the money at all costs.
Austin – Him and Audrey could have gotten far on their personalities and stories alone.. they didn't have to play the game like they did
They agree Jason's strategy was to find a person and drag their name through the mud all week.
Vanessa- he's very good at it almost worked to get you (Austin) out..
Vanessa says today was mostly terrible shit but the one thing was seeing the look on Austin's face when he didn't go up.
Austin thanks her. Vanessa says it was Liz, Shelli, Clay and her all having Austin's back.
Vanessa says everyone knows they are tight. Vanessa recommends the best thing is Austin/Liz to separate from Clay/Shelli
Vanessa doesn't want johnnymac, Becky, Steve and the rest to band together.
Austin thinks Steve is 100% with Freaks and Geeks, "I don't think he'll join Johnnymac and Becky"
Austin says Season 15 all the floaters banded together and ruined the season.
[envira-gallery id="124464″]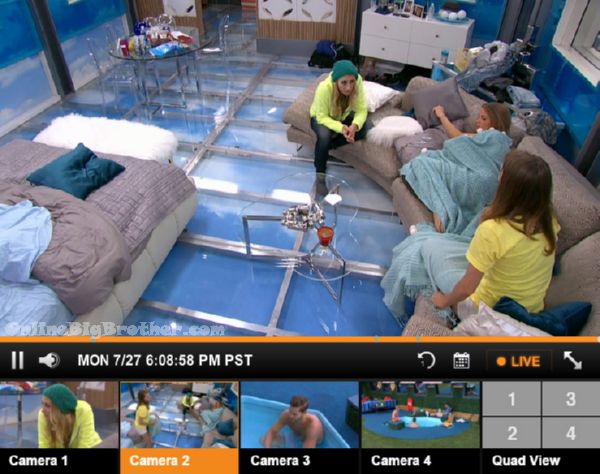 6:10pm HOh Becky, Vanessa and Shelli
Becky says most of Jason's side is sleeping so it's OK downstairs.
Becky says Jackie is far more concerned about Jason than her
Becky says when she was sleeping it was Jason, Meg, James and Jackie scheming for a long time.
Vanessa says Jackie told her if Jason goes home she's alone. Vanessa doesn't know why she's not including Becky.
Becky is going to distances herself from Jackie says they never talk game. She's going to sleep during the day and stop scurrying around she doesn't want to be this seasons Andy.
Becky tells them James and Meg never talked game to her once.
Becky says she wants to take out James, "I guarantee you he won't vote for him like I voted for him"
Becky – this will be a 6-3 vote.. what about a mystery vote
Vanessa – 100% 6-3
Becky – what about the mystery vote
[polldaddy poll=8994045]
Share it YO!!
Tweet