Head of Household Winner – Memphis
Have nots – Cody, Christmas
Nominations – Kevin & DaVonne
Power of Veto Players are – Kevin, Tyler, Dani, Da'Vonne, Memphis, Nicole
POV Host: – Cody
Power of Veto holder – Tyler
Power of Veto Ceremony –
Powers – Christmas, Dani, David
Live feeds —-> Grab your Live feeds here. Try it free.
Rank the houseguests —-> Big Brother 22 Ranking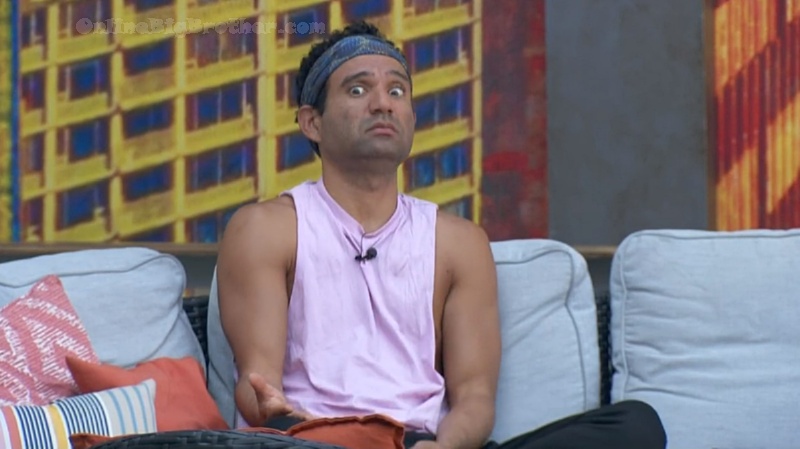 9:43 am – 10:50 am Kevin
Kevin with his awesome reads of the house says Memphis isn't cool with Tyler using the veto.
Kevin – Umm.. he's going to get blood on his hands.
Kevin says he'll go to Memphis and tell him he's going to try and get Tyler to use the veto on him so Memphis can put up David
Kevin thinks Da'Vonnes best to stay is if the veto is used on him and David goes up as the replacement. He doesn't think there's a chance Tyler will use the veto on Da'Vonne.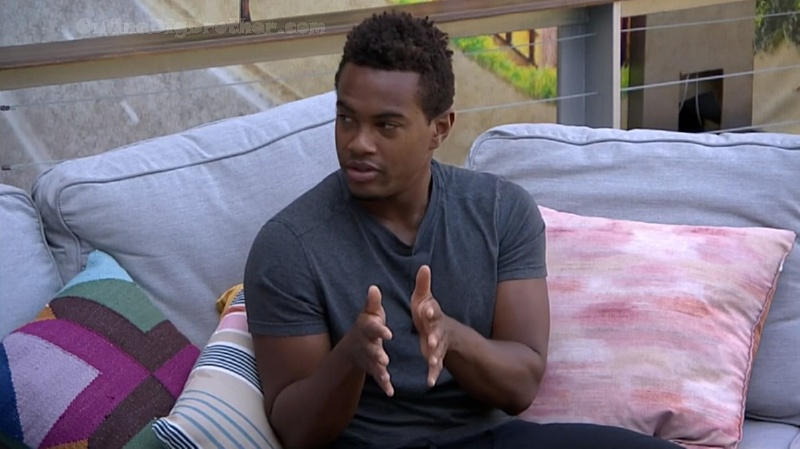 11:13 am David joins him.
Kevin – if you took an opportunity to flip a vote and maneuver yourself in this game to position yourself. I Ain't mad at that.
Kevin – As much as I say I'm going to be salty the reality is. I wouldn't even be mad if Nicole ..
David – I wouldn't be surprised if Nicole did. based on the conversation I have with Da'vonne I definitely don't think it's her
David – I would have been mad if this was a strategic move you made. To either split me and Da'Vonne to bring her closer to you..
Kevin – Awwww
David – after I played backgammon with Nicole once and she gave me .. As I was winning she gave me a tip the tip that she gave me almost made me lose. At that point I was like .. I took a receipt on that.. you gave me advice that almost let me lose the game as I was beating you down.
David – Brings me back to her telling that's my best friend, that's my best friend, that's my best friend she voted him out she had to
Kevin – Ian said he knew he was getting hustled by her. But he backtracked on that he did a 180.. I was like what they what happened Ian..
Kevin – He told me Nicole is using me then he was like ohh never mind I made all that up.. Sorry.. I was like Ohh okay
David – I knew from the moment when Nicole projected.. When Cody was mad one night she seemed very very flustered by it.
David – she said 'Cody made me cry last night' what does that have to do about anything?
David – She was like.. umm .. everyone ones Ian ..
Feeds flip (shady) When we're back. They're talking about why Da'Vonne is believing Nicole and Not him.
Kevin – I told her I don't get it when I talk to David he's got a totally different perspective..
Kevin says Da'vonne is saying that week 2 David came to her and told her he was involved in a guys alliance.
Feeds cut..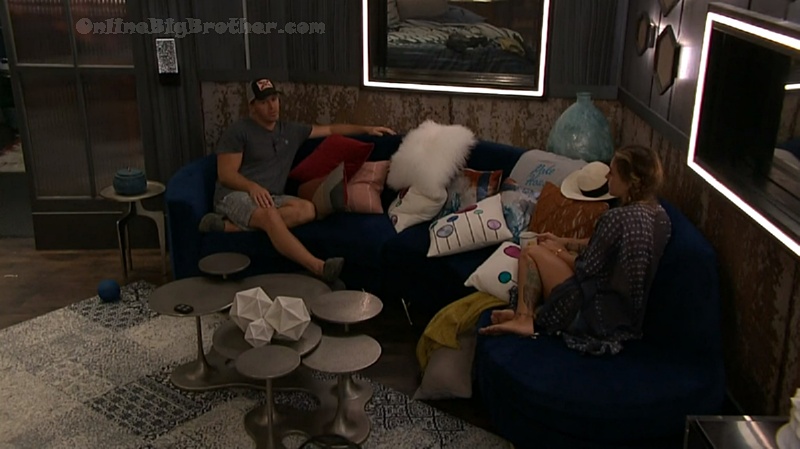 12:01 pm Memphis and Christmas
M – this stays between me and you
Christmas – yes sir
M – the whole Nicole, Dani,. Da'Vonne something something. Last night I gave Da'Vonne a little nibble and sure enough it came right back.
Christmas – what was the nibble.
M – I was just talking … you know this game's crazy.. I feel like everyone knows my plan at this point.. dadda dadda dadda
Memphis says he's trying to protect his relationship with Da'Vonne.
M – This house is getting crazy Nicole and Tyler there's something going on.. that's all I really said..
Christmas – what was her reaction
M – nothing. as far as she knows I'm not working with anyone.
M – F***ing 2 hours later Nicole comes up she's like I heard my name out of someones mouth as a target
Christmas – WHAAAT… 2 hours..
M – It took me a minute I was like there's not way she's referring to Da'VOnne.. there's no way.. that's why I gave it to Da'VOnnne I Wanted to see who brought it back.
Memphis brings up the pecking order for the committee how they have to have a plan.
Memphis says he's not targeting Nicole there's 4 people left in this house that have to go. Told Nicole why the F*** would he be targeting a member of the committee goes on about being the most loyal person in the committee to do what the HOH wanted.
Memphis says either Da'Vonne is trying to work with Nicole or Dani or she's trying to get their votes by giving them information.
M – Dani is just screwing herself
Christmas – what is her bigger plan?
Christmas says Dani put Tyler up before
M – well lets not look backwards..
Christmas says the girls haven't been playing to full capacity since the last 2 vetos.
Christmas – Dani's attitude after that veto was bizarre.
Memphis – We'll get rid of Day and we'll move on. We'll continue to push Committee, Committee , Committee Committee.
Memphis – this is my pitch to everyone.. If we can get everyone into a room maybe tonight.. We're all on the same page if it's a double. The 2 remaining people go up, David and Kevin
Christmas – no pawns
Memphis – if someone has to take a pawn seat if someone wins the veto I mean.. I don't want to use.. Enzo is the best pawn
Christmas – I know
Memphis – you don't want to put a wiseguy up .. It will make him question what else you have with everyone else.
Memphis says if a committee member doesn't put Kevin and David up they have serious problems.
Christmas – and you are next you're f***Ing next
They talk about the meeting tonight where they will shift the target to Da'VOnne instead of Backdooring David.
Memphis – Dani will be like this (makes a face)
Memphis – out of the committee think about it. You Tyler, Cody, three votes against Nicole, Dani.
M – Nicole told me straight up up here I'll do whatever it is you want me to do as far as voting.
C – I believe her
M – she has no problems sending Da'Vonne home.. tha'ts what she said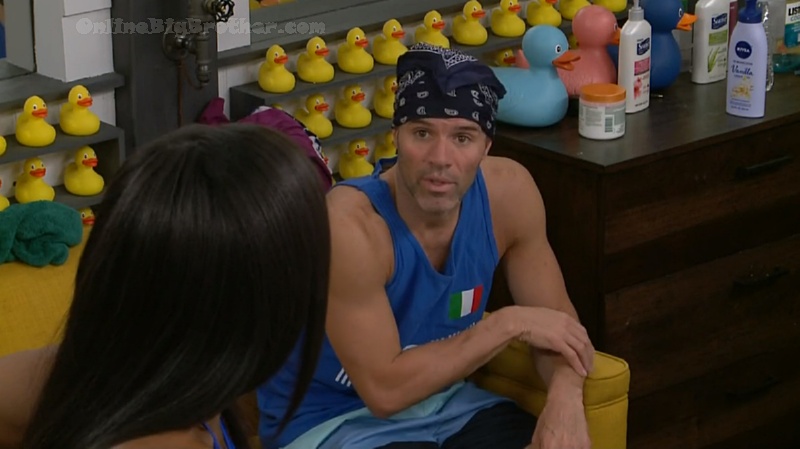 12:30 pm Enzo and Da'Vonne
Da'Vonne – YO, if you hear something will you let me know
Enzo – I'll let you know.. Right now I don't think he's using the veto
1:20 pm Memphis and Christmas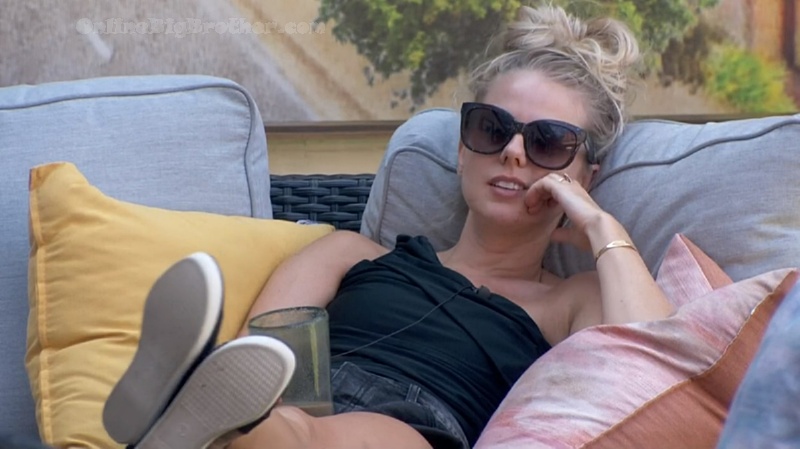 1:36 pm Cody and Coins
Cody – how was your talk last night?
Nicole – it went good. he told me he's mad at Dani and Tyler because they are both.. Dani claimed that she threw it.. He was like Come on
Cody says from his talk with Memphis he's not mad at her.
Nicole – be honest .. when I talk is it annoying?
Cody – not in the slightest.. look how you are talking when you get in there they ask you a question and you are immediately .. your voice goes louder.. I was so loud in the DR .. part of the reason it was ..
Feeds cut.
2:27 pm Da'Vonne made lunch for everyone.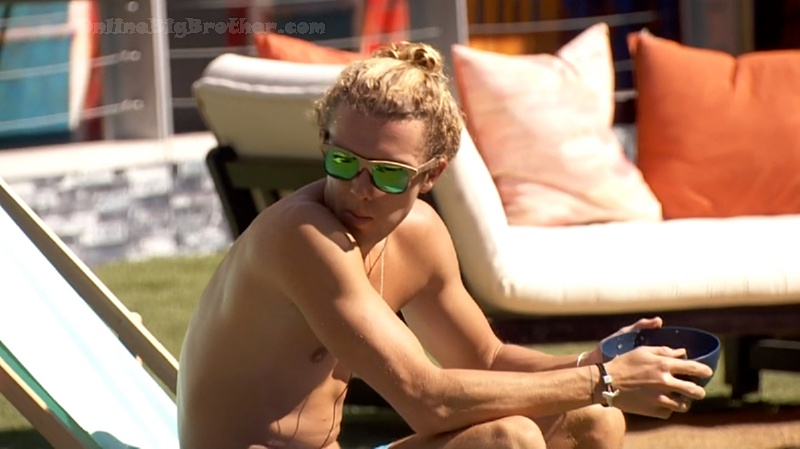 2:38 pm Christmas and Tyler
Christmas – I have a little idea that will benefit us long term.
Christmas – so, Ian thinks Nicole voted for him to stay. He's in jury. He went against you.. right.
Christmas – Ian knows I didn't vote for him to stay so he's like super good with Nicole still. Well Da'Vonne is not sure she has some doubts with David about where he voted.
Christmas – What if we let Da'Vonne know right before she goes that Nicole was the flip vote
Tyler – tell her in the goodbye messages..
Christmas says if the both of them do it it'll add validity. Asks if he would be down.
Tyler – hell yeah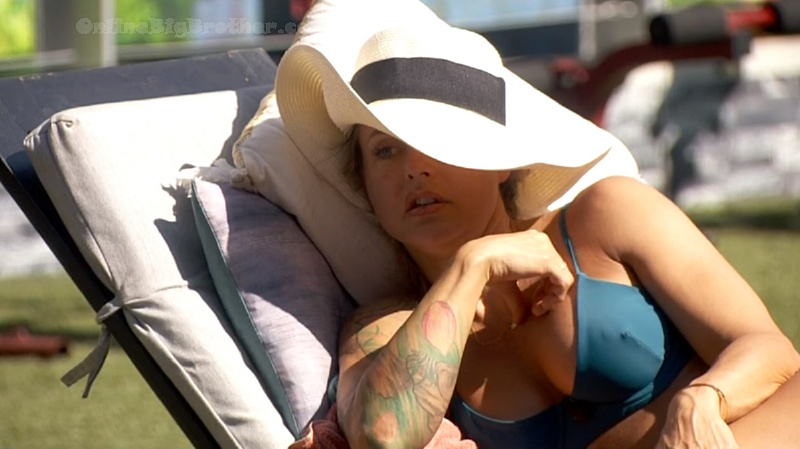 2:55 pm Christmas and Dani
Christmas going on about Kevin going this week and David next week.
Dani – if you had your choice this week who would you pick
Christmas – either one doesn't really matter
Christmas – backdooring David would cause a lot more waves.
Dani says Kevin and DAvid are closer than she thought, "it's interesting I would have never thought after all that"
3pm – 3:27pm All the house guests are lazing around the backyard chatting about random things.