Head of Household Winner – Dani
Have nots – Da'Vonne, David, Ian
Nominations – David, Kevin, Ian and Tyler
Power of Veto Players are – Ian, Kevin, Dani, Tyler, Enzo, Da'Vonne.
POV Host: – Nicole
Power of Veto holder – DaVonne
Power of Veto Ceremony – Da'Vonne used the veto on Kevin. Ian nominated in his place.
Powers – Christmas, Dani, David
Live feeds —-> Grab your Live feeds here. Try it free.
Rank the houseguests —-> Big Brother 22 Ranking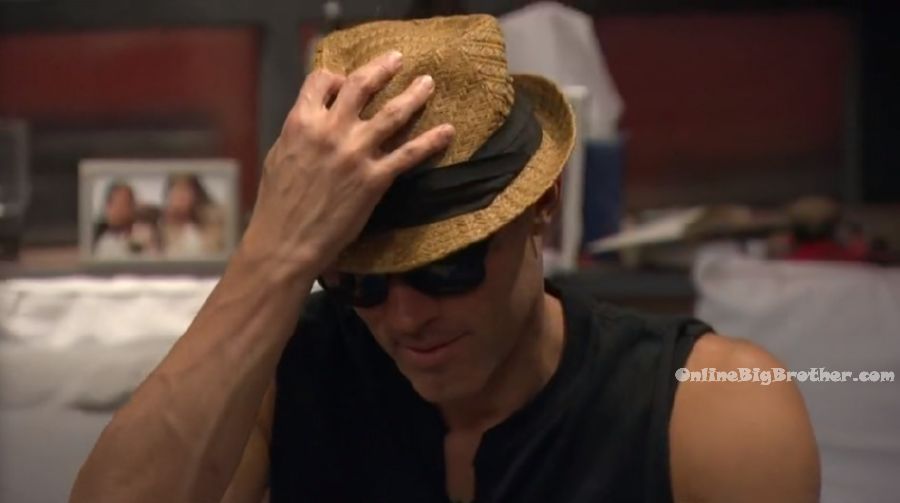 HOH room. Cody, Enzo, Dani, Nicole.
They're talking about how Enzo's hair is "f**ked up" in the back. Enzo – then Thursday clean it up. Cody – no, there is no way to clean it up. You literally went bald. Dani – its literally like a big circle. Enzo – yeah that's the style. Dani – that's what's cool during COVID. Ezno – I did that in the back of my head. Cody – OH MY GOD YOU DID THAT!? WHAT THE F**K! I thought like your hair didn't grow there. Enzo – no I did it last night with the f**king shaver. Enzo – why did you do that?!!! Enzo – because I thought I was cleaning up the back of my neck. It happens YO! Cody – no it doesn't! You're not allowed to touch your f**King hair unless I'm in the bathroom.
Cody – so what are we going to do on Thursday? I already know how mine is going to go down… Yo I decided to keep Tyler over Ian. Its as simple as that! Dani – you're going to say that? Okay be honest, would you be upset if we pretended to be shocked? Cody – no! Dani – because I don't want to throw you under the bus but also I want to save face for us with her. Cody – here is the thing, I think you guys pretending to be shocked .. like she is going to see right through it. If its a five to three vote she is going to see right through it. Dani – that just means that you and Enzo flipped though. Nicole – and David. Dani – no because it would be David, Kevin and Her. Oh so it would be David, you, Enzo .. Memphis we're not expecting and Christmas she is not expecting. So it would literally be falling on you, Enzo and David. Cody – so my thing is, I am going to tell her straight up beforehand. I am not voting out Tyler. Dani – you're going to say it right before? Cody – I am not going to bullsh*t her. Dani – but remember if its not a blindside Ian is going to know. Cody – oh f**k yeah. Dani – and I know as much as we don't want to blindside him .. it is also .. he could for whatever reason he could say something about us too. Nicole – I don't know why we can't just tell everyone one? Why can't we because you think he will expose us? Dani – you don't think he will? Nicole – MMmmmmMMMmm. We could just say everyone but me a Cody.. Oh because he (Ian) thinks he has Kevin's vote. He will be confused. It won't work. Cody – I am going to try to see really where Kevin's head is at. Dani – Kevin is never going to tell you. He told me if he is HOH said he would put up Memphis and David. There is no way in hell he would put up David! Stop it! Stop it! There is no way! Like he is on another planet! He has no idea what is happening in this house. Cody – and he (Kevin) is willing to end friendships if someone doesn't use the veto on him. Dani – I told you he said the same thing to me though. Nicole – its terrible strategy .. I would say guess what I don't need you, I only need 5 votes. Dani – but is literally going to use that every single week. He has used it twice this week already. Nicole – and it worked. Dani – he said at the jury round table if you sent him home he said don't even ask me a question. They put my life in jeopardy. I am not voting for them. Nicole – that is fine! That is bitter! Dani – but that is like another level of bitter! Like I am not even playing the game. And not to be whatever its All Stars ..put on your big boy pants and vote!
Backyard. Tyler and David.
Tyler – I am not going to be early jury.. If I am .. I am going home. Big Brother switches the feeds.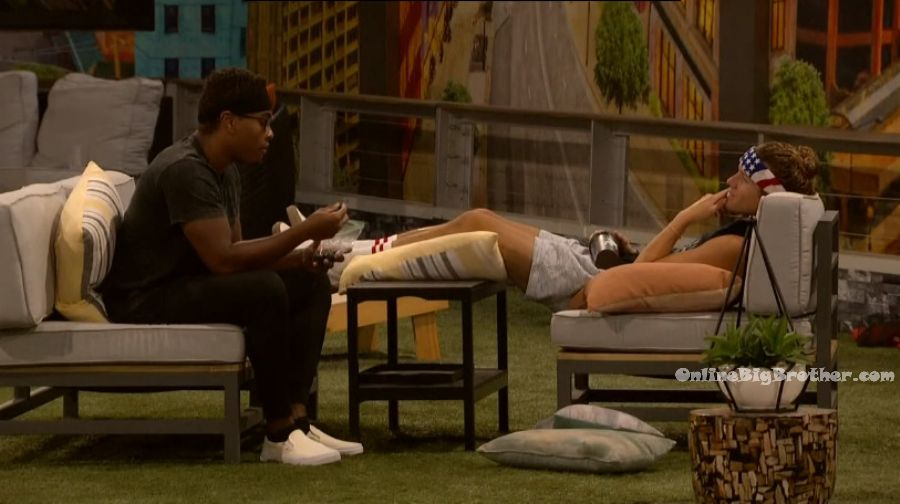 7:30pm HOH room. Nicole and Dani.
Dani – It sucks but Ian has to be the sacrificial lamb to keep us going farther in this game. Also Nicole he is not going to hold it against you. You guys are going to be friends with him outside of here. I promise you. Nicole – I don't know. Dani – you want to know why.. because he is not freakin Kevin. He is Ian. He loves Big Brother and he is a good sport. His thing about not going to jury is pretty lamb but he is not going to hold it against you. Look what he did to Boogie and they're still friends. I promise you he is not going to hold it against you. Nicole – but if I had a choice I would not be doing this you know what I mean. But otherwise I would be going home next week. Dani – YUP! Nicole – my hands are really tied. I have to fix things with Day .. but I shouldn't have to fix anything.. she screwed me today. Dani – uh ya me too. This is going to bring us closer to Tyler. He is shocked, amazed and appreciative. Nicole – the comity has saved me week after week after week.. the least I can do is vote out my friend. If Ian was in the reverse situation I know he would vote me out. Dani – he would.
HOH room. Ian and Dani.
Dani – I am so sorry! I didn't know what to do! I've nominated half the house. I didn't know what to do. Ian – I know. Dani – I feel horrible. Ian – the thing that scares me and you could end up sending home someone that is not going after you at all. Dani – I know. You have the votes! Ian – I know but I am already hearing resistance. Dani – who!? Ian – I have heard former winner. He is really close to Nicole so lets get him out. Dani – who said that? Ian – Kevin. The only thing I would say is I do not want to be the first to jury .. if I am the first person to jury.. Big Brother switches the feeds.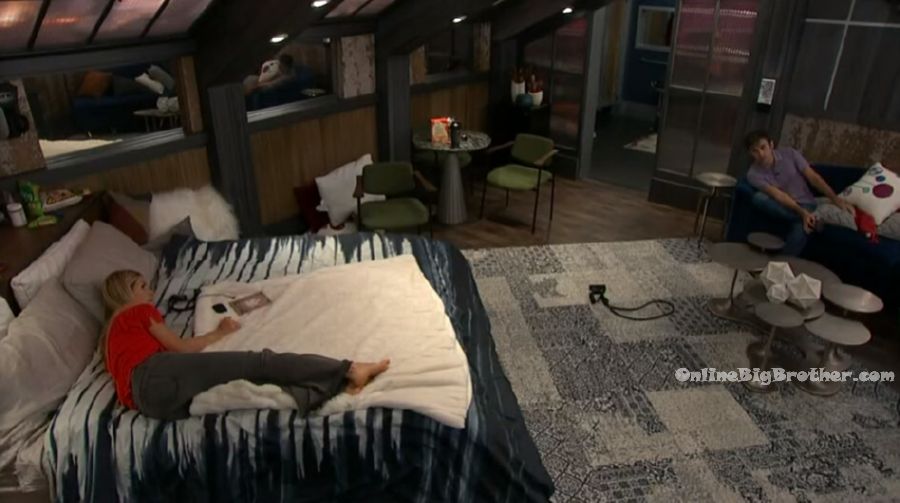 8:30pm Backyard Corn Hole. Cody, Memphis, Tyler and Nicole.
9pm Hammock. Kevin and Day.
Kevin – I still don't get why he (Tyler) is not shook. Day – I think he has the votes. Kevin – Ian said that he has the votes already. Ian said to me if you don't vote for me it will be a red flag to the rest of the house. Day laughs. These people threaten. Their approach is to threaten. Mob mentality .. He said he had one vote .. Nicole. Ian joins them.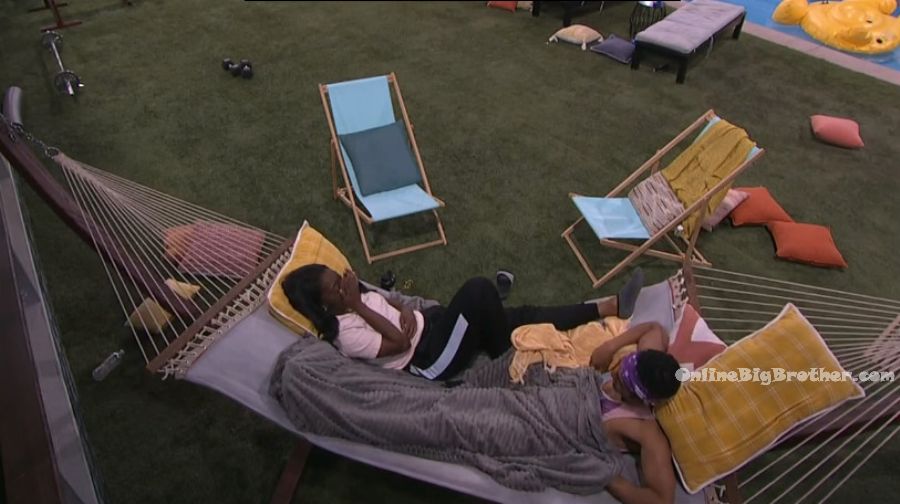 9:17pm Backyard couches. Kevin and Enzo.
Kevin – between me and you .. he low key threatened me. Enzo – Ian? Kevin – yeah. Enzo – holy sh*t!? Keven – how did he campaign to you ..because the first thing he said to me was if you don't vote for me it will be a red flag to the others. Enzo – OH Sh*t! Kevin – and the others? Enzo – yeah who are these others yeah? Who are the others?! He was like the people that would be voting for me to stay. And I was like who is voting for you to stay? So basically I am cornering him because who are you threatening me with. Ezno – this sh*t got reversed. This guy hasn't worn jeans all season. This motherf**ker ain't got jeans on like its Friday and he's at work. So do we get the camp out already!? But I don't think both of them are coming after me. I told him right now you have my vote but .. Big Brother switches the feeds.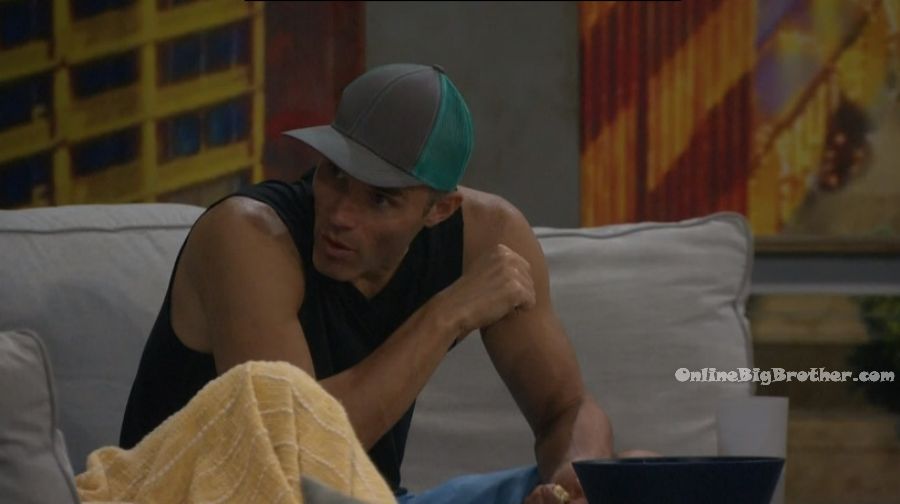 9:33pm Lounge room. Ian and Memphis.
Ian – obviously I am not happy about it .. it kind of makes me feel like I am out of the loop or something. What I think it comes down to is Tyler is one of the top players in here.. before I left my mom who watches it says that he is real good. Memphis – yeah. Ian – so I think when you get a look at someone like that and its a clean shot I think it would be crazy to send me out when I haven't done sh*t. Memphis – Yeah I definitely think that but to be honest .. I feel the same way about you. Ian – WHAT?! Fair enough! Memphis – but that is what Dani putting you up makes this so much more interesting. I am going to talk to Tyler tomorrow and then circle back to you. Do you think you can get the votes? Ian – I think I can.
9:36pm Bathroom. Nicole and Dani.
Nicole – if its 8 – 0 .. I will be mad. I will give him a pity vote. We need to know where the votes lie at the end of the week. Dani – Nicole you cannot give him a pity vote because if they flip then I am standing there like a freaking idiot. Nicole – I know. But I am saying they probably will not flip. Dani – but they will not tell us either way. Why would they tell us?! Nicole – I know but I have to think about my game too. Dani – I know that but you also can't be playing for 1 jury vote and screw me over. Nicole – it is not for a jury vote its for my moral compass. Dani – but you would screw me over. You would stand there and make me vote to evict him in front of everyone. Nicole – its something to consider if they're flipping.. Dani – but why would you ever believe anything they say. You don't think they would just lie to you? Nicole – two weeks ago you wouldn't even entertain the idea of lying to Day and getting Kevin out of the house. Dani – it was never about Ian ever ever ever. We need to remember that she is playing all sides of the game. She is playing everyone .. every single person in this house.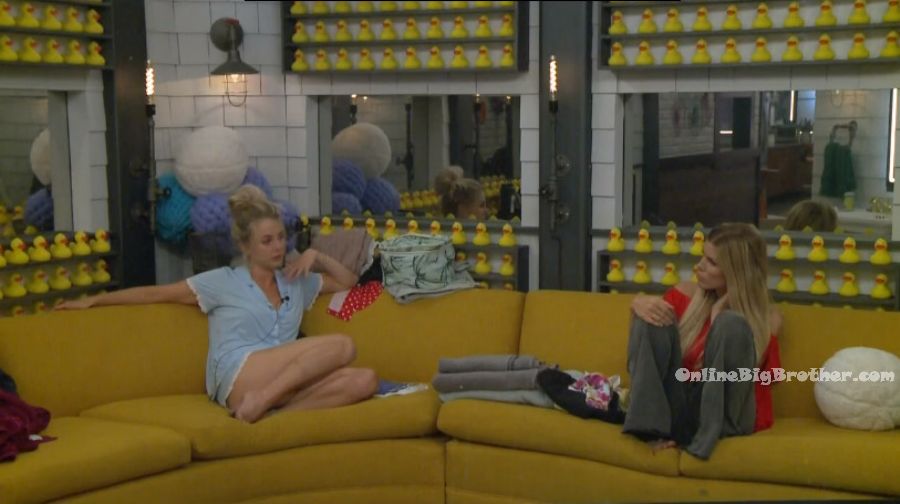 10:45pm Backyard couches. Enzo and David.
Enzo – I feel bad for Ian but you won this sh*t yo! You got money! I am good, just send him to the f**king jury house. Its the place that you've never seen before and now you're going to see it. F**k it! And lets move on to Thursday and lets win this motherf**king HOH! YO! Lets win this sh*t! Lets make some moves! David – if Tyler goes and he comes back and really wants to play .. he wins.. Enzo – you and me are good. He is not coming after us. Dani! Let him go after Dani! David – Dani put me up.. let him take her out. Enzo – I don't give a f**k yo! You and me are chilling! alright?! Who do you want us to vote out. David – I need a bigger target than me. Enzo – that's what I'm saying .. Yo Tyler win HOH and just let us know who we voting out .. that's it! Yo I'll walk in the HOH with you… YO TEAM FREEZE MOTHERF**KER! Who you putting up?! That's it! I don't care yo! David – as much as I would like someone else.. its mine yo! Enzo – yeah, if I'm there I'll give it to you. I will f**king answer it wrong so you can take it. David – people be taking sniper shots at me .. I've got a bullet proof vest.. I'm back! What's up!? Kevin joins them.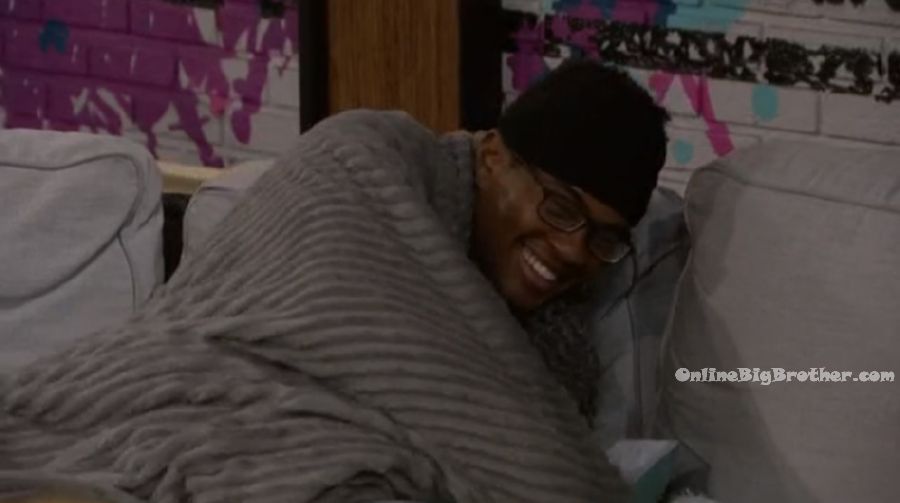 Bedroom. Nicole and Ian.
Nicole – I am going to do my best so that you stay in this game. Ian – okay. Nicole – I was just letting you make your rounds today and letting you see what people say. I mean its only Tuesday tomorrow and Tyler will start campaigning tomorrow or Wednesday. I don't know if people tell me the truth knowing we're close. Ian – if I go home on someone elses mistake .. If I have to stay in jury .. I am going to not vote for people that were most responsible because and if I go if its a mistake .. its a bad mistake and whoever fault that was they're going to be held accountable for it. Nicole – yeah. You leaving is so bad for me. Ian – its bad for a lot of people. I am going to campaign for you to stay.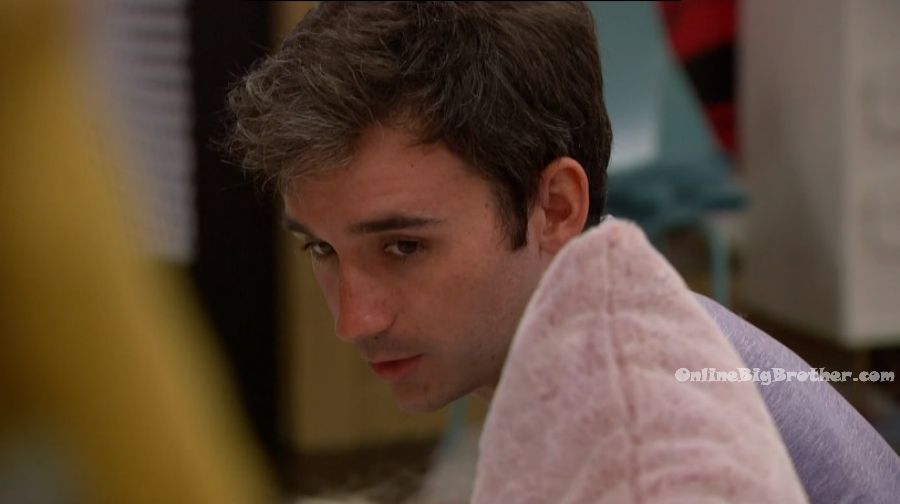 11:24pm – 11:45pm HOH room. Nicole and Dani.
Nicole whispers – this is the worst thing for my game. Dani joins her. Nicole – Ian talked to me for the first time about this. Basically I just feel bad. I feel real bad. He thinks that Tyler is going to to be sitting in final two and we're all going to be shaking our heads. Dani – why does he think that.. Nicole – he has a very good feeling that he's going to be leaving. I think this is such a mistake. It is so bad. Dani – the comity does not want it.. they want Tyler. Nicole – only two people want him. Dani – you're right. But if we go against the comity it puts us in the worst spot in the house. Nicole – it will make us bigger targets. Dani – if you feel that way, have a conversation with Memphis. Nicole – I feel so responsible. Dani – you do, I put him up.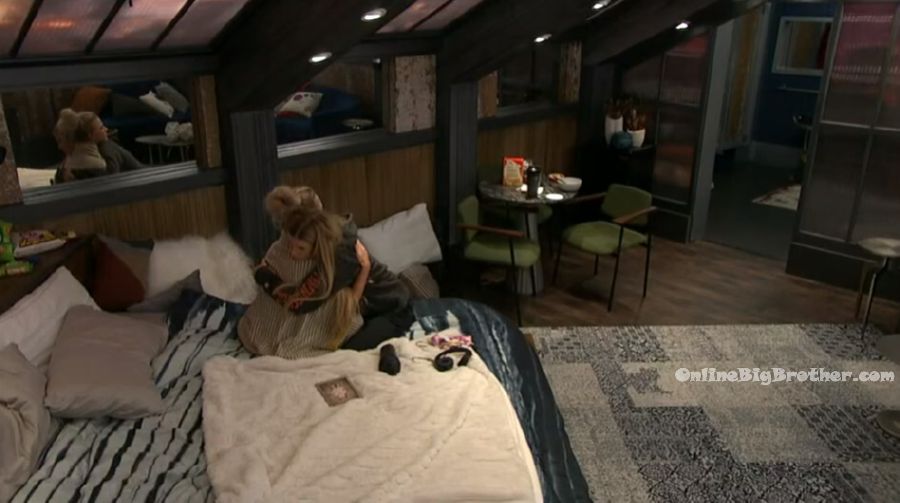 1:30am Havenot room. Ian, Day and David are now sleeping.
1:40am HOH room. Dani using a cushion to write out the days / events of the season..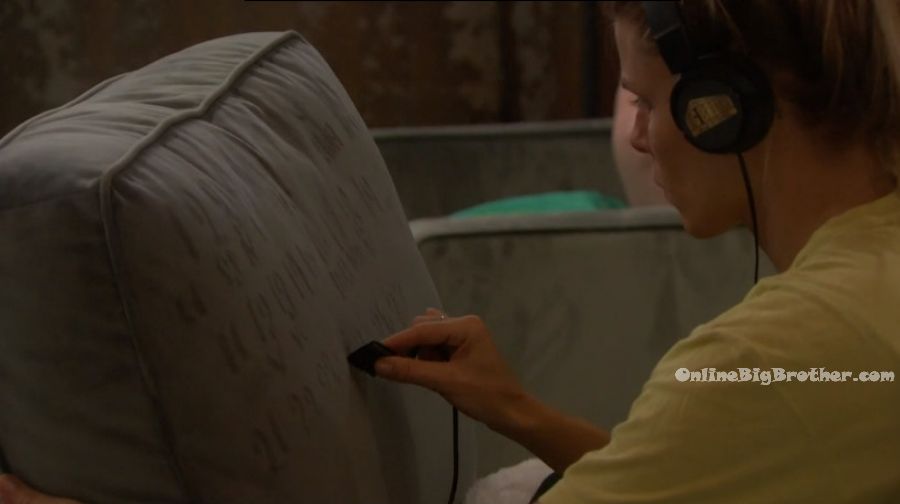 7:52 am sleeping yo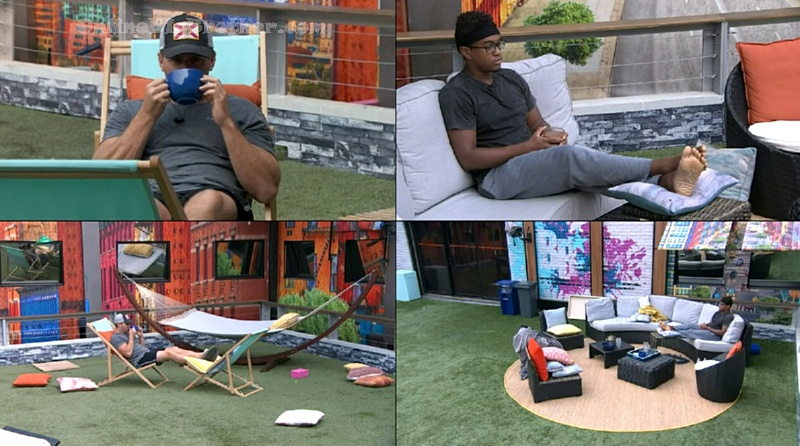 9:40 am WAking up YO
Show your support by making a donation.
If you're enjoying our live feed updates this season, please consider donating.
Any amount is greatly appreciated! Your donations go directly to paying the fees required to run this site.