Head of Household Winner – Memphis
Have nots – Cody, Christmas
Nominations – Kevin & DaVonne
Power of Veto Players are – Kevin, Tyler, Dani, Da'Vonne, Memphis, Nicole
POV Host: – Cody
Power of Veto holder – Tyler
Power of Veto Ceremony –
Powers – Christmas, Dani, David
Live feeds —-> Grab your Live feeds here. Try it free.
Rank the houseguests —-> Big Brother 22 Ranking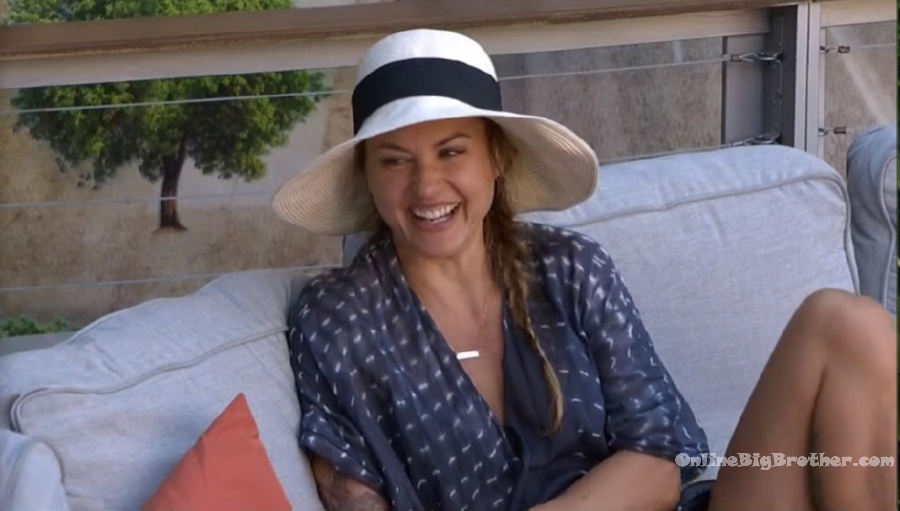 3:15pm Backyard. Memphis and Christmas.
Christmas – She (Nicole) out of the blue started pitching for Kevin to go. Memphis – This morning to you? Christmas – yeah. Memphis – She said Kevin should go? Christmas – yeah. Memphis – we're going to nip that in the bud quickly then. This whole situation shined a lot of light. Christmas – Dani same thing .. never even a question. Like hard core. Then I had another idea. That would help us in jury. Somehow.. Memphis – let talk later I can't hear you .. you and Dani .. I can't read lips. Christmas – do you think we somehow let Day know that Nicole was the flip vote? Memphis – no what would that help.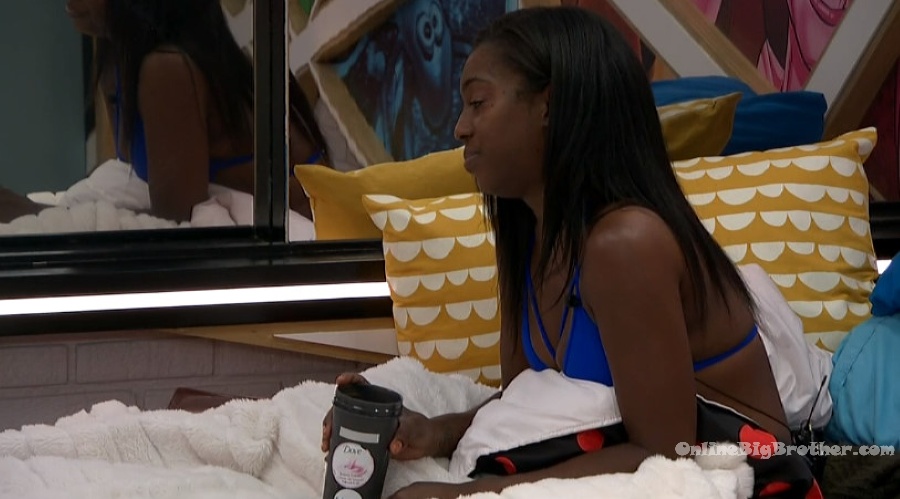 Bedroom. Kevin and Day.
Kevin – The more I think about it .. the more I think you're going to stay. Day – why? Kevin – I think you have the votes. I don't have peoples. I think right now its get rid of house guests without people .. then we eat our own. Day – well if its not this .. its next week with the double. Kevin – but its not this one. Day – I don't know.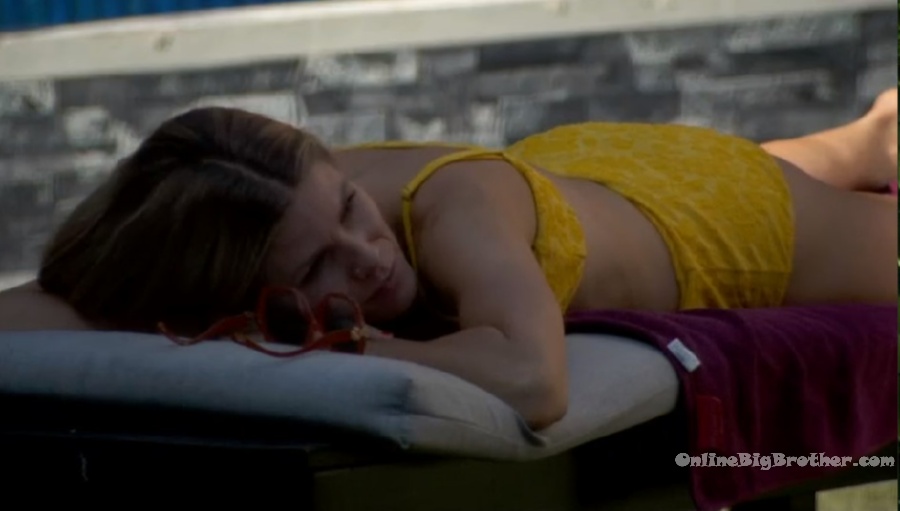 Tyler and Dani.
Dani – I promise you I was not trying my hardest. I was not not trying but I wasn't trying my hardest. If noms stay the same what do you want to do? Tyler – I want to do what everyone else does. We almost have to work to drive David on to an island by himself. Like why are we not splitting up Kevin and Day!? Dani – but also do you not realize that Kevin and David are a lot closer than DaVonne and David right?! Tyler – no. Dani – They are .. I promise especially after the vote .. DaVonne hates him. Tyler – Kevin is the same way. I want Day out personally but I will do whatever the group wants. But either way it doesn't matter .. whatever we do this week we will do the same thing next week. Dani – I know I agree. Tyler – I don't care what you do. I personally want Kevin gone. Kevin is way better at competitions. He's come in like second it all the competitions. And he is actively coming after you, Cody, Nicole and me probably. Tyler – so is Day and she is out making alliances with everybody. Dani – I also think that Day's chances of winning are smaller than his. Especially if its in a double. Tyler – I agree. The way I see it anyone could win anything at anytime. I can tell that Memphis is annoyed that one I won it and two I am not doing what he wants. He is already annoyed with me about the whole thing with you. We just need to win next week. Dani – and the week after and the week after.. Memphis – so what is our play here so that the committee stays strong. Do I just say okay lets just run with the noms … we need to get rid of all these people anyway. It doesn't matter .. there is not reason to change anything. Tyler – as long as we win next week we are fine. She also said that Day and David are not close. Kevin and David are getting closer by the day. You could use that as a building block with Day. Memphis – what building block.. Day is going home this week or the next.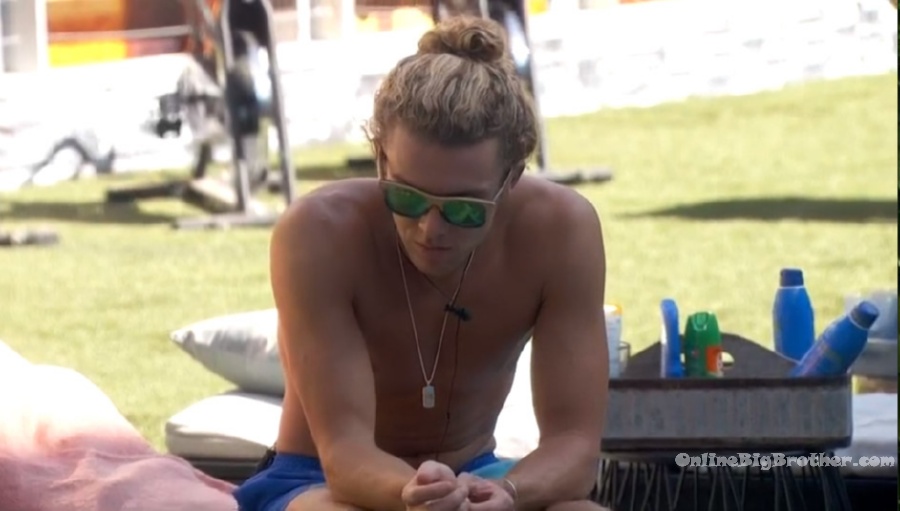 4:35pm HOH room. Memphis and Tyler.
Tyler – I was talking to Dani. It is way worse than I thought. Memphis – she is a good player .. that is what is so weird to me. If she is that good .. why is she being so stupid?! Tyler – because she thinks she can play it up. Memphis – she is being so obvious. Tyler – she is being crazy obvious. Memphis – that is what is so odd to me. Tyler – I started playing the angle like I don't know if I am going to use it .. I know it pisses Memphis off .. I am trying to act like we're going to have a division. But dude she was literally like suggesting me to use it on Day. Memphis – what she doesn't realize is that we know. Tyler – she said that if you piss off Memphis this week you can tell him that next week you would for sure come after David or Kevin .. and not Day. And I am like you're not even going to say Day's name for next week!?!?! What?! It was crazy?! It was insane! Memphis – she is slipping. They agree that Day needs to go. She is the bigger threat. They agree to tell Kevin that he has the votes and to just remain chill. Tyler – and it will come out that way and he won't be mad. Memphis agrees and Tyler leaves.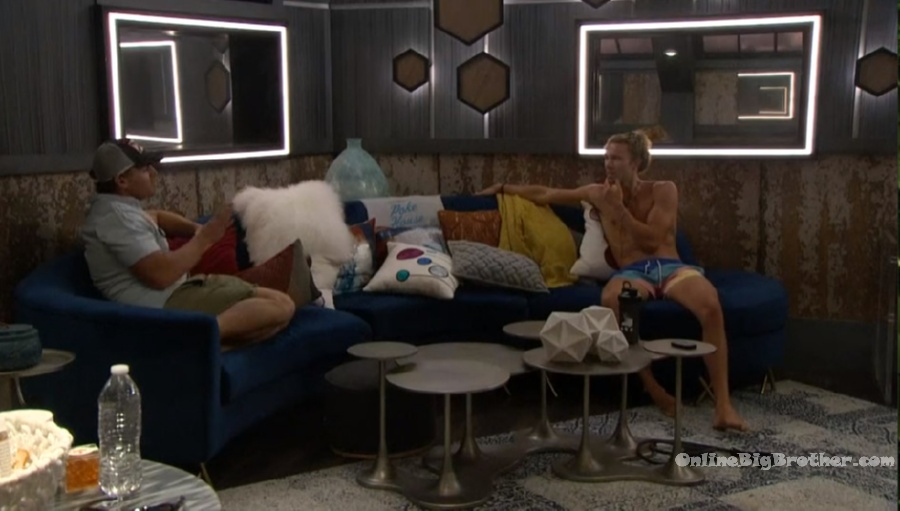 4:40pm Lounge room. Christmas and Day.
Christmas – I just wanted to check in because I am feeling a little distant from you and I wasn't sure if it was legit or if its something for the house to see. Day – what do you mean for the house to see? Christmas – to keep up appearances. Day – No, I don't care. We down to the last .. I don't care about that. Christmas – I am asking because I thought that we had squashed everything and I am just feeling a little distant from you. Day – oh okay no. I don't feel like that. Christmas – that's why I wanted to check in. Day – no there is nothing. We good! Christmas – the reason that you gave (to make her a havenot) seemed off. Day – you have this thing that you do and this is the second time where you will snap. Christmas – its fine.. I let it go.(Clearly) The block reference really confused me. Its what we went through and squashed. Day – we did squash it but you did put me on the block. Its one thing if I put you up because you put me up.. Girl I put you on slop. Christmas – just curious.. because after that you've seemed a little distant. IF its in my head then its in my head. Day – girl no we're fine! No worries. Christmas leaves. Day leaves with a what the f**k was that look to the cameras..
5:50pm – 6pm The house guests are relaxing in the backyard. Meanwhile David and Day are chatting on the hammock. David tells Day that he will need some acting and coaching after all this is over. Day tells David that the whole house knows his bio said that your special skill is that you can cry on que. David – I can control my tear ducts but that's not acting.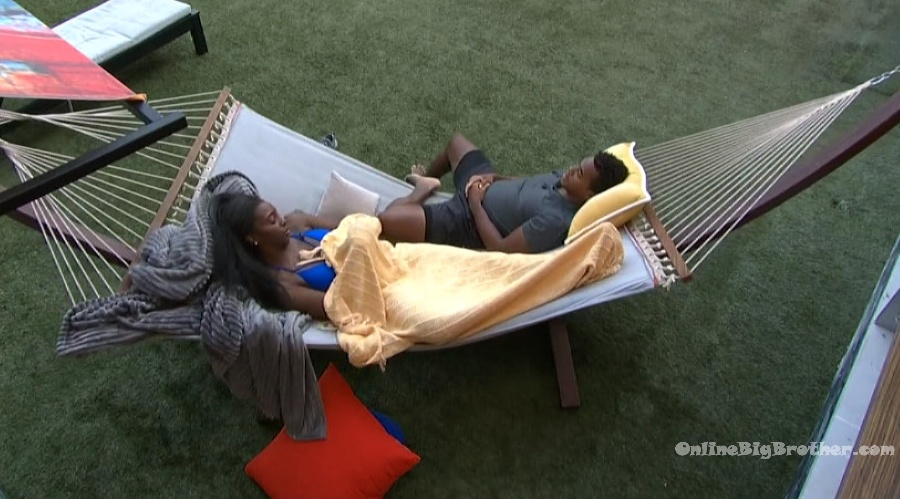 6:50pm Working out with Christmas in the backyard.
7:06pm Day and Dani.
Day – I am just trying to figure out what is going on. There are so many layers. I am just trying to figure out how it got to this point. I know me being on the block has zero percent to do with me using the veto .. I am on the block because of this vote. Dani – Mmmmhhmm. Day – and I am just trying to figure out like whats the tea. He (Memphis) told all you guys to go for it right .. then came right behind you guys and told me and Kevin that he told all of you to throw it. So there is a plan .. in motion to get me and Kevin on the block. Tyler gunned for it so that he could win the veto. Memphis is acting like oh I don't know if he is going to use it. I told him to use it .. bla bla bla.. Dani – I feel like that was his original plan to go after David.. unless there is a bigger picture. Day – I think so..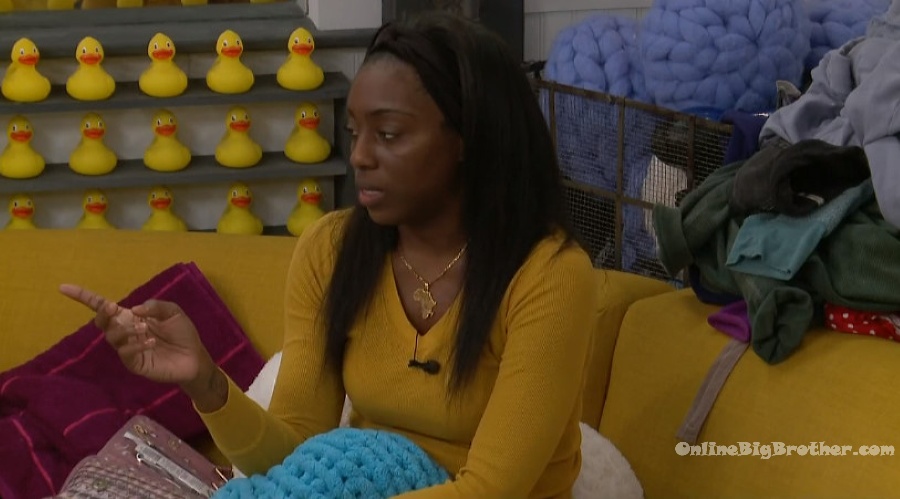 7:15pm Storage room. Kevin and Memphis.
Memphis – I don't think Tyler is going to use it but I think you're sitting pretty. I am saying that out of pure just like friends. Tyler thinks that Day is a huge threat. He brought it up and the consensus of all people is that the focus is on Day. Kevin – oh wow. Do you think you can nudge it in my direction. Memphis – I don't even think you need it. Just do your thing .. campaign. I am agreeing that Day should leave too. Kevin – she has been telling me that she feels like she is going home. Memphis – this wasn't the plan but I think you're safe. I am pissed at Tyler because he's said he isn't going to use it. But as pissed as I am he won it and if I wanted my plan to go through I should have won it. His prerogative is that he wants her gone too. Kevin – I will talk to him too. Memphis – if someone asks me I will tell them that I am leaning towards Day leaving to. Kevin – okay thanks.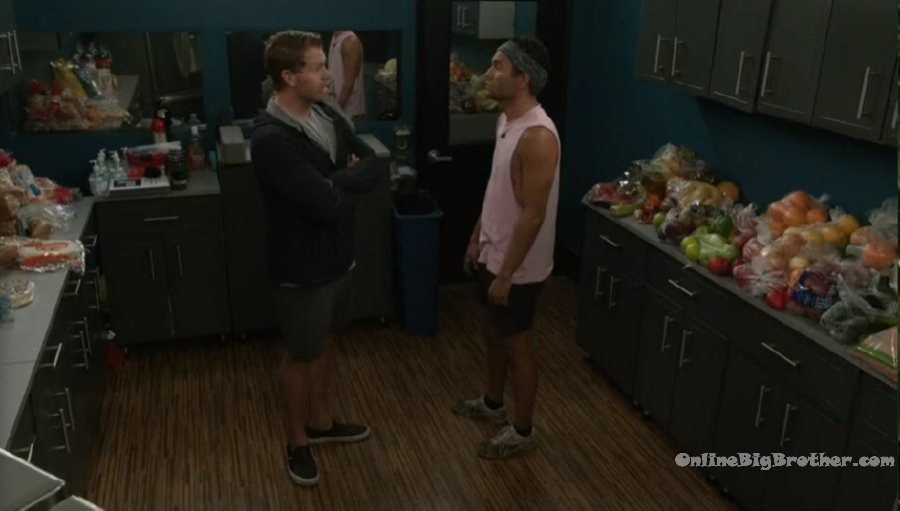 7:55pm David and Christmas.
Christmas – I think it will come down to who had better relationships with who. And more reasons to stay over the other .. rather than that one needs to go. David – I like them both. This year the lines are so blurred there is no difinitive .. how many women are left in the house? Christmas – four. David – not that I am thinking about that but sometimes the game gets so lopsided near the end because guy just start running sh*t. Christmas – well I definitely don't want to be picked off. I want to play .. play as much as I can. David – who can you beat? They agree Kevin has done well in the comps. Christmas – Day showed that she has some skill. She does well with questions and memorization.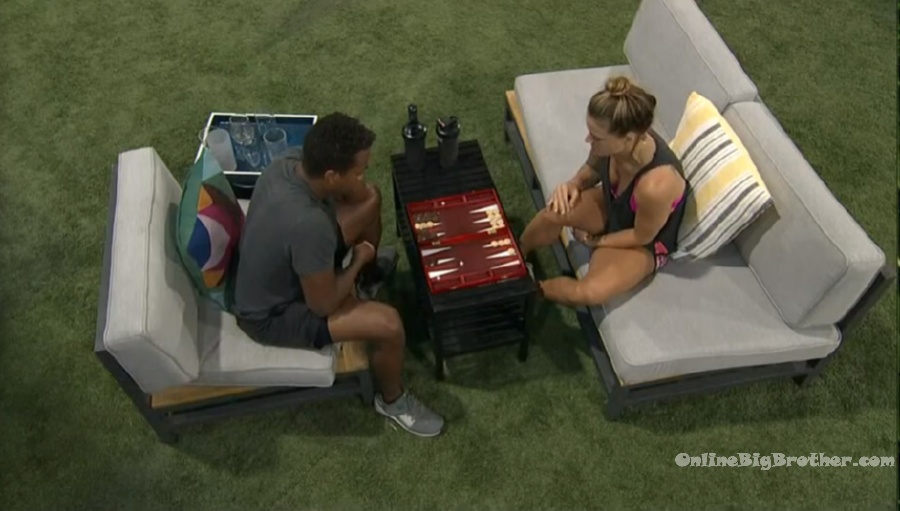 Bedroom. Nicole and Christmas.
Nicole – she said that Memphis told Day that he told us to throw the comp. Christmas – who told you this? Dani? Nicole – yeah so I don't know if she is trying to cover .. I'm trying to figure it out. Memphis came in here before and told us to throw it. Then DaVonne came in after and asked what he said and I told him that he said to gun for it. So did she tell DaVonne or did Memphis? How can we figure out if this is true? Christmas – that doesn't even make sense. Nicole – why would he talk to them. Unless it was to be like the plan was to backdoor David and someone screwed you over .. sorry! Would he say that? Christmas – no, no. Nicole – if she (Dani) is lying to me .. then she is playing me real hard. I need to figure it out. Day knows that I know and she says its from Memphis. Christmas – f**k .. that's not good. Nicole – I don't think its from Memphis at all.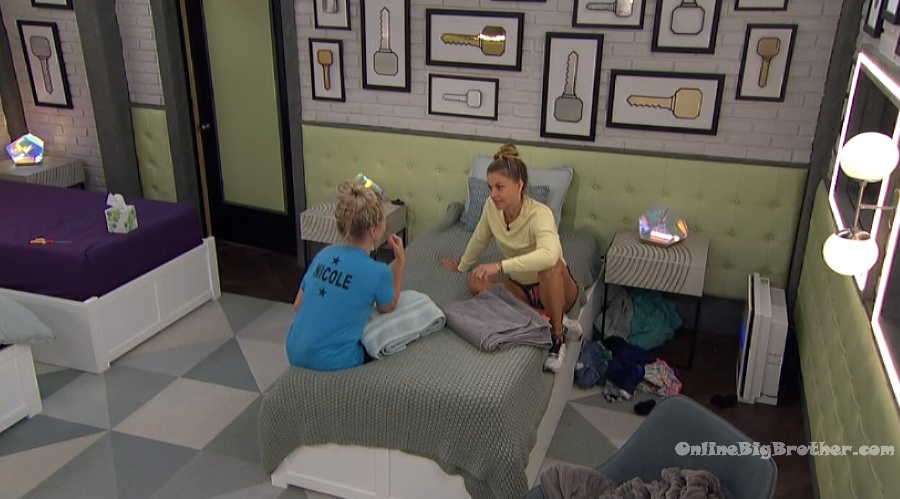 Lounge room. Nicole and Day.
Day talks about her conversation with Christmas earlier. Nicole – and honestly I don't think she would put you up at least not in the near future. Day – Well shoot if I'm here.. I don't even know what is going to happen this week. Nicole – the veto is probably not going to get used. Day – no. Nicole – have you talked to Tyler? Day – I have and he doesn't seem like he is going to use the veto. Tyler is aware that Memphis had a plan to backdoor David. That was supposed to be the plan. You guys said that he told you guys to gun for it right? Nicole – yeah. Day – he came and told me and Kevin that he told all of you to throw it. Nicole – who told you that? Day – Memphis. Nicole – really?! Day – exactly! Nicole – that is weird. Day – after I went up there and he said well clearly that didn't work. Nobody threw it! Those girls didn't throw it. Tyler didn't throw it. Nicole – yeah that is so weird. And clearly if we threw it we wouldn't be getting in the 2's, 3's and 4's! So if they want to backdoor David they can still backdoor David. Day – I think Memphis wants to backdoor David but Tyler is going against it because of that vote.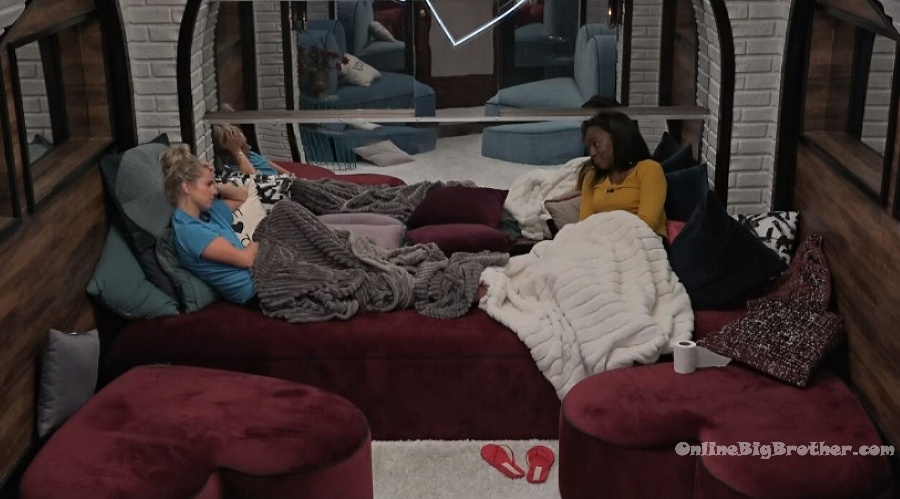 Big Brother gave them alcohol..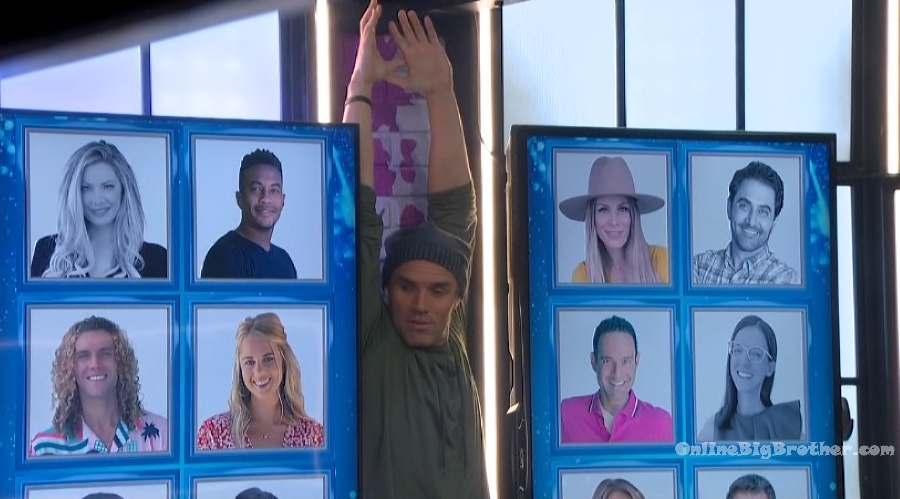 Show your support by making a donation.
If you're enjoying our live feed updates this season, please consider donating.
Any amount is greatly appreciated! Your donations go directly to paying the fees required to run this site.