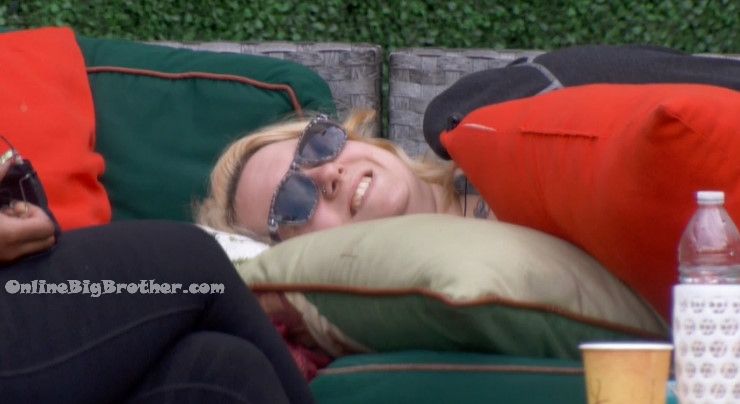 2:45pm Kryssie and Neeley
Kryssie talking about the 8 thousand people that follow her on twitter and how she can interact with them no problem even with all this social anxiety she has. Says she's a entertainer.
Kryssie – I was so scared coming in here.. I'm so f****g thankful for you girl
Neeley – me too girl..
Neeley says none of the people in this house other than Kryssie she connects with.
Kryssie says the people on our side of the house are the only people she would give the time of day outside the house. Calls the other side of the house Phoney.
Kryssie says Scott isn't playing a game he's being a douche. She's not going to run to him and kiss his a$$.
Kryssie now blaming the "Other girls" for taking advantage of Scott because he's HOH.
Kryssie hopes "America sees it"
They start talking who they want America to put up.
Kryssie wants Shelby to go up.
Neeley wants a big fish like Alex
Kryssie is worried Alex will win the veto.
Neeley brings up how they all thought Monte was a huge threat and he only one that 1 competition.
Kryssie says if her and Danielle going up she's gone.
Neeley says Kryssie is safe, the other side will vote out Danielle.
Neeley says she'll vote Kryssie to stay. Adds that she's ride or die with Kryssie.
Neeley mentions how she wants to be on the show so show people that black women can work together and get along. However she knows Danielle won't ride to the end with her and Kryssie will.
Neeley brings up coming into the season she said she wanted a strong girls alliance to team up and prevail but.. "That's not how the game is playing itself out right now" (all girls alliance that was strong on BBOTT never heard of that)
Kryssie – I know in the beginning when you were preaching the all girls alliance .. i was like good luck girl.
Neeley wishes Alex had played a better social game they could have come together, 'It just wasn't in the cards for this season"
Kryssie – this is our chance to be the ultimate success story..
Kryssie – We still have the numbers and with America on our side I believe in America they ride with me
Neeley – we're hungry and humble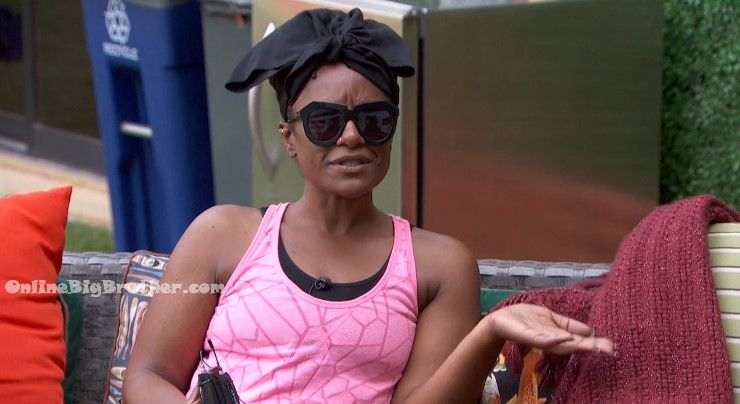 Neely – if it comes down to you and Danielle.. Danielle's gone, sorry boo
Kryssie – I would love you, me and Jason final 3
Neeley – I was really open to working with Alex.. more so Alex than Morgan.. Making moves
Neely says they both wanted to break up the showmance down the line.
Neeley – they've made it us vs them.. I hate that
Neeley says the other side has made it obvious they don't live the same lifestyle as her.
They mention Alex lying to them about not putting Kryssie up.
Kryssie impersonates Alex in the storage room "You went up we all have to make sure Monte's going home"
Kryssie says she's made 2 promises in this house and that's with Neeley and Jason
Kryssie says Alex's word is sh1t and she's not a good game player.
Tacks on Scott also as a shitty game player with.
Neeley – he's a floater that got lucky yesterday
Neeley says Scott is picking two people from their side.
Kryssie knows it's her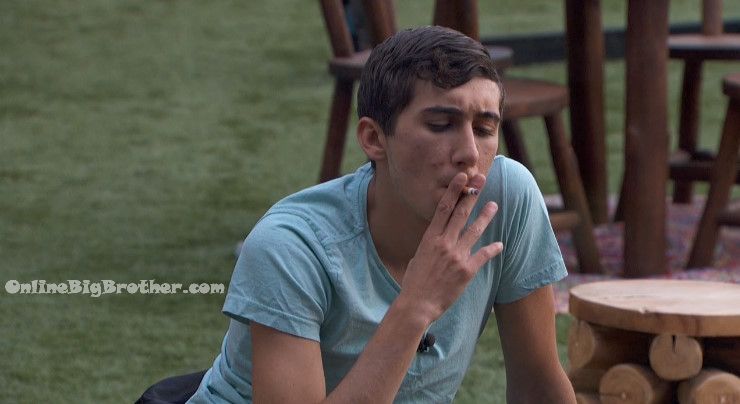 3:45pm Backyard Jason, Danielle and Shane
Jason says Scott won't put Justin up.
Jason mentions how their side will flip and it'll be the showmance vs Neeley and Kryssie.
Jason – thanks to the America's nominee we really have been lucky .. and they thought they were goign to steam roll us outta this house but instead we've been kicking them out.
Danielle – it's just funny 2 head of households haven't been able to send any of their nominees out the door .. what a waste of Head of household.
Jason – they're not playing smart..
Jason – America is never going to f****g roll with them
Jason says the entire opposite side of the house will become floaters if America nominates one of them.
Jason says Scott is putting up two on their side and "Hope" hope they "Shatter"
Jason says they are not going to Shatter.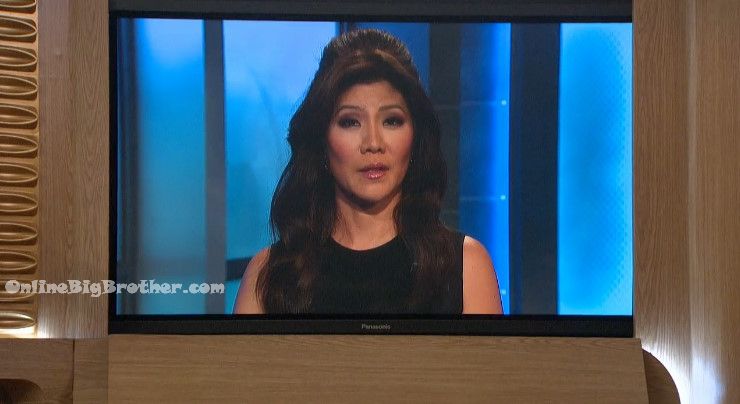 4:01pm Julie chen Q and A
CBS All Access Live Feeds! Test them out 1 Week for FREE!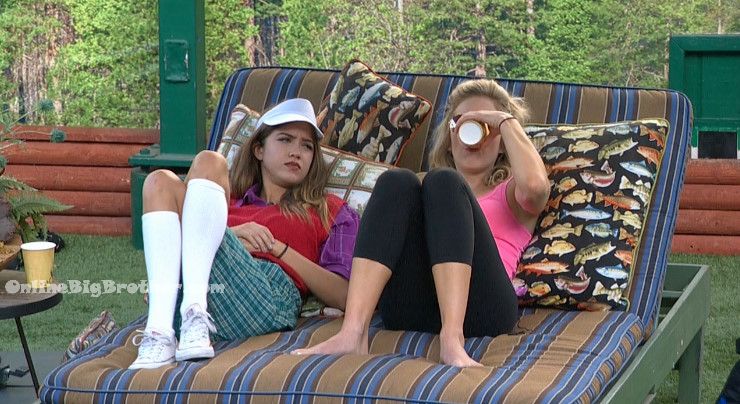 4:19pm MOrgan and Shelby
Shelby is complaining about Jason "He was glaring me down during the eviction last night.. ugh.. get over it"
Morgan – it's so petty
Justin comes by and offers to get them a drink.
Morgan – thank you love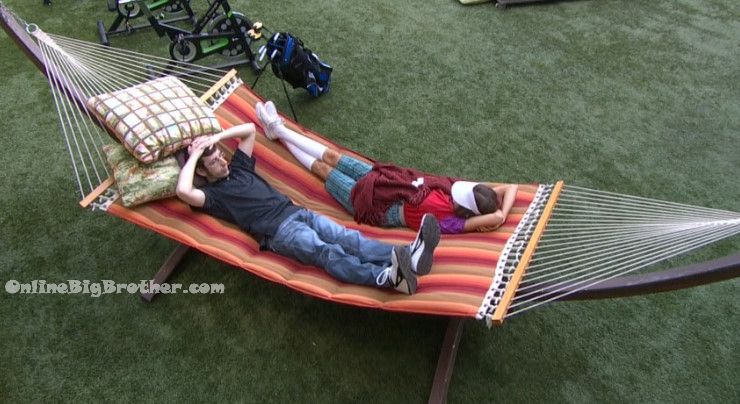 4:46pm Shelby and Scott Hammock
Scott says Shane is the outsider out of the other side.
THey agree it's best to study in smaller groups. Doing this will avoid one wrong answer taking out the entire group.
They wonder when Justin is going to start playing.
6:47pm Chit chat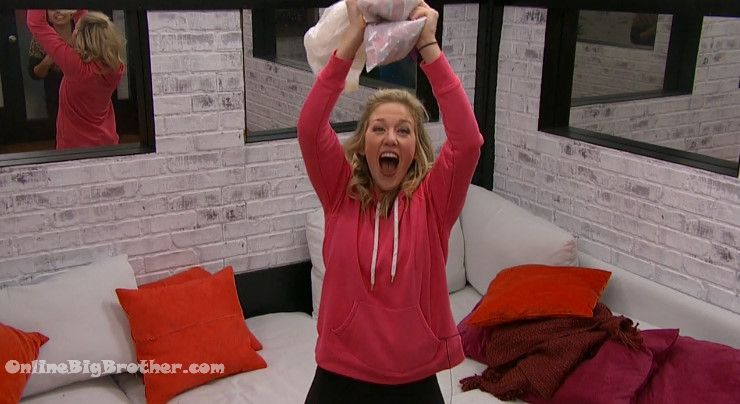 7:26pm Krackle bag FOUND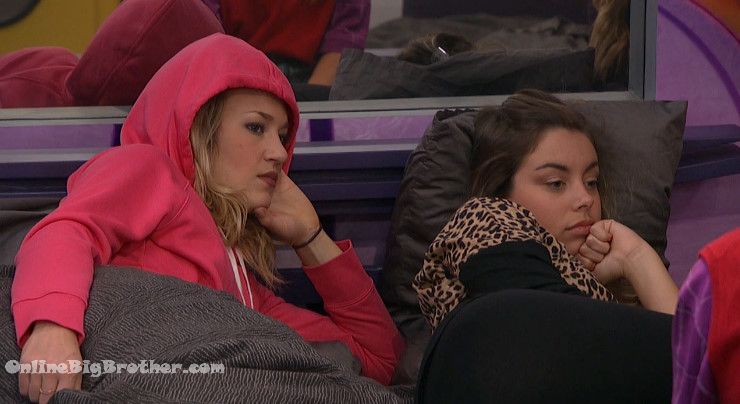 8:25pm Morgan, Shelby, Whitney and Alex
Talking about Danielle saying she's a big threat. Alex says Danielle is a big threat strategic 'She's go t a lot of people in her pockey"
Shelby calls her a snake, 'Shane's more of a Snake"
Alex agrees.
Shelby says it was Danielle that got Kryssie to "Pin it all on Scott.
Shelby – it was Danielle talking but it was Kryssie talking
Whitney bring sup what if one of them goes up beside Danielle/Shane/Kryssie
Morgan counts votes says they have 3 and the other side has 4 and America's vote..
Justin comes by says he's made them food.
They all thank him for cooking. Chit chat..
[polldaddy poll=9550340]