Scott won the care package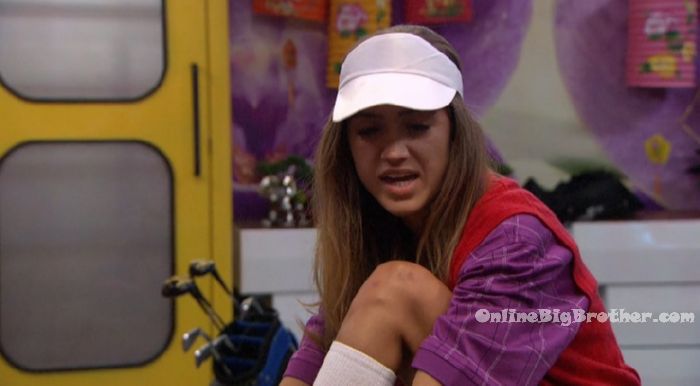 8:30pm Whitney – what if they send me it (America's care package).. because its my birthday tomorrow. That would be the best birthday present. And that it was a good one. Shelby – yeah like your vote counts as two. I was hoping my golf bag would count as an another vote.

8:30pm Backyard –
Jason, Shane, Danielle, Scott, Kryssie and Neeley talk about the Grammy's and MTV awards. Rihanna showing her b**bs. Neeley – the categories are what tickled me. Jason – best an@l. Best new comer. Kryssie – best bl*w job. That's one thing that I don't think I could do. I think I could f**k on camera but I don't think I could give a bj on camera. I think I would look way grosser giving a bj than getting railed. My bj's are not graceful. I give the slunkiest bjs ever. I always joke that the proper depth is ggggAGGGHHHH. They head inside to eat.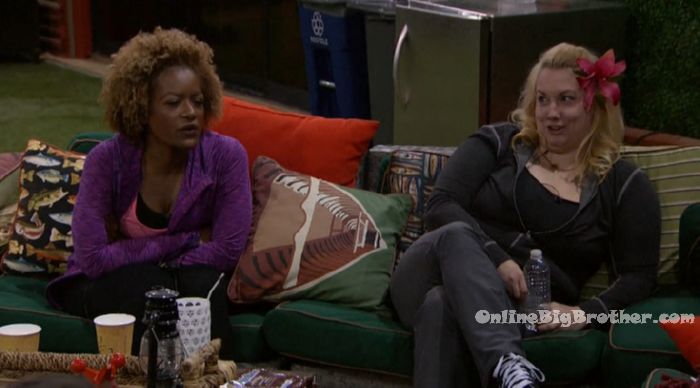 9:10pm Bedroom – Morgan and Shelby. Morgan – what are the chances of Kryssie ever flipping to our side? Shelby – I think we'll find out after this conversation. I would say pretty low. Morgan – I don't get their side of the house. I don't think they think anything game wise. Shelby sarcastically says you're a snake if you talk to the HOH. Shelby – so you think we should do anything.. I think we should leave the wrappers in the spot where they left the crackle bars. So when they look for them, they just find wrappers. Morgan – that would be funny. Shelby – maybe I should just stay out here to make sure people aren't listening. Alex – I mean Shane freaking said it so he can deny it all he wants.. but Scott can back him up and be like hey you actually told me this so you're a liar. Shelby – hopefully Scott has the backbone to do it. Cuz Scott was like.. I called out Kryssie. His way of calling her out was just not calling her out at all. Morgan – I would be interested in seeing if he follows through with this nomination speech. Alex – maybe he's America's Saboteur. Shelby – his DR's are sooooo long. Alex – if one of us go home this week.. we might as well let them pick us off one by one. Shelby – its funny they keep going after me too.. I suck at comps and everyone hates me. I could not be here without you guys. I would just sit in the hammock all day and try not to explode at all the dumb sh*t they say.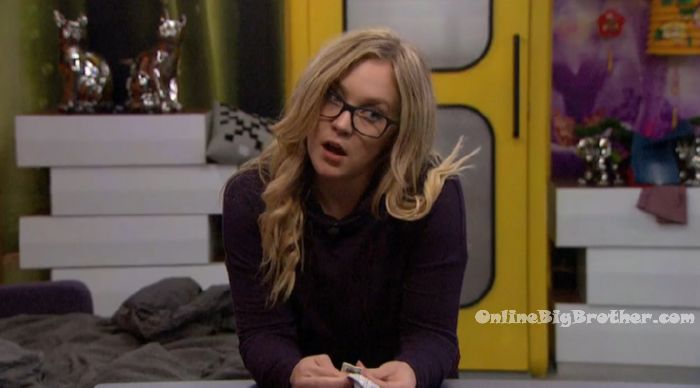 9:20pm – 10:30pm Havenot room – Alex, Morgan and Neeley talk. Alex – I know you're pissed at me. I get it. I literally had you screwed over this week. I just want to sit down and be honest with you. When y'all came up and told me to put up Scottt, that was honestly something I was going to do. Till it came out that Shane had told someone from our side that originally the plan was to put Scott up and that y'all were lying to me and that Scott was going home. That's why I put Kryssie up. I knew she would get xereo points. Neeley – I never had any issues with Monte. Lets all just try and be a little bit more friendly. Neeley and Alex hug. Neeley leaves. Alex – that was the weirdest conversation.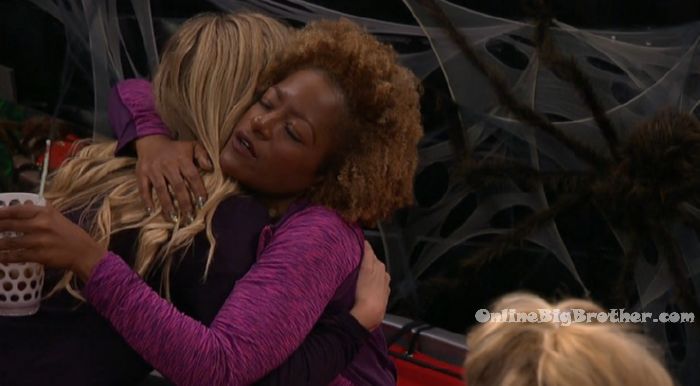 11pm HOH room – Scott, Shelby and Whitenn. Scott – I have more information on him now. I'm going to try and bury him in my speech. I'm hopoing my nomination speech. Whitney – I just think that Justin isn't a fake person and he sees that they are. Scott – I already tried to trick Shane to get out his shomance but oh well. I feel like Danielle is a good America's nominee so if I vote her.. Depending on what America chooses as havenots, America's care package and America's nominee… Shane is going up no matter what, its just the other nominee. Alex thinks Neeley will get America's Care Package. Scott – If I happen to pull house guest choice I will pick Alex. Scott – as far as the week it should be a pretty straight forward one. Shelby brings up how Danielle was eating peanuts and said they tasted like peanut butter. Neeley looked pertty annoyed with her.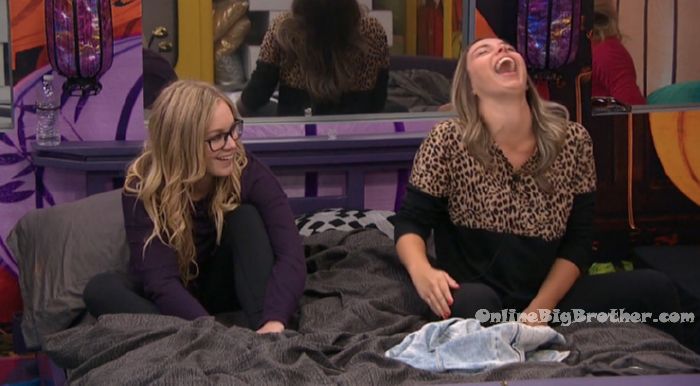 12am The house guests sing happy birthday for Whitney.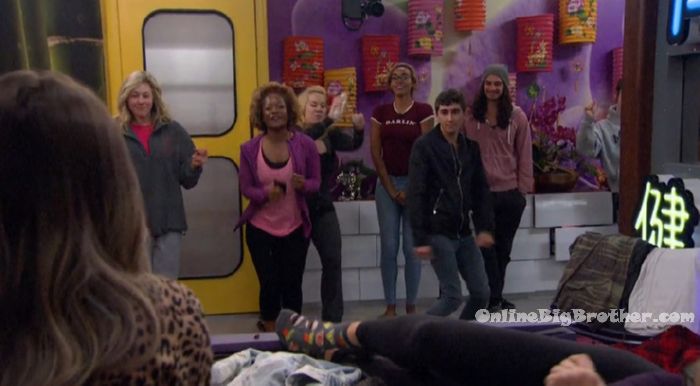 12:40am Backyard – Shane and Jason are talking. Shane – she is saying she knew when we went up there. No she didn't know until after. When Scott and me were coming downstairs he was on my ass. He was following me. I said I have to go the bathroom and he said he would wait. That's why I know he didn't say anything. I said I'm voting for Monte. He said he was voting for Kryssie. I'm not changing my mind, I made a deal with Alex. I told him his f**king deal is over .. you're safe. He said no, no you've got to trust me and then of course he doesn't vote for Kryssie he votes for Danielle. Jason – he was trying some sh*t. Good on them for trying, we tried too. Shane – I can't wait to be HOH if I'm here next week. And if he does put me I up and I win the veto. I'm just hoping they put Shelby up. Kryssie joins them. Kryssie – I volunteer to be a havenot. Kryssie, Danielle and Justin join them.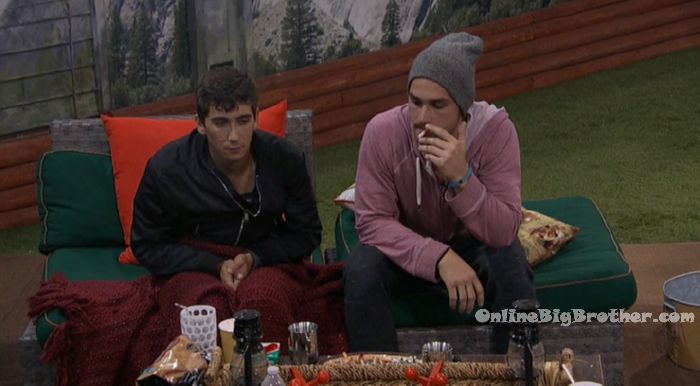 1am HOH room – Justin and Scott. Justin – I don't trust Shane and Danielle one bit. It's me or them. If Shane and I go up, she is voting me out. Sh*t crazy.. I know the first thing they're going to do if they get HOH. They're going to try and get you out. Scott – at this point I have nothing to loose. Justin – just know I'm not coming for you. Scott – I'm glad you're saying this. Our minds are in the same place. Justin leaves. Scott does some fist pumps.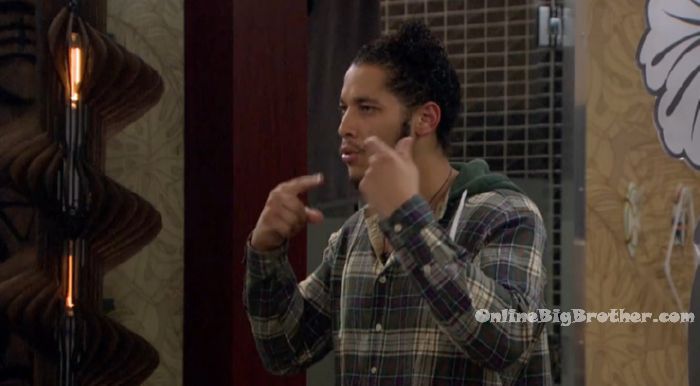 1:30am – 2:30am Backyard – The cameras switch to Justin, Kryssie, Danielle and Shane talking. Kryssie – I think it started from Neeley says you (Justin) would be a good dad. Justin – then it developed into some deeper sh*t. I never wanted to sit here and talk about that sh*t so I'm sorry. I'm sorry if I hurt somebodies feelings or if I hurt your (Danielle) feelings. That wasn't my intentions. I don't need you depressed and crying and sh*t. Neeley – my stepdad raised me, I had a great childhood. My biological dad sucks. Justin – I love y'all very much. Kryssie – I think we all agree that's an uncomfortable subject that we will never touch on again. Justin heads inside. Danielle – him saying he wants to have multiple children by multiple women is just selfish. He can't spread his time between all those infants. You can't share your time between all of them. And the comment that he made about my sons father.. Kryssie – I don't think he realizes what he just did. I think he was feeling attacked. It wasn't right for him to say that at all. Danielle – as a mother I can't let someone speak like that. Kryssie – I don't think he realizes what he did. Justin comes back out. Danielle – the comment you said really affected me. I wasn't trying to attack you. I just understand how a child develops and what a child needs. Wanting to have multiple children by multiple women is a selfish thing to say. Justin – says he's sorry. I just want to be fruitful and multiply. I am sorry, I'm really sorry. I am pretty sure Neeley hates me. Justin heads inside and apologizes to Neeley. Neeley says its okay.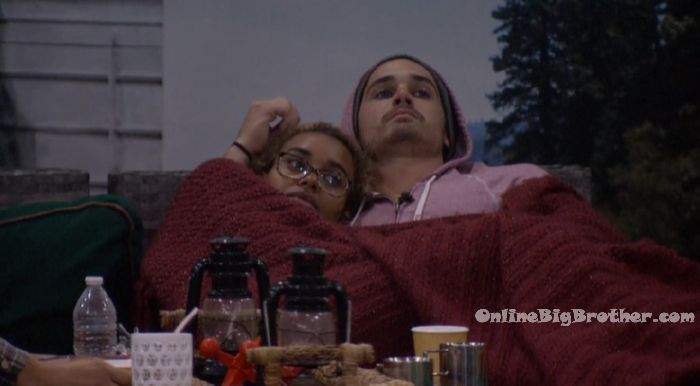 3am – 4am
The house guest chat and then head to bed.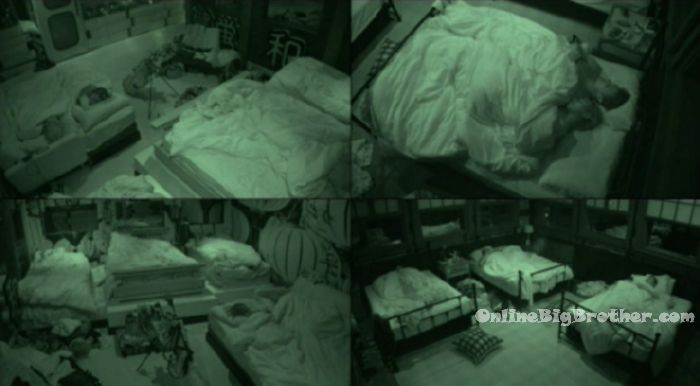 Show your support by making a donation.
By giving a tip, you're helping keep the spoilers coming. Without your support this site and these updates wouldn't be possible. ANY amount is greatly appreciated.