POV Holder:
?
POV Competition
Sept 3rd
POV Used
?
POV Ceremony
Sept 5th
HOH
Victor
Next HOH
Sept 1st
Original Nominations:
? AND Big ?
After POV Nominations:
? AND ?
Have Nots
? and ?
Watch the next week of the feeds for FREE – 1 week Trial!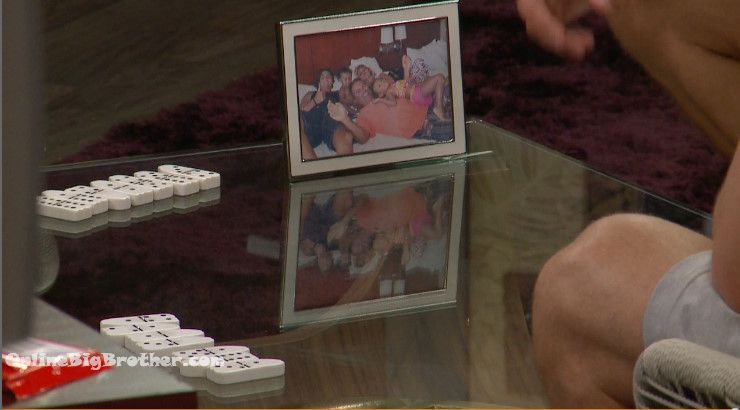 12:20am Dominos..
Victor – Dominos is huge in Puerto Rico
James- they play this a lot in prison..
12:46am
Dominos
Natalie was called into the Diary room.
Nicole losses 2 games jokingly says – I don't like playing you guys.. I'm taking a breaK"
They all have a blast laughing away as they play dominos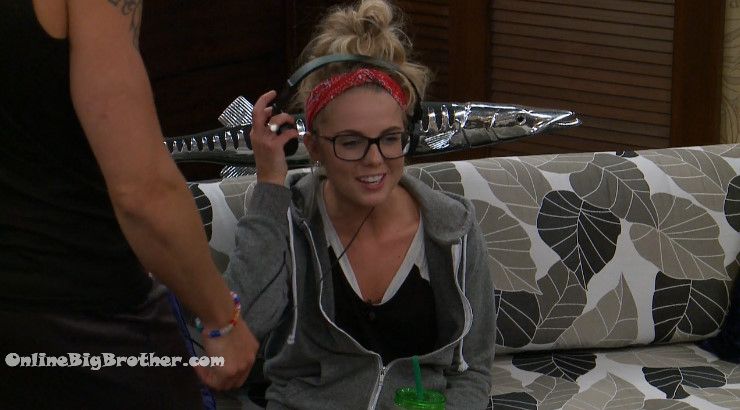 12:52am HOH JAmes, Victor, Paul and Corey
Paul – 13 days after next week.. 13 f***g days.. That's nothing.. That's Nicole's HOH in the beginning..
Paul – I found my versace cologne in my bag didn't know I had it
JAmes says the person that goes next spends 7 days in the Jury.
Paul thought they went to Jury
James explains that you go to the hotel room for 1 week then to the Jury.
Paul hopes they can get the "DRs" out of the way so he can shower and sleep.
Corey wants to go to bed.
Nicole – is Drake rap
Victor – I don't think you like that music
Corey how can you not like that music
Nicole – how do you not like this music..
Corey – ya it's good.. everyone likes it.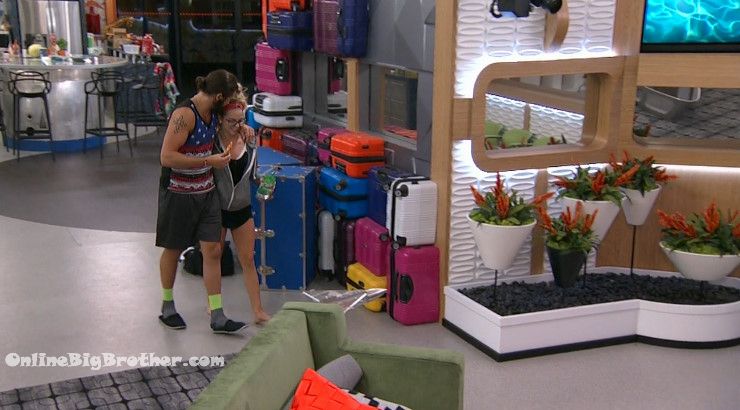 1:00am Victor and Nicole
Vic – we made it to final 5..
Nicole – I know it's been crazy
Victor – you're telling me.. I was telling you we've had a hard a$$ road to get here.. Fool's been on the block 5 times evicted twice..
They reminisce about the season.
Victor points out hot Michelle would get pissed at "them" because they weren't fans of the show.
Nicole says Meech only started watching Big brother for 3 years Nicole says that really doesn't make her a super fan. Nicole been watching it for many years.
Victor says they can breath again..
Nicole – nothing bad has happened since you've been back.. 5g's, you and your BFF are safe, made an alliance and now you are safe..
Vic – I just want James to leave soon… I don't want him lollygagging
Nicole – he's just going to like chill up there
Vic – I don't know what he wants to say to me.. He literally can't say anything to me.. I had a conversation with him before I left about him saving me he didn't save me I left so what does he have to say to me now..
Vic – He was.. it's just Strategy.. Okay 'G' my strategy now is doing the exact same thing..
Vic – I guess in his defense you gotta say something..
Vic – His girl put me up and he sent me home what can you tell me at this point that will change my mind.. They knew that going into the competition and they knew that when they lost..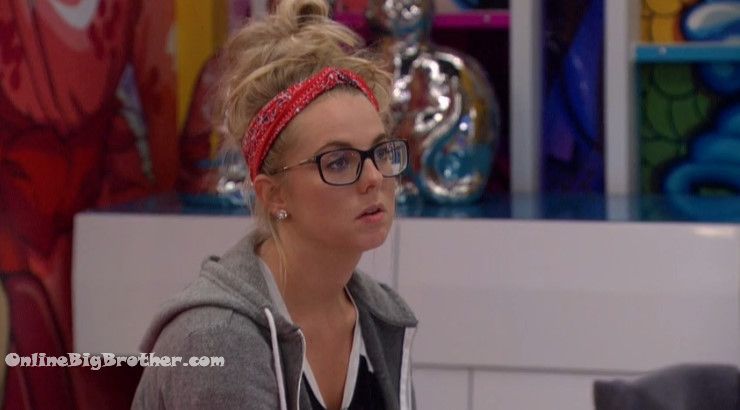 1:07am Nicole and Corey
Making plans to hang out with Victor and Paul all week.
Nicole – James is going to tell him we were working with them..
Corey – yeah,… I don't think that will change anything..
Nic – what are we going to say about that
Corey – i'll say YA why that's why I threw that Veto comp…
Corey – we gave him 5 thousand dollars..
Nic – you mad at me.. You are being standoffish
Corey – no i'm not
They notice Meech "tore up Corey's basket"
Nicole – meech's here for 1 week and it's destroyed
Nicole – Correeeyy I can tell you are being weird.. Don't be standoffish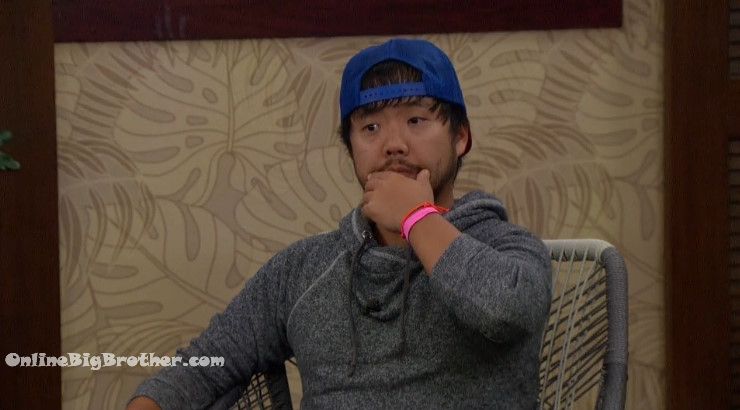 1:10am HOH Victor, James and Paul
James says he wants to talk to them in case they have nominations early.. "OK.. well down to final 6 I feel like.. My backs up against the wall.. Umm I know you guys are probably close with Corey and Nicole.. You know which is cool"
James- but I wanted to come at you like.. And explain some of the stuff that happened. There was a reasoning to what happened… I wanted to straight shoot it with you..
James says he knows he's going up on the block tomorrow..
James- I spoke my word and my game, it is what it is at that point.. I'm not going to BIG MEECH YOU (LOL)
James – back a week ago when you were on the block you were campaigning for my vote, the reason I didn't give you my last vote and the reason I didn't commit to a final 4 with your guys because me and Natalie had a final 4 with Corey and Nicole.. That is why I couldn't commit I was being loyal to Nicole or Corey.
Victor – was that final 4 made before or after Paulie left the house
James – after
Vic – exactly.. Cause we were together before Paulie left so after I did the dirty work you switched to them.. And then it went to use being the targets.. And I get it that was your game..
Vic – I got all the flak for Paulie leaving and after that you just hopped ship before everything happened
James- ya ..
Vic – I would have understood if you were with them before Paulie left.. You were loyal to use when it was convenient..
James – right.. But
James – I deserve to go on the block.. But Natalie wanted you to stay the whole time .. She really wanted you to stay.
Victor – If you go up it's not that I want her to go home.. The situation is the same just flipped on you guys..
James- I'm at fault not running from what I did I deserve to be on the block I didn't want to hold it against Natalie..
Vic says her going up has nothing to do with her it's the attachment with James.
James is about to tell them about how he was on the fence about keeping Victor and Corey told him.. Corey and Nicole walk in before James can finish.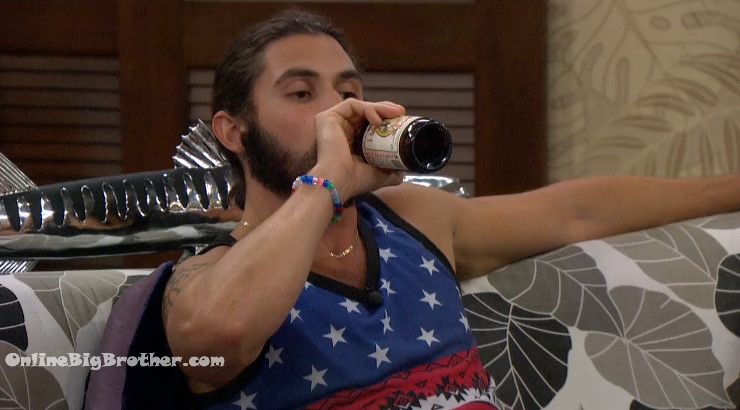 1:23am HOH Final 4
Going over the James conversation..
Victor – basically he can't say anything..
Paul – he was trying to keep Natalie out of it..
Paul – I told you they approached about a final 4
Paul – they (Natalie/james) literally shit on both of you and presented it to us..
Nicole – they're dirty..
Corey – they weren't loyal
Paul – save Nat save nat save nat.. No no no no
Nicole – Nat just told me in the bathroom she didn't want Corey to go she wanted Vic to go
Paul – let's bring that up (Please)
Victor – you showed us we can trust you and now I'll show you can trust us..
Nicole mentions what was James argument about wanting Paul out 2 hours ago
Paul – no argument.. Never brought it up..
Nicole – Natalie is going to freak out..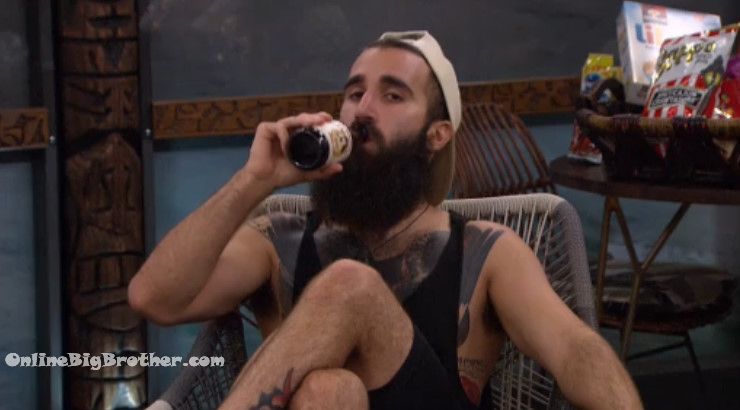 They have a beer.. "Has a nice IPA bite" (of course Paul likes a IPA)
Nicole – I never realized how dirty they played
Paul – why do you think the jury house hates them..
Victor wants James gone this week he wants the "satisfaction"
Nicole – I want the satisfaction of keeping Noms the same..
Paul says Corey should say he's voting to keep James and Nicole should say she's voting to keep Natalie than Paul is the deciding vote and it'll force them to talk to him. (AHAHAH beautiful)
Victor is going to say to Natalie that she's not his target like he wasn't her target.
They talk about how the entire jury house is pissed at James and Natalie.
Nicole says James and Natalie played everyone dirty.
Paul points out all these people say that they love this show so much and they go out like a sour little b1tch.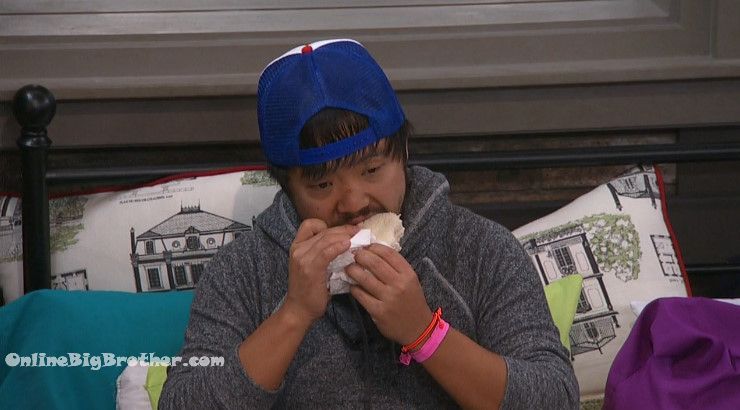 1:40am Natalie and James
Natalie – what's wrong
James says he talked to Victor
Natalie – it didn't go well
James – I pretty much sealed my fate so you can stay.. (champ)
Natalie – that just made me sick to my stomach..
Natalie can't in in this game alone.
James- I gave it to him straight.. The reasons why I did what I did.. I said Natalie didn't want any part in you getting out..
James- I said I'll go home.. I decided to flip on you guys
James goes on about how he told Victor he deserves to go up but Natalie doesn't.
James says Victor told him Natalie is not the target.
Natalie – see they are all working together..
James says Victor feels they betrayed them because they flip on Victor and PAul after Paulie left.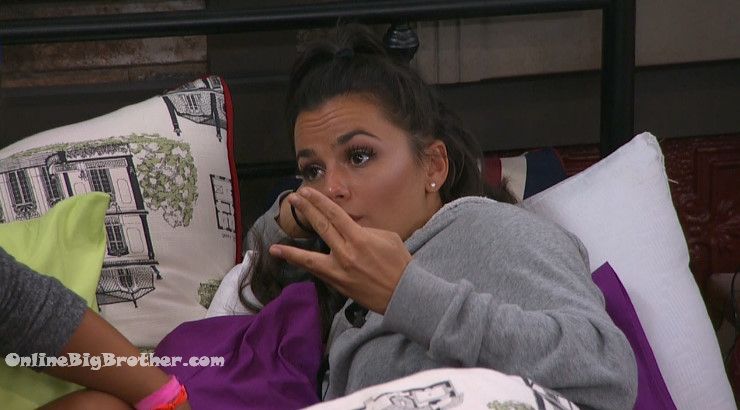 Natalie – I should have won this HOH I would put Nicole and Corey up
James- Victor will want me to go home this week.. Nicole and Corey will agree..
Natalie – my heart can't take it..
Natalie starts to cry says she can't win comps and they will target her.
James says they might do an eviction on wednesday they might not be apart long.
James- Nicole knows .. and that's my fault.. that you wanted Corey out instead of Victor.. So if they win they'll put you up
Natalie – i'm going out
JAme s- not if you use the veto
Natalie says if she wins the veto this week she'll use it on him
James- this ain't my first rodeo.. Honestly it felt good I got a lot of things off my chest.. All those secrete..
James says Nicole and Corey are nervous, "They know our butts are on the line"
Natalie says James deserve to win this game, "If I go to Jury … I want you to make it far.. Getting separated from you is going to be hard for me"
JAmes- if I don't win that Veto I'm going home" (I shit on James and it's really more directed to his gut not him. he's taking all this like a champ)
Natalie – they are going to lock the noms and you are going home i'll be really sad..
James – they're is a chance you can win.. You're not a piece of meat sitting out on the yard.. You're a person
Natalie says she's been trying on every competition, Nicole and Corey have been throwing comps all season and winning more than her.
1:53am HOH Corey, Paul and Victor
Paul tells Corey they have nothing to worry about what they did last week showed them they c
Final 4 #BB18 @DawgsBigBrother pic.twitter.com/02u5dWap8d

— OnlineBigBrother.com (@bigbspoilers) September 2, 2016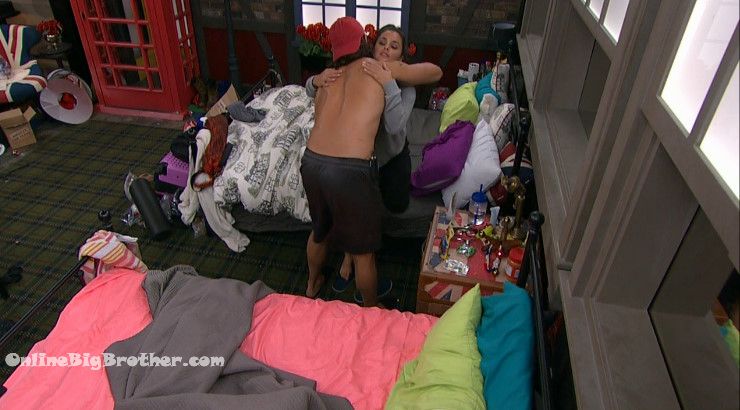 1:55am London room Natalie and Victor
Vic – I wanted to tell you like you told me..
Natalie – thank you for telling me I appreciate it..
Vic – when I put you on the block I didn't want you going home
Victor says James is his target..
1:58am Victor HOH
Victor – I leave come back leave come back..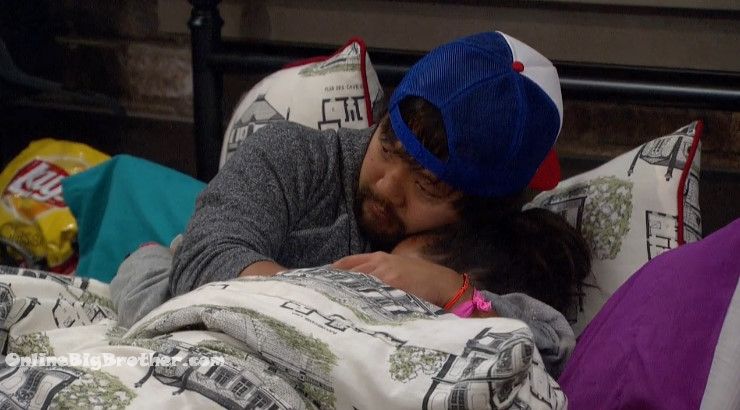 2:06am Natalie and James
James saying she's not the target this week and next week Natalie won't be the target either
James- I like being the target I feel like a bad ass
Natalie thinks one of those 4 will be 500 000 dollars richer
Nat – we literally had Vic and Paul trusting us.. I should have not listened to you
JAmes- we don't know what would have happened if Paulie came back in
James- Paulie was a smooth talker man.. him and Victor were broing it yup on the damn wall..
Natalie – i Could have won this comp and kep us safe.. we almost had it..
James – I spent 80 days in this house with you it's been a good run.. no being sad.. l;ets me happy and positive.
Natalie – yeah Nicole really wanted Vic to win..
JAmes – of course she did it's strategy
Natalie – I knew in my gut James not to trust them.. I also knew not to trust Paul..
Natalie – if you leave this week Paulie is goign to be really happy..
James – Paulie really doesn't care.. he cares in the game but he doesn't care on the outside.
Natalie again says she'll use the veto on him
James says he won't accept it
Natalie – James i'm not going to last in this game I'm goign to be alone in this game that's scary..
Natalie asks who she should put up if she wins HOH.
James says she should put up Paul and Nicole.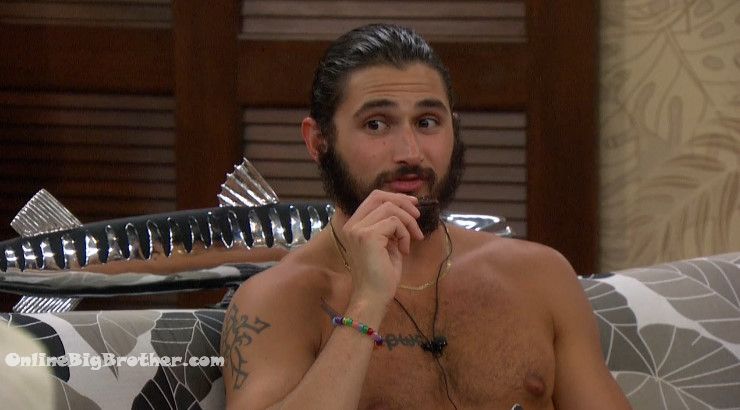 2:15am HOH Paul and Victor
Victor says he was praying during the battle backs that he didn't see Paul coming "through that fog"
They talk about the amazing journey they've had this season.
Victor says when James comes through the door Paulie will be so happy "he'll have a boner" (LOL)