POV Holder:
?
POV Competition
Sept 3rd
POV Used
?
POV Ceremony
Sept 5th
HOH
Victor
Next HOH
Sept 1st
Original Nominations:
? AND Big ?
After POV Nominations:
? AND ?
Have Nots
? and ?
Watch the next week of the feeds for FREE – 1 week Trial!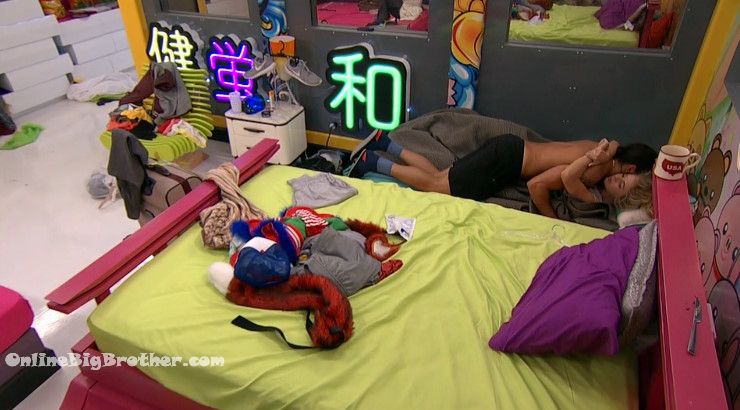 10:32am Victor and Nicole Tokyo room
Victor – how do I smell..
Nicole – mmmm good
Vic – man smells.. Feels good to smell good finally..
Vic – wake up so we can eat breakfast..
Nic – anyone else up ..
Vic- Corey would if you were..
Nic – We didn't get to bed until 5
Nic – Does the TV show nominations
Vic – I never look at that.. Fool. doesn't care..
Vic goes to check.. "No"
Vic – wake up so we can eat breakfast.. #BB18 @DawgsBigBrother pic.twitter.com/ivnwLyZ9lY

— OnlineBigBrother.com (@bigbspoilers) September 2, 2016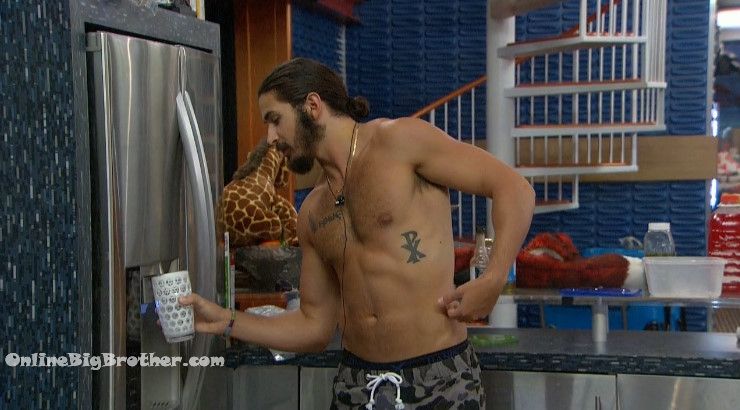 10:55am Victor making eggs for Nicole.
Vic says it feels good to smell good finally, "after smelling like d1ck all season"
Nic – you had good body spray..
Vic – now with the body wash and the shampoo.. Body spray deodorant..
Nic – thank you so much Victor
Vic – you're welcome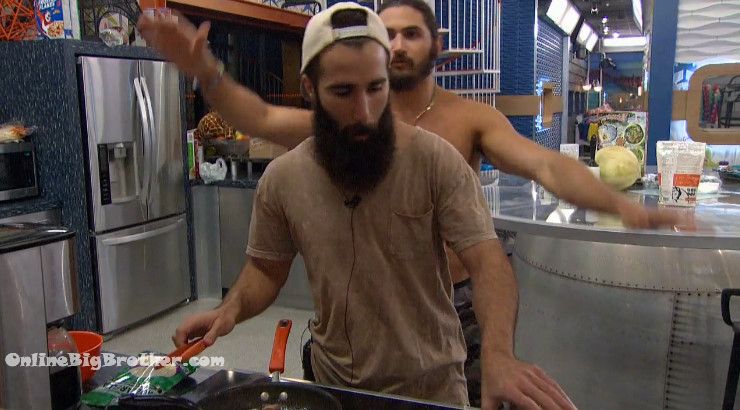 11:11am Kitchen Victor and Paul
Vic – we made it to final 5 we made it to final 5..
Victor talks about his 2005 Honda Civic that we wants to keep it running, "Have her as my forever car.. If I keep maintaining her she'll live forever.. I'll get to the point I'll change the engine if i have to" (we both have forever cars :) )
Paul mentions that it might be cheaper to just buy a new vehicle than repair one over and over.
Victor – but there's nothing wrong with her..
Victor – I'll have Her for years.. That car is legit..
Victor goes on about keeping it and telling his kids he had that car when he was in college.
Victor talks about heading to Texas A&M football tailgate with Corey, "we can do all the things he said,… like the trophy room"
Paul says he's never done anything like that before.
Victor – it's fun you'll like it
Vic – dude that memory wall bro
Paul- f** looks good.. f** everybody..
Paul says how James shit on him 30 minutes before evictions says they don't owe him anything.
Victor says this will be the easiest nominations yet.
Paul – you have a speech
Vic – no
Vic – we made it to final 5 we made it to final 5.. #BB18 @DawgsBigBrother pic.twitter.com/ypz1VR39Vg

— OnlineBigBrother.com (@bigbspoilers) September 2, 2016
11:38am Kitchen Paul and Nicole
Talking about how immature Tiffany and Bronte where.
Paul – I was the baby of the cast.. Can't wait until you meet my family.
Paul says he loves to argue.. he was on the debate team at public college and university.. "Public speaking.. never cared"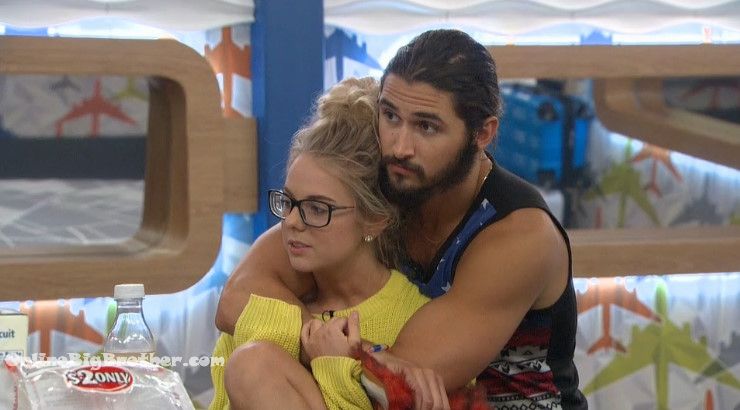 Victor comes back from the Diary room wraps his arms around Nicole..
Natalie joins them.. Chit chat..
Victor says he started school doing English then moved to History followed by Marketing finally settling on Finance.
Victor and Nicole #BB18 @DawgsBigBrother pic.twitter.com/yrOLOldc5J

— OnlineBigBrother.com (@bigbspoilers) September 2, 2016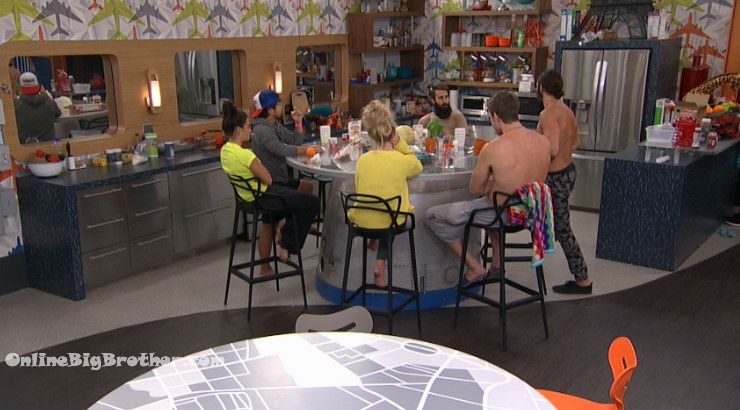 12:44pm Everyone up now random chit chat..
12:49pm Nicole and Victor up in the HOH playing Dominoes.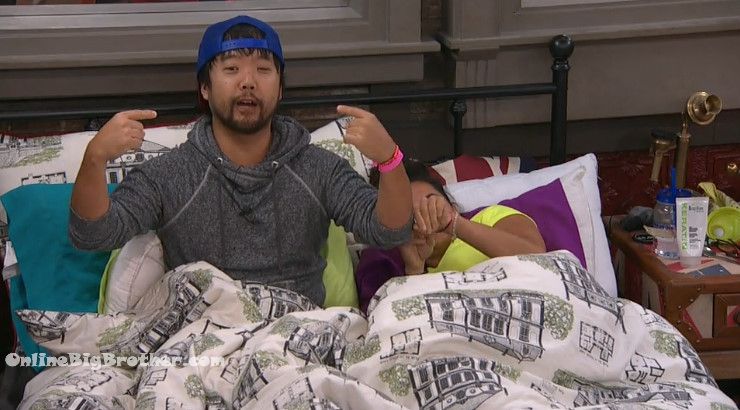 1:08pm London room James and Natalie
James – so what's today day 80
Nat – it's the day we're going on the block together BABE
James- day 8 zero
James – what's up America.,.
Nat – me and James are going on the block today..
James – it's day 80 in case you guys didn't know Your boy is finally a target the true target
Nat – the target of the house
James – i'm the target of the house going on the block.. this ain't my first rodeo.. But.. hey.. I guess I can't say I played big brother if I didn't hit the block right
James – she's going on the block she's not the target she's just a pawn..
James- If I win the veto then she become the target..
Natalie – or if I win it and give it to James
James- Actually that would be really interesting
feeds cut..
When we're back James is calling Paul a flip floper..
Natalie saying she can't trust Paul (Fries) but she always thought she could trust Victor.
James says he was working with Corey and Nicole since day 1 he thought they were with them.
Natalie says Nicole doesn't talk to her again just like sh'es been "all season"
James says Nicole doesn't talk to him either.
James says he hates how "they" (Final 4) are making them take all the heat for everything
Natalie is pissed because they tried to take out Paul and Victor the 2 strongest players and Nicole and Corey jumped ship.
Natalie – I didn't trust Nicole I didn't trust Corey.. I should have put my foot down.
Natalie – but you really trusted Nicole and Corey I should have been NO
Natalie – our social game was weak we were napping all the time..
James says every week someone has to go
Natalie – I'm going if you pull your'self off but I promise I won't be mad about it..
James says he was blindsided he didn't see it coming.
Natalie says she saw it coming a mile away..
James says he will not accept her using the veto on him, "Win it pull yourself down… "
Natalie says she's just going to lay low after he leaves lay low and tan.
James- yup and when that HOH starts you turn up..
James adds that when she wins the HOH and puts two people up she says "This ones for James"
Nat – I told you so we can't trust Corey and Nicole
James- yes you did my little nugget, you did tell me so
Nat – would have been easy to get Corey and Nicole out then it would have been you me meech vs Paul and Victor
James- YES I messed it up that's why I'm leaving..
Nat – you said you trusted Victor too
James- I still trust Victor.. I didn't trust Paul..
Nat – and Nicole planted that seed (FRIES)
Nat – I should have never listened to her.. she never talks to me.
James- Jozea called it though all Nicole does is sit on the Hammock ans scheme..
Natalie thinks Nicole will win
James doesn't
Natalie says the one HOH she won she screwed up she betrayed the 2 people that trusted her
James- I know I screwed up too babe..
James – you better turn up
Natalie – I do you see how I turn up for the comps
James- you do
Natalie says Corey was telling a story about how he drank and drove before
James- i noticed that too.
(That is why the feeds were cutting out so much)
James tells the Corey "Uber story"
James explains that a girl was bl***ng Corey in his car. He called uber cab for her and he could see it driving close to his house but he wasn't done so he cancelled the uber. Then he finihsed and called it again and the same car pulled back in a minute later.
Natalie – he kicked her out
James- yeah he was like your uber's outside..
Nat – what a douche
James – I was like dam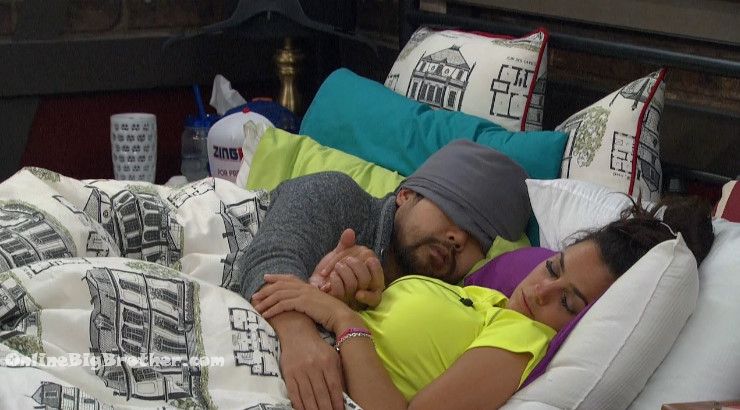 2:30pm…………………………………………
Dominoes all day every day #bb18 @DawgsBigBrother pic.twitter.com/2crTpROGeF

— OnlineBigBrother.com (@bigbspoilers) September 2, 2016
that's the way she is….. #BB18 @DawgsBigBrother pic.twitter.com/vIgYekEmTz

— OnlineBigBrother.com (@bigbspoilers) September 2, 2016

3:22pm London room Natalie and James
Natalie is going on how there social game was really poor last week they could have defended themselves..
James says he's 'Going out with his pride" this week.. (I don't expect much campaigning from James. He's down.)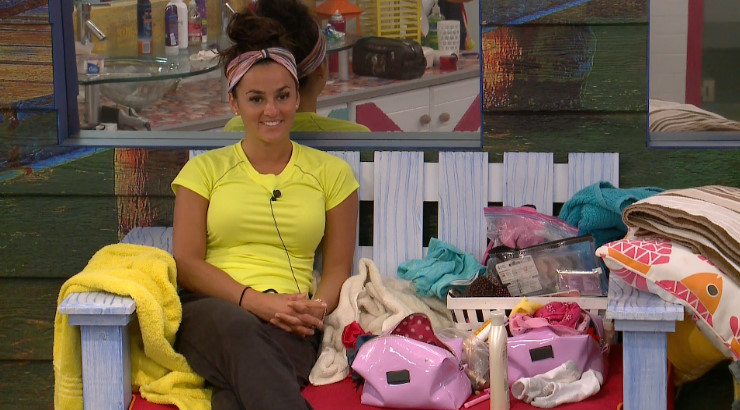 3:32pm – I'm still a Natalie fan and the Natalie fan club is still on.. thumb me down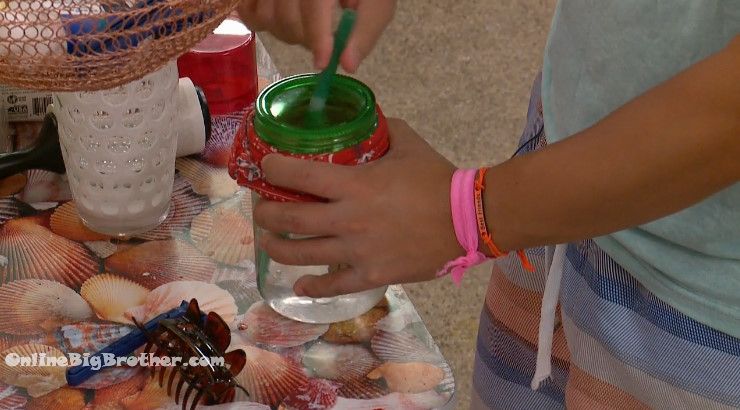 James put salt in Nicole's water.. (I hope he does more of this)
Natalie – you've been doing it all season so it's not maliciously…
James – prank number 1 going down..
nat – lets make this a fun week for us
James – lets make it fun..
James – alright.. salt in the water executed.. plan number 2 to get Corey..
Nat – how does it feel james to be a bigger threat than paul and Victor
James – feels pretty badass
Natalie – I honestly think Nicole and Corey won't get the vote to win
James- all they'll get is Paulie and Zakiyah,..
James – that's the thing about it it's how you treat people in the game… you can shit on people all you want but you gotta have jury votes ..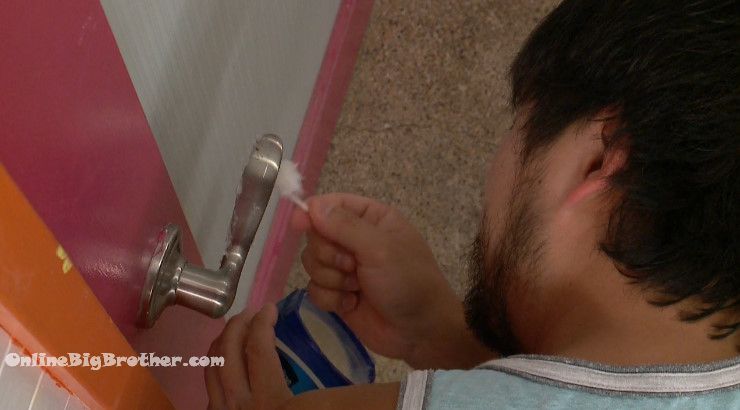 3:46pm James Vaselines the bathroom door knob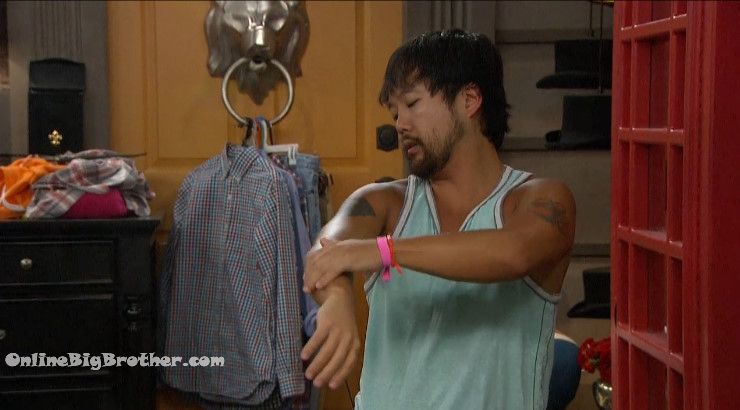 4:00pm
Natalie and James
Nat – she's smart she did what Derrick had said latch on to the strong competitors.
James – well she didn't do that her first season.. that's were she messed up at
James says he messed up his first season… "I was on point for awhile"
Natalie – it was sent from god literally that they wanted to work with us..
James – ya .. should have went with him I thought that Victor was more level headed..
Nat – AND LOYAL
JAmes – even if Paul wanted us to go up I feel Victor would have been no…
James – Corey and Nicole on the other hand this is a perfect opportunity to f***k them OK lets do it…
Nat – I knew that I just didn't trust Paul but you were like we can trust them (Nicorey) we can trust them..
James- ya… but it's because of the jury buyback we didn't know that.. that's what caused the whole chain reaction. (didn't the gut tell you)
James – if Victor would have just gone home it would have been different.. but hey that's the past there's nothing we can do different..
Natalie – now we look like the bad people.. they have all talked shit about each other..
they talk about Michelle's eviction.
Natalie asks James who was "Dan gooseing"
James – A pretty good Big brother player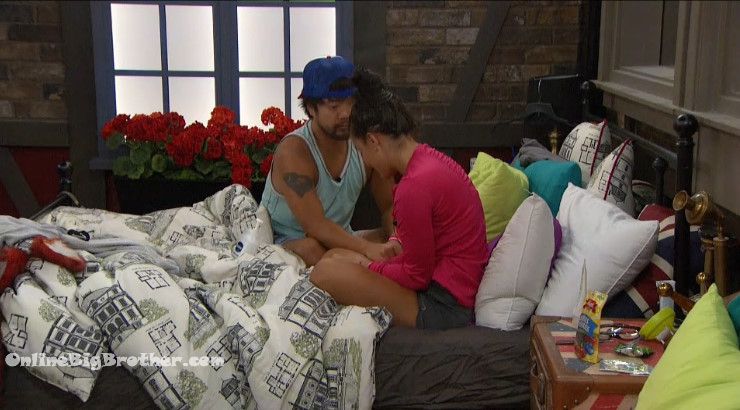 4:15pm
James tells Natalie she's the odd person "Paul and Victor will pull you in 100%"
James tells her to go to Victor and team up with him "I'm your vote in the corner.. be like I paid for it I lost James"
James – try to go with them.. DON'T throw your self to them..
James says don't go to Corey and Nicole . "They shit on our face"
Nat – i'm back to the old Natalie stick to my guns…
(Natalie is against Nciole and Corey… can this season get any better? .. thumb me down :) )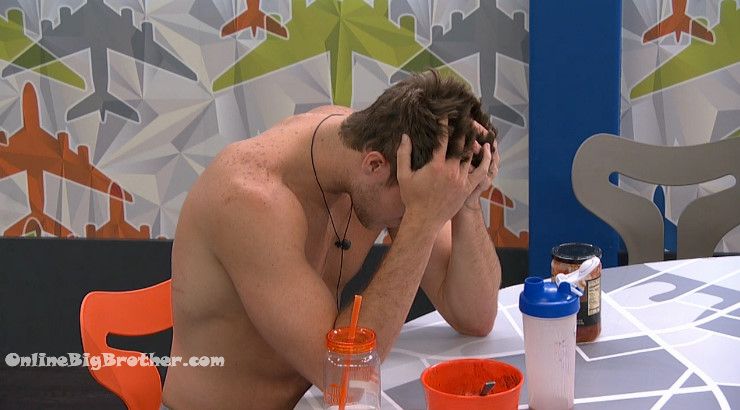 4:30pm chit
4:44pm Paul makes lemon juice (At least it's not fries..)
5:00pm Natalie telling James she sees them voting James out then her and the last 4 of them "Playing it out"
Natalie says Victor called her FT's
Natalie – all of them have said wrong shit…
James – I got Nicole with that Salt water..
Natalie says she saw Victor give Corey a hand single meaning they are all set to nominate the 2 of them.
Natalie says it'll be very satisfying if one of them win HOH next week, "i'll put Nicole and Corey on the block"