POV Holder:
?
POV Competition
Sept 3rd
POV Used
?
POV Ceremony
Sept 5th
HOH
Victor
Next HOH
Sept 1st
Original Nominations:
? AND Big ?
After POV Nominations:
? AND ?
Have Nots
? and ?
Watch the next week of the feeds for FREE – 1 week Trial!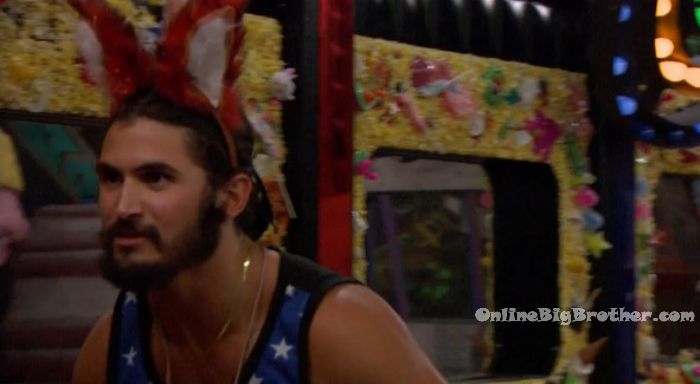 8:50pm In the havenot room – Victor is alone and celebrating winning the HOH competition. The portorican sensation strikes again. They tahought they could get me out!! Keep the ears on.. I'm the fox. OHHH I'll tear people up! UN-EVICT-ABLE! Corey joins them. Vic says Nat was getting close. Paul and Nicole joins them. They all celebrate. Corey says that sh*t was hard. Nicole says that was a hard one. Nicole tells Corey she is going to sleep in here with him. Vic says no but you're a have. Nicole says not yet. Vic says no one here is going home. We're guaranteed final five. Please we have to win the veto. Balls to the wall!! Vic leaves. Paul says don't listen to anything they say. Close the coffin.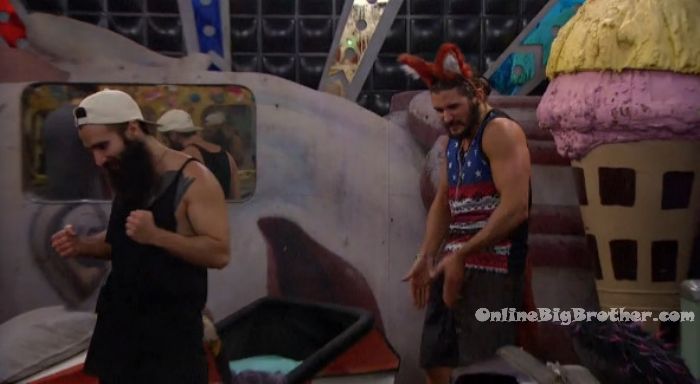 In the bathroom – Nat tells James if I win the veto I will use it on you. James says no. I know we're going up.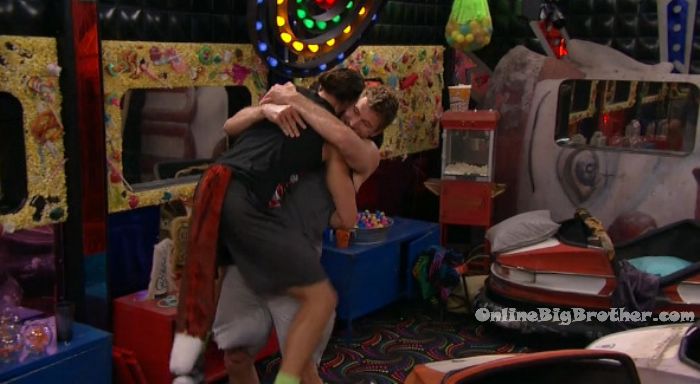 9pm
Paul, Vic and Corey in the havenot room. Paul says remember when you campaigned to get me out? Veto f**K YOU! Nicole asks is everyone else here related to a past BB player? Paul says she was lying. Paul says that Nat has been playing dumb when she's not. Once you take James away from her she will crumble and I will get in her ear all week! Nicole leaves. Corey and Paul talk about how they're going to make it to final 4. We sleep easy this week. Natalie is going to be broken. We keep it ambiguous so they don't know who is going. Get James out and Nat is crushed. Win the HOH and get the other out.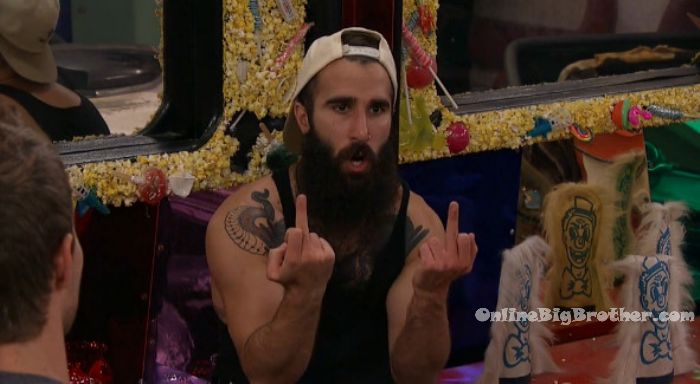 In the kitchen – Paul, Vic, Nat, Nicole and Corey. Nciole talks about how Michelle didn't talk to her all week. Nicole comments on how Michelle talked so much crap about her all season. Nicole says I did nothing to you. Nicole says I will not hang out with Michelle after this she had NO reason to crap on my so much. She's got me so fired up! Paul says you evicted her out of the house. You got her out, that's pretty bada$$.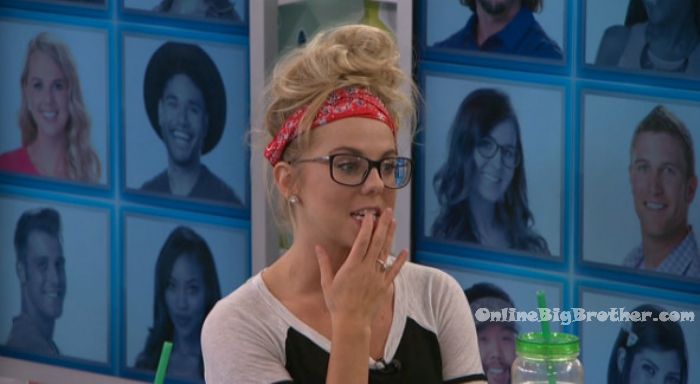 9:55pm London bedroom – Vic and Paul are talking. Vic says I don't care if people sh*t on us we played a phenomenal game. Paul says but we made it to top 5 .. you know that right? Vic says the sitting ducks. Paul says the sitting motherf**king ducks. Vic says I'm still in shock. We helped them and they sh*t on us so we ruin their game. Vic tells the feeders that he and Paul have had the hardest game right now. I have almost more comp wins than the people left in this house. Paul says man I hope I win the veto. They leave the room. Paul tells Nicole I've never felt so good. We've always been on opposite ends and this is how it should have been. They talk about how Meech would have gone the whole way if she had just kept her mouth shut. Nicole says and she flip flopped. Paul asks do you mind if I taunt her in the house this week. They talk about Meech and her exit. Corey says she told me she loved me. Nicole says I want to vomit.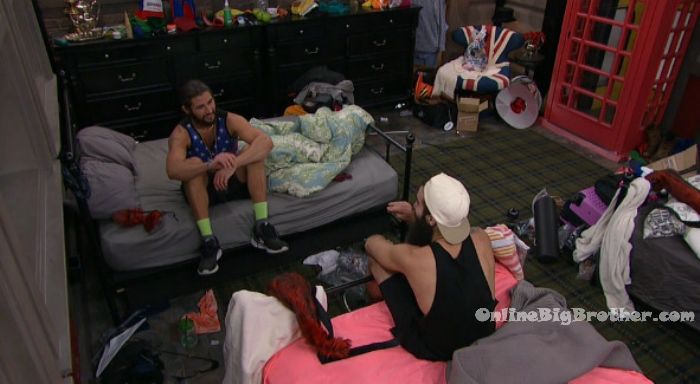 10:10pm Outside the HOH room – Nat tells James that I'm going on the block tomorrow and you'll win the veto or I'll win it and use it on you. We betrayed Vic and Paul now they've gone to Nicole and Corey. We should have never listened to them to put them up. Nat says I think I'm going home. Jame says they would be stupid to keep me in this game. Nat says I begged you to take Corey out. Nat says I just don't want to go home to a bad situation. I don't know if my family is proud of me. James says your mom was shaking pomp poms for you. Nat says why didn't I just put them up. Nicole and Corey are going to win. Just gun for that veto. I want you to gun for that veto as hard as you can. Nat says dude Nicole is good at this game. She trained Corey really well. James says well its time to play big brother.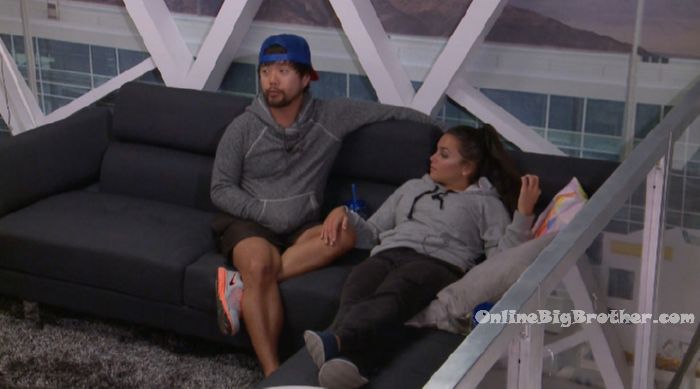 10:40pm – 11:35pm Nicole, Corey, Paul, Vic, Nat and James are hanging out in the bedroom chatting about random things. James and Nat head to bed. Paul tells Corey you should say you're voting out James. Nicole you say you're voting out Natalie. I want to be the flip vote. They'll have to come to me. I'll tell them I'll flip a coin and let Jesus decide. Paul says he'll tell them to pick a number from 1 to 10. They still won't know. I'm here for the mind f**k.
11:15pm – 11:40pm Nat tells James I'm ready to fight with you baby… with the truth! James says with the truth. Get it all out there and let the chips fall where they may. Nat says its just a game. Lets just have fun. Lets blow sh*t up. I have Bronte and you from this. James says and you made a little bit of money. Nat says I made it to final 6 .. why am I sad. It would literally be the best moment for us to be on the block together and for me to win the veto and save you. James says oh man automatically win America's Favourite player. You've been doing better at this game that I have.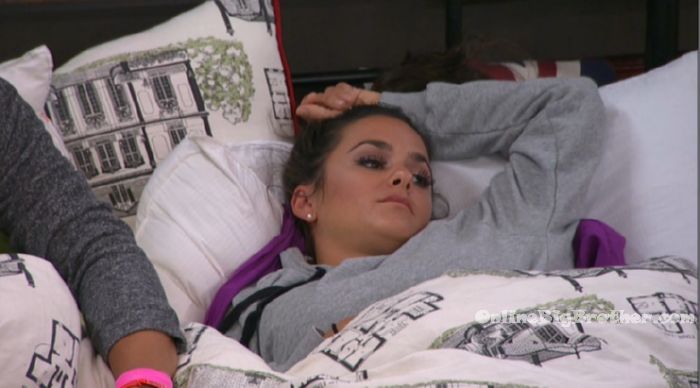 12am Paul says watch mid week she (Nat) is going to abandon ship. Nicole says she already is. Paul says she is going to get mad at him for something. I'm predicting Nostradamus. Paul says how are you going to beat Nicole … I don't know I'll figure that out after you're gone.
12:05am – 12:10am Vic gets the HOH room key. They all head up to the HOH room to see his room. They check out his photos and Vic reads his letter.
Show your support by making a donation.
Donations support this site more than anything. If you dig our spoilers please find a way to support us.