Head of Household: Beth
Nominations: Ro, Tera, Vic
The Power of Veto Players are: Rohan, Tera, Tina, Tychon, Breydon
POwer of Veto Winner: Rohan
Power of Veto Ceremony: Rohan used the Veto Vic went up.
Have nots: ?????
Big Brother Spoilers – Vic is in full throttle Campaign mode for these past few days. As of Thursday morning at around 11am Vic is being evcited.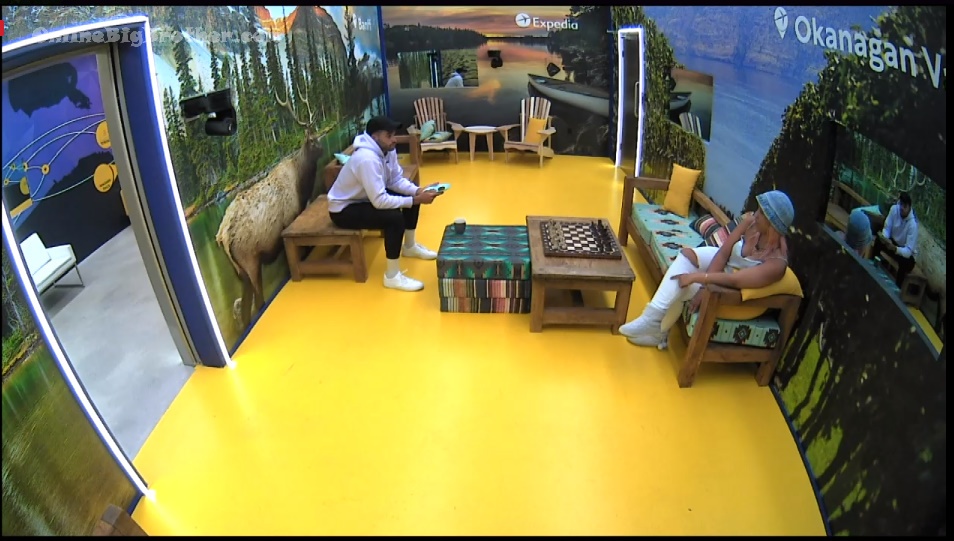 11:10 am Vic and Jed
Vic hitting all the same talking points we've heard from yesterday. Jed doesn't say much other than "Yeah"
"they are coming for you"
"Dead a$$"
"I'm loyal to ghost peppers to the end"
"I'm after Ro"
"Tera and Ro are working toegther"
"If I win I'm backdooring him (Ro) with you guys"
"Tera and Ro are tight I see things o guys don't see"
"I'm here to fight with you guys. I am here to fight to get Ro out to get Blue line out. "
"Final 5"
"Final 4"
"heartbroken going home by my own alliance.. another night I couldn't sleep"
"It really hurts.. I've always had you always will"
"I gave you guys all of me"
"Please don't be the ones to send me home I'm here to fight with you guys"
"If you want me to stay you can make it happen"
"Beth can't play.. you guys are so vulnerable"
'Ro is so dangerous in this game.. he has numbers.. if you take Tera out of this equation everything changes.. blue line has to play the game by herself"
"I swear on my boyfriend's life"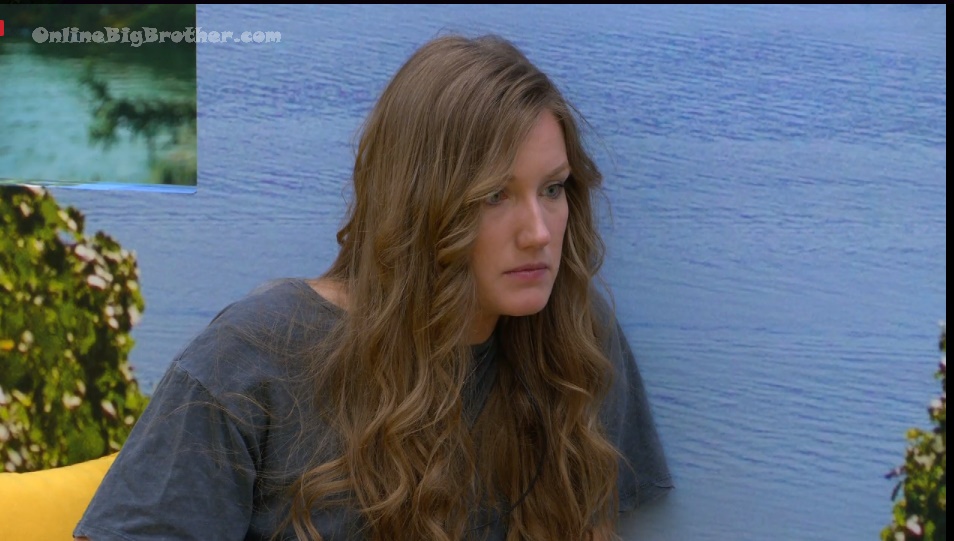 Beth joins
Vic – It's your last day as HOH. I don't want to bombard you it's your last day I gave you my all yesterday everything is true.. I would be devastated if I went home..
here we go again..
"You guys are going up you guys are going home"
"I swear on my boyfriend's life I want to fight with you"
Beth – I don't see Tera putting us up next week
Vic – you don't.. Rohan has them..
"Tera will make that move she has Rohan and Blue line"
"I will never come for you guys"
"Ghost peppers, I want to fight"
"They're not putting Kief up.. if I stay it'll be me and Breydon if I'm, not here I can't be put up"
"I am a shield for you in this game"
"It's your turn to do something for me in this game.. I got you guys"
"You're leaving Rohan with numbers"
"Those two girls are coming for you guys"
"Ro is great at this game.. he wants to win this game.. he's coming for you"
"This can be undone.. we can be the best comeback of all time we make it to final 4 literally history
"If I go home one of you are going up"
"I swear over everything.. second night of staying up going over in my head what went wrong.. I got you in this game"
"I have this pit in my stomach.. "
"It would be sad for me to go home the week after I made such a bold move for our alliance.. this mistake it not set in stone"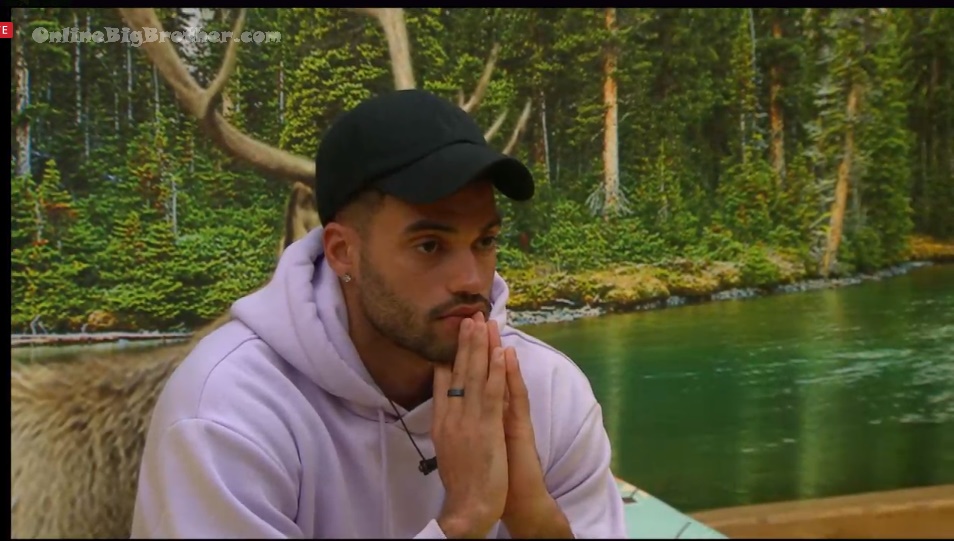 "They are coming for you. let me stay and fight for you let me fight for you I will keep you safe I swear on my boyfriend's life.. "
"I'm a ghost pepper"
"I did everything to protect you in this game"
"If I win HOH it's our HOH.. OUR HOH"
Jed asks for privacy with BEth..
Vic – don't trust what Tera is telling you.. I got you I promise..
Vic leaves..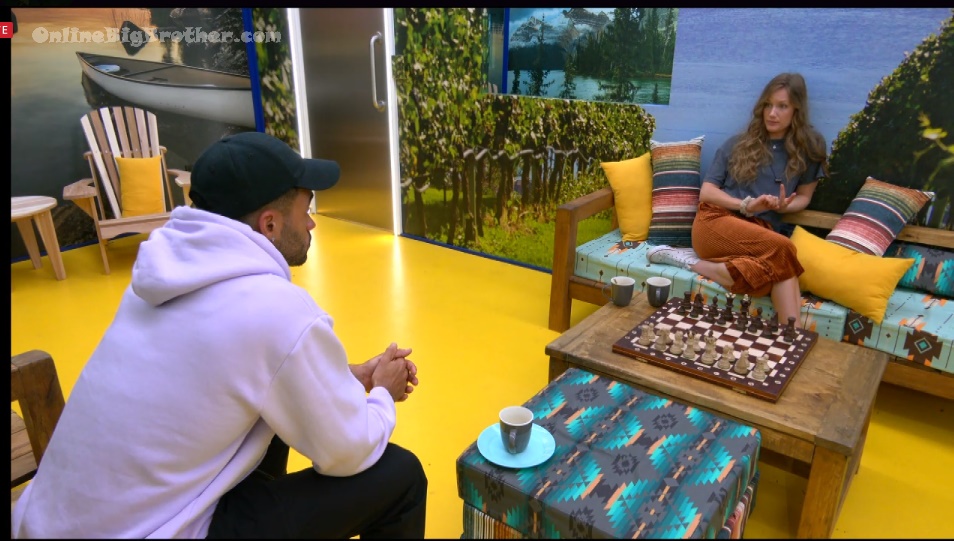 Beth – she has no idea we have Tina, She has no idea we have a final 4 with Breydon and we're so strong with Kief. Tera only has her word.
Beth – we don't need her
Beth – If she stays you still can't tell her anything. Don't forget how big her mouth is.. we don't need her.
Beth – do you want to be in this position in two weeks? Sorry V this ghost peppers things isn't going to happen
Beth – we will be idiots keeping Ro and her on this HOH..
Beth – we don't owe her anything we stayed off the block last week because we're good that's why
Jed – yeah
Beth – no V we don't owe you anything..
Beth – V's been in alliance all over this f**Ing house and hasn't said a word. She keeps secrets.
Beth says she would rather Ty and Jed to start winning sh1t than keeping Vic around to build up her resume.
Beth – keeping her builds up her resume.. does sh1t for us.. keeping her as a shield shows we're sacred.
Beth – we played a clean game and it's the cleanest thing to do V Dirty this week and get her out. It's cleanest for the rest of the house
beth – Ro is going for Kief
Beth says Tera has the "biggest crush" on Jed "ever"
Breydon joins them. They talk about getting out Vic. Tina joins Breydon leaves. Tina says the oddballs were a thing for a HOT MINUTE.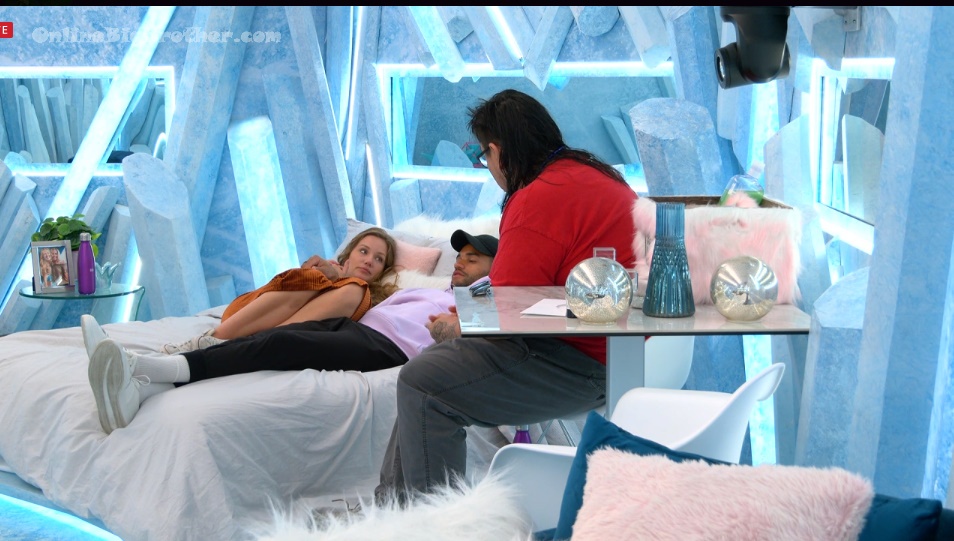 1:50 pm Waffling…
Kiefer – after this we control every single vote.
They eventually agree to evict Victoria.
(No word yet if Ontario's lockdowns will affect BB)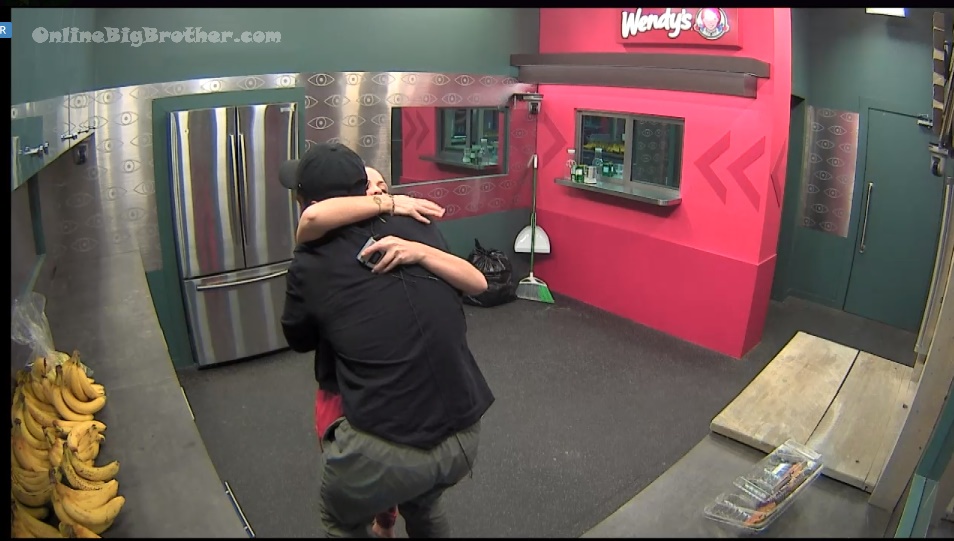 2:46 pm Tera and Breydon
Tera tells him as part of her pitch this week she had to give them Breydon's name.
Tera – if I stay and I win and I don't go after you and Ro it will be a big attack on my integrity and my character. (ZOMG)
Tera – I want you to know what is actually important to me..
She tells him he has never put her in a position of danger and she won't put him in a position of danger, "You are not my target"
They hug it out.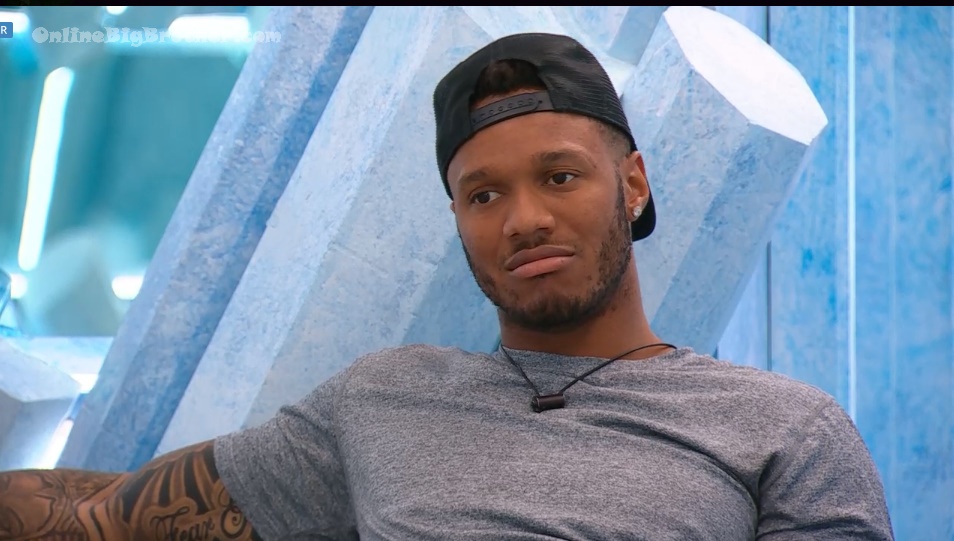 3:00 pm Sunsetters talking about getting Vic out
Talking about their goodbye speeches.
Ty – Vic chose the wrong side. the Oddballs over us the oddballs burned her we took her in use her to do our dirty work and kicked her out we don't need her anymore.
Beth – we never had needed her.. we just needed her for that invisible HOH. It's dirty
Ty – it's not dirty we've been together from the start. She took out one of our people.
Ty – she came on the journey for a ride this is her stop sucks that it's not Jury wish it was for her but it is what it is.
Ty – sunsetters for life.
Kiefer – once she's gone all we have to worry about is Ro, We'll have to work hard to get Tera to put up Tera against me.
Ty says there's no way they can convince Ro to put up TnT
Beth says Ro told her.
Ty doesn't believe it
Beth – stop believing that Ro isn't with them
Kiefer mentions they have to just win the next HOH.
Kiefer – then we have another chance to get that f***er
Kiefer – when he wins HOH I'm gone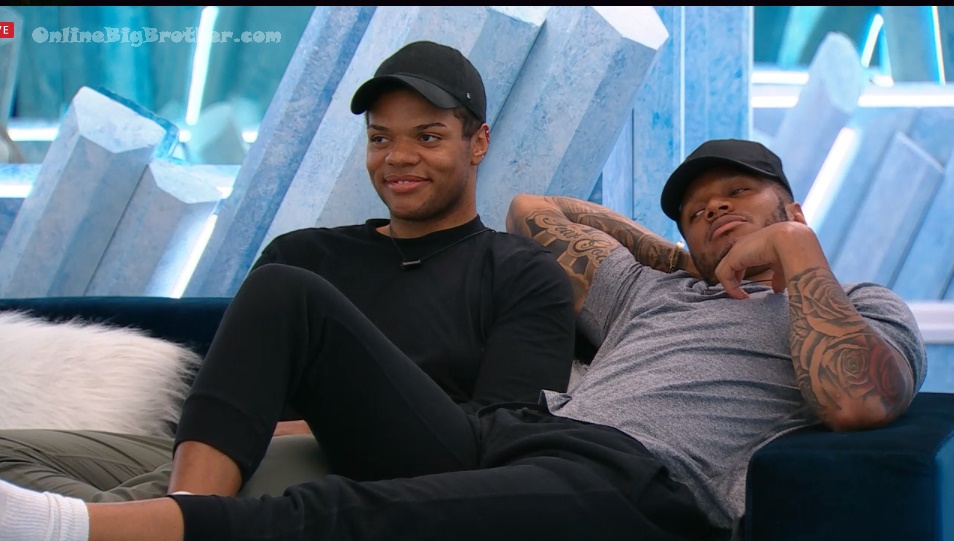 3:22 pm Ontario going on Lockdown.. Doesn't look like Television producitons are affected.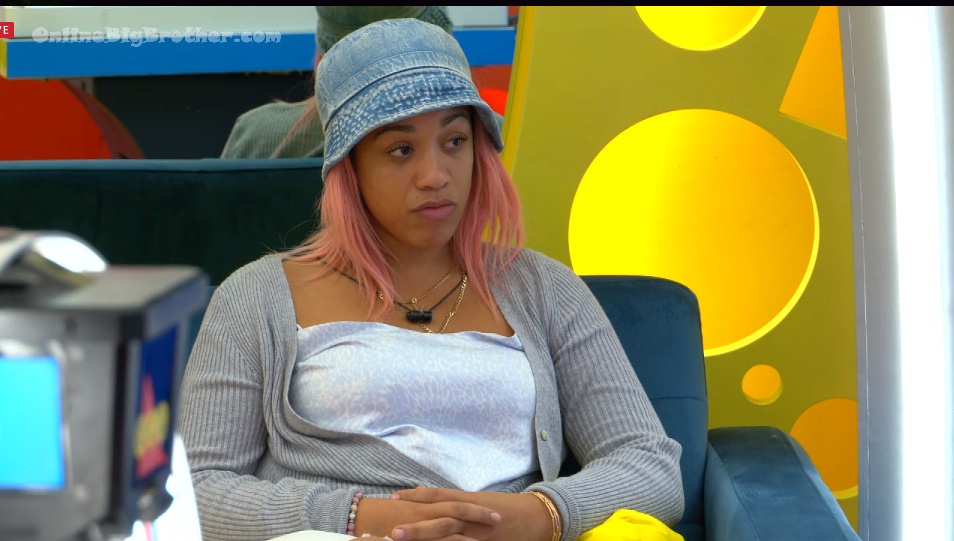 6:00 pm Vic campaigns to Kiefer
Vic – it will be a big move C'mon..
Vic says she needs Keifer, Ty, Jed, and Beth.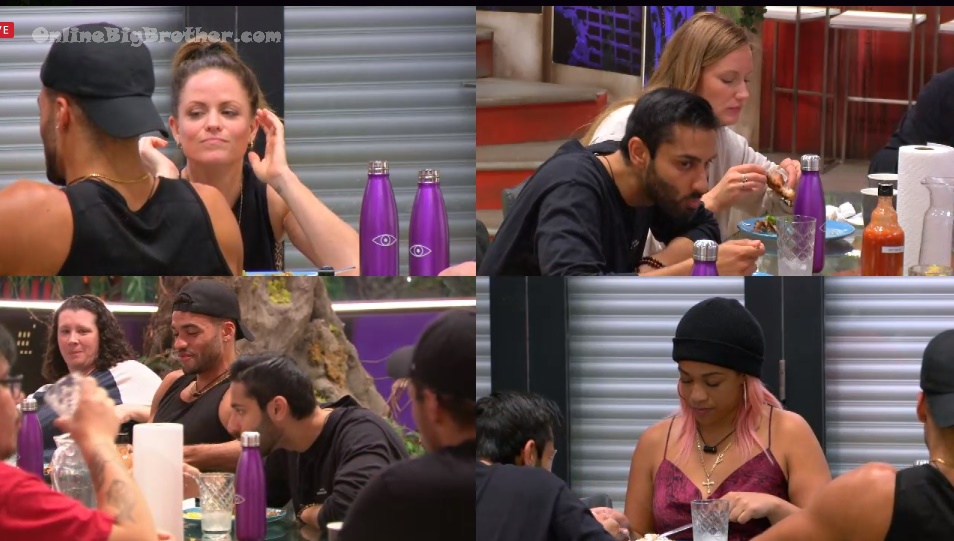 8:50 pm Family dinner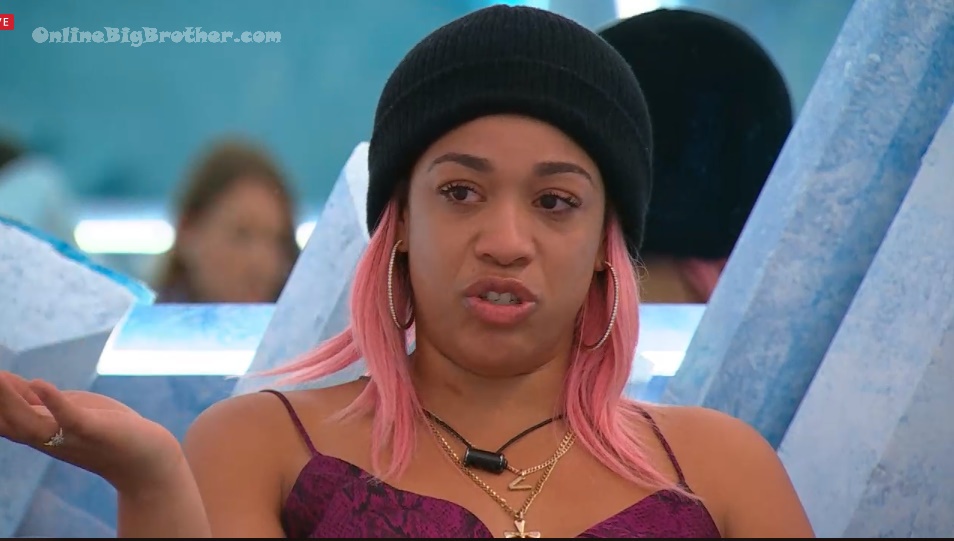 10:28 pm Vic with the sunsetters
Vic – welcome everybody to my last campaign.. I don't know where to start..
Vic – "I want to work with you guys I don't want to come after you guys there's nothing I want more than to work with you guys
Vic – "This has strengthened our relationship. I care about you guys so much.. don't matter what happens it'll be ok. I don't think Me going this week is the right move. I made a huge move because they made it clear to me that before that HOH they were coming for you guys. That made me so uncomfortable so I won the invisible HOH ..
Vic – the thought of me going home the week after doing that by my own alliance is breaking my heart
Vic – It's not too late to keep me here.. they are coming for you guys
Vic says Ro and Breydon have confirmed with her that they are working together
Vic says she's kept them safe this whole time "If I stayed in this game that won't change at all"
Vic points out that Ro is a comp beast, not her. Says the HOH's she won by default "These comps are anybody's game.. "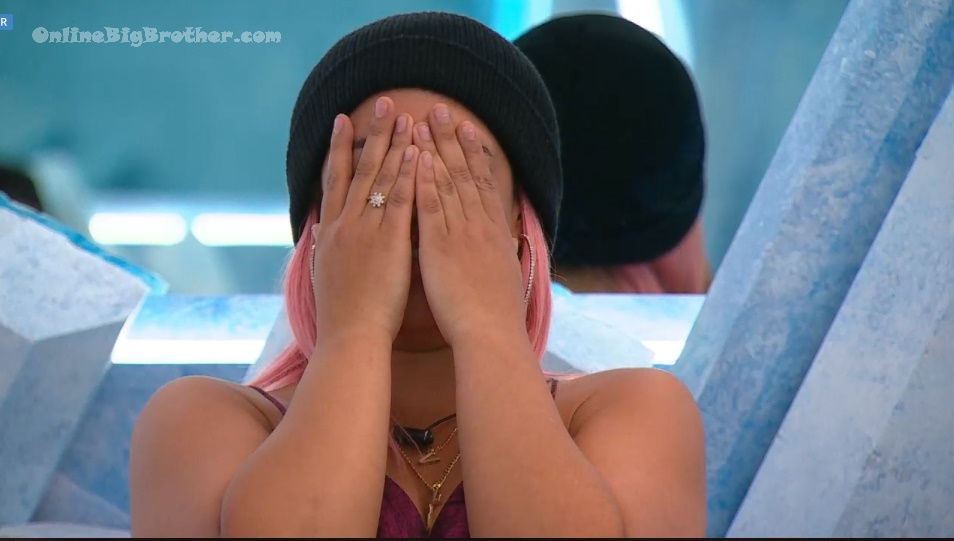 Vic cries.. keeps going about how the other side of the house doesn't know she was working with them.
Vic – I hope we can still be an alliance. The thought of going home after making such a big move for you guys.. knowing they are coming for you guys.. they lied to you guys.. I just don't understand.
Vic says Rohan is with Breydon, 'You guys are going up if you don't win this week."
Vic – I really hope you guys can have a conversation. I promise you guys the best thing is to keep me this week. They are coming for you.
Vic – tomorrow Beth can't play.. Beth they are coming for you I think they are coming for you more than anyone in this room I want to stay here to protect you. I want to fight for you because they are really pissing me off..
Vic – I'm so scared you guys are going to get fooled by Rohan.. and Tera..
Vic – if any of them gain power I'm going up
Vic – Ro is so good at this game..
Vic keeps with the same core 6 lines…
Ty asks why Breydon and Rohan feel comfortable talking to Vic and telling her they are working together
Vic says they don't think she's close to them.
Vic says after the house meeting Rohan told her he's working with BReydon, "I swear on my boyfriend's life"
Vic says Tera will win the endurance competition standing on a stick or on a rope. "They practice their days they know their days.. I really hope you guys don't make this mistake"
Vic – I'm offering safety, protection, and the same loyalty I've been giving you guys.. Beth when you won I was so happy there was no once of fakeness..
Vic – I deserve to be here more than Tera..
Vic cries says she won't even make it to Jury.
Vic – I'm telling you guys you will regret it. that is the first thing people will tell you getting spicey V out was the wrong move..
They let her talk for around 30 minutes.
Ty – Vic you have been loyal I love you.. the reality is we're in this situation ..
Ty tells her she will look back at this and figure out the choice they are making is the best one for them.
Ty says she's made huge moves none of them can beat her.
Vic goes on about her 3 comps wins being luck.
Vic – please.. please. this is Big Brother somebody goes home every week.. I will go I am the biggest target in this game.
Vic leaves..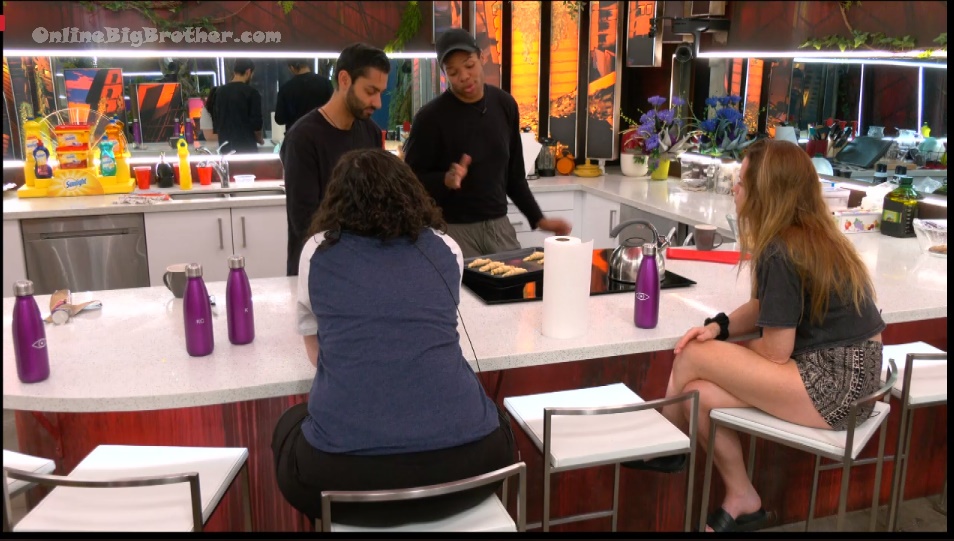 11:00 pm this group just hanging out..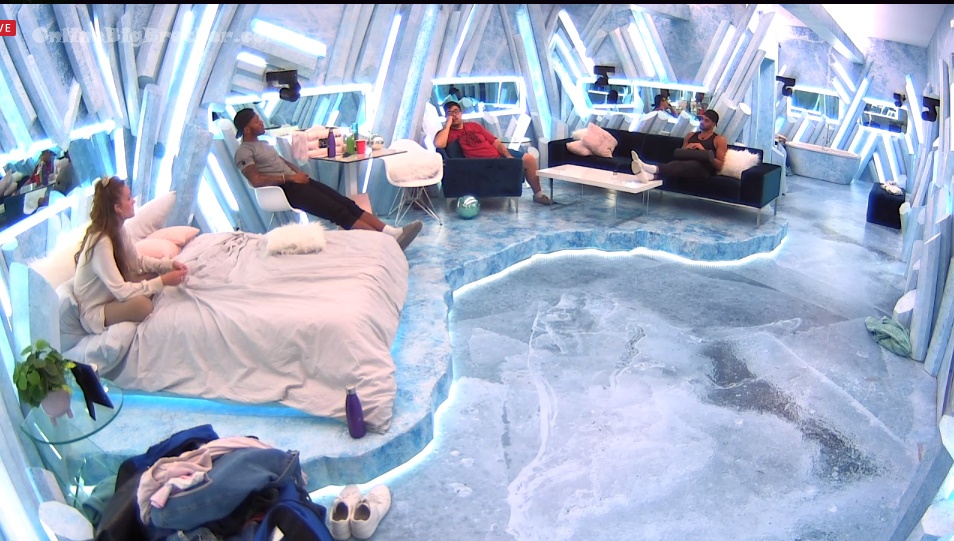 11:06 pm Sunsetter met to go over her campaign
Jed – I am having a hard time with this one
Kiefer says Breydon is working with Ro
Ty – we're trading him for Vic.. Vic has been loyal to us he hasn't
Kiefer – is the bigger move keep her now?
Beth says she doesn't think Tina and Tera are working with Ro
Kiefer agrees.
Beth – Do we have Tina? I think we have Tina
Kiefer – we have Tina
They agree it doesn't matter if Vic is in the game or not they have to win HOH tomorrow.
Ty – do we see Vic working with To?
Beth tells him they just had a conversation about this before Vic's waterworks.
Beth – I know she says the Canda thing but at this point and time.
Kiefer – I didn't come here for Canda
Beth – I didn't come here for Canada, I'm not here for TV
Beth says if Ro wins Vic won't touch the block
Ty – she's right he wouldn't put her on the block.. Ro's not that stupid.
Beth says if they send Tera out Tina and them are done.
Kiefer – I'm done with her, to be honest.
Beth stresses when they started this week they agreed not to end this week with Ro or Vic still in teh game.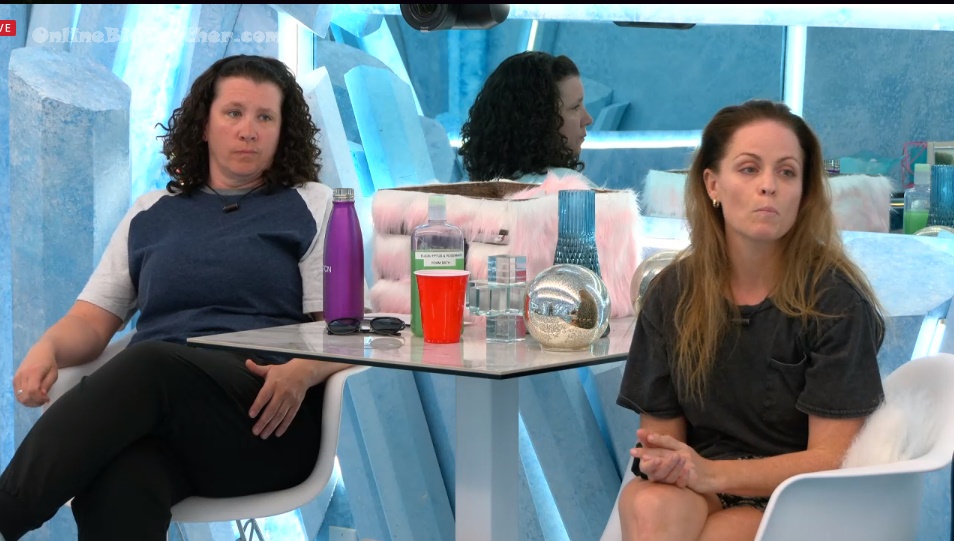 Tina and Tera join them. Tera says the two people she trusts in this game are Keifer and Tina. Says Vic is grabbing at straws.
Jed points out that they sleep in the same room as Rohan and are always hanging out so they are suspicious.
11:40 pm Sunsetters are back alone in the HOH they're deciding to get out Vic. (Feels like Jed and Ty will side with whoever is the last person to talk to them)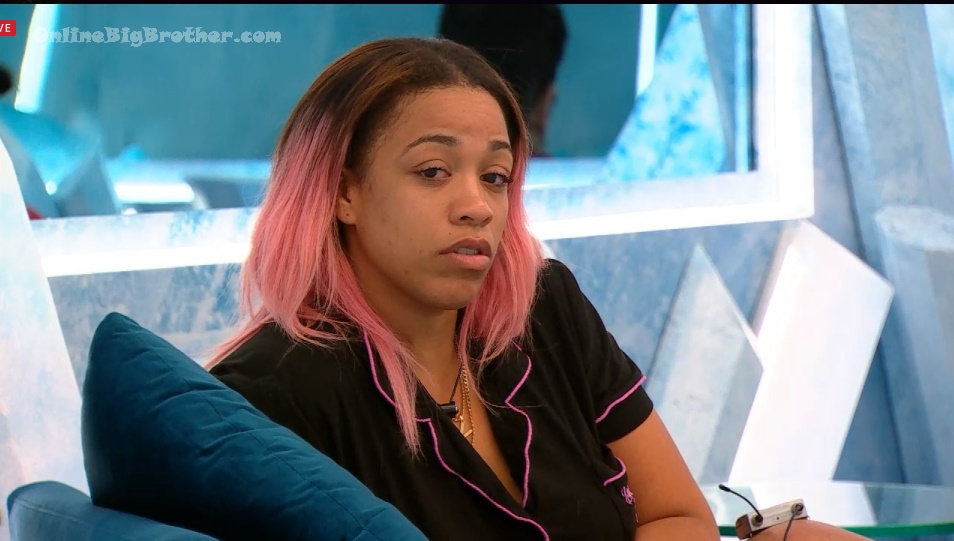 11:55 pm Jed, Keifer and Vic.
Vic gets a whiff she's getting evicted. Ty goes to get Beth.
Vic – Jed you don't want me here
Jed – I want you here..
Vic – why won't you keep me here
Jed – there's so much shit going on nobody knows..
Beth and Ty come in.
Vic – you guys don't want me here.
Beth says she hopes Vic goes back and watches their game and why they are doing this.
Vic – you are getting somebody that is with you guys it's not a good move.
Vic starts campaigning again.
Beth says their plan was Ro.
Vic – I didn't think you guys could do me like this, like BAckdoor me.. that's so shady
Jed says it was a game move not an emotional move. "there's bigger things in place.. you'll understand .. lotta conflicting sh1t going on in this house we've made it this far playing a clean game"
Vic laughs "This is not a clean move"
Feeds cut.. When we're back Vic is gone and sunsetters going on about doing what's best for them.
(Why do they let Jed speak?)
10:20 am
Thursday morning. Vic still getting evicted..
2:00 pm Feeds down.. Spicey V still going home Double planned for tonight.