HOH: Kyland
HAVENOTS:
Nominations: Claire Britini and DerekF
Power of Veto Players: Kyland, Claire, DF, Alyssa, Azah, Brit
Power of Veto: Alyssa (OTEV winner), Kyland (High Roller winner)
Power of Veto Ceremony: Kyland used the veto on Claire. Britini nominated in her place.
Big Brother 23 Houseguest Rankings – – RANK THE HOUSEGUESTS –
View the previous day ranks on the – Ranking Grid
SPOILERS Britini is being evicted as of right now. I don't see this changing.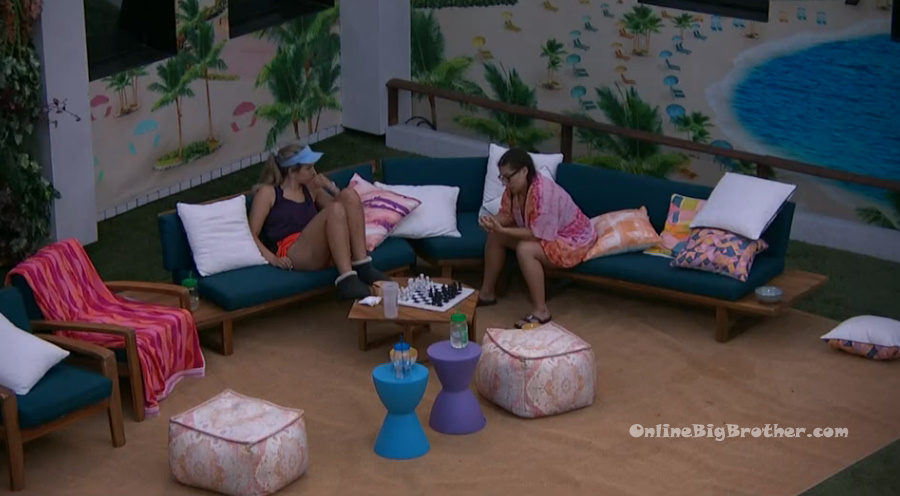 7:18pm Backyard – Britini and Claire.
Claire – how are you doing? Britini – I'm nervous. I am nervous man! I mean I started compiling together all my arguments today or earlier on. I think I have .. I mean I know there are reasons for me to be in this house. I know that for a fact! This move is only beneficial for one persons game and that is him (Ky). It doesn't benefit anyone else in this house for me to go. I am a shield for every female because I've won a comp. I really don't know how that makes me a shield but I am a shield somehow .. right!? And then you've got the fact that with me in this house you're going to hit the block 50% less. Claire – MMmmhmmmm. Britini – that seems to be my home. You're going to hit it less. And that fact that like there are big threat competitors .. and the only way to get them out of this house is to beat them and I can help in that effort. That I can do! There are definite reasons to keep me in the house. I've showed that. And this whole unpredictable comment is only for people I don't trust. And that is to him. And you would never say that I am unpredictable because you know me and you know my intentions and I've made that very very clear to you and you would know that. What I don't appreciate right now is that I was talking with Alyssa and he pulled me in to talk to him real quick and he apologized to me 3 hours .. 5 hours after the fact about the veto comment that he made to me. Basically saying sh*t on all the jokers you all lost the veto because that was just disrespectful. Claire – no that is true. Brit – he apologized to me and told me how I should run my campaign saying he was indifferent to whatever happens. He was like if I was you I would run your campaign as to why you should stay here and not against me. And I was like Mmmmhhmm what?! You're going to nominate me on the block.. He was like I don't think this should be a battle between us because there are reasons strategically to send both of you home and I .. it was an unforeseen threat. And he says if you start putting it against me it is going to be a he said / she said battle. It was basically a threat. I was like well game on! Neither of us is in the wrong here. For me, so he was like tomorrow we can talk and be open about everything. I was like there is nothing to be open about you already don't believe what you already shook on so there is nothing to be open about and you don't vote. So for me I took that speech to be very disrespectful to me and I have nothing more to tell him. I am going to tell him flat out .. you don't respect me or else you wouldn't have said the speech you did.. so for me that is unfortunate so that is where I am at. I want to work with people.. I know I can be an asset and help out in that regard. Alyssa brought up a really good point – think of the reasons why people would want to evict you.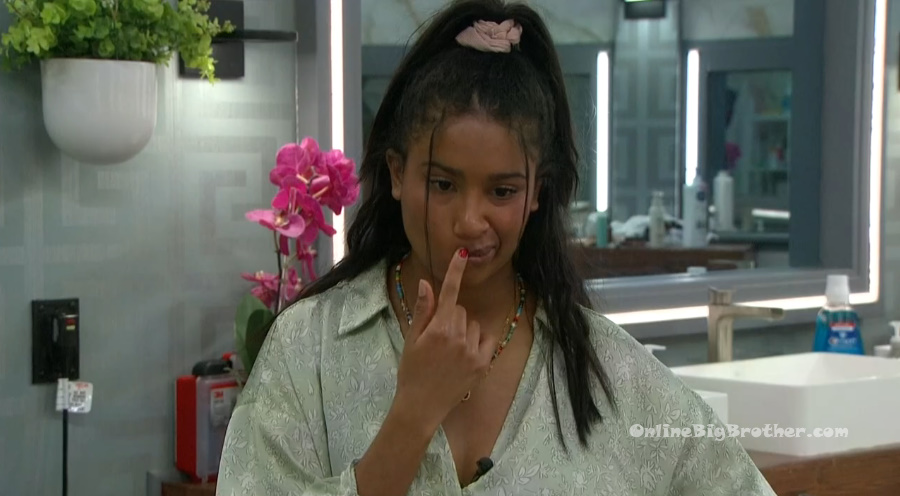 Bathroom – Hannah and Azah.
Azah – what I am very nervous about is that this week exposed a lot I think about us and people are getting suspicious. Hannah – who do you think is getting suspicious? Azah – I think pretty much every person that is not in the cookout. Hannah – I don't think anyone would target you or Big D. Azah – Why would I play roulette? It makes no sense for us to do that. From our standpoint in the house it makes no sense for me to do that. Hannah – well isn't it anonymous? Azah – No, the only anonymous one is the HOH. The roulette is not anonymous. It makes absolutely no sense for us to play. Hannah – are you suggesting I put you and Big D on the block? Azah – I think the people that play HOH next week should be X, me or Big D because balance of the house and what's been taken as a hit .. right now its this side against this side. And I think this side should hit this side if that makes sense? I still view Kyland as part of you guys. Hannah – but who is the target next week? SB? Azah – for me the target stays open to SB or Claire. I like Baby D so I would rather not. For someone like X or Big D it might be different. Hannah – for X the target would be Baby D. If we take out Baby D next week that is fine except we have X, Alyssa and Claire left and none of them are targeting each other.. so who are they going to target!? A cookout member. If you leave Baby D in the house at least you have SB and Alyssa coming after him. Azah – Baby D is good for my game and its completely fine.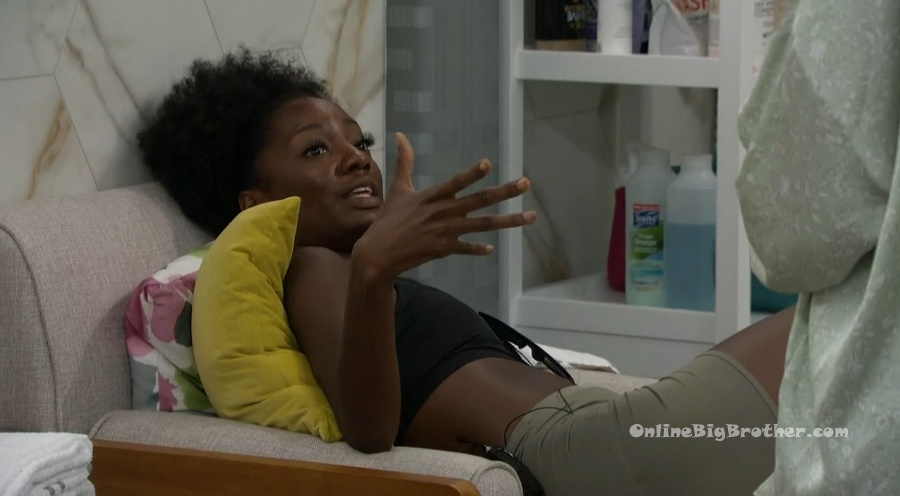 8:30pm Dinner time..
9pm Kyland and Sara playing chess inside. Claire and Hannah are pretending to play chess outside.

9:17pm Bathroom – Tiffany cutting Derek X hair.
Derek – I want to talk to ky and see if there is any conversation we can have around why it would be best for us for Britini to stay. Tiff – okay, what do you think his speech was about? Derek – that Britini is unpredictable. I think she is unpredictable on who she would target on the other side especially after this week. She could target me, you, Claire or Hannah. Maybe she would target me the most but after what Ky's done.. I don't think so. Tiff – she would definitely target Ky. So who do we have on our side if we keep Britini because Ky would team up with .. the jokers? Derek – The jokers would never team up with him. Tiff – I didn't mean the jokers, I meant the kings. Derek – here is the thing.. if I can make it through next week I would have enough money for the coup d'etat. Possibly. Tiff – you probably will. You will probably get a $100 every time. And if I have the coup d'etat I might just make a really big move. Tiff – if you win HOH who would you target? Derek – It might be Big D. Tiff – I did not even see him staying this long when I first walked in but Christmas stayed in a freaking boot. Derek – yeah no one wants waste their HOH on a floater.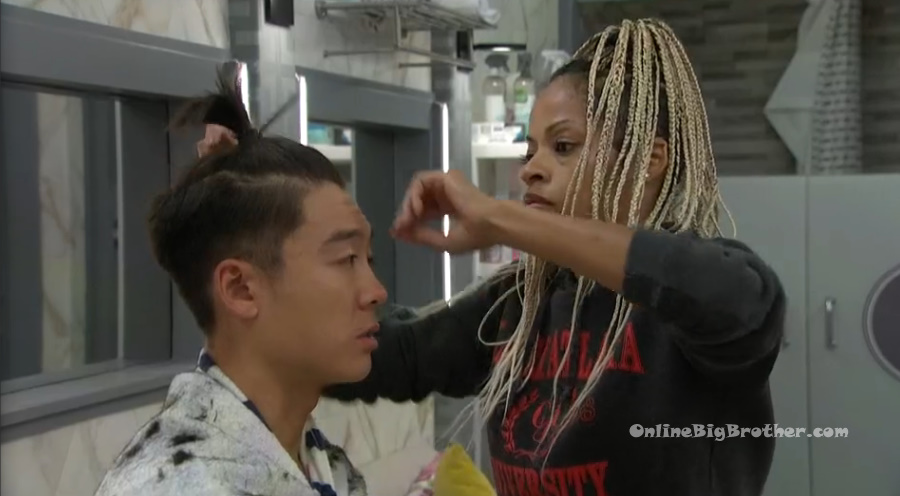 9:47pm – 10pm Backyard – Claire, Britini and Hannah.
Hannah – I can't win sh*t. I'm at the bottom of the pecking order. Britini – I don't want you guys to be targeted for any reason. Like today that speech.. did anyone get anything from that?! Hannah and Claire – no. Hannah – not a single person. Brit – that is the thing, I know I can help people in this game go further and at the end of the day I am here to play! If Y'all want to see me home send me home against someone that is not Big D. I respect the sh*t out of him and I know he is not campaigning against me but the weirdest part about this week is that even though he isn't campaigning I could still go home.. and I don't want that to happen. I came here to fight. I know I came here to play this game with people that I genuinely trust. And I am a number! I am your shield and I am your block. I am literally your block! I will go up, let me do my due diligence. Let them throw me up next week, that's why I saved my money. Let them do it to me next week y'all. If you have me its a number. And it is someone that wants the best for you I swear to god! I don't need to win the whole thing but I want to help y'all go further. I do! I know what I offer. I do. I know I can get everyone further. I have been very transparent. Y'all know I am not afraid to take shots. Y'all know you're not touching the block. Hannah heads inside. Claire – I think a lot of people are in the middle. I think the person that is not in the middle is SB. Brit – does she want me gone? Claire – I think so. Brit – okay, shocker. Brit leaves.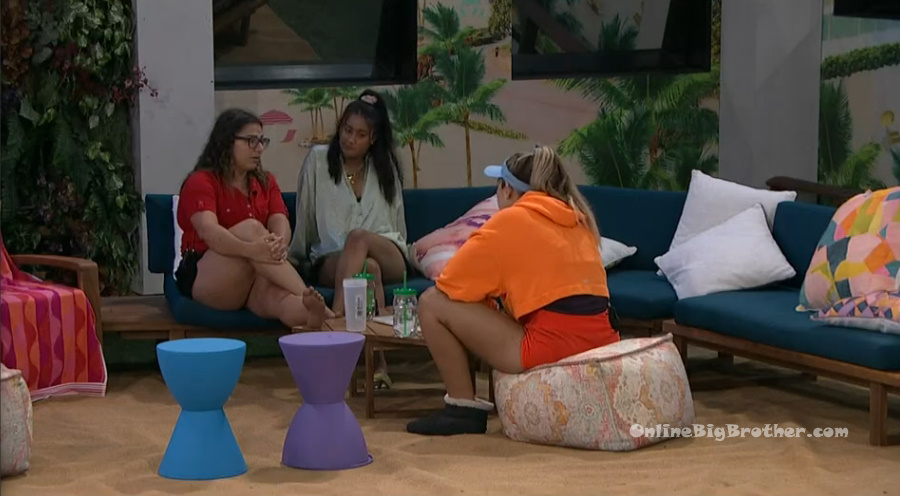 Hannah – she has some very good arguments. Claire – she does. Hannah – I am curious what Tiffany thinks Claire – I think she is open to it. Hannah – I don't see Alyssa flipping. I don't see SB flipping. Claire – no SB will never flip. I wonder where X's head is? Hannah – I see X wanting to keep Big D. I don't see how Brit helps X's game. I think Brit only helps X's game if Brit is going after Ky. Hannah – but does taking Ky out help X's game? Claire – its better than Alyssa going. And if Brit is still in the game then maybe he still keeps going after Brit. Ky won't want to look at them.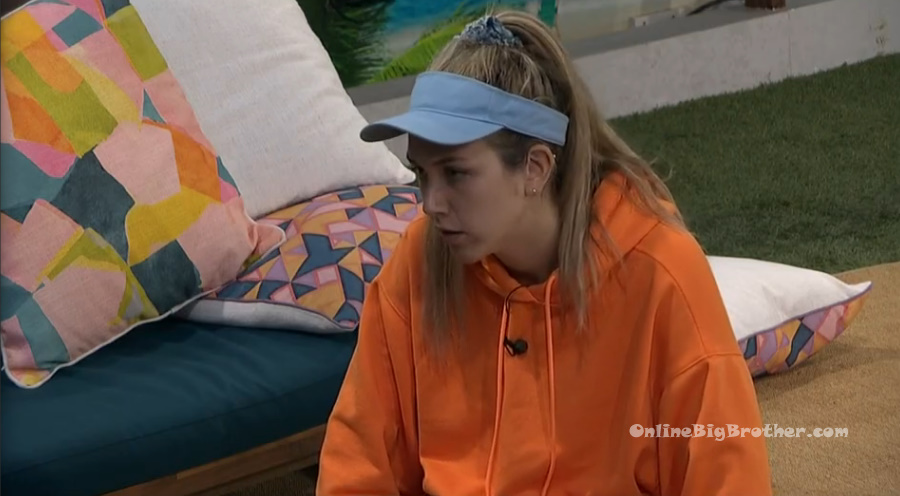 10:45am Bedroom. Azah and Britini
Britini – hey America, if you could sent me or Big D something we would really appreciated it! We need some help! Big help! I'm scared!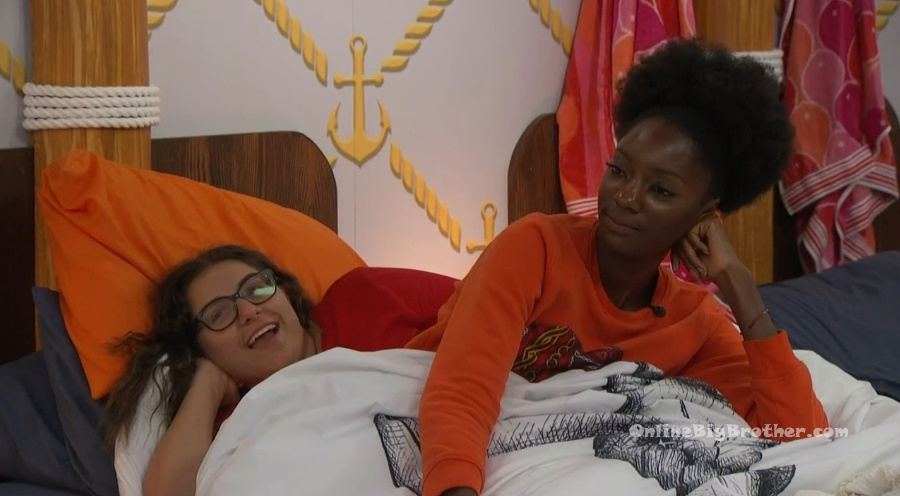 11:16pm Hammock – Azah and Xavier
Azah – I wanted to talk to you about something that I haven't shared with anyone else. I wouldn't share it with anyone until I got HOH if I was to get HOH. I wouldn't go forward with it unless everyone was on board. I would be completely transparent about it. Its a very risky move and it might only work looking at sides of the house if I was HOH, you were HOH or.. Xavier – Big D? Azah – yeah. One.. I want to make sure no one has any suspicions of us working together.. and two I want to make sure that power gets used so that people don't have an option week 3 to use it. I want to make sure the power gets used next week if possible. Anyone else outside of the cookout as many people as possible .. I think we should have as many people as possible so that it can't get used week three because that could F**k a lot of sh*t up along with the anonymous HOH.
Azah – if a cookout member wins HOH and then puts up a cookout member and a non cookout member and then a cookout member plays (roulette).. that means 3 cookout member and 3 non cookout members are in the roulette so we have a 50% chance of being picked and put up on the block. Now if a cookout wins HOH and puts up two cookout members and a cookout member plays only two people are eligible to be in that roulette. Xavier – I've thought about this. Azah – I do want to throw people off suspicions .. I do want to get people off out trail and not start to make assumptions and figure anything out.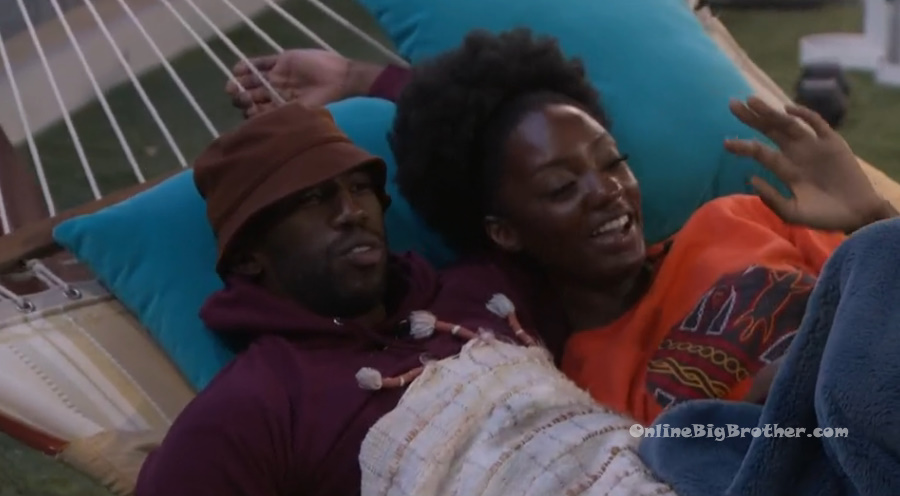 12am Living room. Derek X and Xavier
Xavier – is Big D a problem to deal with this week or another week. Derek – yeah that is kind of where I am at. Where are you at? Xavier – it seems like people are leaning more towards the Britini side. Xavier – how do you feel about Big D being the serial pawn? Where whoever you want out you put him next so the other person goes home. Derek – yeah that's a scary concept though because people could target you and put you next to him and then its a wrap. Xavier – but at the same time I don't think that would be the case every week.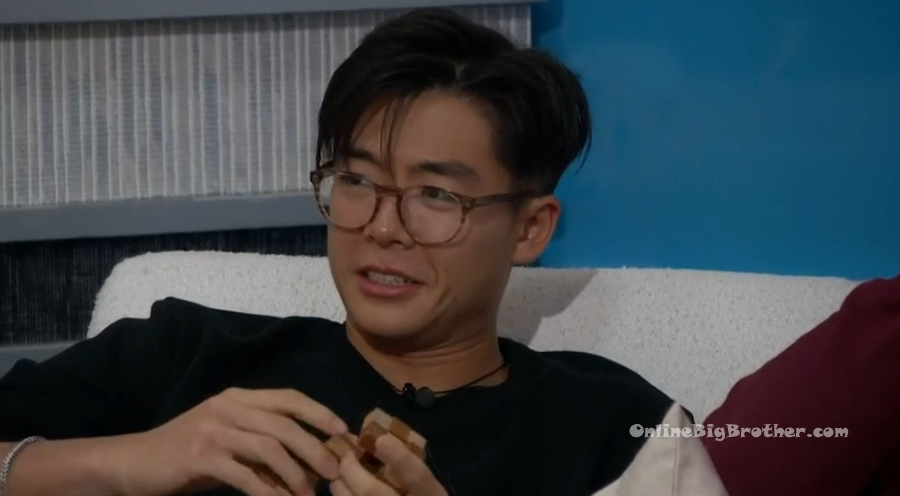 12:42am Backyard. Big D, Azah and Hannah.
Big D – how do you feel about how he (Ky) is going about this HOH? Hannah – its whack! Big D – I haven't seen anything like it. And it took me going up stairs to curse him out about him saying we're the three of us and we could have won veto like that was a slap in the face. Hannah – that was unnecessary. Big D – that was unnecessary and he is making it very difficult. Hannah – because he is a liability. And what I don't like is that he obviously did the memory wall exercise twice? He is sitting on a lot of information right now but not sharing that with a lot of people. But the thing is all of us know that he is sitting on that much information. There is such a thing as collecting too much. Azah – did you participate in either of them? Hannah – yeah. Big D – think you were the only one that didn't because you were mad. Hannah – I gave him very safe answers. The most influential person in the house .. I said the person that everyone would select. Whow are you targets for next week? Anyone outside of the cookout. Big D – I put Alyssa. He should be sharing that information. Hannah – He is painting himself as an incredibly big target. There is such a thing as holding too many secrets. Big D – when I win HOH I am going to meet with everyone right away in the havenot room. No one is staying up on my HOH. Hannah – I'm going to have office hours.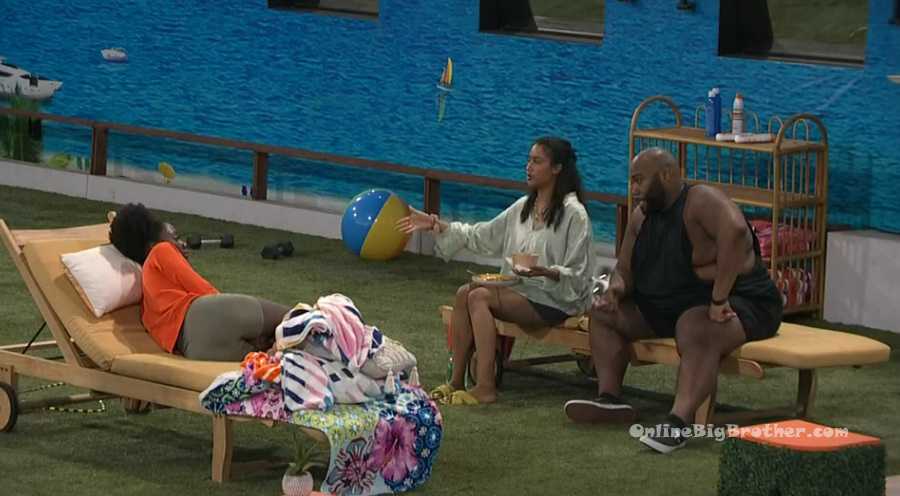 12:40am Havenot room – Xavier and Alyssa are studying the days / events of the season.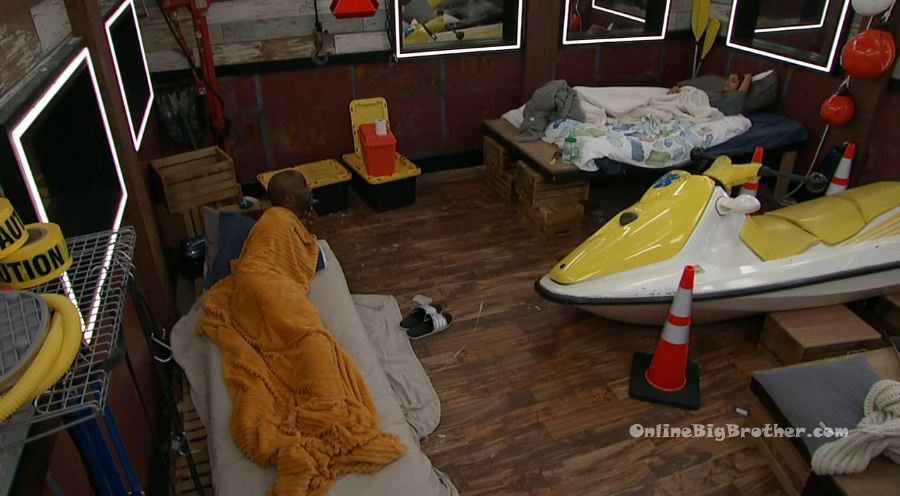 1:40am Bathroom. Azah, Claire, Hannah, Tiff and Derek X talk about holding their own BB olymics.

1:55am Kyland is getting some sleep before he starts his next round of one on ones..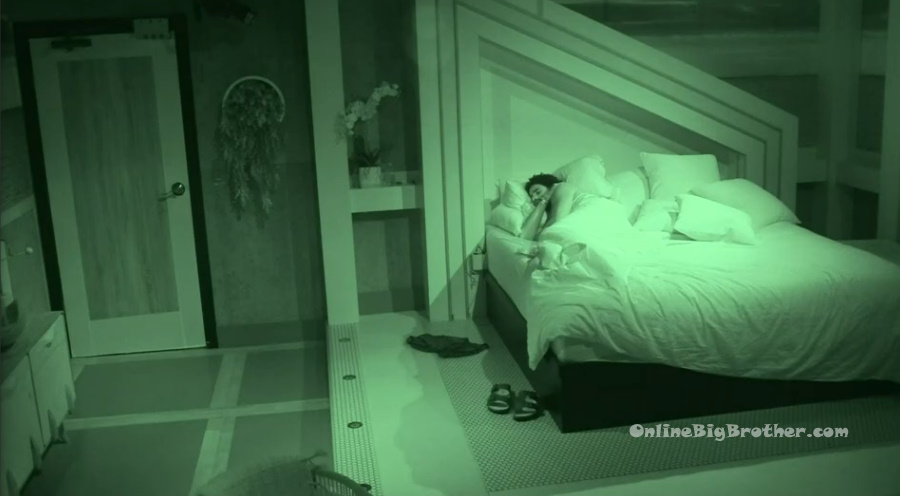 4:00 am ZZZzzzzzzz
Updates will resume later this afternoon.
Show your support 🙂 Without your support this site and these spoilers wouldn't be possible.
Please consider a donation to keep the madness going.