Head of Household Winner – Cody
Have nots – Kevin and Enzo
Nominations – Kevin & David
Power of Veto Players are – Cody, Kevin, David, Tyler, Enzo, Nicole
POV Host: – Memphis
Power of Veto holder – Cody
Power of Veto Ceremony – Veto was not used. Noms stay the same.
Live feeds —-> Grab your Live feeds here. Try it free.
Rank the houseguests —-> Big Brother 22 Ranking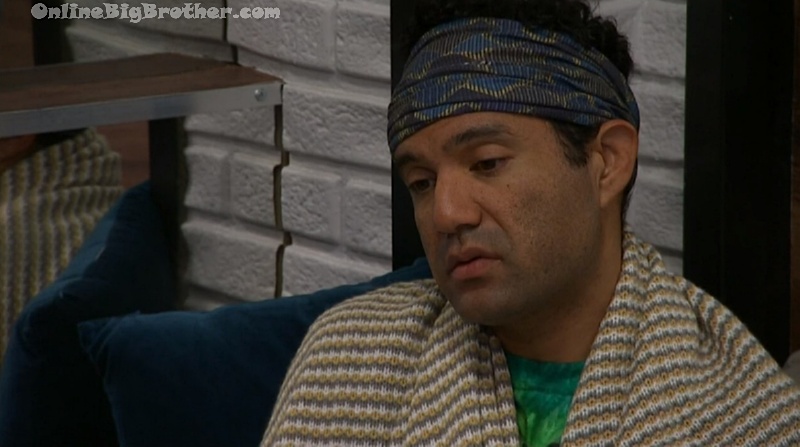 9:25 am Kevin struggling with his brain worms
Kevin – If Nicole wins at least an HOH and at least a veto and she's up against Cody I will give her my vote because that's a finesse to make it to the end and be a winner. that is a finesse.. so ..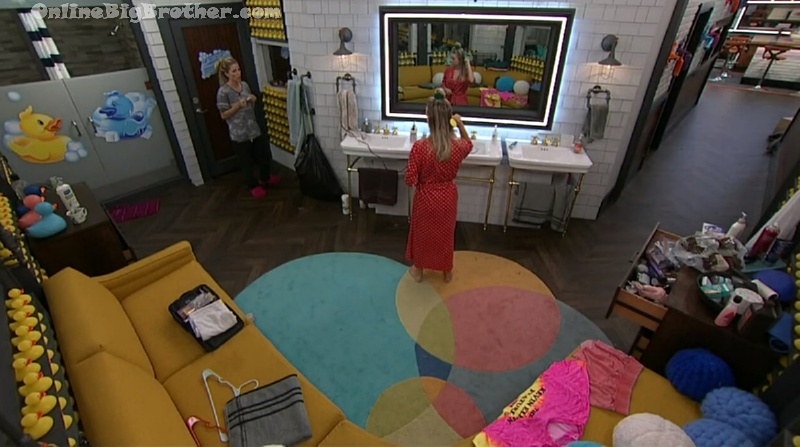 10:56 am Dani and Nicole
Dani – the only thing I'm worried about is a triple .. Nicole think of it what if Christmas won it would be the three of us
Nicole – two goes one of us stays
Dani – I know right
Nicole – that's stupid (wrong)
Dani – anythign else you can get out of.. that's stupid
Nicole – not cool
Nicole – But if I won the triple that would be (wrong again)
dani – sick as hell
Dani – I just don't think it's fair not that this game is fair but you gotta have some shot right?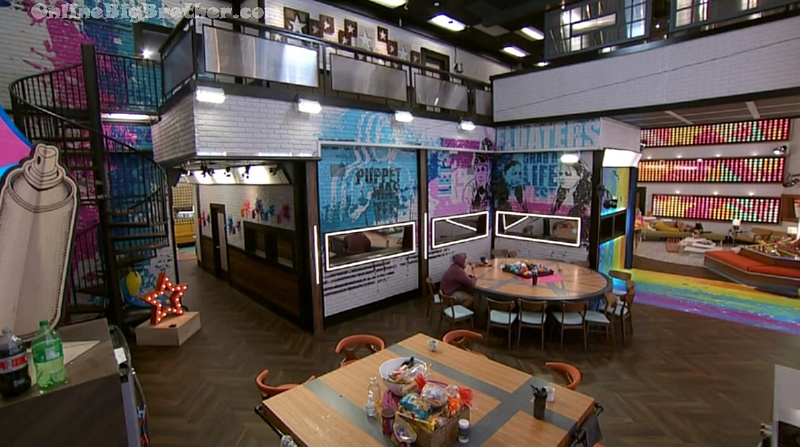 11:20 am neat shot of the house.
12:49 pm so close..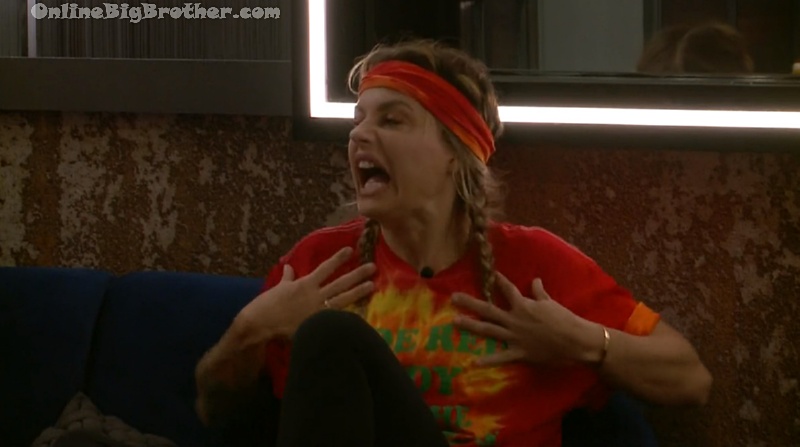 1:39 pm Sh1tmas, Enzo and Cody
Cody – we're in the home stretch
Christmas – if you're final three you're f***ing cruising
Christmas – for 6 of the 9 of us for the next 3 weeks it'll be a blood bath
Cody – the bath is filled with blood
Enzo – you're right YO
Cody – whose blood is it
Christmas – not mine.. I'll f***ing get dirty (see image.. tell me more about the dirty part)
Cody – I will be sitting in the bath.. or my blood can be in there I dunno.. then I would be in the jury house
Cody says there's "Some strategy" in this game
Christmas – if you are final 3 whatever strategy fo you have going.. you're either locked in or..
Cody – if you're final 5 .
Christmas – that takes a little.. yeah
Cody – you gotta win COMPS you can have all the strategy in the world and not be winning sh1t
Christmas – bye
Enzo – you can't be mad at your self.. look you had chances and couldn't do it. You know
Enzo – it's a blessing to just be in the final 5
Christmas aka the BB Mentat – for everybody that has played this before and we're all in the same house the majority of us have gone the distance we know what is like. The mental fortitude it takes to get to the end and like not f***ing crack, or spin out, Or lose your mind. Like get really weird more weird than normal.. but like.. you see it people crack in two weeks the first time they play this game. they freak out it's a little scary..
Enzo – this is allstars season, not your first time playing you know what you got to do .. (could have fooled me Big move Enzo)
Christmas – yup
Feeds cut when we're back.. Enzo and Christmas alone are talking about Dani and Nicole thinking they were running the house
Christmas – Dani, she's got to deal with Nicole, she's got to deal with Cody she doesn't have to deal with me because she doesn't want to talk to me
Christmas – between her and Da'Vonne they f***ing have it out for me
Enzo – they're intimidated by you .. f*** it that's what it is .. that's it win an HOH do something
Christmas – she's going to be pissed.. whatever..
Enzo – she put up 1/2 the house..
Christmas mentions how Nicole is asking her to play in the veto if she gets houseguest choice and asking her if she will use it. Christmas says to Nicole yes but she won't.
Enzo – no no.. it's too soon
They laugh
Enzo – it's like week 15.. it's too soon
Christmas – you want the veto to be used.. win it
Enzo goes on about how he respects Memphis and likes him says that Memphis has shown him nothing but the greatest respect.
Enzo goes on about how much just being on this show is winning for him he's thankful for the relationships he's formed he's grateful for CBS giving him this opportunity.
Enzo – you've been on the same wavelength since the beginning..
They talk about Kevin's pitch being he'll be their Pawn.
Enzo – Kevin I love you. I think you're f***ing awesome and I appreciate that I met you but your time is done in this house. You had the chances to prove yourself win HOH's and POV's that's not our fault I don't feel bad sending him home.
Christmas – I don't feel bad sending him home and I don't feel bad taking a shot at a bigger target if I win HOH
Enzo – I'm with you..
Enzo says Dani is at the top of the list of a lot of people in this house.
Stars.. when we're back
Talking about Kevin always being on the block
Enzo – it's over. you pigeon-holed yourself in the love room with Da'Vonne and Dave
Christmas – and DAni
Enzo – yeah a couple of times
Enzo says that Dani is throwing these rogue votes because she's after Jury votes.
Christmas – you'll get a jury vote because you are voting for me in the finale
Christmas laughs
Christmas says her boot order is Dani, Nicole then David
Enzo says Nicole is a champion and she's won nothing "Look where she's at. If she starts winning sh1t look out"
Christmas says Dani is "Playing Dirty," thinks that Nicole is more of a threat because of her "smarts" in mental competitions
Christmas – they're one and the same. they will protect each other if they are HOH and they will go after Pairs.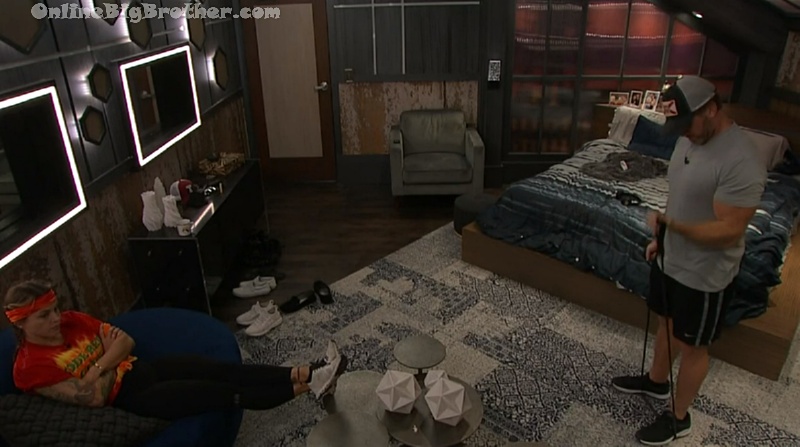 Memphis joins them. They talk about Nicole he doesn't think she's that smart given how she's playing the game right now
Christmas brings up the fear of Nicole's mental prowess in Comps.
Memphis says they are mostly crapshoots
Christmas – they're not they're about institutional knowledge
Memphis – OTEV there's luck involved..
Christmas goes on about how she will destroy the slip 'n slide comp "I will army crawl through that b1tch"
Memphis – we got 6 evictions in 3 weeks.. it's going to be quick we got to win or we gotta win the POV.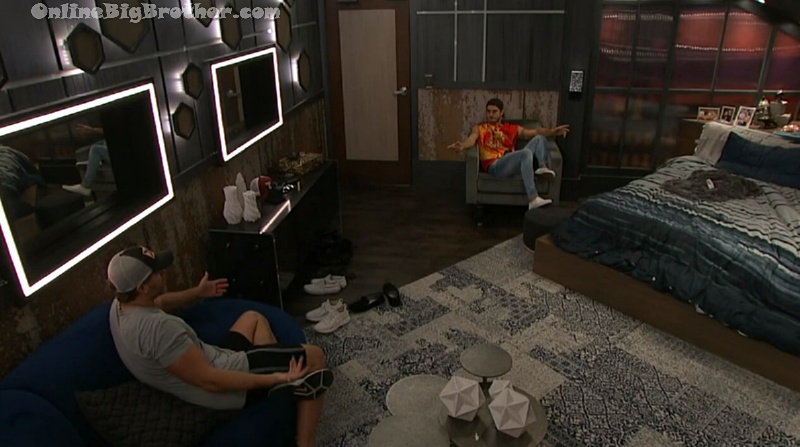 2:27 pm Cody and Memphis
Memphis telling him everything he does he thinks about the two of them and he thinks of himself.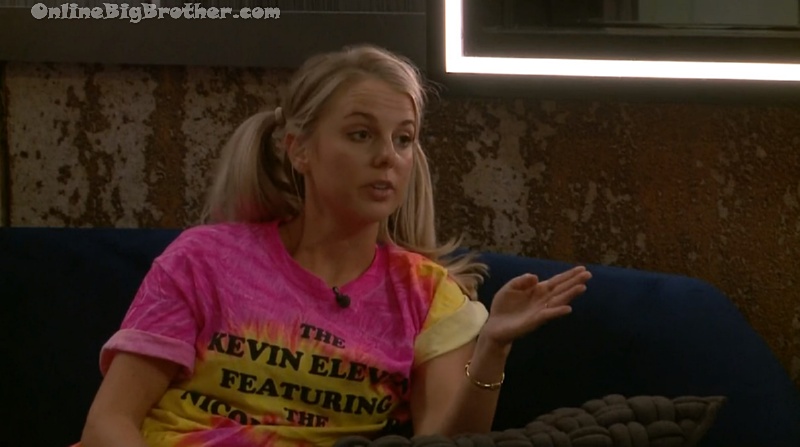 3:14 pm Nicole and Cody
Nicole says she wants Kevin out "For sure"
Cody brings up David bragging about going for the 10 thousand dollars smirking while saying "it's never been done before"
Cody – yeah.. pure f**ing stupidity
Nicole – it's nice to have one person that doesn't know what's going on
Cody says David only gets his vote in the scenario where he comes up on finale night and says he was acting like he didn't know what he was doing.
Nicole tells him not to say that if David hears and makes it to final 2 he'll use that.
Nicole – there's no way
Cody says it would be the same thing as Victoria getting up in the final 2 and saying it. "there's no way"
Cody brings up Christmas pointing out that every time they speculate about something production says they are wrong
Cody – why would they do that
Nicole – they may warn us about a triple. We're short on time.. 28 days max. we got rid of 7 people in 57 days .. they want us to get rid of 6 people in 28 days
Cody – ohh my gosh.. we got rid of 7 in 57 and 6 have to go in 28
Nicole – for the first time I'm scared.
Cody – say you put up Memphis and David and you say to him .. you push for David to go home that will get Memphis to want to go after Tyler.
Cody says Memphis wants David if they get rid of David instead of Memphis it'll show him that he's got you.
Nicole – then I'm getting rid of his target
Cody – right.. it will show him that you are game in I want Tyler
Nicole will tell Memphis her number one plan is to backdoor Tyler this week but her backup plan is to take out David.
Cody – but I need you to win the veto because you are the best. (Memphis)
Nicole – what if he says you are the best
Cody – I'm worried about that
Nicole – you've won 2 out of 3 vetos.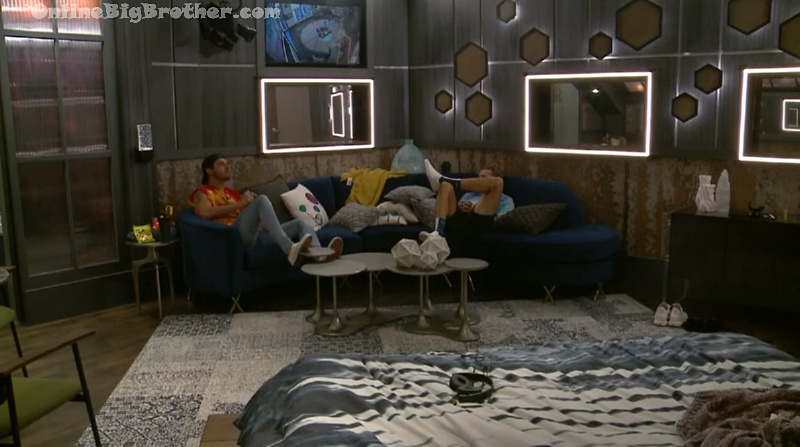 3:30 pm Cody and Tyler
Cody says certain people are having Convo about the vote because "they still have to make a show"
Cody says Nicole came up hinting about Keeping Kevin. He says he nipped that right away.
Cody – no I'm not going to switch on it.. I feel like there could be an attempt but there's no shot.. Who can they flip who will the votes be?
Tyler – Memphis seems easier to flip to vote out David than we think
Cody – I dunno.. I think Memphis.. I feel that one it all stems from Dani
Tyler – it always does
Tyler – David is reckless like hell he could be reckless against us but Kevin is more precise he' could be locked in against us
Cody – theirs a possibility I could go on the block because of David
Tyler – me too I really think he might say f** it all and put us both up
Cody isn't sure David can even win a competition says there's not an endurance comp he has a chance against them.
Cody – he doesn't even know the types of comps that are coming up.. he hasn't watched the show.. just bits and pieces of yours which tells you nothing about the comps that come up at the end of the game.
Cody says David's whole thing about flipping the votes was to expose Dani
Cody – what is your stuff David you're f***ing lost. That's what makes me nervous he says I can't be manipulated into doing other people stuff.
Tyler thinks that David might put up Dani and Memphis or you and Memphis.. any of those three
Cody agrees says they all put David up.
They both say they're telling David Dani is trying to get him out right now.
Cody – I told him you taking the 10 grand was stupid because Dani is already talking about it.
Cody says Dani and Nicole are "So f***ing tight" they're trying to be in a situation where they are not up against each other
Tyler – if I win Hoh should I go David and Dani or should I go Nicole against Dani?
Cody – I don't know ..
feeds go to stars When we're back
Cody – I'm not keeping her (dani)
Tyler – Nicole wouldn't vote her out I wouldn't want to leave Nicole out to dry and I wouldn't want to put Nicole in a position where she has to vote her out
Tyler thinks Nicole will tell Dani "Who will vote her (Dani) out, you, Enzo, Memphis, Christmas.. it's 6 votes this week.. it's 5 next week. "
Cody – she's gone there no way it doesn't go that way (Dani)
Cody – if you can keep it and save face with Nicole
Tyler – I don't want to put Nicole up and next week
Cody – she's gunning for you.
Cody says if Tyler wins HOH Enzo and him are ridding anything Tyler wants to do.
Cody leaves.. Tyler stays to listen to music for the next 30 minutes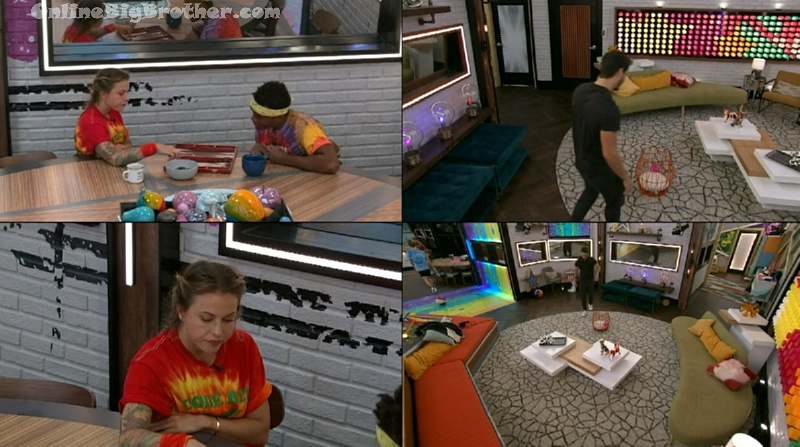 4:00 pm – 5:06 pm backgammon and playing with balls.

5:35 pm Turning to GOD and snacks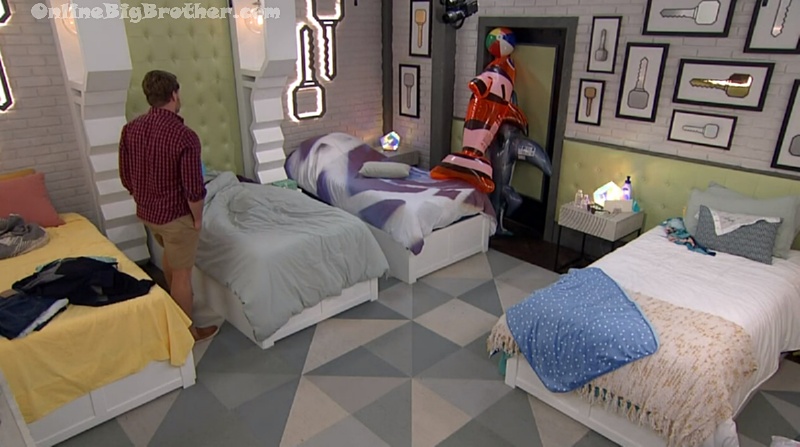 5:57 pm Memphis set up a barricade to the key room.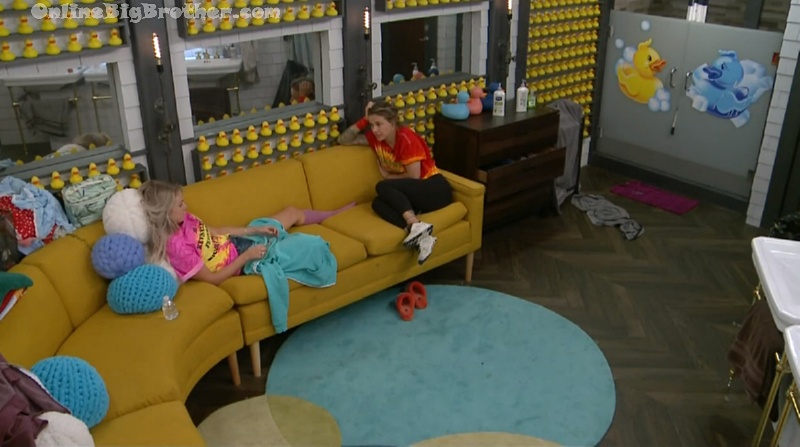 6:45 pm Christmas and Nicole
Nicole – Dani's like David is going to put me and you up.. I'm like whatever I'll take my chances I don't want her to get another number again. I feel like over and over..
Christmas says the worst case scenario David wins puts Dani and Nicole on the block
Nicole – if she goes up she'll go home
Christmas – hands down she's going home
Nicole- if you put her up I will not use veto to save her or annnnnnyyyyyyyything
Christmas – there's no way she's winning the veto.. no way she's shooked before going into teh veto.. shooked she gets freaked out. she's not like you you get dialed in (ZOMG)
Nicole – she'll throw anybody under the bus.. I will never throw you under the bus
Feeds cut when we're back they are giggling with Memphis
after he leaves..
Christmas – Her staying in this game freaks me out
Tyler comes in to use the toilet..
After Tyler leaves…
Christmas -I think if she hears that I know she's coming after me then she'll be forced to take a shot
Nicole – she doesn't know she has no idea (If Dani wins HOH he's targeting Christmas and vice versa.. 1 Hundo)
DAvid comes in to chit chat and to use the toilet.
Christmas forced to stop scheming against Dani.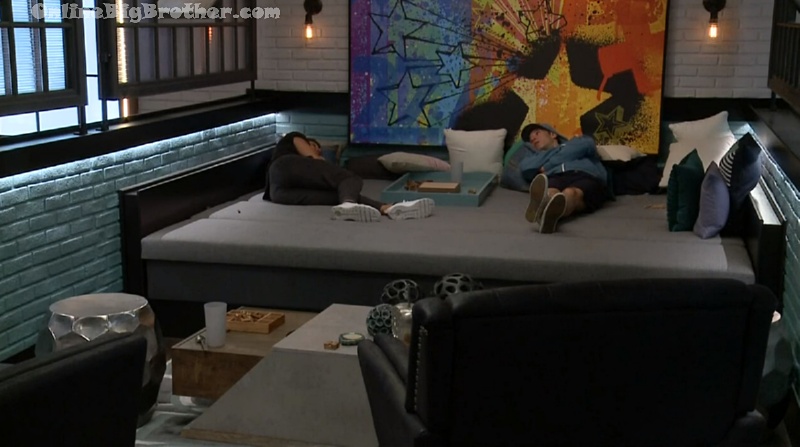 7:00 pm Cody and Enzo
Cody talking about coaching soccer being his main job but he's going to do something with real estate. Is worried COVID will impact his job during the winter because they play indoors.