Head of Household Winner – Cody
Have nots – Kevin and Enzo
Nominations – Kevin & David
Power of Veto Players are – Cody, Kevin, David, Tyler, Enzo, Nicole
POV Host: – Memphis
Power of Veto holder – Cody
Power of Veto Ceremony – Veto was not used. Noms stay the same.
Live feeds —-> Grab your Live feeds here. Try it free.
Rank the houseguests —-> Big Brother 22 Ranking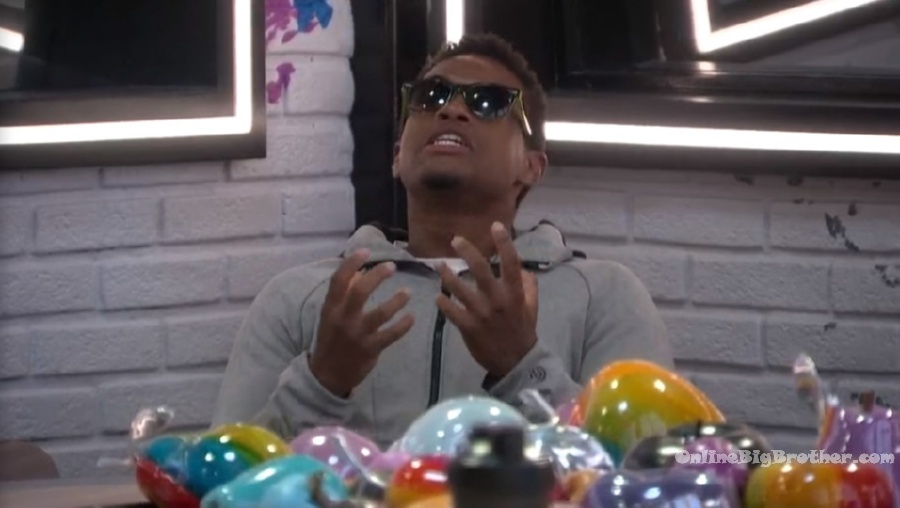 7:20pm The house guests are sitting around chatting. Memphis and Cody are making dinner.
7:50pm Bedroom. Dani and Nicole.
Nicole says that David hasn't pitched to her at all. He did the day before the veto was used. Did he make you feel okay or no? Dani – I don't know.. I feel like he is always just telling me what I want to hear to be honest. Nicole – that sucks! Dani – he blamed everything on DaVonne basically. Nicole – oh really? I don't trust him.. but what are you going to do. Dani – all I told him was look you're not my target. I was not coming after you. You can believe whatever you want to believe but that is the truth. Whatever! If he gets HOH we just have to convince him that Memphis was going to backdoor him. Nicole – yeah. Big Brother blocks the feeds. Dani – if he (Kevin) goes .. who is he (David) going to go to? Nicole – Cody. Dani – which we have some pull. He (Cody) and I talked forever last night about life and stuff. It is so weird because I don't want to say a lot in common because its not that but we just very very easily get along. Like it is very strange. He is easy to talk to and we can relate on a lot of things. I told him if you ever evict me I will kill you. Nicole – that is funny. I like want to hate him but I genuinely like like him. Like I like talking to him. Like when he opens up and stuff you know?! Its really weird. Its really annoying. But in this game I don't like him.. don't get it twisted! Nicole – I don't feel that at all with him. Dani – because you don't have real talk with him. I don't have any talks with Enzo anymore. Its like he doesn't have anything to say. I am ready .. lets get on with this eviction. They (Kevin and Day) will have fun together. Nicole – yeah. She probably doesn't want to see him but wants to you know what I mean?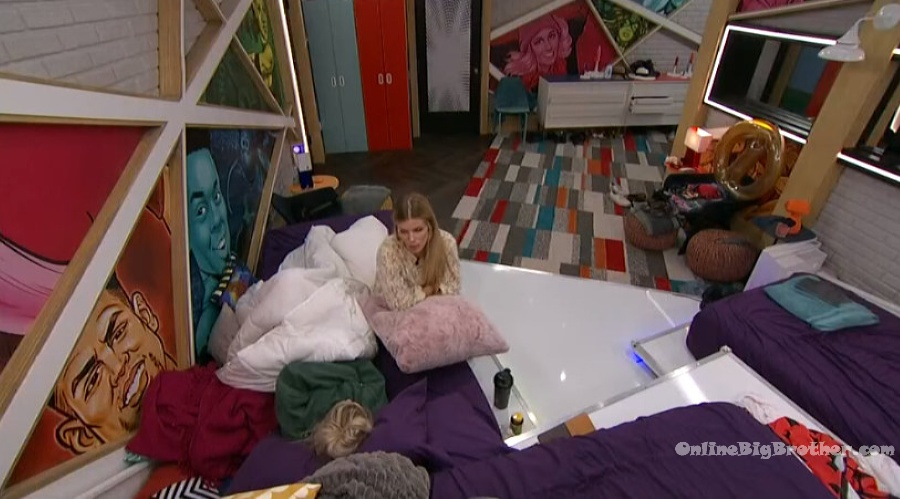 8:40pm The house guests are getting ready to eat..
9pm Lounge room. Kevin talking to the cameras.
Kevin – it is looking bleek.. It doesn't feel the same as other times on the block. Memphis told me flat out he won't vote for me.. when I thought he would. Enzo told me that he won't vote for me unless Cody gave him the thumbs up. The idea of Cody giving him a thumbs up is so slim. It was slim before I even talked to him. I get the feeling that Nicole is patronizing me just so she can get a jury vote from me. I think Dani would but one person is not enough. Dani might convince Nicole. Christmas might but I don't .. even that is a long shot. Like 50/50 chance she will. I don't think I have Tylers. It is coming down to basically Cody because Cody has to give Enzo the feeling like he is neutral. Enzo has to feel like he is safe to vote for me. Like all Cody has to do is say na bra .. Kevin has to go. I want you to know that I tried and didn't give up. I needed that veto and I didn't win it.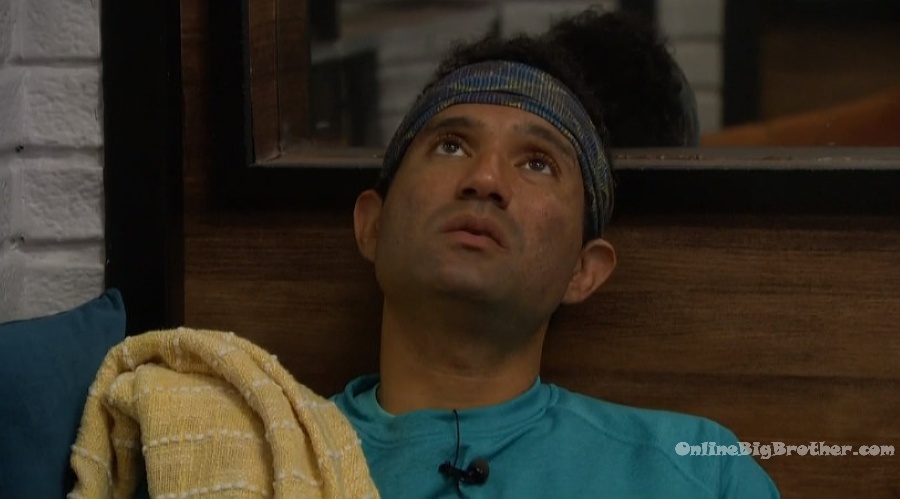 9:40pm HOH room. Cody and Enzo.
Enzo – I keep envisioning it! I keep envisioning us in the end. Can you imagine like the flight home?! Like we F**KING DID IT! Cody – there is a lot to go still. Enzo – And this part of it is going to get F**king hard yo! Lets just have fun man that's it! If they put me on that block I am going to f**King ___ out. Cody – Memphis said if he wins he is going to put up David and Nicole and tell Nicole is a pawn. And I think he means it that he wants David out. Memphis joins them.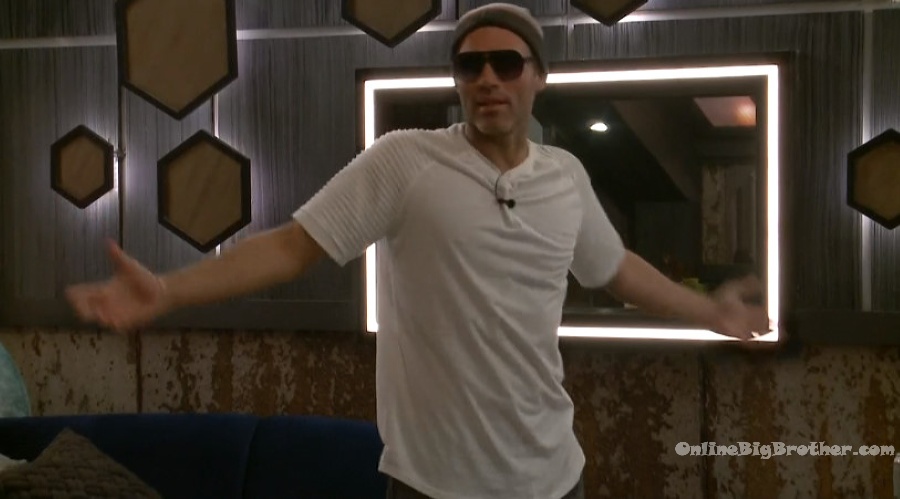 Enzo – I want David to go so bad YO! For real bro! F**K! There are things that are starting to annoy me. Its your HOH and he (David) is making money (Won 10K in the veto) on your HOH! Because I told him (Cody) once they're (Kevin / David) out, I am going for the money. And he was like alright no problem. Then the first.. up the f**king hill and I am like MOTHERF**kER YO! Memphis – I looked at that as so many levels of annoyance. Enzo – so disrespectful. And we can't get rid of him because Kevin is the target. But this just makes his target even bigger. Next week we need to send him out no matter what. Memphis – then we just have to fight and we got to win. And if we win, we're good. And to be honest with you as long as no one thinks that we're together it adds our odds up crazy because then we're not going to end up on the block together. Cody – I think we're in a good spot to just win. Kevin knows what to say. David is just f**king lost. Enzo – he is a good kid but that just rubbed me the wrong way. Memphis – but next week it just give a good reason to get him out. And we should be peddling that to everyone. Lets get him out so that they don't fire missiles at us. That will be an easy week to get him out. Cody – but if you put him up against someone else .. people will be uhh.. David sucks! They talk about how Christmas is a soldier. Memphis – if she wins and wants Dani out .. we will have to back her.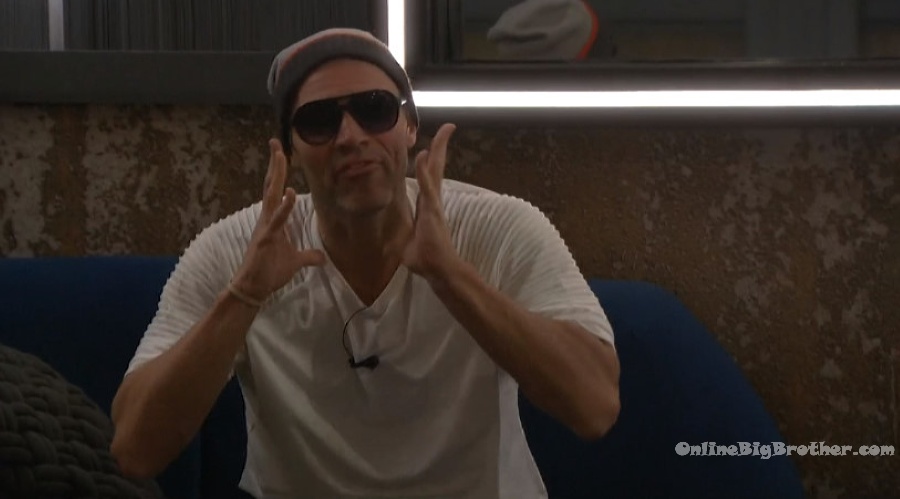 10:47pm Big Brother blocks the feeds…
11:03pm The feeds return.. Christmas is talking to Memphis about fights she has with Zeb and how he sometimes doesn't understand. I'm like are you f**king with me?! Are you f**king with me?! And then I remember he's a man.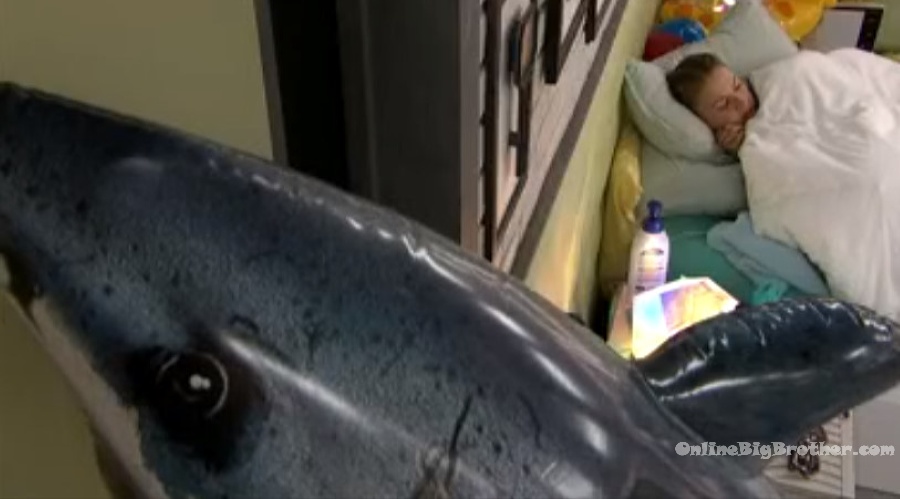 11:07pm Big Brother blocks the feeds again..
11:31pm The feeds return..
12:15am All the house guests are sleeping.
Show your support by making a donation.
If you're enjoying our live feed updates this season, please consider donating.
Any amount is greatly appreciated! Your donations go directly to paying the fees required to run this site.