Head of Household Winner – Cody
Have nots – Kevin and Enzo
Nominations – Kevin & David
Power of Veto Players are – Cody, Kevin, David, Tyler, Enzo, Nicole
POV Host: – Memphis
Power of Veto holder – Cody
Power of Veto Ceremony – Veto was not used. Noms stay the same.
Live feeds —-> Grab your Live feeds here. Try it free.
Rank the houseguests —-> Big Brother 22 Ranking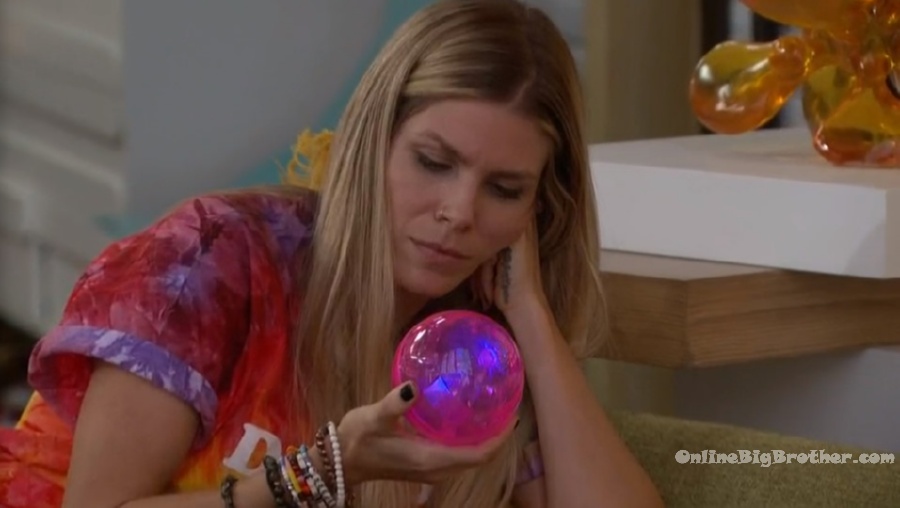 7:55pm Living room. Kevin and Dani.
Kevin – That's what I was thinking .. Man, I can't even imagine doing… like a .. it would be so hard to do it a third time. Because like the second time feels like an honor. And the third time is like an .. HONOR AGAIN!? Dani – enough already. Kevin – right because the second time you were like.. Dani – totally but then the third time being on All Stars is different. Kevin – Did they tell you it was All Stars? Dani – yeah. What did you ask? Kevin – I didn't ask anything. Dani – like this isn't like one of those trashy.. half returners right!? Because I am out!! I would never have done it! NEVER!! Kevin – okay so maybe I am getting it all out of my system.. I am getting me second ask.. which is truly like thank you and its All Stars. Dani – yeah. Kevin – so that is why it feels different for me. Dani – now you can retire. Kevin – yeah. What if it was like ULTIMA Edition.. 1 million dollars? Dani – I thought it was 1 million .. I was pissed!!! I was so surprised especially after survivor just did 2 (million). I was like no way it hell it won't be a million. We're suckers! Kevin – they've given away like $35,000 in cash.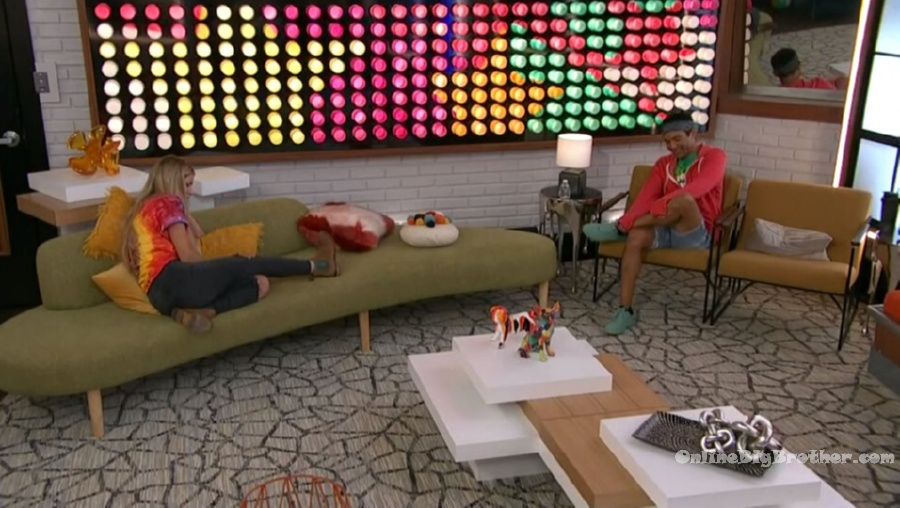 7:50pm HOH room. Memphis and Enzo.
Memphis – DUDE, everything is f**king money man! Enzo – I know. That's it YO! Memphis – Got to keep Christmas on the rails dude! She is F**KING CRAZY DUDE! Enzo – that's why I was like YO YO whatever you want to do .. that's it! Memphis – She is like .. f**King intense! I am like look, I am all for you taking your shots but think about … what I don't want her to do is .. she can take her shots but she can't be getting her a$$ put on the block. You know what I mean!? Enzo – YEAH! Memphis – I am like be careful! She is funny man! Enzo – she is intense! I love her though. Because I know if its a double and wins she is taking a shot YO! I just know it! You know what I mean?! Memphis – yeah. Enzo – she is going to go f**king crazy if she wins. Look at her right now .. she looks like f**king Mini mouse and sh*t. She is f**king out of her mind and I love it! I am excited for tomorrow man! She is f**king crazy. Big Brother blocks the feeds. Memphis – If you're talking about Nicole .. then you have to have Tyler on your radar too because that f**king dude is going to win some sh*t. Enzo – because he will probably snake you. Memphis – if he goes on the block he might f**king win POV. Enzo – easy man.. like don't sleep on him because he's been in 7 POV's and only won one. Like that don't mean sh*t. Memphis – because he doesn't want to win them! Enzo – that is what I am trying to say. He doesn't want to show his cards. If you're in the final five .. he's got to beat out 4 people. Its not that hard man. Memphis – I think the majority of comps he's played in this year .. he threw. I don't think he wanted to win. Ezno – but when he wanted to win it .. he destroyed it. He destroyed it Bro! You know what I mean. He has a thing for David. Even though David voted him out. I hope the vote is 6 – nothing. Or then someone is trying to work jury votes. That's what I said to Coyd if its one or two .. you know who it is. I am like dude (David) you better win HOH or your sh*t is done! Big Brother blocks the feeds.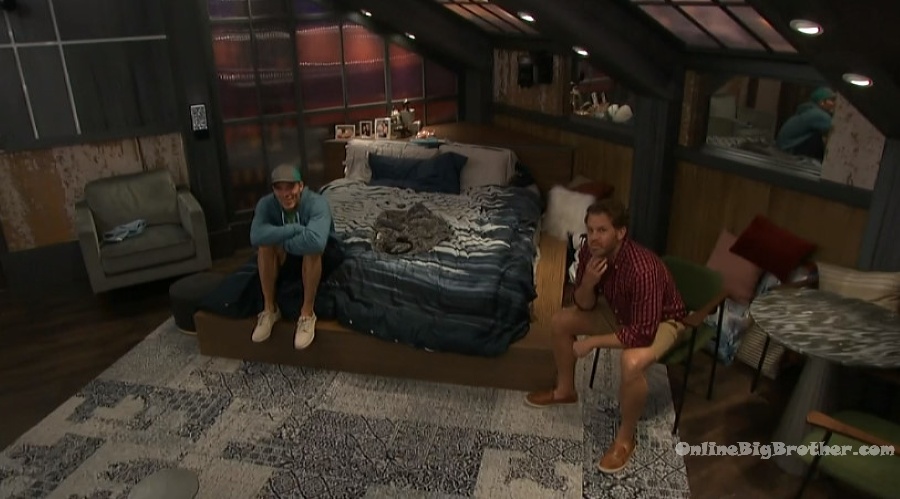 9pm Bedroom. Christmas and Kevin.
Christmas – I checked out a little while today .. I went home in my head. And I was just trying to think if its a double next week.. Kevin – its going to be a triple! Christmas – what do you do in a triple!? Kevin – I don't know but.. Big Brother blocks the feeds. Kevin – whoever keeps me I am going to know. Like if you keep me I am going to be like Christmas what do you want me to do. I am going to consult you if I win HOH. If David wins what is he going to do? Christmas – I don't know what he is going to do. Nobody knows what game he is playing. Kevin – Including him! Christmas laughs. Kevin =-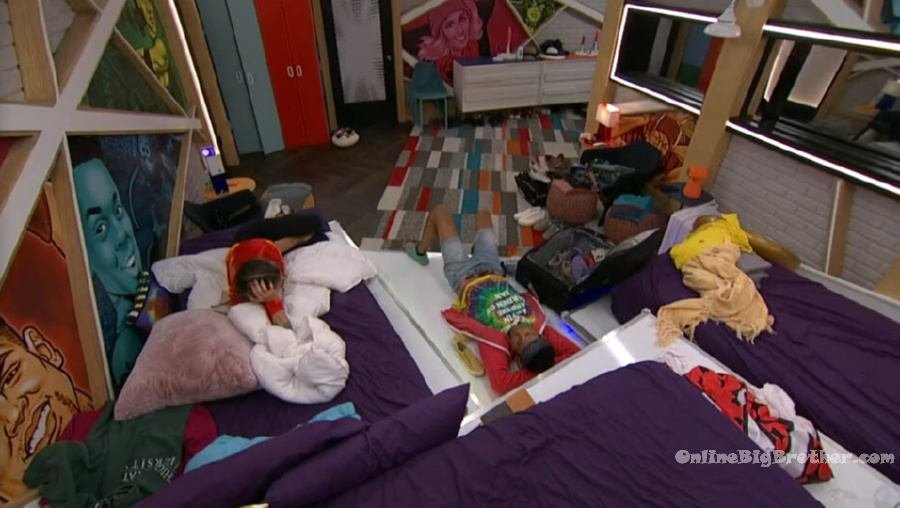 HOH room. Tyler and Memphis.
Tyler – has what's her name been all over you today? Memphis – what? Tyler – Has Dani been all over you today? Memphis – yeah, she is exhausting Bro! Tyler – She is f**king! She is losing it. She senses some sh*t. Memphis – Well she should kind of I guess. But you know what dude she senses it because she is making it like that! Tyler – I know. Memphis – its the same thing that we used to talk about with Janelle .. You're creating it! This game is so funny like that. I am like you're the one that's doing it. Tyler – you build your own conscience and then you're guilty about it so you have to cover all your sh*t. She tried to tell me that Memphis thinks you're his biggest competition. I was like oh okay?! She is trying to get me to come after you and Christmas. I am like what?! What the f**k. Memphis – she is so off her bases too. That is the kind of sh*t that she should .. not that she should know .. like I feel like she talks too much. Tyler – too much. Like she thinks she is getting in by saying that sh*t. Memphis – she did the same sh*t to Christmas. Big Brother blocks the feeds.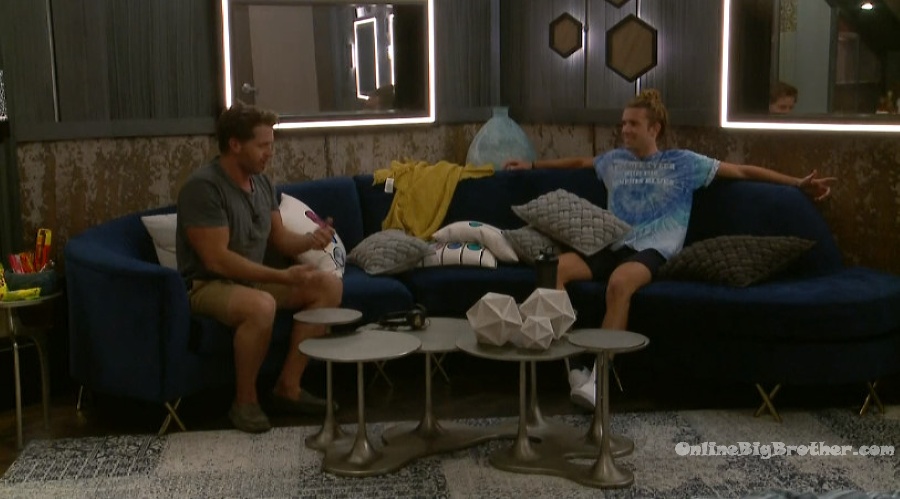 9:35pm – 9:48pm HOH room. Memphis and Christmas.
Christmas – Double.. I have to talk to David and make sure he isn't going to do anything f**king dumb! Memphis – I would definitely talk to him. For sure. Christmas – well Dani is doing her before eviction rounds ..and like buddying up with everyone. Memphis – she is so annoying! Its crazy dude! Christmas – Like she spends the whole night before with the f**king block mates. ..like she has never even talked to David and she is hanging out with him. Memphis – yeah she is so obvious.. its nuts! I talked to David earlier about the week and it was a good conversation and I don't think he would put me up .. I mean he made it clear that he wouldn't so.. and that was after .. I mean he kind of just came out and said it. I was like I am keeping you here. Like I am voting to evict Kevin. Christmas – Enzo is good with both of them .. and in my opinion .. whoever is staying ..I want to make sure one or two of us have them in check! Memphis – yeah for sure. I mean I think Kevin is going. Christmas – I mean Kevin is going around making good offers. Memphis – all it takes is me, you and Enzo. Christmas – I think David is easier to bring along. Memphis – I don't like the idea of bringing him along but I think its better to get rid of Kevin. Christmas – you don't think it would be a triple? Memphis – no I think that would be too messy. Christmas – I don't care if we bring David along for another two more weeks. He can't be final four. Memphis – I don't want him final five. Christmas – I would personally like to see the girls (Dani and Nicole) out first. I just think that Nicole is a very nasty player at this time. And Dani is just irritating the sh*t out of me and I don't want her to think she is getting one over on us. Memphis – I feel the same way. I think that Tyler would go after them too. Christmas – I just don't want to give Dani the opportunity to go after us because she would put you and I up. Or me and Tyler up. Memphis – well we have the votes. Lets so what happens I mean I am gunning for it. Christmas – same.
9:58pm HOH room. Cody and Memphis.
Memphis – everyone is getting f**king antsy man. Cody – they are? Memphis – yeah. Memphis tells Cody about his conversations with Christmas and Tyler.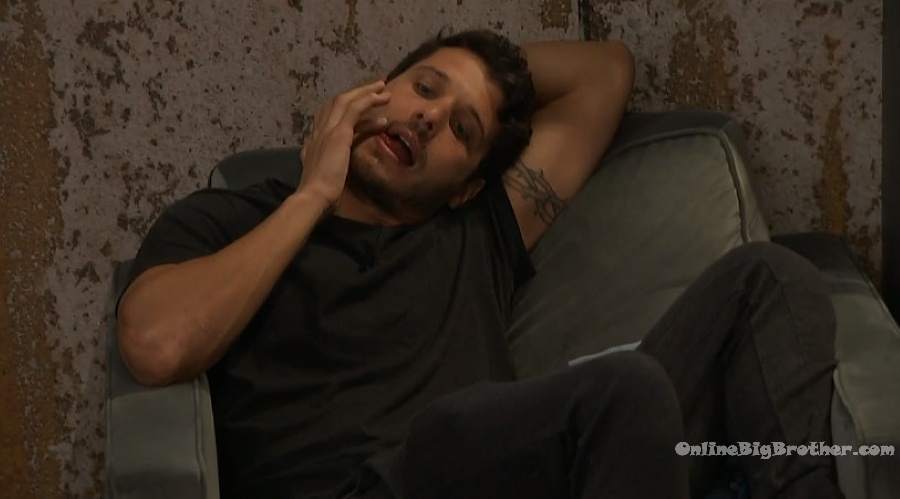 10:47pm Christmas builds a blowup tower..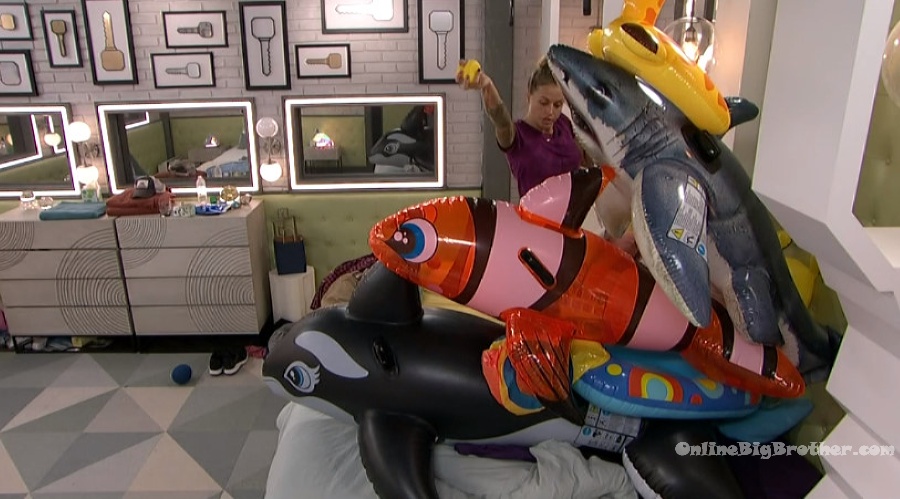 12am Enzo and Kevin are off being havenots and get to eat..
2:15am HOH room. Dani and Cody.
Dani – who would you keep over Enzo and Nicole? Cody – oh my god I don't know. Dani – I feel like Enzo would be more helpful in the game but Nicole would be less of a threat around so people wouldn't go after her. Cody – oh god who would put that.. Dani – I think that scenario would happen after a veto after the original noms. Cody – that would be bad but its something that could absolutely happen. Dani – also Tyler doesn't have a final two with me .. he doesn't have one with you.. so he has one with Christmas. Cody – Tyler didn't come into this game and have zero final twos. Dani – no there is not doubt. Cody – like I don't think he has one with Enzo. Dani – he definitely doesn't have one with Nicole. Memphis wants him out so.. Cody – definitely not Memphis. Dani – Unless him and David have a final two. Cody – I respect him a little bit more than to just gone to David for a final two. Dani – yeah he 1000% does. That would be so good to cut Christmas and Memphis. Cody – yeah she needs to get cut!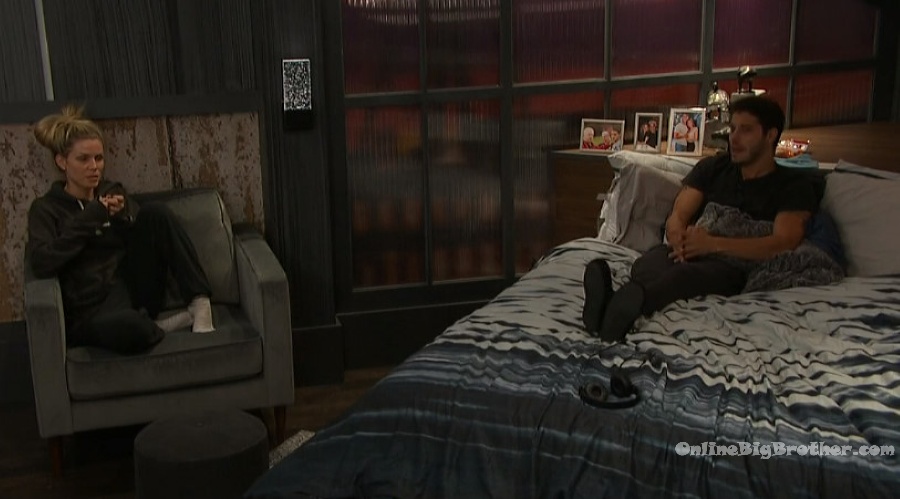 3am All the house guests are sleeping..
Show your support by making a donation.
If you're enjoying our live feed updates this season, please consider donating.
Any amount is greatly appreciated! Your donations go directly to paying the fees required to run this site.