Head of Household Winner – Jackson
Have note are:
Nominations are: Jess and Chrsitie
Power of Veto Players are:
Power of Veto holder:
Power of Veto Ceremony:
Grab your live feeds —-> BB21 Live Feeds Subscription Link
Rank your houseguests —-> Big Brother 21 Ranking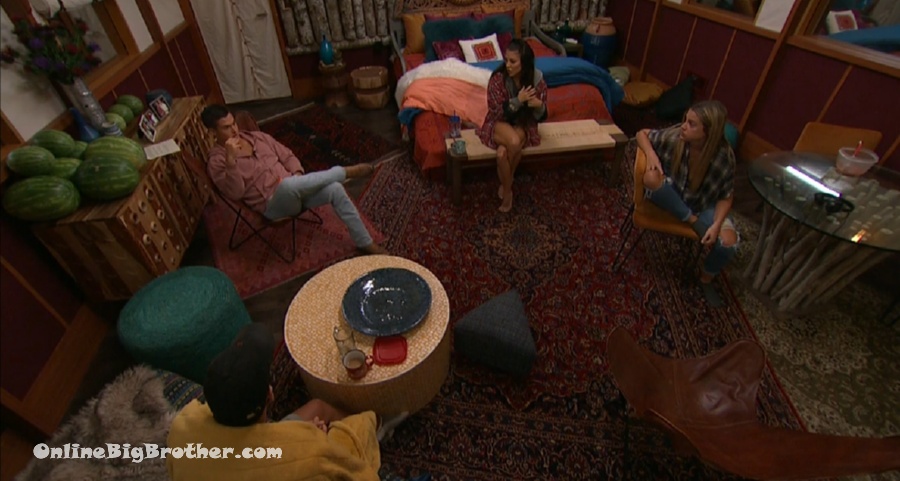 11:38 am watermelon brain, Holy, Christie and Tommy
Jackson going on about Christie being the pawn and if someone wins the veto they should use it.
Jackson – if she came off the block I would just put Cliff up
Christie says she gets what Jackson is doing. She reluctantly agrees with his nomination plans.
Jackson – you are not my target. Jess, Is my target.
Christie – I trust you. I do
Jackson – I love you I'm not bullshitting you
Christie – as long as I have your word I'm not the target
Jackson – you're not
Christie brings up what happens if Jess wins the veto and Cliff goes up.
Tommy – we have the votes and he breaks the tie
Christie – I don't know what is your relationship with Cliff
Jackson – I know .. I know for the best of us I wish .. I was thinking of putting Nick upright putting Nicole upright. Dude if you win the veto use it.. I don't know wif you want to show loyalty but if she comes off the block I'll put Cliff up that doesn't worry me. Cliff is not my target Jess is not my target.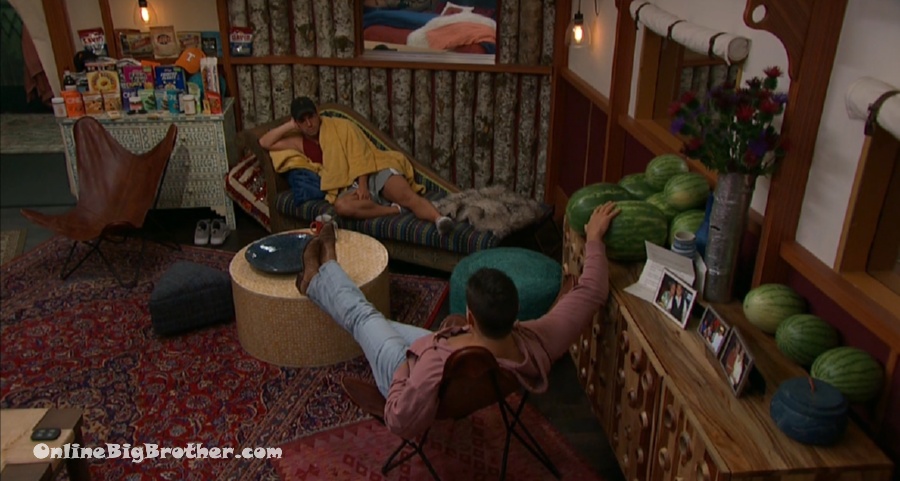 11:47 am Jackson, and Tommy
Jackson telling him to do what he wants with the veto "I don't want you to feel that you are not included. I know that in the past few weeks you've lost a lot of people but I've got your back I'm not going to do you dirty
Jackson tells Tommy that he's not going up he would rather put Cliff up as a renom.
Tommy says after this week it's battle of the duos
Jackson – would you rather go against Nicole and Cliff or Christie and Jess
Tommy – ohh ohh Cliff and Nicole
Jackson – Christie and JESS are you kidding me? I would rather go against Cliff and Nicole than Jess and Christie.
Jackson – we need to win this veto
Tommy – ok, we'll figure it out together. This week is all about the setup it's not about this week it's about final 4 how do we get there
Jackson – we got a job to do we have to win it *(Veto) as long as jess is on the block Thursday
Jackson – I don't want to see Christie go I don't want to see Christie up against anyone other than Jess come Thursday.
Jackson says with a straight face he's terrified at how good jess does under pressure whereas Christie crumbles.
Jackson – this will be a month on the block that'll take the life outta anybody
Tommy – We all have to be careful PMS is a real thing and I'm f*ing scared of it.
Jackson – why do you think I'm so nervous around Jess./ When Kat was on the block it was weird, weird. She did not look sane (Jess)
Tommy – I do think it could be a scary week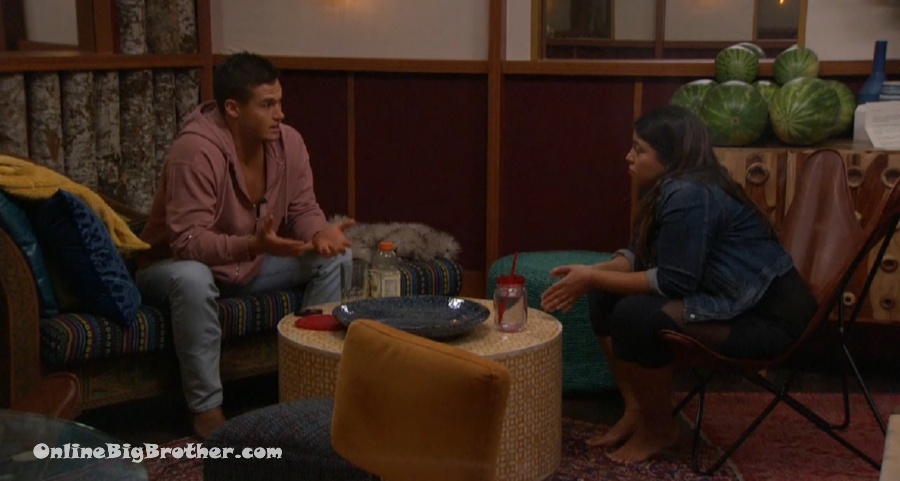 12:10 pm Jess and Jackson
Jackson says he's looking for people who's strengths are his weaknesses.
Jackson – I'm going to be completely straight forward I am more than likely considering probably you and Christie
Jess – OK
Jackson – this is not be coming after you by any means
Jess – ok
Jackson – on a personal level I adore you I adore you
Jackson goes on about how all the comps coming up until final 3 will be mental. Jess is good at mental competitions.
Jess says she doesn't study days. "I'm not that person to be seen as that type oif a threat while is great I guess people would think I am a threat. I don't personally see it that way that's just me peraonlly"
Jess – there are people that haven't see the block. I've seen it you've seen it
Jackson – it's all about paper facts who I have the greatest potential losing to
Jackson says he has so much respect for Jess that he wants her to play in the veto, "If I had an inkling I was putting Jess up I would rather do it on the front end than the back end"
Jackson – I love you too much and I have too much respect for you as a person and a game player to not at least give you that opportunity. If you're going on the block by any cahnce I want you playing in that veto.
Jess – at a physical level I suck a$$ I go slow and steady
Jackson – I'm conflicted on a moral level and a personal level a game level. This is hard, for the first time I felt a struggle inside. This is out of love and respect for you which is why I'm struggling so much
Jess -at the end of the day we all love each other and respect each other. I do love you more than a lot of people in this house.
Jess – I'm not going to downplay I may be good at paying attention to detail.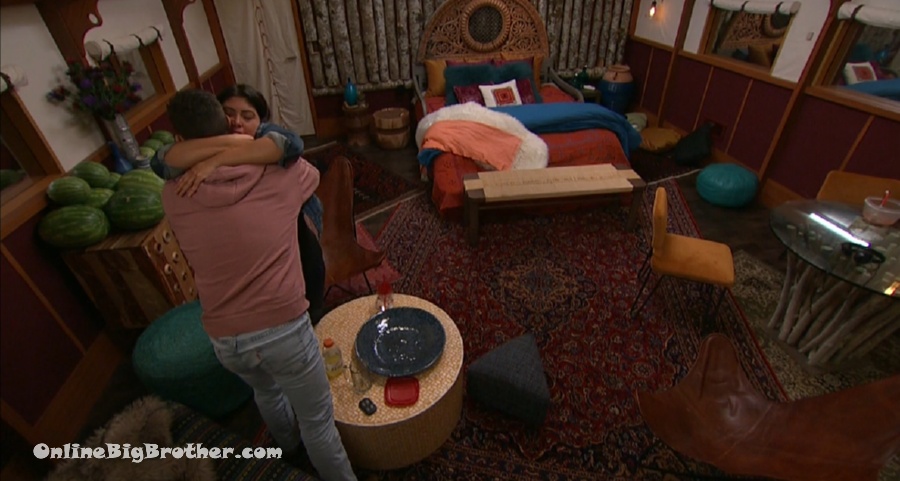 Jess – I'm really proud of you.. happy, happy for you
Jackson gets called to the Diary room we all think it's for nominations but it isn't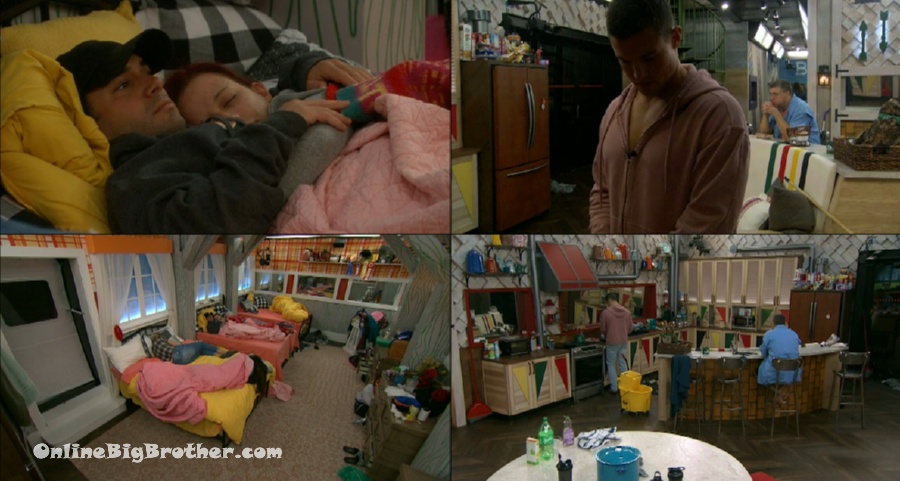 1:55 pm Feeds sizzling
(Nothing is going on until the nominations. Christie and Jess are the picks. Jess the target. )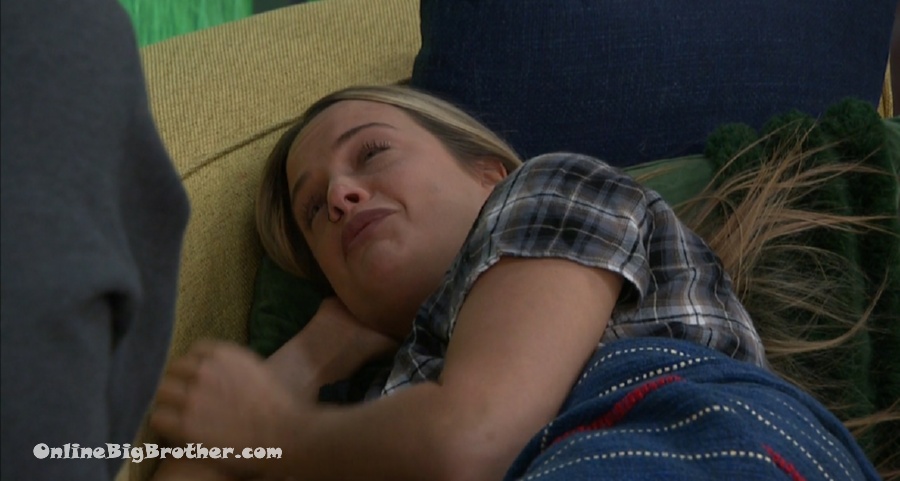 3:00 pm Christie crying to whimpering "we're so lucky" "we're here to play a game"
They agree it'll be battle of the duos once Jess is gone.
Tommy is wondering if he was tricked by Nick.
Christie – he was loyal to you he wasn't manipulating you.
They agree he used the filtering thing to his advantage
T – I see right through that"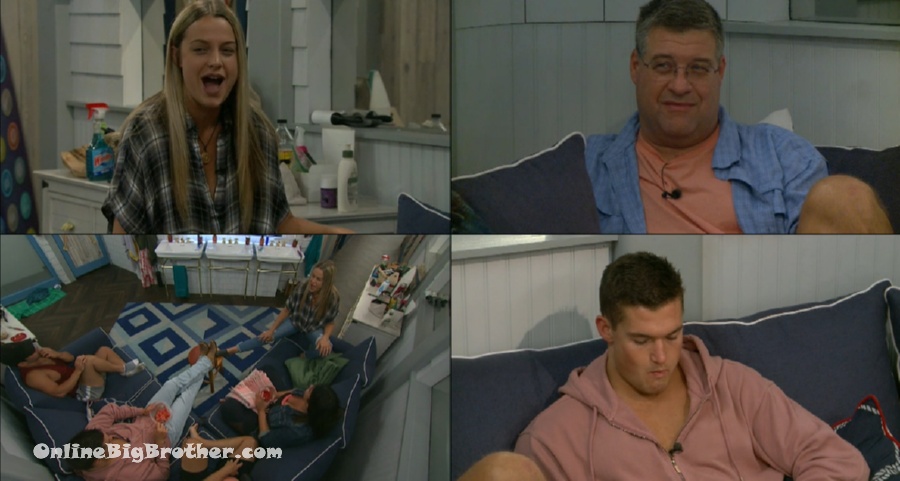 4:00 pm Chit chatting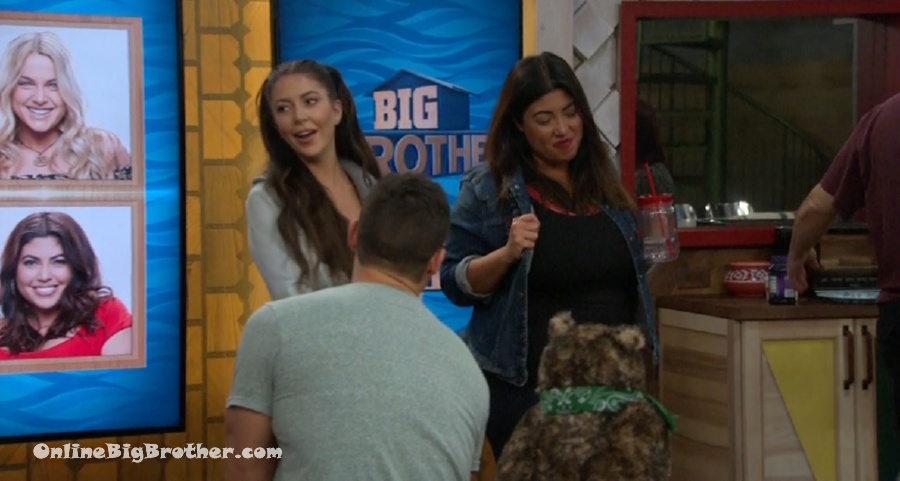 5:04 pm Nomination ceremony results – Jess and Christie are up on the block.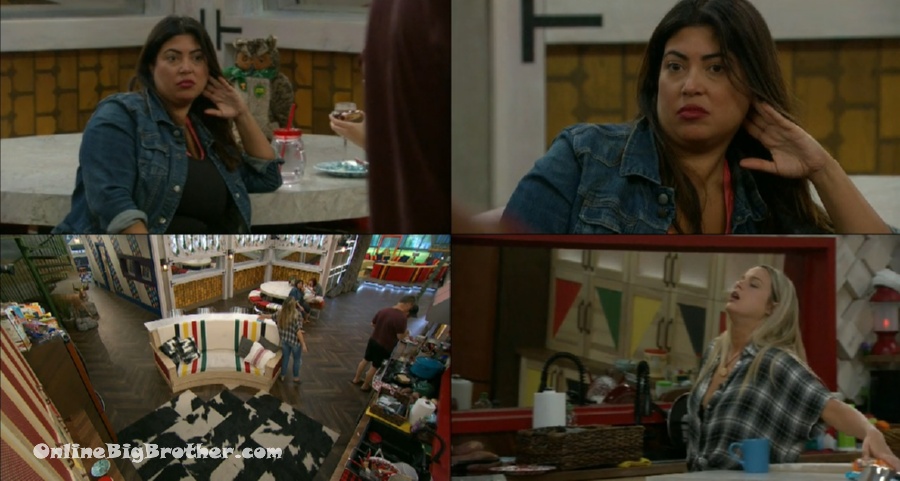 In case you missed it .. Biggest threat in the game