Head of Household Winner – Jackson
Have note are:
Nominations are: Jess and Chrsitie
Power of Veto Players are:
Power of Veto holder:
Power of Veto Ceremony:
Grab your live feeds —-> BB21 Live Feeds Subscription Link
Rank your houseguests —-> Big Brother 21 Ranking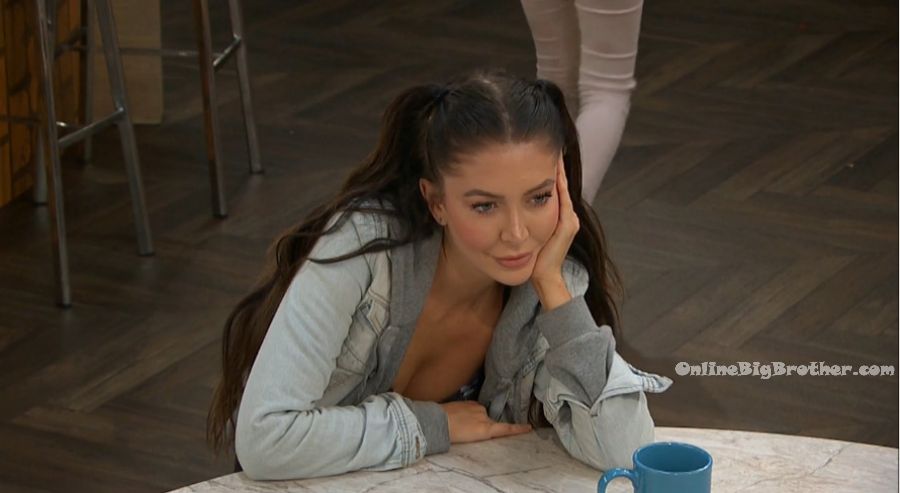 5pm The house guests are in the kitchen making food, chatting and playing backgammon. Tommy is scurrying around on the kitchen floor. Holly – I still really have no idea why Zingbot called him an attention wh*re. Christie – yeah, he's definitely not on Broadway.
They're having an exciting backgammon tournament.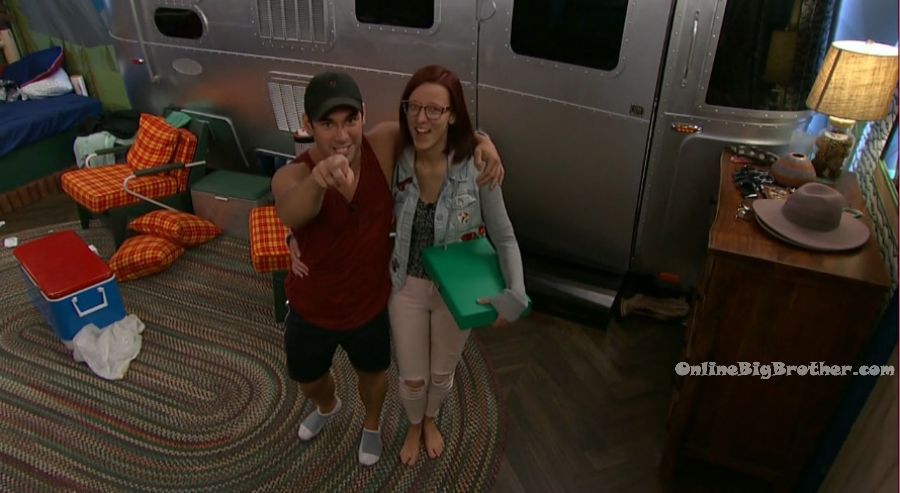 6:35pm Jess is going around the house looking for good "Hide the Veto" spots. She checks pillows in the boat room. Jess – I know you see me big brother I'm just checking out some spaces.
6:39pm HOH room. Holly and Nicole.
Holly – I think today went really well. I was really worried about Jess's reaction and I haven't even talked to Michie since they spoke so.. Nicole – I know Michie broke it to Christie and he broke it to Jess. Did he tell them that he also broke it to other people? I wasn't sure if I should be like .. I know or surprised. I didn't think about it till Christie was like well I'm going on the block again. And my reaction was like oh sh*t! So I didn't know how to react. It was something we should have spoken about earlier. Holly – that was dumb. I think that Christie knew that Cliff knew.. because she said something that eluded to that. Jackson joins them. Holly – question when you talked to Christie and Jess did you elude that other people knew they were going up? Jackson – no. I told Christie that I ran it by Cliff and Cliff know that I told her that. Nicole – so I can play stupid? Jackson – yeah. Holly – she took it really well. Jackson – It took some .. I mean I was .. its was delicate! I was coasting a fine line in that conversation. That was tricky. I did not think she was going to take it as well as she did. Holly – good. Did she cry? Jackson – kind of started to. She was eluding to Cliff being a bigger threat to my game. Which tells me if she would have won HOH she would have gone after Cliff and who is going to sit next to Cliff? Me or Tommy. Holly – I think she would have most likely nom'd Cliff and Tommy. Jackson – that right there made me know I was making the right decision. My goal is to protect the final four. That is where my loyalty lies. So anyone coming after this four is a threat to my game. Its a threat to y'all, its a threat to me. So as much as Jess might not be going after me directly.. by going after Cliff or going after you.. if y'alls names are in anyone's heads .. that's a threat to my game. Holly – every single vote counts. If Jess goes, its going to be Christie going to Tommy. I've put her up twice. We have had a hand at sending out three of her friends. We have literally shot every tire that they're driving on. I would rather go up against Christie and Tommy than Christie and Jess.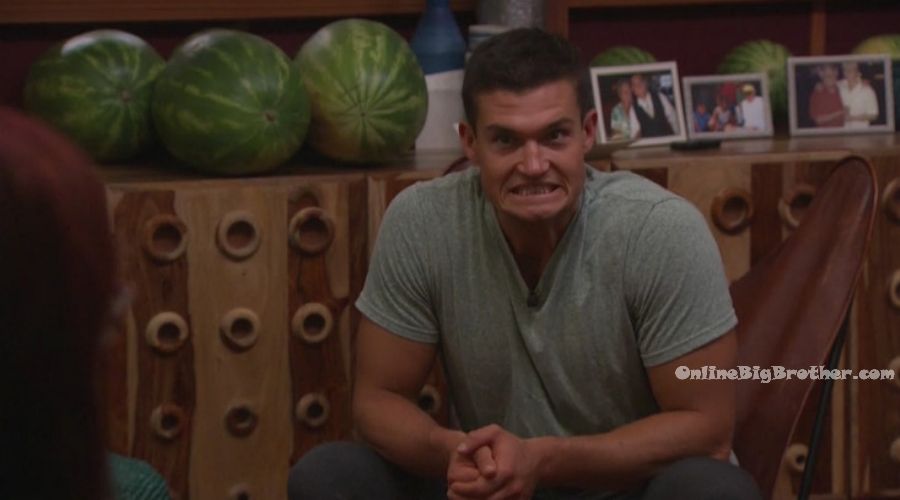 6:45pm Bedroom. Christie and Jess.
Christie – I am so f**king over being on the block. I am so f**king over feeling like sh*t for a month. And it sucks now because I am sitting next to you which is obviously on purpose because we would have been a vote for each other so obviously one of us are going. No matter who comes off one of us are leaving. The way that I see it, even if one of us come off and I win the veto .. who are they going to put up? Its two votes to go out. We're both mental threats … I mean I am sure he would prefer it to be me because I was his initial target from two weeks ago. I doubt I'm not his target anymore but even if I won the veto he isn't going to want us both to stay. It gets f**king annoying. Even if two votes .. lets vote to keep you .. lets break a tie. They're amazing at this game. They're going to steam roll to the end. He is playing a good game. I can't even be mad at him. He is making moves and winning comps. I can't even hate on him. Its like no one has a chance. Jess – even though he said he didn't want me to be blindsided ..I still feel like I am. Christie – I am pretty sure the four of them are working together. I am pretty sure. I am not even going to campaign. I didn't think he would put you up. I think they're working together. Why other reason would he not split them up?!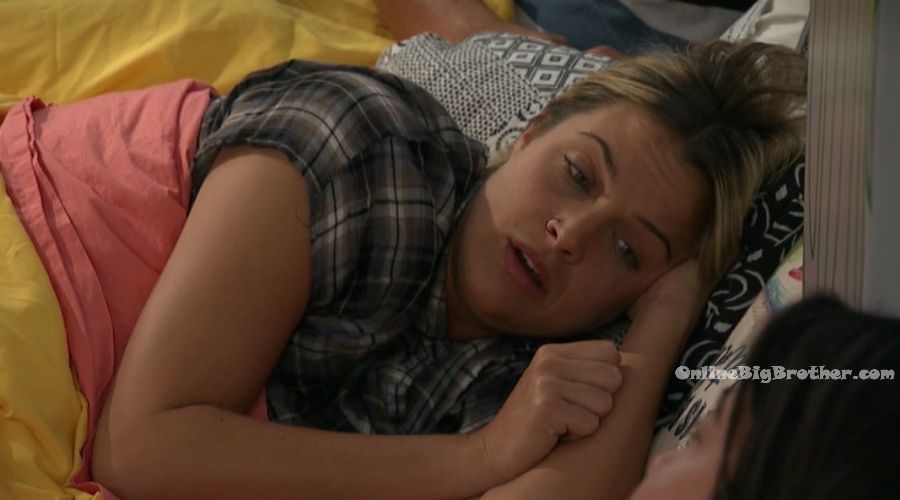 7:16pm Bedroom. Christie, Tommy and Jess.
Jess is crying. I've fought since day f**king 1! Its a sense of feeling unwanted. Like trying to prove myself over and over and over again and like me getting picked last on the playground. I've never had an alliance from people that have had final 3's, and 2's and 8's . I've had fake alliances. Me in this game is has been me competing for myself. Against myself. I have been honest and true. Me in this game has been an after thought. No one even asked me to be in an alliance. I was looked as the expendable one. He we are on day 72 and it triggers me again. Cliff joins them. Christie gives her a pep talk. We're in final 7, this is big! Jess agrees. I don't want to keep on feeling the emotions.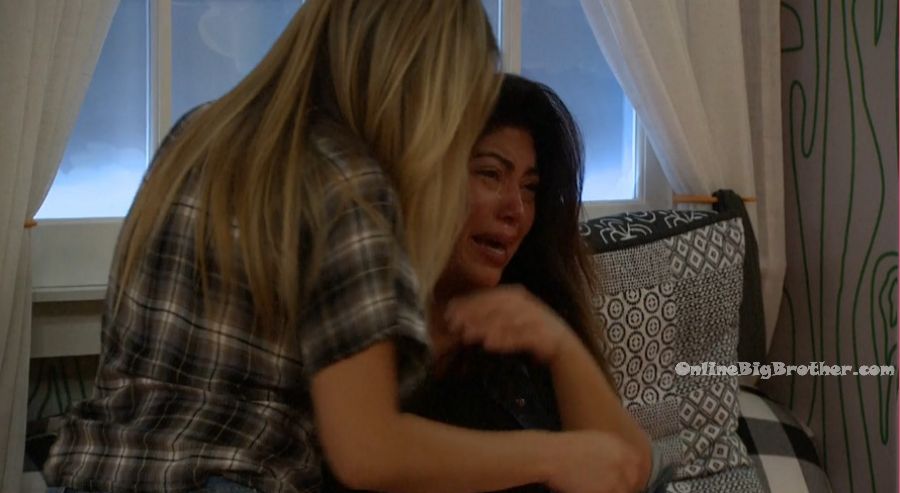 9:17pm – 10:25pm Big Brother gives the house guests alcohol.
The house guests are chatting about random things.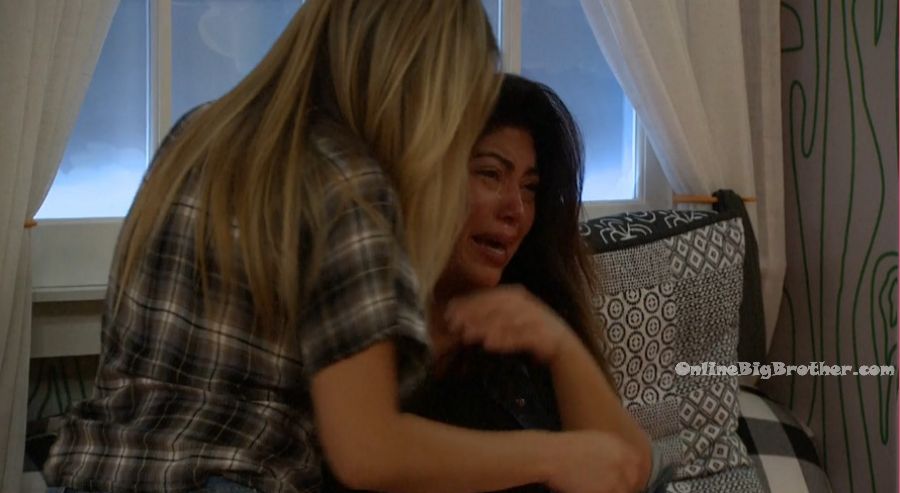 10:30pm – 12am Bathroom. Nicole and Jess.
Jess – Its LIKE.. I understand that people LIKE should LIKE feel LIKE in LIKE I don't know LIKE I've never had that personal relationship with LIKE with Nick. Nicole – why are you sad?! Jess – I just feel LIKE I don't know I just .. I feel LIKE I love who I am and then LIKE that thought of feeling played by people that I care about. Nicole – do you think I am one of those people? Jess – I do .. and I love you so much. Nicole – why do you feel that way? Jess – I don't know its just the half information you've given me. And everyone else just saying sh*t and me not knowing what's going on. Nicole – if you want to ask me anything… Jess continues to cry. I need to figure it out and piece it together. In the beginning it was all like not being honest and he's telling me you're good .. you're straight. And I love what you stand for.. and I don't believe him. Nicole – yeah I didn't believe him either. Jess – I don't want you to think that I distrust you. I want you to win this. I think that Michie doesn't want any more blood on his hands. Jess continues to reminisce about past events of the season.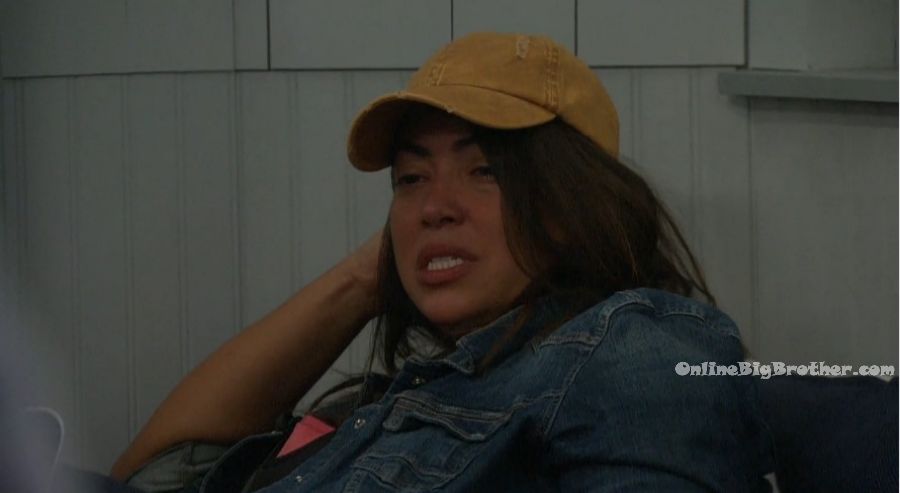 10:45pm – 12am Bedroom. Holly, Christie and Tommy.
Holly is complaining about how she isn't relevant or known for anything other than for being in a relationship with the 24 year old pompous douchbag. We literally knew each other for 23 days before I even kissed him but it doesn't look like that on TV. Like I am literally so f**king conservative outside of here. I am not the girl that you bring home from the bar .. and maybe like ..maybe that is what he is used to? Like cool, its not me at all! Tommy – no I think that's what he loves about you. Holly – no but like the bro talk?! F**King cool it! Christie – no but that has nothing to do with you .. it is just that he is young. Holly – I know and then I hear him telling one of his douchy-a$$ frat boy stories. But I am also like I was 24 once.. and I did that too. I've done a lot since then. And I cannot fault him .. at all. Christie – but I get your frustration like who the hell wants to hear about it all the time. Over it! Holly – Like I f**king don't! Clearly America doesn't.. so shut the f**k up! Stop! And stop dragging me into your douchy-ness! Okay that was harsh but still! Cliff joins them. Holly talks about doing organized "Hot Takes" interviews with the house guests. It will give me some worth.




12:30 am an early night.
9:02 am FEEDS LIT already
If you've enjoyed our live feed updates this season, please consider donating.
Simon and I work 24/7 all season long to keep you updated on everything that happens inside the house. Any amount is greatly appreciated! Your donations go directly to paying the fees required to run this site.