Head of Household Winner – Jackson
Have note are:
Nominations are:
Power of Veto Players are:
Power of Veto holder:
Power of Veto Ceremony:
Grab your live feeds —-> BB21 Live Feeds Subscription Link
Rank your houseguests —-> Big Brother 21 Ranking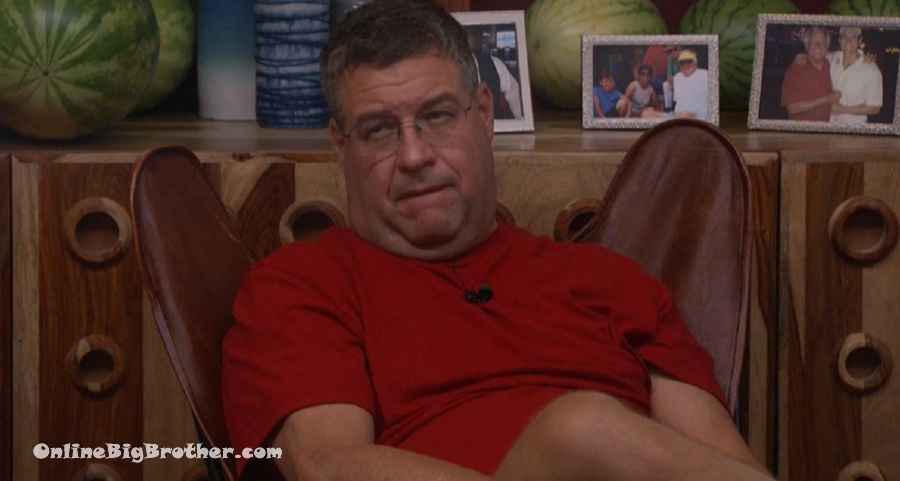 1:02 am Cliff, Jackson, and Nicole
Talking about Cliff going up as a pawn in the event Jess or Christie get taken off the block
Cliff – I am will to do that to play my part in the group.
They go over scenarios for nomaitnions whether or not Cliff should be used as the pawn from the get-go. It's decided this is too risky in case Jess/Christie/Tommy win the Veto they don't want a situation where it's Nicole/Cliff up against Tommy
Jackson says he doesn't want their 4 on the block if at all possible. Cliff agrees.
Cliff – start with the two of them (Christie/Jess) if one of them wins veto pulls themselves off if you want to consider me to help keep Tommy on board. I still have two votes I'm safe. If we have to do it so be it i'll play the role and do what needs to be done. you really can't backdoor now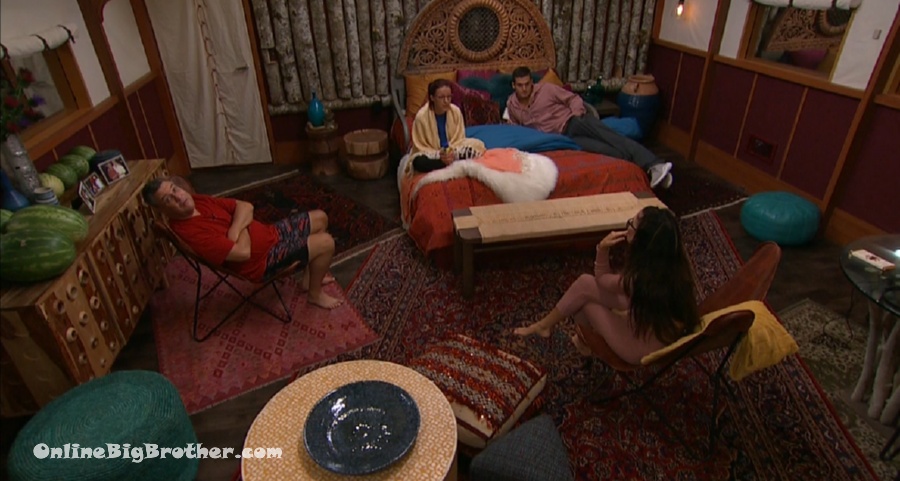 1:14 am Cliff, Nicole, Holly, and Jackson
Jackson says they have been talking about putting up Jess and Christie
Jackson – if one comes off potentially having Cliff go up as a pawn
Holly – ohh sh1t
J – As long as..
Cliff – I told Michie I don't want to volunteer but as long as I have your vote and Nicole's vote and he's the tiebreaker it might deflect a bit from Tommy thinking we're all a group.
J – it will keep every suspicion at bay
H – you could be a pawn anyways
Cliff and Jackson say they had thought about that but whoever out of Jess/Christie that isn't on the block were to win veto they are in trouble.
They decide it's too risky "the only way that both of them can be guaranteed safe is if one of them is off the block and wins the veto"
J – I don't want to put Tommy up because if Jess goes and Christie stays me and Cliff are f*ed
Nicole points out if Tommy wins the veto take Christie down they still have Jess up there as a target.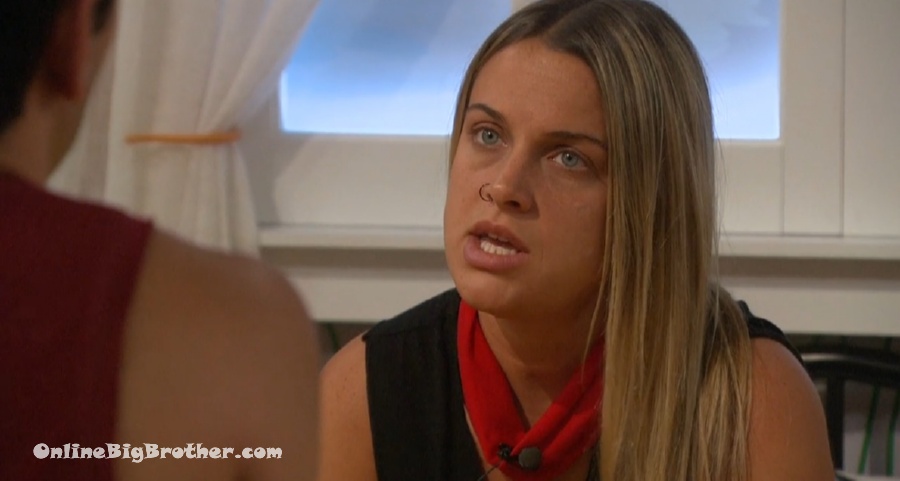 1:15 am Tommy and Christie
T – yo
C – hey
Tommy says Cliff and Nicole are both up in the HOH "I tried everything"
C – we have to win next week
T – I know
C – I'm so scared I'm so nervous. I'm done I don't want to be on the block anymore. I'm so tired
C – I just have to pretend I am fine. I have to kiss their a$$es. It's so frustrating they are so good.
Christie says Nicole and Cliff are working with Jackson/Holly
Christie says what happens if she wins the veto who goes up
Tommy – it's not going to be me he gave me his word up there
Christie says Jackson told her he wants to take Jess out.
Tomm y- they are taking out our people
Christie – yes, because they are good
Christie say the only way they can save their Jess and the two of them is if Tommy wins the veto and uses it on her.
Tommy says he'll do that.
Christie – Cliff has to go
Tommy says holly and Jackson will have a hard time balancing game talk with they are playing with both pairs in the house.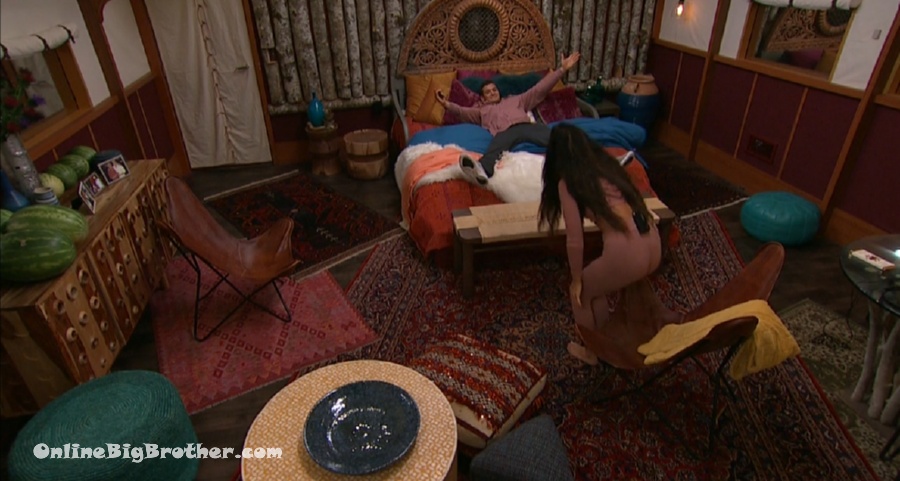 1:20 am Holly and Jackson
Jackson – we get another week up here.
Jackson – you're so hot it's insane (ZOMG)
Holly – you just haven't seen many hot girls in awhile
Jackson – I don't want to. I have no desire to.
Holly – Tommy and Christie were thinking of coming up and talking to you but they didn't Christie is exhausted. She was like I'm just sick of going up on the block.
Holly says when Christie was in the DR she talked to Tommy. She wasn't sure if Tommy knew Christie was going up as the pawn but he did before she said anything. He told her that this wee Tommy wants to "talk game" and "be involved in stuff this week"
Holly – I don't want to f* over Tommy, I don't want to lie to Tommy, I don't want to betray Tommy I don't. F* how did we get here
Jackson – I couldn't risk Tommy going after Cliff and Nicole
Holly – I know
Jackson – when I was up there I told him we're good.. even though we are good with him THEY (Cliff/Nic) are not good with them. We are good with them. We shook their hands we didnt' shake Tommy and Christie's hand
Jackson – Coming after them (CLiff/Nicole) is essentially the sam eas coming after us just indirectly
Holly goes on about how Tommy is going to want to "Play the game again" because for the last few weeks he hasn't
Jackson says that he can't compete in the next HOH now with Jess' leaving "they" can take shots at each other (Nicole-Cliff shots at Christie-Tommy)
Jackson – we can't get caught in the middle otherwise we will be the nominees for both of them
Holly – we have to be very delicate with Jess and Christie
J – Jess worries me a lot
Holly mmmmhhhmmmm me too because she's already unstable as it is. She already loud-mouthed and her and Christie are already close. Look at how she felts when Kat was going home and then she spiraled
H – now she's on the block next to her best friend in the house. Current best friend
J – this is still better than Cliff and Nicole on the block. I'm just trying to rationalize to myself why I won
Holly goes on about her dad liking Jackson because he's getting the job done and he respects a hard worker.
Jackson – I got a job to do. (getting out Jessica)
1:54 am Nicole and Christie
Nicole and Christie are crying "I love you all so much"
Christie – I love you guys too but there's nothing like them.
Christie – it seems so long now they just seem so far away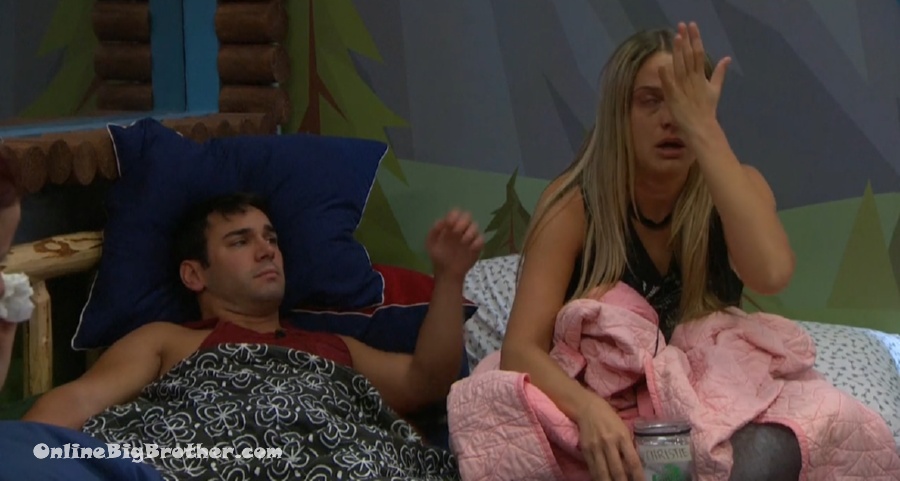 2:00 am Christie, Tommy, Jess, Cliff, Nicole
Christie crying
Christie – I forget what my family looks like.. I just miss them. I feel so drained an exhausted .. I've been on the block for so long
Christie says she's been on edge for a month now.
Christie – last week I was convinced I had no more tears left.. okay I'm done
Cliff – I'll tell yeah last week was a tough week. we were saying goodbye to someone he liked and just not that the stress of the pies and the pranks. Not knowing if there was another twist coming. I really think this week will be some kind of rewards week.
Cliff – we're final 7 nine people have gone home.
Nicole – as we sit her crying we're so luck
Cliff goes on about how lucky they are for competing in the competitions points out that Ovi and Kemi "they didn't get to do any of these Iconic competitions"
Christie – well that was my emotions for the night. I really love all of you I care about every single one of you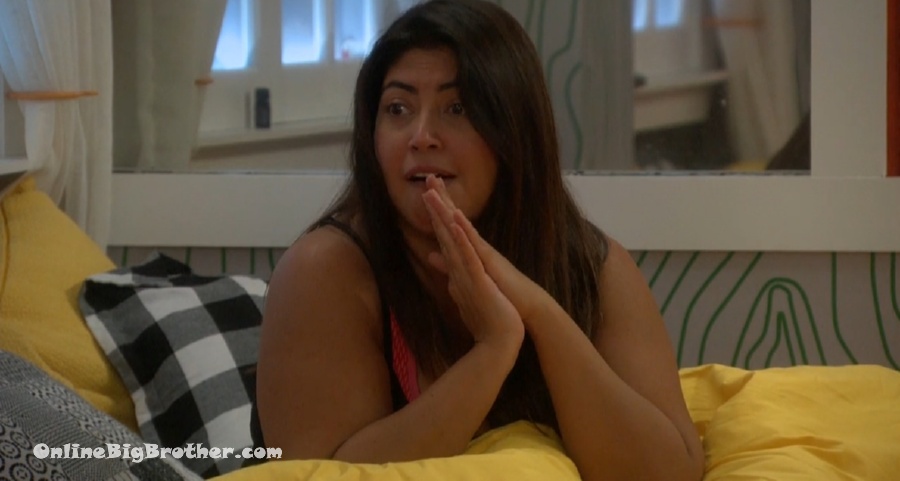 2:30 am Jess, Nicole, and Christie
talking about Jess screaming when she fell in the HOH competition
Christie says when jess fell and was laying on the ground Christie didn't see her just heard her moaning "It sounded very sexual"
Christie – I was like ohh my god is she in pain for pleasure
Jess – that hurt so bad.. you don't understand I couldn't breathe for a second.
Christie – I felt your pain. oh my god you poor thing
Jess – I feel so hard on my side that umm .. that it knocked the wind out of me which is really weird.. I feel on the side of one of my lungs basically
Nicole says one of the ghosts knock her and it was painful
Jess – it wasn't that bad for me
Christie says it was hitting her right between her boobs
Christie says the rain they felt during the HOH felt real.
Jess – I was worried about my mascara. am I going to look like one of these clowns that are next to the house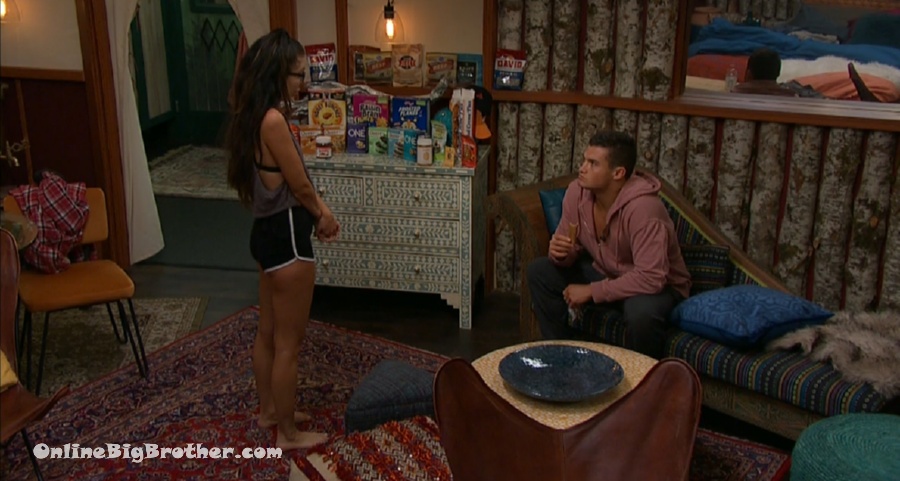 3:14 am Jackson and Holly
H – game-wise potentially risky but also potentially perfect. I hate having to turn on Tommy. It breaks my heart to think of that
H – I don't know where to get there yet in my head
H – It's good that we're including Christie/Tommy and Nicole/Cliff
J – just not at the same time
H – yeah THINK .. as long as no wires get crossed. We are playing with FIRE. we need to be extremely delicate or we're completely screwed. We're in a really good position that could completely explode
Jackson – If those 2 and those 2 find out about each other and I'm not competing in this next HOH it's 4 against 1
H – be careful with what we say to Tommy and CHristie. I don't want us saying Final 4 thing at ALL
J – if we do that's two jury votes that we lost
H – and morale I don't want to do that
J – I shooked Cliff and Nicole's hand
H – I know that's why I want Cliff and Ncioel's hands to be the only ones we shake.
J – we need to be careful what we say to Jess
H – she's going to be PISSED. She's going to go around telling everyone we told her we were good. She thinks she's good. She's very Chipper
J – I hate the fact that she's even brought gender into the conversation
H – I know
J – That's one fo the biggest reasons I'm putting her on the block because she has emphasized she is going after people simply because they are males.
H – yeah I know
J – well there's three of us left. I have no reason to get Nicole out. You aren't going on the block. And Me and Christie we're on decent terms and I'm not really on her radar so Jess I'm sorry there's only so many people to pick from
Holly says part of her is thinking maybe they should get Christie out "I don't trust her loyalty"
J – if Jess is gone there are 6 people left what is she going to do Leave Tommy to go with Cliff and Nicole
J – she will pick Tommy there's not anywhere for her loyalty to go there are 7 people. After jess is gone there's no army left to be made this is the end of it.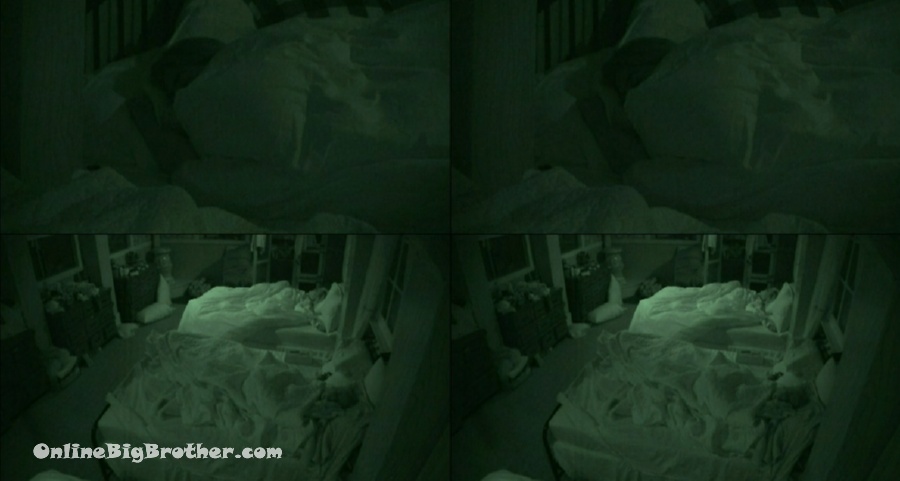 4:38 am everyone sleeping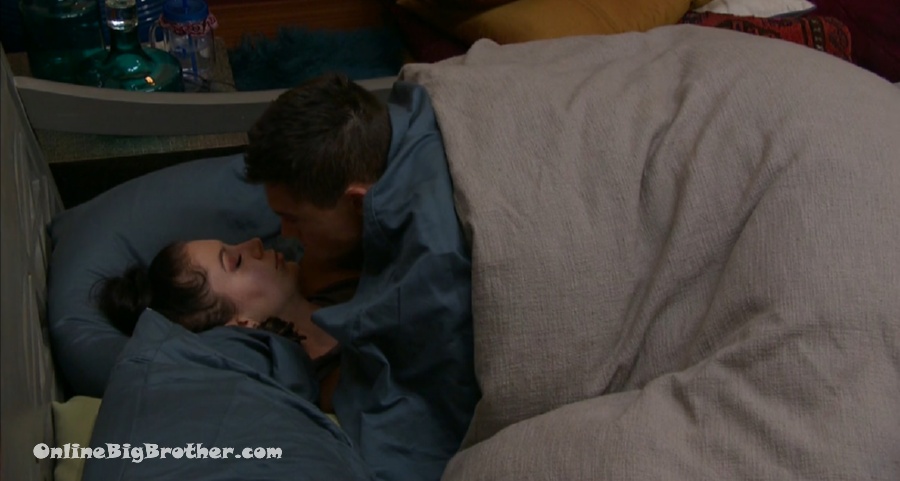 9:49 am Waking up slurp kisses