POV Holder:
McCrae
Next POV
Aug 31st
POV Used
YES
POV Ceremony
Sep 2nd
HOH Winner:
GM
Next HOH:
Sept 5th
Original Nominations:
Amanda and McCrae
Current Nominations:
Amanda/Spencer
Last Evicted Houseguest
Aaryn
Have Nots
8:27pm bedroom JUDD and Andy
Andy says McCrae told him moving forward he wants to work with Andy and JUDD.
8:33pm backyard McCrae and ELisa
Elissa – 'I'm never stressed in my life.. I have a routine and I do yoga'
MC – 'Ya this house is stressful'
Elissa says her yoga sessions are not the same because she cannot get any privacy.
ELissa says she pinched a nerve in her leg and it hurt a lot. She adds that it was super scary because that's her career. Elissa thinks it's from sleeping in the have nots room and have the chair pushed up against her thigh.
Elissa – 'Oh my gosh I would die if I left here without a pandora's box'
MC – 'It would be weird if they didn't do that it's been so many years'
Elissa – 'our season must have been a blowout exciting because she's never felt board except for recently'
Elissa think JUDD is more settled now that he's come back. MC agrees says JUDD is less anxious and worried. "I was worried for him I thought he was going to have a anxiety attack"
Elissa – have you thought about what you are going to do moving forward
MC says he's a free agent lie JUDD was coming back into the game. MC says he has no one.
Elissa – 'do you have any targets'
MC – 'not really.. doint into this double eviction it's all about veto..'
MC – 'I pretty much have to get HOH and talk to everyone as fast as I can.. I'm not going to be vengeful.. Amanda was a HUGE target.. I always kinda knew it was going to be like this'
MC – 'I'm not going after anyone right now until I get HOH'
Elissa – 'Do you think GM will have the votes over you'
MC – 'I dunno.. she a competitor.. I feel like only Amanda will vote for me'
Elissa – 'I think anyone will vote for you if you make it'
They both agree that JUDD will win against anyone in the final 2. Elissa wonders if Spencer can win. MC doesn't know but thinks there is something to be said about being on the block more than anyone else.
ELissa – 'Andy and JUDD have the most friends.. What about me and GM'
MC – 'I think you would win'
Elissa – 'who would you put up if you won HOH during the double eviction'
McCrae says he has good reason to put up Elissa and GM but he also could put up Andy because he's got the most friends in jury.
Elissa says that Spencer would be her target because he's won so much stuff already and the rest of them haven't. Ellissa thinks that Spencer has a real possibility to win the game. She tells him there is no way she has the votes in the jury because they all hate her.
Elissa says that she was never going after McCrae the only reason he went up last week was because Elissa knew he was working with Aaryn. Elissa wants to know if McCrae will put her up.
McCrae – "I dunno.. yup .. yup.. I don't think I would put you up.. I dunno.. I'll need to talk to everybody"
You can re-watch ever second on the feeds using the flashback feature.. It's just like a DVR and is super easy to use. click this link for a Free Trial —> Subscribe to the Big Brother Live Feeds
9:00pm Backyard
McCrae thinks there is something off with this season. Wonders if there was a paid Actor. Elissa thought at first it was Amanda. McCrae can see that says her personality in the house was as if she was paid to cause chaos in the house.
Elissa – 'Oh my gosh why did you guys have to go mess stuff up McCrae.. oh my gosh'
MC – 'I dunno … yupp..'
Elissa – 'Do you think it's double this week'
MC – 'Ya.. it makes sense'
MC questions if JUDD is really at competitions or is just throwing them as part of game.
MC says he has no idea where GM head is at. MC says being so close to Amanda he's kinda isolated himself he doesn't know where everyone's head is at.
Elissa says at this point it really depends on Competition wins. Elissa adds that there are some people in their house she would rather see in the game because they want it so bad.
ELissa doesn't think she will get any votes other than Helen if she is up against Spencer. MC thinks Elissa has a chance to win against Spencer but not Andy.
Elissa says his best bet is for him to take her to the finals. Elissa- "i wouldn't mind getting second.. I wouldn't mind getting third.. there is no way in gods green creation that I would win'
MC says Elissa has a good case to win the money. He thinks everyone left has a good case for the money.
MC – 'Taking you to final 2 for me is totally an option.. I could see doing that.. the only person I don't want to take is Andy.. he has so many friends'
MC says Amanda knows she's going home and she's rolling over.
9:20pm Backyard Spencer, Elissa, McCrae Joking around about Andy and JUDD kissing in the bedroom. Elissa jokes that JUDD gets around. They start speculating about double eviction.
9:25pm Elissa and Spencer. Elissa says there only chance at winning is for each other to be in the Finale.
9:27pm Bedroom Andy and MCrae
McCrae going over his conversation with Elissa. He tells Andy Elissa is saying she will put up Andy and Spencer. McCrae doesn't think that is true.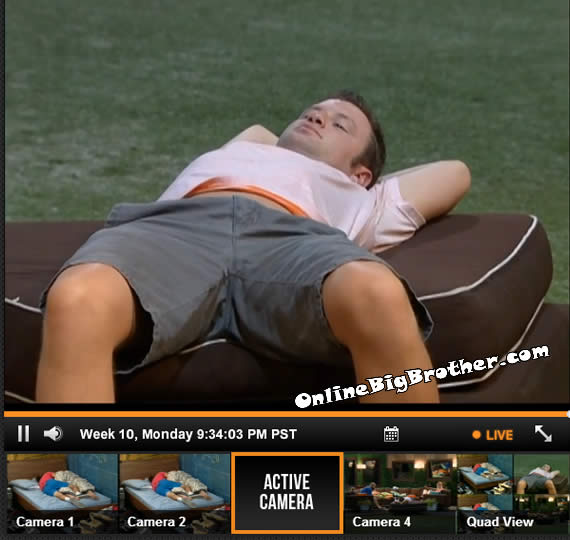 9:35pm JUDD, Andy and Spencer Talking about the the double eviction and Pandora's box
Spencer wonders if McCrae will sleep as much once Amanda is gone, 'All they do is roll around in the bed like a bunch of damn heathens'
9:40pm Bedroom Amanda and McCrae McCrae is saying that Elissa is so worried about the double eviction they may be able to sue that to try and get her vote. MC says he's been trying to build some sort of relationship with her. McCrae says if they can get Elissa's vote, they would be able to Get Andy's and keep Amanda.
Andy joins them. They start talking about Game for next week.
Amanda start getting mad "I fought my a$$ off to keep you off the block and you act like i'm already F*** gone"
Amanda – 'I fought my a$$ off'
Amanda leaves
Andy whispers to McCrae 'I've been trying'
MC – 'I know'
9:55pm Bedroom Amanda and McCrae McCrae starts listing off ways they can get Elissa's vote. Amanda says it's not going to happen, JUDD was her only hope ELissa would never vote to keep her. Amanda tells him it pisses her off when people act like she's already gone.
Amanda – 'Everyone has someone they want to bring to the end.. GM it makes no sense.. What did Andy say'
MC – 'He said he was trying'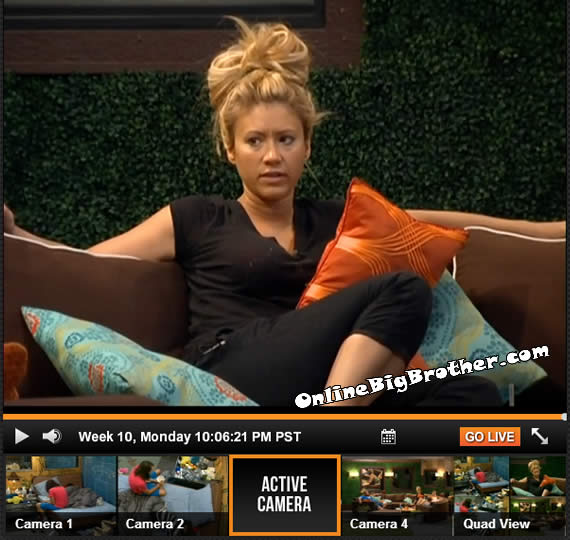 10:00pm Extermiantors
GM is saying she's told Amanda she's not keeping Amanda if the vote is a tie.
Gm says Amanda is coming up with stupid scenarios that don't make sense, "She's mad because it's not what she wants.. She's not running stuff'
GM – 'But when the little people grab together and fought against the beast the Beast gets Destroyed and that's what we did we broken the f*** b!tch down'
GM – 'That's why you don't act high and mighty in this game everyone is equal.. no one is F*** queen bee no one runs the house'
Spencer wishes Amanda would be like Jeremy and just be cool for that last couple days
Andy tells them he's nervous that McCrae was talking to Elissa. He doesn't want the two of them to get close and for her toi put up two exterminators if she wins the HOH.
Spencer says Elissa still is targeting McCrae he talked to her right after she talked to McCrae.
JUDD asks them if there plan is to put up McCrae with a exterminator. Spencer and GM say yes. GM points out that if Elissa is not nominated she is not going to fight as hard in the veto.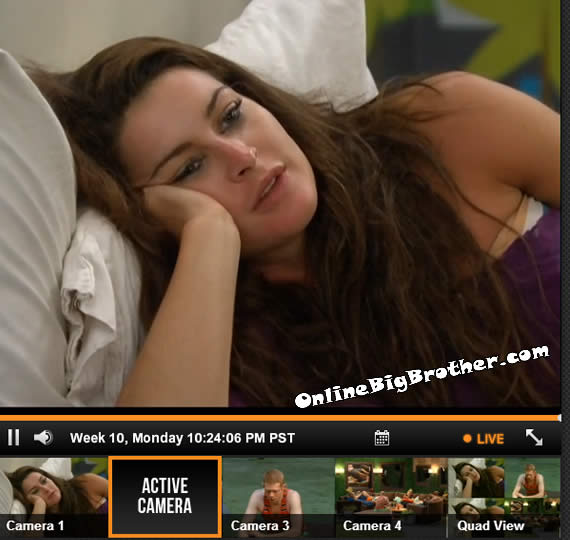 10:24pm Bedroom Amanda and Elissa
Amanda brings up that She fought to keep Elissa in the game the first couple weeks. Remind Elissa that she was almost out the door but because she had Amanda's support she stayed in the game.
Elissa – 'there is no way I would have left and if I left they would have brought me back'
Amanda says they got rid of Helen who was good for Elissa's game and Elissa got rid of Aaryn who was good for her game so Amanda thinks they are even.
AMand gives her a deal, if she votes to keep Amanda this week she will do anything. Amanda says she knows it's a long shot because they treated her like sh!t.
Amanda – "If you vote for me I will be 100% loyal to you and I will never falter'
Elissa – 'I just feel if I did vote for you GM and JUDD would be gunning for me'
Amanda- Gm will still be gunning for me.. you can also blame the vote on JUDD'
Amanda says Spencer is targeting her because he sees her with JUDD and Ginamarie. If Elissa keeps her MC and Amanda will never put Elissa up ever.
Amanda says she regrets the things she did to Elissa but she doesn't regret helping Elissa and working with her to get this far.
Amanda- 'you need me and MC going into the double eviction'
Amanda – 'I swear to you every person in this house is going to put you up, I haven't soken with JUDD or GM but every other person will.. they may be lying to you'
Elissa says everyone in this game have stepped over her boundaries. Amanda apologizes what she said to her. Elissa – 'It scared me'
Amanda – 'I know 100% and I regret it'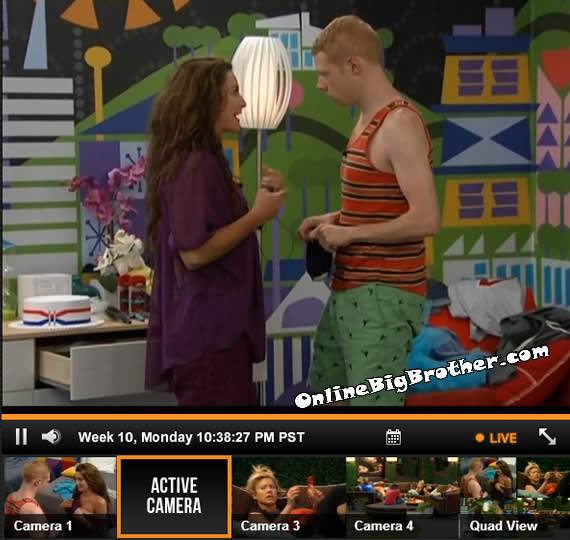 10:40pm Bedroom Elissa and Andy
Elissa tells him Amanda said Specner and Andy are targeting her. She give be a short summary of the conversation with Amanda. Asks him if he's getting the same thing from them. Andy says more or less yes.
Andy says the plan is to get rid of McCrae next week. Elissa beings up her worries that she will not win in the final 2. Andy thinks there are good reason for all of them to win the final 2. Andy believes the vote is going to be close.
11:00pm Backyard Specner, McCrae and Andy
They are all targeting Elissa then JUDD. Spencer tells them that GM is going to be very strong in competitions. Andy points out her toe is f*** right now. Spencer thinks in a weeks time the foot will be fine and she will dominate the comps.
Spencer says to McCrae if he wins the HOH he's best to put up Elissa and JUDD. IF he puts up Elissa and GM there's the chance of JUDD winning the POV and saving Elissa.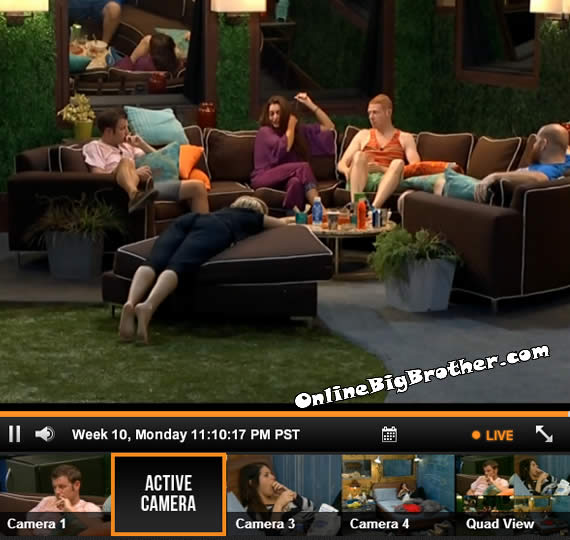 11:11pm Backyard everyone but Amanda and McCrae
Laughing at Amanda's attempts to stay in the game. Spencer thinks she should just stop because it's getting pathetic. Gm mentions that Amanda is now saying she is jealous of Amanda's showmance that is why GM put her up. GM is pissed because if this. Elissa adds that Amanda really does think this.
Andy is glad they are working towards a common goal going into the double eviction. (Get MCrae out)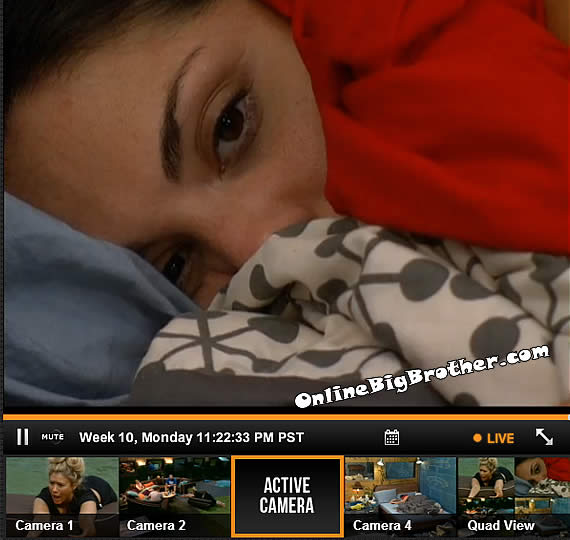 11:44pm Bedroom McCrae and Amanda
McCrae is saying he trusts Andy doesn't trust Spencer. He sure Spencer is the one person that will leak information out.
MC – 'say I get HOH and put up … Elissa and GM .. '
Amanda – 'Don't do that.. that is what they want you to do'
MC – 'I put up GM and Elissa if JUDD gets veto he would use it on Elissa" MC would put up Spencer and Elissa/JUDD will have to decide who to pick Spencer or GM. Amanda thinks Elissa will pick GM and JUDD will pick Spencer. MC says If Andy get rid of GM it would be JUDD/Elissa left on that side and Specner won't go with them anymore. MC says Spencer will join with Andy and Mccrae because they have more people.
Amanda mentions that Elissa told her if she went home the first 2 weeks production would have brought her back in.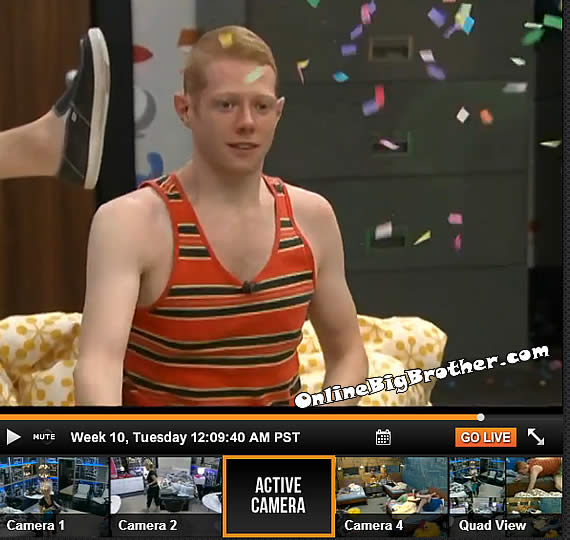 12:09AM Amanda, McCrae, Spencer, Andy and JUDD
Joking around with Spencer telling him he's good at finding sh!t. Any competition that involves finding things Spencer will win it.
Share it YO!!
Tweet