POV Holder:
McCrae
Next POV
Aug 31st
POV Used
YES
POV Ceremony
Sep 2nd
HOH Winner:
GM
Next HOH:
Sept 5th
Original Nominations:
Amanda and McCrae
Current Nominations:
Amanda/Spencer
Last Evicted Houseguest
Aaryn
Have Nots
12:15am Amanda and Spencer are talking in the bedroom about McCrae and her outside the house. Amanda says that she is worried about what McCrae with think after because I am pretty successful in my work and he delivers pizza and he is 24 years old. But we love each other and if we want to make each other happy, figure it out! Spencer says it takes more than love though. Amanda says I know. I was dating a very, very rich, wealthy guy before I came into the house and never in a million years did I say I would date a 24 year old pizza boy but there is something to say about growing together. I am the type of girl that expects a guy to pay for everything but I feel like that isn't going to happen and I am going to get frustrated. Spencer says yeah you need to learn to fix that, you are both entering into a lifestyle that neither of you are used to, you just have to be okay with it. Amanda yells for McCrae to ask him. If we were to go out to dinner who would pay. McCrae joins then and say he would try to pay. Amanda says awe he said he would try. McCrae says but it depends on if you want to go to oohh, la, la ritzy motherf**king place. McCrae says usually like with my last relationship we would buy one thing and split it. Spencer says go dutch. You both buy one thing and split it. Spencer says he is some advice if you go out, then you pay, if you stay in, she cooks ..so just stay in a lot. Amanda says but if he wins first or second he is taking me on a vacation. Spencer says hell no, don't start listening to that bullsh*t bro, if you get first or second you need to invest your money wisely. He needs to take you're a$$ to Minnesota, that's the only place he needs to take you too. Spencer says you are insane, you are needed as f**K. Spencer tells McCrae do not get her pregnant. I am talking about anal for the next year and a half. Amanda says eww. Spencer says I am serious anal and f**king bl*w j*bs. Amanda says so what if we got pregnant. Spencer says oh my god don't even talk like that you are going to ruin this guys life. Amanda says we first of all I wouldn't even have it, I don't have enough money.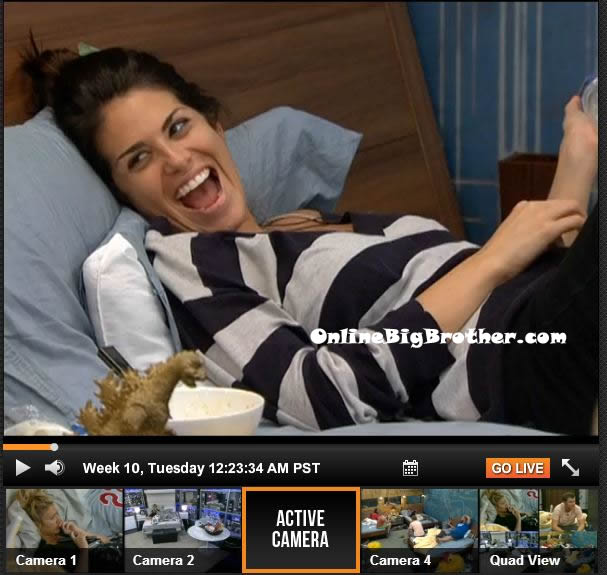 12:30am Elissa comes out of the diary room and asks Andy, Spencer, Judd and McCrae where Ginamarie is? Spencer tells her that she told him she was taking a sh*t. They talk about how gross it is for a girl to say that. They joke that Elissa told them that before. Elissa says ew and leaves for the kitchen. A few minutes later Elissa calls for Amanda to come talk to her.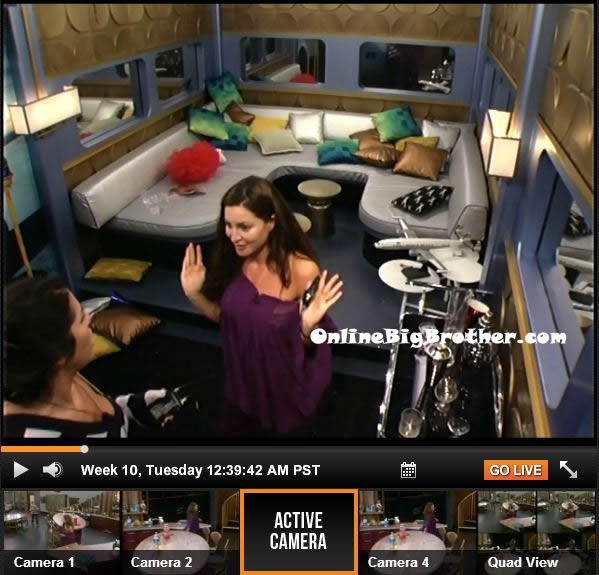 Amanda and Elissa go into the lounge. Elissa tells Amanda I want to get you to stay. Amanda asks what? Elissa says I want to vote for you to stay. Amanda says come on. Elissa says swear to god! Amanda asks why? Elissa says because I feel like I trust you, McCrae and Judd more than Andy and Spencer. Amanda says swear to god? Elissa says swear to god! Amanda says are you serious? Elissa nods. Amanda says oh my god. Amanda hugs Elissa. Elissa asks will Andy vote to keep you. Amanda says yeah. Elissa asks do you swear you would keep me safe? Amanda says I swear, I will give you anything to hold on to. Are you serious? Elissa says I swear to god Amanda I want to vote to keep you here. My heart feels like I trust you and McCrae. I don't trust Andy or Ginamarie. Elissa says but you have to swear to keep me till final 3, I don't care if I get voted out from there. I swear I am not lying, I will vote for you to stay 100%. Amanda says oh my god, okay! Really?! I feel like I was just dying and you saved me. Elissa says but that means you have to try and keep me here even over Ginamarie. It's me, you and McCrae final 3. Amanda says if you save me, we will make a final 4 with me, you, McCrae and Andy. Elissa says you would keep me over him (Andy)? Amanda nod and says MmmHHmm. I will even let you hold onto anything of mine. Andy joins them. Elissa tells Andy I think we should do a final 4 – me, you, Amanda and McCrae. Andy says I can talk now I'm drunk. Elissa says I swear, I was just thinking about how I trust you, Amanda and McCrae more than Spencer, Judd and Ginamarie. I feel like we have more of a connection. I am not kidding you Andy. Amanda says I know it's scaring me. Elissa says I swear on my life. Andy says keep talking and I can come back later but yeah. Amanda asks would you vote to keep me? Andy says yeah. Andy leaves. Amanda tells Elissa I would do anything for you. I will protect you till the end. Amanda and Elissa say they will talk later and leave the room. Right after Amanda gets called to the diary room.
Big Brother 15 Live Feeds FREE TRIAL: FLASHBACK FEATURE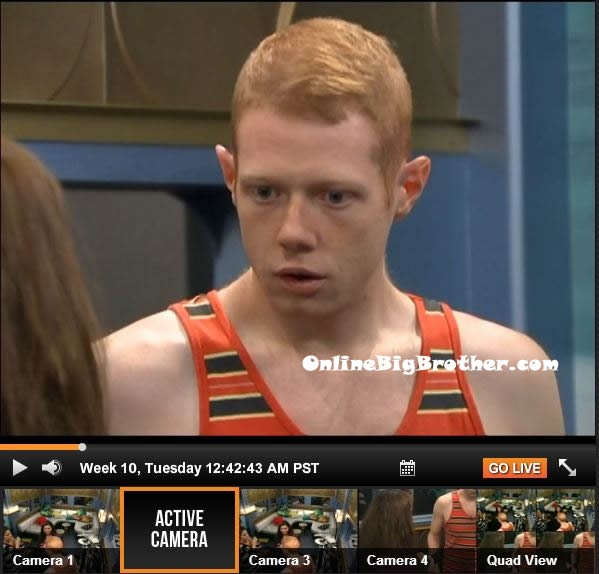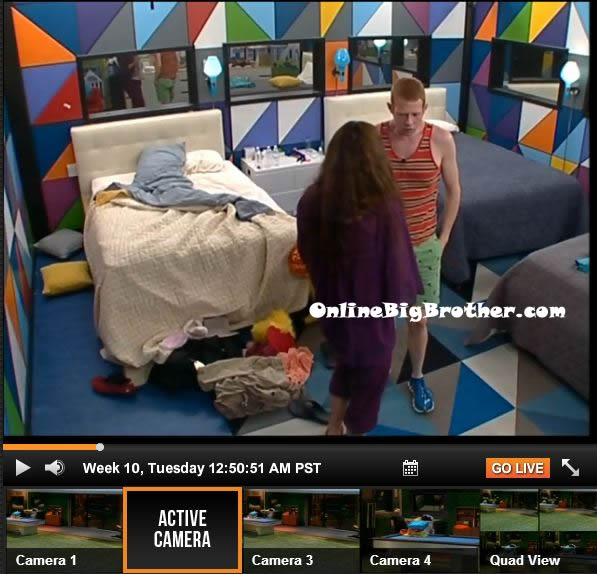 Big Brother 15 Live Feeds: FREE 2 DAY TRIAL
12:50am – 12:55am In the rainbow room – Andy asks Elissa are you bring for real? Elissa says I think it is better for our game if Amanda stays over Spencer. Andy says I have to think about a lot of stuff but I mean.. I like working with you and I trust them. Elissa says I trust you and them more than I trust Spencer, Judd and Ginamarie. I mean I know Amanda attacked me but I feel in my heart like I have more of a connection with them. Ginamarie and Spencer don't have any kind of loyalty to me or you. Elissa says I mean I know in the final 3 or 4 they would take themselves over me or you but I still think that to even get to that point they Spencer, Judd, Gina will get rid of me or you. Andy says no that makes total sense. I am agreeing with all of that I am just weighing everything in my head. I just want to go into the next week with the least amount of people gunning after me. Like Spencer would go and I guess Gina and Judd would be pissed. Elissa says but even he (Judd) would understand, I don't think he would care. Elissa says and Gina is one person and she can't even play HOH. Andy says over the next couple days you know we can feel things out. Like I would like to work with you for sure. Elissa says its just the more I would think about it I was like I don't feel it with Gina you know like how I feel it with you and Amanda, McCrae. Elissa says but obviously we would need to put him (Judd) up with Gina. Andy says yeah. Let me just think about everything because I am kind of buzzed. Elissa tells Andy not to tell anyone. Andy says he won't. Spencer comes in and it's a bit awkward. Andy tells him he will be right outside. Spencer leaves. Elissa says we can't let him know either. Judd joins them and asks Elissa what's wrong? Elissa says nothing. Judd asks what are ya'll sneaking around about. Andy says you. Judd says shut up I saw you talking to Amanda. Elissa says about being a hoe. They leave the room.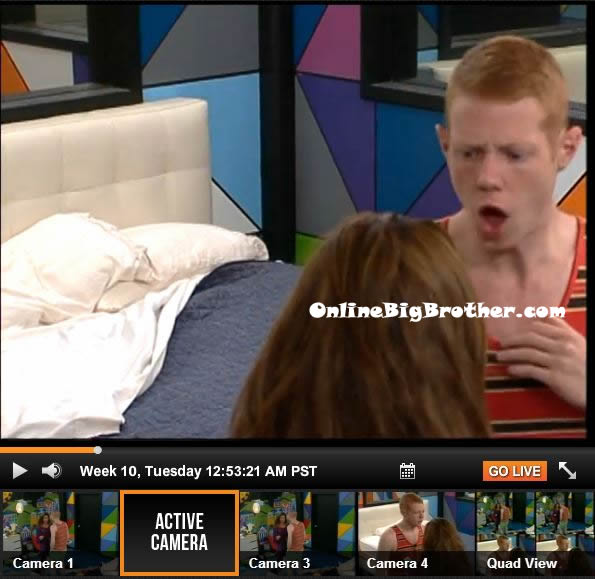 12:55am – 1pm Out in the backyard – The camera switch to Amanda is talking to McCrae and it sounds like she just told him about her conversation with Amanda. McCrae says Spencer knew right away, not that but like he knew it was like a calling Howard to the DR thing. Amanda asks he said that? McCrae says yeah, but just don't get your hopes up or anything. I don't want you to be let down when she pulls some stupid shit. Amanda says yeah. McCrae says she told me, Ah I wish you guys didn't f**k things up. I was like what do you mean. She said I knew you guys were loyal to poopy and to me that sounded like she was regretful almost. Judd joins them and asks what's going on. Amanda says nothing, why what's going on. Amanda then heads inside. Judd asks McCrae so what's up? McCrae says nothing. Judd asks is Elissa up to something. Andy says no she is just super worried about it being a double eviction but I told her I was kind of buzzed and didn't want to talk. Judd asks what do you mean if it's a double? Andy says she is just super nervous about where she stand and blaa, I don't care. Judd asks why the hell would she talk to Amanda? In case Amanda don't go? McCrae says I don't know. Judd asks is she voting to keep Amanda? McCrae says I don't know. She was talking to me and it was the first game talk I've had with her in a long time. Judd asks what about the double? McCrae says yeah. Judd says I dunno people better not start pulling that sh*t. McCrae says yeah you have had so much sh*t to go through. Spencer joins them.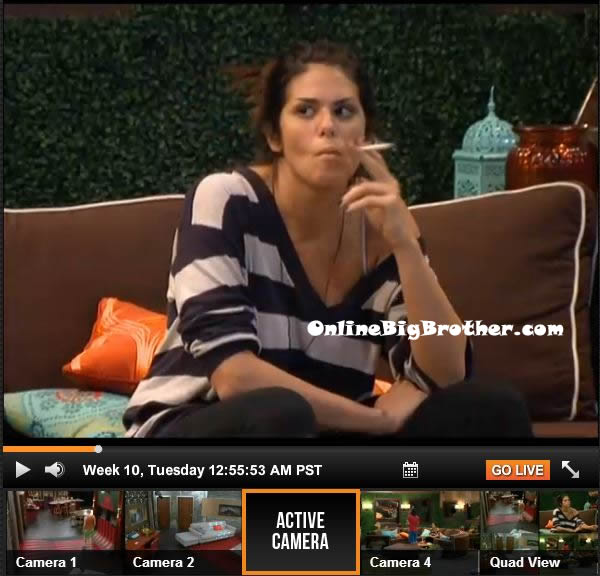 1:10am Judd, Spencer and McCrae talk about the Zingbot Zings. McCrae says that he thought Aaryn was going to get zinged for being a racist. Judd says oh god no. McCrae says like you're wearing a white hood because you're in the Ku Klux Klan.. ZING! They continue to talk about random things.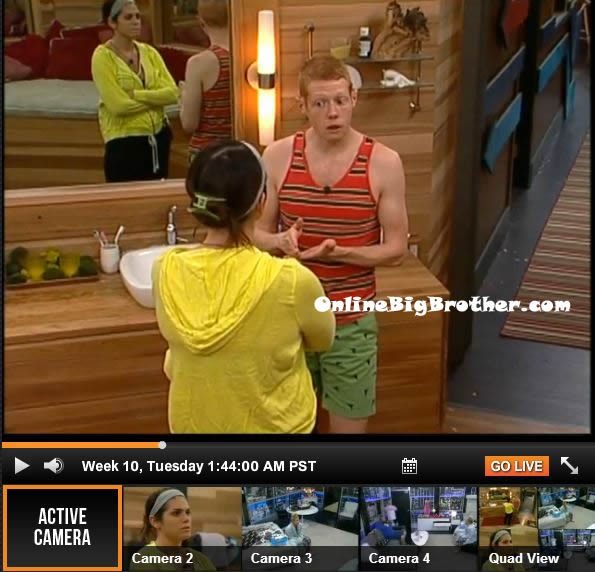 1:40am Andy talks to Amanda in the bedroom and says this is f**king awesome but I mean like that she (Elissa) is somehow trying to frame me or something. Amanda says no I could get her to give me her wedding ring or something and I'll put it in my bag. Gina comes through the room and the conversation ends. Amanda and Andy then talk in the bathroom. Andy says I have to feel her out because I feel like she is baiting me or something. Amanda says I will ask her for some collateral and if she gives me her wedding rings – then she means it. Andy says I know I just have to feel it out to see. I mean the things she's said, it's done. Amanda asks what did she say to you in the room? Andy says just that she thinks it would be a good move and stuff.. but just a week ago she was telling me she doesn't trust me. She is without a doubt my biggest fear in this house right now. So I just need to figure out what the f**k she is doing. Amanda says yeah. The only other thing that I could think that she is doing is to make it a tie so that you and McCrae would vote for me and so then everyone would be going after you two. Andy says I know which is why I feel like she could be framing me. Amanda says that's why I said to her I need collateral. I think that Spencer and Gina are working together. Andy says we can talk tomorrow. Lets just drop it for tonight.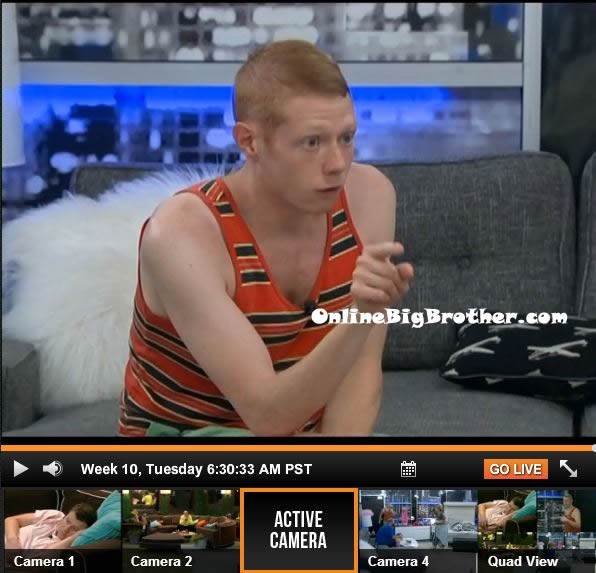 1:45am – 2am Up in the HOH room – Spencer and Ginamarie are talking. Gina says I am not doing this with anyone else. I am pulling you in as my new partner, you are my new Nick! Spencer says okay. Gina says basically what we need to do is.. I will tell you what me and Nick were doing because he was smart and we were killing everything. Basically towards the end when it gets done to final 5 or 4 we can put things in zip lock bags for days to remember back and refer to them. Spencer says okay. Andy joins them and sits down and says okay I am going to tell you something – this shows how committed I am to the four of us. Elissa wants to flip the house and vote out Spencer. Gina asks are you f**king serious? Andy says she talked to Amanda tonight and she came to me, she wants me, her and McCrae to vote out Spencer and then it will me, her Amanda and McCrae working together moving forward. Gina says if that is what she is trying to do I would have put her up. Andy says Elissa then said we would go after Gina and Judd. Now this can't get out because if it does then I am the one that gets f**ked for being honest with all of you. Spencer says yeah I know. Gina asks why all of a sudden is she going on Amanda's side. Andy says I don't know but this is what needs to happen, I will be talking to her over the next couple days to see what .. because it is Elissa and she could change her mind tomorrow if Amanda looks at her funny. Andy says worst case scenario it's a tie and you (Gina) break it because he and Judd will be 100% be voting Amanda out. Worst case it's a tie and I am going to frame Elissa. Like after it's a tie I will be like "WHAT THE F**K ELISSA?! I THOUGHT WE WERE SUPPOSED TO BE VOTING TOGETHER TO KEEP ELISSA." And then hopefully McCrae will believe me over her and if he gets HOH he will vote her a$$ out. Andy says that b***h has to go. Gina says after I voted the way she wanted last week and now she is going to do this. Andy tells Gina she can't tip Elissa off that she knows. You have to be her best friend. Gina says she is going to f**k herself with this move. Spencer says she is going to f**k herself when I win HOH and run her a$$ out of here. Gina says she is an idiot. Andy says it doesn't matter we have each other. I will act shocked but you all will know and those two (Elissa and McCrae) will question each other. Spencer says I volunteered to go on the block and look what happened. Andy says its okay because it won't work. Andy says Elissa promised to give Amanda her wedding rings as collateral so let her send them packing. Gina says wow! What is wrong with her!? Andy says act natural, don't tip her off.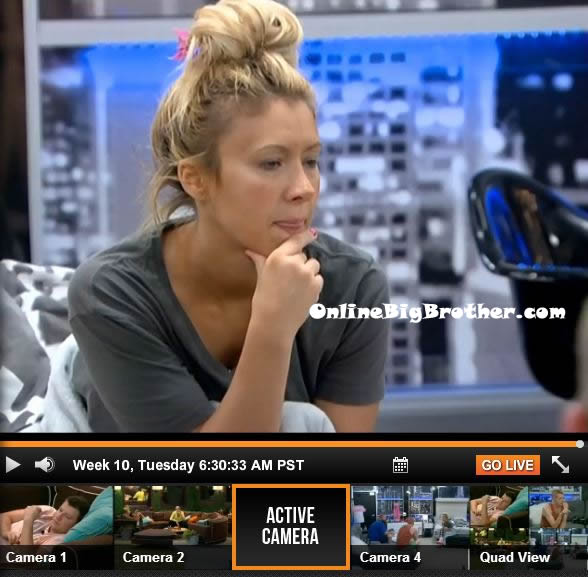 2am – 2:30pm Andy tells Judd in the backyard about Elissa's plan to try and keep Amanda. Andy says so you 100% will not vote out Spencer will you? Judd says no, I am 100% with the exterminators. Andy tells Judd not to tip anyone off, everyone knows but not everyone knows we know. Spencer joins them. They talk about putting up McCrae and Elissa. Andy says we have to now because what if they used the veto to save each other. Judd says I don't know ..she (Elissa) comes out of there (Diary room) with a whole other strategy sometimes. Andy reassures Spencer that he is fine, you have nothing to worry about. Andy says this makes me more leary of Elissa. Spencer says she dreamed up this plan. Judd says she didn't dream it up, she is the worst game player ever. She gets stuff handed to her, ideas. Gina joins them. Andy says oh my god if Elissa gives her, her wedding rings! Andy says f**k Elissa. Judd says f**k Elissa she is a f**king c**t.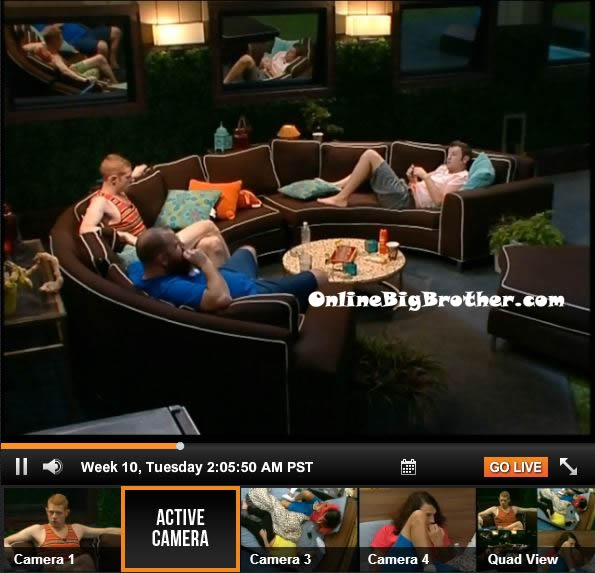 3:05pm – 3:15am Andy, Judd, Gina and Spencer are sitting around the pool talking about Elissa's attempt to save Amanda. Andy says she is trying to frame me to make me look bad to all of you guys. They talk about Elissa's life outside the house and how it doesn't all add up. Ginamarie says "First of all that kid looks like a f**king Spanish Puerto Rican little dirt f**king. There is no way that white guy is her kids dad." Judd says "ah..lets not talk about her kid." Andy says her kid is actually kind of cute. Gina says that kid is Spanish dude, it doesn't look white that kid is dark skinned. Gina says I don't know why she would lie. Andy says I know she lies about things that don't matter. Judd says I think she is lying about her age. They do the math and figure it doesn't add up. Andy says I feel like she is a spoiled rich a$$ hole and gets everything she wants. It's not fair. Gina says she's a gold digger. She's a piece of sh*t. Spencer says she is a piece of sh*t, f**k her, f**k Amanda, f**k McCrae .. all of you are the only ones I care about.
Big Brother 15 Live Feeds FREE TRIAL: FLASHBACK FEATURE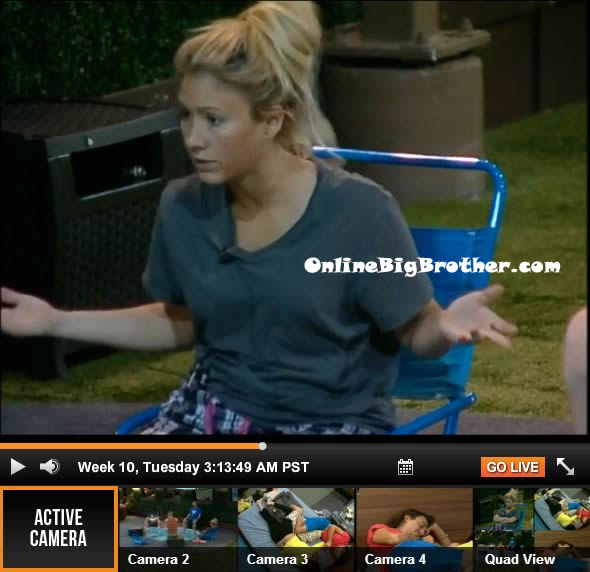 3:30pm – 5am They talk about past events of the house and dates things happened. McCrae joins them. They talk about random things and then McCrae and Gina go to bed. Andy, Judd and Spencer talk about what the upcoming competitions could be. Andy says that he thinks McCrae trusts our word over Elissa. On Thursday when he and her (McCrae and Elissa) vote to keep Amanda and don't.. then blame it on Elissa he will believe me over her. That is why this week I will really have to sell it to them like lets do this and be really happy about it when really I will be seething about it. Then come Thursday I will be pissed. Spencer says yeah until you win HOH. Andy says yeah, um okay McCrae take a seat (Nominate him). Spencer asks what if she has a Coup d'etat? Andy says if she has a Coup d'etat, I will walk over punch her in the face and be ejected from the game and give up my stipend and not go to jury. Andy says no I don't want to hit a girl I will just say f**k this game, quit and walk out. Judd says we should all just walk out. Andy heads to bed. Judd says even if we weren't working together how stupid would it be for me to keep Amanda. Spencer says it would be. They talk about how perfect it all worked out forming the Exterminators (Judd, Spencer, Gina, Andy). Judd and Spencer comment that they don't think they would really want to hang out with McCrae after the show ..after seeing how much of a pu$$y whipped b***h he is. They think his place would be so dirty too. Judd and Spencer head to bed.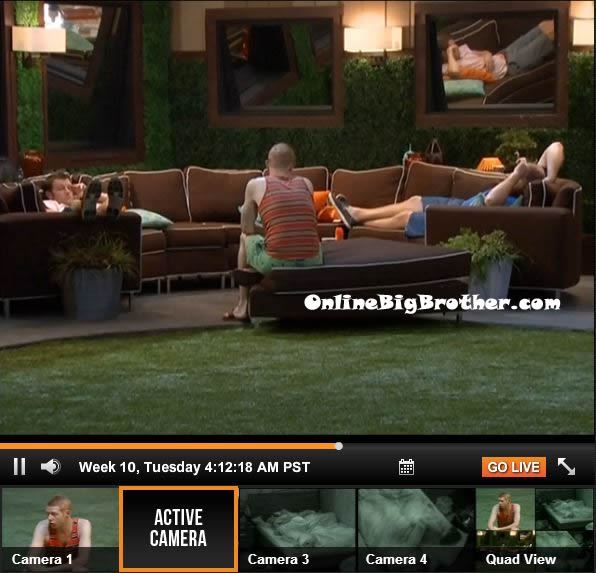 7:30am – 7:40am Judd is awake and in the kitchen. He makes something to eat and then heads out into the backyard to sit by the hot tub.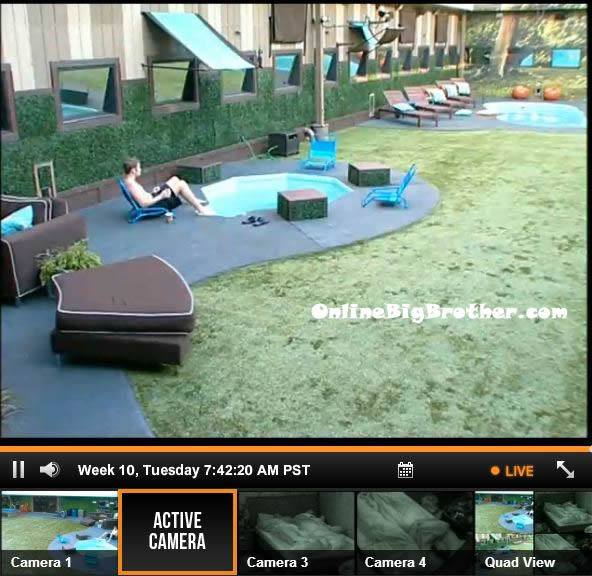 8:05am Judd goes back to bed. All the house guests are sleeping..
9:55am Still sleeping..
10:20am – 11:05am Big Brother wakes up the house guests. When the live feeds return – Judd, Andy and Elissa are in the backyard. Judd and Andy talk about going back to bed. All the house guests are back sleeping.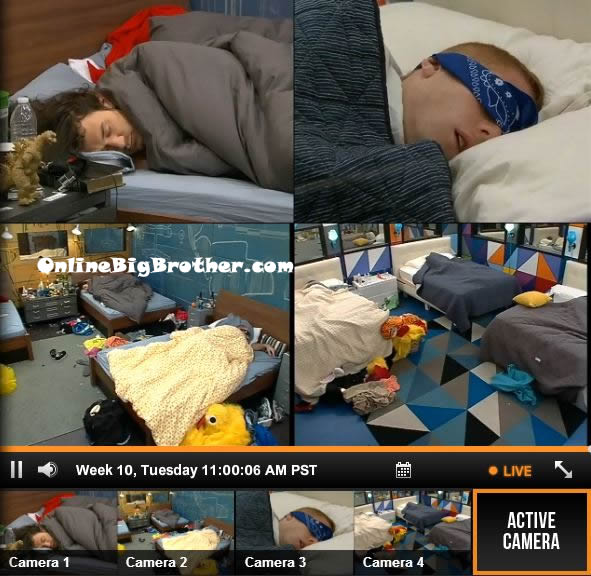 12pm ZZZZzzz…
12:45pm Ginamarie wakes up, does a few stretches on the floor and then starts doing her makeup.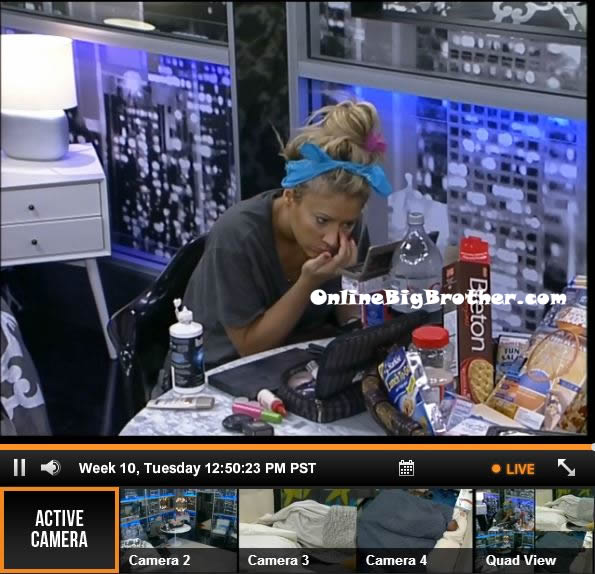 1:35pm Elissa is now awake and heads into the diary room. Spencer gets up soon after and heads to the bathroom.
Please consider donating. Simon and I work 24/7 all season long to bring you all the live feed updates and spoilers. ANY amount is greatly appreciated, your donations go directly to paying the server and bandwidth fees needed to run this site.
[polldaddy poll=7368019]
Use the Big Brother Live Feeds to FLASHBACK to SEE what they can't show you on TV:
Share it YO!!
Tweet