POV Holder:
McCrae
Next POV
Aug 31st
POV Used
YES
POV Ceremony
Sep 2nd
HOH Winner:
GM
Next HOH:
Sept 5th
Original Nominations:
Amanda and McCrae
Current Nominations:
Amanda/Spencer
Last Evicted Houseguest
Aaryn
Have Nots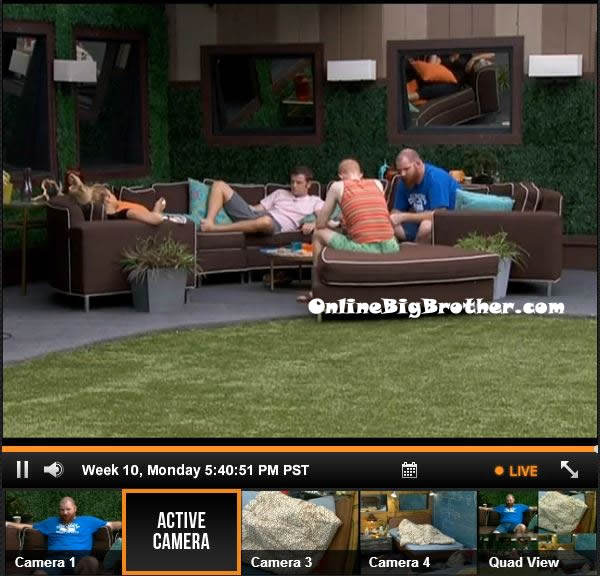 5:40pm Out in the backyard – The Exterminators – Gina, Andy, Judd and Spencer talk about hoping the next POV competition will be a celebrity or returning house guest hosted comp. They all hope it's a returning house guest more than a celebrity. Ginamarie says she would go crazy if it was Nick and Jeremy that came back.
Big Brother 15 Live Feeds: FREE 2 DAY TRIAL
Up in the HOH room – Judd jokes and tells Andy that Amanda might slap him. Andy asks why? Judd says because I am telling her that you are telling me to vote her out. Andy says oh my god. Judd heads downstairs. Andy listens to Ginamarie's CD.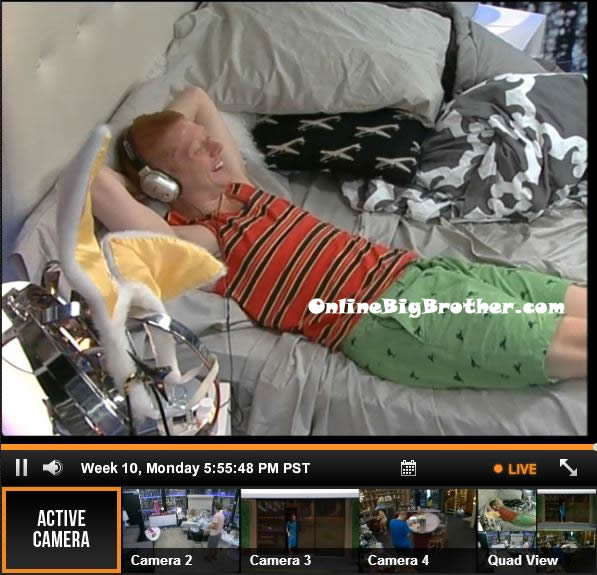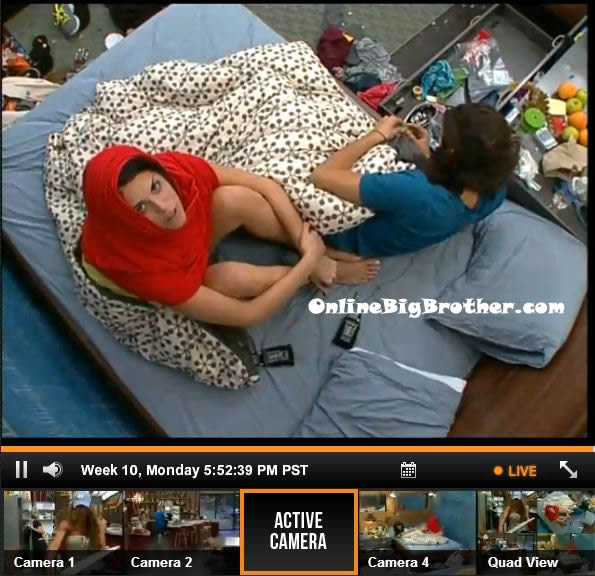 5:55pm – 6:05pm
Amanda looks at the camera and tells production that if they want emotion out of McCrae they should play "I will always love you" by Whitney Houston. She says then call him into the diary room and see what happens. McCrae says if they want emotion they should give me alcohol. McCrae and Amanda head outside. Amanda says I should wash the sheets because lord knows you won't wash them when I am gone. Amanda asks McCrae do you think I should give up and not even try to get Judd? McCrae says I don't know. Amanda says remember the first day and we did the photo booth and I was all over you. What were you thinking? McCrae says yeah I was thinking what the hell am I doing.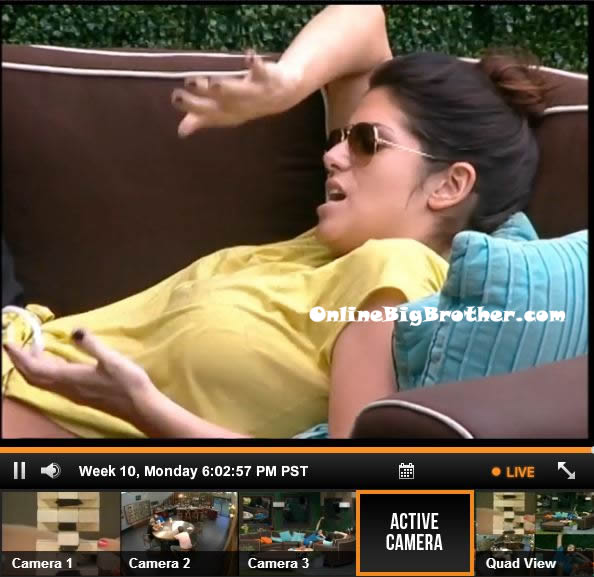 6:10pm
Ginamarie grabs Spencer's key and shows it to the camera as she gives the thumbs down.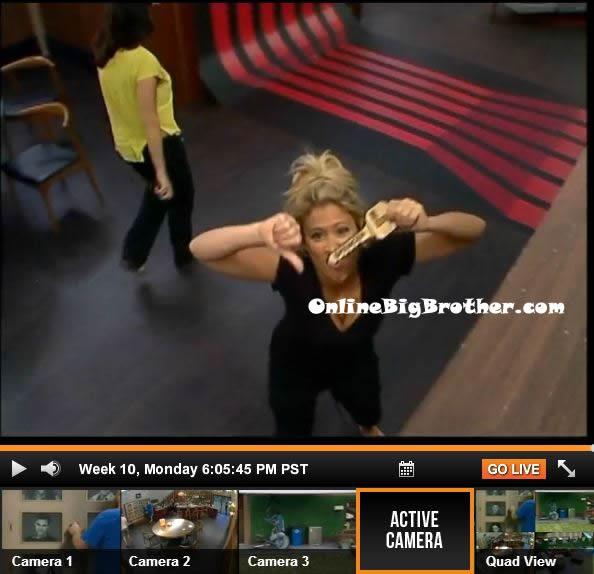 6:20pm – 6:40pm All the house guests sit down the eat the meal that Elissa prepared. She made cole slaw, chicken and dumplings. Spencer tells Elissa that her dumplings are bad a$$! Judd says its his favorite food ever! They all thank Elissa for making dinner. Amanda comments that she is getting a lot of "Don't roll over and die" Elissa asks what does that mean? Amanda says it means to not give up. Big Brother tells Amanda not to talk about her diary room sessions. After dinner Judd does the dishes and Ginamarie plays Jenga at the kitchen table.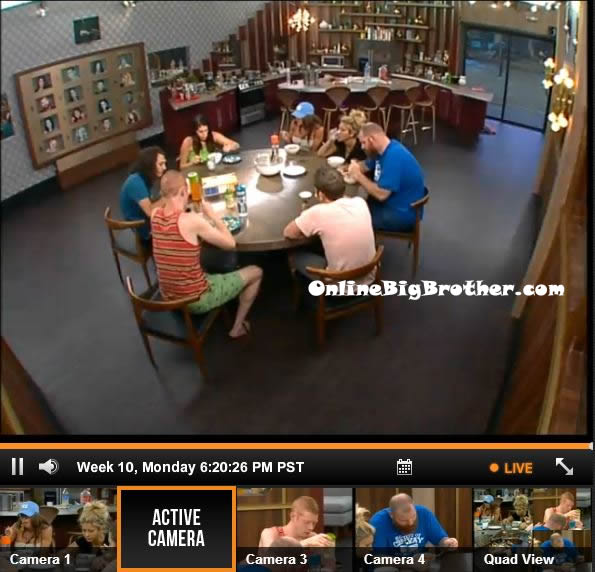 6:40pm – 6:55pm Amanda and McCrae get into the pool. McCrae tells Amanda that the other day he cried in his diary room session but today when they wanted him to he couldn't. Amanda asks they wanted you to? McCrae says yeah. Amanda asks do you think it will be weird being here without me? McCrae says yeah super weird. They head over to the hot tub. Amanda tells McCrae that she thinks everyone will be fine with him once she is gone. Like you aren't going to be a target once I am gone. McCrae isn't so sure. Amanda tells him he was never the target, you only went up because of me. Amanda says that it will become more apparent when I leave, who is really against who. Andy joins them.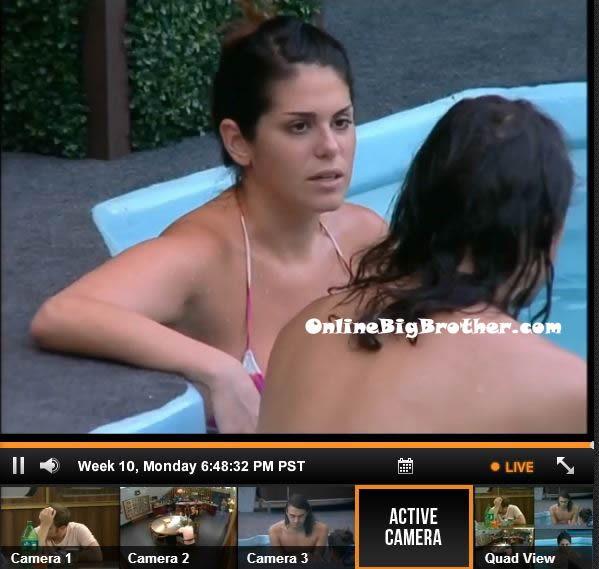 7pm – 7:10pm All of the house guests are sitting around the hot tub. The conversation turns to talking about the past house guests. Gina starts talking about how Jessie's bathing suit bottoms were always laying around with big sh*t stains in them. Gina wonders how Jessie never noticed it because it was always laying right there when you walked in the door. They talk about a make believe tv show of Candices that would have past events of the house like how it would have a racism episode and other events from the season. Amanda says that Ginamarie would be Candice's friend with downs syndrome.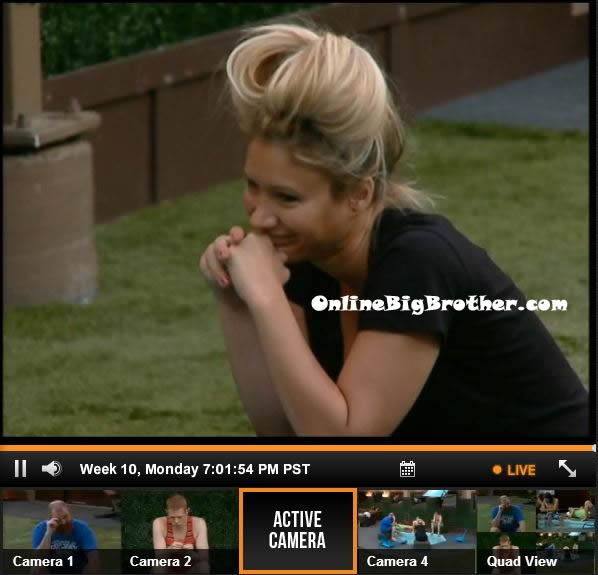 7:20pm In the bathroom – Judd and McCrae talk. McCrae says that if it is a double eviction it scares him because it will go fast. Judd says I wouldn't put up Andy. McCrae thinks that if Elissa wins HOH he thinks she would put me and Elissa up. McCrae asks if I was up and you won the veto, would you use it on me? Judd says yeah I would, I feel like I am on the outs and I want to work with you. It is a double eviction it would happen so fast but if I won the veto I would use it on you. They break up their conversation and Judd leaves the bathroom. Judd heads to the living room and he and Ginamarie play a card game called "Spit"
7:25pm – 7:45pm McCrae sits down beside Amanda in bed and he tell her she looks pretty. Amanda asks I look pretty? I don't feel pretty. McCrae says you always look pretty. McCrae asks do you think I hurt your game. Amanda says no if anything I hurt your game. I just want it all to be over. I want this next month to fly by. Amanda says that she feels like she didn't help his game at all. McCrae says that she is the queen like in a chess game, she is the most important part. Amanda starts crying and screams out I FEEL SO SAD!! McCrae hugs her and says that he is sorry. McCrae tells her that she will get to talk with Julie and then be whisked away.. He says I will probably follow right behind an hour later. And then we can "bang for days!" Amanda says no you won't. McCrae says yeah I will it will be a double eviction I will be out next. Amanda says you better not I want you to last till the end. McCrae tells her that she can tan and ever time she gets a tan line she can think of him. Amanda says I will! Amanda asks if they brought back people do you think they would bring me back? McCrae says yeah. You're memorable, you have game and you're entertaining.
7:50pm – 8:10pm Judd and McCrae go out to the backyard couch and talk. Judd comments on how he is pretty much all alone. McCrae says that he suspects that Judd is working with Elissa. Judd says he isn't. McCrae says I can see why you would want to. Judd and McCrae talk about what the upcoming competitions could be. They talk about how hard Ginamarie competes. Judd brings up how hard she tried dragging him to the pool. He says she just wouldn't give up and hurt her back doing it. McCrae tells Judd that he really hopes that he and Judd can stay off the block for the double eviction. McCrae says I need to distance myself.. well not distance myself but figure out where I can fit into the game next week now that Amanda is gone. Judd asks if Amanda is going to go nuts this week. McCrae says no, I think she has pretty much given up. I can't really campaign for her either. Judd says for my game I just can't keep her here. McCrae says yeah, I always knew her antics would sink her ship and I could catapult off of her. Judd says at least it didn't hurt your game, everyone likes you. McCrae says I came here alone and I came because I love Big Brother and I am not going to let it hurt my game. McCrae talks about how even though Gina denies working with Elissa, I can see it. Andy joins them. McCrae says that Elissa isn't going to want to be here with all guys. Amanda comes out and McCrae head inside. Amanda asks Judd to just let him know if you will vote for me because if you won't then I don't want Andy or McCrae to vote for me. Just let me know. Judd is silent. Elissa comes out and joins them.
Big Brother 15 Live Feeds FREE TRIAL: FLASHBACK FEATURE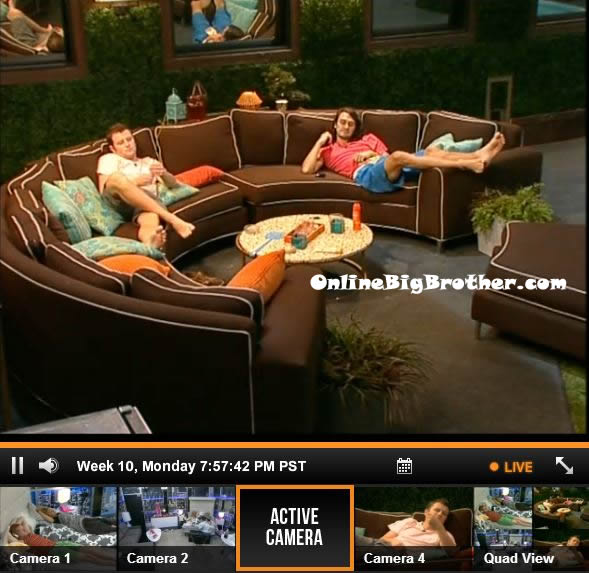 8:22pm Andy, Judd, Amanda, McCrae and Elissa talk about whether or not the producers regret casting some of the house guests at the end. McCrae says they probably regret me. Amanda says no way. McCrae says if I wasn't here you would be with Nick. Amanda says no I wouldn't he is gay. Andy says he flirted with me. They talk about how it was Nick's game to flirt with everyone. Judd and Elissa head inside. McCrae tells Andy and Amanda that Judd said he won't vote for you. Amanda asks why won't he tell me that? McCrae says because he doesn't want you to have a melt down. They talk about how they need to get rid of Elissa because she will put me and you up Andy. Amanda talks about her Adderall medication. McCrae comments that he thinks it is 1 molecule away from methamphetamine. Elissa comes out and says it is. Amanda says that it makes her nicer. She says most all the fights I've had in here is because of not having it.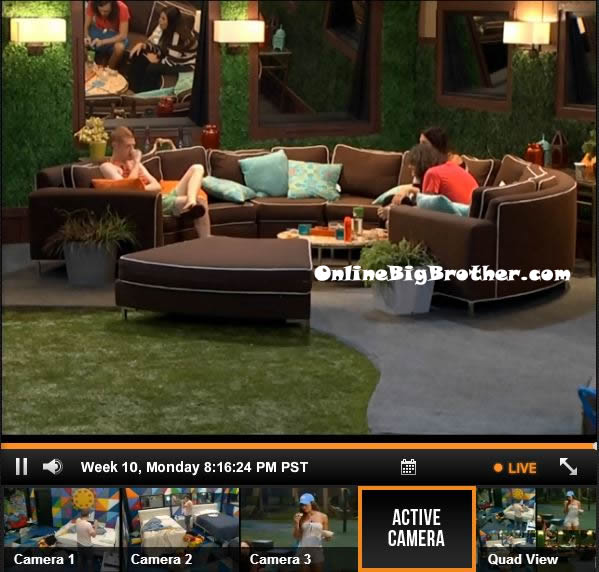 Please consider donating. Simon and I work 24/7 all season long to bring you all the live feed updates and spoilers. ANY amount is greatly appreciated, your donations go directly to paying the server and bandwidth fees needed to run this site.
[polldaddy poll=7365431]
Use the Big Brother Live Feeds to FLASHBACK to SEE what they can't show you on TV:
BB15 N!p Sl!ps / N*des
Share it YO!!
Tweet