POV Holder:
Big Meech
POV Competition
July 23rd
POV Used
NO
POV Ceremony
July 25th
HOH
James
Next HOH
July 28th
Original Nominations:
Frank AND Bridgette
After POV Nominations:
Frank AND Bridgette
Have Nots
?
CBS All Access: Live feeds are only $5.99 per month – Try it FREE for 1 WEEK!
5:20pm In the hammock – Frank & Bridgette. Frank says if I do get evicted on Thursday .. I hope one of us has the return ticket! Bridgette says that Michelle was shouting there a 1 in 12 chance and said its never number 1 .. who has that ticket!? Bridgette says that's me, thanks! Frank says she's the worst .. her and her temper tantrums. Frank says I don't care what the live feeders think. Bridgette asks who are they anyway other than our family. Frank says Michelle will go online and read all the hate. I don't care about all that. Computers are for nerds.
Backyard couches – Nicole, Corey and Paul. Nicole says that James brought up a good point the other day. That he (Frank) never shouts out his girlfriend any more. Paul says I think that's the twist .. that they're (Frank & Bridgette) boyfriend and girlfriend. Nicole says he thinks he's a legend. Unless he's kidding. Paul says I think he thinks he is. Nicole says if he stays in this house.. I am going to be angry! Won't you?! Paul says yes. Vic joins them.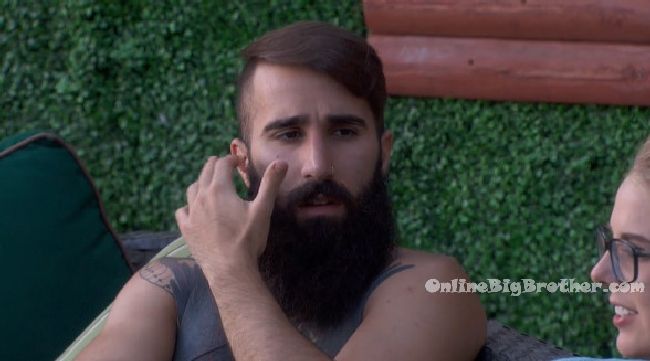 6:10pm Storage room – Paul and Vic. Vic says she'll be forever grateful! Paul tells Vic if word gets out that you're working with Bridgette .. target on your back guaranteed! Vic says maybe not because the guys are the ones that hold the true power. We just have the girls for votes .. really, If you think about it. If you start knocking off the girls .. they have no power no more. Paul says I wouldn't do that. Vic says I know you wouldn't. Paul says its up to you if it makes sense in your head. Vic says if I get Bridgette out .. all the girls would be against me. If Da gets HOH she would put me up. Paul says the guys would back you up. If you put up Da and Z the girls will be like what the F**K are you doing!? I think I would have Nicole and Bridgette on my side still. I feel those girls are united. Vic says all Da and Z do is scheme. Paul says I respect you .. just be careful. Vic asks who do you trust in here? Paul says Paulie. Vic says I trust Paulie too. He doesn't hold back when we're all talking. You know who scares me .. Nicole and Corey. I think if it came down to it they would pick each other over anyone else.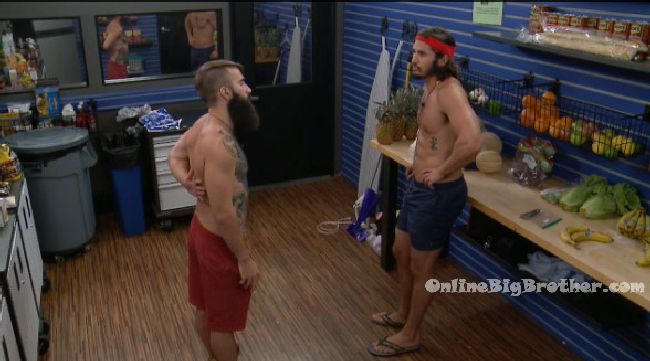 6:25pm -7:20pm Paul tells the live feeders how to grow a beard. He then gives tips on tattoos. Vic joins as Paul's sidekick. James joins and talks about tattoos he has, wishes he didn't have and ones he hopes to get. If you need tips, flashback for some friendship tips.
Out in the backyard – Nicole and Vic style Corey's hair.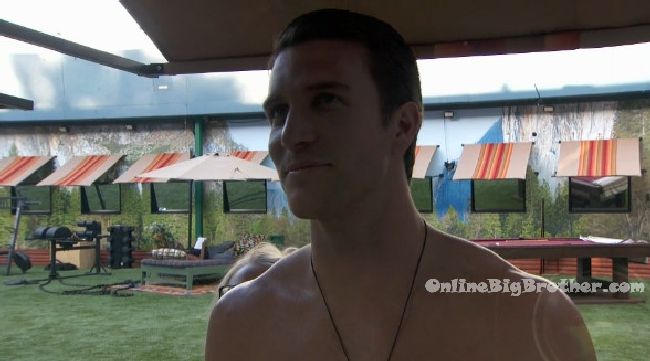 Friendship @bigbspoilers #BB18 pic.twitter.com/al8m0xa6dc

— Dawg (@DawgsBigBrother) July 27, 2016
7:30pm Kitchen – Corey asks Frank have you done anything. Have you talked anybody. Frank says I asked Paulie this morning and asked him to do a little talking for me. After that meeting everyone is tired of hearing me talk. Corey says yeah after the way Paulie went off about it. I'm just going to vote the way I want to. And you know where my vote stands. Frank says I was telling him to talk to her (Z) and maybe Michelle.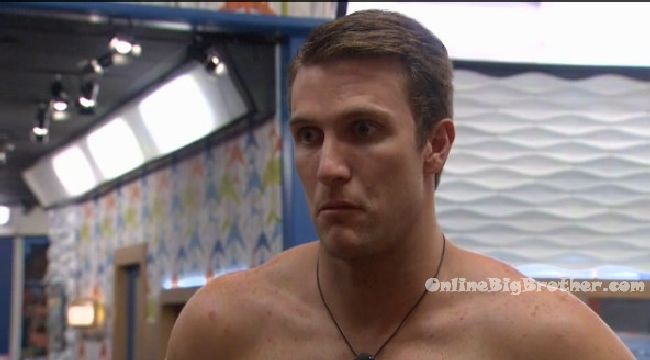 7:40pm – 7:55pm Kitchen – Nicole, Paulie, Corey, Paul and Z. Paulie explains how Nicole, Corey and him (Vic?) were in the kitchen and Corey left to go to the washroom. He put his arms around Nicole and when Corey was coming back he switch to pretend to be showing her a rear naked choke. The conversation turns to Paulie talking about how he "smoked" Tiffany in chess a couple times and how she tried to say she let him win one time and was tired the other time. They talk about Frank being evicted. Nicole says we better not hear the door bell 5 minutes after .. I'll cr@p myself.
[polldaddy poll=9477458]
[polldaddy poll=9477456]