POV Holder:
Big Meech
POV Competition
July 23rd
POV Used
NO
POV Ceremony
July 25th
HOH
James
Next HOH
July 28th
Original Nominations:
Frank AND Bridgette
After POV Nominations:
Frank AND Bridgette
Have Nots
?
CBS All Access: Live feeds are only $5.99 per month – Try it FREE for 1 WEEK!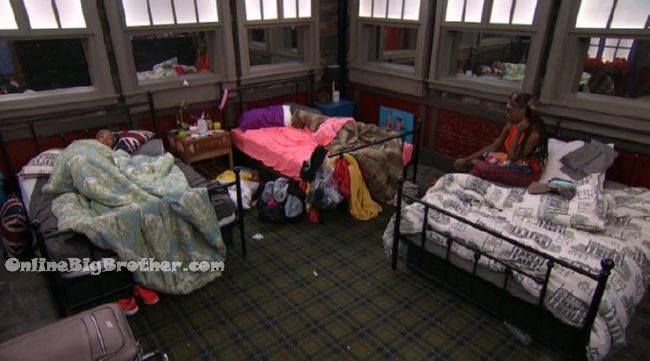 11:00am Da'Vonne and Zakiyah London room
Talking about votes for Frank to stay. Da'Vonne says he needs 5, 'We're back to 8"
Da'Vonne- Me you and Paulie just gotta stay strong.. Wait me you Paul.. Natalie and James. . James is HOH
Da'Vonne – They need 4 and James will break the tie, he's voting Frank out.
Da'Vonne doesn't care if Bridgette has the roadtrip they can easily send her out.
Da – I want to see if Nicole is going to approach you after you wake up .
Zakiyah – She be acting weird
Da says she can't believe Nicole made that comment yesterday when they were getting the hints from Big Brother about the secret. "Should we wake them up"
Da says Nicole didn't care because "All her people were up"
Zakiyah thought they all were on the same page on getting people out, "I didn't get it.. "
Da – She has a different agenda.
Da – I wonder who told her not to wake me up
Zakiyah – I don't know.. That shouldn't have been a question
Zakiyah says Nicole wasn't even going to wake her up.
DA – hmmmmmm
Zakiyah says she now knows where the loyalties are.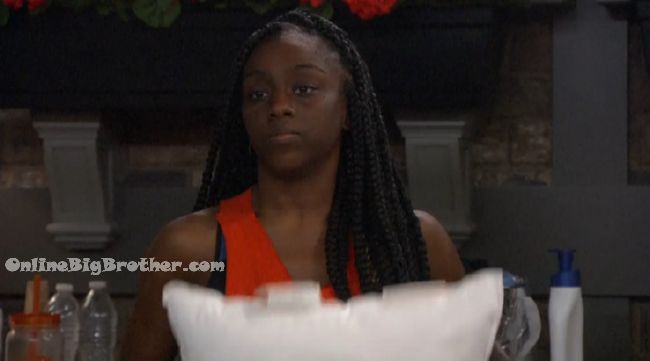 11:27am Da'Vonne and Michelle
Da – between me and you has anybody approached you about flipping the votes..
Michelle – no.. why
Da – Just asking
Mich – is it a option
Da – No … I hope not
Mich – if anybody it would be me.. Everyone wants him gone.. Everyone… anyone said anything to you
Da – he's just perky today and I want to know why
Michelle says she's heard from people in the house that Frank has started campaigning
Mich – trust me everyone wants him out don't worry.. I'm just curious what he says to throw Bridgette under the bus
Da – I was trying to grab you and james together but james is doing his thing
Da – I trust he doesn't have the ticket
Michelle – ya
Da – It'll be a easy 4 weeks for us.. Bridgette out, Victor out, Nat out..
Michelle says she hates it when people are in the kitchen that she doesn't like she wants to cook
Michelle leaves..
Da to camera – it's getting rough trying to get Frank outta this house is hard.. I hope everybody sticks to the plan.. That's 1 down.. Get Bridgette outta here that's 2 .. then I'm coming for Nicole.. She's gotta go.. Sorry..
Da – If Bridgette wins HOH get Nicole out.. We can get the votes.. I think so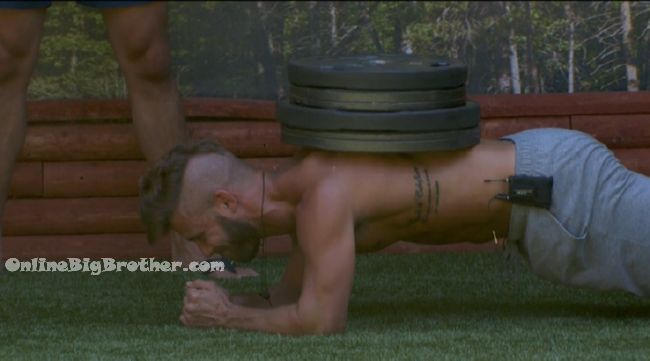 11:41am Paulie, Paul and Victor
Paulie – Da'Vonne is paranoid as all hell
Victor – ya I know.. she come up to you
Paulie – She's everywhere
Victor – she can't just relax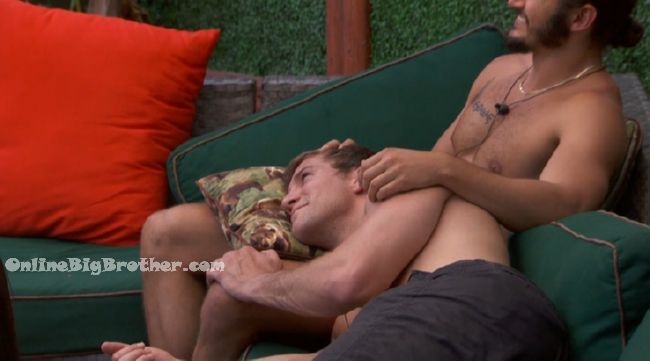 HOH Pictures

Corey and Victor #BB18 @DawgsBigBrother pic.twitter.com/C8kc7yqS3P

— OnlineBigBrother.com (@bigbspoilers) July 26, 2016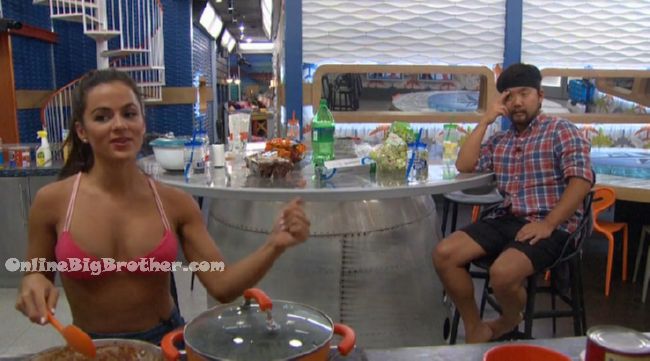 2:40pm Natalie and James…
Natalie – I grew up in a 3rd world I can handle myself..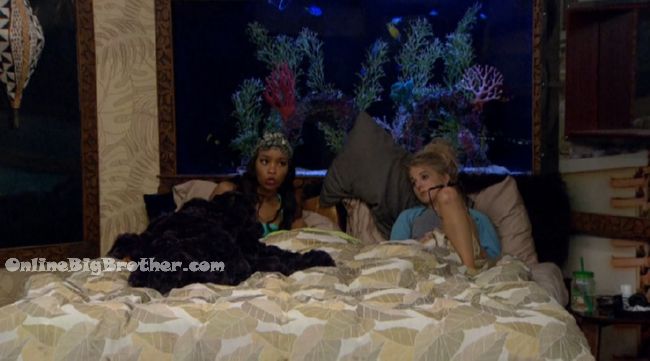 2:50pm HOH Zakiyah and Nicole
Talking about Frank trying to get people to not trust Nicole
Nicole – I haven't been able to figure out what he's trying to do since he's been in the house..
Nicole explains why Frank is mad at her, "he told Corey I'm the sole reason Da stayed last week.. And that is why he's on the blocK"
Nicole – he's been throwing my name under the bus since week 2..
Nicolle tells her that she's not done anything to jeopardize Zakiyah's game. If she throws Frank under the bus it's to help their game it doesn't mean she's throwing her "People" under the bus.
Zakiyah says she trusts Meech and Nicole the most, "I don't talk to Corey very much but i know he's trustworthy… I trust Coco.. you three I really really trust.. I tell the most to you and Paulie"
Nicole says she hasn't heard much that is going around other than Frank is throwing her name around.
Zakiyah – Paulie was acting weird.. He really wasn't going to say anything to me he's just letting my a$$ sleep
Nicole – it's over that was a bad day
Nicole – I hate that I was called out by Frank.. Everyone knew that Da and Frank were after each other..
Zakiyah says Da'Vonne is talking to her again, "I still don't trust her.. The simple fact she said what she said before throwing me and Paulie under the bus"
Nicole doesn't care who they betray in this game as long as they don't betray each other.
Nicole saying if you're loyal to every single person in the game you won't win
Zakiyah – i trusted Da in the beginning
Nicole – I'm trying to trust her again .. I trust Corey I trust Paulie I trust Meech
Zakiyah – that's about it.. Pauls convenient
Nicole – Pauls good.. I don't know whose back he has totally.. he's not on my radar..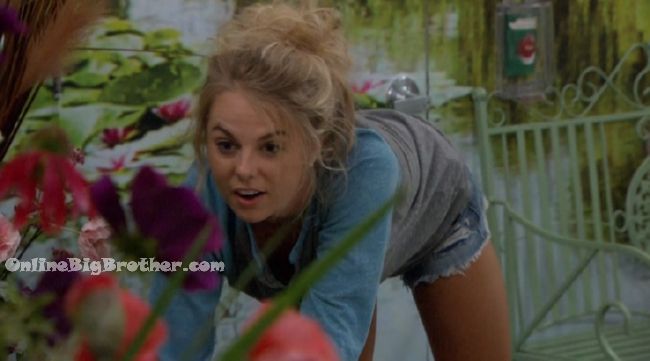 2:55pm Nicole creeping through the tunnel into Paris..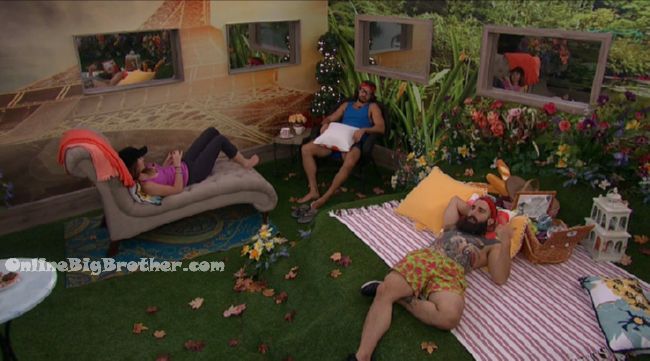 3:37pm Because it hasn't been talked about enough. Paul, Michelle and Da'Vonne talking about ways they could have hidden the Secret Paris room.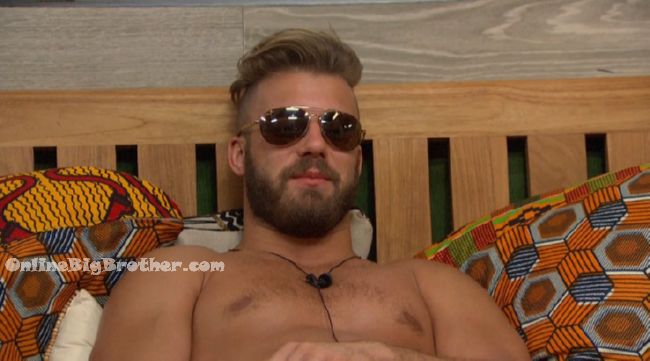 3:40pm Safari room Paulie and Victor
Paulie – If I win HOH I think i'll Backdoor Da.. real talk.. Not worried about Bridgette I think she'll like us
Victor – ya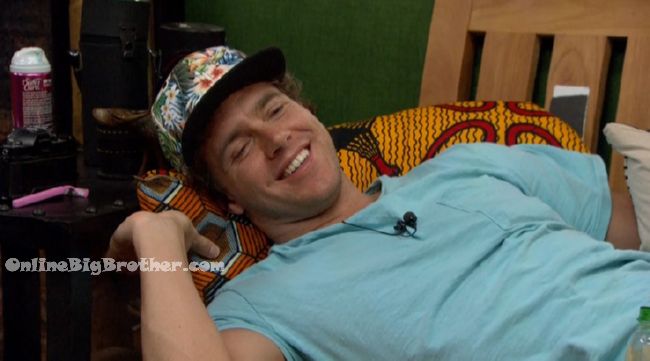 4:00pm Frank and Bridgette Safari room
Frank says Paulie and Z are sleeping in Bridgette's bed
Bridgette – Nicole and Corey were being weird.. gross flirty.. felt weird so I left.
Frank – they are weird.. I hate her I really do..
Frank gives her a 7.5-9 out of 10, "I very much dislike her"
Bridgette gives her a 7
Frank says Paul is a 6
Bridgette – 7 going on 8
Frank – James is a 8
Bridgette agrees
Frank – Michelle's a 6
Bridgette – she's a 8
Frank – "YA I know for you.. that's the thing I got asked about in there (DR) she was bawling.."
..Feeds cut..
When we're back "I'm the one f***g going home you could have used it don't be pitiful me"
Victor joins them. They are annoyed about the showmances because they whisper all night keeping people up.
Frank – OH my god that's something else I had to talk about..
Frank impersonating the Diary room "Well you know .. You and Bridgette could both be here on Thursday because one of your tickets might be"
Frank – ok whatever.. don't try and get my f****g hopes up BRAH .. I know the way probabilities work.. would rather slime odds than no odds.
4:30pm.. .most the house is sleeping.
Bridgette and Frank are sharing bar stories in the safari room.
Paule, Corey and Nicole are laughing about Victor wanting to use a catch phrase "FitVic" like Paul has "Friendship" and Corey has "Pizza"
4:50pm… nothing really going on..
Victor and Corey #BB18 @DawgsBigBrother pic.twitter.com/NbI4Jh3kbL

— OnlineBigBrother.com (@bigbspoilers) July 26, 2016
[polldaddy poll=9477458]
[polldaddy poll=9477456]
[polldaddy poll=9477457]