POV Holder:
Big Meech
POV Competition
July 23rd
POV Used
NO
POV Ceremony
July 25th
HOH
James
Next HOH
July 28th
Original Nominations:
Frank AND Bridgette
After POV Nominations:
Frank AND Bridgette
Have Nots
?
CBS All Access: Live feeds are only $5.99 per month – Try it FREE for 1 WEEK!
Victor working out.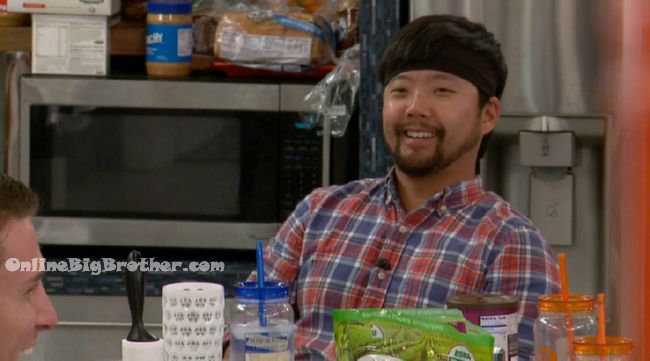 8:04pm Kitchen Zakiyah, COrey, Da'Vonnne, Paul, James
Paul says after Frank leaves he's going to turn around and look at BRidgette "you're next"
Paul – I be damned I solved the riddle and homeboy got it… i'm swinging..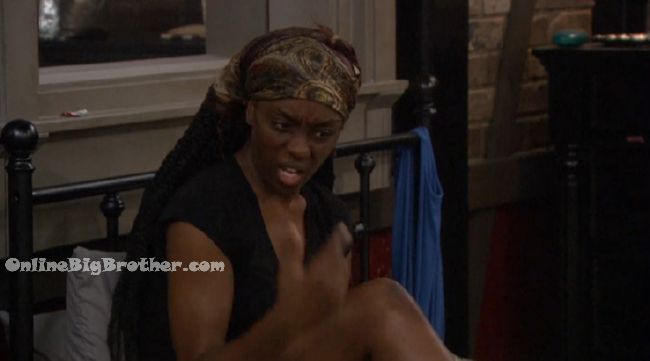 8:15pm Da'Vonne and James
James says he doesn't know what will happened if Bridgette or Victor win HOH.
They agree they don't trust all the people in the kitchen but they feel the entire house has the same target so they are safe for a bit.
James- If Bridgette wins i'm f***d … everyone can win but Bridgette and Victor
Da'Vonne – Nicole and Corey can't win
James- why
Da'Vonne – cause they put me up.. Nicole has been gunning for me
Da – Probably me and Bridgette.. I believe her and Corey were working with Frank and Bridgette..
James – Frank told me they (Nicole/Corey) are flip floppy
Da'Vonne brings up BRidgette telling her the time where Nicole was conspiring with them to take Da'Vonne out. "She said Da'Vonne I promise you I was in the room when Nicole said it.. "
Da'Vonne – I believe it .. it's way too early though .. who's going to want her out.. Nobody
James says you have to put two people up that the house equally like Nicole and ?. "sometimes you have to make big moves like me.."
Da'Vonne – you got to go with the flow for the next 2 weeks
James agrees Victor and Bridgette out first
Da'Vonne- if she wins HOH it's me and you or you and Nicole
James thinks it'll be Michelle
Da – Michelle will be the one to either seal Nicole or seal you.. Ain't nobody vote Michelle out
Da says if it's James and Michelle Da will vote out Michelle
Da – If Nicole is on the block.. Bye.. Bye.. no problem voting out Nicole
Da – this house is so sensitive.. I think Zakiyah got mad because I asked her about her macaroni and cheese..
James- it's clear cut and simple.. We have to make sure Bridgette and Victor don't win
Da – who does Victor is responsible for his eviction
James- Frank .. he squashed his beef with me
James says as long as Bridgette and Victor don't win HOH… (James makes sure we know this)
Da – we need to prepared for that what if
James – if it happens it happens..
Da – what if Frank got the ticket
James – we'll be in trouble
Da – I would be to
8:33pm Zakiyah tells Da'Vonne she's not mad at her.
8:18pm
Sorry no audio 😉 Nicole and Corey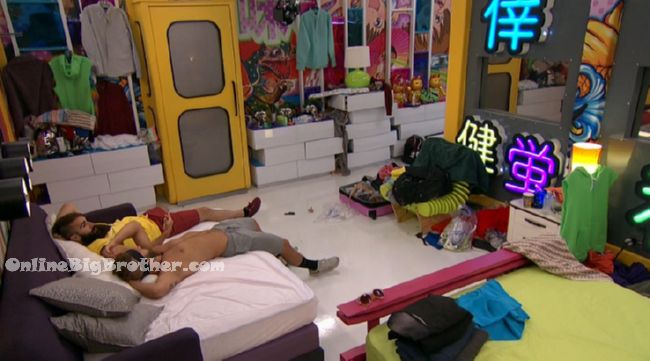 8:32pm Paul and Paulie
Paul talking about Victor making a plan with Bridgette not to put her up he puts up Corey and Da'Vonne instead. Everybody in the house will hate him because he made a plan with Bridgette. The Following week everybody is after him because he's with Bridgette
PAul – PP is in the corner making d1ck jokes
Paulie – We're in the corner making D1ck jokes all day.. That's what we do we chill in the corner make d1ck jokes
Paul – he told me all this I looked at him..
Paulie – he doesn't even know he puts Corey and Nicole up we vote Nicole out.
Paul – and then Corey's pissed..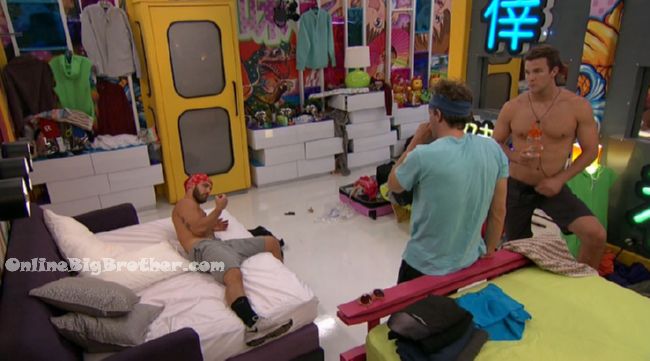 8:39pm Paulie and Frank
Paulie – Michelle is voting for Bridgette.. I am voting for Bridgette .. Z said she needs time to think, haven't talked to Paul about it
Corey comes in
Paulie – you have 3 votes..
Frank – what do you think about Paul I don't think he will
Paulie – the only other person we can get would be Vic.. but we need a fourth person
Frank – Zakiyah … it has to be Zakiyah
Paulie- Da is bringing Zakiyah in more and more
Corey says Frank needs to work things out for Nicole, after he threw her under the bus like taht she's pissed.
Corey – we loved you the whole time.. We were all game for what you wanted to do.. You were her favorite player
Frank said he wanted to send da home this week
Paulie – I want to send Da home next week
Frank asks them to talk to Nicole and Zakiyah.
They will try, Corey doesn't think there is a chance.
Corey – she's not happy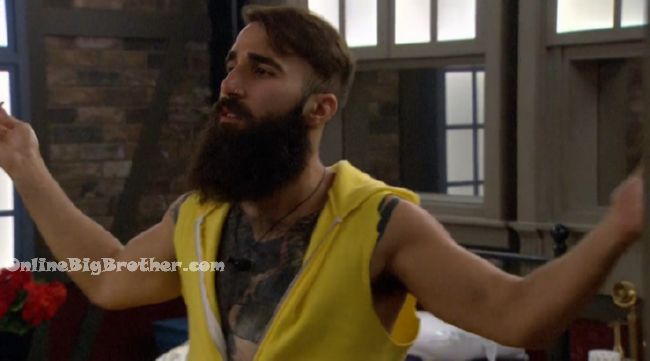 8:45pm Paulie and Da'Vonne
Paul wants to call Frank out tomorrow after he's had a chance to talk to everybody.
Paul says he wants to see Bridgette suffer by being in the house. He'll tell Frank that when he comes to him for a vote.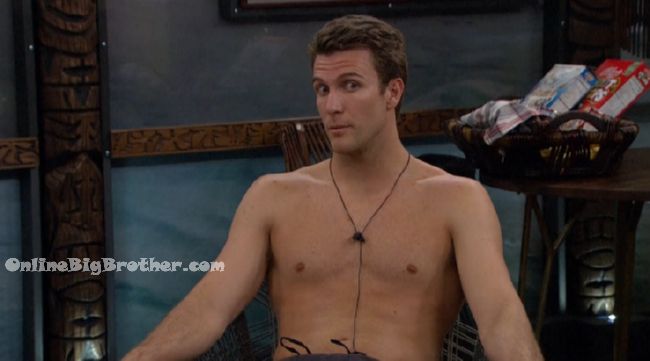 8:48pm HOH Corey, Natalie and James
Corey saying Frank has been asking him and Paulie for votes. They told him his best case is 3
Natalie – do you guys want to keep Frank
(they ignore this questions twice)
Corey – he's trying now..
James- Bridgette probably doesn't he's campaigning..
Corey – Bridgette wants to go home..
Natalie neither of them want to go to jury
Corey and Natalie ask James who he wants out
James- I want to keep Frank
Corey/Natalie – you do
James – no Keep Bridgette
Corey – even after what she said to yo.. You feel safer
James – she's not a social talker .. she's not a good talker when campaigning.. Frank is he gets you thinking.. Bridgette's like Ohh sh1t she's coming hide.
Corey – either one it doesn't matter to me
Natalie – which one is the bigger threat
Corey – Frank.. And Frank keeps throwing people under the bus
James says Nicole wants Frank gone
Corey – stick to it man..
Natalie about Bridgette – If Frank's not here she'll do whatever we tell her to do
Corey – I like Frank.. I think he's funny, he's a character, he's just a cool dude to have in the house and he like keeps the conversations going.. Like dude I wish you'd be a cooler game player like this would really work out but it ain't working
Natalie – he is really really funny and cool he's a nice guy
Corey – ya.. You can't let that get in the way of your game.
Corey – he's thrown my name around, He's thrown everyone's names around.. i'm like dude why do you do that..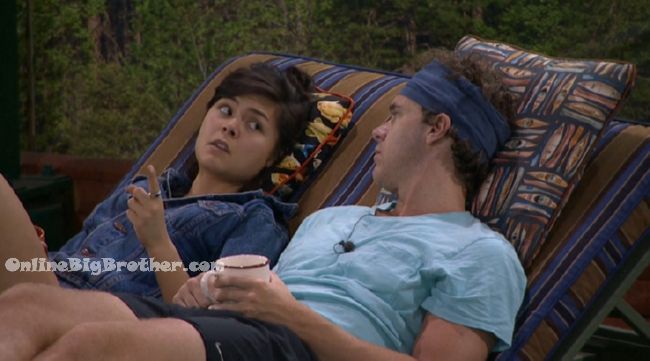 9:04pm Frank and Bridgette
Frank is convinced that Nicole and Da'Vonne are working together. He's tried to tell them all Nicole is playing both sides but it's not sticking.
Frank thinks if they get Nicole and Da'Vonne nominated it'll shake the house up
Bridgette asks him who is going
Frank – 6-3 or 7-2 me going
They both have noticed Paul doesn't like them anymore. Frank mentions how just the other day they hung out until 8am having fun. Bridgette says she can feel it he hates her.
Frank – he was over here talking sh1t about us
Bridgette – he lied to my f****g face about the code..
They think Paul was being ridiculous thinking they weren't all going to get a card. He lied to everyone about it.
Bridgette calls him a selfish a$$
Frank – he's a f***ing idiot
Frank's hit list – Nicole, Da JAmes then Paul
Bridgette's – Paul, Michelle and James.. Difficult to f***ingg stand right now.. It's hard for me
Frank says James told him he'll give Mike a shoutout
Frank – don't shoutout to Mike he doesn't want to hear from your piece of sh1t a$$
Frank – America i'm sorry JAmes is a douchebag.. He said I just want to make it on Duck dynasty
Bridgette – turns out James is a liar a big one, he'll sucker you in with his jokes and personality..
Bridgette – I'm disappointed
9:32pm Frank – the main reason I want to stay is to f*** sh1t up
9:32pm HOH Corey, James, Nicole and Natalie.
Counting votes.. they have 5 votes locked. None of them think Zakiyah will flip.
James says the only way Frank can stay is if Nicole and Corey flipped. Nicole says even if the entire house is voting out Bridgette she will still vote out Frank.
9:40pm London Room Da'Vonne, Paul and Paulie
Talking about Nicole being pissed at Frank now but before he called her out they think she was working with Frank. THey agree Nicole is pissed at Frank now but Corey not so much.
Paul says After Frank called out Nicole Corey tried to mend it. "Why did he try to mend it"
Paulie – looked like he tried to mend it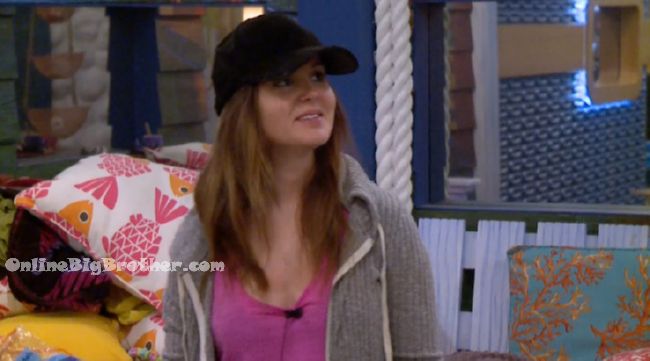 9:41pm Frank and Michelle
Frank – I Think Paulie will
Michelle – Z might ?
Frank – that's what I'm thinking
Michelle – you need 2 more people
Frank – Corey and Victor
Michelle – I know Da won't
Frank – Da won't Nicole probably won't .. Paul Won't
Michelle – James would
Frank – JAmes is not a vote .. Natalie won't
Michelle – if it's a tie
Frank – 9 votes it won't be a tie
Frank – you need to work on Zakiyah for me
Michelle – I will .. she can't stand you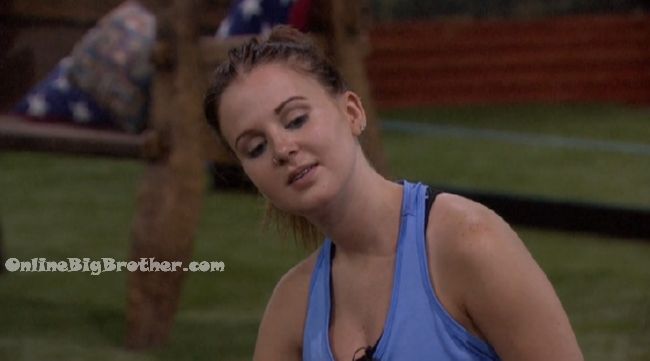 10:12pm Natalie Michelle and James
James – you voting Frank out or Bridgette.. Frank's Campaigning.. he said he wouldn't do that..
Michelle – he's not throwing her under the bus though..
Michelle says she would vote to keep Frank if Zakiyah, Victor, Corey and Paulie's vote.
Michelle – he said you definitely won't though..
Michelle leaves.. Jame whisperers to Natalie.. "I'm scared" they giggle
Natalie tells him Z will not flip.
Natalie – everyone is so easy to forget things they are so easy to manipulate..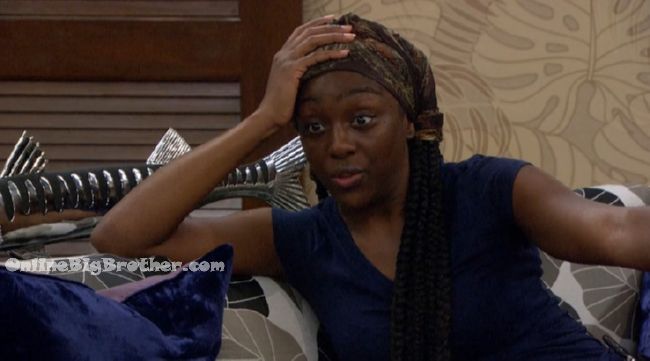 10:38pm HOH Da'Vonne and James
Da'Vonne warns him that Paul and Paulie are going to come talk to him about the Nicole/Corey/Bridgette/Frank deal
Da wants him to act surprised because they don't know he knows.
Da – He's asked everyone in the house for their vote except for me..
Da says Frank isn't saying anything bad about Bridgette but he is campaigning for votes.
Da says they need to stick together if 2 vets leave they are exposed. They might have to keep Nicole to be a target.
Da says the house's goal is to get Bridgette than Victor but After that they want Natalie out.
Da – we can throw Nicole in front of Natalie.. throw Corey in front of Natalie.. that is where your decisions will come in.. if Nicole and Natalie are sitting on the block what er you gong to do
Jam es- shouldn't' even be a questions.. you know what I mean.. ahhh.,.. I dunno.. I mean… it'll be a tough one..
James says he hasn't made any deals with Nicole, "I trust Natalie over Nicole"
Da – if you and Corey were on the block where would her vote go
James- maybe secretly vote me out.. I dunnno..
Michelle comes in
11:08pm Bridgette and Paul
Paul tells her he's voting out Frank.
Bridgette says she hasn't asked anyone yet
Paul – you don't care to go home
Bridgette says she's not going to campaign against Frank she would love to stay.
Paul says he would rather Frank ask him where his vote is.
Paul scurries outside to tell everyone that Bridgette wants to stay but doesn't want to campaign.. goes on and on about this.
11:23pm Da'Vonne, Paulie and PAul Kithcen
Da is convinced that Frank/Bridgette/Corey and Nicole were working together.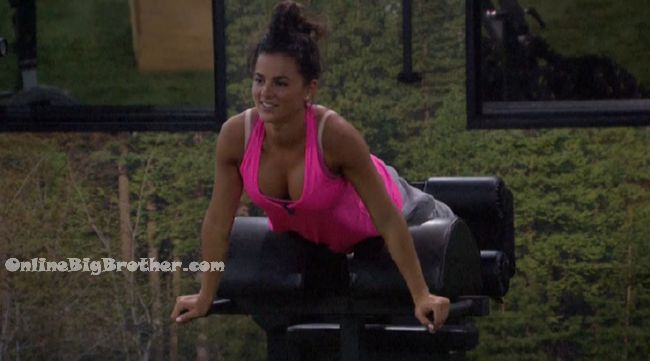 11:45pm James, Natalie and Michelle
Natalie and Michelle kinda working out mostly chit chat about activities they can do after the show. They talk about Skydiving Natalie won't she's too afraid of heights.
[polldaddy poll=9477458]
[polldaddy poll=9477456]
[polldaddy poll=9477457]