POV Holder:
?
POV Competition
Aug 6th
POV Used
?
POV Ceremony
Aug 8th
HOH
Victor
Next HOH
Aug 11th
Original Nominations:
? AND ?
After POV Nominations:
? AND ?
Have Nots
Bridgette, James, Corey
CBS All Access: Live feeds are only $5.99 per month – Try it FREE for 1 WEEK!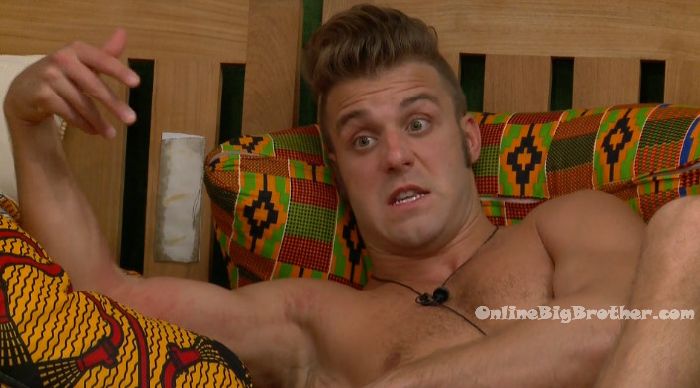 11:15pm Safari room – Z and Paulie. Paulie says I wish other people could have outlasted Vic because now I have to deal with him talking about 6 comp wins. You haven't won 6 comps. You have 3 in this house. Oh my god annoying! Z says let him put a target on his back. Let him talk about it. Paulie says he talks about it openly .. he's like I'm just trying to get to 10 wins. I don't care .. he's wide open next week which is exactly what I wanted. I don't even care… if Michelle goes home this week. Cool. Vic is wide open next week. Unless his card has the round trip, he's f**king gone again. I would give the HOH to someone else. Z asks which HOH have you thrown? Paulie says I definitely did not try to win the ball one. That one was thrown. I wouldn't 100% say this one was thrown. I was not trying to win that one on the verge or a double eviction. I am pissed that DaVonne said that to him on her way out. "You need to win because they're coming after you in a double eviction." Essentially throwing us all under the bus. Why would I have ever wanted to work with her (Da). Paulie says I know Meech is your girl but I'm just telling you I'm going to be pushing for her to go. Then finally no one will be saying anything about the couples. Vic will be wide open. Unless you want Bridgette gone. Z says I've forgotten about that girl. They talk about the care package. Paulie says I'll be pissed if I don't get a box. Paulie says I know she (Da) is going to be CRUSHING me and James in the jury. Z asks so you're thinking Michelle. Paulie ssyas I don't know if he'll honor the Natalie thing. She said in her goodbye speech that he was disrespectful to women.
In the bedroom – Nicole, Paul and Corey are chatting. Nicole tells Paul I would crap myself if you (Paul) didn't win America's favorite You're funny and entertaining.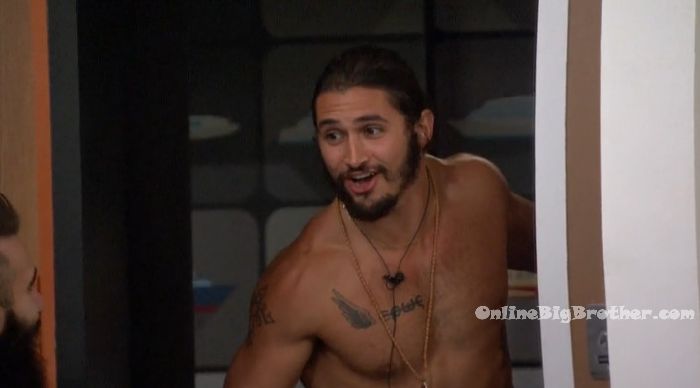 12:15am Victor comes out of the diary room and asks who wants to see my HOH room? They all head up to the HOH room. He got a Drake album. Paul comments on how Vic got Mardi Gras beads. Victor reads his letter: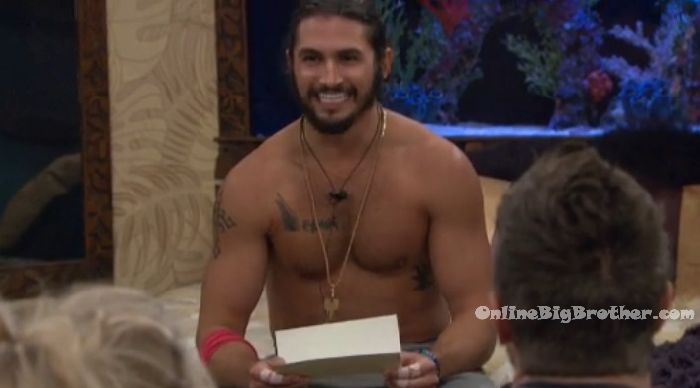 Hello Baby! I hope when you receive this letter all is well. How are you doing? Everything here is well. We miss you much! I'm still going to the gym and doing your workouts. Are you being able to workout and keep up with your diet? I was a little sick with the flu but nothing major. Dad is always working, you know how it is. Your Pop and I are alone for the weekend. We are going to pick up Victoria and Valarie, our quiet days are over. Ashley is still in Florida. We miss you so much. Its not the same around here. We miss you talks and your jokes. I'm so proud of you. We're all rooting for you. You've got this. At your young age you've accomplished so much and the best is still to come. Always give everything 100% that way you have no regrets. Baby take care! We know we love you and support you. Kisses! Mom
Tickle Monster strikes again…@bigbspoilers #bb18 pic.twitter.com/unGKST1uLU

— Dawg (@DawgsBigBrother) August 5, 2016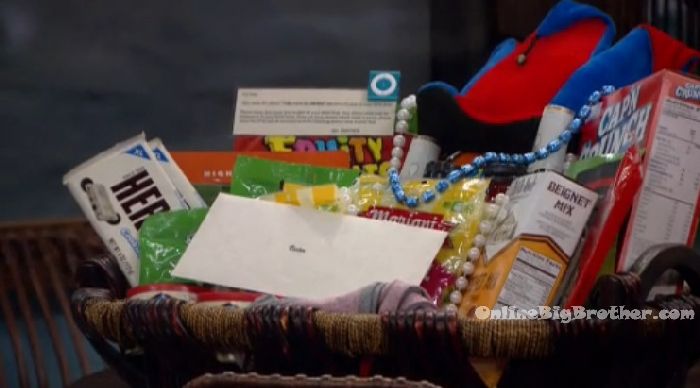 Victor pulls out the mardi gras beads and says "Show me your t!ts!!"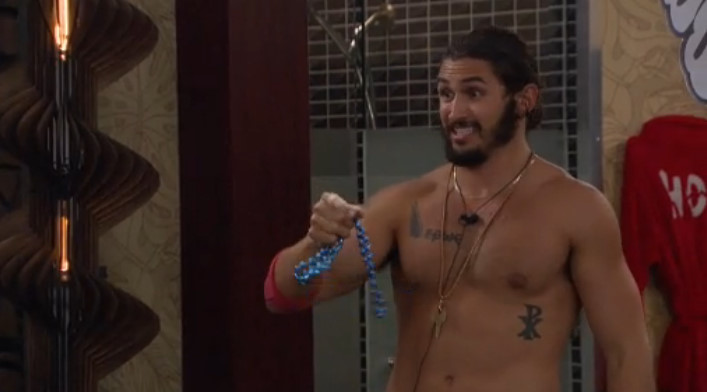 12:20am – 12:40am Michelle comments on how Victor can't be a havenot next week either. Vic says oh yeah. Michelle says you and I haven't been havenots. Victor says except it just makes me a bigger target for when someone does pick. Corey tells Michelle it would have been a perfect time for her to volunteer this time. Michelle tells Corey he should have stayed on longer. All the house guests laugh. James says he got an@l beads. Paul says hey anything's a d!ldo if you're brave enough. Paul says VIctor is going to beat off … bless the shower. Victor says I'm not going to wank in this area. I've got too many blisters on my hands. Vic reads the back of the cereal box.. "enlarge to show texture" .. that's what I do with my d!ck pics! Vic laughs. Vic talk about Mardi Gras. If you go to Mardi Gras you will see a lot of t!tties! When I've gone to bourbon street .. T!TTIES!!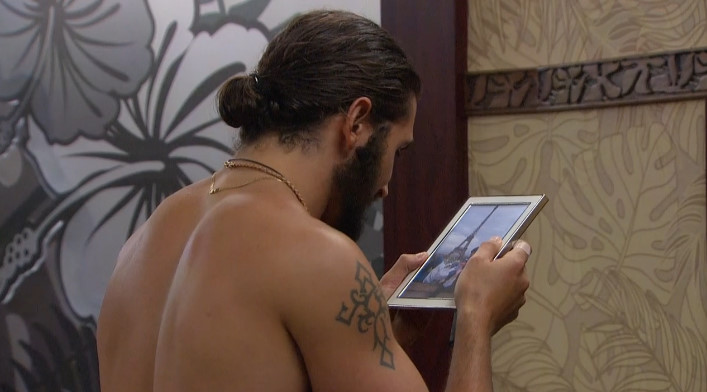 1am In the storage room –
Nicole tells Corey she wants to tell him something but asks him to swear he won't get mad. Corey says yeah. Nicole says its the only thing anyone could use in this game. Oh god please don't get mad. Nicole says you know when I made that 8 pack? Corey says yeah. Nicole says the girls tried to make an alliance but I did not make up the name, I did not hold true to it. Corey says I already knew about it. Nicole asks you knew about it? Corey sasy I just knew you were lying. Nicole says there was a fatal five. Corey says we all knew. Nicole asks are you mad about it? Corey says no.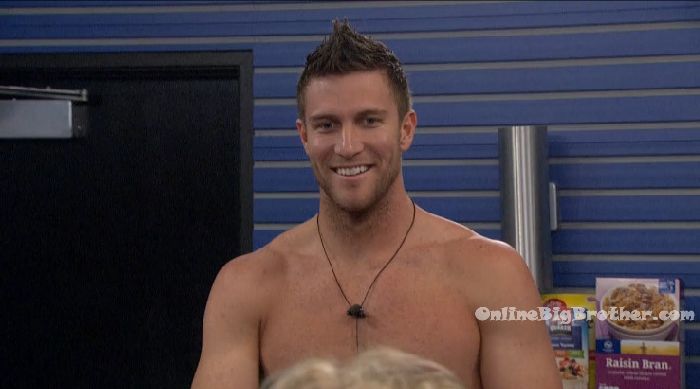 [polldaddy poll=9486231]
[polldaddy poll=9485811]
[polldaddy poll=9485817]