POV Holder:
?
POV Competition
Aug 6th
POV Used
?
POV Ceremony
Aug 8th
HOH
Victor
Next HOH
Aug 11th
Original Nominations:
? AND ?
After POV Nominations:
? AND ?
Have Nots
Bridgette, James, Corey
CBS All Access: Live feeds are only $5.99 per month – Try it FREE for 1 WEEK!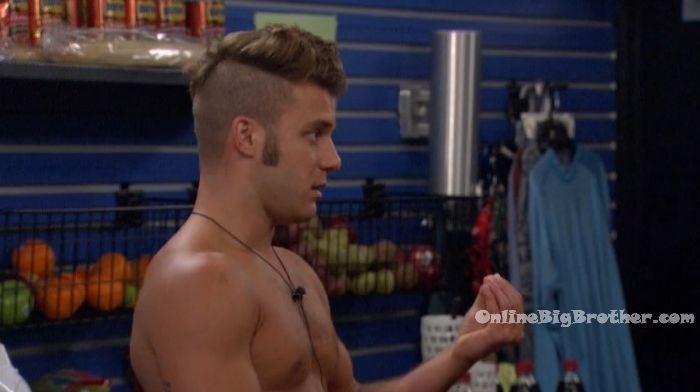 9:05pm Storage room – Paulie says we separate those two and we pull Meech in. First we get Nat out and then Meech! Paul says or James. Paulie says we'll talk to exec (Vic) about that. Paul says if Z does happen to pull herself off .. I say we swap her for Bridgette and send Bridgette home. Paulie says or F**King Natalie! But I do want to split up Z and Meech. Bridgette is alone .. she's with us. Meech is alone .. and we pull her in. Paul agress. Paulie says alright I'm going to roll out. PP!
In the bedroom – Natalie tells Paul she tried to win it for him. Paul tells Natalie that she will win a comp. Paul leaves. James tells Natalie she did so great. She was up there swinging around for 30 minutes after everyone else fell off.
9:20pm Bathroom – Meech says I think you're safe this week but I think I'm going up because of that comment I made. Z says we were the only two (votes for Bridgette). We would have voted the other way if people had told us. Meech says we just got screwed over and I'm probably going home this week. Meech is crying. Z says Da told me she thought the votes had switched. She said you need to win HOH and get Nicole out. Meech says I just want to be by myself and cry. Z says no keep your head up. Z says he (Vic) would purposefully get rid of me to weaken Paulie. Meech says I've done nothing ..except for that stupid whisper comment. And its probably going to get me sent home. Vic and Nicole enter the bathroom and Meech & Z leave.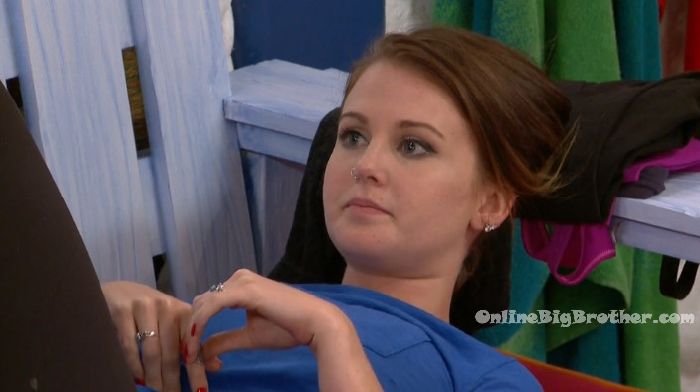 9:30pm Bathroom – Vic says they're (Z and Meech) are so nervous. Nicole says we couldn't tell them it was happening because they would have told Da. They wanted Natalie to win so bad. Vic says yeah I know .. I heard them!
9:35pm – 9:40pm In the bedroom – Meech says the fact that everyone's been sucking up to Bridgette. Z says it makes so much more sense. Z says I wanted to freak the f**k out on people after. I get the fact they wanted her out but .. Meech says why not tell us!? Z says I get to the fact like just send me out. Did you (?) drop right after me because you thought I was going to win. Z says you know if you go up .. you play hard in that veto. And if I get to play I will play hard to pull you down. Meech says no one even cares.. they're out there having fun. Meech says imagine if we had won. Z says it would have been a quiet house. You would have heard crickets.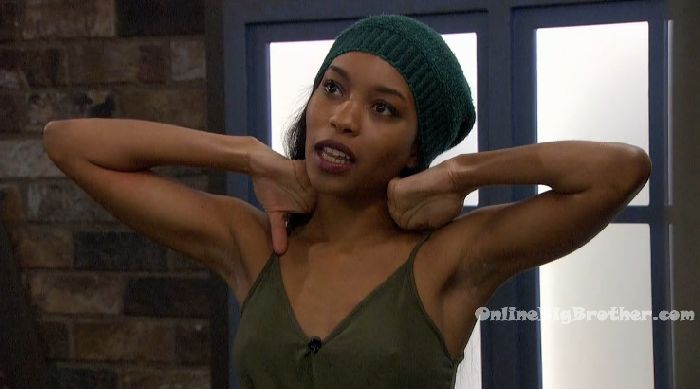 Bedroom – Corey says we've made it half way. Next week has to be a double (eviction). Bridgette says or maybe there won't be and then they'll have a triple eviction.
9:45pm – 9:55pm In the London bedroom – Meech says I don't know why the didn't tell me!? I would have voted the other way. Paul says they didn't tell me either. I think because I was hell bent. I asked him and he said he knows who he's putting up. I'll try and talk to him (Vic) after the HOH (reveal). Meech says I think he's going to put me up. Paul asks why? You haven't done anything. Meech says I was all weird this week… because there was a passing comment with Corey and Nicole. Paul says if I over react right now .. home girl (Bridgette) is still in the house. You know how much sh*t I said about her. If I were you girls I wouldn't show that you're upset. Meech says I thought you were in on it. Paul says they didn't tell me sh*t. Meech says all I said was man they (Nicole & Corey) whisper a lot. Paul asks why was Z crying? Meech says why do you think .. when people you though you were close to lied to you.
Nicole says I really feel like an a-hole. I just know I'll never have her vote or be on a trust level with her again. If I had told her, I would made the boys mad and be in a really bad position now. Nicole heads into the London bedroom to talk to Meech. Meech says the reason why I'm crying is because I feel betrayed by you guys. Its not because I wanted her here. Nicole says It hurts me so much that I hurt you. Strategically for me I could not have her (Da) in this game. Nicole says I knew I wouldn't have your permission if I told you I was going to vote her out. Meech says you didn't need my permission, I would have voted her out if everyone else was. Nicole says she (Da) literally went up to two boys before. Nicole says I'm truly sorry.. but Da was not good for my game. Meech says you're the only person that's apologized to me.
10:10pm Safari room – Paulie says the executives hold all the cards in the house. They talk about bouncing back and forth winning HOH's and vetos. Vic says if I get house guests choice I'm picking one of you guys (Paul Or Paulie) or him (James). James joins them. They talk about how Meech and Z are freaking out right now. Never cared! They speculate on how would have gone up if Z had won. Paul says I think me and you (Vic). Vic agrees. Vic says all I know is .. I don't give a f**K. Paulie says lets be realistic .. next week is double eviction and we need to be strategic about who goes. Paulie says at the end of the day the F**King execs are cruzin'.
10:15pm The cameras switch to James and Natalie in the storage room. James tells Natalie that's the plan. You're safe. Don't tell anyone. Natalie says I won't. James says another week of safety. Natalie says you don't know that yet. James says no they won't do that to you. I'm not in an alliance but I'm working with people. Natalie says I wouldn't care if you were.. just don't f**k me over. James says I'm not. They know how I feel about you .. that's why they don't mess with you. Thank you for saying that to Bridgette. That you let her know I had her back. You're protected in so many ways and you don't even know it. Nicole would go home before you.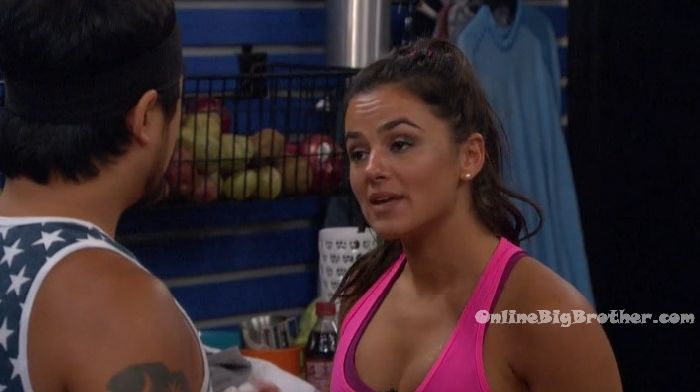 10:20pm – 10:45pm Bathroom – Vic, Paulie and Bridgette. Paulie asks out of those two who do you think needs to go. Michelle and Z? Bridgette says they're both after me. .. Michelle's won more comps. Vic says Michelle only won that comp because she got stuck and made a pile. Paulie says Z is waiting for the mental comps and she's social. We'll wait to see what the care package is. Vic says I hope you get it. Paul joins them and talks about his dog.
10:55pm – 11pm Safari room – Z and Paulie. Paulie says if by Aug 18th no one comes back then there will be a jury buy back. There has to be. Z asks so you didn't fall after me on purpose? Paulie says no I was doing what I was doing f**k around. Paulie says I told you and Michelle how I was voting. The only person I owe an apology is Da for not telling her I was voting her out. I think James raised suspicion for jumping off first. At least Paul and Vic were pissed. I don't care about stuff like that. Vic is being very vague. I could have sworn he was going to put up Natalie but the fact that she lasted until the end with him out of honor he might not do it. That leaves two people in jeopardy. .. he could put James, won't put Paul up. There's high probability that one of the five of us are going up. If its me .. thank god its not a double evict and I would have a chance at the veto.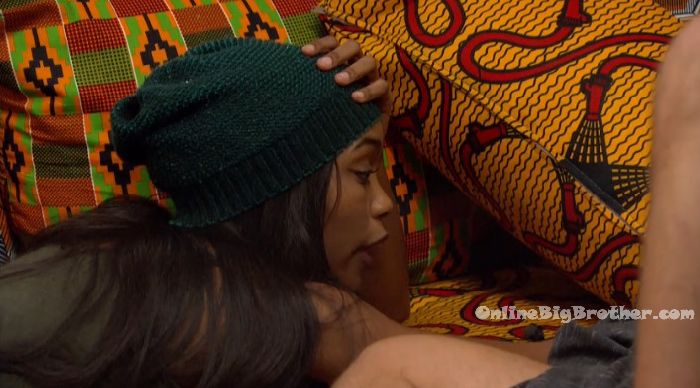 [polldaddy poll=9486231]
[polldaddy poll=9485811]
[polldaddy poll=9485817]