POV Holder:
Nicole
POV Competition
Aug 27th
POV Used
?
POV Ceremony
Aug 29th
HOH
Nicole
Next HOH
Sept 1st
Original Nomi1nations:
Paul AND Big Meech
After POV Nominations:
? AND ?
Have Nots
Corey and Victor
Care package
Corey
Watch the next week of the feeds for FREE – 1 week Trial!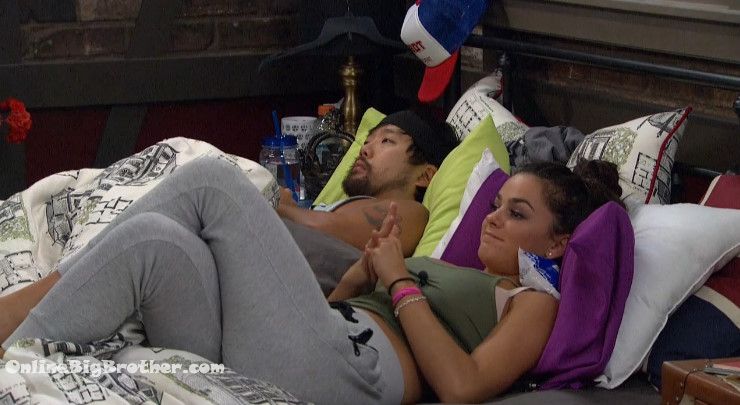 11:53pm James Michelle and Natalie Loncon room (Chit chat)
Natalie comments that Michelle has predicted everything in the game so far.
Michelle says she has a gut feeling she's going home.
James scoffs says she's always saying that.
Natalie doesn't know how to "work" macbooks
Michelle hopes her sister didn't "Hack into" her macbook
James says the "1 thing" he doesn't like about Apple is everything needs a credit card and a password
Natalie says with her learning disability she has to type up her notes, the disability support services gave her a voice recorder, "I legit have A.D.D.. I don't think people think it's a thing"
James says he threw the "Weather Comp"
Natalie says she wasn't going to win so she didn't give it her all.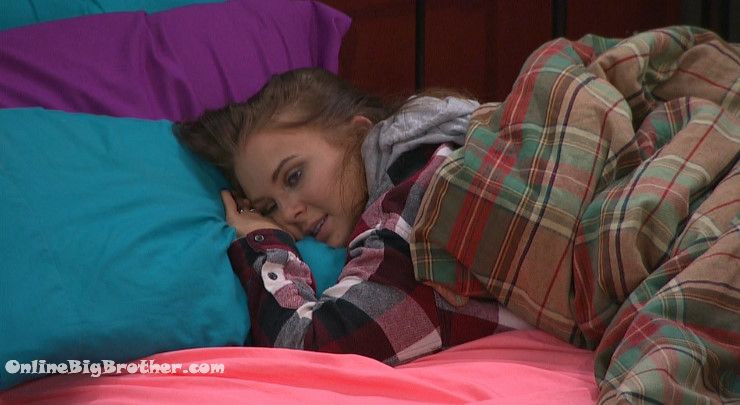 Michelle – imagine if I win the double
Natalie says if she made it to final 4 and then went home she would be "So proud" of herself.
Natalie about last week "everything happened for a reason"
They are worried Paul, Victor, COrey and Nicole are now working together. Natalie doesn't think that will happen because that would be "Stupid" of them. Natalie goes on about how they can't beat Victor and Paul in comps.
James – I can't believe Paul folded in all of them..
Michelle – it was strategic..
Natalie says Corey was helping Nicole win instead of winning himself
Michelle – I probably would have won if Corey folded..
Natalie – if you won that veto could you be bribed to lock the noms.
Michelle says she would
Natalie – That's a lot of money
Michelle – I could buy a puppy..
Natalie says she would have looked like a idiot during if she played in that POV.
James – as long as I'm safe I don't care I'm going through this whole season without winning a comp and make it to final 2 that's an accomplishment
Michelle says Victor coming back into the house 2 is "insane"
Natalie – I can see Nicole and Victor final 2
Meech – for sure..
Michelle says she's putting those 2 on the block. Points out that Victor is fake he's playing all sides of the house too he's playing Paul's game. (LOL you all voted him out why would he play with your side?)
Michelle goes on about how Victor hasn't played a honest game.
Natalie says Victor is lying to everyone and didn't admit to making fun of her.
Michelle says Victor did the "FT's" too (Did he lie about Fries?)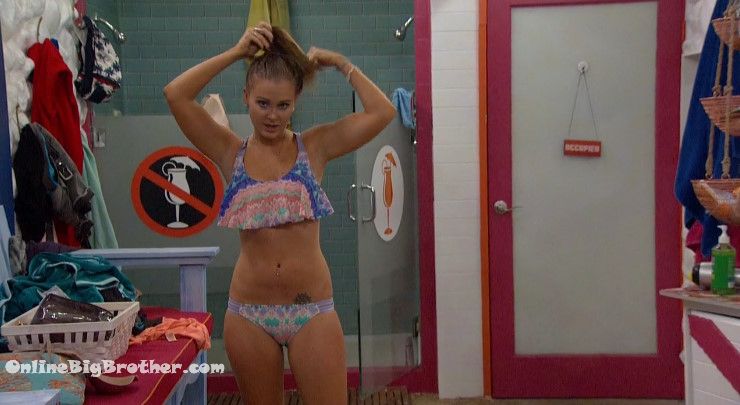 They decide to go out into the hot tub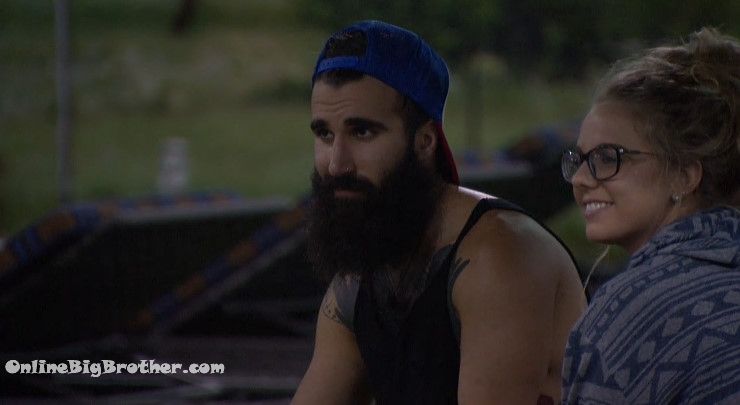 Midnight – 12:25am Backyard Corey, NIcole and Victor
Working out and Chit chat. COrey and Victor have farts from the have not protein diet.
Paul joins them says he talked to Michelle to bury their beef.
Nicole – who does she think is going home
Paul says she's really didn't say..
Paul – I said look 1 of us is going let's have a good time.. "
Natalie and Michelle join them..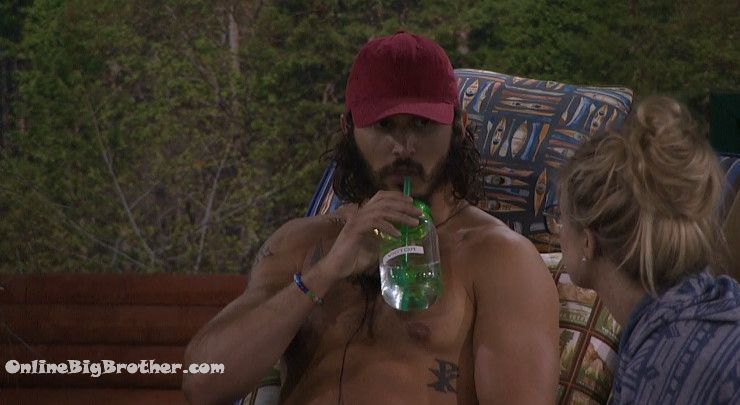 12:26am Meech and Nicole saying Victor looks like a HOT celebrity dad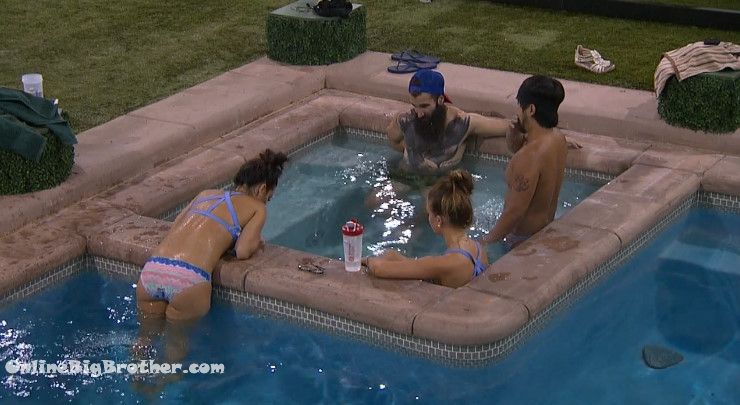 12:32am Chit chat…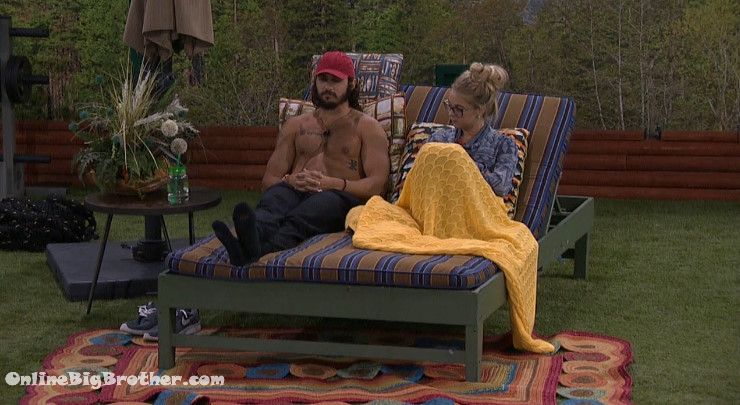 12:40am Victor and Nicole
Victor saying he really wants to get the next HOH so he can have vengeance.
Nicole – we just have to deplete one of their numbers this week..
Victor complains about have nots
Nicole – you just gotta hold on
Nicole says James, Michelle and Natalie in the hot tub are "3 peas in a pod"
Victor says those three all were responsible for his departure. He has nothing against Michelle she just made a bad game move .
Victor says the stress of the house is causing him to lose hair.
Nicole – just getting to final 4 that's a dream come true
Victor – I would be speechless..
Nicole says she's happy with any of their 4 winning it
Nicole says strategically the 4 of them is their best bet, "probability is on our side"
Victor – Every time I get evicted I come back to a better situation
Victor points that last week they were all against him and Victor
Nicole – before that me and Corey were public enemy number 1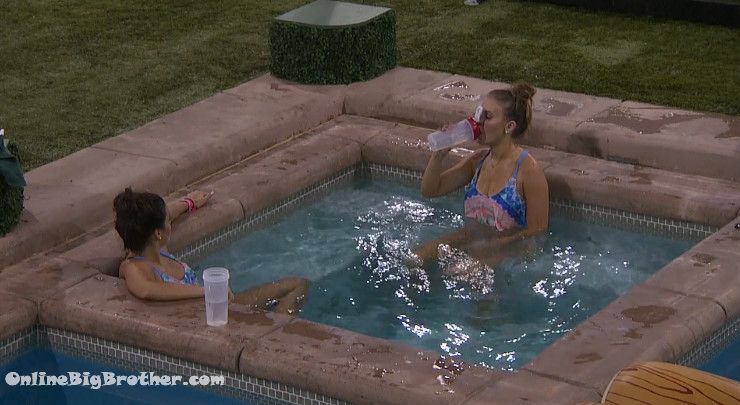 1:12am Michelle and Natalie
Michelle says she's glad it all worked out the way it did. Says they all wanted Victor out but they weren't 100% what James was goign to do.
Natalie wants to win another HOH and maybe a POV not sure.
Michelle says Victor is not good with the days because he was gone and it messes him up a little bit.
Natalie says she studied once with Paul and he doesn't know the days
Michelle thinks Paul is lying
they go on and on about how Paul and Victor are goign to win "Back to back to back"
Natalie – they will continue winning until they get to final 2.
Michelle says Nicole has played a seamless game ans "her boy" is still in the game.
Michelle says that Nicole knew for a month she was coming back.
Natalie says they have to make an effort to hang out with Nicole and Corey.
Michelle agrees but says that Nicole cold have come over and hung out with them in the Hot Tub.
Meech – I don't think she likes us to be honest.. or at least me, she was nice to you today.. I don't think she hates anyone.. I just think she the type of person… I don't think she likes girls..
Michelle says the girls have only won 20% of the competition this season.
Natalie – I only do well at endurance comps..
Natalie starts talking about weight gain.
Meech – I've gained 10
Natalie – no you've gained 5 I've gained 15
Meech – ya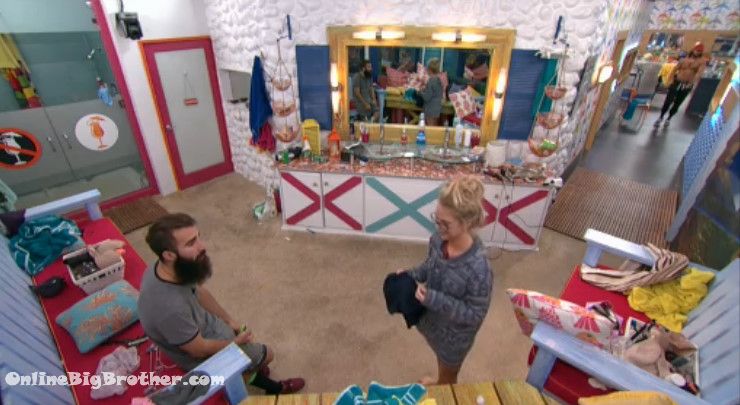 1:27am Kitchen Victor and Paul
Talking about seeing a real reindeer during the POV today.
Nicole comes down.. They head to the bathroom
Paul – so basically the conclusions was if there was any doubt in there mind
Paul – how do you want me to act after Veto.. you want me to hang out with them more..
Paul – I don't want to hang out with them alot and have you guys freaking out..
Nicole – if Michelle thinks she's goign home
Paul – I don't know
Nicole tells him to do whatever he wants
Paul just doesn't want them to get paranoid
Paul – I'm upset with James and Natalie i'm not going to hide that last week they sent my Friends home.
Paul – my game is open they know i'm coming for them
Nicole says she's comfortable with whatever her and Corey don't care at all.
Paul asks if Corey is goign to use the 5g's for the tie breaker.
Nicole says Corey is gettign weird about the 5g's
they are having trouble finding out a good reason to use it.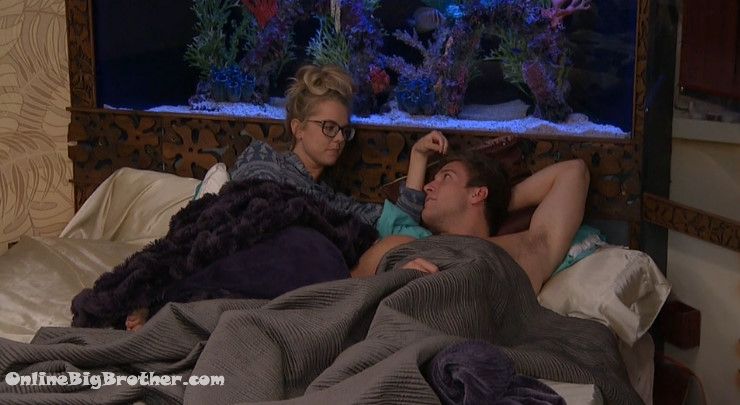 1:35am HOH Nicole and Corey
Corey is saying nobody will want to take the 5g's and drop out of a HOH comp.
Corey – no one will want to make the deal right now they will want to after the eviction and at that point no one will want to do it.. I don't know what to do..
Nicole – I want to know what Michelle is really thinking
Corey – what does it matter
Nicole – i saw Natalie and her whispering in the Jacuzzi
Nicole wants things to be as smooth as possible with Natalie and James
Corey – be like Michelle is acting sketch.. she's coming after me.. Paul is not coming after me
Nicole doesn't want to tell james Paul isn't coming after her becuase then he'll run to Paul and be like 'Why are you coming after me"
Nicole will say Michele IS coming after her but Paul "Might be" coming after her
Nicole hopes Paul and Vic aren't using them to get through this week.
Corey – I don't think they are.. why would they come after us.
Corey – even if we did send Vic home it'll be me and Paul against Natalie, James and Michelle.. (going into HOH)
Corey says even if they do win that HOH the following week Paul will flip on them for sure after they took out Vic.
Corey – we have to take a risk honestly..
Nicole – we have to trust them..
They agree they want Vic or Paul to win the HOH and put up James/Natalie up.
Corey thinks if Natalie wins the HOH she'll put them up
Corey – I don't like Natalie.. she's super fake
Nicole – she is but she denies it.. but you can see the real side coming out.. she's doing a good job she's been keeping it up
Corey – she's so fake
Nicole says she doesn't want to hang out with anyone else this season other than Corey.
Nicole – Be honesttttttttt i did not make a life long friend this sesaonnnnnnnnnnnnnnn
Nicole explains she meant "Girl wise" says she made a lifelong friend with Corey
Nicole says she will always be friend with Victoria, Zak, Derrick and Cody, "I loved everyone on my season pretty much"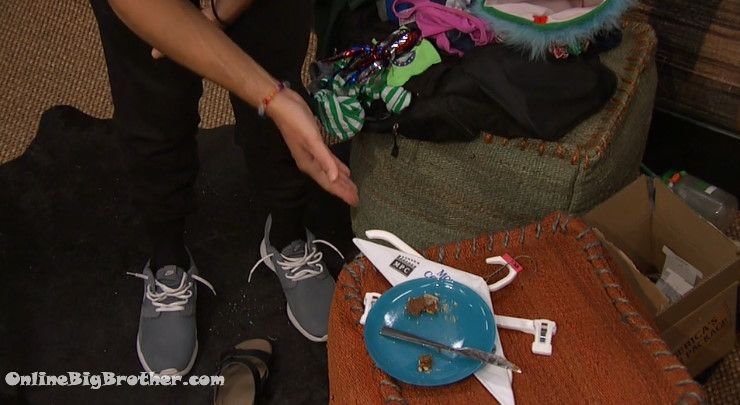 2:28am Safari room Victor and Paul
Talking about how Michelle treats the safari room as her own room. Victor points out a dirty dish that has been out all day. A plastic container left for 1 week.
Paul – you how many times I tell her to wash her fruit before she eats them.. fool gets dairreha every day..
Paul – fool you think we live in the Amazon.. you know where this fruit comes from.. GMO crops..
Michelle comes in
Paul – Meech.. why were you screaming..
Feeds cut..
When we're back Victor is talking about how hilarious Meech is.
Victor can't wait to hang out with Meech after the show
Paul isn't sure he does, he might have to take her in small increments.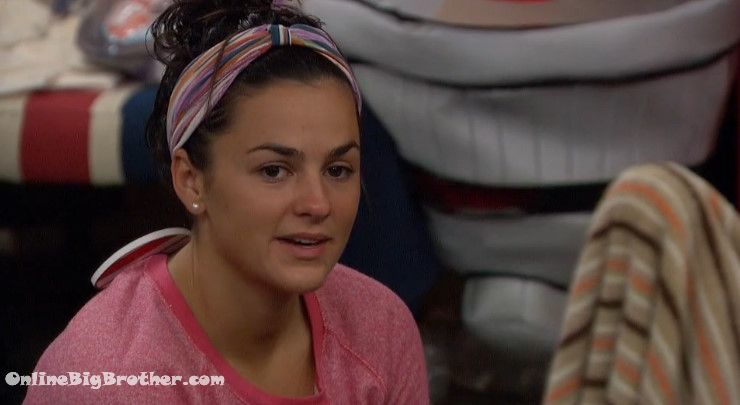 2:43am London room Michelle, Natalie and James
talking about drinking and driving and how bad it is. Natalie says it's its' scariest thing
Michelle – I would never ever ever drive drunk
Natalie – no way
Meech – that's horrible
Natalie – me neither .. that's the scariest thing you could ever do
Meech – ya
James disagrees
James – the scariest thing you can ever do is not pull out
Michelle – you can kill someones family
Natalie – you can kill someone
James- you can get someone pregnant
James laughing.. Michelle and Natalie don't look impress.
Feeds cut. (what a champ)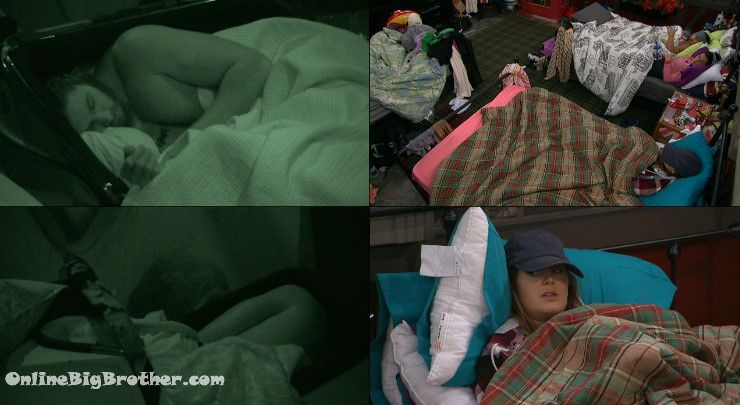 3:30am Chit chat or sleeping
Topic is "Lab made meat"
8:00am Zzzzzzzz
10:10am They're all still sleeping..
11am Big Brother wakes up the house guests.
11:30am Quiet Sunday morning in the BB house..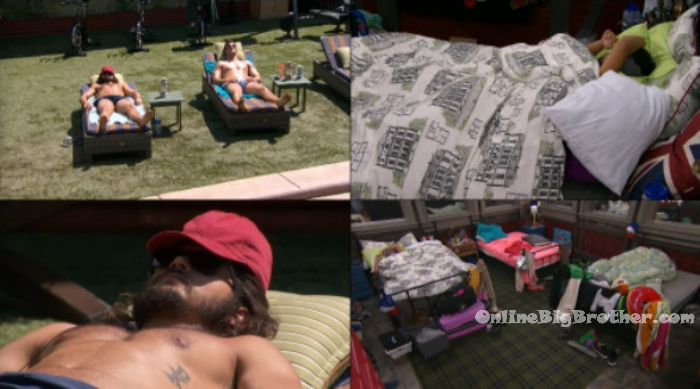 Show your support by making a donation.
Donations support this site more than anything. If you dig our spoilers please find a way to support us.
"BB BRIBE"
WEEK 5 – August 25 to August 26th
The winner gets $5,000 to bribe one house guest. Bribes my influence voting, competitions, vetos or nominations. The bribe can only be given to one house guest, for one action, within the week leading up to the next eviction.