POV Holder:
Nicole
POV Competition
Aug 27th
POV Used
?
POV Ceremony
Aug 29th
HOH
Nicole
Next HOH
Sept 1st
Original Nomi1nations:
Paul AND Big Meech
After POV Nominations:
? AND ?
Have Nots
Corey and Victor
Care package
Corey
Watch the next week of the feeds for FREE – 1 week Trial!
2:38pm Backyard James, Victor, Michelle, Corey and Nicole
Chit chat (The entire morning has been uneventful)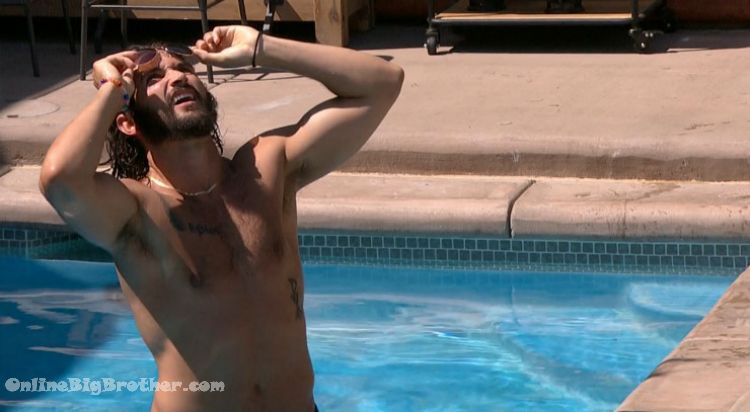 2:41pm A Drone visits the backyard.. (You can hear the buzzing)
"What the heck.. "
Michelle runs away.. Screaming.. "What is is saying it has a guy on it."
A Drone fly's into the backyard #BB18 @DawgsBigBrother pic.twitter.com/iW0Yyv0Wpi

— OnlineBigBrother.com (@bigbspoilers) August 28, 2016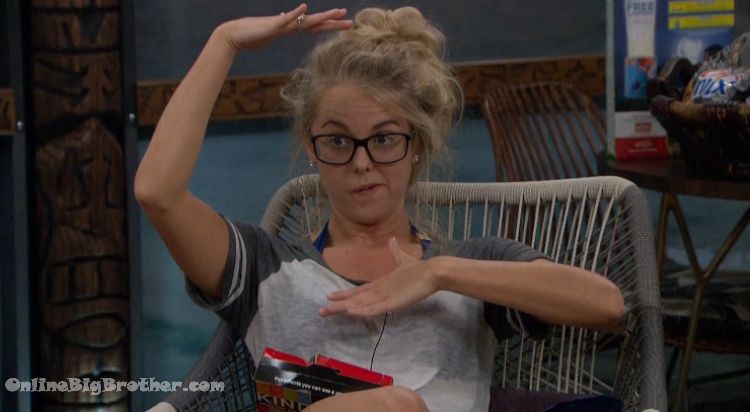 <1 Victor - I saw sh1t to be completely honest to you.. I didn't see the number 1 the T kor the U Nicole - it was hard to see.. I thought it was a swarm of bees.. Paul says they (DR) said there is an event going on and it's from that Corey doesn't think it is he thinks it's about the game. Victor says Natalie thinks it's something insulting her Victor - just stop ... everything has to be personal attack to her.. They all comment that Natalie is playing the victim again. Nicole doesn't want them talking much about it because she doesn't want people to disrupt the game. (True) Nicole mentions that Michelle is saying they flew the done because she was in the backyard. Paul says he's worried they might drop a message just to mess with them. Nicole says nothing that gets flown into the backyard that will change this weeks target. Paul- Tell me exactly what words you saw. Corey- It was T with 4 to5 letters... 2 to 4 letters and then number 1 [gallery ids="150157,150158,150159"]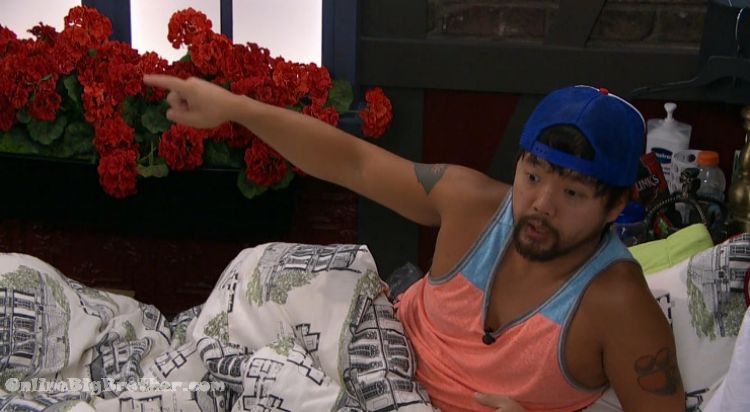 3:30pm London Natalie, Michelle and James
Natalie – they said it had dark hair..
Michelle – so I have dark hair..
Natalie says no one talks game with her anymore.
James says he does.
Michelle is going to talk to talk to Nicole after the veto ceremony. Michelle is going to tell them that America wants Paul out because he was in danger and the care package didn't go to Victor/Paul it went to Corey.
Michelle is going to say Victor is her target for Double.
Micelle adds she's going to tell them if Victor/paul are in power they will put up Corey and James.
James – next week if Nicole gets rid of Paul and they trust Victor to work with Corey and NIcole.. That is the side he'll be rolling with now.. They (Vic) can put me up and her (Nat) up if you (MEECH) stay.. One of us might win that veto and that means Corey or Nicole has to go up and where do the votes lie..
James- 2 to 1 Corey will go home.. That's what I don't know Nicole knows..
Michelle says Corey and Nicole are buddy buddy with Victor it's obnoxious
James says he thinks 2-3 weeks out all the time says keeping Victor is bad for Nicole. Nicole isn't thinking about what happens if he wins the Veto.
Jame s- Nicole if you want to risk me and Natalie winning the veto and Corey going up..
James says Victor doesn't think he's just a machine
Michelle – why wouldn't they put me up instead (of Corey)
James – ohh I didn't think of that.. (HAHAHAHAHAH)
Michelle going on and on that Victor is going to win all the vetoes from now on they will never get him out.
JAmes says if they had kept Victor he might have stuck with them but probably not.
JAme s- I don't think Paul is staying this week
Michelle – would I not pitch anything to Nicole
Jame s- not scenarios.. She's smart..
James – just say hey my fate's in your hands.. I have no problem with you.. My target's Victor..
James- that's all you have to say.. (ZOMG)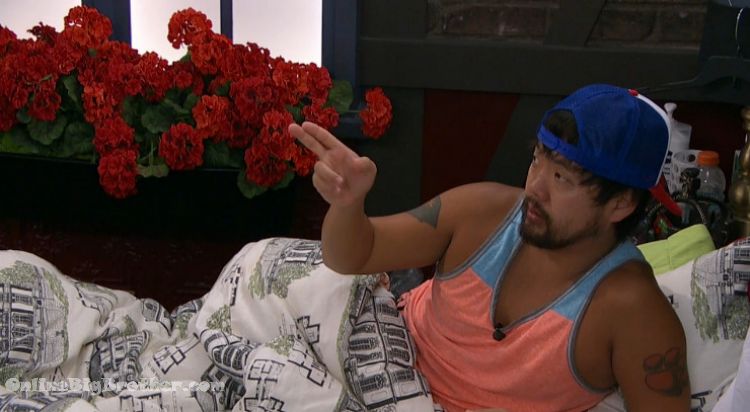 James- I guarantee he (PAUL) knows he's going home..
Michelle and Natalie agree the game would have been better for them without Vets in it.
Michelle – I feel like I would have had an advantage
Michelle says Paul is sleeping all the time because he knows he's going home. (LOL he's upstairs in the HOH with everyone else for the last hour)
Natalie is certain that America doesn't like Paul and this drone was a sign for that.
Michelle says it looked like Victor's hair. Maybe they are being told to not trust Victor.
Natalie proposes if it had short dark hair maybe it was Paul.. maybe they are being told they can't trust Paul.
Paul joins them.. Speculation about the done commences..
(the message makes little sense)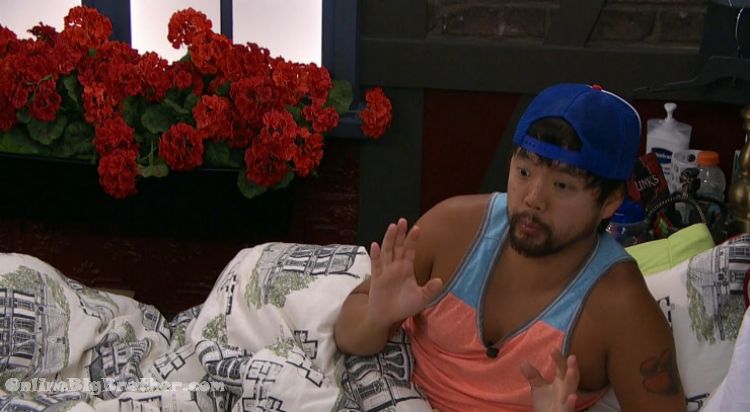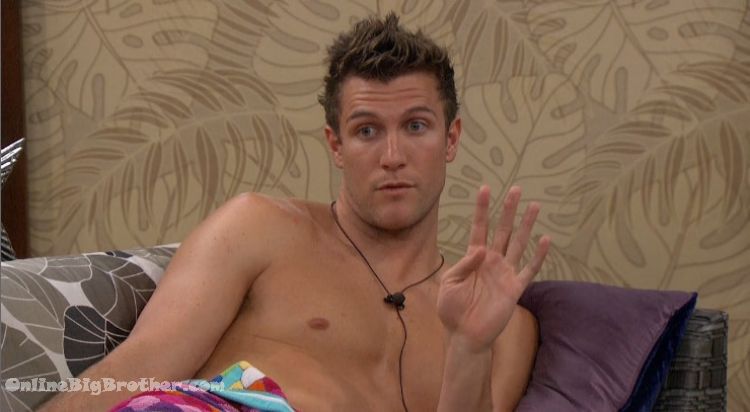 3:58pm HOH Nicole, Corey and Victor
Nicole – you swear you guys aren't changing your votes..
Victor – if you ask 1 more time i'm changing my vote
Corey laughs.. "Same"
Corey – I am not Voting Paul out I love Paul.. we're in an alliance we're final 4.. (See image)
Victor – what's the problem
Corey – she's wanting to know if she should send Natalie out
Victor – if you don't want to send Natalie out don't put her on the block
Corey – we're sending Michelle out..
Victor – I'm not here to f*** you over
Paul comes back up after talkign to Michelle, Natalie and James.. says Michele is being a bit "airhead" about the drone.
Victor – I think Natalie read it.
Paul says Natalie thinks it's a insult to her body and Michelle think's it's game related
Nicole – I just want Michelle gone 10 times more now.. she's throwing my name around because of the team america thing..
Paul says Michelle said Nicole's name twice and Corey/Victor 1
Nicole says Michelle throws her name out ..
Victor- Target Nat #1
Corey – It could I think it was Target Nat number 1 ..
Paul – I caught James doing another 1 of his f*** updates..
Paul explains that Natalie, Michele and James have been saying it was not a girl all this times.
Paul adds that he caught James saying "She" then correct himself saying "The Doll"
Nicole – he was shaking when he ate the brownies, he was scared..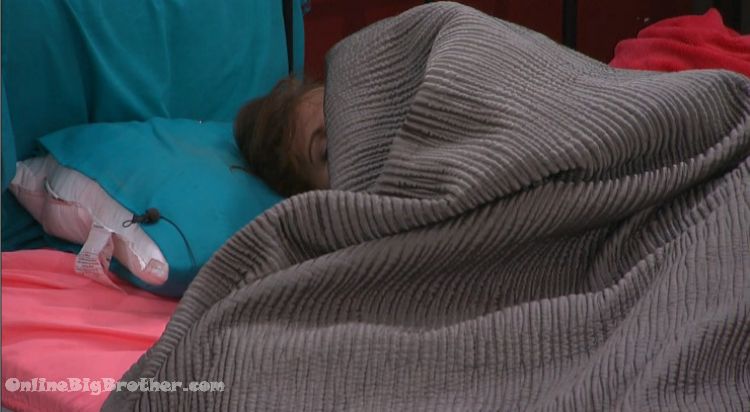 5:00pm Michelle and Natalie
Michelle freaking out calling Victor a snake saying he's a traitor. (LOL.. YOU GUYS VOTED HIM OUT)
Michelle- I can't deal with the fakeness.. I literally can't stand them..
Michelle says Nicole plays this friendly act and she's never been to her.
Michelle – I'm done with her act.. I'M DONE
Natalie tries her best to comfort Meech.
Meech – I hate the way I look I hate the way I look i'm the ugliest person
Natalie – you are not..
Meech – I can't even look at myself..
Meech in full crying mode..
Meech – why is it so long… Season 14 was 77 days long we'd be almost done by now. (the good ol days)
Natalie says there show is more popular they get more air time.
Meech bawls.. full on bawls but it's MEECH "bawlng" which is forced.
Natalie – if you win that 1/2 millions dollars
Meech – NATALIE chances are I'm not.. there's goign to be 40 episodes of me lookign like a ugle person..
Natalie – there's not MEECHIE.. Seriouslly..
meech – I wasn't ready to be here.. I wasn't ready to come here…
Nat – don't think that way I don't think anyone was ready to come here MEECH, you survived a double evcution.. you surviofed thuis long without a showmance.
Natlaie says if it wasn't for James she would be gone by now.. HSe had someone to trust 100% and Mcihelel never had that..
Natalie – you had your girlfriends..
Meech – they were real…
Natalie – I'm goign to be here when you're sad when you're angry..
Meech – I hate my body I hate my face I hate everything about myself..
Meech – I wish I looked different be a different person
James comes by says the Chicken is ready.. Natalie ticks with her
Michelle – I don't have a pretty face.. it's so fat.. it looks like buzz light year
Nat – you are gorgeous.. you have the most beautiful eyes. to be honest to me you are tall and skinny.. I know you are not your best face..
Meech – It's something different every day I just hate myself all together..
Natalie tries to make her feel better and does a good job. (this is some of the old Natalie coming back)
Meech – I look like a ugly bum every single day everyone see it.. I guarantee you there's screen captures of mee looking ugly.. the DR I always look like sh1t they always make me talk in there…
Paul comes in
Natalie – stop crying Paul's coming..
Paul asks her if she wants anything.. leaves…
Michelle is sick of Victor being fake
Natalie says Victor will go wherever the power goes (YOU GOT HIM OUT.. sorry but they seem to forget this and it's Hilarious )
Natalie goes on and on how beautiful Meech is "You didn't need surgery you are born beautiful"
Natalie reminds her they are locked in a house for months they can't go to the store.
Meech – I'm just scared of being on the block this week
Natalie – James said in confidence today that in his gut you are not goign home (ZOMG.. James gut = Meg's gut)
Meech – OK
natalie says she's not the target she is not going home.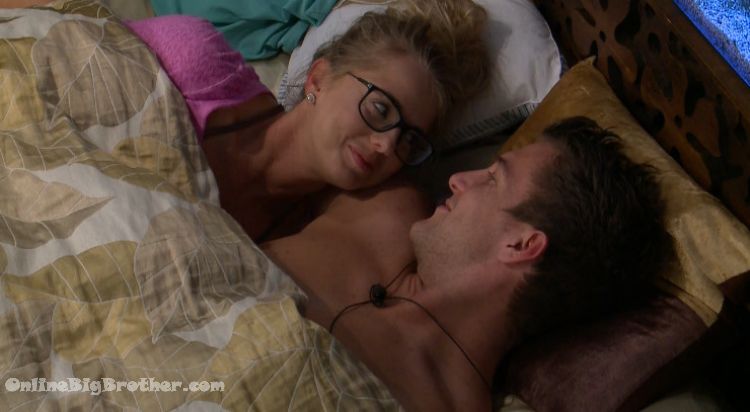 5:32pm HOH Nicole and Corey
Nicole – Victor is someone that needs a lot of attention
Corey – I like Vic I like him more and more now..
Corey – there's no way he's coming for us (Vic)
Hands off #BB18 @DawgsBigBrother pic.twitter.com/UhrivwJiAG

— OnlineBigBrother.com (@bigbspoilers) August 29, 2016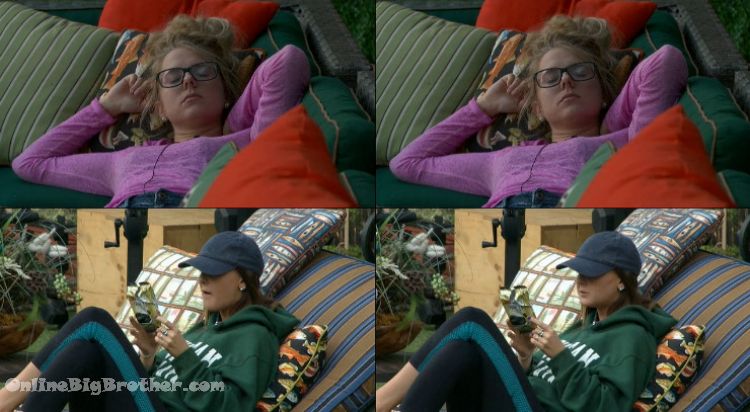 6:02pm Back outside…
James petting Natalie #BB18 pic.twitter.com/MZeP4yfSyV

— OnlineBigBrother.com (@bigbspoilers) August 29, 2016
6:47pm James petting Natalie like a dog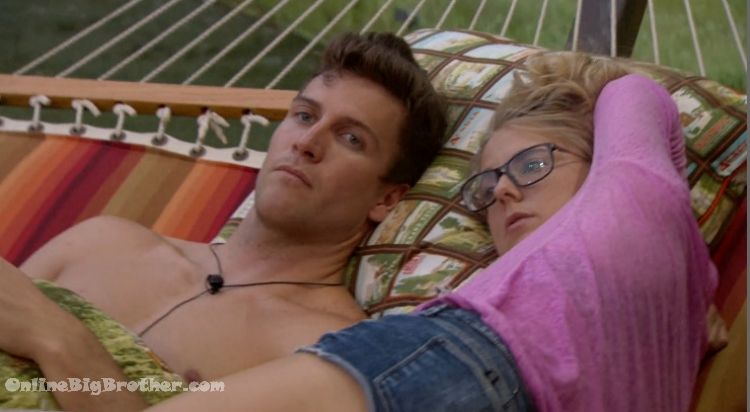 7:30pm Corey and Nicole hammock
Nicole – I really think they don't think Michelle is leaving..
Nicole – you would think one of them would come ask me..
Nicole wonders if they (James, Michelle, Natalie) have Victor on their side it's 4-2 and 4-1 in the next HOH.
Nicole – I'll be so mad Paul goes him that's all i'm saying..
Nicole – I don't think Victor is smart enough to play us after they voted him out.. Right..
Corey – I know..
Nicoe – it would be a good move for him Get pula ou.
Corey – should I offer Vic $5 dollars to vote Michelle out
Nicole wants them to wait to see how the week goes.
Corey – maybe you should put Natalie up to be safe
Nicole – I don't want tooooo, James will gravitate towards them.. I'm not doing it that will screw us over for double for sureeeeeeeeeeeeeeeeeeeeeeeeeeeeeeeeeeeeeeeeeeeeeeeeeeeeeeeeeeeeeeeeeeeeeeeeeeeeeeeeeeeeeeeeeeeeeeeeeeeeeeeeeeeeeeeee
Nicole – you got to play risky but that's like me voting you out.. Vic has no strategy.. No strategy to know that's a good move for him. (WTF?)
Corey suggest they give Victor the 5 Grand to solidify their final 4 alliance.
Nicole – very true.. Vic could use the money.. He's broke..
Corey – so broke
Nicole – i'm broke.. But Victor needs the money so bad he told me his car windows don't roll down.. Poor guy and I know he would 100% use it for you know what…
COrey – what
Nicole – for that trip.. It's cute.. I do think he's going to win 500K
Nicole says this is a great idea bribe Victor to vote out Michelle. Nicole says she can breath easy.
Corey – should I do that .. that would 100% solidify .. . he'll be like I love Corey and NIcole they just gave me 5 grand..
Nicole – it's a really good idea..
Nicole saying they can offer it to James to vote Michelle out.
Corey do you want James on our side or Vic on our side
Nicole – Vic
Corey says he does not want to keep the bribe for the HOH nobody will drop for 5Grand. They are going to give it to Victor to make sure he votes out Michelle.
Show your support by making a donation.
Donations support this site more than anything. If you dig our spoilers please find a way to support us.
"BB BRIBE"
WEEK 5 – August 25 to August 26th
The winner gets $5,000 to bribe one house guest. Bribes my influence voting, competitions, vetos or nominations. The bribe can only be given to one house guest, for one action, within the week leading up to the next eviction.