POV Holder:
Nicole
POV Competition
Aug 27th
POV Used
?
POV Ceremony
Aug 29th
HOH
Nicole
Next HOH
Sept 1st
Original Nomi1nations:
Paul AND Big Meech
After POV Nominations:
? AND ?
Have Nots
Corey and Victor
Care package
Corey
Watch the next week of the feeds for FREE – 1 week Trial!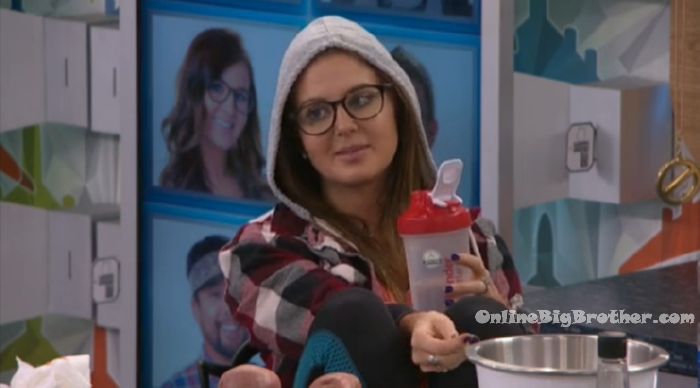 7:35pm Kitchen – Meech, Nat and James. Meech says this has been a good week so far. Nat says that comp was fun. They talk about what numbers they guessed for each. Nat says it really gets me mad that you know these comps and you never tell me any tricks to it. James says next comp I'll let you know. Meech says the next comp will probably be a before/after comp. James says as long as he keeps us safe it was a week well worth it. Meech says yeah I'm glad you're both safe. I'm just preparing for the worst. Nat says it would be a waste of an HOH. James says if Corey wins HOH he will probably try and take Victor out. Meech says I'll pitch to Nicole for a double I will throw it to Corey so he can put Victor up … but I won't throw it I'll try to win it and put Nicole and Victor up. Nat says Nicole is a bigger threat than Corey. Nat says you have to win it. Meech says obviously if I stay but I have a feeling I'm not. Nat says stop with this feeling stuff. Meech asks what was your feel after talking to Nicole? James says I don't think she wants you out. She was leaving personal out of it. Meech says I don't get personal.. I want her out because she's a threat to me.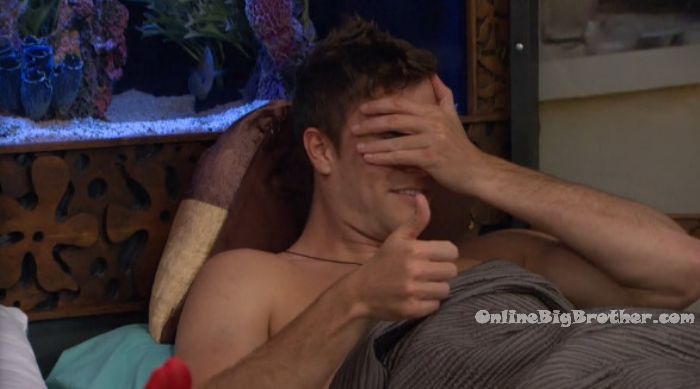 7:55pm – 8:50pm HOH room – Paul, Vic, Nicole and Corey. Paul says just a heads up don't use the coffee mate .. they put garlic salt in it. So that needs to be thrown out. Nicole says thank you because I would have used it. Vic asks was it James? Paul says no Nat. Vic says what a waste. Lets just put garlic salt on their cake. Paul says no, I'm over it. I want to sit Michelle down and say can we just not. Can we stop with the back handed comments. Paul and Vic head downstairs. Corey says I think I will give the 5K to you. Nicole says if that's what you want to do but I'm going to kick your butt if it could have saved us next week. Can you just wait unit we find out if its a double or not? Corey asks how would we know? Nicole says Julie comes on the TV and tells us. Corey says no one is going to take the 5k to throw the HOH.. there's too much on the line. Nicole says there is no way Vic would change his vote? I had a pawn go home on my season. Nicole says this is best for my game. Meech is 1000% putting me up. She has got to go. I don't want to blindside James. Corey says well we'll tell him right before. Nicole says I think you should tell him. He respects you a lot. I'm sorry I've got to have my girl's back .. I got this care package. I've got to vote her out. He always says that. I have to be careful how I say it because he might take it as a back handed comment.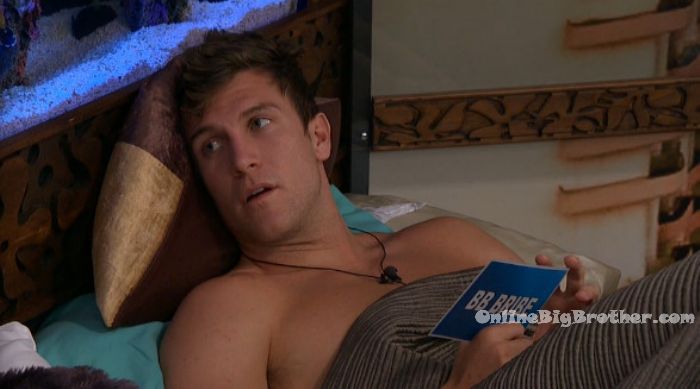 Nicole says I'm worried if we tell James they (Vic & Paul) will be mad be cause they want to blindside him. To fluster them for the HOH. James might vote the other way just to make them mad at us. It hurts my heart to blindside James. If we tell him .. he has the biggest mouth. Corey says lets not blindside him. During the live show I can be like Nicole here's 5K to evict my cat (Meech). There's been a bad cat in the house. Corey reads his BB Bribe card and says your bribe expires at the conclusion of the next head of household competition. SO I should use it on the next head of household comp then. That's annoying we don't even know what its going to be and I don't even want to win HOH. Nicole says you should at least try I might be in trouble. I think it might just put a target on my back if you just hand it over to me. Corey says I might as well give the 5K to you. A bribe is not a good thing.
8:25pm – 8:50pm Paul says I really hope I stay and Michelle leaves. That would be the best f**k you. Vic says you know you're staying. I just want to win next week to put up James and Natalie up. I would get that same feeling I got when I put up Paulie. Paul says prides himself (James) on a wall comp and doesn't even win this one. Vic says Nat would be so lost. Paul says she tires to turn to us. Vic says no think you. Michelle better not poke and prod. VIc says then blow up if you have to. Paul says I don't want to … does she want me to drop the c-bomb again!? Vic says I fricken like that girl and I like Corey.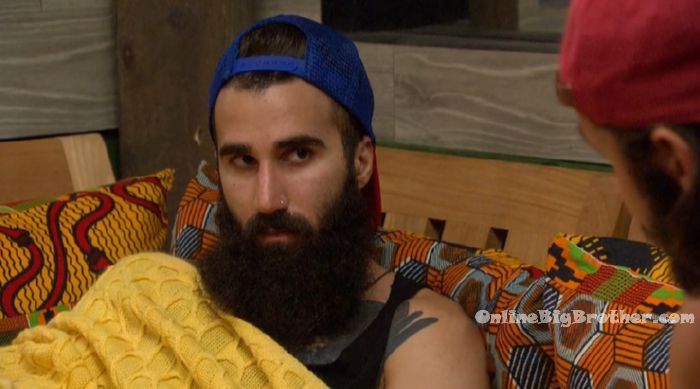 Watch the last month of the feeds for ONLY $5.99! Try it 1 week for FREE!
8:55pm – 10:15pm Havenot room – Paul asks Meech if she wants to talk for a minute. Meech says sure. Paul says basically .. realistically one of us is going home this week and I would rather squash this and put things behind me. If its my last week or you last week. I won't lie you did say somethings that made me upset and I said something that up set you. I was trying to do that but I would rather talk about it than keep ignoring you or make back handed comments. Its a game and I plan to be friends with everybody after. Meech says i wasn't planning on yelling at you or calling you out. Paul says I'm not campaigning against you. Meech says I know you told them .. like how did Nicole know I was targeting them? Paul says you said it out loud. Its common knowledge. You called out Nicole and said she was a snake. They talk about him touching her clothes and how they pissed each other off. If it is my last week or your last week I would rather we not sh*t on each other. Paul says I love how you call people out and sh*t on people. Paul says you're not a bully. I was trying to hurt your feelings. Meech says I should never have butted into that conversation. Paul says he thinks he is going. Meech says she thinks he's staying. Paul asks are you on drugs?! Paul and Meech continue to chat about their conflicts and the season.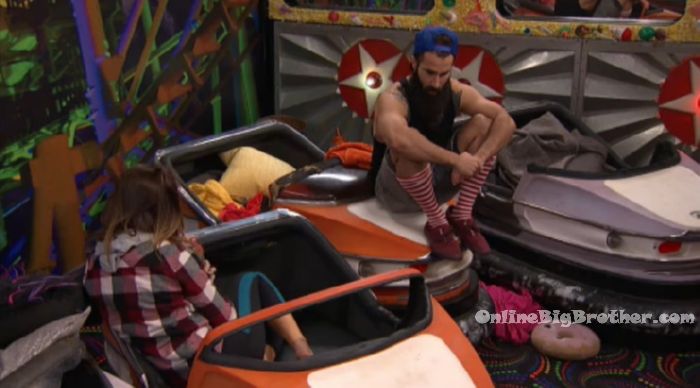 10:15pm In the kitchen – Corey and Vic test each other on the number of things there are in the house.
10:20pm Safari room – Paul tells Corey about his conversation with Meech. Vic joins them.
10:30pm The backyard opens – Vic, Paul and Corey get in the hot tub. They talk about Corey's 5K bribe. Paul says either you could do it at noms and give it Nicole or you could wait for the HOH comp. Corey says yeah I could wait for the HOH comp and if I was one of the last people I could go like do you want this 5k to drop? Paul says do what you want with it. Vic says I don't want James to get another 5k. That's 10K up from all of us.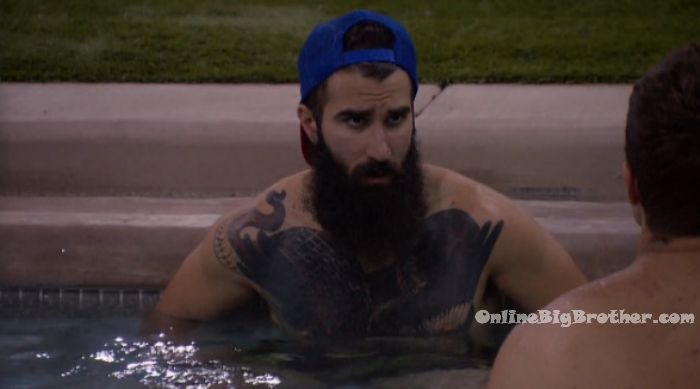 10:55pm London Bedroom – James says that he will talk to Nicole but it has to happen organically. Meech says don't do it if you don't want to. Nat says no he has to do it. James says my gut tells me that Nicole wants Paul out. I'm going to hit them and plant that seed. Meech says you might actually be able to catch Nicole when she comes out of the diary room. Nat says they will talk to anyone .. no shame. Victor will put himself in rooms. Meech says Nicole & Corey were trying to have a glass of wine and Vic popped in.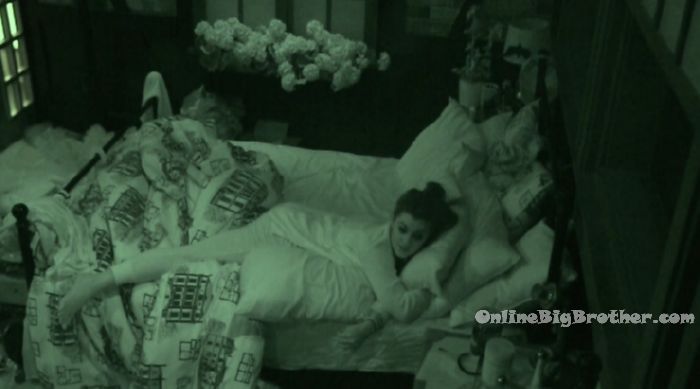 11:35pm London bedroom – James, Nat and Meech. James thinks there will be a double eviction this Thursday. That's why I will have all my stuff packed. Meech says I don't get why people don't tell someone they're going home. James says because people don't want the drama that goes with it. Meech says I'm not going to blow anyone up. I would be happy if you or James were in the end. Nat says she would be happy if James or Meech won. Nat talks about how "we" helped take out the biggest threats of the game.

11:50pm Backyard – Corey is in the hot tub. Nicole joins Corey. Vic is working out.
Show your support by making a donation.
Donations support this site more than anything. If you dig our spoilers please find a way to support us.
"BB BRIBE"
WEEK 5 – August 25 to August 26th
The winner gets $5,000 to bribe one house guest. Bribes my influence voting, competitions, vetos or nominations. The bribe can only be given to one house guest, for one action, within the week leading up to the next eviction.