Head of Household: ?
Nominations: ???
The Power of Veto Players are: ??????
POwer of Veto Winner: ?????
Power of Veto Ceremony: ??????
Have nots: Ro, Vic, Breydon, Austin
Feeds return after almost 24 hours of downtime. Big Brother Canada tweeted out that the feeds will be going down again until tonight. My Kraken gut is saying it's Vic or maybe (slight maybe) Ro/Tera.
The HOH (whoever that is) got to pick one houseguest to get a letter from Home. Tina got a letter.
Victoria is the HOH and the house is convinced it's her. She is now thinking of putting herself on the block to throw them off the sent.  It's messy.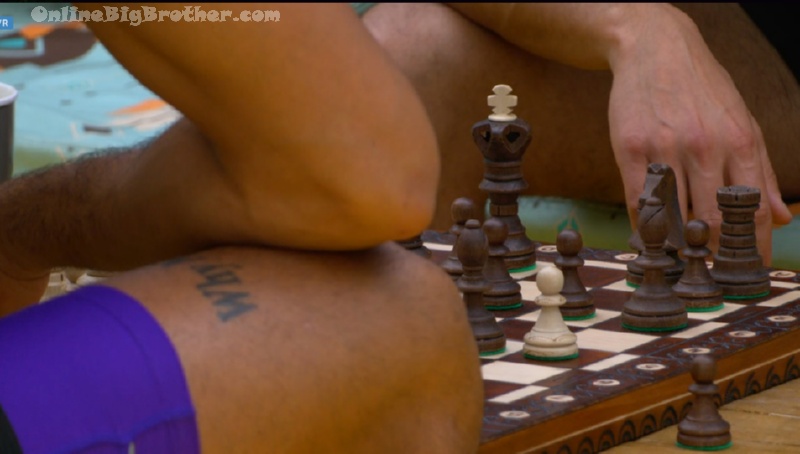 12:55 pm Feeds return Jed and Ro playing chess, Ty in the room as well.
Jed – people will like you to do the dirty work
Ro – I'm not going to lie they want me to put you guys up
Jed – because they think you are HOH
Ro – yeah but just in General
Jed – it will be intriguing to see what happens
Ro – you guys know Beth better than I do. We've had maybe three conversations and all of them have been without that last week and a bit. I trust what she said but I will take your guy's word. I wouldn't know you guys know better than I would
Ro – there are two ways people can look at this. Solo players and Pairs.
Ro breaks down the solo players are Beth, Kiefer, and himself. The rest of the house has a pair.
Ro – the natural thing is to break up a pair
Ty – we wouldn't put you up if we had it
Ty leaves.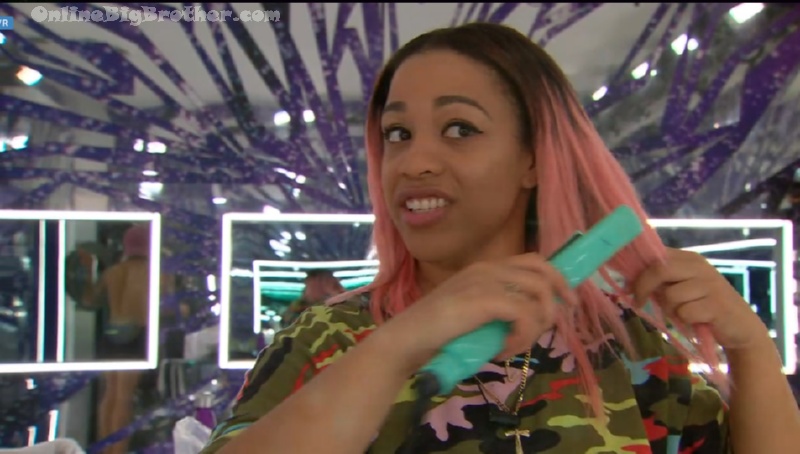 12:55 pm Vic and Kiefer
Vic – any intel for me
K – the boys are having a really long chat with RO
Vic – nice
K – Makes me uncomfortable
Vic – it makes me uncomfortable
Vic – you don't think they are making deals or anything?
K – they are making deals
V – Get out
Kiefer – they think he's the secret HOH
Vic – ohh boy.. that's scary
V – his only options if he was beside them would be you and I
Kiefer leaves.. Tera in there now.
Tera – everyone knows I was in the tiebreaker
Tera – it's perfect
Tera says she only cares about Vic, Kiefer, and Tina.
Tera says whoever goes up they will discuss with Vic.
Vic says the four of them decide who goes home.
They hug "as long as you have my back in this game you are safe"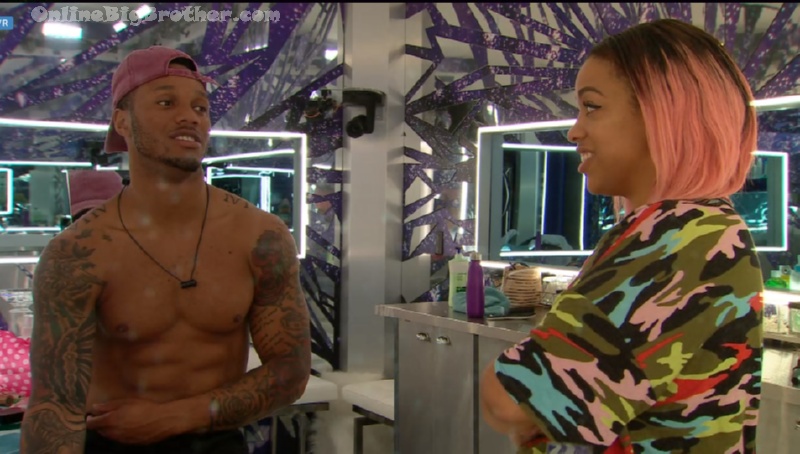 Tera leaves and Ty joins her.
Vic says she's loyal to their final 4 "I don't have it and if I did I wouldn't be putting you up.. "
Vic – no one has any idea that we are working together.. Austin and Breydon came up to me and were like I hope you have it.
Vic laughs "If I won I would put up Ro and Austin"
Vic – no flippity floping
Ty – 100% same page
Vic – how was your sleep
Ty – good till the nonsense..
Feeds cut..
When we're back..
Vic says she thought the HOH would be known by now
Ty – I know Kief doesn't have it, Tina doesn't have it, Tera doesn't have it, I don't have it. I don't think Jed has it so that leaves 5 and you say you don't have it that leaves, Ro, Beth, Austin, and Breydon
Vic – you guys should chat with Ro because if he has it he would put up you guys and Kief, As long as us 5 sticks together we control the week
Vic says if she had it she'll put up "F**Ing snakes like RO"
Vic _ I would love to see Austin and Ro..
Ty – I hope its you
Vic – It's not me Ty..
Vic – do you think Ro has it
Ty – good chance he does
Vic – the cameras are on Ro like no f**ing tomorrow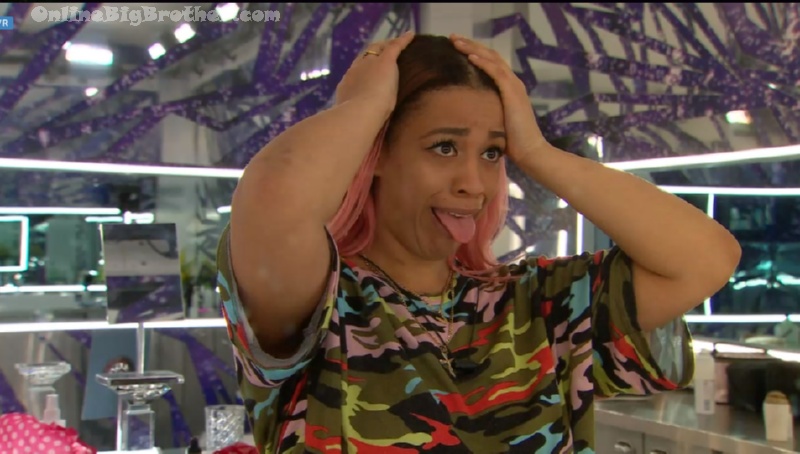 After Everyone is gone.. Vic looks at the camera "What do I do"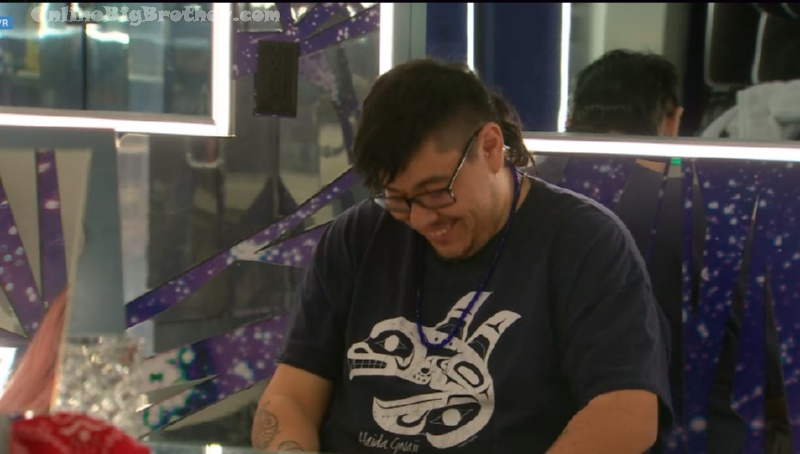 Kiefer joins her.
K – my fear is Austin and Breydon have it..
Vic – they don't.. they don't have it..
Vic looks at Kiefer.. They start to laugh..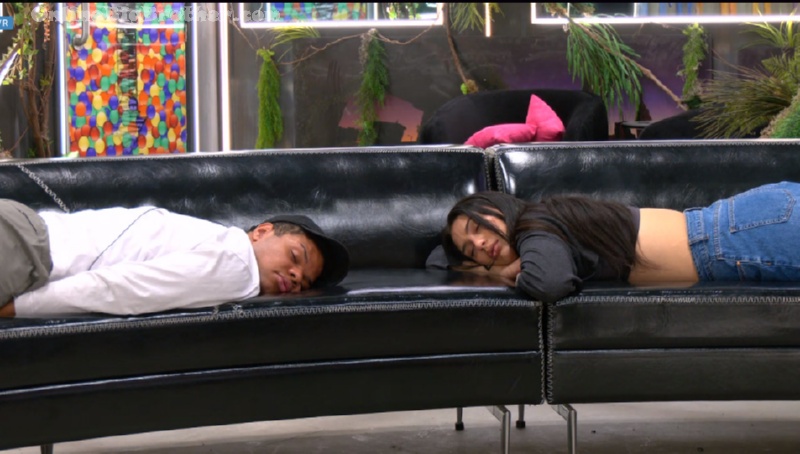 feeds down again.. will be back tonight maybe.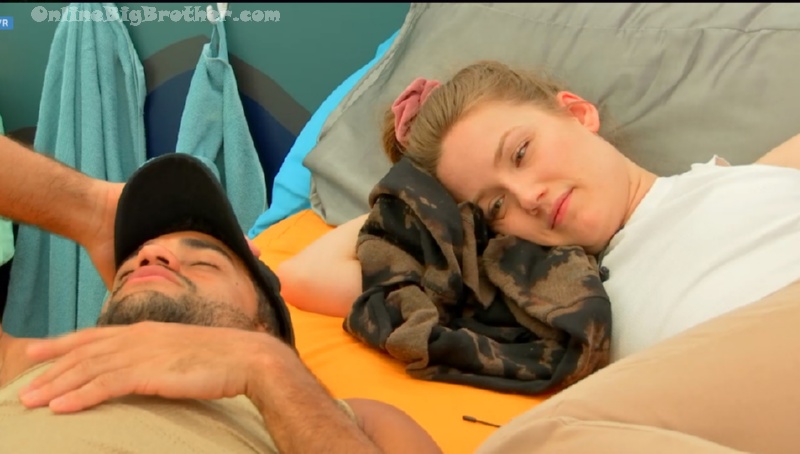 6:00 pm Feeds return.
Jed – I do think we are going to be OK this week I have a feeling we're OK
Jed – My biggest worry was Ro and I don't think he would put us up.. my biggest worry was Ro Now it's Austin
Beth – we f**Ing kept her.. You are so good looking it's disgusting..
Jed – you're not too shabby yourself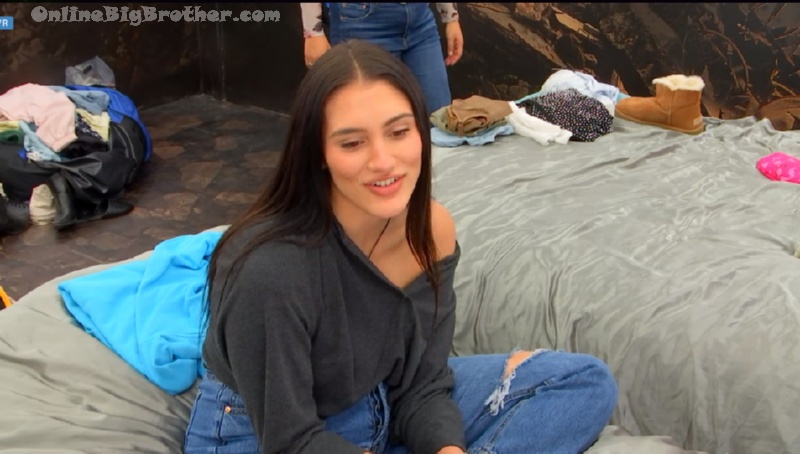 Austin and Breydon laughing and chit-chat..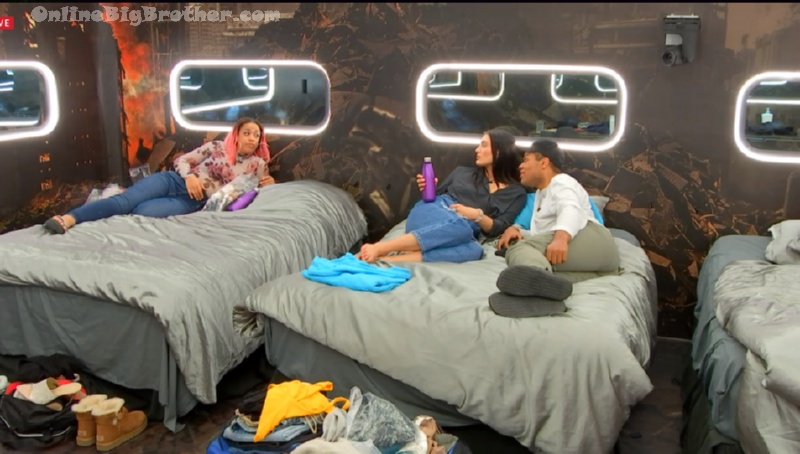 6:23 pm Vic, Breydon, and Austin
Vic going on about how she thinks it's Ro based on much the camera has been following him.
They tell Vic if Ro won it She is safe.
Breydon says he thinks Ty might have it too "He's so suss"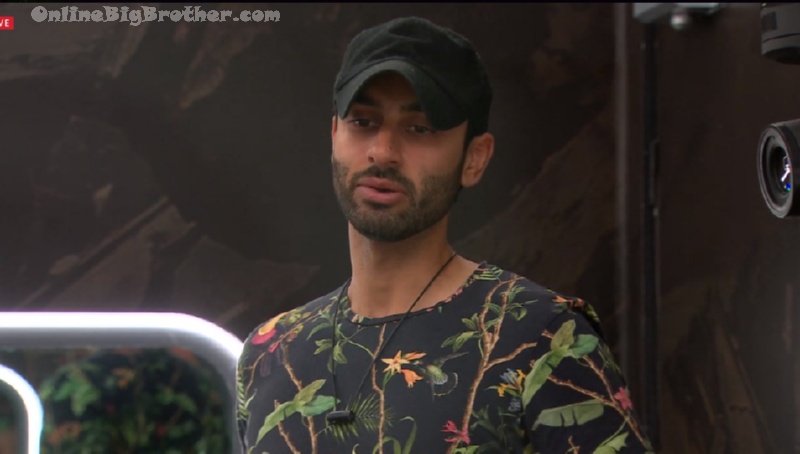 8:28 pm Ro and Victoria
Victoria saying she's for sure not the HOH she wouldn't have put herself on Slop!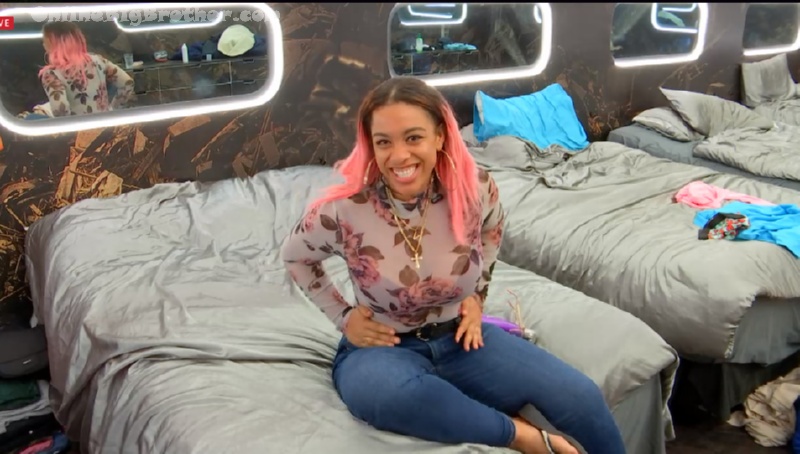 After Ro leaves.. Victoria looks at the camera..
Victoria laughing about being on slop "I'm going to be so skinny"
(Victoria is HOH she picked herself to be on slop)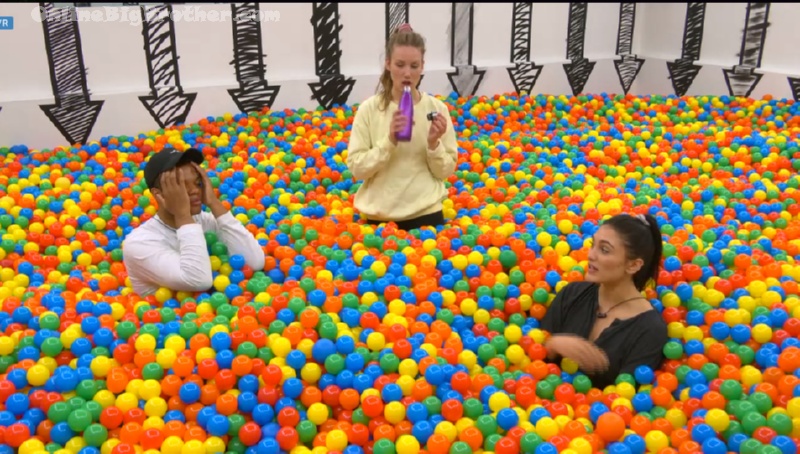 7:33 pm BReydon, Jed, Austin and Beth
They think Vic is the HOH. Going through scenarios about who Vic will put up.
Ty – this is twisted this is so twisted
They grapple with the possibility that Vic is HOH and put herself on Slop for the second week.
Ty – She has a slop pass
Breydon – I didn't know that
Jed – Bro I said from the beginning it was her.
Beth – if it's Vic who is going up?
Jed – maybe Ro because he backstabbed her? I don't know
Breydon – would she use the slop pass?
Jed – I would..
Austin – I would
Ty – she's smart..
Beth – she's an actress
Jed – Bro
Ty – it's gotta be her
Jed – it's gotta be
Jed – it's Vic.. it is vic.. its vic
Ty – I just thought she was overacting
Jed – she was overacting
Ty says going on slop is a small price to pay if it furthers you in the game.
Jed – she's a super fan.. Canada would love it put yourself on slop make a big move.
Austin – if the big move is in this room we have to gun for it and reverse it. Cause you guys can't exist without us because then you'll be the biggest target in the house and vice versa
Ty – the big moves are in this room. ONe of us four are going up tomorrow.. or two if we are being real ..
Beth – just between us she's saying it's Ro or Austin.
Austin mentions if Vic is trying to pin this on them then they won't be on the block tomrorow.
Breydon – true
Austin points out that Vic seems very calm chilling which is totally different than last week
Breydon – runnign around lkike a chicken with her head cut off.
Austin says in a couple of weeks, Tina and Tera will control the vote. "they will be half the votes in a couple weeks
Jed says they are forming another side of the house, Tina, Tera, Kiefer, Vic
Jed – they can have the numbers in a week
Ty – yeah, they're inciting a war while they sit back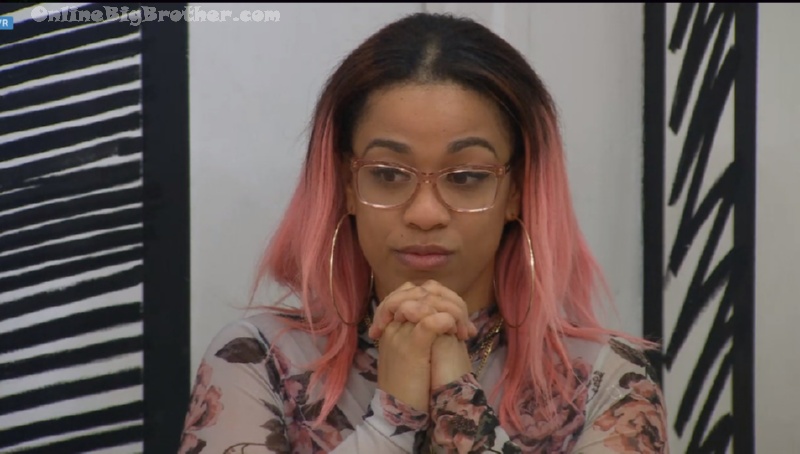 Vic joins them.
Breydon – I just can't go on the block and be on slop I just can't
Jed – I don't know who would do that
Vic – I'm shook
Austin – If I had won I would have put the four people that haven't been on slop
Jed – I was ready to take it
Ty – this game is crazy
Vic – "you guys made a deal with Ro"
Ty – we made a deal for what
Vic – I'm sorry.. crazy sh1t is going to start coming out..
Jed – no Vic NO.
Vic laughs says some crazy things are going to come out
Austin – If I'm on the block and on the block I'm flipping this house
Jed – It's not us I would not put you on slop two weeks in a row..
Ty – I was prepared for my name to be called first..
Ty – I don't think Ro makes this move..
Ty – If we are being real it'll be me, Jed or Beth
Jed – I swear on my life I'm not HOH
Austin says if they are on slop and on the block that person is evil
Breydon – a evil person
Vic – literally
Austin – like Nasty, thats really personal if that happens I'll be f***ing pissed
Beth leaves..
Vic – that's insane.. i'm not down with this to be honest. I'm pretty upset.
Austin – I cried on the couch
Vic – like family meeting.. no just kidding
Jed – everyone saw who you struggled on Slop (Austin the week before)
Austin says it took her a week to recover from slop
Austin – who the f** would do that because that is f** up
Vic – this is crazy. I feel like there's more that we don't know
Ty – what do you mean we don't know?
Vic – like I don't know
Ty – who the HOH is?
Vic – I dunno
Vic leaves..
Austin – what do you think
Jed – is it her?
Breydoin – it's possible
Ty – possible..
Jed – very Possible
Jed says Vic is a super fan this is the type of sh1t she likes to do.
Jed – A move she did that holy sh1t ..
10:47 pm No Feeds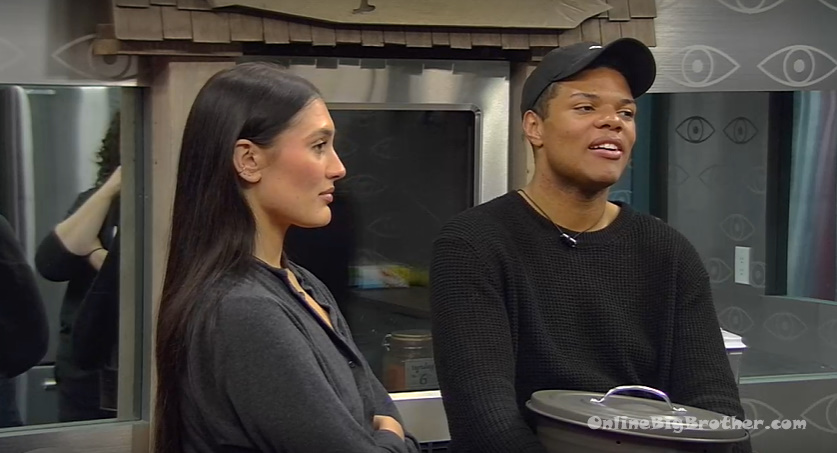 12am Storage room. Austin, Tina and Breydon.
Breydon – I don't know. Its hard to figure out. Austin – I am smiling but I am really stressed out. Breydon – I am praying that maybe they're nice .. like you went on slop so I won't put you on the block. Tina – I am wondering if the four that are on slop, there are going to be two people that are not on slop that are put on the block. Austin – I hope so. Tina – and I'm thinking it is going to be me and Tera. Breydon and Austin – I don't think so. Tina – I don't know .. I am f**king nervous! Breydon – I am too.. I thought I had an idea of who it was and then I went on slop and I was like oh!? I have no idea who I think it could be now. Tina – who do you think it could be? Breydon – I was thinking it was either going to be Vic or Roh. Austin – that's what I thought. But Vic would not