Head of Household: Kiefer
Nominations: Kyle and Ro Austin
The Power of Veto Players are : Beth, Austin, Jed, Kyle, Ro
POwer of Veto Winner : Rohan
Power of Veto Ceremony : Ro used the veto on himself. Austin nominated as replacement.
Have nots: Ro, Tina, Tera, Victoria
Big Brother Spoilers – Kyle was evicted. It's Friday 9:06 am in the Big Brother house and the feeds are down. No idea when they are coming back.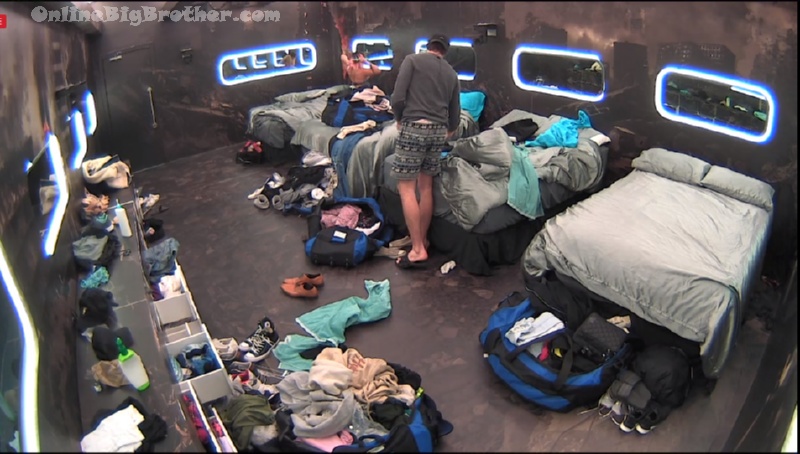 10:55 am Vic and Kyle
Vic – I know Tina and Tera really want you to be here they don't want you to go
Kyle says he's going to campaign but he's not going to trash Austin
Vic – I don't think you are dead in this game.
Kyle – has there been murmurers that people want Austin gone
Vic – Tina, and Tera have been doing a little fighting for you (HA so VIC fires up Tina/Tera about the flip then goes around telling people it's Tina/Tera all the way pushing for it)
Vic – So I think that was a little bit of our own..
feeds cut.. when we're back
Kyle – thanks Spicey
Vic says Kiefer has been wavering a bit
Kyle – got he would be stupid for keeping me.. I would have vengeance in my eyes. Don't tell him that
Vic says people don't like the "no campaigning"
Kyle – it's tough..
Vic – I know it's tough. usually, you don't see that usually, people want to be here and make it clear to every person
Kyle – I will for sure make it known..
Vic -you're not dead I'll tell you that
Kyle – Jed might be my PITCH
Vic says he needs to convince Kiefer if he can convince Kiefer "you're golden"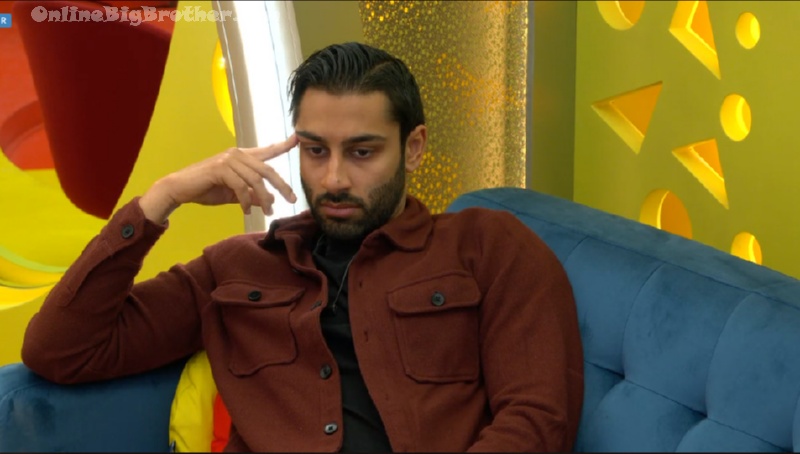 11:30 am Ro and Kyle
Kyle is going to pitch to Jed and Ty they can use him to take out Kiefer. "I know they don't want to be the ones that do it.. That's going to be my thing"
Kyle – I will be straight up honest I will put up a person on your side but it will be Kiefer I'm after
Kyle – Tina and Tera are pushing HARD for me to stay
Ro – they told me yesterday do not to repeat this to tina and Tera. Apparently, JEd approached them yesterday and he was like do you guys find it weird that Austin feels so safe in this situation. They said the way he said it they were interested in flipping the vote on Austin.
Talking about the flip and how it can be used to put a wedge between them and Breydon.
Kyle – we just have to make sure whatever we said doesn't get twisted
Ro – don't talk about Austin at all just talk about you
Ro – we have to be prepared that the boys go back to Austin and Breydon and say that Kyle and Ro are campaigning against you
Kyle will talk to Austin first and explain he's just campaigning to stay not against her.
Ro – I'm sure the boys will go to her and say we were campaigning HARD against you.. If they are going to send her packing anyways it doesn't really matter. It's in the boy's hands.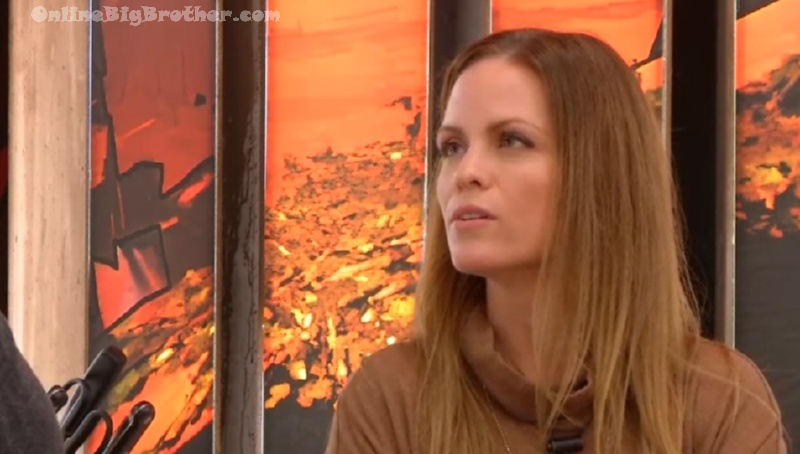 noonish Tera and Kyle
Tera – so yesterday there were murmurs around the house to keep you but I don't know if they started to try to pin Austin and BReydon against me and Tina
Tera – they were saying Austin and Breydon are gunning for you guys (they = JED, TY, BETH – you guys = Tera/Tina)
Tera says she entertained the idea of the flip because of their four but she is now worried it will put her in a bad spot with Austin.
Kyle – she's a pretty rational girl she knows she can't trust those guys
Tera – they're saying they're going for her but they are also telling me she's coming for us.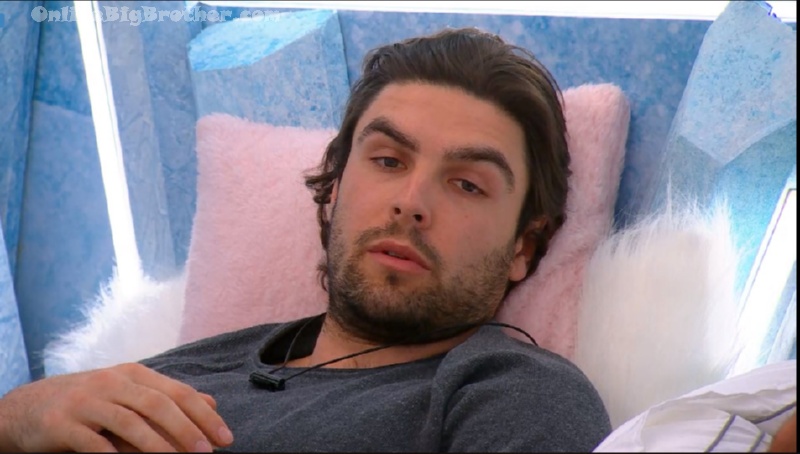 2:00 pm Kyle's pitch to Jed and Ty
Kyle says he's leaving Austin's name out of the pitch, "I do want to stay I want to be here"
K – we've always been on the same page with getting wishy-washy players out
Kyle says he's put a big target on himself for blowing up on Keifer twice.
Kyle – you guys are also BIG targets. So I am a BIG target that hasn't done well in comps so far.. If I get to Jury eventually .. I am assuming you two want to go as far as you can I mean that's obvious
Kyle – At some point during the game somebody will have to take a shot at Kief and if it's me that takes a shot at Kief later on in the game. Obviously not next week
Kyle says there's no chance in "sams hell" Kiefer will vote for Kyle to win, "He just doesn't like me"
They ask him who he would target.
Jed – we've heard you and ro are gunning for us 100%
Kyle – no.. we heard the same thing about you guys since day one..
Kyle – I've been told Austin's coming after me since DAy three
Ty says he wants names from Kyle.
Kyle – me and Ro did Vic a little dirty last week so that's not someone I really would want to put up. Tina and Tera would be on my radar.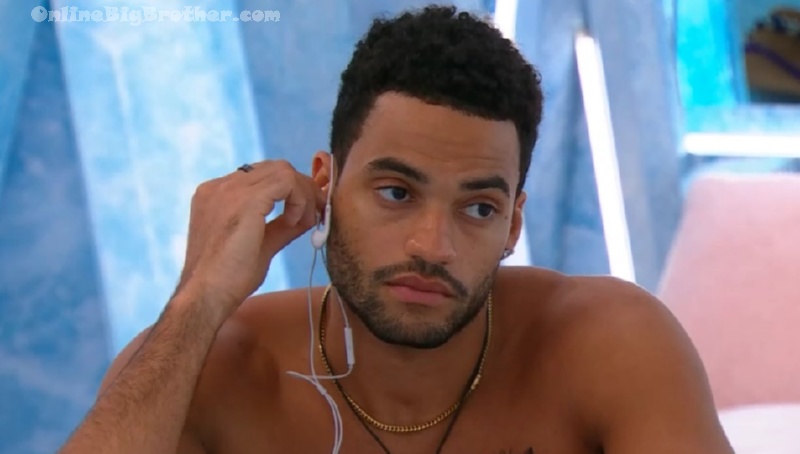 After Kyle leaves Keifer comes in to chat
Jed says they don't technically need Tina and Tera's vote they have their three Vic and Breydon to evict Kyle.
Kiefer says it's a lie when Kyle says he's not coming after them.
Kiefer – Ro didn't even try and talk game once with me when we played Chess.
Kiefer says Kyle doesn't have Tina, Tera, Vic's vote. If TNT is lying to him that means everything is ruined that they've built since day 2
Ty – should we put them to the test.. we as a house say we're voting one way. We tell them to vote out Austin we vote to evict Kyle "we see where they vote?" (LOL what a great idea)
Kief – I'm not doing that they will be pissed at me and everything I've built with them will be gone. They will freak
Kiefer – at this point I'm game with voting out Austin with all this talk because that benefits me the most
Ty and Jed say they are still on the same page. They want Kyle out.
Ty – he's already up there take the shot
2:50 pm Kyle, Austin and Breydon
Kyle – how was your convo with Jed, Ty, and Kiefer
Austin – very Jed, Ty and Kiefer
Kyle – they tried to corner me into throwing you under the bus
Breydon – of course
Austin – of course
Kyle – I was like Guys I learned my lesson from VIC. they told me they would let me know tonight.
Austin – they never asked me to throw you under the bus
Breydon – they want to pull you apart
Austin – one of us is f**ing leaving
Breydon – you from Ro or something.. you know what I mean?
Kyle says they asked him if he was in an alliance with Austin/Breydon. He said no, They thought he was because he talks to them a lot. Kyle points out Jed, Ty, Kief, Beth all talk together a lot.
Breydon impersonating Keifer telling him "I heard you four are working together. you have a name for each other. I was like WHAT? Keifer, c'mon it's phoney baloney, you listen to everything people tell you. He was like.. Breydon I just want you to know so you can look after yourself"
Breydon – F*** off Keifer
Austin – nice kid..
Kyle says he's building up the energy to talk to Kiefer.
Breydon says if Austin goes home they're all going to rush to him to console him "I won't be having it" (Breydon for HOH)
Breydon – no F** you.. or just wait until I win HOH.. all you are going up
Austin – I nominate everybody
Breydon – you're all going home..
Breydon – I'll be like Beth you're f****g fake you are a fake girl
Kyle – I kinda hope I'm here for that I'll f**ing join him
Breydon – I don't want any of you to f***ing look at me.. I'll go off..
Austin – I'll go off.
Breydon – and then they'll go.. Breydon since you blew off you're going on the block
Breydon – send me the f*** home send me out of this house I hate every one of you
They agree the other side won't trust Breydon and Austin anymore
Austin – Jed told me point blank if he won he would put up Ro and Tera
Kyle – they are just trying to get in our heads. They are saying your after Ro
Kyle – if we could have f***ing won HOH we would have dominated this year (the fact that they are three and trust each other)
Ro – ohh 100%
Breydon – Jed is so annoying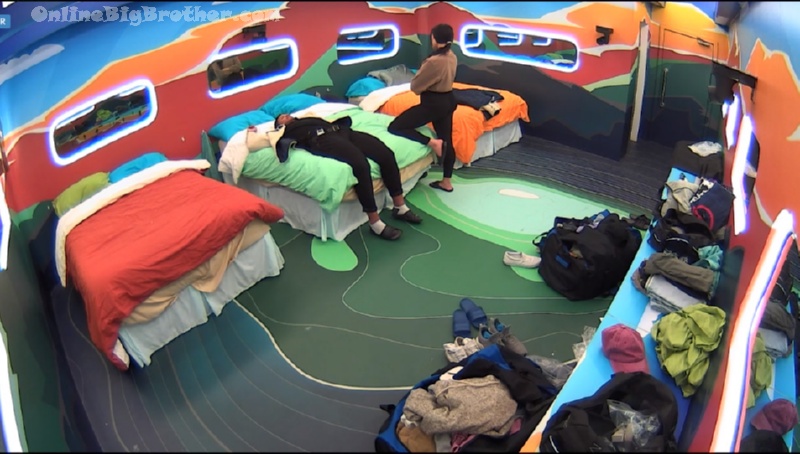 3:10 pm Breydon and Austin practising their roasts
"Jed, speaking from personal experience for someone who shaves their entire body it's funny how you aren't even smooth"
"They say you miss 100% of the shots you don't take Ty has shot his shot and is still sleeping on Keifer's couch .. Ok Keifer"
"It's fitting that you're the cook of the house because you always seem to find yourself in boiling hot water"
Breydon impersonating Jed "YO you did me dirty.. YO"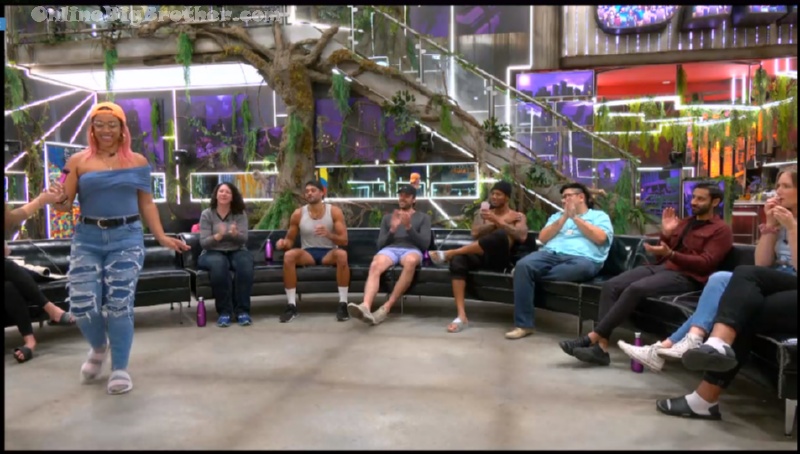 3:30 pm The housegests together to do some roasts
Vic starts us off with a GRENADE – "I'm going first unless Jed and TY want to go first since you're HOH this week"
Vic – I've been hearing a lot of you guys think of me as a COMP beast. Beast Vic. I'm going to take this opportunity to clear up some of those rumors. the first comp we had I don't think we knew each other for an hour so when we went out to drop the bucket I was pretty happy to see that everyone's name was in front of their bucket. So I finally get my groove I'm looking at the names. I start struggling.
Vic goes on about how she was going to let go she was going to quit. "my team was like VIC you gotta do this for us you gotta. I'm like I cannot do this I'm going to lose I'm going to let everyone down. I'm thinking my team's going to hate me I'm thinking I'm not going to win until I look up as see it's just me a RO
Vic – I won against Ro, Compe beast? I dunno
Kiefer – Thanks Tera I haven't seen you in like 11 episodes
Tera – you only need to see me on Finale
Kiefer – thanks for having me here. Good looking crowd. Is it douchey in here or is that just Ty and Jed?
Kiefer – They have a lot in common. BAsketball, they're both tall, they're both getting played by Beth.
Kiefer – Beth, Why is your face shaped like Alberta? Calgary and Edmonton are not lining up
Kiefer – Austin, I'm glad you showed up with your two expressions. one of them being Breydon.
Kiefer – Kyle, I've never seen anyone start smoking to make their breath smell better. Interesting tactic but it's working. Right, Austin?
Kiefer – Rohan, I've never seen anyone dress so nice but look so ugly. You are what you eat..
"Slop"
Kiefer – All season we've been looking for a mop but it's been chilling on Tina's head
Ro – you know is a really sweet girl I really appreciate the fact I got to know her. We had a really good conversation you were just telling me your love for puppies and that's something we have in common I'm glad to hear you have your very own puppy in this house and his name is Breydon
(HAHAHA Kiefer's roasts are good)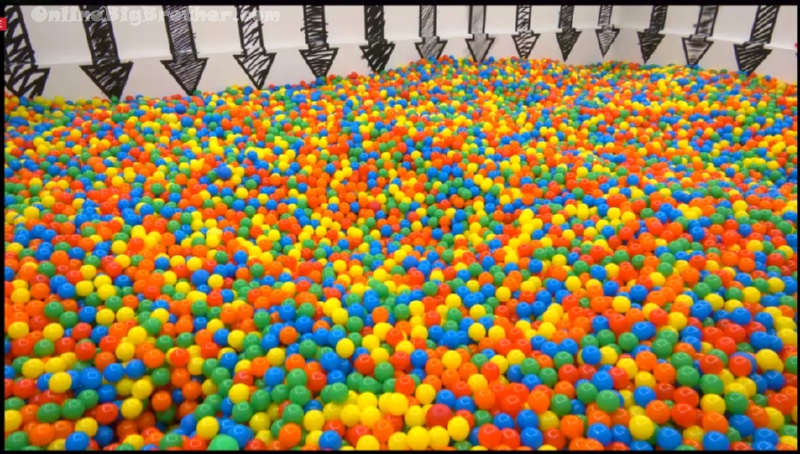 6:54 pm Breydon, Kyle, Austin, inside the ballroom chatting. Ro might be in there to.
9:00 pm Kyle, Ro and Tina
Going over scenarios. Kyle plans on talking to Kiefer.
Kyle says he threw out Tina and Tera's names out as targets.
Tina suggests he makes a deal with Keifer say "I'm not coming for you"
Kyle – that means I've talked to everyone and did the best job I could without dragging Austin. I could drag Austin and stay
Ro – drag her, say what? that she's going after them
Kyle – yeah
Kyle heads out to chat with Kiefer "one more shot for Kman"
After Kyle leaves.
Ro – hopefully, they tell us tonight so it's not a 4-4 vote
Ro doesn't think the other side will "F* us like that.. One of us could win HOH"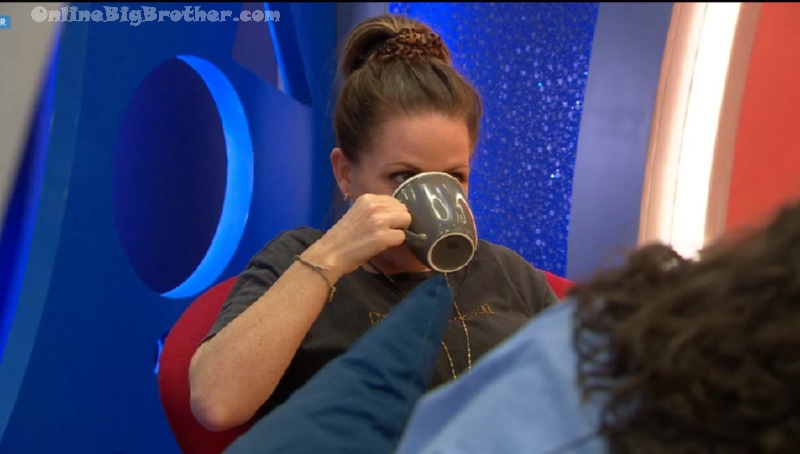 9:15 pm Tina and Tera
Tina – I was talking to Kyle.. He told me about his conversation with Jed. They asked for names. I said what names did you give him?
Tina – remember when we were upstairs and they said they were adamant that Kyle was throwing out Kiefer's name
Tera – I know that wasn't true. I know Kiefer won't not believe them anyways.. Jed's a liar
Tina – he was the one that said it
Tera – because Jed told him. Jed's a liar. I believe Jed is lying about Austin and Breydon as well
Tina – yeah
Tera – I knew Kyle didn't say that because I helped Kyle create his entire pitch.
Tera – Kiefer believes them more than he believes us so there's no point in saying it's not true. Honestly..
Tina – I'm a little surprised by Keifer, to be honest with you. He was adamant. So Jed is lying to Kiefer. Keifer is not aware.
Tera – if we tell Kiefer that Jed is lying I don't think they will believe us. He's playing both too closely. I think at this stage of the game I think Keifer wants us for the long game this game right now until they start dwindling he's more loyal to them.
Tera – he's set on Kyle because that is who they want. Straight up Jed is lying to Keifer about their targets being Austin and Breydon. They lie to Keifer all the time
Tina – Keifer doesn't have proof
Tera – Jed is the liar and now I'm starting to catch it. I don't think Austin and Breydon never said our name with intention. They are doing exactly to us what they are doing to them. Almost word for word..
Tera – Jed is fully lying to Kiefer .. FULLY
Tina – if Kiefer knew that would he turn
Tera – I don't think so man.. he wouldn't he would be too scared if he turned on them right before an HOH and they won and they felt Keifer turned on them they will put him up. He won't do it. But we know Jed is lying to us and Keifer
Tina – hands down
Tera – the only thing.. do not repeat it.. Say if I have the chance to put up Jed and Ty I would put them up together
Tina – I would to
Tera – that's my move 1000% I'm not looking at Breydon.
Tera says she's not looking at Austin and Breydon. "The bigger fish have to fry" she doesn't care if breydon/Austin are two-timing them one of the boys has to go.
Tera says Jed is more dangerous because he is lying.
Tera – but if one comes down.. you may need to use Keifer as a pawn. Just because we can't have him swaying votes or trying to get them. that would only leave them with two votes. Who else do you put up next to them without the flips?
(TnT FOR HOH!)
Tera says Beth, Tina, Breydon, Vic, Austin would all go up against Jed/Ty
Tera – I just pray I win
Tina – me or you get this HOH
Tera – or Ro
Tina – yeah
Tera – or Vic.. I think we can talk to Vic and be like man the lies start with the guys.. honestly, I think Breydon and Austin they're over it.
Tera says the guys are running their names through the mud "I'm telling you I think they're over it.. "
They compare notes that Ro and Kyle both say TnT can trust Austin/Breydon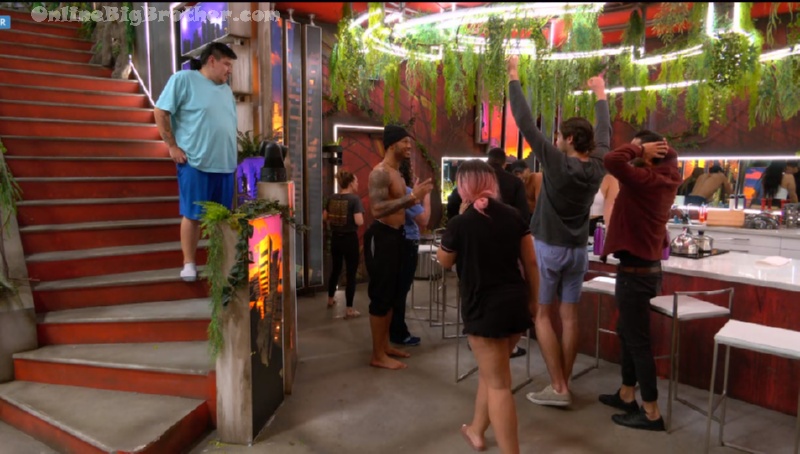 They have some arm wrestle. Jed and Kyle compete and Kyle wins.
10:48 pm the two groups of the house. Which side are you on?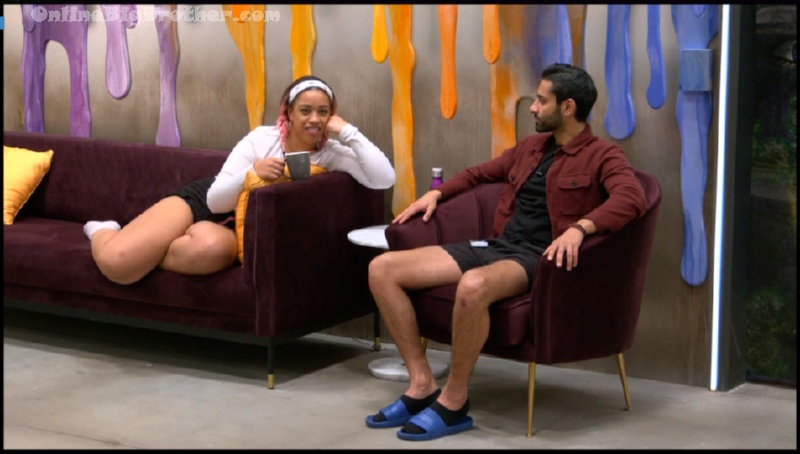 11:53 pm Vic and Ro
Ro says "they" said they were making the decision tonight but he's pretty sure Kyle is gone.
Vic agrees.
Vic – Kiefer really wants Kyle gone and they are trying to respect it
Ro – that joke was so good today.. (vic's about Kiefer)
Vic – it sucks Kyle's going. If the next week an oddball out..
Ro – I go on the block. Sounds like you'll avoid the block.
Ro – all they tell me is Tina and Tera
Vic – I don't believe that
Ro – I don't either it doesn't make sense.
Ro – if you win the boys?
Vic – yeah
Ro – me to
Vic – I wouldn't lie honestly I love you guys.. how could I beat you guys look at you guys
Vic – They don't talk to me. When they do it's bullshit
Vic – I'm ready to play this game
Ro – if you win HOH COMP BEAST..
Vic – that would be sick
Ro – that's so funny they were calling you a floater last week this girl's eon two competitions she's won the most competitions in the house
Vic says if it's between them she'll throw him one.
Ro – everybody is going to gun for it.
Vic asks if Tina/Tera would make a big move
Ro – yes, Tera is a little worried a bit. The boys are reacting poorly
Vic – it's a game. They can't attack her.

10:00 am Thursday morning
Houseguests getting up.
11:30 am Feeds are down.
1:46 pm Feeds come back after 3 hours off.
Kyle still leaving everyone pretty calm.
An announcement says the eviction is in 1 hour! which is what 6 hours before the show at 9pm EST tonight.

2:30 pm Ro and Kyle
Ro – I'll see you when you get out there..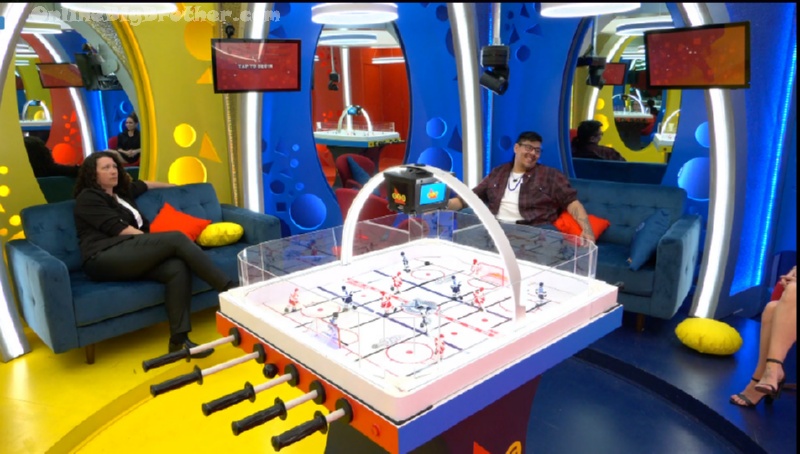 2:44 pm Kiefer,Tera, Tina and Beth
Kiefer jokes "Should we do a flip?"
Kiefer – all we need is vic, you two, and Ro.
3:00 pm The last we see of these two together on the feeds.. (maybe)
Friday 12:03 am Feeds have been down since the last update.
9:06 am no feeds don't care.