POV Holder:
?
POV Competition
Sept 10th
POV Used
?
POV Ceremony
Sept 11th
HOH
Corey
Next HOH
Sept 15th
Original Nominations:
Vic AND Paul
After POV Nominations:
? AND ?
Have Nots
?
Watch the next week of the feeds for FREE – 1 week Trial!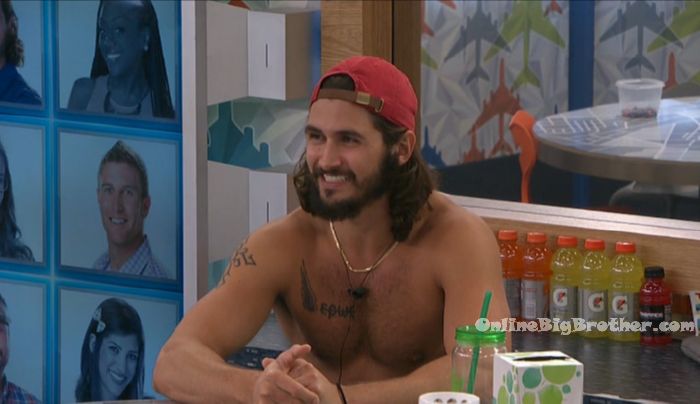 12am – Paul, Vic and Corey are in the kitchen chatting about random things. Corey heads to the HOH room to go to bed. Vic tells Paul we're so f**king close. I don't care at this point. If I'm going to be on stage, I'm going to be on stage.. you know what I mean. Paul – I know. Vic – I just want to sprint to the end. Paul – Tomorrow is the veto and then at least one of us will know. Vic – I got out when I needed to get out earlier. I'm good now. I got out my anger earlier. Now I feel better. If I had held that in I would have been a rabid dog. Paul – f**k em!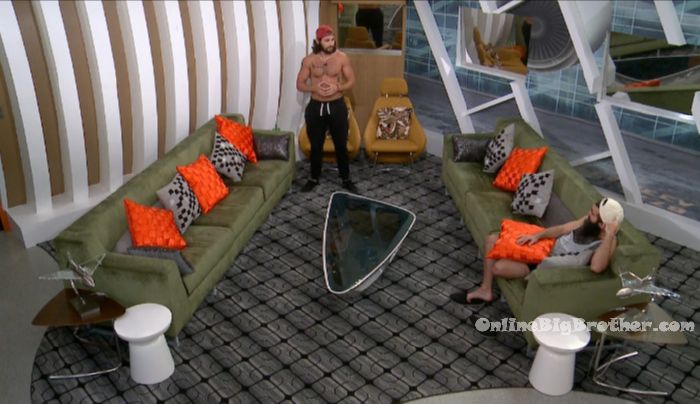 Vic practices his eviction speech – my biggest mistake in this game has been being loyal. The only loyal person in this game is the person to my left, Paul. Everyone else doesn't take loyalty as seriously as I do. And I've seen that time and time again with 3 knives in my back. Having said that, Nicole you really are a snake. Corey, your biggest accolade in this game would be getting me evicted. James, you're just James. And I'm going to tell you right now, it would be really stupid not to evict me. So walk in there and say I vote to evict Victor because that's in your best interest because if I stay ..EVERYBODIES losing! Having said that is maybe Unevictable is evictable. I've had a good summer, I love all you guys but I hate you right now. Thank you. Paul – that's a good one. Vic – at that point I know I'm getting evicted.
1-month FREE with promo code: FALLACCESS
Watch the next month of the feeds for FREE – 1 month free!!!
– Watch the end of BB18 and the beginning of Big Brother Over the Top – Fall edition!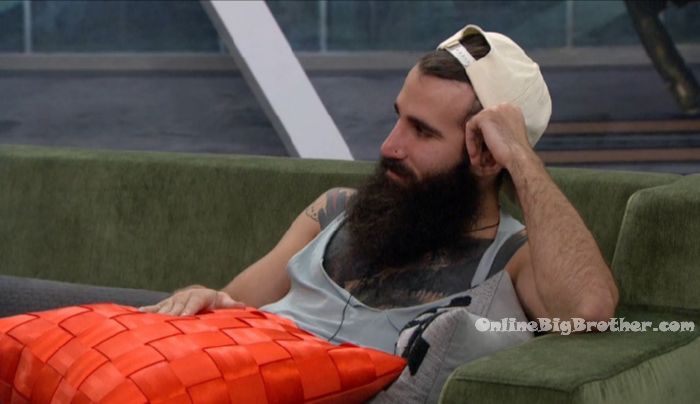 12:30am Paul – Corey, I tried to give you the nickname of a snake charmer… for obvious reasons. Vic – I should have called you a snake charmer this whole season because you've been charming somebody. Paul – surprised you don't have a flute and a basket with you at all times. Vic the more impressive thing is that you don't carry a flute with you at all times. Paul – to keep her under control. Paul – I'm basically going to sh*t on all of them. Vic – and you better hope that Julie doesn't say to me "What if I told you.."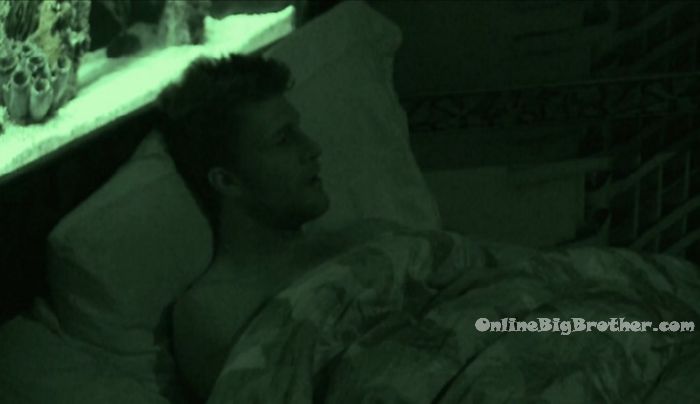 12:30am – 1am HOH room – Nicole and Corey are in bed talking about how much they think everyone makes. Nicole talks about how she make $27 an hour as a nurse but works part time. She says she makes about $800 a week. Corey says so you make about 45K a year. Nicole – the two people that make the most are still in this game. You and Paul. Judging from your lifestyles. Corey says had I not done this I would have made about 150K or so .. I was killing it man. But honestly it wasn't worth it. Doing 3 baseball teams was the worst decision I've ever made. Well not the worst decision but I was miserable, well not miserable but I was over worked. Corey says the most he's mad a night bartending is $1200 in a night. Nicole says so you easily make 2K a week bartending. Corey – yeah. Nicole – thats a lot. Corey – when I go back I want to kill it in real estate. I want to make 4K a month bartending and 8-10K in real estate.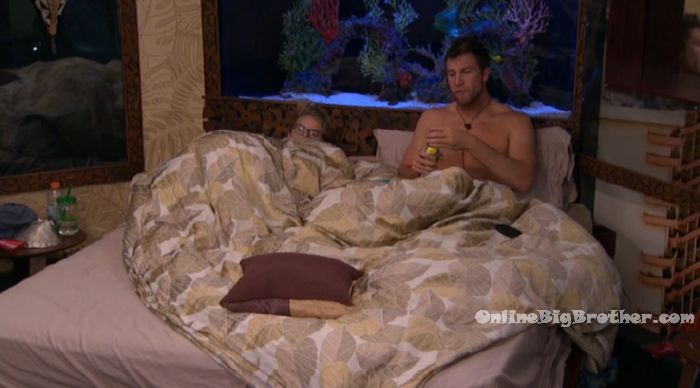 1:50pm – 2:25am HOH room – Corey – People made some stupid moves this season. Names some of the dumbest moves this season. Nicole – Jozea! Bridgette not pulling Bronte down when its her friend. Corey – Paulie got pulled in the veto. Nicole – Natalie not throwing that HOH. Michelle putting up Paul and Vic. Vic not putting up you and James. James blindsiding you and I. Us keeping Tiffany. Nicole and Corey chat about random things and then go to bed.
1am – 3:30am Living room / Kitchen
– Paul and Vic talk about random things. Paul talks about tattoos and his business. Paul – we're hands down the silliest people on this show. Paul talks about mosh pits. Paul and Vic head to bed.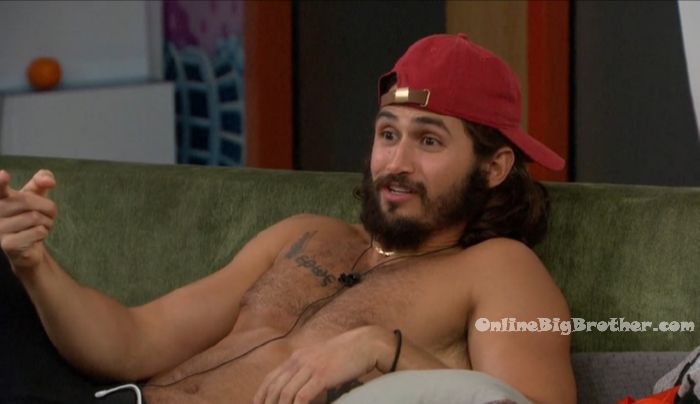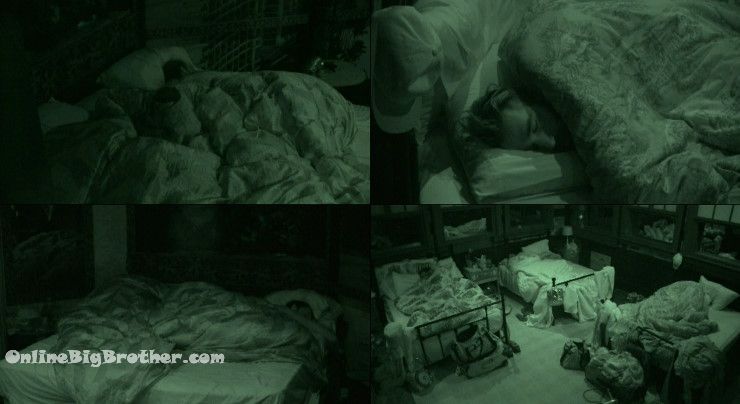 8:00am Zzzzzzzzzzz (sssssssssss for some)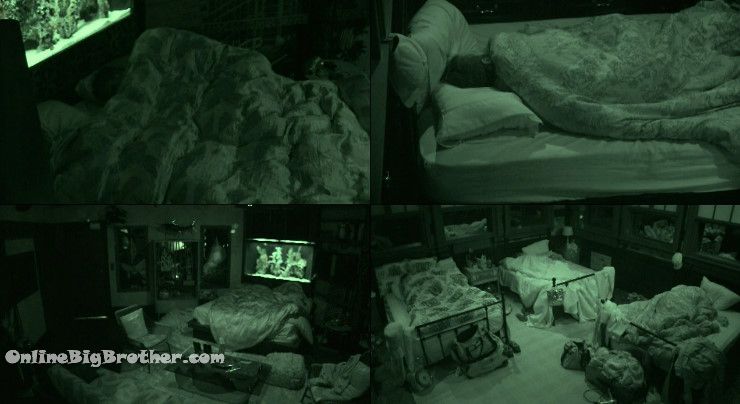 10:04am Sssssssssssssss (or ZZzzzzz for some)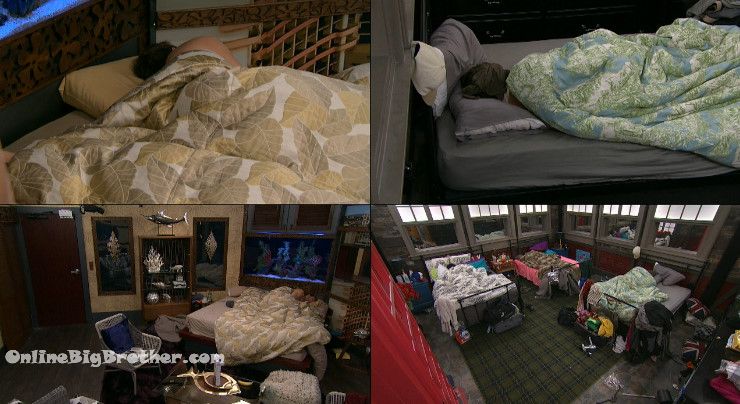 11:23am Zzzzzzzzzz
12:32pm Nicole and Corey are up making breakfast .. or I guess it's lunch now.
[polldaddy poll=9517035]
Show your appreciation by making a donation.
Donations support this site more than anything. If you dig our spoilers please find a way to support us.