POV Holder:
?
POV Competition
Sept 10th
POV Used
?
POV Ceremony
Sept 11th
HOH
Corey
Next HOH
Sept 15th
Original Nominations:
Vic AND Paul
After POV Nominations:
? AND ?
Have Nots
?
Watch the next week of the feeds for FREE – 1 week Trial!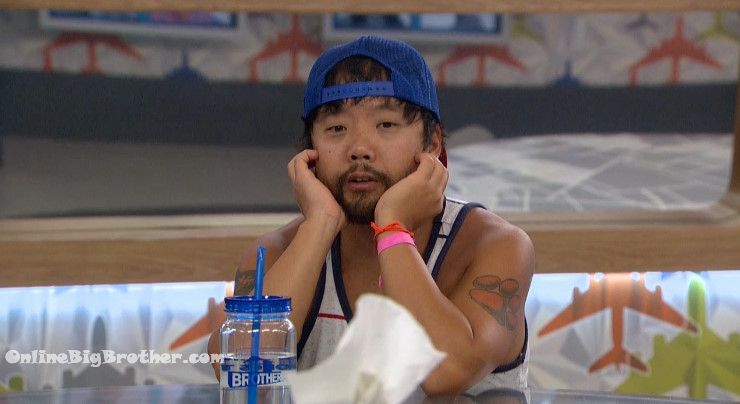 8:00pm James, COrey and Victor Kitchen
James talking about the beautiful sorority girls that go to the bar "Lone star" that he frequents. Mentions how they wear "Daisy dukes ",
James- I have fun I have fun I'm not going to lie I flirt with a lot of them.. They have to be 21..
Corey – Fake ID's
James – that ain't on me.. That's like false information..
James says you have to start carding people before you go home with the .
Corey says Dylan cards girls before he has sex with them
James says you have to nowadays ..
James- 21 and over it is what it is..
James says in south carolina the age of consent is 14
Corey – that's 8th grade
James says he saw some of those teachers that were fired for sleeping with their students.
James – fine teachers.. Fine.. why why couldn't that be me..
Vic – at that age..
James – I got a little girl now I see it in a different perspective..
James says having a daughter makes him want to be better and not a "sh1t head" to girls.
They start Bro chatting..
James "My pull out game is weak for One. I just started learning.. "
James – my friends always joke about that.. Dude you're so weak just like your pull out game..
Corey tells them a storey about his buddy whose 23 got a "hooters girl" pregnant.
James – I feel his pain I feel his pain.. Say no more..
Corey starts telling more stories but they cut the feeds..
James – next veto competitions is about legs how far can you spread them.
James- you know what would make this season funner if we had to catch our own food..
They talk about getting locked in rooms while 1 houseguest is doing a timed competitions. Victor was locked in the Storage room. Paul locked in the safari room.
Victor – at least you can lay down in the safari room.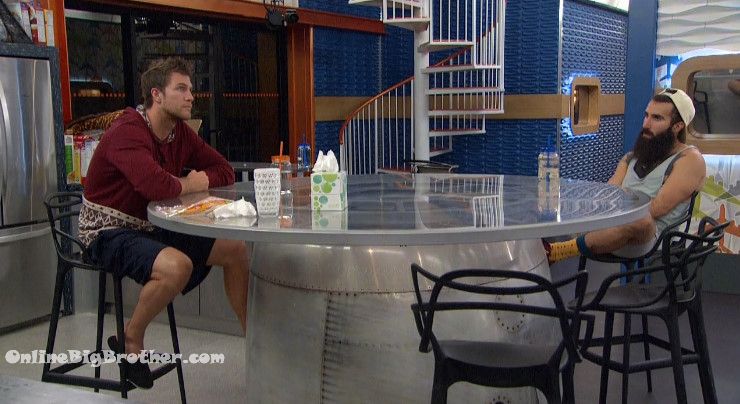 8:42pm Corey and Paul Kitchen
Paul hopes eviction is Sunday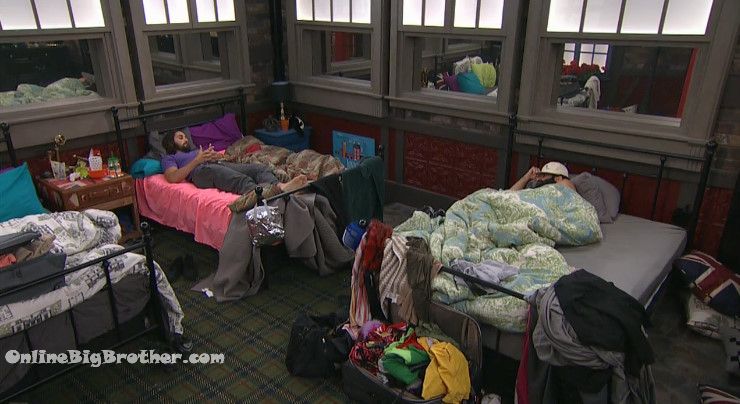 8:48pm London room Victor
Victor groans – Now I have to win that veto but If I win Paul goes home.. You can't win in this situation
Victor – dang it
Paul joins them "I hope one of wins it"
Paul – hard but.. If one of us wins HOH put Corey up..
Victor – if you put Corey and Nicole up James will vote out Corey
Victor says he won a TV, tablet, 5 grand and a cell phone
Paul – I won sh1t
Victor – America's favorite houseguest
Paul – I doubt it will be me
Victor – I doubt it will be me too.. F*** ever being loyal.. It's just you and me
Paul starts fantasizing about the veto being a coup d'etat
They agree they would take Nicole out just on principal.
Victor – Just sucks tomorrow.. I know we are going to play our hearts out but it'll be a bitter victory
Victor knows if neither of them win the veto he's going home
Paul – that's why you win the Veto G
They agree if they don't win the veto noms stay the same.
Vic – I'm done for by the end of the week I'm ,on the block i'm gone
Paul – you think they are gunning for it
Vic – f** ya.. They want 1 of us gone.. They don't want James on the block and have to pick.. They want it to be ambiguous
Paul – theres a tie breaker and all that sh1t
Vic – Yup.. one of us goes down Corey picks..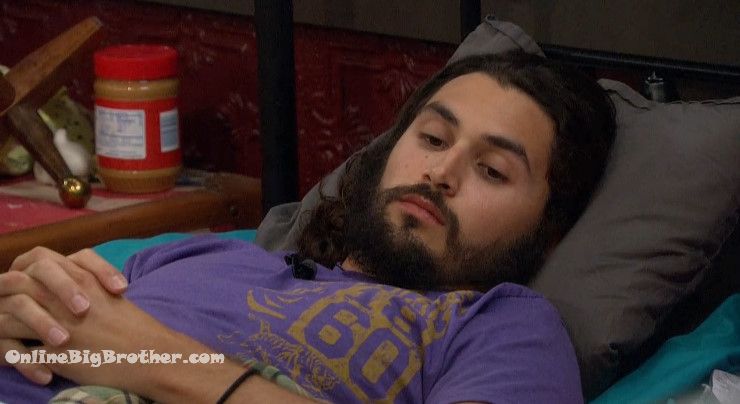 They laugh that James will have to team up with one of them
They both agree they'll take james for the "Fu** you"
Victor says he 100% trusted Corey and Nicole but never trusted James like that.
Victor says Nicole told him last week she wouldn't buy him a ticket to ulby if he screwed her over and in the end she screwed him over.
Paul – we literally have to win everything which sucks..
Vic says he told them they caused tension they didn't need too.
Vic points out that Corey and Nicole are not comfortable around them anymore.
Victor says if Paul makes it to the final 2 he'll win
Paul – I hope one of us wins something
Victor – I'm not mad that I'm on the block I'm mad that they did it..
Victor says the biggest move Corey will have done this season is get him out, the only other thing he did was get Bridgette out during the double.
Victor – "Big deal we still had the numbers at that point.. Got himself off the block won a couple vetos.. "
Paul – he laid low
Vic – is that really an accomplishment .. Making it to the end is an accomplishment laying low is nothing to brag about..
Vic – Nicole hasn't been on the block yet which is an accomplishment.
Paul – she will if one of us wins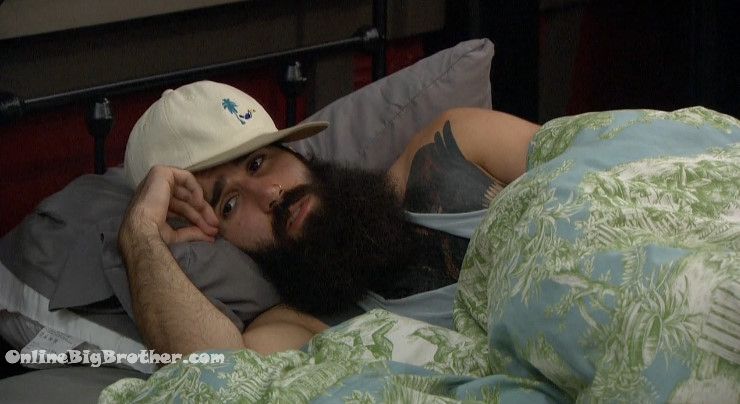 They agree it would be hard to pick a winner out of James, Corey and Nicole.
Victor – they have been so minimal in this game
Paul – I would give it to Corey because he wasn't a vet ..
Paul – dude if I went back into the game with this experience..
Paul says the team twist benefited the vets otherwise they would have been evicted first.
Victor says tomorrow is veto, veto ceremony Sunday and Eviction Monday
Paul – now I don't feel so bad for shitting on Corey all season
Paul – I've shit on everyone
Victor says he hasn't shit on anyone
Victor says it was never about protecting Nicole, Corey put them up because he wanted one of them out.
Paul says James had a big hand in them going up.
Victor says he has more respect for James than Corey and Nicole. Explains that he trusted them 100% and they backstabbed them. James never had that much trust.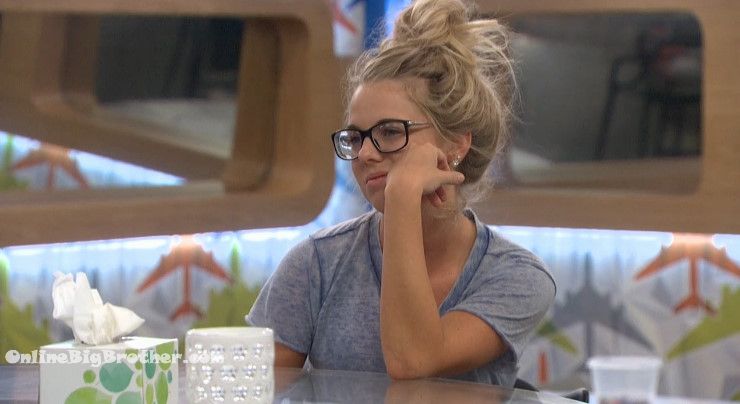 9:22pm Snacole, Corey and James
Jame s- if I win the veto and lock the noms up..
Nic – Sssssssssssss
Corey – he (Victor) like you blindsided me.. I'm like you did that to me and Paulie
Nic – Ssssssss
Corey – I was cool with the executives.. I was cool during the double and the next day you blew all that up.. I'm, just surprised he's so shocked
Nic – Sssssssssss ssssssssss
Corey – it's been very confusing
Nic – Ssss ssss sssss ssss ss ss s s s
Corey – Oh yeah I know.. It's logical
Jame s- chicken looks really good though..
Victor walks by
Nic – Sssssssss
Victor looks at the clock "9:23"
James- ya Lights can go off.
James- you're a nurse why do people have night sweats
Nic – ssssssssssssssssssssssssssssssssssssssssssssssssssss
They talk about going to Paul's Halloween party.
Nicole and Corey wonder if they are still invited.
James – we'll have to see if Natalie wants to go .. if not I'll probably still try to come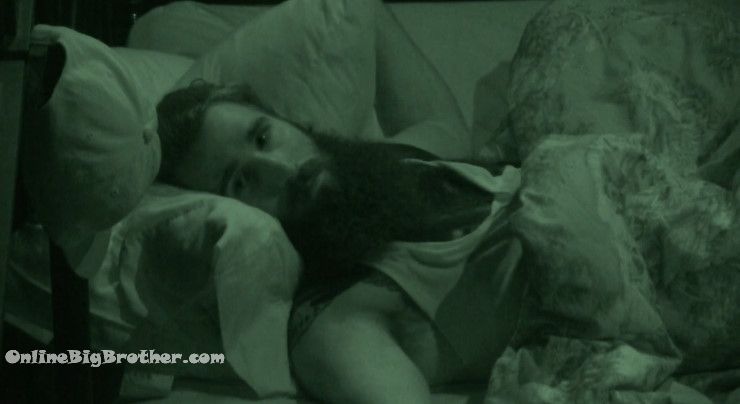 9:33pm Paul and Victor London room
Paul – There's 1 way we can survive.. If you pull yourself off I make it somehow tell Nicole and Corey none of you can beat victor and pretty much pull a paulie..
Vic – it's not going to work.. They aren't going to buy it
Vic – you can try I just don't want you to look dumb,.
Paul – they might be stupid enough.. Dude it might work.. James isn't going to win anything James is putting them both up..
Paul – I'm not stronger than Victor but I'm stronger than James you keep james and you're f***d
Paul – lets just wait for this F***g veto we were close last time.
9:40pm Kitchen Corey, Nicole and James
Corey is telling a story about his drunk sister followed about a story about his dogs "Diesel hump everything in site"
Nic – Sssssssssssss (does he hump people)
Corey – Yeah… mainly dogs.. I'm like you're just like your daddy Diesel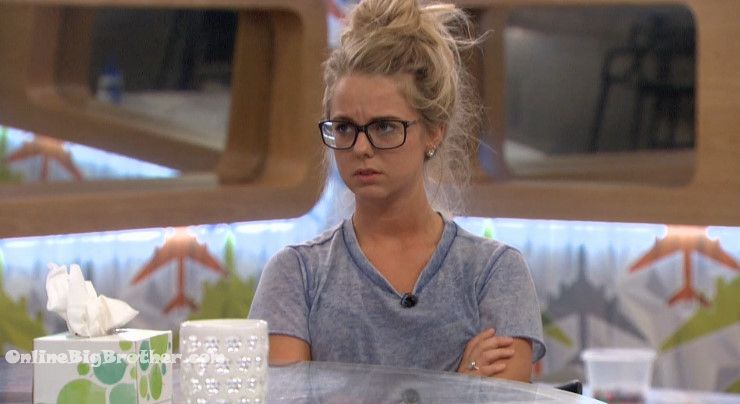 9:50pm Corey and Nicole
Nicole she feels like she lost a friend, "Ssssss"
Corey is mad at Victor because he's acting like the victim
Corey doesn't feel bad anyways.
They comment on Victor telling them he didn't want to be their friends in the game but outside he can be
Corey says Victor is making it worse than it really is.
Nicole and Corey agree they Victor is "Making us look bad" that is why Corey is saying in the Diary room "I don't feel bad.. He did it first.. Hope he goes home"
Nicole – Sssssssssss (we saved him he saved us)
Corey points out how he was loyal to the guys alliance during the double then the next week Victor puts him up.
Corey – we don't want to be in the final 4 with you guys we don't want to be in the final 3 either
Nicole is worried that James might team up with the Paul and come after them.
Nicole is surprised they went from 'Liking us to hating us"
Nicole – SSSssssssssss (did you ever like us)
Nicoel – sssssss (he's going to tear us a new one in jury round table
Corey – I don't care
Nicole lists the possible comps they could have, Face morph, Days.
Corey heads to the HOH. Nicole slithers behind. When they get up there Nicole is giving him a rundown of the face morph competition.
10:53pm
James, Nicole and Corey in the HOH talking about Season 16 . Vic dunking a chocolate chip cookie in some milk
11:20pm Kitchen
Some of them were sleeping for awhile.. now they are chit chatting..
11:58pm Corey, Paul and Victor
Corey is talking about app monetizing.