POV Holder:
Paulie
POV Competition
Aug 6th
POV Used
?
POV Ceremony
Aug 8th
HOH
Victor
Next HOH
Aug 11th
Original Nominations:
Michelle AND Zakiyah
After POV Nominations:
? AND ?
Have Nots
Bridgette, James, Corey
Watch the next week of the feeds for FREE – 1 week Trial!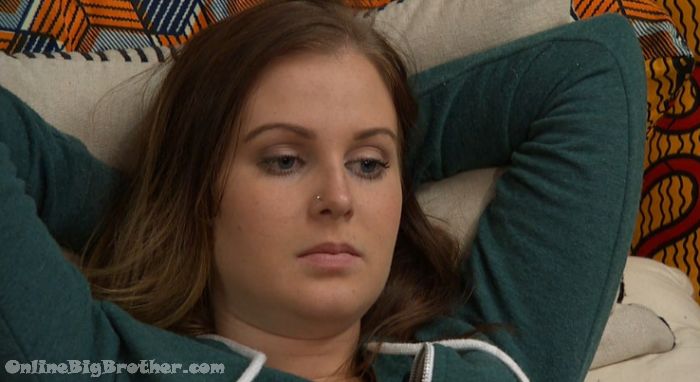 12:40am Michelle alone in the safari room
(Her time to feel the shun)
Michelle – just 2 weeks ago I thought I was in such a good spot in this game.. if anyone else won HOH it would have been different.. I thought me and Victor were good but apparently not.
Michelle – If I go home 7 – O I will be devastated and disappointed in a lot of people.. This is my last Sunday.. my last Competition every was today and I didn't win.. I looked like a idiot..
Michelle – I have the feeling Paulie is walking away with 500 000 dollars.. But i'm going to make sure.. if I'm going home fore sure I'll blow his game up. He's playing Derrick's game except winning comps.. c'mon he's won half the vetos.. he has 2 HOH's and 3 vetos
Michelle – I can wait to hear everyone's thought process what I did wrong.. I just hope Paulie uses that Veto and Vicotr tries to backdoor someone like James.
Michelle counts the vote but doesn't thin she'll stay if up against James.
Michelle – He wouldn't put up Bridgette.. Yup.. I'm fucked
Michelle says she's not going to stay1 unless she has the road trip.
Michelle – I feel that all those people are not going to tell me the vote they will tell me what I want to hear..
Michelle – this is the wrong season for me I wanted to play regular Big Brother, No vets, NO teams, no freaking… I wish there was still roadkill.. roadkill was awesome made it way easier to get people out.
Michelle – people are crushing my dream by voting me out this week, I thought I had a lot of friends but I don't think so… I'm going to blow their sh1t up.
Michelle – Mostly Paulie, Nicole and James… I don't have anything else really
Michelle – Paulie is so cocky I can't stand it, I've never met a guy that cocky..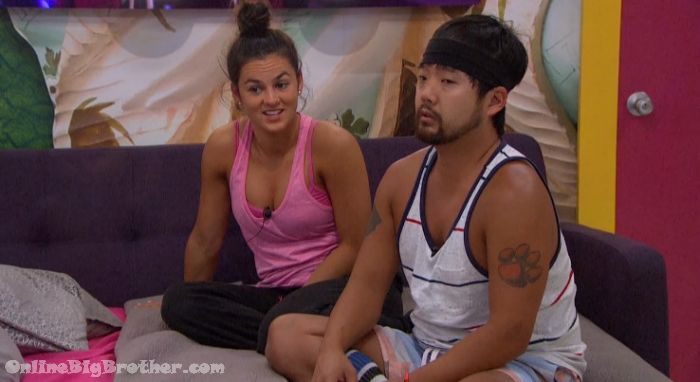 1:18AM Natalie and James
Natalie is complaining about her underwear been strewn all over the house
Meech comes in asks if they are sleeping there.
Natalie – James is a have not babe
Natalie thinks people ripping through her underwear bag was unnecessary she wishes people would have left her stuff alone, "Have a ball paint the walls I don't care"
James says it probably was a guy that went through her underwear
James – us guys when we're in the heat of the moment we're grabbing, ripping and kicking..
James goes on to explain scenarios where a guy is searching for the veto not targeting Natalie's underwear and throwing it around.
James to Michelle "Sorry for taking you out that was a good hiding spot"
James says Nicole hide her veto in the popcorn machine made it look like it was part of the real thing. "We all touched it."
Michelle points out that Paulie has played in 6 vetoes and won 3 of them, "He's played in every won except OTEV"
James is getting pissed because people are implying he was the one that tore through the underwear.
Natalie – I'm not mad at you i'm over it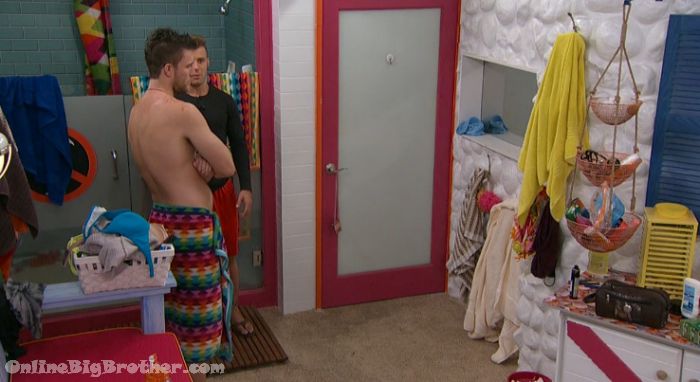 1:47am Corey and Paulie
Talking about getting one of the girls out. Corey mentions girls being in an alliance "Da was the leader of that thing."
PAulie – have we decided on the markman or the executioners
Corey – I like Marksman because we can shoot arrows
Paulie – shoot f***g arrows.. I like that it's bada$$… executioners chop off people's heads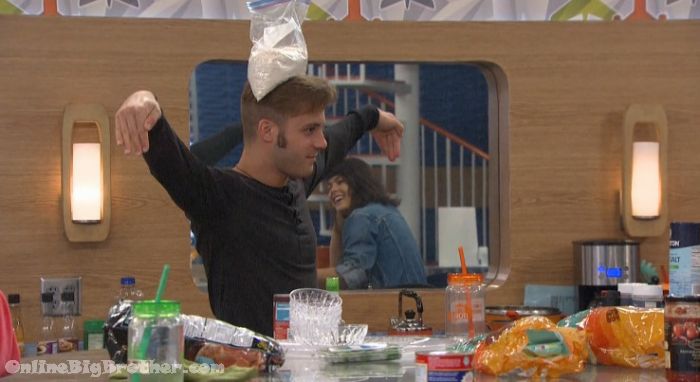 1:50am Paulie balancing the flour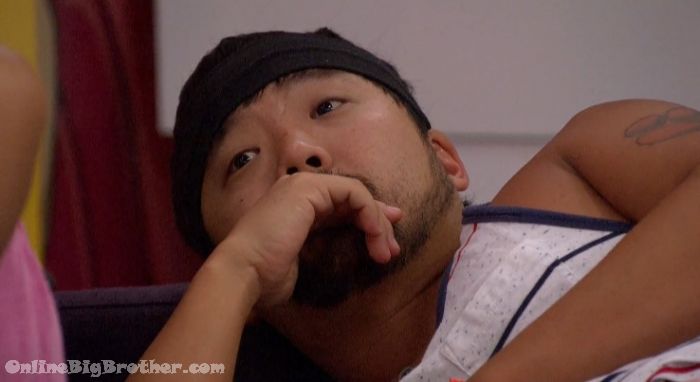 1:57am James and Natalie
JAmes going on about how he was brought back because he's a prankster and the producers like that.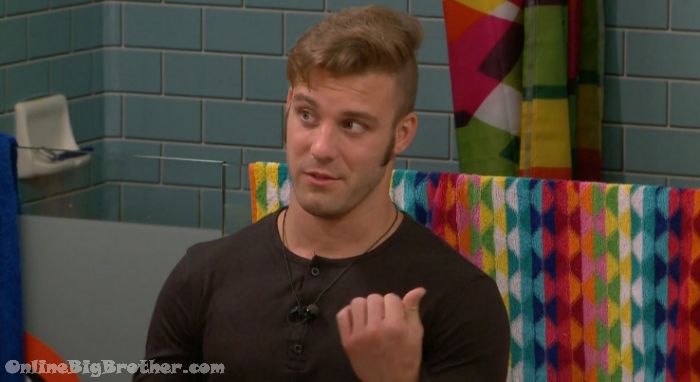 1:59am Zakiyah and Paulie
Zakiyah – you change your mind
Paulie – ABout what
Zak – I don't want to say it
Paulie – you know who's going home
Zak – Michelle says she's going to ask you… to use it
PAulie – either way she's going home.. Even if I don't use it you're not going ome
Zak – you are not going to use it
Paulie – I don't feel like you are in danger.. I want to keep people in the dark of things..
Zak – you keep it the same I understand
Paulie- I 100% want her going home..
Paulie – you're in good hands plus James has 2 votes he can eliminate any people I suspect are putting votes on you.
Zakiyah asks if he was going to tell her what he's doing. PAulie says like Frank always said "I would rather asks for forgiveness than permission.. Well i'm the exact opposite.."
Paulie says Paul/Victor are getting really close to Bridgette and they are also getting really close to Michelle, "I don't know what is going on I just want to see what can happen cause the worst case scenario 1 person would take a shot I would have James Cap that"
Zakiyah – do you trust James enough
Paulie – I trust the fact enough that he would rather have Michelle gone this week.. Weather I trust him on a personal level.. A game level that's whatever he's doing his thing I'm doing my thing..he's got his girl I got my girl whatever.
Paulie – I know with everything Michelle has done his vote is going 100%
Paulie – obviously I want Vic out at some point.. Vic will listen and he's loyal.
Paulie just needs to know if it's Paul calling the shots..
Paulie – I know for a fact James wants Michelle out..
Paulie is wanting to see what Victor and Paul will say to him tomorrow
Paulie – If I get the sense people are looking to f** me over blindside me then I'll pull you down.. For me the goal is Michelle.. Doesn't matter who's up they're next to her.
Paulie suggest if he uses the veto Victor might put up Nicole or Corey.
Zakiyah – I'm a little nervous
Paulie – Don't be scared .. don't be nervous
Paulie goes on about how he's "Panic if you were up there and I wasn't in control of the situation" that's why he's feeling safe leaving her on the block.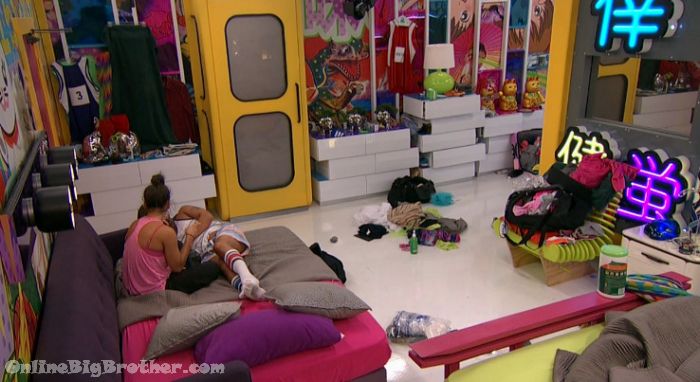 2:04am Natalie and James
James asks her if there is a girls alliance.
Natalie says the girls in this house are flaky, "They're not playing for themselves.. They are afraid to win comps.. I would never be in an alliance with girls that can't win"
Natalie points out that Nicole use to me really close to Zakiyah and Michelle but lately she's been all over Bridgette, "And now Nicole is being all super buddy buddy with me and like she's not hanging out with Michelle and Zakiyah at all"
2:33am -3:13am Zakiyah, Paulie, Bridgette, Corey, Nicole and Natalie chit chat in the kitchen.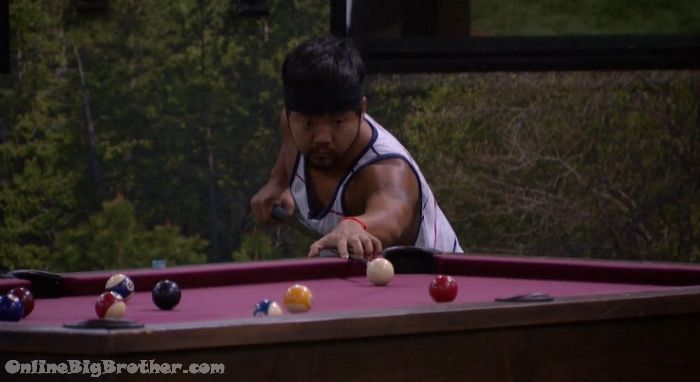 3:14amPool table Paulie and James back yard
James – that slop is not bad at a.. the consistency outta what we got.. I actually don't mind being a have nots to be honest with you.
PAyulie – I don't mind the beds.. the only thing for me is the cold showers..
jaem s- that's it for me..
PAulie – and honestly the cold showers only bother me this time in the night.. If I works out shower than come back out and hang i'm good.
Paulie – I broke the news to Z baby that I'm seriously considering not using the veto.
James- she flipped
PAulie – she handled it pretty well said I trust you
James- Be like honestly I don't know who Victor will put up.. might not be good for my game.
Jame s- Natalie swears up and down there's an all guys alliance up in here..
Paulie – I wonder who puts that in her head.. I think Bridgette.
James- Natalie is worried of being put up as a replacement nom.. she talked to Bridgette
James adds Bridgette told her that Victor isn't putting her up.
Paulie – Victor would never put one of us up but I do think Paul and Victor have an ulterior motive with Michelle and Bridgette.
James- I'm going to make sure that doesn't happen
Paulie – I'm locking the Noms up if you want to X out my vote and his.. (Paul)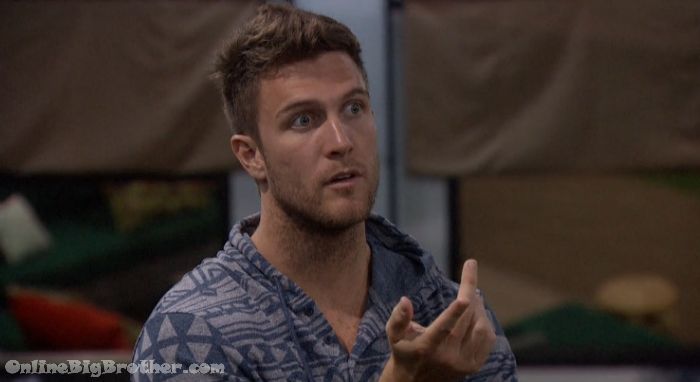 Corey comes by..
Paulie – Theres people saying theres a all guys alliance because of the steam rolling process going on right now.. Nicole is on our side… Zakiyah and so is Natalie..
PAulie explains Only Bridgette and Michelle are the girls that pose a risk to the guys.
Paulie says Bridgette will be going after Zakiyah and Nicole but after that she's after James so they have to take care of that sooner than later.
Paulie – Michelle has to go this week.. and the with Paul pushing Zakiyah so hard.. Paul is doing it because he's trying to set himself up he has Vic trying to pull Bridgette in ..
Paulie he wants James to X James and Nicole's vote
James- I can't do that.. I asked them that I c an't X my own vote.. if that was the case I would take myself outta teh equation.
Paulie going on about how Paul is
James – you think Paul is trying to flip on us with Vic
Paulie and Corey don't think right now
Corey – they might after this week
James agrees.
Paulie – I want to get the suspicious girls out so I can play pool with the boys.
James – do NOt sleep on Vic
Corey – Agreed
PAulie – Vic's robotic.. loyal but needs orders.. if the orders are coming from Paul we know what is being said and what needs to be done
Jame sis really pushing Paul and Vic having something going on
Corey agrees, "For now Paul would be game to get Vic out next week.. but that doesn't mean next week this wouldn't change"
Paulie – her [Zakiyah] targets are simple Bridgette Vic Natalie
Paulie – the only two people I don't want to win HOH are Bridgette and Michelle
James – double evict is f***g nasty dude I'm not going to lie to you.. you have to put 3 people up it's fast pace.
Pauli has been couching Zakiyah to put up Vic and Bridgette, "She's trained that is why she'll stay this week.. Michelle's not Trained"
James says PAul wants Michelle left in the game so she wins during the double eviction, 'Leaves us three open"
Paulie – we're safe with Bridgette for a little bit because she's still leery of Nicole.. Stuff Frank told her..
James- still
Paulie – as much as Vic is a threat I feel like I can beat him head to head.. I think all of you can beat him head to head.
Paulie explains that Vic is not thinking he's just trying to win every competition he can.
James- he's going for 10
Paulie – he doesn't realize he has 4.. I'll count he battle backs as 1 full (LOL of course you will)
James is warning them that pretty soon Victor is going to be playing in every Veto
Paulie – all of us playing in a veto I still think we'll f****g beat him . .
3:47am Paulie tells Corey he should rope in Bridgette. Zakiyah comes by to watch the guys play pool..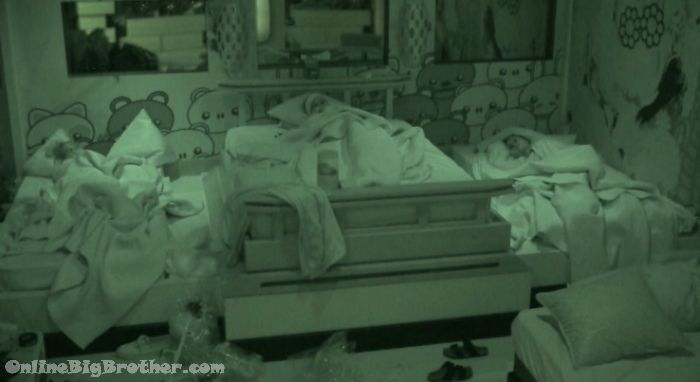 3:36am Michelle, Natalie and Nicole
Talking about the guys in the backyard having an alliance called "Shupa pings… or PIng Shupa"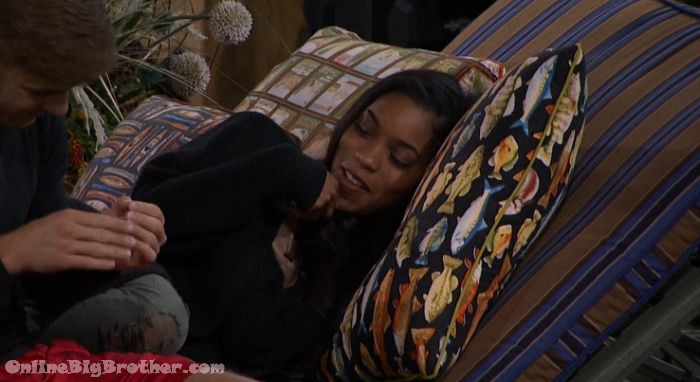 4:05am Paulie and Zakiyah
Paulie says theres no votes going towards Zakiyah this week it'll be unanimous voting out Michelle.
Paulie – it's not set in stone that I'm not using the veto.
Paulie – worst case scenario Michelle has the road-trip.. bit that's not going to happen.
Paulie says Victor put her up for a reason maybe tomorrow they will find out what that reason is.
PAulie says James is going to "X" out Paul and Bridgette's vote.
PAulie – I'm voting Michelle out, Nicole, Corey voting Michelle out, James voting Michelle out and Natalie, 5 nothing
Zakiyah – I want to get Vic out of this house
Paulie – the only person you have to beat out on Thursday is Bridgette
Zakiyah – I'll take her.. I'm good I feel confident..
Paulie thinks Corey. Nicole, James will throw the HOH to Zakiyah if she's going after Victor.
Zakiyah is worried Natalie will put her up. Paulie says Natalie will put up however James tells her to.
Paulie says if Paul and Victor fight for him not to use the veto than he'll know what their plan is for the next 2 or 3 moves.
Zakiyah – I want Victor out
Paulie – You need to focus on Thursday how you are going to win the competition and what you are going to do.
Zakiyah – alright.. ok
Paulie – We have a long week it's not worth stressing about it .. it's a done deal Michelle is going home nobody is keeping her around
Paulie – I got your back.. Corey and Michelle aren't going against us if James wants to come in and replace F****g Michelle because F****G so far we're O fer two, with a fifth person we can trust.. that gives us 6 going into the home stretch .. what better time to get a trustworthy 5 and 6 right then right now ()
Zakiyah – right.. right..
4:17am Sleeping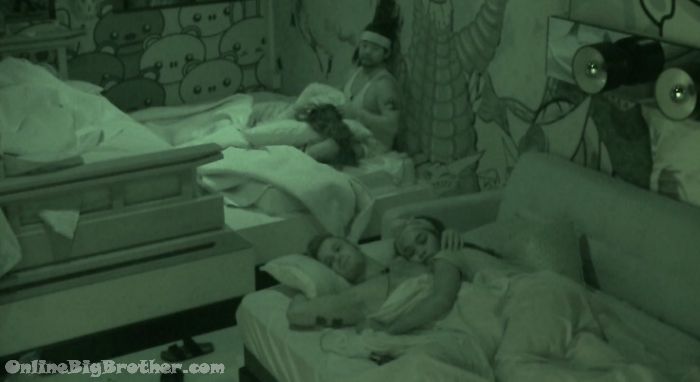 4:26am James, Natalie, Paulie, Zakiyah, Michelle, Corey and Nicole
James says he parties with Liz from his season even though she was the one that got him out he's still cool with her. Says during new years eve he was drinking 1000 dollar bottle of champagne
James- new years eve party sh1t got nuts…
James – Julia, Liz, Me , Boston Rob, Rodney from Survivor, D rob
James – new years eve we threw 10 thousand dollars in the club
Everyone is freaking out asking James where they are getting all the money. James goes on about D rob being a baller. Paulie knows him.
Natalie keeps asking where this guy has all this money to buy 1K bottles and throwing 10 grand on the dance floors in clubs.
James says Trust… but is cut off by Paulie saying "Baller" and "DRob"
James- it's actually Paulie's friend.. I'd tell ya I would have to kill you.. you'll all meet him after the show
Michelle – is it a CBS executive..
James- this guy blows throw 1/2 a million dollars in play money .. this guy is really good people.. good people.
Natalie – is it P diddy
Paulie – how you know Natalie..
4:50am housguests still giggling but all the lights are off..
Paulie – Big SHUPA
7:53am Sleeping…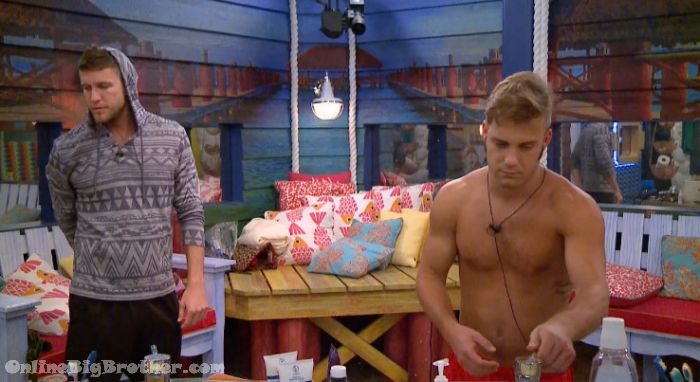 8:38am Corey and Paulie are up to use the washroom..
Morning memory wall #BB18 @DawgsBigBrother pic.twitter.com/zIlYUGA9F9

— OnlineBigBrother.com (@bigbspoilers) August 7, 2016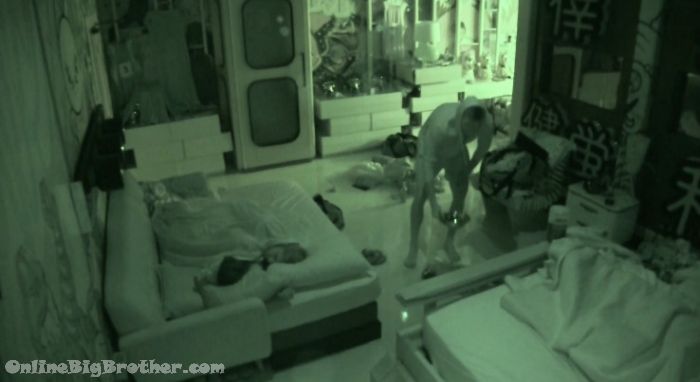 Corey sets a saucer of milk out for Michelle before heading back to bed. (He does this every morning.. )
10:00am Sleeping
It's a cool fish tank this year.. :) #BB18 @DawgsBigBrother pic.twitter.com/sAtvIWJUAR

— OnlineBigBrother.com (@bigbspoilers) August 7, 2016
[polldaddy poll=9491180]
[polldaddy poll=9491957]