POV Holder:
Victor
POV Competition
Aug 13th
POV Used
?
POV Ceremony
Aug 15th
HOH
Victor
Next HOH
Aug 11th
Original Nomi1nations:
Paulie AND Corey
After POV Nominations:
? AND ?
Have Nots
Michelle AND Nicole
Watch the next week of the feeds for FREE – 1 week Trial!
11am
Big Brother wakes up the house guests. Paulie asks Corey so what happens when you have to go in the pool? Corey says I get another costume. Corey heads out into the backyard to lay on the lounger.
The red alert alarm goes off "Red Alert! Red Alert! Security breach! Security Breach!" Paul awakes up, fixes his suit and tie. Paul tells James to spread his legs. James says spread your legs! Paul then goes throughout the house to clear the other house guests. Corey asks how did you sleep in that (suit). Paul says terrible. Corey complains to James about how his costume is too small and it makes his nuts hurt. I asked them for a bigger one. James says sh*t that might be the biggest they've got. Paulie joins them. Corey asks why didn't they break down the table this week. James says we're not going to go back to 9 people. If we get locked down for no reason that will probably be it. Vic joins them and starts working out.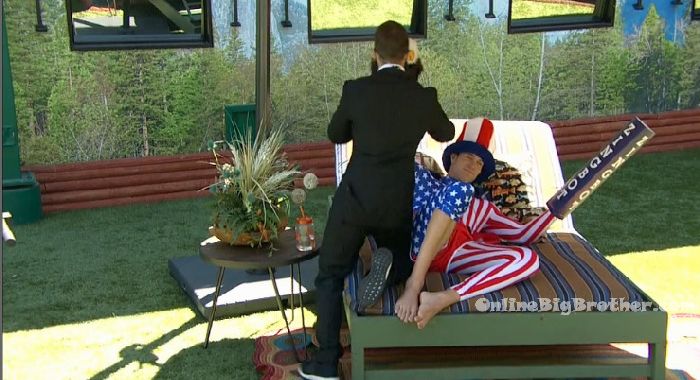 11:30am Big Brother calls Paulie to the diary room. Paulie says alright, well this might be the pie thing. (As a punishment from the veto competition, Paulie as to make a pie every time he's told by BB. Paulie and Corey head inside. Paulie says Michelle said that she would vote her out. I am going to think of something to say to Vic. And be like James and Paul.. . no one is going to vote her out. At least allow me to play the game. If you can think of anything else. Corey says Yeah I'll try to think of something. Paulie says yeah James is … I never thought he would be that person. Corey says I didn't either. God James. Paulie sasy maybe James still likes you. Corey says there is no reason for him to not like me. Maybe you can still talk to him. Like is there anyway you can talk to Vic so that I (Corey) can come off the block to give Paulie a shot to do whatever. Paulie says or maybe not tell them because then he might go back to them and do whatever. Lets think about it. Paulie heads into the diary room. When Paulie comes out of the diary room it wasn't for the pie thing.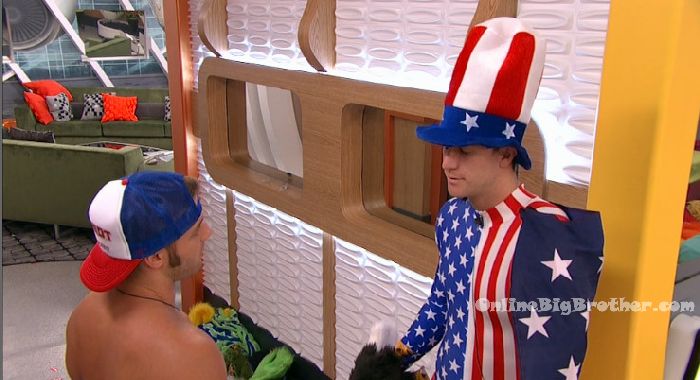 11:40am – 12pm Backyard – James, Vic and Michelle are talking. Vic says I am sticking to my guns on this one. I gave them both equal opportunity to take themselves off. I'm an equal opportunity employer. Michelle says we need to keep asking for you (Vic), me or Paul to get a pack (Care Package).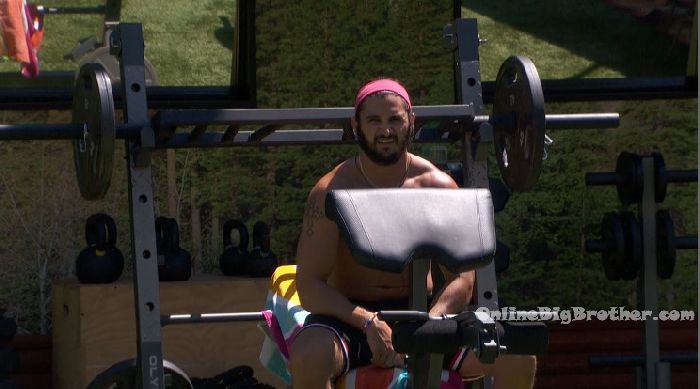 Help support us at no extra cost to you by getting your feeds through us: CBS All Access
12pm – 12:25pm Backyard – Paulie says I know I came to you after the veto and asked you to put up someone I could campaign against. I don't want to be here. So if you want to replace him with someone like Natalie … you know James isn't going to vote for her. You know Michelle isn't going to vote for her. I can see how if Michelle is up there, James might flip flop. But I will even make so that James f**King hates me. I'm even going to take penalty votes on the whatever (Pie punishment)… I'm just through with everything. I love you boys lihe my homies but I'm done with this game. I've already checked my self out. If I have the round trip .. I am still checked out. If there is a jury buy back I am still checked out. You've been straight up with me and if I did come back you're not the one I would come after you. You're not the one that stabbed me in the heart and crushed my sh*t! You know what I mean. You just finished the job that everyone else started. I am just checked out. Vic says I feel you man. I'll keep all that in mind. Paulie says I ain't staying in that f**king jury house. Pawns are there for a reason because no one is going to send them home. If not for anything I just don't want to go out like a rolled over dead dog. I know she'll have some fun with it too. Vic says I'll keep it in mind but I can't promise anything .. and I can't even tell you anyways. Paulie says I'm not about to be cooking a bunch of dumb pies.
Vic says the more I change things the more opportunity there is for things to change the less I change things the less opportunity there is. If Corey is up there Nicole will never vote for him. Paulie says if you want me to get a penalty vote I will. Vic says it doesn't have to be like that. Paulie says I'm just trying to talk to you homie to homie. The end result is I'm going home. Vic says why not take the easiest road. I actually took the hardest road by blatantly putting you both up there. Paulie says I'm not trying to beg. I'm just asking to not be up there by my boy. Paulie asks whats the difference between 5 and 2 votes. Vic says the chance .. that's what I'm not willing to take. I still had a chance and I got voted out 9-1. You put me up as replacement nom .. I didn't even get a chance to fight in the veto ..you didn't give me a chance.. so stop asking me to keep giving you a chance. I'm not trying to be rude. When I went… I went home.. no jury .. no more pay check for me. I'm broke .. I need the money unlike you. Paulie says I'm here to pay off my parents home and to help my aunt who is dying of cancer. We all have our reasons. Paulie calls Vics win a crap shoot. Vic says stop taking away my win… and saying its a crap shoot. There was strategy involved. Vic says in my blog I wrote that you were a ride or die.. and I feel dumb for saying that. This week I get a chance to change that. Even if Corey is up there he isn't going home. WHat's the difference between being up there against Corey and someone else if you're still going home.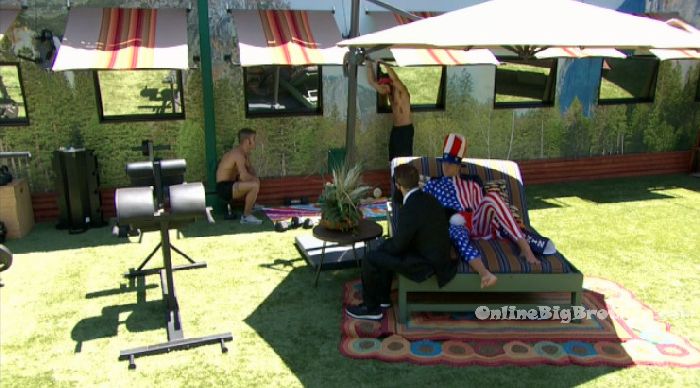 12:30pm Vic asks would a backdoor been netter for you? Paulie says I would have expected that. Vic says exactly and we wouldn't have been still having these conversations. Paulie says we did have something. We did share something. Vic says I still have the resentment in the 9-1 (vote against him). Right now I'm in a good spot, I'm getting my resentment out and I'm happy with that. Vic says what is the difference between you sitting up there next to Corey verses someone else. Paulie says my preference is to not sit next to my boy. Vic says its not your preference, its my preference. I don't even have to have this conversation with you but I am because I'm not that type of person. I didn't have a choice to sit next to Bronte. She was on my team. You want something to go my way .. I want something to go my way. Natalie being up on the block is not my plan. Paulie says I'm going home either way. I've already checked out. Vic says the less conversations we have like this the better. Paulie says you seem pretty set. If you are going to think about it I would appreciate it. Vic says the more we talk about it the less sympathetic I am. They shake hands and hug.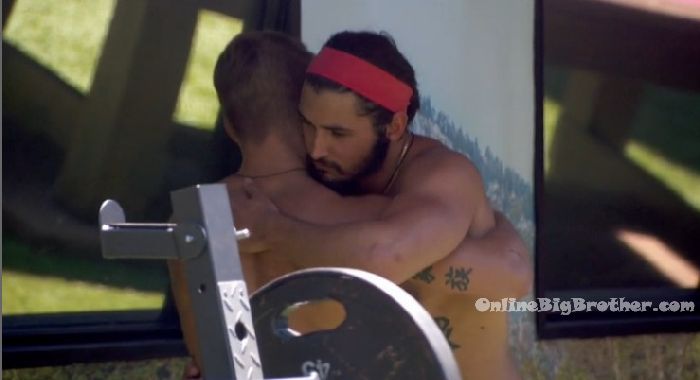 1pm PP talk – Paulie says you looked shocked at the meeting. When I saw my face go up I knew Corey would go up next to me. Paul says yeah I thought it was going to be me. Paulie says I knew you wouldn't go up. I knew no one figured us out. Everyone knew about Corey and I. I stuck true to you because you're loyal as f**k. Its going to be hard for you to get him (Vic) out .. he's a competition beast. If I was going to campaign that's the only thing I would say. I could go to the boys and say please keep me here. He has a good reason to get me out because no one wants me here. I'll never campaign against Corey but you guys should keep me to compete against Vic to get him out.
1:07pm – 2pm James talks to Paulie. Paulie says I'm not going campaign against Corey. I asked him to pull Corey off and put someone else up. I said for him to put up Nat because no one would vote her out. I already talked to Nat about it and said it wasn't anything personal. If I am gone its going to be hard to get out Vic … I think you and Corey could do it though. The same way he stayed loyal to me he would stay loyal to you. I don't know why in the kitchen you brought up the being blinded by me. If you were trying to start a rise I can understand that before a veto comp. My mind doesn't get blinded by that kind of stuff. You were someone very close to me and outside the game you will be very close to me. James says same here man. Paulie says I've already checked out at this point. I'm just realizing that I'm not what's best for everyone's game. I'm having a battle with how I would handle this in real life versus the game. I'm looking for some advice from someone older and wiser. James says if you don't want to campaign against Corey I get it because he's your boy. I think its pretty dead set that the house is going to vote you out. You're a great game player. Mad respect to you. I just know that if you would have just stuck with a small group, you would have been fine. James says I think the only thing I can do now is to beast this sh*t out .. that's the only way I'll win it.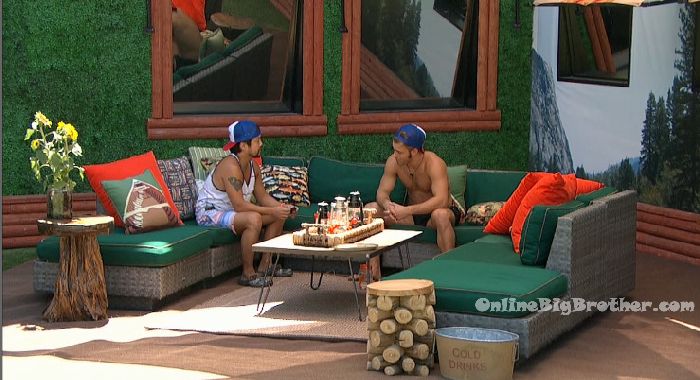 2:10pm Vic and James are talking by the conversations they've had with Paulie.
Help Support Online Big Brother
Show your support and appreciation: Support OnlineBigBrother.com
HELP keep the spoilers coming. Show your support by making a donation.
"CO-HOH"
WEEK 4 – August 14th to August 19th
This winner automatically becomes Co-HOH, sharing all HOH perks and responsibilities for the duration of the week, including choosing 1 of the 2 nominees.
[polldaddy poll=9496376]