POV Holder:
Victor
POV Competition
Aug 13th
POV Used
?
POV Ceremony
Aug 15th
HOH
Victor
Next HOH
Aug 11th
Original Nomi1nations:
Paulie AND Corey
After POV Nominations:
? AND ?
Have Nots
Michelle AND Nicole
Watch the next week of the feeds for FREE – 1 week Trial!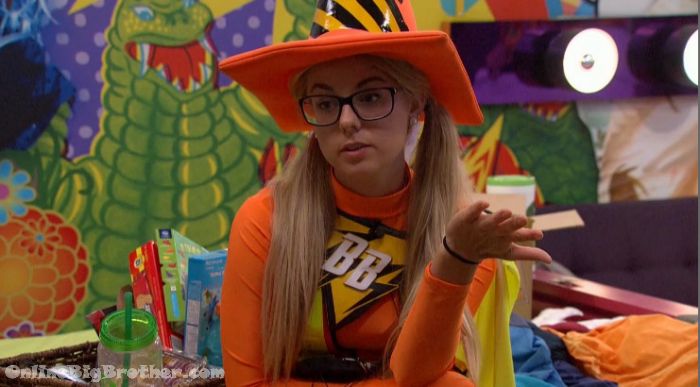 12:09am Corey, Paulie and Nicole
Nicole says it's difficult to "Not be perfect" in the house, "Don't sit here and beat yourself up.. You can't be so hard on yourself you made it on the show and fought your heart out"
Nicole – everyone should be peaceful and calm about things.. I told Michelle everything should be over
Nicole says that Michelle regrets some of the things she's done this season.
Nicole – start over and be you .. it's an experience of a lifetime and it's crazy.
Corey – you got to think we did so freaking good this season.. You won a lot of comps
Nicole – you were on the block week 1
Corey – people coming after us left and right
Nicole – for freaking nothing and it was people we were supposed to trust every single time
Nicole says Natalie and Michelle are not on the block because the guys are scared.
Paulie – I don't want you guys to think I'm being a baby.. I'm just competitive.. This is the last game of the season and you lose
COrey – you can't win all seasons (Sports seasons)
Paulie didn't expect the strong players to be targeted
Nicole says on her season it was different the BOB kept the strong players safe.
Corey is saying James "Fricken screwed us" if he was still there they would be in top 7
Corey – we got backstabbed man
Paulie – I knew that was coming from them but would have never expected it from James
Nicole -same
Paulie calls Corey his brother says Nicole is a sweet heart says there was a reason cody really liked Nicole.
Nicole – I had to be feisty this season.. I had no choice I had my guard up.
They can hear Victor laughing nicole commented how his laugh echoed throughout the house you can hear it in the have nots room, "It's crazy"
Nicole leaves..
Meech joins them and they chat about the POV competition. Conversation moves to politics. Michelle seems to be knowledgeable about Clintons corruption scandals she would have prefered Bernie, "I would not want Clinton at all"
Paule – I would agree to that
Corey – ya
Michelle – why do you want a liar that is funded by wall street it blow my mind
Paul – Clinton doesn't stand a chance..
Michelle brings up Justin Trudeau "He's done so much stuff.. He's just a person like you and me"
Michelle – didn't he pass Marijuana to be legal (not yet Spring 2017)
Michelle – he was in a gladiator movie, Snowboard instructor.. He's a cool guy and super hot I'm not going to lie..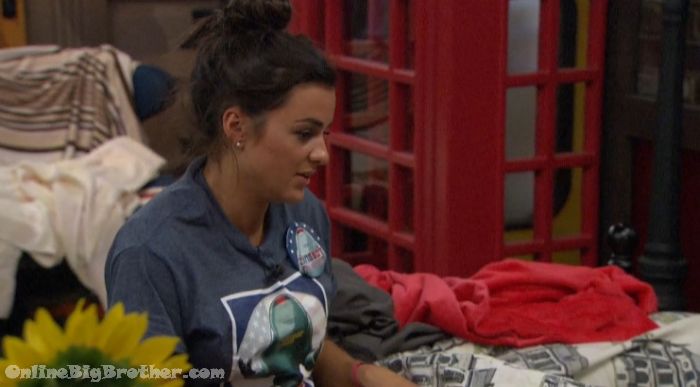 12:28am Natalie and James London room
Talking of being on the amazing race
Natalie starts talking about Nicole making fun of Natalie when the camera are off during the live show. Natalie is not interested at Corey at all and doesn't understand Nicole keeps bringing up that she is. James says they will be taking either Nicole or Corey out next week. Natalie says Michelle wants Nicole out but both natalie and James want Corey out.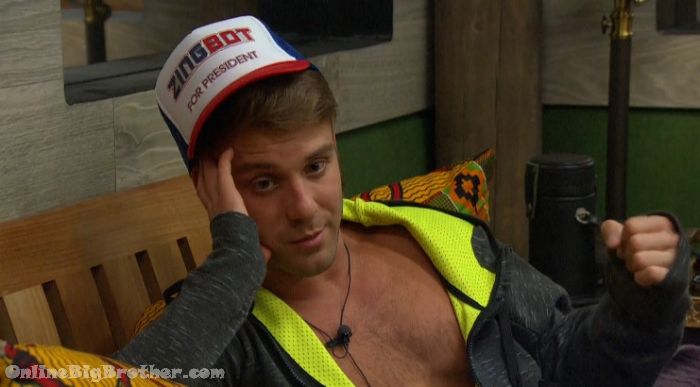 12:56am Safari room Michelle and Paulie
Paulie – I respect the hell out of your game
Michelle – you shouldn't it's not a clean game
Paulie- you played a dirty game
Paulie says he saw someone in production pulling their phone out to take a picture of Meech during the POV Competition.
Michelle – I don't know why they call you a poor man's Cody (From Zingbot)
Paulie says COdy is chiseled and tall but they are tied for wins
Paulie says he's not going to campaign against Corey but has a pitch.
Michelle tells him if he doesn't have the round trip look who's in jury if there is a jury member returning they're no way Da'Vonne, Zakiyah, Bridgette are going to beat him.
Paulie – I've lost people I can trust
Michelle – you can trust Corey.. .and Nicole
Michelle says she'll give Paulie a sympathy vote.
Paulie – if i'm sitting next to Corey I want all the votes against me, Nicole never screwed you over.
Paulie – I don't know if I can say this to someone who openly says they play dirty
Paulie – I betrayed you..
Michelle says Paul's betrayal was worse than her betrayal
Paulie says he didn't want to take Natalie far that was all Paul.
Michelle says they all planned to get into Paulie's head before Veto.
Paulie says that stuff doesn't affect him, "I know they are all being a certain way.."
Michelle – it's going to stop everyone loves you as a person
Paulie – Ya I get it nobody would have gotten into my head it just happened to be a crapshoot veto
Michelle – I had a hard time watching to be honest.. It hurt my heart
Paulie – 1 option and it's basically my only option.. I literally don't want anymore those guys are 100% against me .. the only play I have is to plead to Victor to pull Corey down and put up natalie.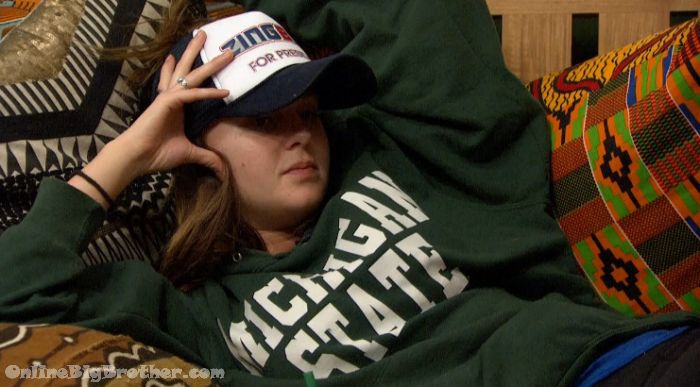 Michelle – I've gotten really close to natalie.. She helped save my butt
Paulie – I know the votes won't go my way.. You would be the deciding votes.
Paulie says he would have Nicole and Corey's vote it would be 3 to 2
Michelle – you got to try .. do what you got to do dude..
Paulie – vic said if I one of us go down you go up..
Paulie keeps saying he won't campaign against Corey
Michelle says find a bigger target out of everyone you don't have to throw corey under the bus, "Do you think I campaigned against Zakiyah"
Michelle – Zakiyah told Nicole when she walked out, That girl will never get me vote
Michelle – it's a game i'm not going to roll over and die
Paulie – right now all those boys are together
Michelle – you can pull somethin outta your butt… I thought I was going home.
Paulie – I'm Ok with going home right now MEECH i'm never going to campaign against Corey
Michelle says Corey isn't here to win he doesn't have the same drive
Paulie – James stabbed me in the back.
Paulie is saying what the other houseguests are doing to him calling him out are "Cheap shots" says he thought he had squashed everything with Natalie.
Paulie is going to try and get Natalie put up after Vic uses the Veto on Corey. he'll then campaign to save himself it's his only play. Michelle brings up he might have the round trip.
Paulie says he was loyal to the guys goes on about getting backstabbed.
Michelle points out she was in an alliance with Paulie he was always talking about the loyalty within that group.
Michelle says she wants to give him her honest Answer she won't vote against Natalie
Paulie – James literally tore my heart out by sending my girl home..
Paulie says next week would be a good time to get rid of Victor because he can't play HOH.
Paulie – after I'm gone Nicole and Corey are sitting ducks.
Michelle – so are me and natalie.. I'm really disappointed in the girls this season… I'm embarrassed with myself.. I came in here thinking I was competitive.
Paulie – Corey and Nicole are crushed by James, Nicole had something with James, Corey can win comps to.
Paulie say Corey and james will not work with James
Michelle – James lied to me a bunch of times saying I don't have anything, i have nothing i've never been asked for a final 2.
Paulie – i'm really f***g down and out
Michelle – you acting that way
Paulie – I'm really crushed.. It's very real .. once the emotions are there can you make them more
Paulie – if I come back I come back and if I do they are expecting me to be gung ho boys, because that's what i've been preaching..
Michelle – what number do you have
Paulie – 10
Michelle – ooo that's not a bad number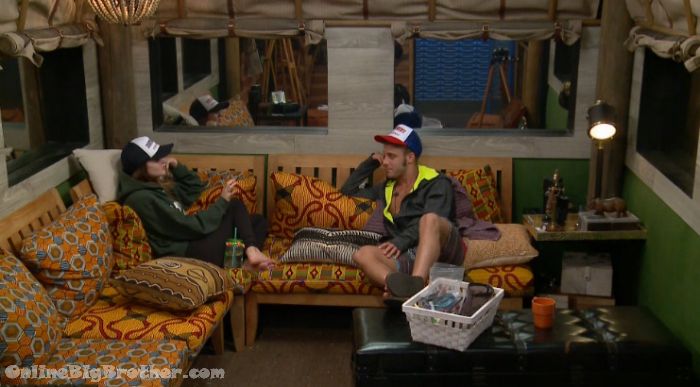 Paulie – Maybe Nicole got the package because they know who has the number adn they figure if I was the target I would be safe (ZOMG)
Michelle – probably
Paulie is going to tell Victor – "At least give me the option to campaign.. Put Natalie up"
Michelle says she truly wishes she used the Veto on Frank
Paulie – I do to, you and I were the only ones that wanted to keep him
Paulie wants to flip the house from a fan perspective
Paulie starts talking about his mental state, "Between you and I , I have appointments with. . Feeds cut
Paulie – I'm petrified of being in Jury and being closed in
Feeds cut
Paulie has information that can blow the guys up if he stays he'll do it.
Paulie pushing to get Victor out, says Michelle can do it during a mental comp.
Paulie says he wants to form a group Corey, Michelle, paulie and Nicole.
Paulie – We're on the outside and you are on the ins
Michelle – that's funny last week us 4 were working together
Paulie – they never give me information they used to .. but they will to you and you will sit there and play who the target is
Paulie – You guys are the disposable ones, it's Paul, Vic and Natalie
Paulie says James backstabbed him all because of a girl
Paulie – I was going to ride it out with Him adn Corey and paul was my 4th part of the piece.. Paul wanted to keep you, James wanted to keep Natalie and Corey wanted Nicole
Michelle – why did Paul want to keep me
Paul – I told him to keep you told him I liked you (LOL)
Paulie going on about James ripping his heart out, (even though what james did saved Michelle)
Paulie going on about knowing Natalie's friends back home says she's fake
Michelle says sometimes she thinks Natalie is too good too be true because she knows Michelle has said all these things about her
Paulie – she's fake

1:18am James and Natalie Bathroom
Natalie says Michelle and Paulie keep whispering
Natalie says Paul is unsure about Michelle's loyalty.
James says she might have to be the next one to go if she's being sketchy
James – do you think she's going to be sketchy
Natalie – No she shouldn't be the next one to go .. She's with us we need her right now..
Natalie – we can control her we have the numbers.. Corey and Nicole next ones to go.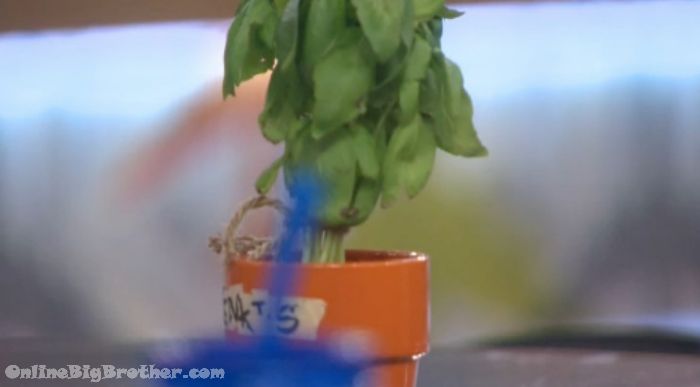 1:21am Mr Jenkins still alive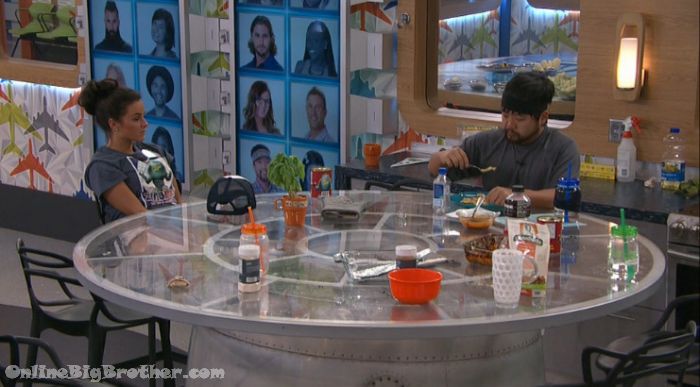 1:49am Kitchen Natalie and James
Natalie says if Michelle votes the other way it won't matter they still have the votes and Michelle will be the target.
James- if Michelle votes their way it'll be 3-2
Natalie – if she votes Nicole's way it'll be 3 to 2 and Paulie will go home and she'll be the target.. He just talks and talks and talks.. Everything he says is a lie
Jaems – we have to be careful what we say
Natalie – i'm done talking to her about that stuff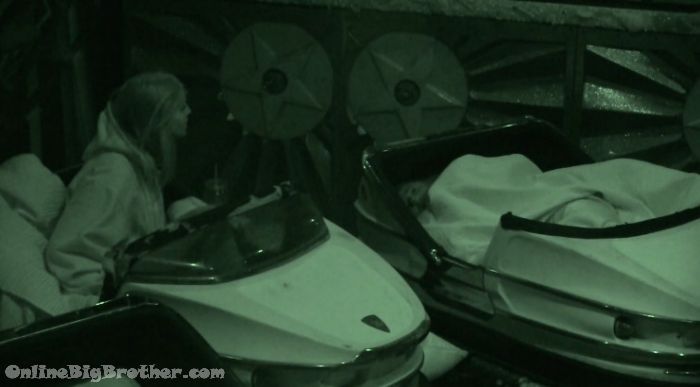 2:07am Have nots Michelle and Nicole
Michelle – I feel really bad for Paulie he's really beaten down.. I just don't like seeing him like that he's always peppy happy ..
Nicole – he'll be better in a couple days
Michelle – my pees smell like Slop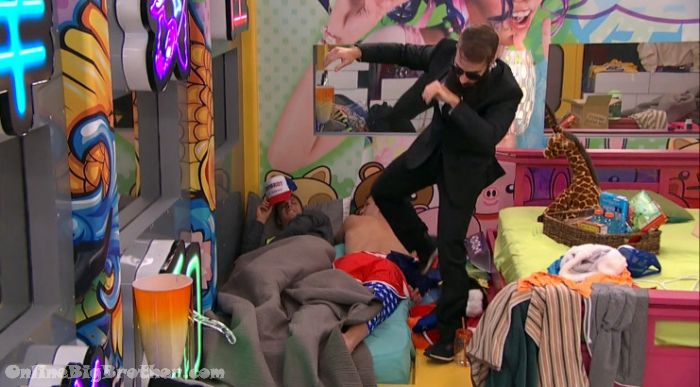 2:16am Alarm goes off PAul goes and frisks everyone down and clear the check points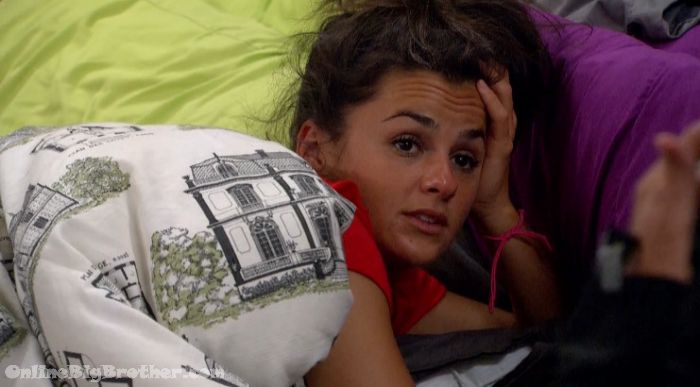 2:23am London room James, Natalie and Paul
They tell Paul, Meech and Paulie were whispering in the Safari room for 2 hours.
Natalie is going to find out what they were talkign about when they go out tanning tomorrow.
Paul – it doesn't matter we have the 3 votes right here but it's disconcerting
Natalie says Michelle was telling her she she feels bad for Paulie
Paul- we gotta really be careful
Natalie – our group is straight shooters we're loyal
Natalie – why were they whispering for 2 hours
Paul – really 2 hours..
Paul says he's been warning them about Meech they have to stick with her and make sure on the off chance she does win the HOH she sticks to the plan and puts up Nicole and Corey.
Paul says they don't even need Meech as a number next week if he wins HOH he'll put Corey and Nicole up Natalie, JAmes, Vic have the votes.
Paul says Nicole and Meech are Chatting in the dark "They aren't a sleep"
Natalie – I just hope she doesn't make herself the target .. why can't people be straight shooters..
Paul – this is only Saturday ..
Paul says imagine how much whispering will go on Wednesday they have to stick close to Meech all day.
Paul – She might feed into their bullshit.. that is why I was nervous
They agree Bridgette staying would be WAY better for their game
Paul – Vic not changing it .. unless hommie has a round trip ticket he's gone
Natalie – now he's (Paulie) is acting all calm
They chat about how Paulie is now saying how he needs the money whereas in the beginning of the season he would always talk about how much money he had.
Paul says he never liked Zakiyah calls her a "Sh1t stain"
Natalie – she would talk so much sh1t about Bridgette but to her face she was nice.. she tried to make amends with Bridgette because she was staying, but saying upstairs how much she didn't like her.