POV Holder:
?
POV Competition
Aug 27th
POV Used
?
POV Ceremony
Aug 29th
HOH
Nicole
Next HOH
Sept 1st
Original Nomi1nations:
Paul AND Big Meech
After POV Nominations:
? AND ?
Have Nots
?
Care package
Corey
Watch the next week of the feeds for FREE – 1 week Trial!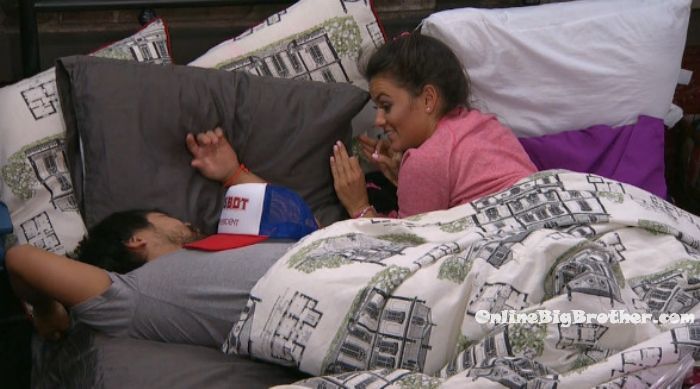 8:25pm London bedroom – Nat thanks James for always going to bat for her and for going to bat for Bronte. Nat says the best case scenario is … best best best best best case scenario is Paul wins veto and pulls himself down. Vic goes up. Vic gets evicted and my next target is Paul again. James says I need to talk to Nicole and Corey and tell them they need to send Vic home again for good this time. Nat says they could win their way to the final 2 .. what other couple could do that? James agrees. James says they're not going to send Meech home over Paul or Victor. James says I am just trying to get you and I in a position so that we can get to the final 2. Nat says well I need Meech here. She can win metal comps and I trust her. James says yeah I'm not good at mental comps. Nat says we're not good at metal comps. James says if you can win the veto .. win it. Lock the noms up and vote Paul's a$$ out. Nat tells Jams I wouldn't have made it this far without you. Nat says this is the best case scenario to work with them in secret. James says we just have to make sure they keep working with us you know. Nat agrees.
8:40pm – 8:50pm James says some times I think I'm broken.. like it takes me a lot to cry. Nat says that's okay Corey hasn't cried either. Some people are different, I wear my heart on my sleeve. James says if I'm not personally close to you I have no problem cutting you. I try to keep emotions out of the game. James says I've got a proposition for you if I leave .. and we're on finale. Nat says yes I will give you a kiss. James says evict me now.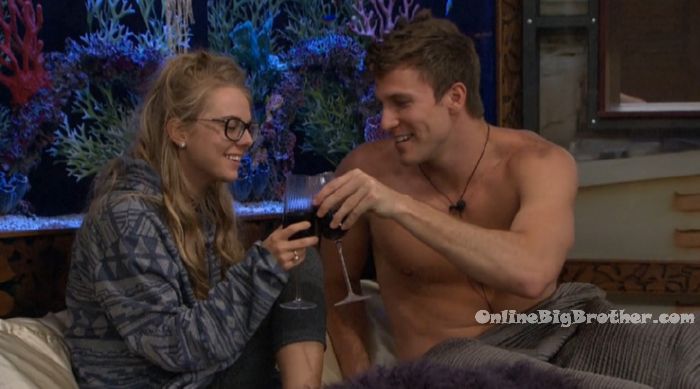 HOH room – Nicole and Corey open her bottle of wine to drink together. Nicole says cheers to us doing really good in this game! Corey says congrats on winning the wall comp. He tries the wine and says it tastes like college. Vic joins them and says he will go get Michelle's bottle of wine. Vic leaves and asks Meech if he can have some of her wine. Just don't give any to Paul. Meech tells him he can have it, just save a little for me. In the HOH room – Nicole says wanted it to just be her and Corey. Vic comes back with the wine. Vic tells them he had a WD (wet dream) last night. "I was like how did it get on my stomach?!" Fools huge .. goes through the waist band.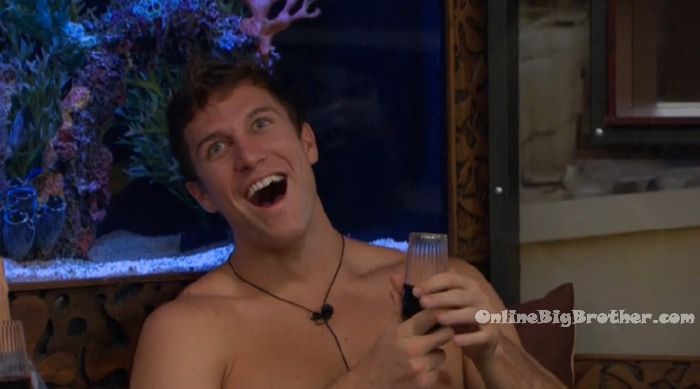 HOH room – Nicole asks are they shocked that you're not on the block. Vic says no. Meech called it that she and Paul were going to be nominated. She guessed about the wall comp too. Nicole says she's good. Nicole says moving forward its best for us to get her (Meech) out now. The other two (James & Nat) I think you can beat in mental comps. Corey explains how if Meech wins the veto he could offer her the 5K to not use it.
9pm – 9:25pm London bedroom – Michelle tells Nat the Vic just asked for my bottle of wine and didn't even invite me to go up with him. Nat says he's the target anyways. Michelle says I feel like I'm the target. Nat tells Meech that when she was HOH you were the only person Corey and Nicole said not to put up. Meech says that was before all the stuff that came out with Paul. Nat says you have block paranoia. Nat says if Paul wins the veto and comes down we just have to hope and pray Vic goes up.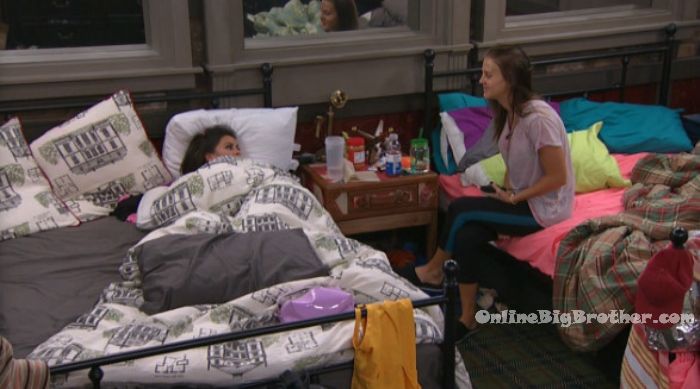 9:55pm Corey sasy they haven't come up here to talk to us. Nothing. I think they're just sh*tting their pants right now. I feel like Michelle is the main one that gets them going and scheming. Vic says no its Natalie. Paul says Natalie told me she's been playing dumb and is going to turn on her bad b***h mode. Paul says tomorrow I am going to tell Michelle thanks for the wine. Vic says no, don't throw me under the bus. Paul says I'm kidding.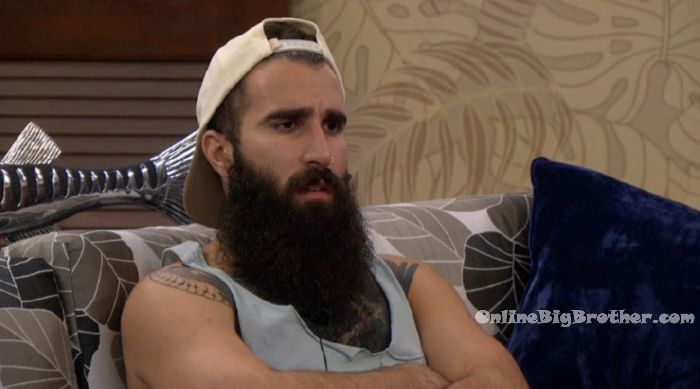 10:10pm – 10:45pm HOH room – Corey, Paul and Vic. Corey says I am legitimately confused on what I am supposed to use it on. (BB 5K Bribe) Vic syas I think use it for if I win the veto or for a replacement nom. Corey says I appreciate it very much but what does America need me use it on. Paul says save it for next weeks HOH. Corey says Is someone going to just take 5g's and drop. Paul says we might use it for veto or toss it to Nicole and use it on they trip.
10:50pm – 11pm Nicole comes back from the dairy room saying she was slurring her words. Paul is telling his Prague stories. The conversation turns to talking about the warp party and other things they'll do when they get out. They head down to the kitchen to eat.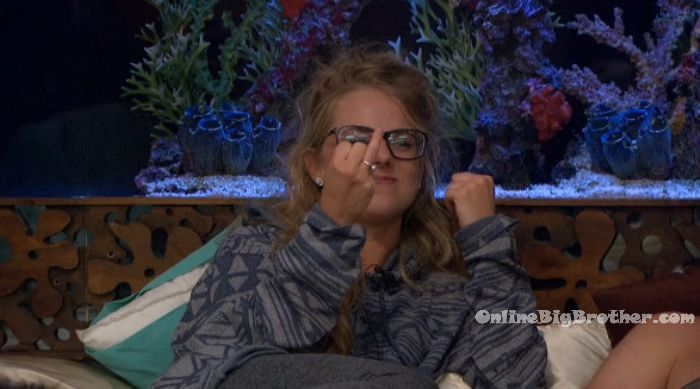 All the house guests except for James and Nat head to bed. James is in the kitchen cooking burgers. Natalie is in the diary room.
11:50pm
Nicole and Corey in the HOH bed …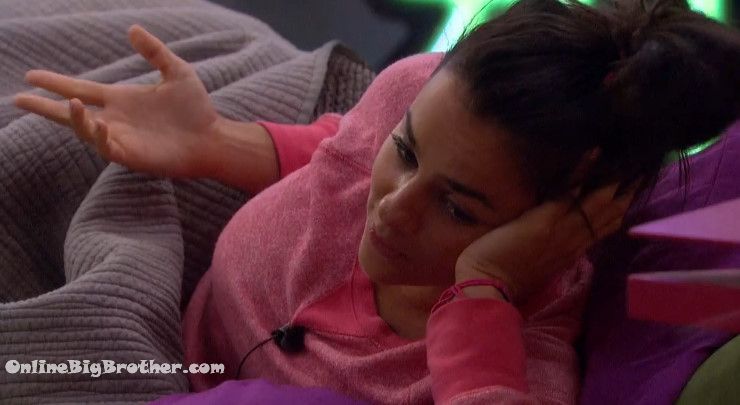 1:20am Tokyo Room Natalie, Michelle and James
Natalie and JAmes talking about not "F****G" each other over.
Natalie says if he "F***" her over in this game she'll "F***" him right back.
James says if he "F***s" Natalie over he'll "F***" her so good she won't be able to get him back.
Michelle laughs that production is going to use the sound bites.
1:36am they start chatting about 'PAulie's Mist" a reference to Dan Gooslings famous "Mist" ability being able to bullshit people.
Michelle – do you think Paulie was cute
Nat – at first no.. I'll be honest with you first impression not at all
Michelle – he looked like a cowboy
Natalie – He kinda grew on me but his personality I saw him evolve… I don't find him attractive.
Michelle says she thought Victor was the hottest until Frank came.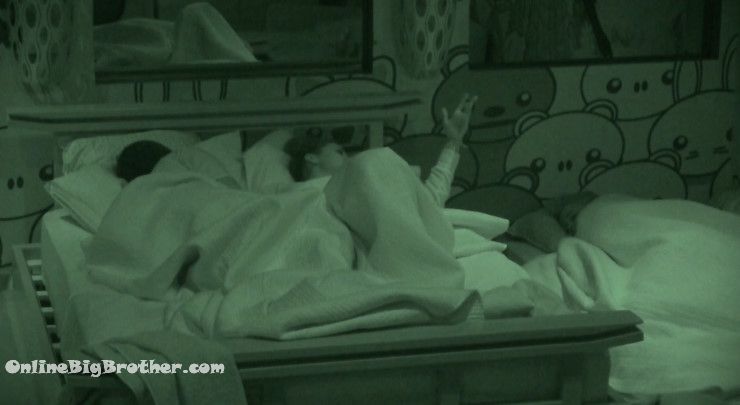 1:51am Michelle brings up that Corey would says that Natalie continually flirted with him and call him sexy.
Natalie says she called him sexy the first week after that she never talked to Corey much
Michelle believes her says she never really saw them together much and she thought it was funny Corey was saying you always called him sexy.
Natalie laughs
Natalie – I'll admit this first 2 weeks I flirted hard.. I didn't give a f*** .. I flirted hard..
Natalie – I was flirting with everyone girls guys
James- you never flirted with me
Natalie – you were on my team..
Natalie says she would talk to all the guys the first 2 weeks so she could find out who had the good intentions. She adds that she found the "Good one' with James.
Natalie starts talking about being with Victor in the beginning and she was flirting with Corey at the same time so she told Corey "I really liked you at first but I'm goign to hang out with Vic.. OK"
Natalie says Victor would kiss her on the forehead and tuck her in at night for the 3 days they had a showmance.
Michelle says that COrey was "Butt" hurt that Natalie turned him down because he wouldn't stop talking about how she flirted with him. Michelle says he was doing it to keep a target on her.
Natalie agrees that Corey was "Butt" hurt by it.
Natalie adds she never told Corey in a coincided way she just said that she liked Corey but choose Vic, "Maybe it came off the wrong way"
Michelle says that Nicole was mad at Natalie and Zakiyah was mad at Bronte they thought you were goign to "Steal" their mean.
2:21am Tokyo room Natalie, James and Michelle
talking about Bronte. Natalie says Bronte never knew how to socialize. Michelle feels bad she thought Bronte was just being rude.
3:51am sleeping
8:00am Feeds on jeff.. Have nots being picked?
Show your support by making a donation.
Donations support this site more than anything. If you dig our spoilers please find a way to support us.
"BB BRIBE"
WEEK 5 – August 25 to August 26th
The winner gets $5,000 to bribe one house guest. Bribes my influence voting, competitions, vetos or nominations. The bribe can only be given to one house guest, for one action, within the week leading up to the next eviction.