POV Holder:
?
POV Competition
Aug 27th
POV Used
?
POV Ceremony
Aug 29th
HOH
Nicole
Next HOH
Sept 1st
Original Nomi1nations:
Paul AND Big Meech
After POV Nominations:
? AND ?
Have Nots
?
Care package
Corey
Watch the next week of the feeds for FREE – 1 week Trial!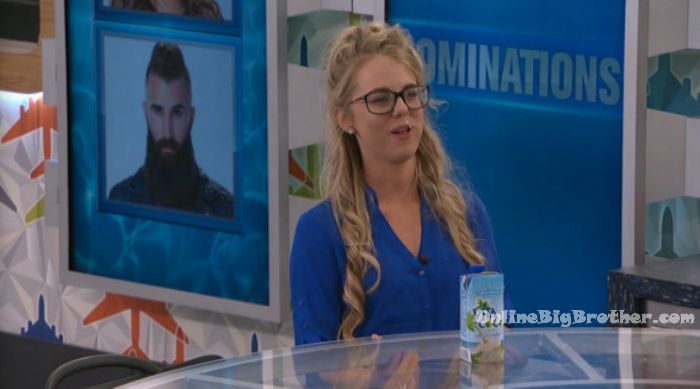 Nicole Nominated: Paul & Big Meech
5:45pm The live feeds return from the nomination ceremony. Nicole nominated Paul & Big Meech. Corey, Nicole, Paul, Nat, Vic and James are in the kitchen chatting. Meech is in the havenot room counting things.

Storage room – Nicole, Vic and Corey. Corey says alright successful so far. Vic agrees and says I just have to win the veto. Corey says hopefully you win and take Paul down. Then we're rolling. Nicole joins them. Nicole says Vic was nervous. Vic says he always is with noms. Corey jokes that he is always nervous even with her as HOH. I've only known you for 70 something days. Corey comments on how they should get James in the trash can to scare someone and then saran wrap him in there.
Havenot room – James tells Meech .. you obviously know that Paul is the target. And if Victor wins the veto, Corey is going to try and bribe him not to use it to lock the noms up. Nicole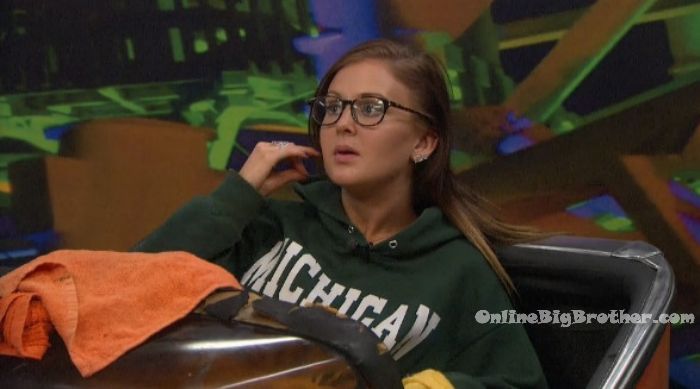 5:55pm HOH room – Nicole tells Corey that she went to the havenot room to see if Meech was okay and James was in there scheming. He's definitely caught on… but one of them (James or Nat) are going up and going to go home. It might be the days (veto) so she (Meech) might win it. I'm going to study. Nicole asks one of them has to go right? Corey says absolutely. Nicole gets in bed to listen to her music.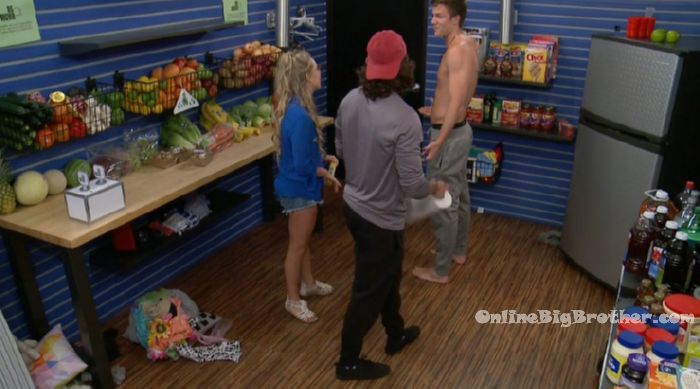 6:10pm – 6:20pm
Natalie tries to make jello and spills some of the power on the stove. It starts a small fire but goes out immediately. Nat says I almost killed all of us! I'm never cooking again. I feel sick. How are you guys not scared? Vic says becaue nothing happened. Nat says I literally need to look at the fire extinguisher and study it. If I set someone on fire I would go home. I could never forgive myself. Paul and me almost got hurt. I put everyone in danger. I'm shaking a little bit. I'm sorry!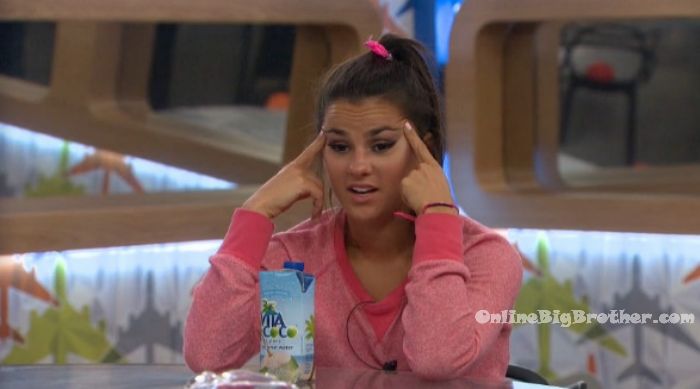 Nat "I'm never cooking again! I almost killed us all!" @bigbspoilers #bb18 pic.twitter.com/T87wUh9ZIS

— Dawg (@DawgsBigBrother) August 27, 2016
6:30pm HOH room – Nicole & Corey. Nicole says Meech is mad. Corey asks she's mad at you? Nicole says yeah. Corey asks if Meech wins the veto should I make her an offer? Nicole says Nat didn't say one word to me. DO you think she;s mad? Corye says I kind of want Nat to go home. Nicole says that's emotional. Corey says I think it would help us. We could pull him in closer. Nicole says James, Nat and Michelle are tight. They're always together. I think if Michelle on the veto she wouldn't bite on the 5K. One of them is for sure going home. Worst case Nat wins and pulls Meech down .. James goes up. Nicole says I'll tell Nat if she uses it James would go up. If I wanted Paul to go, I would have put up his best friend Vic. Corey says so Meech is going home. Nicole says she might win. Nicole and Corey plan to drink her wine tonight. Corey says we're doing a good job. Nicole says one of us needed to win this HOH or one of use would have gone home.
7pm – 7:25pm Paul joins Nicole and Corey. Paul says I think I did good. Nicole says I think they're on to us. I already caught James and Meech scheeming. Paul asks if I win am I supposed to pull myself off? Nicole and Corey say yes. Paul asks would you pull me off if you won? Nicole asks what would I do? Paul says a line is going to eb drawn either way. Corey says I think this week we have to get Natalie out no matter what. Nicole asks if you win HOH next week who are you putting up? Corey says I don't know. Nicole says the thing is this week we might have to show our cards. I have no idea who I would put up as the replacement nom. Corey says I would put up Vic and Natalie .. Vic you lied to my face and Nat you wanted to vote me out. Nicole says why not stick to one side. Instead of pissing off both sides. We just have to pick a side. My instinct are telling me we can trust Paul and Vic more. My head is telling me to go with James and Nat because we can beat them. Corey say my gut tells me to go with Vic and Paul. Nicole says I just can't trust James. Corey says I would be okay if Vic or Paul won ..I would shoot myself if Natalie won this game. Nicole says she doesn't want Meech and Paul to be have nots. I don't want Meech and Paul to bond. Would you take one for the team. Corey says no. Nicole says I won't pick you. Who should I pick then? Corey says Meech, James.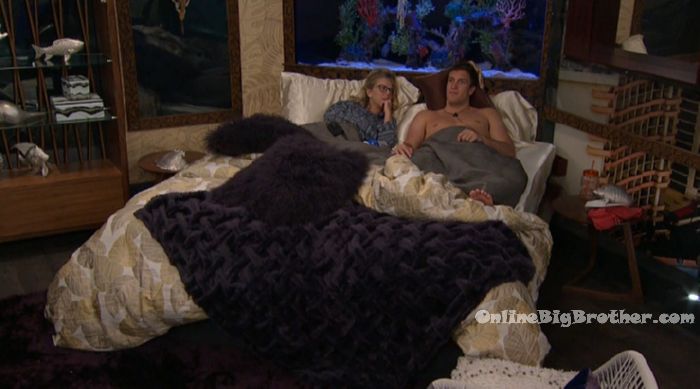 7pm – 8pm London room – Natells Meeh she's not going home. Paul is the target. Meech says I only trust you and James. Nat says just know if you're still on the block you're safe. Meech says if next week is a double I can totally win. Nat tells Meech she would need to decide to use the veto or not. Meech asks why would I not take myself off? Nat says you could try and get that 5K. James and I won't vote you out. Nat says Nicole isn't going to try and take you out. James would not allow you to get voted out. Meech says if Nicole wanted me out she could get Corey and Vic to vote me out and then she would be the deciding vote. Nat says I didn't think of that. Meech leaves. James joins Nat. Nat explains to James how Nicole could be the tie breaker. James says Michelle has nothing to worry about. Nat says I told Meech she might want to risk it to get the 5K. James says she has 2 votes. She can't go around cussing people out and pissing people off though. Nat says Vic and Paul need to go they're the biggest threats in this house. Paul is the biggest threat in the house.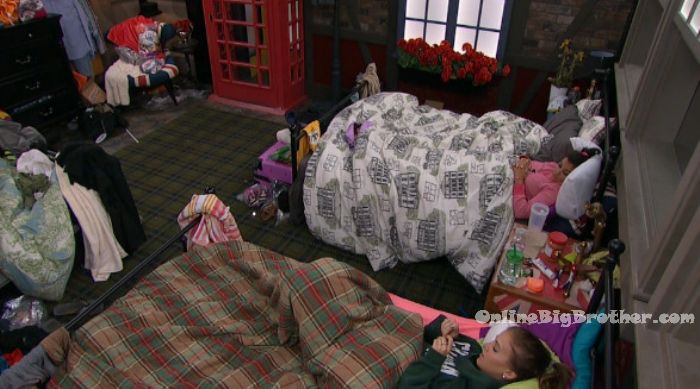 8pm Paul, Vic, Nicole and Corey are in the kitchen. Paul is making fries.
Show your support by making a donation.
Donations support this site more than anything. If you dig our spoilers please find a way to support us. It's important.
"BB BRIBE"
WEEK 5 – August 25 to August 26th
The winner gets $5,000 to bribe one house guest. Bribes my influence voting, competitions, vetos or nominations. The bribe can only be given to one house guest, for one action, within the week leading up to the next eviction.