POV Holder:
Paul
POV Competition
Aug 20th
POV Used
YES
POV Ceremony
Aug 22th
HOH
Natalie, Meech
Next HOH
Aug 25th
Original Nomi1nations:
Victor AND Paul
After POV Nominations:
Victor AND Corey
Have Nots
Victor and James
Watch the next week of the feeds for FREE – 1 week Trial!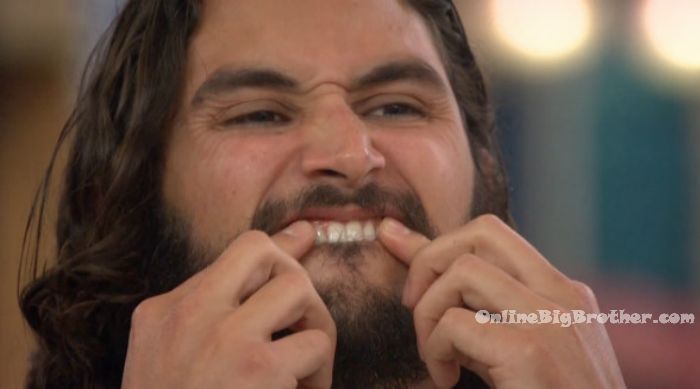 5pm – 6:10pm Vic, Corey, Nicole and James are chatting in the kitchen about survivor and other random things. James heads to the London bedroom. James tells Paul that we were just talking about you in the kitchen.. Paul, Natalie and Michelle are all going to sleep their life away. Michelle and Natalie haven't even woken up yet. They woke up this morning for pictures and haven't been up since. I think Natalie is mad at me. Paul asks again?! James says yeah. Paul says I don't get why she's always mad at you. You're so good to her. James says I know. Paul says some girls do the cat and mouse thing.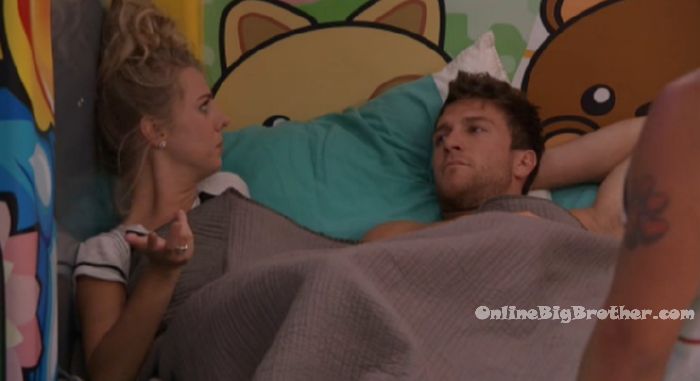 6:35pm Bedroom – Corey says he's nervous. I wanted to get to this point where its top eight or whatever.. once I get to a certain point .. I was chilling all season but now its crunch time. Nicole says might as well go big or your going home. Nicole tells him when he gets like that he should wake her up. Why didn't you? Corey says because I was mad at you. Corey talks about how Paul is mad about Michelle calling him an Atheist and his family might see it. Nicole says I thought that wasn't being aired. Corey says well he doesn't know and maybe its on the live feeds. And he was like she is still being mean to me. Nicole says he does lie and he is manipulating people. I was just wondering why he was so quiet last night. I didn't want Michelle or Nat to put them up for any other reason other than they're the biggest threat in the game. They didn't need to get personal. Natalie told me yesterday that Paul went to her and said that you said something really mean about her. (Paul says that Corey said Natalie was sucking James's d!ck all the way to the top.) James said it wasn't even worth repeating. She said I don't believe it because he's not that type of person. She won't repeat it. She won't trust me if I tell you. Corey says I definitely didn't say anything mean about her. There's nothing I've said that would upset Natalie. Nicole says she doesn't believe it. They talk about wanting to do The Amazing Race together. James joins them. Nicole says I feel that if Vic goes they can do the days comp. I need to study. James says if its that I'm screwed. Nicole and Corey start studying.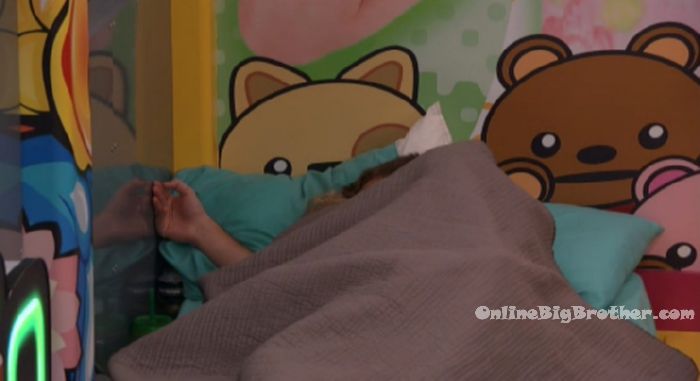 6:50pm – 7:20pm Safari room – Vic says this day has been dragging. I feel that most of the game talk has been done. Paul says that's what Corey was saying that he's at a stand still with Victor. There is nothing I can say to James about Victor that he doesn't know .. like you're good at competing. Vic says he can say I can compete and if I win I might put you up. Vic asks do you think she really likes him? Paul says no. Vic says just using him for the game. Paul says yes. Vic asks do you think he knows? Paul says no and I don't want to be the one to tell him. Vic asks how do you know? Paul says because she's always hot and cold with him. Natalie is a sh*t head. Vic says that's what's dangerous about bringing floaters to the end. Paul says I wouldn't mind if Natalie was up its Michelle that's the stupid leave her, floater. Vic says They don't win anything so you want to keep them around but if they win the show you would be like why the f**k did I let that happen. Paul says next week Natalie and James on the block and one of them goes. Vic says yeah. Paul says tie in Nicole closer to us. If you leave I'm boned. If you leave I have to tie in closer to Nicole and Corey. Vic says I'm just going to have 1 conversation with each of them tomorrow. Paul tells him to have the conversation with all of them together so they can't say different things. Paul says if Michelle was smart she would have put up James.
7:35pm – 7:55pm Vic, Corey, Paul, Nicole and James are in the kitchen having ice cream. Vic and Corey talk about how expensive it is to take a girl out to dinner and a movie. The conversation turns to talking about dating apps. Corey and Paul have stories for days about the dating apps they've used.

Show your support by making a donation.
"BB BRIBE"
WEEK 5 – August 25 to August 26th
The winner gets $5,000 to bribe one house guest. Bribes my influence voting, competitions, vetos or nominations. The bribe can only be given to one house guest, for one action, within the week leading up to the next eviction.
[polldaddy poll=9501597]
[polldaddy poll=9503412]